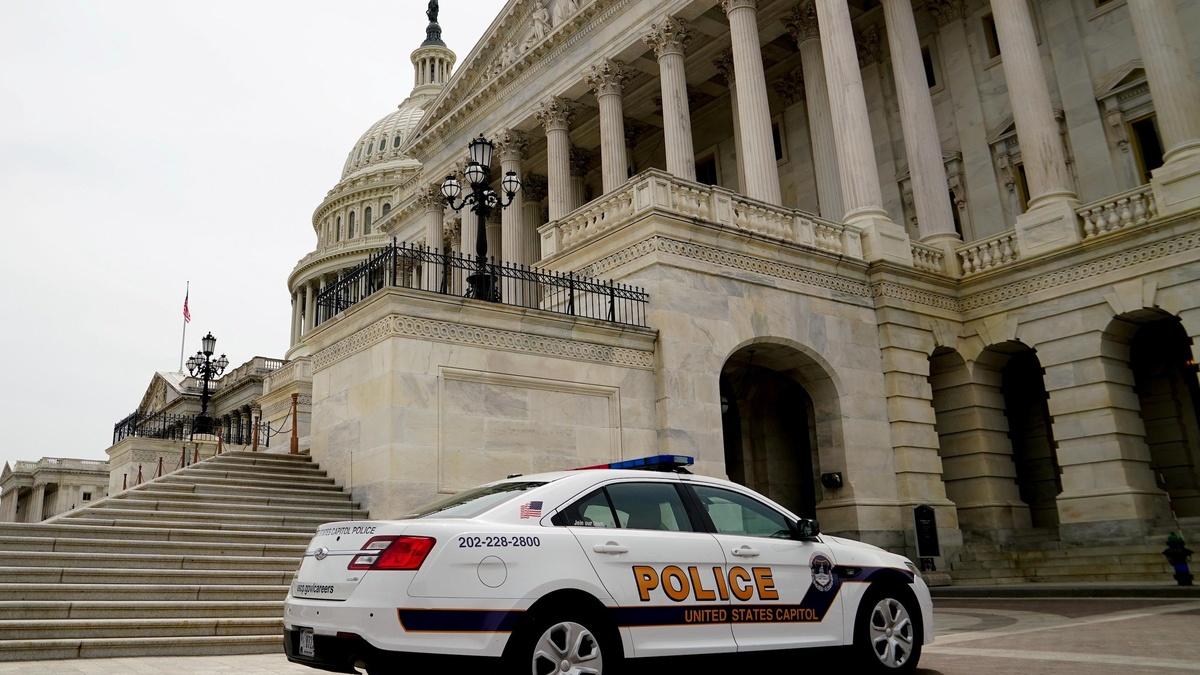 CLIP
News Wrap: Congress approves $2 billion for Capitol security
In our news wrap Thursday, the U.S. Congress gave final approval today to $2 billion in emergency spending for Capitol security. The Biden administration will allow a nationwide ban on evictions imposed during the pandemic to expire Saturday. The U.S. Commerce Department said economic growth reached an annual rate of 6.5% in the year's second quarter. On wall street, stocks managed modest gains.
TRANSCRIPT

JUDY WOODRUFF: In the day's other news:

The U.S. economy is now larger than it was before the pandemic.

The Commerce Department reports growth reached an annual rate of 6.5 percent in the year's

second quarter. Separately, first-time claims for unemployment benefits fell to 400,000 last week.

The Biden administration will allow a nationwide ban on evictions

imposed during the pandemic to expire Saturday. Last month, the U.S. Supreme Court signaled the

only way to maintain the moratorium past July is if Congress approves it.

Today, Deputy White House Press Secretary Karine Jean-Pierre

said that leaves President Biden no choice.

KARINE JEAN-PIERRE, White House Principal Deputy Press Secretary: In light of the

Supreme Court's ruling, the president is going to

work with Congress to make that happen. And if that's something they're working

on, well, we will probably, hopefully, be working closely with them on that.

JUDY WOODRUFF: A U.S. Census Bureau survey has found that 3.6 million

people could face eviction in the next two months.

In Northeastern Afghanistan, the Taliban says flash flooding killed 150 people

overnight in a mountainous region. It is the latest such disaster this summer.

Just nine days ago, extreme flooding hit Central China. Today, officials raised the

death toll there to 99. The area got a year's worth of rain in three days.

A powerful earthquake struck off the coast of Alaska last night. The quake hit 56 miles offshore

with a magnitude of 8.2. But it caused only minor damage. Sirens wailed as people evacuated the

coastline, heading for higher ground. Tsunami warnings went out, but were later canceled.

The U.S. Congress gave final approval today to $2 billion in emergency spending for

Capitol security. It followed Tuesday's dramatic testimony by Capitol Police

who battled a pro-Trump mob on January 6. Democrats and Republicans have fought over

investigating that day, but they came together today 98-0 in the U.S. Senate.

SEN. PATRICK LEAHY (D-VT): We must support those who supported us.

That's not just a political or economic responsibility. That's a moral responsibility.

SEN. RICHARD SHELBY (R-AL): This has been a lot of work,

working together, but it also shows that we can work together in a bipartisan way

and put the country first. And this is -- this is evidence here.

JUDY WOODRUFF: Later, the bill easily passed the House of Representatives.

It also authorizes another 8,000 immigrant visas for Afghan citizens who have aided U.S. troops.

Former Roman Catholic Cardinal Theodore McCarrick

has been charged with sexually assaulting a teenage boy back in 1974. Court records say

it happened at a wedding reception in Massachusetts. McCarrick is now 91. He

was defrocked in 2019 after the Vatican found that he had molested men and boys for decades.

At the Tokyo Olympics today, a new star emerged for the U.S. Sunisa Lee captured gold in the

women's all-around gymnastics competition. At 18, she is the youngest member of the U.S. team

and the first Hmong American, American of Laotian descent, to make it.

We will return to this later in the program.

First lady Jill Biden is having a medical procedure this evening to remove an object

from her foot. The White House says she stepped on something sharp last weekend during a stop in

Hawaii. The procedure is being done at the Walter Reed Military Hospital in Bethesda, Maryland.

On Wall Street today, stocks managed modest gains. The Dow Jones industrial average was

up 153 points to close at 35084. The Nasdaq rose 15 points. The S&P 500 added 18.

And inventor and infomercial pioneer Ron Popeil

has died in Los Angeles. He was a television mainstay in the '70s, '80s, and '90s,

selling his Ronco brand gadgets, everything from a food dehydrator to the Veg-O-Matic.

The ads made him a pop-culture icon parodied on "Saturday Night Live" and "The Simpsons."

Ron Popeil was 86 years old.

Still to come on the "NewsHour": an American gymnast wins all-around gold in a historic first,

amid resistance to the Games in Japan; new laws allowing for the killing of gray wolves spark

outcries from conservationists; and a Detroit artist reconsiders who is worthy of a portrait.