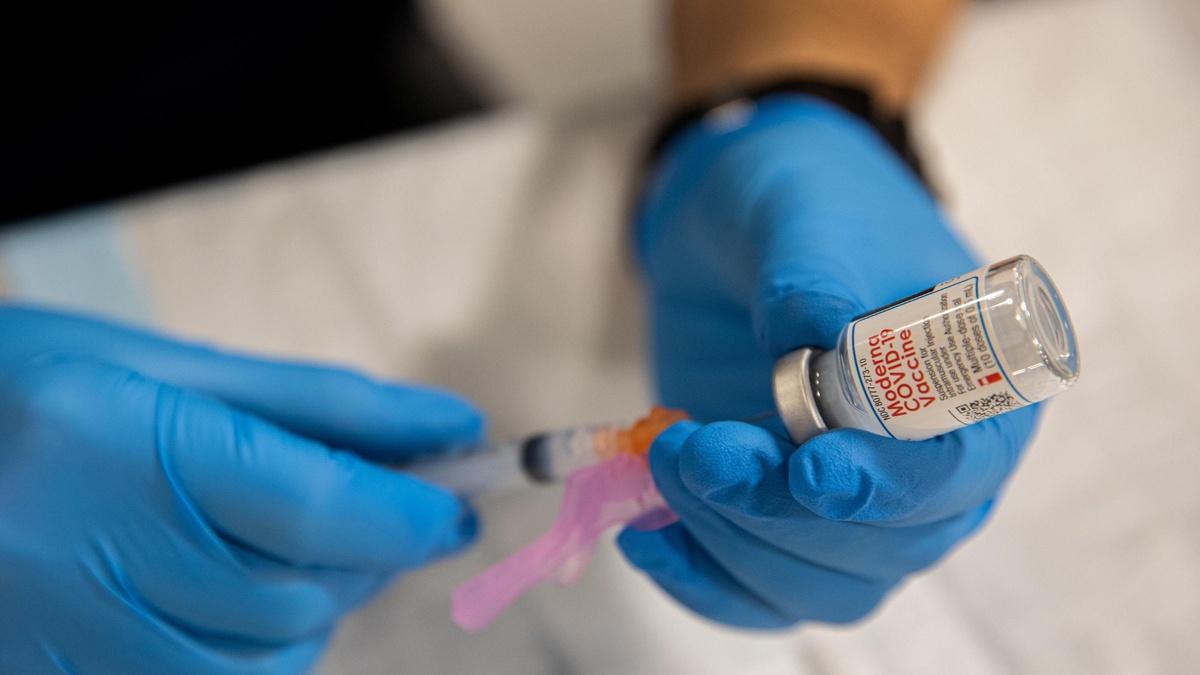 CLIP
News Wrap: Biden moves to ramp up COVID-19 vaccine supply
In our news wrap Friday, President Biden invoked the Defense Production Act to ramp up the U.S. supply of COVID-19 vaccines, National Guardsmen are back at the Capitol amid outrage over reports they were ordered out on Thursday, Russia welcomed Biden's proposal to extend limit on the two countries' nuclear arsenals, and the first ever international treaty to ban nuclear weapons went into effect.
TRANSCRIPT

JUDY WOODRUFF: In the day's other news: President Biden has invoked the Defense Production Act

to ramp up the nation's supply of COVID-19 vaccines amid shortages.

That comes as the Centers for Disease Control and Prevention

quietly changed its vaccination guidance to allow patients to mix

vaccine brands for their first and second doses in -- quote -- exceptional situations."

Meanwhile, in Geneva, Switzerland, the World Health Organization hailed a new deal with

Pfizer to supply up to 40 million doses to help inoculate people who live in poor countries.

TEDROS ADHANOM GHEBREYESUS, WHO Director General: Vaccines are giving us all hope

of ending the pandemic and getting the global economy on the road to recovery.

But we can only end the pandemic anywhere if we ended everyone. And to do that,

we need every member state, every partner and every vaccine producer on board.

JUDY WOODRUFF: Pfizer said the vaccines would be provided at an undisclosed, not-for-profit price.

There is word that nearly 200 National Guard members sent to Washington

in the days leading up to the inauguration have tested positive for COVID-19. Officials

fear they were exposed from working and taking rest breaks in close proximity with one another.

About 26,000 troops were deployed to protect the U.S. Capitol after the insurrection on January 6.

That comes amid outrage over news reports that U.S. Capitol Police ordered the National Guard

to leave the Capitol Building yesterday. They were temporarily relocated to rest

in a nearby parking garage while Congress was in session, but have since returned to the Capitol.

Today, the acting Capitol Police chief denied that

they instructed the Guard troops to vacate the Capitol. Lawmakers demanded an investigation.

Meanwhile, first lady Dr. Jill Biden made an unscheduled stop near the Capitol to

deliver cookies and thank a group of Guardsmen for protecting her family.

Russia today welcomed President Biden's proposal to extend the two countries' last

remaining limit on their nuclear arsenals. The so-called New START treaty is set to

expire on February 5. It would remain in place for five more years once the renewal is formalized.

Meanwhile, the first-ever international treaty to ban nuclear weapons went into effect today.

The United Nations Treaty on the Prohibition of Nuclear Weapons was ratified by 61 countries,

who vowed to never develop or acquire such weapons. But it's largely symbolic, since

neither the United States, nor any of the world's other nuclear-armed nations have signed on.

Back in this country, the National Association of Realtors reported that home sales in 2020

soared to their highest level in 14 years. It is largely due to a surge

in existing home sales in December. Overall, yearly sales rose nearly 6.5

million. Record low mortgage rates and remote work during the pandemic helped to drive up demand.

Meanwhile, stocks were mixed on Wall Street today. The Dow Jones industrial average lost 179 points

to close at 30997. The Nasdaq rose 12 points, and the S&P 500 slipped 11.

And Henry Aaron, one of baseball's greatest all-around players, has died. The Hall of

Famer spent most of his career with the Braves in Milwaukee and then Atlanta,

and held the home run record for 33 years. He was also a passionate civil rights advocate,

after enduring rampant racism through much of his career.

Hank Aaron was 86 years old.

And we will have more on his life later in the program.