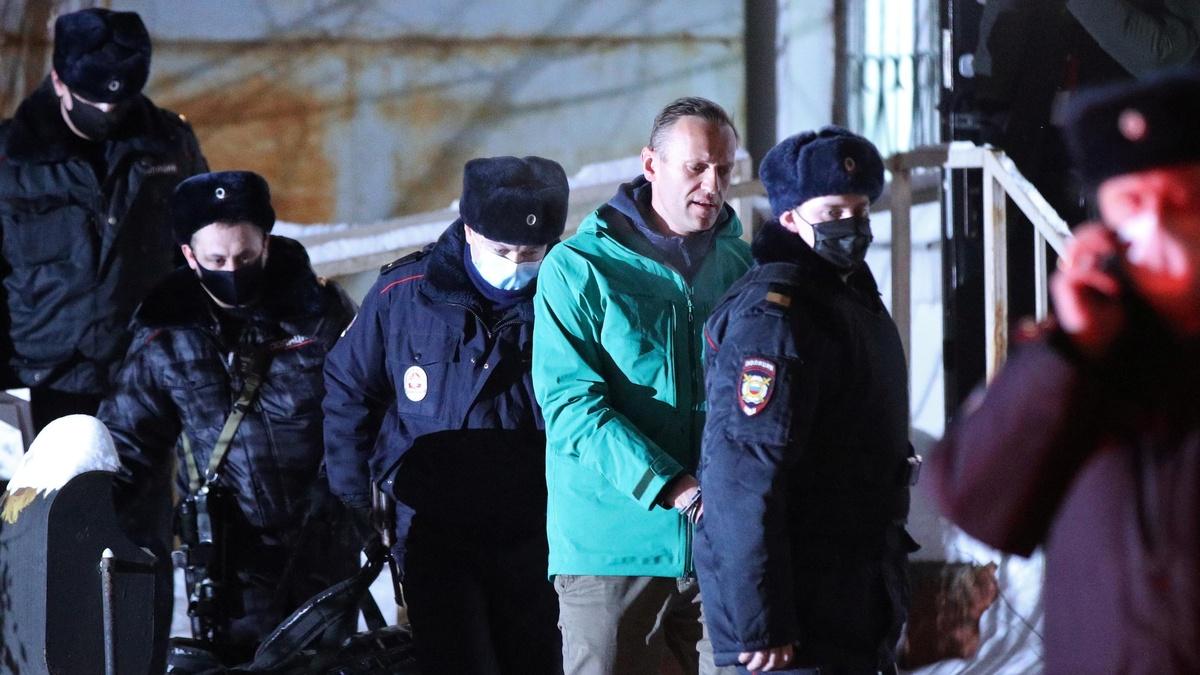 CLIP
News Wrap: Opposition leader Navalny jailed in Russia
In our news wrap Monday, opposition leader Alexei Navalny will spend 30 days in jail after a Russian court hearing in Moscow, the U.S. neared 400,000 deaths from COVID-19, President-elect Biden names his choices to lead two major regulatory bodies, and hundreds of migrants bound for the U.S. are at a standstill in southeastern Guatemala.
TRANSCRIPT

JUDY WOODRUFF: In the day's other news: The United States neared 400,000 deaths from COVID-19,

with numbers rising in nearly two-thirds of the states. In all, the country has

recorded more than 24 million confirmed cases. That's out of 95 million worldwide.

As the winter surge continues, the head of the World Health Organization

warned today that rich nations are buying up vaccines, leaving poor nations wanting.

TEDROS ADHANOM GHEBREYESUS, WHO Director General: Ultimately,

these actions will only prolong the pandemic, prolong our pain,

the restrictions needed to contain it, and human and economic suffering.

JUDY WOODRUFF: We will return to the pandemic after the news summary.

President-elect Biden has named his choices to lead two major regulatory bodies.

He will nominate Rohit Chopra for director of the Consumer Financial Protection Bureau.

Chopra is a progressive ally of Democratic Senator Elizabeth Warren.

And Gary Gensler is tapped to chair the Securities and Exchange Commission.

He's now at MIT after years spent on Wall Street

and chairing the Commodity Futures Trading Commission under President Obama.

The president-elect also joined in a National Day of Service, honoring the legacy of Dr.

Martin Luther King Jr. Mr. Biden and family members spent part of the day in Philadelphia.

They filled boxes with canned goods at a hunger relief organization.

Vice president-elect Kamala Harris volunteered at a food bank in Washington, D.C.

In Russia, opposition leader Alexei Navalny will spend 30 days in jail

after a court hearing Moscow today. He was arrested Sunday as he returned to Russia

for the first time since being poisoned with a Soviet-era nerve agent.

Jonathan Rugman of Independent Television News has our report.

Alexei Navalny broadcast the drama to his millions of social media followers.

He was sentenced to 30 days jail before another hearing about supposedly violating his probation.

ALEXEI NAVALNY, Russian Opposition Leader (through translator): The criminal procedure code has been

blatantly torn up and thrown into the garbage. This is the highest degree of lawlessness.

JONATHAN RUGMAN: It was last August that Mr. Navalny was taken ill on a plane,

with labs in three countries later concluding he had been attacked with nerve agent.

He and his wife, Yulia, knew he would be arrested upon his return last night.

Yet he also knew he had no credibility in exile and could pose no real threat to President Putin

from foreign soil, though he has helped identify the Russian secret

service man accused by investigative journalists of trying to kill him,

speaking to one of them who confessed to the poisoned underwear plot.

News broadcasters ignored today's hearing,

apart from this daytime crime show, which announced that Navalny had it coming

and that his fleet of cars in Berlin show he was being bankrolled by Western spies.

Navalny himself wants more sanctions on Moscow, as he told the European Parliament in November.

ALEXEI NAVALNY: The European Union should target the money, and Russian oligarchs,

not just old oligarchs, but also new ones, like this circle of Mr. Putin.

JONATHAN RUGMAN: Tonight, Navalny tells his supporters that they should take to the streets,

with protests planned for Saturday.

JUDY WOODRUFF: That report from Jonathan Rugman of Independent Television News.

Extreme cold and snow blanketed much of Europe today.

Temperatures in parts of Poland dropped to 18 degrees below zero,

the lowest in 11 years. In Warsaw, the deep freeze cracked railroad tracks. Far to the south,

in Turkey, cars and buses in Istanbul skidded on icy roads, forcing traffic to a standstill.

Hundreds of migrants bound for the U.S. are at a standstill in Southeastern Guatemala. They have

been stopped near the village of Vado Vadona -- Hondo, Vado Hondo, part of some 8,000 people who

crossed from Honduras. On Sunday, security forces beat back the migrants with sticks

and tear gas. Some were forced back into Honduras, while others were bused back voluntarily.

And back in this country, the NAACP's Legal Defense and Educational Fund

announced a $40 million scholarship program on this King Day to educate new civil rights lawyers.

A single anonymous donor gave the group the money.

The selected students must commit to eight years of racial justice work across the South.

Still to come on the "NewsHour": the U.S. approaches another grim milestone in the ongoing

pandemic; Tamara Keith and Amy Walter on the end of the Trump era and the start of the Biden

presidency; and the national youth poet laureate discusses her message at the inauguration.