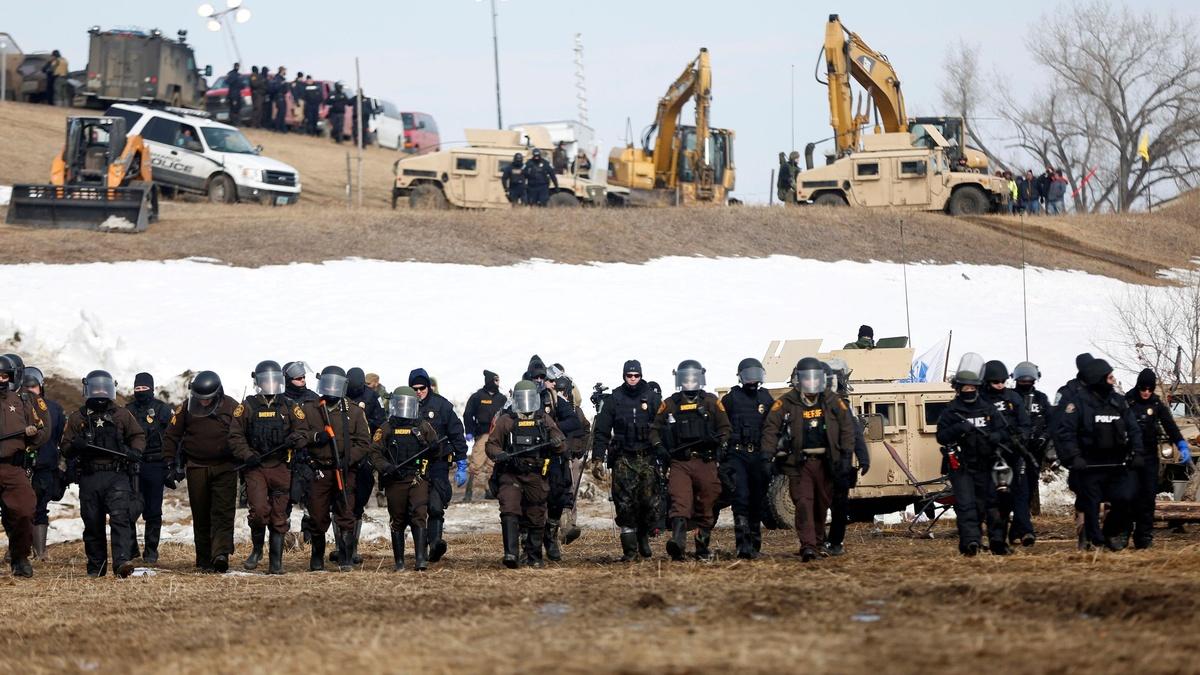 CLIP
News Wrap: Judge halts Dakota Access Pipeline until review
In our news wrap Monday, a federal judge has ordered the shutdown of the Dakota Access Pipeline pending an environmental review. The decision represents a major victory for the Standing Rock Sioux tribe. Also, Chicago suffered one of its bloodiest holiday weekends, with 17 people shot and killed -- including a 7-year-old girl and a 14-year-old boy. An additional 70 people were wounded by gunfire.
TRANSCRIPT

JUDY WOODRUFF: In the day's other news: Chicago suffered one of its bloodiest holiday weekends

yet; 17 people were shot and killed, including a 7-year-old girl and a 14-year-old boy. Seventy

more people were wounded by gunfire. An additional 1,200 officers were on the streets over the

weekend. But there were still more than twice as many shooting deaths compared to last year.

DAVID BROWN, Chicago, Illinois, Police Superintendent: We cannot allow this to be normalized in this

city. We cannot get used to hearing about children being gunned down in Chicago every

weekend. We must keep violent offenders in jail longer.

JUDY WOODRUFF: New York City also saw a spike in gun violence this past weekend; 11 people

died and dozens were wounded in more than 30 shootings.

Mayor Bill de Blasio voiced his concern during a morning news conference.

BILL DE BLASIO (D), Mayor of New York: It's not because of one thing. Let's be really

clear, there's not one cause for something like this. There's a lot of different pieces,

and, again, the fact that the court system is not working, the economy is not working,

people have been pent up for months and months, so many issues underlying this challenge.

JUDY WOODRUFF: And an 8-year-old girl was fatally shot Saturday night in Atlanta after

at least two people opened fire on the car she was riding in. The shooting happened near

a memorial for Rayshard Brooks. He's the black man who was killed by a white police officer

last month.

The Supreme Court today unanimously ruled that presidential electors can be bound to

the winning candidate in their state's popular vote. That means that in 32 states and the

District of Columbia, electors, they cannot cast their Electoral College vote for a different

candidate.

Separately, the high court also upheld a 1991 law that bars telemarketing robo-calls to

cell phones. But it threw out an exception that was created by Congress that allowed

the calls for collection of government debt.

A federal judge has ordered the shutdown of the Dakota Access Oil Pipeline, pending an

environmental review. It's a major victory for the Standing Rock Sioux Tribe. The pipeline

crosses the Missouri River, where the tribe gets its water, and has raised concerns about

pollution.

The head of the North Dakota Petroleum Council insisted the pipeline is safe.

RON NESS, President, North Dakota Petroleum Council: There's been a lot of back and forth

on this Dakota Access Pipeline, which carries almost a half-a-billion barrels of high-quality

North Dakota Bakken oil to what is considered the best market in the United States for that

oil. The reality is, it's got three-plus years now of safe operating procedures behind it.

JUDY WOODRUFF: Meanwhile, Duke Energy and Dominion Energy announced that they are canceling

development of the $8 billion Atlantic Coast natural gas pipeline. A multistate project,

they're canceling it over delays and cost uncertainty. That decision comes despite a

recent Supreme Court victory over a key permit.

Stocks soared on Wall Street today, boosted by major gains in the technology sector. The

Dow Jones industrial average climbed 459 points to close at 26287. The Nasdaq rose 226 points,

and the S&P 500 added nearly 50.

At least eight people are dead after two small planes collided in Northern Idaho. The crash

happened Sunday afternoon over Lake Coeur d'Alene. Dive crews located the wreckage in

about 125 feet of water. At least three children were among the victims. There's no word yet

on the cause.

The white woman at the center of a viral confrontation with a black man in Central Park was charged

today with filing a false report. Amy Cooper drew widespread condemnation after she called

911 and claimed that bird watcher Christian Cooper threatened her after he calmly asked

her to leash her dog, as required. She was ordered to appear in court in October on the

misdemeanor charge.

And two passings of note tonight.

Country music legend Charlie Daniels died today in Tennessee after suffering a stroke.

For decades, he was a mainstay on the Nashville scene as a singer, guitarist, fiddler, and

band leader. Charlie Daniels was inducted into the Country Music Hall of Fame in 2016.

Here he is playing his Grammy-winning hit "The Devil Went Down To Georgia" in 1979.

(MUSIC)

JUDY WOODRUFF: Charlie Daniels was 83 years old.

And Broadway actor Nick Cordero died Sunday in Los Angeles from COVID-19 complications.

He'd been hospitalized for more than 90 days. Cordero appeared in a number of Broadway shows,

including "Waitress" and "A Bronx Tale." In 2014, he earned a Tony nomination for his

role in the musical "Bullets Over Broadway." Nick Cordero was 41.

Still to come on the "NewsHour": COVID's disproportionate toll on people of color in the U.S.; a perfect

storm -- the increasing threats of hurricanes during the pandemic; political stakes -- how

President Trump doubles down on racially charged language; and much more.