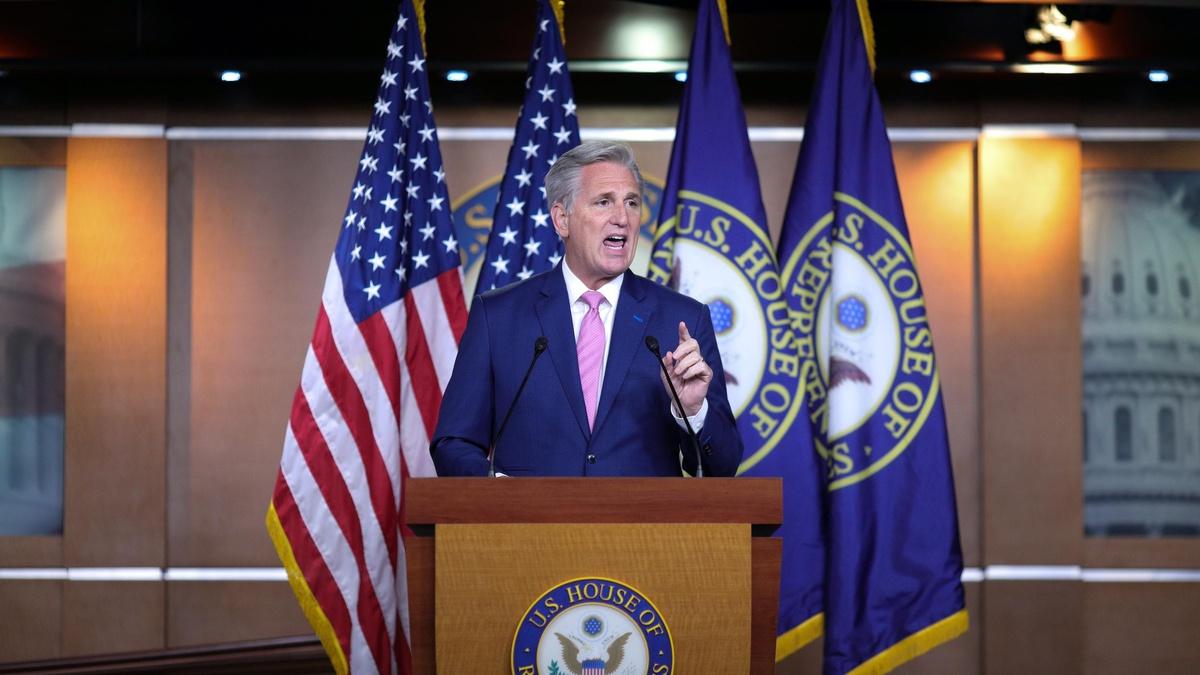 CLIP
News Wrap: House shelves FISA bill after Trump's veto threat
In our news wrap Thursday, House Democratic leaders shelved a bill to renew government surveillance tools. The move followed President Trump's promise to veto, after which congressional Republicans "abandoned their commitment to security," according to Speaker Nancy Pelosi. Meanwhile, Trump signed an executive order aimed at social media companies, accusing them of bias against conservatives.
TRANSCRIPT

JUDY WOODRUFF: In the day's other news: China's National People's Congress ratified plans

for a national security law to tighten Beijing's control over Hong Kong.

The ceremonial legislature's action means that the new law could take effect in September.

The proposal has sparked new protests in Hong Kong.

We will take a closer look later in the program.

Back in Washington, House Democratic leaders have shelved a bill to renew surveillance

tools after President Trump promised a veto. He has linked provisions in the Foreign Intelligence

Surveillance Act, known as FISA, to what he calls abuses in the Russia investigation.

Today, House Speaker Nancy Pelosi blamed Republicans for following his lead.

REP. NANCY PELOSI (D-CA): The president said he would veto the bill, so all of the Republicans

then abandoned their commitment to security, and said that they were going to vote against

the bill. This has always been bipartisan.

JUDY WOODRUFF: Progressive Democrats in the House also came out against the surveillance

bill.

Today, House Minority Leader Kevin McCarthy defended the Republicans' reversal in the

light of the veto threat.

REP. KEVIN MCCARTHY (R-CA): There was a concern that this was not going to be signed. So I

said, why don't you pause, and why don't we work on this with the administration?

Because I'm not interested in doing some political game, because I believe FISA is very important.

And let's solve the concerns and let's make law.

JUDY WOODRUFF: The bill originally passed the House with bipartisan support, but was

amended in the Senate. Now the two chambers will negotiate.

President Trump signed an executive order today aimed at social media companies. He

accused them of bias against conservatives, and he directed federal agencies to consider

rolling back their legal liability protections. The president acted after Twitter instituted

fact-checks on two of his tweets. The tweets claimed, without proof, that mail-in voting

is rife with fraud.

A battle over balloting in Texas is moving to the federal courts. That's after the all-Republican

state Supreme Court blocked mail-in voting for those who cite fear of the coronavirus.

State Democrats favor expanded voting by mail, and they say they will pursue a separate federal

lawsuit.

On Wall Street today, stocks fell, as U.S. tensions with China rose. The Dow Jones industrial

average lost 147 points to close at 25400. The Nasdaq fell 43 points, and the S&P 500

gave up six.

And the Boston Marathon has been canceled for the first time in its 124-year history

due to the pandemic. The race had already been delayed until September, but organizers

officially scratched it today. Instead, runners who verify they ran a marathon on their own

will get a finisher's medal.

Still to come on the "NewsHour": the head of the San Francisco Federal Reserve discusses

the economic calamity of COVID-19; China's government passes a law to exert more control

over semiautonomous Hong Kong; we mark how passing 100,000 deaths will reshape the U.S.;

and much more.