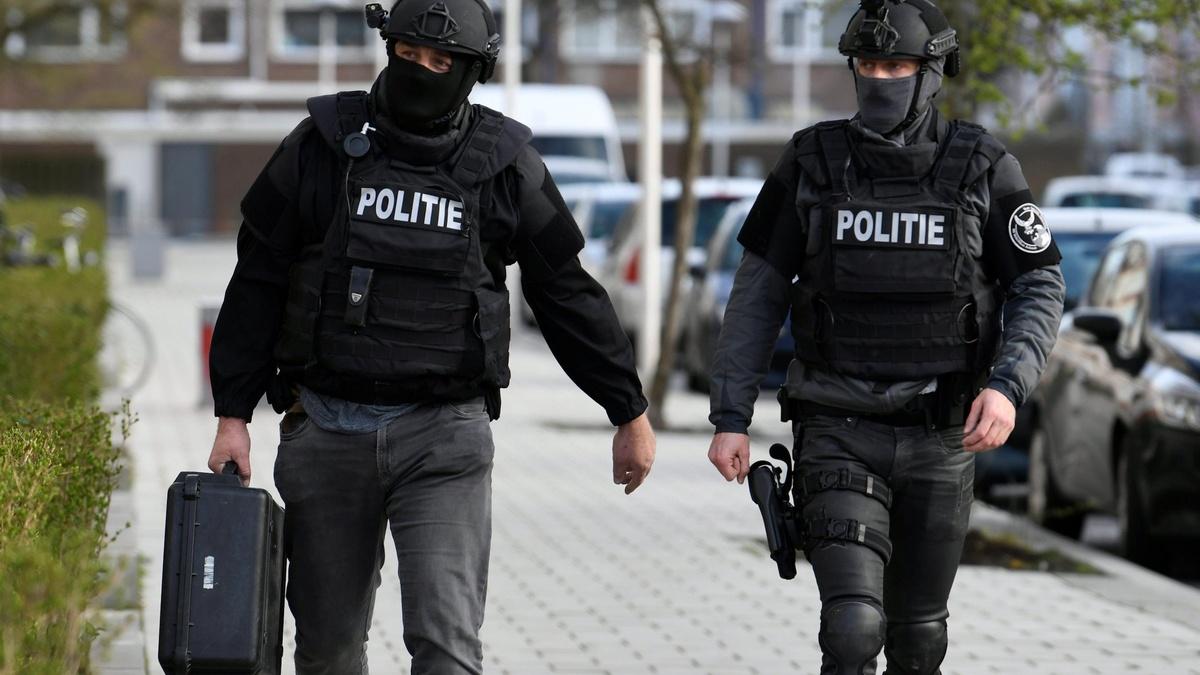 CLIP
News Wrap: Streetcar shooting in the Netherlands kills 3
In our news wrap Monday, a gunman in the Netherlands killed three people and wounded five more on a streetcar in Utrecht. A 37-year-old man from Turkey was arrested hours later; the Dutch justice minister said it is unclear what the attacker's motive was. Also, in Mozambique, a tropical cyclone has killed more than 200 people -- and the country's president says the death toll could hit 1,000.
TRANSCRIPT

JUDY WOODRUFF: The government of New Zealand is promising tougher gun law proposals within

10 days.

That word came today after Friday's terror at two mosques in the city of Christchurch,

leaving 50 people dead.

Meanwhile, President Trump complained that news reports are unfairly blaming him for

the attack.

The accused gunman referred to him as -- quote - - "a symbol of renewed white identity."

We will look at all of this after the news summary.

A gunman in the Netherlands today killed three people and wounded five on a streetcar in

Utrecht.

A 37-year-old man from Turkey was arrested hours later.

Forensic teams and bomb-sniffing dogs searched the scene after the attack.

The Dutch justice minister said it is still unclear what sparked the shooting.

FERD GRAPPERHAUS, Dutch Justice Minister: We were able to very soon spot him, to also

connect him through a runaway car in which he had fled from the place of the assault.

So we have now arrested him.

We do not know as yet as to what his motives are.

We do not exclude any type of motive.

JUDY WOODRUFF: The justice minister said the suspect has a criminal record and was known

to Dutch authorities before today.

A tropical cyclone that smashed into Southern Africa has killed more than 200 people, and

the president of Mozambique says the toll could hit 1,000.

The storm surged down the Mozambique Channel last week, tearing through that country's

coast and into Zimbabwe and Malawi.

Officials say 90 percent of the Mozambique port city of Beira was damaged or destroyed.

The storm wrecked homes and flooded swathes of land.

In Indonesia, days of torrential downpours have caused deadly flooding and mudslides,

killing more than 80 people.

The flooding, in a mountainous region of Papua province, covered roads with mud and debris

and has made rescue efforts more difficult.

Meanwhile, an earthquake in Indonesia caused a landslide early today.

It killed three people and damaged hundreds of homes.

Across the U.S. Midwest, heavy rain and snowmelt have sent rivers over levees, submerging farms

and whole neighborhoods in several states.

William Brangham has our report.

WILLIAM BRANGHAM: In Peru, Nebraska, National Guard trucks bring a lifeline, bottled water.

Volunteers unload the water after flooding from the Missouri River shut down the town's

water treatment plant.

Fred Knapp of Nebraska PBS station NET was in Peru.

FRED KNAPP, NET Nebraska: Down here, there are about 10 houses that have been flooded

by the Missouri River after a levee broke north of here.

WILLIAM BRANGHAM: Across the state, roads, livestock and hundreds of homes have been

swallowed by floodwaters.

MAN: It is devastating.

It is devastating.

WILLIAM BRANGHAM: Flooding began last week after a massive late-winter storm hit.

Water levels rose through the weekend, hitting those who live along the Missouri River the

hardest.

LISA LEMUS, Nebraska: It's about as bad as it gets.

You know, you're starting over.

WILLIAM BRANGHAM: Lisa Lemus, from Sarpy County, is one of hundreds who had to evacuate when

waters flooded her home.

LISA LEMUS: There is no words that can describe somebody's mental state when all this comes

down.

WILLIAM BRANGHAM: Rescuers in airboats came to save those who couldn't escape in time.

Across the Midwest, floodwaters brought record river levels to 41 places, including 17 spots

in Nebraska.

The water reached seven feet in some areas.

On the eastern side of the Missouri River, nearly 2,000 people have been evacuated across

Iowa.

Floodwaters destroyed roads, including part of this bridge in Council Bluffs.

Overflow from the Rock River in Illinois has inundated communities along its banks.

And it could still get worse.

Rain is in the forecast for Tuesday, and the Missouri River is expected to reach its highest

level on Thursday.

For the "PBS NewsHour," I'm William Brangham.

JUDY WOODRUFF: There is more today on the Ethiopian Airlines crash that killed 157 people.

French investigators are helping to recover the plane's black box data.

Today, they reported clear similarities between that crash and one in Indonesia last October.

Ethiopia's transport minister said much the same on Sunday.

Both crashes involved the Boeing 737 MAX.

We will focus on how the new plane won regulatory approval later in the program.

Britain's Prime Minister Theresa May suffered a new setback today in her bid to push a Brexit

plan through Parliament.

The House of Commons has defeated the plan twice, but May wants a third vote this week.

Today, though, the speaker of the House ruled that a centuries-old rule bars another vote,

unless the proposal is -- quote -- "substantially different."

JOHN BERCOW, Speaker, House of Commons: What the government cannot legitimately do is to

resubmit to the House the same proposition or substantially the same proposition as that

of last week, which was rejected by 149 votes.

JUDY WOODRUFF: Britain is now set to leave the European Union on March 29, with or without

a deal, unless the E.U. grants a delay.

The U.S. Supreme Court was back in action today.

The justices rejected an appeal from a bed-and-breakfast in Hawaii that denied a room to a lesbian

couple.

They agreed to review a criminal conviction in Louisiana.

It was decided by a jury that wasn't unanimous, but the state has since changed its constitution

to mandate unanimous verdicts.

On Wall Street today, the Dow Jones industrial average gained 65 points to close at 25914.

The Nasdaq rose almost 26 points, and the S&P 500 added 10.

And noted economist Alan Krueger has died.

His family says he took his own life.

After working in the Clinton administration, Krueger was a top Treasury Department official

and chair of the Council of Economic Advisers under President Obama.

Before and after those positions, he taught at Princeton University.

His groundbreaking research ranged from economic inequality to the economic effects of opioid

addiction.

Alan Krueger was 58 years old.

Still to come on the "NewsHour": how the massacre in New Zealand highlights concerns of hate

spread by social media; questions over how the Boeing 737 MAX got approved to fly; breaking

down President Trump's latest Twitter storm; and much more.