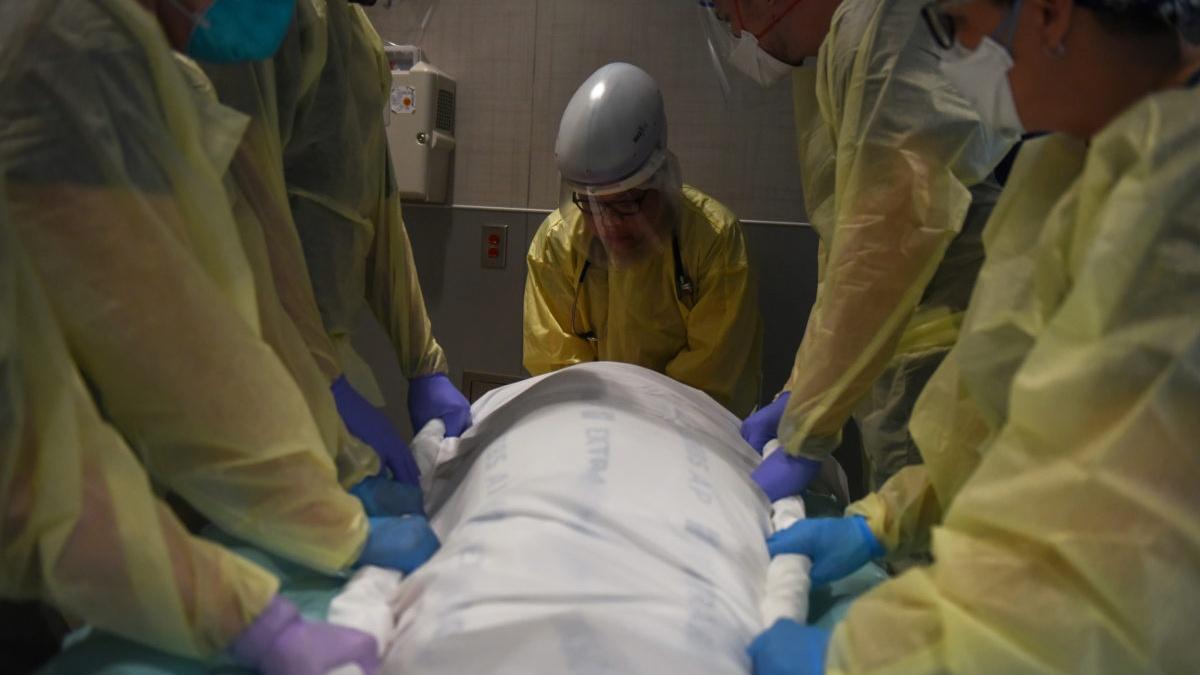 CLIP
Mistakes, victories in one hospital during COVID-19
What has it been like handling the COVID-19 pandemic day to day in a busy hospital? Dr. Adam Jarrett, Chief Medical Officer at Holy Name Medical Center in Teaneck, New Jersey and co-author of: "In the Time of COVID: One Hospital's Struggles and Triumphs," joins Michael Hill to discuss the daily effort to save lives and keep staff safe.
TRANSCRIPT

>> Hill: FOR MORE ON THE

COVID-19 CRISIS AND HOW ONE

HOSPITAL RESPONDED EARLY ON, I

RECENTLY SPOKE WITH DR. ADAM

JARRETT FOR N.J. SPOTLIGHT

NEWS.

HE'S CHIEF MEDICAL OFFICER AT

HOLY NAME MEDICAL CENTER IN

TEANECK, NEW JERSEY, AND AUTHOR

OF "IN THE TIME OF COVID: ONE

HOSPITAL'S STRUGGLES AND

TRIUMPHS."

ALL RIGHT, DR. JARRETT, LET'S

TALK ABOUT "IN THE TIME OF

COVID" THAT YOU HAVE WRITTEN.

AND I WANT TO TALK TO YOU ABOUT

A PHRASE THAT YOU HAVE IN HERE.

YOU SAID AFTER OUR FIRST

CONFIRMED CASE ON MARCH 4 OF

THIS YEAR, "WHEN I WENT HOME

THAT NIGHT, I CLIMBED INTO BED

WITH MY WIFE EXHAUSTED AND FOR

THE FIRST TIME WEPT, REALLY

WEPT."

PLEASE TELL US WHY.

>> WELL, I WAS WORRIED ABOUT THE

PATIENTS WE WERE TAKING CARE OF,

AND I WAS WORRIED ABOUT OUR

STAFF.

WE KNEW NOTHING ABOUT THIS

DISEASE.

WE WERE VERY CONCERNED THAT IT

WAS INCREDIBLY INFECTIOUS, WHICH

IT IS.

BUT AT THAT TIME, WE WERE NOT

CONFIDENT THAT NORMAL P.P.E. WAS

GOING TO EVEN PROTECT OUR STAFF.

WE WERE NOT CONFIDENT THAT WE

WERE GOING TO HAVE ADEQUATE

P.P.E.

I REALLY HAD VISIONS IN MY MIND

AT ONE POINT OF THE HOSPITAL

STAFF BEING SO DECIMATED THAT WE

WERE NOT GOING TO BE ABLE TO

TAKE CARE OF OUR PATIENTS AND

WE'D HAVE PATIENTS LINED UP IN

HALLWAYS, WE'D HAVE PATIENTS

DYING, WHICH WE DID.

BUT I THINK AT THAT MOMENT IT

WAS REALLY ABOUT A FEAR THAT WE

WERE NOT GOING TO BE ABLE TO

KEEP UP AND THAT OUR STAFF WERE

NOT GOING TO BE ABLE TO KEEP UP,

AND THAT PIECE-- PEOPLE THAT I

KNEW AND CARED FOR, STAFF, WERE

GOING TO POTENTIALLY GET HURT

AND DIE.

THE GOOD NEWS IS, WE KEPT

ADEQUATE AMOUNTS OF P.P.E., BUT

IT WAS A DAY TO DAY STRUGGLE.

AND WE LOST OVER 250 PEOPLE,

PATIENTS AT HOLY NAME, AND WE

LOST SIX TO EIGHT PEOPLE WHO

WERE PART OF THE HOLY NAME

COMMUNITY AND FAMILY.

>> Hill: DOCTOR, I NOTICED

THROUGHOUT THE BOOK YOUR

LANGUAGE IS BLUNT.

YOU ARE VERY MUCH TO THE POINT.

AND YOU SAY AT ONE POINT IN

EARLY MARCH, "I MADE A MISTAKE."

WHAT WAS THAT MISTAKE?

>> IF I REMEMBER CORRECTLY, THAT

HAD TO DO WITH BRINGING THE

MEDICAL STAFF AND THE HOSPITAL

COMMUNITY TOGETHER SO WE COULD

LEARN ABOUT THIS VIRUS.

SO, I SET UP A MEETING FOR OUR

MEDICAL STAFF AND OUR NURSES,

AND I EXPECTED ABOUT 50 PEOPLE

TO SHOW UP, AND CLOSE TO 500

PEOPLE SHOWED UP.

NOW, EVEN AT THE TIME OF THE

MEETING AND EVEN SEVERAL DAYS

LATER, I DID NOT THINK OF THAT

AS A MISTAKE.

BUT AS WE LEARNED ABOUT THIS

VIRUS, WE REALIZED THAT OUR

MAJOR THING THAT WE CAN DO TO

PROTECT EACH OTHER IS TO

SOCIALLY DISTANCE.

AND I DIDN'T DO THAT AT THAT

MEETING, AND I-- I REGRET THAT.

>> Hill: DOCTOR, YOU ALSO WRITE

ABOUT HAVING A PLAN.

"WE HAD THOUGHT THAT THIS WOULD

BE A SHORT-TERM PROBLEM THAT WE

COULD HANDLE WITH ONLY SIX BEDS

IN THE EMERGENCY DEPARTMENT."

WHEN DID REALITY TELL YOU

OTHERWISE?

>> RELATIVELY QUICKLY.

AND I THINK THAT, AS I

PERSONALLY AND HOLY NAME AND THE

ENTIRE COUNTRY WAS LULLED BY

PAST EVENTS IN THE WORLD-- WE

EXPERIENCED SARS, WE EXPERIENCED

EBOLA-- AND WE JUST THOUGHT

WE'RE NOT GOING TO HAVE A

PANDEMIC.

AND IF WE DO-- WE'RE JUSTNOT

GOING TO HAVE A PANDEMIC.

THE NUMBERS WILL BE SMALL, AND

THAT'S LITERALLY WHY WE PLANNED

FOR SIX PATIENTS.

LITERALLY WITHIN FIVE DAYS OF

OUR FIRST KNOWN PATIENT, WE KNEW

THAT WE WERE GOING TO HAVE A

BIGGER PROBLEM, AND WE QUICKLY

BEGAN TO ADJUST THE DAY TO DAY

AT THE HOSPITAL TO BE PREPARED

FOR THAT.

THE BIGGEST THING WE DID WAS

BUILD NEGATIVE PRESSURE ROOMS.

VERY EARLY ON, THE C.D.C. WAS

VERY CLEAR IN THEIR GUIDELINES

THAT ALL TESTING AND ALL

TREATMENT OF COVID-19 PATIENTS

SHOULD OCCUR IN NEGATIVE

PRESSURE ROOMS BECAUSE OF

CONCERN THAT THE VIRUS WOULD

AEROSOLIZED.

WE ACCEPTED THAT AND KNEW THAT

THAT WAS GOING TO BE A POTENTIAL

ISSUE BECAUSE MOST HOSPITALS

HAVE TEN, 12, 15 NEGATIVE

PRESSURE ROOMS.

THROUGHOUT THE PANDEMIC, WE

BUILT OVER 275 ROOMS, AND WE

KEPT OUR PATIENTS IN THEM.

>> Hill: DOCTOR, RIGHT NOW IN

THE U.S.A., 257,000 DEATHS DUE

TO COVID.

AREN'T THOSE PERSUASIVE ENOUGH

FOR PEOPLE TO SAY IT'S TIME FOR

ME TO WEAR A MASK?

AND IF NOT, WHATWILL BE

PERSUASIVE?

>> I THINK IT IS PERSUASIVE

ENOUGH, BUT OBVIOUSLY THERE ARE

PEOPLE OUT THERE WHO DO NOT.

AND I DON'T UNDERSTAND THAT.

WHAT I HAVE SEEN IS SITUATIONS

WHERE THE DISEASE AFFECTS PEOPLE

WHO I WILL CALL "ANTI-MASKERS"--

I DON'T PARTICULARLY LIKE

THAT TERM, BUT I USE IT IN THE

BOOK, SO I'LL USE IT.

AND I'VE SEEN SITUATIONS WHERE

THE DISEASE AFFECTS PEOPLE WHO

ARE ANTI-MASKERS, AFFECTS THEIR

FAMILY, AND THAT SEEMS TO BE

WHAT CHANGES THEIR VIEW.

AND THAT'S UNFORTUNATE AND

THAT'S SAD.

PUT ON A MASK.

YOU'RE DOING YOURSELF A FAVOR.

YOU'RE DOING THE PEOPLE AROUND

YOU A FAVOR.

THIS DISEASE COULD NOT BE MORE

REAL, AND WE HAVE SOME VERY

BASIC THINGS THAT CAN MAKE A

DIFFERENCE.

AND IT STARTS WITH WEARING A

MASK.

>> Hill: DR. ADAM JARRETT IS THE

CHIEF MEDICAL OFFICER OF HOLY

NAME MEDICAL CENTER IN TEANECK,

NEW JERSEY, AND HE'S JUST

WRITTEN A BOOK, "IN THE TIME OF

COVID."

DR. JARRET, THANK YOU SO MUCH.

>> MICHAEL, TAKE CARE AND STAY

WELL.