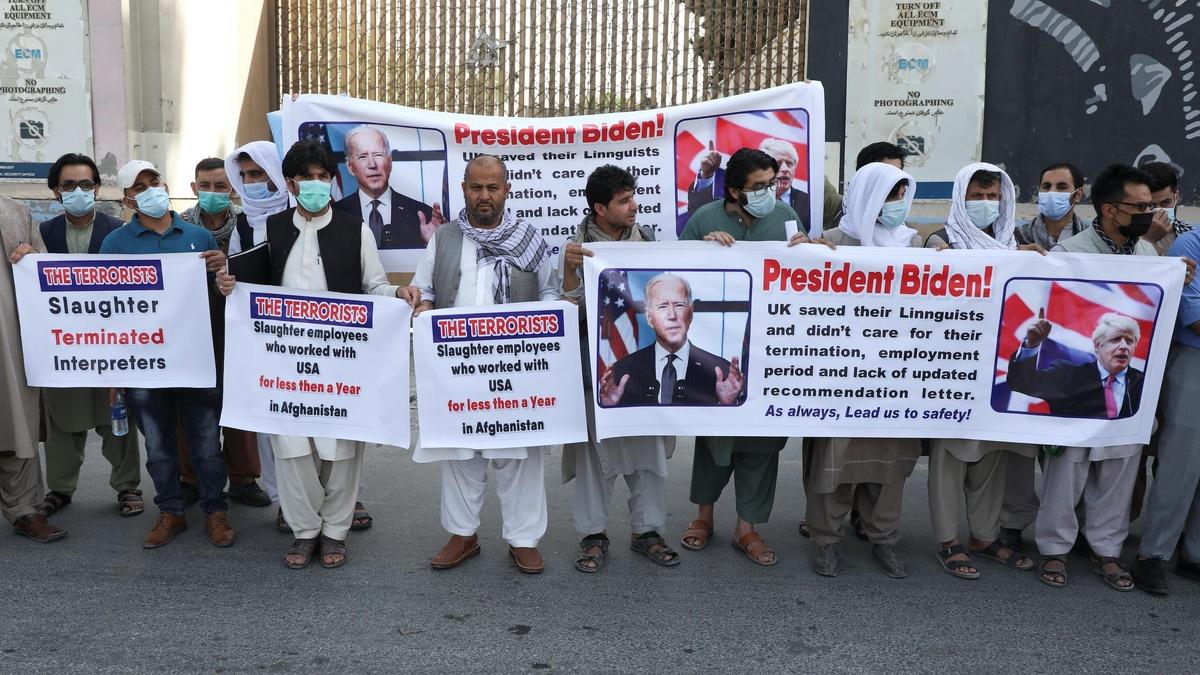 CLIP
First Afghan interpreters, their families arrive in the U.S.
More than 200 Afghans eligible for special immigrant visas arrived in Virginia Friday. They are the first group of former interpreters — and their families — who worked with American soldiers on the ground. They're being evacuated by the Biden administration just weeks before the U.S. withdrawal is complete and as Taliban violence increases. Nick Schifrin joins Judy Woodruff to discuss.
TRANSCRIPT

JUDY WOODRUFF: Today, more than 200 Afghan citizens

eligible for so-called Special Immigrant Visas arrived in Virginia. They are the first group

of former interpreters and their families who worked with the Americans to get out.

They're being evacuated by the Biden administration just

weeks before the U.S. withdrawal is complete and as violence across Afghanistan increases.

Nick Schifrin joins us now.

So, hello, Nick. I know you have been following this story for quite a while.

Tell us, who are these people, individuals from Afghanistan? And where are they going to go?

NICK SCHIFRIN: Two hundred and twenty-one Special Immigrant Visa applicants,

and that includes 70 children, arrived via this bus at Fort Lee in Virginia.

They will be staying at facilities, including hotels, on the base prepared

by the military as they complete their visa applications, which is expected to last

about a week. And these are people at the very end of a 14-step, years-long process.

And they are a fraction of the 5,000 Special Immigrant Visas issued by U.S. Embassy Kabul

this year and the tens of thousands of Afghan family members who are in this SIV pipeline.

And advocate say this evacuation is a matter of life and death. Remember that these people worked

with the U.S. military, they worked on the front lines, risking their lives for the U.S. over the

last 20 years. They have been targeted, threatened and even killed in some cases by the Taliban.

And some national security experts also say that, if the U.S. doesn't evacuate them,

prospective U.S. partners in future wars won't trust that the U.S. can protect them either.

JUDY WOODRUFF: And, Nick, we know there are many, many more like them

still in Afghanistan. What happens to them?

NICK SCHIFRIN: So, Congress and the White House have been working

together to try and lift some red tape that some of these applicants face.

And, just yesterday, Congress passed and, just tonight, President Biden signed a bill that

lifts some of that red tape. There will be more flights in the coming weeks of these applicants.

And some of the applicants who are less far along in the process

will go to a third country, possibly Qatar or Kuwait, on their way to the U.S.

But refugee advocates say the administration has simply not acted

fast enough. There are no U.S. troops outside of Kabul in Afghanistan now who can defend

some of these translators as they get to Kabul, as the Taliban has taken over

half of Afghanistan's provinces and cut off many of those roads between Kabul and the provinces.

And this goes beyond just the people,

just the Afghans who were helping the U.S., including those interpreters.

Take a listen to Adam Bates with the International Refugee Assistance Project.

ADAM BATES, International Refugee Assistance Project: This is something the administration

should have been planning all along about how to protect these people and make sure that

nobody who is an imminent danger is left behind.

There are thousands and thousands of other Afghans who are in danger either because

of U.S. affiliations. Maybe they worked with U.S. media organizations or NGOs.

Maybe they worked on cooperative agreements, instead of contracts,

and then people who weren't affiliated with the U.S., but who are still

in danger from the Taliban, women's rights activists, human rights lawyers, civil servants.

NICK SCHIFRIN: And senior administration officials say they are trying to help those

other groups who aren't eligible for these SIVs, including by labeling them Priority 2 or, P-2.

That's a refugee status. That would allow them to easier seek and obtain that refugee status.

But, Judy, that process takes a lot of time. The U.S. withdraws from Afghanistan

in a matter of weeks, and security across the country is deteriorating.