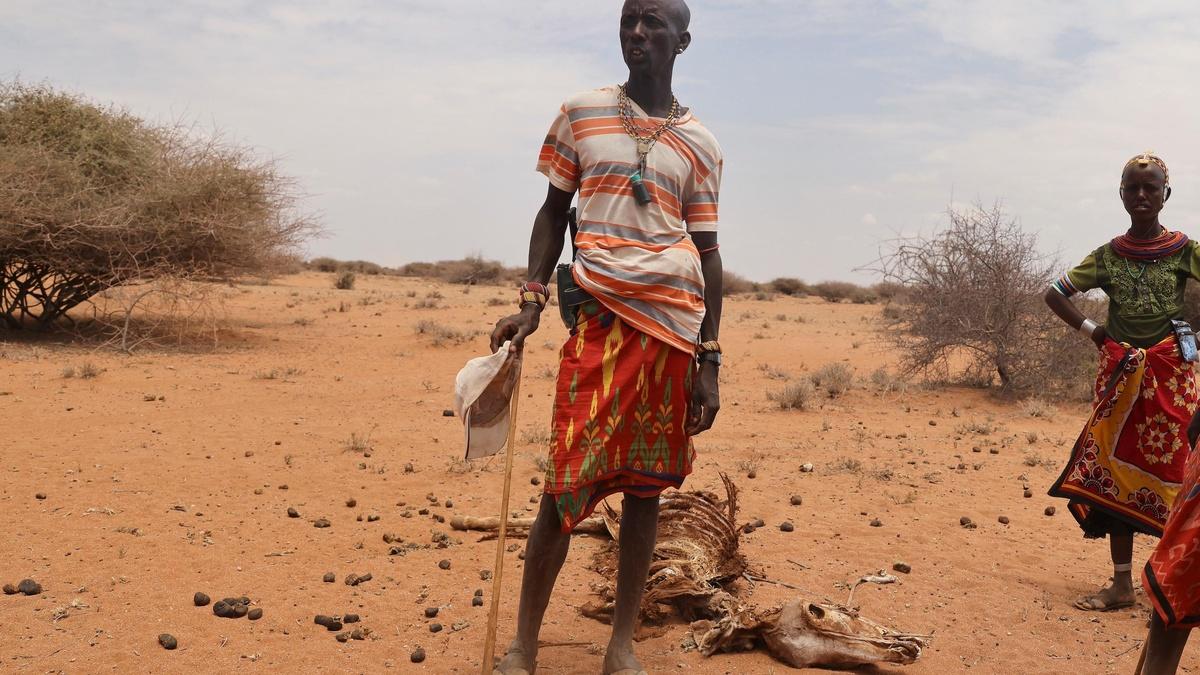 CLIP
Deadly drought in Kenya creates humanitarian crisis
The worst drought in decades is gripping eastern Africa -- parching landscapes, killing livestock and creating a humanitarian crisis. Driven by climate change, it's also leading to civil strife, as shepherding communities battle each other for scarce resources. Special correspondent Jack Hewson and producer Georgina Smith report from the Wajir province of northern Kenya.
TRANSCRIPT

JUDY WOODRUFF: The worst drought in decades is gripping Eastern Africa, parching landscapes,

killing livestock, and creating a humanitarian crisis.

Driven by climate change, it's also leading to civil strife, as shepherding communities

battle each other for scarce resources.

Special correspondent Jack Hewson and producer Georgina Smith begin this report in Wajir

province of Northern Kenya.

And a warning: Some images in this report may disturb viewers.

JACK HEWSON: These giraffes have become a defining image of the East African drought.

At least 100 have died in the past two months in Kenya's northeastern Wajir province.

Starving and thirsty, some are coming to the only remaining watering hole for 30 miles,

near to the Sabuli nature conservancy.

This morning, there's a fresh casualty by its shore.

The giraffes are dying, after getting stuck in the mud.

Weakened by hunger, they simply don't have the strength to pull themselves out.

To prevent contamination, locals drag them away.

But it's not just wildlife that are being affected.

NUR HUSSEIN, Resident of Wajir Province (through translator): This village was a village full

of people and livestock, which depended basically on livestock for livelihood.

But, for a period of nine months, we have not received any rain.

JACK HEWSON: As a result, more than 70 percent of this village's livestock have perished.

Since September, much of Kenya's north has received less than 30 percent of normal rainfall.

Droughts have always afflicted the region, but, since 1999, have doubled in frequency

due to climate change.

Now there is drought every two to three years.

In nearby Dagahaley, Haretha has lost more than 100 animals.

Some of the remaining cattle are so weak, they have to be assisted to stand.

HARETHA BARE, Resident of Wajir Province (through translator): Most of the animals that we toiled

away for are dead.

Some of the children have been sent to other parts of the country to save them.

The younger ones, 5 or 6 years old who are here, and the lactating mothers are unable

to eat the food that we cook, because it's gone bad.

JACK HEWSON: The livestock death is crippling for desert pastoralist communities.

The animals are both a critical source of wealth and nutrition.

Without them, they are left destitute and hungry.

The U.N. says more than 26 million are struggling to find food across East Africa, while, here

in Northern Kenya, almost half-a-million children are acutely malnourished.

Isnina's 5-year-old daughter, Fratun, is among them.

ISNINA HARE, Mother of Fratun (through translator): Initially, when there was milk from the cattle,

she could support herself and walk around.

But now, without any milk, she can't support herself.

When she wants to sit, we have to help her sit up.

When she tries to stand up, she just collapses.

JACK HEWSON: But the drought isn't just prompting a humanitarian crisis.

It's also intensifying ethnic conflict.

We traveled northeast to Turkana, a remote province bordering Uganda, South Sudan, and

Ethiopia, where pastoralist migration has no respect for national boundaries and increased

cattle raiding is costing lives.

Digging for water in this dried-up river bed, these Turkana women said they were constantly

on the lookout for cattle raiders.

KACIMAPUS ICHOR, Turkana Pastoralist (through translator): Two tribes from Uganda are attacking

us here.

We don't even sleep.

They might be watching us here as we speak.

JACK HEWSON: Raiding has always been a part of pastoralist culture, but increasingly severe

droughts are intensifying competition among rival nomadic groups.

Researchers estimate that just one degree of global warming will increase the likelihood

of conflict by a minimum of 17 percent.

Animosity here is already running high.

KACIMAPUS ICHOR (through translator): The enemies are taking our animals to eat and

sell them.

They go get rich, while leaving us poor.

JACK HEWSON: Adding to the lethality of this conflict has been the growing prevalence of

automatic weapons.

When pastoralists started fighting with AK-47s in the 1970s, violence as a cause of death

among their men jumped from 22 percent to 35 percent.

For these men, it remains a leading cause of death.

We're with the national police reservists here on the Uganda-Kenya border, where there

have been multiple raids, cattle raids, in Kenyan territory recently.

Many people have been killed in these clashes.

LONGOLEIN NGISAAJA, Turkana Pastoralist (through translator): In December, Ugandan pastoralists

came with about 600 armed warriors and attacked Turkana people on this mountain.

They made off with 140 cows, killed one person, and injured four more people, who are still

hospitalized.

The cows they stole have not yet been recovered.

JACK HEWSON: Authorities report a steady stream of killed and injured pastoralists.

Visiting a remote local hospital, we found one young man injured in clashes with a South

Sudanese clan.

EKIDOR ESEKON, Turkana Pastoralist (through translator): The Toposa clan are also searching

for water for their cattle.

So, when they find a water point where we are tending to our cattle, they steal them.

JACK HEWSON: Ekidor was treated for a gunshot through his lower abdomen, but has returned

to hospital after developing a septic infection in his foot due to internal injuries.

EKIDOR ESEKON (through translator): Every day they come, they come stealing, they come

with force, and they come with bullets.

Every day, they fight with us.

JACK HEWSON: Incident numbers are difficult to verify.

One study said that annual deaths from pastoralist conflict across this region spiked from 500

to more than 3,000 over the past decade, but much remains unreported.

Timing with our visit to Turkana was its annual cultural festival attended by clans from across

the region.

It's a show of pride and exuberance aimed at promoting tribal unity.

In attendance was Kenyan Vice President William Ruto, canvassing votes ahead of next year's

election.

On the event's sidelines, we asked him about the climate crisis.

Much of the problems caused by climate change here are from emissions that come from the

global north.

What would you like to see done by those countries to improve the situation here?

WILLIAM RUTO, Deputy President of Kenya: Well, the effects of climate change are real.

You know, I was talking to one of the gentlemen here a few minutes ago about the seasons.

And this is supposed to be a very wet season now, but there isn't any rain.

And climate change is slowly becoming a very harsh reality.

And, hopefully, those of us in this part of the world expect the people in the north to

do their portion in carrying the challenges that currently bedevil our region.

JACK HEWSON: But exactly what Western nations will do remains to be seen.

According to the International Panel on Climate Change, unless there are immediate large-scale

reductions in emissions, limiting warming to 1.5 or even two degrees Celsius will be

beyond reach, leaving the harsh likelihood of yet more drought and more conflict in the

Horn of Africa.

For the "PBS NewsHour," I'm Jack Hewson in Turkana, Kenya.