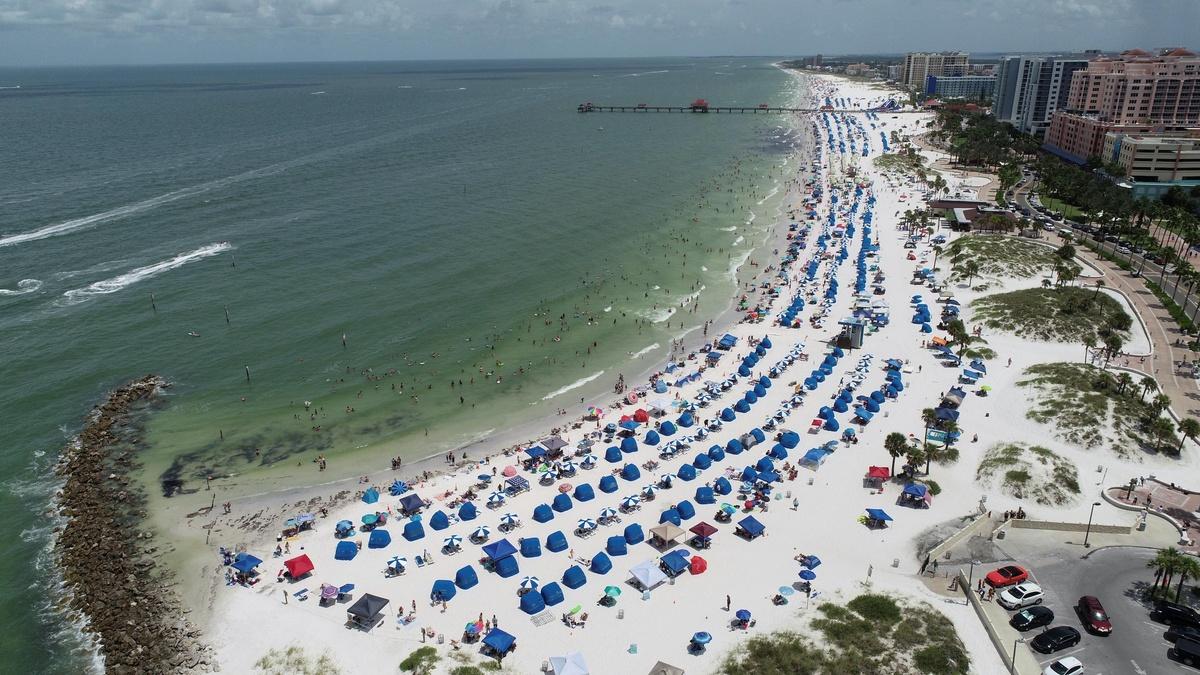 FULL EPISODE
July 6, 2020 - PBS NewsHour full episode
July 6, 2020 - PBS NewsHour full episode
TRANSCRIPT

JUDY WOODRUFF: Good evening. I'm Judy Woodruff.

On the "NewsHour" tonight: summer surge. The first days of July bring the largest daily

COVID cases yet in the United States, roughly 250,000 nationwide.

Then: the pandemic and race. New federal data shows the devastating toll of coronavirus

on people of color.

Plus: a perfect storm -- how hurricane season presents additional threats amid the pandemic.

SHARON BRYANT, North Carolina: When you are saying, social distance yourself six feet

from someone, wear your mask, wear your glove, now, if they have to go into the shelter,

then that means that you're going to be -- limit to how many people are going there.

Are you going to test these people to make sure no one have the virus?

JUDY WOODRUFF: All that and more on tonight's "PBS NewsHour."

(BREAK)

JUDY WOODRUFF: The COVID-19 pandemic reached staggering new highs today, as the U.S. death

toll surpassed 130,000. Sixteen states have now posted record daily spikes in new infections

this month.

All this as hospitals in the South and the West struggle to keep up with the urgent demand

for care.

William Brangham has our report.

WILLIAM BRANGHAM: In many places, it was a subdued holiday weekend, one overshadowed

by a virus that's spreading with alarming speed.

Americans marked the Fourth of July with measured celebrations, their trips to the beach flanked

with warnings. But even in states with soaring new infections, others gathered defiantly

and rejected those warnings.

MAN: I'm an American, and I feel I should be able to do what I want to. I pay my taxes.

I live free. I want to be free.

WILLIAM BRANGHAM: Some at this rodeo in Houston refused to wear masks, despite a new statewide

order to wear them in public.

WOMAN: Because it's against our constitutional rights. They shouldn't be able to dictate

what I wear.

WILLIAM BRANGHAM: The surging caseload in Texas has stretched hospitals to capacity,

with record numbers of new patients admitted every day.

Houston Mayor Sylvester Turner:

SYLVESTER TURNER, Mayor of Houston, Texas: The number of people in our ICU beds has exponentially

increase. In fact, if we don't get our hands around this virus quickly, in about two weeks,

our hospital system could be in serious, serious trouble.

WILLIAM BRANGHAM: A similar concern from the mayor of Miami, another hot spot.

FRANCIS SUAREZ (R), Mayor of Miami, Florida: When we reopened, people started socializing

as if the virus didn't exist.

WILLIAM BRANGHAM: Both Florida and Texas reported their highest single-day totals this weekend

since the pandemic began.

But President Trump took to Twitter to insist it is testing that is driving those surges,

while highlighting that nationwide deaths remain low and steady.

That mirrored his comments over the weekend that incorrectly downplayed the severity of

the virus.

DONALD TRUMP, President of the United States: We have tested almost 40 million people. By

so doing, we show cases, 99 percent of which are totally harmless.

WILLIAM BRANGHAM: It's a claim his own administration officials struggled to defend.

STEPHEN HAHN, Commissioner, Food and Drug Administration: What I will say is that we

have data in the White House Task Force. Those data show us that this is a serious problem.

People need to take it seriously.

WILLIAM BRANGHAM: Today, New York Governor Andrew Cuomo accused the president of enabling

the virus' spread through his unfounded claims.

GOV. ANDREW CUOMO (D-NY): Mr. President, don't be a co-conspirator of COVID. Do one simple

thing: Acknowledge to American people that COVID exists, it is a major problem,

WILLIAM BRANGHAM: But, later, at the White House, Press Secretary Kayleigh McEnany called

Mr. Trump's statements factual.

KAYLEIGH MCENANY, White House Press Secretary: The president was noting the fact that the

vast majority of Americans who contract coronavirus will come out on the other side of this. Of

course he takes this very seriously.

WILLIAM BRANGHAM: Meanwhile, overseas, new cases in India today surpassed Russia's tally,

putting India now in third place for most reported infections globally.

The country acknowledged more than 24,000 new infections in the last 24 hours alone.

Officials had to postpone plans to reopen the Taj Mahal this week.

For the "PBS NewsHour," I'm William Brangham.

JUDY WOODRUFF: Late this afternoon, the mayor of Atlanta, Keisha Lance Bottoms, announced

that she has tested positive for COVID-19. But she said she hasn't shown any symptoms.

We will take a closer look at the pandemic's racial disparities later in the program.

In the day's other news: Chicago suffered one of its bloodiest holiday weekends yet;

17 people were shot and killed, including a 7-year-old girl and a 14-year-old boy. Seventy

more people were wounded by gunfire. An additional 1,200 officers were on the streets over the

weekend. But there were still more than twice as many shooting deaths compared to last year.

DAVID BROWN, Chicago, Illinois, Police Superintendent: We cannot allow this to be normalized in this

city. We cannot get used to hearing about children being gunned down in Chicago every

weekend. We must keep violent offenders in jail longer.

JUDY WOODRUFF: New York City also saw a spike in gun violence this past weekend; 11 people

died and dozens were wounded in more than 30 shootings.

Mayor Bill de Blasio voiced his concern during a morning news conference.

BILL DE BLASIO (D), Mayor of New York: It's not because of one thing. Let's be really

clear, there's not one cause for something like this. There's a lot of different pieces,

and, again, the fact that the court system is not working, the economy is not working,

people have been pent up for months and months, so many issues underlying this challenge.

JUDY WOODRUFF: And an 8-year-old girl was fatally shot Saturday night in Atlanta after

at least two people opened fire on the car she was riding in. The shooting happened near

a memorial for Rayshard Brooks. He's the black man who was killed by a white police officer

last month.

The Supreme Court today unanimously ruled that presidential electors can be bound to

the winning candidate in their state's popular vote. That means that in 32 states and the

District of Columbia, electors, they cannot cast their Electoral College vote for a different

candidate.

Separately, the high court also upheld a 1991 law that bars telemarketing robo-calls to

cell phones. But it threw out an exception that was created by Congress that allowed

the calls for collection of government debt.

A federal judge has ordered the shutdown of the Dakota Access Oil Pipeline, pending an

environmental review. It's a major victory for the Standing Rock Sioux Tribe. The pipeline

crosses the Missouri River, where the tribe gets its water, and has raised concerns about

pollution.

The head of the North Dakota Petroleum Council insisted the pipeline is safe.

RON NESS, President, North Dakota Petroleum Council: There's been a lot of back and forth

on this Dakota Access Pipeline, which carries almost a half-a-billion barrels of high-quality

North Dakota Bakken oil to what is considered the best market in the United States for that

oil. The reality is, it's got three-plus years now of safe operating procedures behind it.

JUDY WOODRUFF: Meanwhile, Duke Energy and Dominion Energy announced that they are canceling

development of the $8 billion Atlantic Coast natural gas pipeline. A multistate project,

they're canceling it over delays and cost uncertainty. That decision comes despite a

recent Supreme Court victory over a key permit.

Stocks soared on Wall Street today, boosted by major gains in the technology sector. The

Dow Jones industrial average climbed 459 points to close at 26287. The Nasdaq rose 226 points,

and the S&P 500 added nearly 50.

At least eight people are dead after two small planes collided in Northern Idaho. The crash

happened Sunday afternoon over Lake Coeur d'Alene. Dive crews located the wreckage in

about 125 feet of water. At least three children were among the victims. There's no word yet

on the cause.

The white woman at the center of a viral confrontation with a black man in Central Park was charged

today with filing a false report. Amy Cooper drew widespread condemnation after she called

911 and claimed that bird watcher Christian Cooper threatened her after he calmly asked

her to leash her dog, as required. She was ordered to appear in court in October on the

misdemeanor charge.

And two passings of note tonight.

Country music legend Charlie Daniels died today in Tennessee after suffering a stroke.

For decades, he was a mainstay on the Nashville scene as a singer, guitarist, fiddler, and

band leader. Charlie Daniels was inducted into the Country Music Hall of Fame in 2016.

Here he is playing his Grammy-winning hit "The Devil Went Down To Georgia" in 1979.

(MUSIC)

JUDY WOODRUFF: Charlie Daniels was 83 years old.

And Broadway actor Nick Cordero died Sunday in Los Angeles from COVID-19 complications.

He'd been hospitalized for more than 90 days. Cordero appeared in a number of Broadway shows,

including "Waitress" and "A Bronx Tale." In 2014, he earned a Tony nomination for his

role in the musical "Bullets Over Broadway." Nick Cordero was 41.

Still to come on the "NewsHour": COVID's disproportionate toll on people of color in the U.S.; a perfect

storm -- the increasing threats of hurricanes during the pandemic; political stakes -- how

President Trump doubles down on racially charged language; and much more.

The coronavirus is taking a disproportionate toll on people of color.

Amna Nawaz reports that new numbers reveal the outsized impact with striking new detail

AMNA NAWAZ: That's right, Judy.

The New York Times acquired demographic data from the Centers for Disease Control through

a lawsuit under the Freedom of Information Act. The data set of about 1.5 million cases

here in the U.S. shows that Latinos and African-Americans are nearly three times more likely to be infected

than white Americans, and are twice as likely to die.

For a closer look at those numbers, I am joined now by Dr. Kirsten Bibbins-Domingo, professor

of medicine at the University of California, San Francisco, where she's also the inaugural

vice dean for population health and health equity.

Dr. Bibbins-Domingo, welcome to the "NewsHour."

And let's start with why we have this data in the first place. As we mentioned, The New

York Times had to sue the government to get it, but journalists and lawmakers have been

asking for this data for months. People don't understand, why is it so hard to gather and

access this data?

DR. KIRSTEN BIBBINS-DOMINGO, University of California, San Francisco: Yes, it's really

another example of what's been a very challenging federal strategy in managing this pandemic.

It turns out that the data is collected at the state level. There's lots of variation

about how it's collected, and there's lots of variation about how it's collected by the

people who are doing the tests, and there is no federal mandate to report.

That federal mandate didn't come until just a few weeks ago. And now that it's there,

for the first time, we can start to see these patterns across the country. But it's come

a little bit late for something that we knew was going to be important for managing the

pandemic.

AMNA NAWAZ: And we should mention, even the data they have is incomplete. Oftentimes,

the race and ethnicity of the patient wasn't even reported.

And this only goes through May, so it doesn't include the recent surge that we have been

seeing. But we should point out, those disparities were evident even early in the pandemic. And

back then, when we talked about it, the explanation was, well, black and brown Americans carry

a higher health burden, they have more comorbidities.

When you look at this broader data set, does that explanation still explain why we're seeing

that disparity?

DR. KIRSTEN BIBBINS-DOMINGO: Well, frankly, that explanation has never been the most important

part of the observation.

There are, frankly, more people cases. More cases means more black individuals, more Latinx

individuals are being exposed to the virus. They're being exposed because they are out

working. They make up a disproportionate part of our service sector, our essential front-line

workers, who are keeping our streets clean, who are a part of public transportation, who

are doing that informal service economy to take care of those of us who are ill.

And that is what's exposing them to the virus. And that's why the cases are high.

AMNA NAWAZ: Doctor, what do you think now that we see most states continuing to move

ahead with plans to reopen? What's going to happen with that disparity?

DR. KIRSTEN BIBBINS-DOMINGO: Well, the striking thing in The New York Times' data is that

we see disparity in suburban settings, in rural settings and in cities.

As we reopen, it means that more people are moving about. And those front-line workers,

those people who are doing those jobs that are essential to our economy, are going to

be more exposed.

And I think that, in the absence of any real protection for individual workers, PPE, for

example, protection for people whose wages might be the main reason that they continue

to go out and work, even though they might not be feeling well, unless we have those

protections in place, we're going to see a widening of these disparities. And that's

what I anticipate and what we're seeing, already, frankly, in many states.

AMNA NAWAZ: When you look at the medical response so far, knowing these disparities exist, knowing

there are certain communities, black and brown Americans being harder hit, have we been doing

enough to surge resources, mobile units?

Should we be thinking about deploying a vaccine first in these communities? How would you

assess we have been doing so far?

DR. KIRSTEN BIBBINS-DOMINGO: I don't think we have been doing enough.

And, frankly, one of the challenging things is, we see -- we knew these patterns were

going to exist. We already have deep, deep, pervasive disparities in this country. People

who think about epidemics know that they don't distribute equally. They distribute into communities

like African-Americans and Latinx populations disproportionately.

So, we knew this ahead of time. A global pandemic like this requires a universal response, and

it requires a targeted response. And the targeted response means that you distribute resources

to the communities that need them the most.

That means low barrier testing, taking testing to these communities, making barriers, reducing

barriers to things like masks, which are essential at this time, making sure that you protect

workers in their workplaces, which is oftentimes where they're at risk, and making sure they

have access to the type of health care that they need if they're feeling sick.

And all of those things need to happen in these communities. And we're a little bit

late to the game now, frankly.

AMNA NAWAZ: That is Dr. Kirsten Bibbins-Domingo from the University of California, San Francisco.

Thank you so much for being with us.

DR. KIRSTEN BIBBINS-DOMINGO: Thank you.

JUDY WOODRUFF: As Amna is reporting, Latinas have been one of the hardest-hit groups in

the pandemic. They have also faced some of the biggest job losses in recent months.

We spoke to several Latinas, including two undocumented immigrants, about their experiences.

Here's what they had to say.

SUSIE RIVERA, Texas: My name is Susie Rivera. I live in Texas. I am a caregiver. I take

care of elderly people in the community. I have been doing this sort of work since 1986.

SOCORRO, California: My name is Socorro. I have been a domestic worker in Sonoma County,

California for 17 years. I'm originally from Oaxaca, Mexico.

Everything has changed with the pandemic. I lost all my work from day one. I still haven't

returned to work.

MARISOL BLYSTONE, Child Care Provider: My name is Marisol Blystone. I have been a child

care provider in the city of Torrance for the last 15 years, actually.

Before COVID, my business was 20 children, walk-ins and everything. After COVID, there

was only one.

YENI, Domestic Worker (through translator): My name is Yeni. I am a domestic worker and

have been cleaning houses for 12 years. I lost 100 percent of my work for two or three

months. I'm just starting back, and have about 50 to 75 percent of the work I had before.

SOCORRO (through translator): It's been a very stressful and frustrating situation,

because I had nine family members catch coronavirus. One of them was a 10-year-old-girl.

MARISOL BLYSTONE: I had to deal with anxiety, not only my own anxiety, but I had to deal

with the anxiety of my four employees.

YENI (through translator): Losing my job, that was the biggest impact, being undocumented,

knowing that we don't have access to any help or benefit.

All of a sudden, I was homeless, without my possessions. That was something extremely

difficult for me. The fear also of getting sick. I am the head of the household. If I

get sick, everything would fall apart. Also, there's my family abroad. They depend on me

too.

SUSIE RIVERA: Your money you had there for a cushion is no longer there, or it's dwindling

down. You're not comfortable at the level it's at. You're not -- I am very fortunate

that I'm paying my bills. I'm being -- my things paid.

But I'm thinking, later on down the road, six months, eight months down the road, how

is it going to be?

MARISOL BLYSTONE: I have a son in college. And my son, I had to pull -- well, the college

pull it out. He's at Santa Cruz. He's sending home.

And, OK, what are we going to do? How are we going to do this? How are we going to -- how

are we going to cover all this?

YENI (through translator): I have never been a burden to the government. I have paid my

taxes for a long time. And now, when I need benefits, I haven't received them. Why isn't

there a law that protects me?

SOCORRO (through translator): Everyone's afraid. There's the pandemic, and there's also the

fear that there are going to be immigration raids, and that any assistance some people

have will be cut.

YENI (through translator): We're not invisible. We're here, and we're contributing to this

country.

SUSIE RIVERA: Even before this pandemic, we were essential. We are the eyes and ears of

the families when they're not there taking care of their loved ones.

YENI (through translator): If we didn't clean, didn't take care of the children of doctors

or nurses, the country couldn't function. We are part of this country. We only need

people to listen.

MARISOL BLYSTONE: We need help. We need the government to be accountable for what we have

to do, because we're raising the new generation of America.

JUDY WOODRUFF: The 2020 tropical storm season has already been more active than usual. The

fifth named storm formed in the Atlantic over the weekend, and forecasters say there could

be as many as six major hurricanes.

But, as John Yang reports, this year, planning for these storms is complicated by the coronavirus

pandemic.

JOHN YANG: When Tropical Storm Cristobal lashed the Gulf Coast earlier this past month, it

was already the third named storm of the year.

Louisiana Governor John Bel Edwards:

GOV. JOHN BEL EDWARDS (D-LA): The storm could have been a lot worse, I'm very thankful to

say. We were largely spared from the most significant impacts that had been forecasted.

JOHN YANG: Still, Cristobal was part of a fast start to what forecasters say is most

likely to be an unusually active Atlantic storm season. The coronavirus already guarantees

it will be unlike any other, as President Trump noted during a recent briefing on hurricane

preparedness.

DONALD TRUMP, President of the United States: So, you think we could have a slightly enhanced

hurricane season? That's just what we want. That's just what we want.

Let's see. Hopefully, that won't be the case.

JOHN YANG: The pandemic has changed residents' and governments' preparations, affecting everything

from their ability to stock up on supplies to evacuation plans.

For example, large buildings like schools and community centers typically have served

as evacuation shelters. Recent guidance from the Centers for Disease Control and Prevention

said, large shelters should be a last resort.

But the Federal Emergency Management Agency has acknowledged that some mass sheltering

will still be necessary in many hurricane scenarios.

Two years ago, Sharon Bryant of New Bern, North Carolina, survived Hurricane Florence.

The storm dropped 30 inches of rain in parts of the Carolinas.

SHARON BRYANT, North Carolina: When you are saying, social distance yourself six feet

from someone, wear your mask, wear your glove, now, if they have to go into the shelter,

then that means that you're going to be -- limit to how many people are going there.

Are you going to test these people to make sure no one have the virus? And then, if they

did, where would they go?

JOHN YANG: Steven Still is the emergency management director for New Hanover County, a couple

hours south of New Bern.

STEVEN STILL, Emergency Management Director, New Hanover County, North Carolina: We are

fairly certain that we will have some type of in-county shelter. We have to have more

locations, more shelter teams. And we are also jockeying for position with every other

county, municipality and state for personal protective equipment and sanitizer.

So it's not a good picture, but everybody is in the same position.

JOHN YANG: And if a big storm does hit, rebuilding could be even more challenging.

In 2017, floodwaters from Hurricane Harvey destroyed much of Daniel Tellez's home in

Houston, Texas. The fear of losing his home again, this time in the middle of a pandemic,

weighs heavily on his mind.

DANIEL TELLEZ, Texas: It's going to be tough. I honestly don't really want to think about

it, if we're being honest.

I tried to be as hands on as possible with the repairs, which meant having to go to stores,

having to speak to multiple contractors. It's going to be tricky trying to navigate all

of that through a pandemic.

JOHN YANG: In Florida, where coronavirus cases are again on the rise, officials are weighing

options like shelter-in-place orders for people living in homes that are strong enough, and

using underused hotels as shelters.

Craig Fugate was FEMA administrator under President Obama. He's now chief emergency

management officer for One Concern, a company that helps cities and counties with disaster

response.

Is your advice to people in hurricane-prone areas any different because of the coronavirus

than it would be any other year?

CRAIG FUGATE, Former Administrator, Federal Emergency Management Agency: About the only

thing I recommend is add the mask, gloves, hand sanitizer, disinfectants to your supply

kits.

And if you're not in an evacuation zone -- this is not any different, but there's more emphasis

this year -- take the steps to prepare your home. Know when it was built, know the building

codes. And if it's a good option for you and your family, stay there and prepare for the

storm.

It always comes back to the individual situation. The one thing we don't want is people in an

evacuation zone not to evacuate over fear of COVID, because that could put them at even

greater risk and also responders who may have to go in and do rescues in the immediate aftermath

of the storm.

JOHN YANG: Fugate says the virus may also force changes in the way relief workers respond

to disasters.

CRAIG FUGATE: Normally, a lot of this would be build big base camps, put everybody four

to a room in a hotel, do mass feeding.

Probably going to have to change a lot of that, and those plans are under way. Also,

keep the teams coming in separate from each other, so if they're coming from different

states, they don't cross-mingle with other teams, they stay with the teams they came

with. Wear the PPE.

JOHN YANG: What about the emergency managers? They have been through a fairly intense three-or-four-month

period where they have been fighting the pandemic, and now they have got this hurricane season

coming up.

Is there a worry about the stamina, the ability to sort of keep up at this level, this high

level?

CRAIG FUGATE: It's what emergency managers do. We got the same questions after getting

four hurricanes in one year in Florida in 2004.

Yes, they're tired. And, yes, they have been thinking about this. This is not something

they just started yesterday thinking about hurricane season and other disasters. The

reality is, if the system could adjust and handle this, you don't need emergency management.

Emergency management is for the extreme events that the org chart of government just can't

even begin to deal with.

JOHN YANG: And this summer, extreme events, a pandemic and powerful hurricanes, could

be on a collision course.

For the "PBS NewsHour," I'm John Yang.

JUDY WOODRUFF: The headlines out of Hong Kong recently have focused on politics. Today,

the first resident charged under a new national security law imposed by Beijing appeared in

court.

The city was also expected to struggle with the pandemic, which originated in mainland

China. But Hong Kong has been a coronavirus success story.

With the support of the Pulitzer Center, and in collaboration with the Global Health Reporting

Center, Nick Schifrin has the story.

NICK SCHIFRIN: George and his son Emilio's winding COVID journey began with slalom in

the Italian Alps and dancing through Italy's empty streets.

They had gone on vacation in March and ended up locked down in Italy and separated from

his wife, Valeria, back home in Hong Kong, where he's lived for 35 years. They saw each

other only on Skype.

GEORGE, Hong Kong Resident: Twenty years together, we have never -- never had a separation of

this kind, of this nature.

NICK SCHIFRIN: When Italy opened up, they flew back to the Hong Kong Airport in a city

that by then knew how to protect itself.

Their 12-hour arrival journey ended with a COVID-19 spit test and a waiting room of socially

distanced tables. A positive test, and it's straight to the hospital.

GEORGE: If it comes back negative, you are released, free to go directly to your home,

where you will have to do 14 days' quarantine with a bracelet.

It's called stay home safe.

NICK SCHIFRIN: The mandatory bracelets track everyone's movement and alert police if you

go outside.

GEORGE: When we were in lockdown in Italy, we were allowed to go to the supermarket and

buy groceries. So we could breathe a little fresh air. Here, we're locked into the apartment.

NICK SCHIFRIN: One Hong Kong resident was sentenced to three months in prison for leaving

home without a good reason.

Can you talk about why you think people in Hong Kong are willing to listen to the government

when the government demands steps like that?

GEORGE: Hong Kong is a very peculiar case. We all went through SARS.

NICK SCHIFRIN: In 2003, the novel coronavirus, known as SARS, hit Hong Kong hard.

GEORGE: The Hong Kong population, myself included and everybody around me, were very frightened,

because simply we didn't know what the -- what the heck was going on and how bad this thing

was going -- was going to get.

NICK SCHIFRIN: SARS killed nearly 800 people here with a fatality rate of nearly 10 percent.

DR. GABRIEL LEUNG, Dean of Medicine, University of Hong Kong: Two decades of experience have

prepared us for this.

NICK SCHIFRIN: Gabriel Leung is the dean of the medical school at the University of Hong

Kong. He recalls how he felt when he heard this year's news of a mysterious outbreak

in Wuhan, China.

DR. GABRIEL LEUNG: The immediate knee-jerk psychological reaction was, of course, flashbacks

17 years.

DR. IVAN HUNG, University of Hong Kong: I think the main difference compared to SARS

now is that we are, of course, very much well-prepared.

NICK SCHIFRIN: This year, the red tape that delayed Hong Kong's SARS response fell away.

And Dr. Ivan Hung got swift approval for clinical trials of a potential treatment. And city

officials made bulk orders for masks and other protective gear before the city even saw its

first COVID-19 case.

By late January, residents were lining up for masks.

DR. IVAN HUNG: People had been queuing for like three or four hours or overnight to buy

a box of masks. And the price had gone up like from 100 Hong Kong dollars to $1,000.

NICK SCHIFRIN: So, the government stepped in and handed out free masks.

DR. IVAN HUNG: Because we learn from the 2003 SARS experience, we have been wearing masks

very, very early on in the community. And that is the major difference.

NICK SCHIFRIN: But, by then, the pandemic collided with politics. Hong Kong residents

protested a new national security law that restricted their freedom of speech, the city's

judicial independence, and threatened to send anyone who calls for Hong Kong independence

to jail for life.

Pro-democracy leaders, including Joshua Wong, who had been fighting, disbanded their organizations.

In early June, he spoke to a European democracy summit.

JOSHUA WONG, Pro-Democracy Activist: Beijing take the advantage during the outbreak of

COVID-19, when the world is dealing with the pandemic exported from China to the world,

and they suddenly planned to introduce this evil law to Hong Kong, and to silence the

voice of the civil society.

GEORGE: The kind of animosity that exists towards the pro-Beijing government is strong.

But when it comes to health, and you're talking about someone's family, someone's children,

someone's grandparents, people are willing to listen, if they think it's being done for

nonpolitical reasons.

NICK SCHIFRIN: In fact, under political pressure from Beijing, the Hong Kong government at

first resisted closing the border with mainland China.

That's when the Hong Kong residents, already mobilized by the massive protest movement,

pushed the government to take the threat more seriously. Medical workers launched a strike.

Pro-democracy activists created their own COVID Web site. And the scientists emphasized

public health over politics.

Dr. Leo Poon is also at the University of Hong Kong.

DR. LEO POON, University of Hong Kong: People are extremely aware of the hand hygiene. People

are looking for masks all the time. This is not only a small number of people. Actually,

the majority Hong Kong people are doing that. Only

NICK SCHIFRIN: Only four Kong residents have died from COVID. And schoolchildren are heading

back to classes gradually, but, even now, there's no resting on their laurels.

DR. GABRIEL LEUNG: I never like to tempt fate. And my guess is that it's going to get worse

before it gets better.

NICK SCHIFRIN: For George and Emilio, weeks of quarantine required a lot of father-son

sports. Emilio perfected his dunks, and George perfected his slow-mo camera work.

And then, right on time, he got the text message he had been waiting for. "Your 14-day compulsory

quarantine period will end at midnight today."

And after three months, father and son were free, and finally reunited as a family.

GEORGE: It's absolutely wonderful. Quarantine after quarantine, it got a bit tiresome. I

have to say, we're not -- no, you're not completely free.

We climbed over a fence to get to a soccer - - a soccer pitch. But, immediately, there

was somebody who said, sorry, sir, you can't - - you can't be here.

NICK SCHIFRIN: Not completely free, medically or politically, but, so far, Hong Kong has

dodged the worst of COVID.

For the "PBS NewsHour," I'm Nick Schifrin.

JUDY WOODRUFF: President Trump continues to draw attention with his statements about race

and racial division.

This morning on Twitter, he called on NASCAR driver Bubba Wallace to apologize for the

investigation into a noose found in his garage stall. In the same tweet, the president said

that incident, as well as NASCAR's decision to ban Confederate Flags from its races, have

led to the sports' lowest ratings ever.

In fact, NASCAR ratings are up.

At Mount Rushmore on Friday, he also accused Democrats of not telling the truth about American

history.

DONALD TRUMP, President of the United States: Our children are taught in school to hate

their own country, and to believe that the men and women who built it were not heroes,

but that were villains. The radical view of American history is a web of lies.

JUDY WOODRUFF: Here to analyze all this and more, our Politics Monday duo.

That's Amy Walter of The Cook Political Report and the host of public radio's "Politics With

Amy Walter." And Tamara Keith of NPR, she also co-hosts the "NPR Politics Podcast."

Hello to both of you.

We seem to be having this conversation this subject week after week.

Amy, to you first.

And we should note that Bubba Wallace responded today by saying, hate will always prevail

- - be prevailed over by love, that love will win out, in effect. And NASCAR backed him

up.

But here we are talking about this again. Is there evidence that this kind of an approach

in a presidential race is effective?

AMY WALTER, The Cook Political Report: Well, Judy, in 2016, this is what the president

focused in on, a lot on racial animus and culture wars. And it worked. It was effective

in many places, in large part because, well, he was running against eight years of a Democratic-controlled

White House.

That's not the case this year. And he was running against Hillary Clinton, who had a

lot of her own -- her baggage from being in the political -- under the political microscope

for all of these years, being a part of a lot of different controversies in her own

right.

Joe Biden, it's very difficult to make him into some left-wing mob leader.

And, finally, we weren't, in 2016, in the middle of a pandemic and an economic recession.

So he wants to make -- the president wants to make this a 2016 campaign redux, but the

elements aren't there.

And to your point about whether it's working, it's actually working against him. Judy, if

you look at the polling from, say, May, where the president was down, but somewhere between

four and six points, now he's down by nine points. Really, since the beginning of June,

you have seen the gap open up between Joe Biden and Donald Trump.

And you can argue that a big part of that is because of the president's intense focus

on these sorts of issues.

JUDY WOODRUFF: And we should say, Tam, that the president today also went after the Washington

professional football team, the Cleveland professional baseball team, said that, if

they change their names, it's -- quote -- "politically weak."

Does the White House think, in some way, that this is a strategy that's going to be successful?

TAMARA KEITH, National Public Radio: It is certainly the strategy that they're going

with.

And the president has tweeted this, and his campaign has talked about this, the idea that

somehow there is a silent majority that isn't showing up in the polls that is going to magically

show up and vote him back into office.

I was talking to a couple of pollsters today, and they say that, simply, he is running a

race in a different time than the one that exists right now, as Amy mentioned. And, in

some ways, it's almost like he is running as a challenger, not as an incumbent.

He is running, saying, there is a dangerous mob of people that are going to take your

lifestyle away, that's going to change America.

Those people are also part of America, and he's been president for three-and-a-half years.

These pollsters I talk to sort of question the wisdom of that message. But, certainly,

this is what the Trump campaign is going with. You ask them about their second-term agenda,

as I did today, and the answer was, he did a lot in his first term, and he's going to

protect people from the dangerous left-wing mob and Marxists, as -- that's not an exact

quote, but Marxists was definitely in there.

JUDY WOODRUFF: And, Amy, dig a little deeper, if you would, into what you're seeing in the

polls, and not just on this kind of language, but also the president's handling of the COVID,

the pandemic.

AMY WALTER: Right.

To Tam's point, I have been talking to a lot of folks out there, too, who do wonder why

the president is leaning into issues like the stuff he was tweeting about today, whether

it's NASCAR or the Washington football team, when he has very little trust on that issue.

His overall approval rating is somewhere in the 40s, but on trust to handle race relations,

it's somewhere in the 30s. So, he's literally leaning into his -- an issue that he's seen

as the least credible on. Right?

Every candidate should lean into the issue where they're seen as having the most credibility.

And for the president, it's still the economy, even as the economy is struggling. He still

gets positive remarks, not as great as they were, say, four or five months ago, but better

marks than on any other issue.

But it is -- it really is about him. This is -- I don't think this is about a strategy,

as much as a comfort zone for this president. He needs to have something to push off against,

and, on culture, this is where he loves to go.

JUDY WOODRUFF: And, Tam, on the...

(CROSSTALK)

JUDY WOODRUFF: Well, go ahead, Tam.

TAMARA KEITH: Yes.

So, I was talking to an adviser to the president and his campaign, an economic adviser, and

I was asking, why does it seem like the president is completely invisible on coronavirus? Like,

he is purposefully avoiding talking about it?

And this adviser said, well, because he's purposefully avoiding talking about it. But

coming out and acknowledging 130,000 deaths or acknowledging that there is a resurgence

in the virus, that's not a great campaign message.

And what this adviser said is, as Amy pointed out, the area of strength, the one really

still sort of strong part of the president's polling is on the economy, on being able to

do something about the economy, which is why he's pushed so hard to reopen, which is why

he's having an event tomorrow about reopening schools and tweeted in all caps that schools

must reopen.

He wants to be able to tell a story about a great economic revival, a comeback. It's

not clear that the virus has that in mind.

JUDY WOODRUFF: So, Amy, when the president says 99 percent of the COVID cases are not

serious, in effect, don't worry about it, it's only 1 percent of the cases that are

worth our concern, I mean, I think the American people know that's not the case, don't they?

AMY WALTER: Right.

And their concern goes beyond just that sort of rhetoric. It's concern that relates exactly

to what Tam was talking about, about how to open the economy. You can't open the economy

if people are worried about getting sick.

And so this still all comes back down to, what are the ways in which the country can

get a handle on bringing the number of cases down? And, obviously, we're seeing right now

that that is a losing argument, or at least we're not winning the war on this virus right

now.

There's a lot of debate about schools being opened, day cares being opened. And so they

all relate to the one thing and, as Tam said, the president is not talking about it, which

is the coronavirus.

JUDY WOODRUFF: So many tough questions.

Amy Walter, Tamara Keith, thank you both. Politics Monday.

TAMARA KEITH: You're welcome.

JUDY WOODRUFF: The Fourth of July is not ordinarily the most popular holiday in Britain, but,

this year, there was cause to celebrate.

The country's pubs opened for the first time in nearly three months after coronavirus lockdowns.

In London, however, people ignored appeals for social distancing, and police had to disperse

drunken crowds.

Here's special correspondent Malcolm Brabant.

MALCOLM BRABANT: Judy, like many other Brits, I'm enjoying my first pint of beer in a pub

in for over 100 days.

At first, the government here thought that the restoration of normal services had gone

well, but, over the weekend, there came reports of several episodes of bad behavior, which,

if repeated, could jeopardize elements of Britain's recovery.

My report begins in the city of Nottingham, made famous by the legendary outlaw Robin

Hood.

At the 780-year-old Salutation Inn, jeweler Sue Dyer celebrated what was dubbed Britain's

Independence Day. Her choice of beverage was appropriate.

SUE DYER, Jeweler: There is a lot of people who felt very isolated, who will be struggling

with this. So it is nice that they can get out.

Everybody's gone to a lot of effort to keep people safe, lots of

social distances. Everybody whom we have come across so far had been very sensible about

things.

MALCOLM BRABANT: Jason Weston runs this, one of the oldest pubs in the world. It's witnessed

the 14th century Black Death and the 17th century Great Plague. With COVID-19 still

lurking, Weston wants to be on the right side of history.

JASON WESTON, Landlord, Salutation Inn: We are being very, very on point. We can't risk

the safety of our staff, the safety of our customers. If you are foolish and you don't

follow the guidelines, all that is going to happen is, we are going to end up being shut

down again.

MALCOLM BRABANT: Weston trusted his patrons not to get hammered.

JASON WESTON: It wasn't the drinking they were missing. They are missing the social

aspect of what pubs are.

MALCOLM BRABANT: Car dealer David Wakeling concurred.

DAVID WAKELING, Motor Trader: Just now, being here, being here with friends, having a beer,

these simple things, you take for granted. And when you lose that ability, when you lose

that chance to have that, to come out and to feel almost freedom, it's one of those

liberties that we stand for.

MALCOLM BRABANT: Prime Minister Boris Johnson knew it was a gamble. But he lifted the lockdown

to revive Britain's drowning economy.

BORIS JOHNSON, British Prime Minister: Good evening. Anyone who flouts social distancing

and COVID-secure rules is not only putting us all at risk, but letting down those businesses

and workers who have done so much to prepare for this new normal.

MALCOLM BRABANT: But the appeal was ignored almost immediately in London's Soho District.

In another part of the capital, police retreated when they tried to break up a block party

and were pelted with bottles. In Nottingham, some self-restraint was also liquidated.

Some pubs remained closed, and not all out of choice. Despite installing social distancing

measures, including booths in his beer garden, landlord Alan Merryweather was unable to open

his doors. The reason? His pub is in Leicester, the only city in Britain subjected to a regional

lockdown because of a major spike in infections.

ALAN MERRYWEATHER, Landlord, Black Horse: Everyone was looking forward to the Fourth

of July. My staff were prepared. The financial implications have hit us quite hard. It's

been devastating.

MALCOLM BRABANT: Health officials have identified the source of the spike in a poor neighborhood,

mainly home to people with Asian heritage.

Emergency testing centers were set up by the army, but residents appeared to be staying

away. Police guarded the railway station to stop people leaving for nearby cities like

Nottingham, so they could go to the pub.

Willy Bach is Leicester's police commissioner, the civilian overseer of the local force.

LORD WILLY BACH, Leicester Police Commissioner: The British way of policing is by consent.

And that's really important. Vital freedoms have been taken away from people, and so it

is very important that the law doesn't come down so hard on them.

MALCOLM BRABANT: Among other things, the Fourth of July marked the opening of museums and

Nottingham's Robin Hood Experience. Its actors entertain visitors with the legend of the

medieval outlaw who, with his merry men, robbed the rich and donated the proceeds to the poor.

ADAM SINCLAIR-GREENWOOD, Robin Hood Experience: There is something very much in the British

psyche about standing up to problems and coming together to fight it.

And, this time, we are being told to stay apart and do nothing. The best thing you can

do is do nothing. And that really has gone against the grain of a lot of people.

BEAR BLACK, Robin Hood Experience: There's a lot of angry people out there. There is

a lot of scared people out there. And I think getting small independent businesses back

on the streets is really, really important for Nottingham, as it is for a lot of different

places. It's been terrifying, really, really terrifying.

MALCOLM BRABANT: The government had hoped the nation would adopt a more sensible rhythm

after nearly 45,000 deaths. But there are now widespread fears that Britain's drinking

culture could wreck the advances that have been made.

So important the pubs here, that Prince William felt obliged to have a pathfinding sip of

cider. But he's not as thirsty as the average Brit.

Sales manager Andy Derz.

ANDY DERZ, Sales Manager: I am 34. I am relatively healthy. I am relatively fit. Am I concerned

about it? Not really. No, I am not.

I would like to continue my life as though it was normal. People talk about the new normal.

I think, knowing human beings the way I do, the new normal will be normal, because people

are creatures of habits, and they will continue the way that they always did.

MALCOLM BRABANT: It will take a week or so before Britain discovers whether Independence

Day was really incubation day.

If so, parts of the country could soon be back under lock and chain.

For the "PBS NewsHour," I'm Malcolm Brabant in Nottingham.

JUDY WOODRUFF: Mike Smith has been responsible for producing some of the most historic fabric

in the U.S.

In 1987, he co-founded the NAMES Project AIDS Memorial Quilt, which honors the lives of

people who have died of AIDS-related causes.

In tonight's Brief But Spectacular, Smith discusses that initiative and a more recent

one that has galvanized people to support those vulnerable to COVID-19.

MIKE SMITH, Co-Founder, AIDS Memorial Quilt: You know, I don't think I'm the only one with

a little bit of PTSD these days.

For a lot of us that lived through those really dark days, suddenly here we are again with

a virus you can't see randomly affecting people, life being put on hold, all sorts of things

changing.

Around the time of the lockdown here in San Francisco, it suddenly occurred to me that

this is going to be the second pandemic of my life. And I really -- no one should have

to live through more than one.

All those years ago in San Francisco and in the early '80s and mid-'80s, it was a really

dark time. I had just finished Stanford Business School and had taken care of a friend and

a classmate who died during school, and moved up to San Francisco without really thinking

much about a career and a job, a little heartbroken, a little bit lost, and kind of stumbled into

the middle of an epidemic.

The Castro back then was horrible. You would walk down the street and you would pass dozens

of people who you knew you were probably never going to see you again. The country didn't

seem to be responding or didn't seem to be caring.

When some friends and I started the AIDS Memorial Quilt, it was really a cry for help, some

way to reach Middle America with something that's not threatening and feels warm and

comforting. And you think of your grandmother when someone says quilt. And that wasn't the

world we were living in with AIDS right then.

It was a much different world where people were either -- there's you and there's us,

and we don't have it, and you do. And that's all there is to it.

Almost immediately, I thought, this is an idea that's really going to resonate. We said

we were going to do that first display at the March on Washington for Gay and Lesbian

Rights in October of '87, like four months after we decided to start building this thing,

which was crazy.

And I think I thought we would do this for a little while and we'd make our point and

that would be the end. And I don't think we were prepared for the beauty of the quilts.

We had been making something that were basically bedsheets to make a protest statement. And,

suddenly, we had mothers all over the country sending us panels for their dead son, expecting

us to preserve them and care for them in perpetuity.

I never thought it would become my life's work, but it has become my life's work.

In the middle of all of this, COVID, when it first happened, I wasn't the only one that

was kind of looking for a way to be helpful, a way to do something, which has always been

my mode.

Gert McMullin, who'd been very involved in sewing together many of the panels in the

quilt for years, was feeling the same way. She used to be able to go into hospital rooms

in the '80s and be with dying friends. She just couldn't stand that she couldn't touch

people and she couldn't be up close with people.

Finally, she said, you know, I'm going to go into the workshop. It's empty. There's

nobody else there. And I'm going to start making some face masks. And we can give them

away to people.

I made a phone call to an old friend, and it turned out she was working at an agency

that was desperate for masks. This project has really opened my eyes to see how many

vulnerable and at-risk populations there are in an epidemic like this.

In a homeless shelter, in a youth rehab program, people are right there up close with each

other, and you can't get that kind of distance.

The AIDS Memorial Quilt has gone from a protest banner and something we were going to take

to Washington to make a difference for one day, to a national treasure. I mean, it's

the largest community arts project in the world. More people have worked on the quilt

than built the Pyramids.

And a lot of what we did at the time was not just the fabric. We inspired people to do

something, anything, to express what they were going through, to tell their stories.

And I think now about where we are with this mask project, and it's the same thing. We

may make 2,000 or 3,000 masks, and that may save some lives. I'd much rather have this

be a catalyst for other people to feel like, I can find something to do. I can get out

of my house and go help stuff food at the food bank.

If we can do something simple like make masks, you can do something simple, like find a way

to be helpful. And that's what I'd much rather be remembered for, that -- being that catalyst,

than for just doing some sewing.

My name is Mike Smith, and this is my Brief But Spectacular take on turning grief into

action.

JUDY WOODRUFF: And a beautiful message, and one we all need to hear.

And that's the "NewsHour" for tonight. I'm Judy Woodruff.

Join us online and again here tomorrow evening. For all of us at the "PBS NewsHour," thank

you, please stay safe, and we'll see you soon.