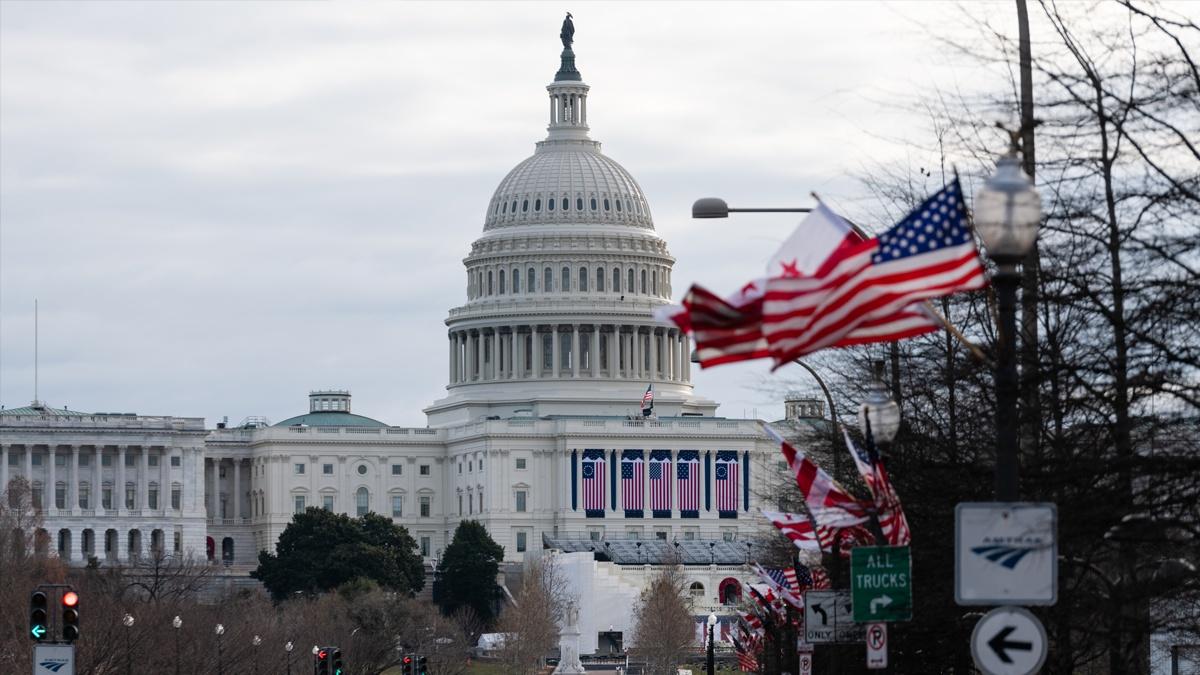 FULL EPISODE
January 17, 2021 - PBS NewsHour Weekend full episode
On this edition for Sunday, January 17, state capitals on high alert for potential protests and violence ahead of the inauguration, and Jeff Greenfield and Yamiche Alcondor weigh in on this unprecedented presidential transition, the impeachment trial and Biden's agenda. Hari Sreenivasan anchors from New York.
TRANSCRIPT

>> Sreenivasan: ON THIS EDITION

FOR SUNDAY, JANUARY 17: STATE

CAPITALS ON HIGH ALERT IN

PREPARATION FOR POTENTIAL

PROTESTS AHEAD OF THIS WEEKS

INAUGURATION.

>> GIVEN WHAT HAPPENED ON

JANUARY 6, WHERE SOME PEOPLE

FEEL EVEN IF IT HAS NO REAL

IMPACT, THE PRESIDENT HAS TO BE

HELD ACCOUNTABLE AND IMPEACHMENT

IS ONE WAY TO DO IT.

>> Sreenivasan: AND ANALYSIS OF

THE PRESIDENTIAL TRANSITION, THE

IMPEACHMENT TRIAL AND THE BIDEN

AGENDA.

NEXT ON "PBS NEWSHOUR WEEKEND."

>>PBS NEWSHOUR WEEKEND IS MADE

POSSIBLE BY:

SUE AND EDGAR WACHENHEIM III.

THE ANDERSON FAMILY FUND.

BERNARD AND DENISE SCHWARTZ.

THE CHERYL AND PHILIP MILSTEIN

FAMILY.

BARBARA HOPE ZUCKERBERG.

THE LEONARD AND NORMA KLORFINE

FOUNDATION.

WE TRY TO LIVE IN THE MOMENT,

TO NOT MISS WHAT'S RIGHT IN

FRONT OF US.

AT MUTUAL OF AMERICA, WE

BELIEVE TAKING CARE OF TOMORROW

CAN HELP YOU MAKE THE MOST OF

TODAY.

MUTUAL OF AMERICA FINANCIAL

GROUP, RETIREMENT SERVICES AND

INVESTMENTS.

>> FOR 25 YEARS, CONSUMER

CELLULAR HAS BEEN OFFERING

NO-CONTRACT WIRELESS PLANS,

DESIGNED TO HELP PEOPLE DO MORE

OF WHAT THEY LIKE.

OUR U.S.-BASED CUSTOMER SERVICE

TEAM CAN HELP FIND A PLAN THAT

FITS YOU.

TO LEARN MORE, VISIT

www.consumercellular.tv.

ADDITIONAL SUPPORT HAS BEEN

PROVIDED BY:

AND BY THE CORPORATION FOR

PUBLIC BROADCASTING, A PRIVATE

CORPORATION FUNDED BY THE

AMERICAN PEOPLE.

AND BY CONTRIBUTIONS TO YOUR

PBS STATION FROM VIEWERS LIKE

YOU.

THANK YOU.

>> Sreenivasan: GOOD EVENING AND

THANK YOU FOR JOINING US.

IN LESS THAN 72 HOURS, THE

NATION'S 46th PRESIDENT WILL

TAKE THE OATH OF OFFICE ON THE

STEPS OF THE U.S. CAPITOL WHERE

JUST 11 DAYS AGO A MOB OF

SUPPORTERS OF THE CURRENT

PRESIDENT CARRIED OUT A DEADLY

RAMPAGE.

AS OF THIS AFTERNOON, THE

NATION'S CAPITOL WAS QUIET.

MORE THAN 20,000 NATIONAL GUARD

TROOPS HELPED PATROL THE STREETS

NEAR THE CAPITOL WHERE MANY

AREAS WILL REMAIN CLOSED THROUGH

THE INAUGURATION OF PRESIDENT-

ELECT JOE BIDEN ON WEDNESDAY.

PRESIDENT TRUMP REMAINED IN THE

WHITE HOUSE AGAIN TODAY WITH NO

PUBLIC STATEMENTS OR

APPEARANCES.

MR. BIDEN ALSO HAD NO PUBLIC

EVENTS TODAY, BUT HIS CHIEF OF

STAFF, RON KLAIN, SAID THE

PRESIDENT-ELECT WILL EMPHASIZE

UNITY IN HIS INAUGURAL ADDRESS.

>> I THINK THE EVENTS OF THE

PAST FEW WEEKS HAVE PROVEN OUT

JUST HOW DAMAGED THE SOUL OF

AMERICA HAS BEEN, AND HOW

IMPORTANT IT IS TO RESTORE IT.

THAT WORK STARTS ON WEDNESDAY.

>> Sreenivasan: KLAIN ALSO

WARNED THAT DEATHS FROM COVID-19

ARE LIKELY TO EXCEED 500,000 BY

THE END OF FEBRUARY AND SAID THE

BIDEN ADMINISTRATION WILL BE

ABLE TO RAMP UP VACCINATIONS.

>> WE BELIEVE THERE WILL BE

ADEQUATE SUPPLY TO GIVE PEOPLE

THEIR SECOND SHOTS.

AND, MORE IMPORTANTLY, WE

BELIEVE THAT THERE WILL BE

CONTINUED SUPPLY AND

DISTRIBUTION OF THAT SUPPLY, TO

HIT THAT TARGET OF 100

MILLION SHOTS IN 100 DAYS.

>> Sreenivasan: MANY

PRESIDENTIAL INAUGURAL EVENTS

WERE ALREADY PLANNED TO TAKE

PLACE VIRTUALLY BECAUSE OF THE

PANDEMIC BUT THE ATTACK ON THE

CAPITOL HAS ALSO CHANGED

TRADITIONAL ACTIVITIES.

TODAY, SMALL GROUPS OF

PROTESTERS DID TURN OUT IN SOME

STATE CAPITALS.

ARRESTS OF PEOPLE WHO RIOTED AT

THE CAPITOL ON JANUARY 6

CONTINUE, AND THE F.B.I. IS

ASKING FOR HELP FINDING MANY

OTHERS ACROSS THE COUNTRY.

THE THREAT WARNINGS FOR ALL 50

STATES AND WASHINGTON, D.C.,

THAT WERE ISSUED FOR THIS

WEEKEND EXTEND THROUGH THE

COMING WEEK.

WITH MORE THAN A THIRD OF THE

STATES CALLING OUT THE NATIONAL

GUARD TO HELP SECURE THEIR STATE

CAPITALS, WE CHECKED IN WITH

REPORTERS AT SOME OF OUR PARTNER

PUBLIC MEDIA STATIONS ACROSS THE

COUNTRY.

WE BEGAN WITH OUR OWN

CHRISTOPHER BOOKER, WHO IS IN

HARRISBURG, PENNSYLVANIA, AT THE

STATE HOUSE.

CHRIS, WHAT ARE YOU SEEING IN

HARRISBURG?

>> Reporter: WELL, IT'S CLOUDY,

COLD AND QUIET.

THE CAPITOL POLICE, THE STATE

POLICE AND THE NATIONAL GUARD

ARE HERE AND THEY'VE CLOSED OFF

THE ENTRANCES TO THE CAPITOL

BUILDING, AS WELL AS MANY OF THE

STREETS THAT SURROUND IT.

BUT, BY AND LARGE, THERE'S NOT

MUCH HAPPENING.

THE GROUNDS ARE OPEN, BUT

THEY'RE LARGELY BEING POPULATED

BY PRESS.

WE'VE SEEN A HANDFUL OF PEOPLE

COME AND GO, BUT NO SEMBLANCE OF

A DEMONSTRATION OR PROTEST.

>> Sreenivasan: GIVE US THE

LANDSCAPE IF YOU CAN.

WHAT DO YOU SEE AROUND YOU IN

WHAT PROPORTIONS?

>> Reporter: YEAH, I MEAN,

DOWNTOWN HARRISBURG IS A

BEAUTIFUL OLD DOWNTOWN.

THE BUSINESSES HAVE ALL CLOSED.

THERE WAS A COFFEE SHOP THAT WE

WENT TO THAT WAS ONLY OPEN FOR A

FEW HOURS.

BUT AS IT STANDS NOW IN

DOWNTOWN, YOU SEE POLICE ON

HORSEBACK AND PRESS.

THAT'S IT.

THERE'S A FEW PEOPLE THAT WILL

COME BY, MAYBE A JOGGER OR JUST

SOMEONE WALKING THEIR DOG.

BUT IT'S ALL PRESS AND ALL

POLICE.

>> Sreenivasan: HAVE YOU HAD A

CHANCE TO SPEAK TO KIND OF ANY

OF THE LOCALS AROUND THERE?

I MEAN, HOW DO THEY FEEL ABOUT

WHAT'S HAPPENING AND WHAT THE

THREAT IS TO THEM?

>> Reporter: WE HAVE SPOKEN TO A

NUMBER OF LOCALS, A GENTLEMAN

WHO IS JUST HERE JUST BEFORE WE

STARTED TO TALK, KIND OF SHOOK

HIS HEAD AND SAID, I'VE NEVER

SEEN DOWNTOWN HARRISBURG THIS

QUIET.

AND YOU HAVE SEEN PEOPLE KIND OF

COME OUT OF CHURCHES AND LOOK AT

BASICALLY ALL THE PRESS IN THE

CAPITOL AND THE POLICE SHOW OF

FORCE.

AND EVERYONE SEEMS TO BE KIND OF

JUST SHAKING THEIR HEADS,

SHRUGGING AND WALKING AWAY.

>> Sreenivasan: AND WHAT ARE THE

CAPITOL POLICE OR ANYBODY

CONCERNED ABOUT?

IS IT JUST TODAY OR IS IT A DAYS

COMING UP?

>> Reporter: WELL, I THINK IT'S

LARGELY TODAY AND THE DAYS TO

COME.

THERE ARE POLICE ON HORSEBACK.

WE'VE SEEN A NUMBER OF DRONES

FLY OVERHEAD.

THE GOVERNOR HAS ASKED HIS

EMPLOYEES TO WORK FROM HOME

TUESDAY AND WEDNESDAY, AND THEY

HAVE ALSO NOT ISSUED ANY PERMITS

FOR DEMONSTRATIONS OR PROTESTS.

BUT BY AND LARGE, NO ONE REALLY

KNOWS WHAT'S GOING TO HAPPEN.

THE INFORMATION WE HAVE IS WHAT

EVERYONE ELSE HAS.

THE F.B.I. INDICATED THAT THEY

WERE SEEING CHATTER THAT THERE

MIGHT BE DEMONSTRATIONS AT STATE

CAPITOLS ACROSS THE COUNTRY.

BUT HERE AS IT IS RIGHT NOW,

THERE'S NOTHING HAPPENING.

>> Sreenivasan: SO YOU SAID

THERE ARE A FEW PEOPLE SHOWING

UP, BUT WHO ARE THEY?

>> Reporter: IT'S REALLY

DIFFICULT TO SAY, BUT WE DID SEE

THREE COUNTER PROTESTERS, IF

THAT'S WHAT WE WANT TO CALL

THEM, THEY HAD CONSTRUCTED A

LIFE SIZED DONALD TRUMP AND

KNOCKED IT OVER, ESSENTIALLY

SYMBOLIZING THE END OF HIS

PRESIDENCY.

AND WE HAVE HEARD ONE GENTLEMAN

WAS TALKING THROUGH THE

BULLHORN, THROUGH A BULLHORN,

TALKING ABOUT THE STEAL, BUT HE

LEFT.

AND IT'S REALLY QUIET NOW AND

THERE'S NOT MUCH HAPPENING AT

ALL.

>> Sreenivasan: CHRISTOPHER

BOOKER JOINING US FROM

PENNSYLVANIA'S CAPITOL IN

HARRISBURG.

THANKS SO MUCH, CHRIS.

>> Reporter: THANK YOU.

>> I'M DAVE BOUCHER, GOVERNMENT

POLITICS REPORTER WITH THE

"DETROIT FREE PRESS."

I'M HERE IN LANSING, MICHIGAN,

OUTSIDE OF THE STATE CAPITOL.

YOU CAN SEE IT HERE BEHIND ME.

PRETTY QUIET SCENE HERE.

SO FAR TODAY, THERE WERE

INTERMITTENT GROUPS OF PEOPLE

WHO CAME BY A DOZEN OR SO AT A

TIME WHO ARE OPENLY CARRYING

FIREARMS.

SOME OF THEM ARE SELF-DESCRIBED

BOOGALOO BOYS.

THE PEOPLE JUST HERE TO PROTEST.

WE DID TALK TO ONE PROTESTER WHO

SAID HE WAS HERE TO PROTEST THE

PROTESTERS AND LET PEOPLE KNOW

THAT NOT ALL TRUMP SUPPORTERS

ARE LIKE THOSE THAT THE NATION

SAW WHO STORMED THE U.S.

CAPITOL RECENTLY.

AGAIN, THERE WERE THREATS OF

VIOLENCE HERE AND ACROSS THE

COUNTRY.

LAWMAKERS SAID THAT ON THE

ADVICE OF LAW ENFORCEMENT CITING

CREDIBLE THREATS, THEY'VE

CANCELED ALL OF THEIR MEETINGS

FOR TUESDAY, WEDNESDAY AND

THURSDAY.

AGAIN, THOSE ARE THE ROUTINE

NORMAL DAYS WHEN LAWMAKERS ARE

TYPICALLY HERE.

SO WE'LL SEE THAT THAT MIGHT

MEAN OTHER PEOPLE MIGHT COME OUT

FOR INAUGURATION DAY OR OTHER

DAYS.

BUT SUPPOSEDLY LAW ENFORCEMENT

SAYS THEY'RE READY.

THEY INTEND TO HAVE A INCREASED

PRESENCE HERE THROUGH FEBRUARY.

AT LEAST THE STATE POLICE PLANS

TO BE HERE THEN.

AND SO, YEAH, AS OF RIGHT NOW,

IT WILL NOT BE BUSINESS AS

NORMAL AT THE CAPITOL FOR SOME

TIME.

BUT AGAIN, OVERALL TODAY IT'S

BEEN VERY QUIET, A MASSIVE LAW

ENFORCEMENT PRESENCE, LOTS OF

STATE POLICE OFFICERS, LOCAL

POLICE OFFICERS AND NATIONAL

GUARD TROOPS.

SOME OF THE TROOPS HAVE KIND OF

CLOSED OFF THE BLOCK AROUND

HERE.

THE CAPITOL, YOU CAN SEE OBVIOUS

MILITARY HUMVEE LOOKING VEHICLES

AROUND.

PEOPLE ARE WALKING AROUND IN

CAMO.

BUT BUT AGAIN, VERY, VERY QUIET

SCENE, A COLD AND SNOWY SCENE

AND NOT REALLY A PROTEST SCENE,

HONESTLY.

>> I'M KAREN KASLER FROM OHIO

PUBLIC RADIO AND TELEVISION

STATEHOUSE NEWS BUREAU AT THE

STATE HOUSE IN COLUMBUS.

THERE ARE SEVERAL DOZEN

PROTESTERS HERE SO FAR, NO

INCIDENTS, NO FIGHTS, A LOT OF

YELLING.

THERE ARE A LOT OF PEOPLE WHO

ARE ARMED HERE, A LOT OF PEOPLE

SAYING THEY DON'T NECESSARILY

REPRESENT ONE SIDE OR THE OTHER,

THOUGH.

THERE ARE SOME TRUMP SUPPORTERS

HERE AND ALSO A FEW BIDEN

SUPPORTERS AS WELL.

THE SECURITY AROUND HERE HAS

BEEN STEPPED UP.

WE HAVE OHIO NATIONAL GUARD,

ABOUT 580 THAT WERE ACTIVATED

FOR ALL AROUND THE STATE OF

OHIO.

AND THIS BUILDING IS PROTECTED

BY OHIO STATE TROOPERS, AS WELL.

THE OHIO STATE HOUSE IS SHUT

DOWN TODAY AND THROUGH

INAUGURATION DAY.

THERE WAS A PROTEST ON JANUARY 6

THAT TURNED VIOLENT IN FRONT OF

THE STATE HOUSE WITH SEVERAL

PEOPLE BEATEN.

THIS IS LOUD, BUT MOSTLY

NONVIOLENT.

AND I THINK THERE'S A REAL

AGAIN, THE SECURITY IS PRETTY

STRONG HERE.

>> I'M RICKEY BEVINGTON WITH

GEORGIA PUBLIC BROADCASTING IN

ATLANTA, WHERE THINGS ARE QUIET

AND TENSE.

I WOULD SAY, DOWNTOWN THERE IS

AN AIR OF TENSE ANTICIPATION.

THE GEORGIA STATE CAPITOL IS

HEAVILY GUARDED TODAY.

DUMP TRUCKS ARE BLOCKING MAJOR

ROADS THAT LEAD TO THE CAPITOL.

THERE ARE ARMED SOLDIERS WITH

FULL FATIGUES AND WEAPONS WITH

BIG HUMVEES ALL AROUND THE

PERIMETER OF THE CAPITOL.

ONE OF THE MOST POWERFUL IMAGES

IS A BRONZE STATUE OF DR.

MARTIN LUTHER KING, JR.

OUTSIDE OF GEORGIA'S STATE

CAPITOL.

AND IT'S KIND OF GAZING TOWARD

TWO SOLDIERS THAT ARE STANDING

ON TOP OF A LARGE MILITARY

VEHICLE.

AND WE CAN ONLY IMAGINE WHAT DR.

MARTIN LUTHER KING, JR. WOULD BE

THINKING ON A DAY LIKE TODAY.

THE QUESTION IS, AND IT'S THE

QUESTION ON EVERYONE'S MIND,

WILL WE SEE PROTESTERS AT ALL,

WILL WE SEE PROTESTERS WHO ARE

PEACEFUL OR WILL WE SEE

POTENTIALLY, DOMESTIC AMERICAN

TERRORISTS, TRYING TO WREAK

HAVOC ON A HOUSE OF GOVERNMENT?

THAT IS WHAT ATLANTA IS WAITING

FOR TODAY.

AFTER THE BLACK LIVES MATTER

PROTESTS OF THE SPRING AND

SUMMER OF 2020, THE STATE

DECIDED TO BUILD A MASSIVE

EIGHT-FOOT-FENCE AROUND THE

PERIMETER OF THE GEORGIA STATE

CAPITOL.

CONSTRUCTION ISN'T EXPECTED TO

BE FINISHED UNTIL MAY.

AND SO THAT FENCE IS NOT IS NOT

UP AND FORTIFYING THE CAPITOL AT

THIS TIME.

>> Sreenivasan: IN OREGON, THE

STATE HOUSE IN SALEM IS BOARDED

UP THIS WEEKEND, AND THE

GOVERNOR HAS CALLED UP NATIONAL

GUARD TROOPS.

NEWSHOUR WEEKEND'S MORI ROTHMAN

SPOKE WITH OREGON PUBLIC

BROADCASTING REPORTER SERGIO

OLMOS ABOUT FAR RIGHT EXTREMIST

GROUPS THERE.

>> Reporter: SO, YOU'VE BEEN

REPORTING ON FAR RIGHT EXTREMIST

GROUPS FOR A WHILE NOW, TAKE US

THROUGH HOW YOU'VE SEEN THE

ACTIONS OF THESE GROUPS ESCALATE

OVER THE PAST COUPLE OF YEARS.

>> YOU KNOW, SINCE THE ELECTION

OF DONALD TRUMP, THESE GROUPS

HAVE GOTTEN MORE KINETIC.

SO THEY'RE OUT IN THE STREETS

AND A LOT OF THEIR RALLIES HAVE

ENDED IN VIOLENCE, EITHER BRAWLS

OR, YOU KNOW, UH, ISOLATED

EVENTS OUTSIDE OF A HOTEL OR

SOMETHING WITH PAINTBALLS,

THINGS LIKE THAT.

UM, IF YOU GO TOE LAST YEAR,

AUGUST 22, THERE WAS A HUGE

RALLY WITH RIGHT WING GROUPS

STANDING OUTSIDE OF THE

MULTNOMAH COUNTY JUSTICE CENTER.

IT'S LIKE A JAIL FOR PROCESSING,

UH, INMATES.

AND THEY FOUGHT WITH LEFT WING

ACTIVISTS FOR HOURS OUT THERE,

AND SOME OF THOSE PEOPLE IN THE

CROWD WOULD GO ON TO, YOU KNOW,

STORM THE OREGON STATE HOUSE.

YOU SAW RIGHT WING PROTESTERS,

YOU KNOW, DRAPED IN AMERICAN

FLAGS AND DONALD TRUMP FLAGS,

BEAR MACING OREGON STATE

TROOPERS AND, YOU KNOW, MANY OF

THE PEOPLE WHO WENT INSIDE THAT

STATE HOUSE FACED NO

CONSEQUENCES.

AND, YOU KNOW, YOU DRAW A DIRECT

LINE FROM THEN TO TWO WEEKS

LATER WHEN YOU CAN SEE ON VIDEO

SOME OF THOSE SAME PEOPLE

STANDING OUTSIDE NANCY PELOSI'S

OFFICE.

>> Reporter: YOU'VE WRITTEN

ABOUT HOW YOU'VE SEEN SOME OF

THESE GROUPS RISE SPECIFICALLY

IN THE PACIFIC NORTHWEST AND IN

OREGON.

TELL ME A LITTLE ABOUT THAT.

>> WELL, YOU KNOW, ORGAN IS 87%

WHITE, AND IT WAS, IT STARTED,

YOU KNOW, BUILT AS A KIND OF

WHITE UTOPIA.

THERE WERE BLACK EXCLUSIONARY

LAWS BUILT INTO THE

CONSTITUTION.

UM, YOU KNOW THE LANGUAGE IN THE

CONSTITUTION, SOME OF IT, YOU

KNOW, SAID BLACK PEOPLE COULDN'T

OWN LAND.

THAT LANGUAGE WASN'T REMOVED

UNTIL 2002.

AND EVEN THEN, 31% OF PEOPLE

VOTED AGAINST REMOVING THAT

LANGUAGE.

UM, SO THERE'S A, THERE'S A, YOU

KNOW, A RACIST HISTORY TO

OREGON, BUT THERE'S, YOU KNOW,

THERE'S RACIST HISTORIES TO

EVERY STATE.

THERE'S REASONS WHY PEOPLE WOULD

JOIN THESE FAR RIGHT EXTREMIST

GROUPS THAT APPLY KIND OF

EVERYWHERE IN UNITED STATES, YOU

KNOW, SOME OF THEM BEING THAT

PEOPLE ARE LOOKING FOR IDENTITY,

MEANING AND PURPOSE, AND, UM,

IF, IF YOU'RE LIVING ONLINE AND

YOU HAVE YOU NO, NO, UH, NOBODY,

NO COMMUNITY, NO TRIBE, NO GROUP

THAT WILL, YOU KNOW, KIND OF

VOUCH FOR YOU, HANG OUT WITH

YOU, SACRIFICE FOR YOU, THESE

GROUPS WILL INVITE YOU TO COME

HANG OUT WITH THEM.

SO, I THINK THERE'S, THERE'S

STRUCTURAL REASONS THAT, YOU

KNOW, PUSH PEOPLE TOWARDS

EXTREMISM.

AND THAT'S SOMETHING THAT WE CAN

ALL LOOK AT.

>> Reporter: WHAT KIND OF

PREPARATIONS ARE BEING MADE IN

OREGON FOR POTENTIAL VIOLENCE,

AND DOES IT LOOK LIKE PEOPLE ARE

BEING DETERRED BY THE GREATER

POLICE PRESENCE?

>> THE OREGON STATE POLICE HAS

REQUESTED THE OREGON NATIONAL

GUARD TO BE AT THEIR DISPOSAL

THIS WEEKEND.

SO, THE OREGON NATIONAL GUARD IS

IN OREGON, THEY'RE IN SALEM AT

THE STATEHOUSE, AND TOGETHER

THEY WILL, YOU KNOW, PROTECT THE

STATEHOUSE AGAINST PLANNED RIGHT

WING PROTESTS.

AS FAR AS, YOU KNOW, WHETHER

THERE'S GONNA BE CROWDS ARE

GONNA BE DETERRED FROM COMING TO

PROTEST, YOU KNOW, THE

DISRUPTION OF THE SOCIAL MEDIA

PLATFORMS LIKE PARLER AND THINGS

LIKE THAT, THEY'VE REALLY MADE

IT HARD TO GAUGE LARGER TRENDS.

SO, YOU KNOW, A LOT OF THESE FAR

RIGHT, UH, GROUPS, HAVE MOVED TO

TELEGRAM, WHERE IT'S SMALLER

CHAT ROOMS, WHERE THEY'RE SPLIT

UP AND THEIR FRACTURED, AND IT'S

REALLY DIFFICULT TO GAUGE WHAT

IS A COMMON, AGREED UPON IDEA.

>> Reporter: YEAH, AND LOOKING

FORWARD, WHAT'S THE DISCUSSION

AROUND WHAT THESE GROUPS ARE

THINKING AFTER THIS WEEK?

>> A LOT OF THESE PEOPLE ARE NO

LONGER ON SOCIAL MEDIA

PLATFORMS.

THEY'RE NOT ON FACEBOOK, THEY'RE

NOT ON TWITTER, AND SO YOU'RE

NOT GONNA BE SEEING THIS KIND OF

STUFF ANYMORE.

AND YOU MIGHT BE LULLED INTO

THINKING THAT IT'S GONE, THAT

THE PROBLEM HAS BEEN FIXED, BUT,

YOU KNOW, WHEN YOU COVER THESE

GROUPS, YOU REALIZE SOMETHING

VERY QUICKLY: THIS IS NOT JUST

AN IDEA, YOU KNOW, IT'S A

LIFESTYLE.

THESE PEOPLE HAVE CHANGED THE

WAY THEY LIVE.

THIS IS THEIR FRIENDS GROUP.

THIS IS-- THEY BUY GEAR, THEY,

YOU KNOW, WATCH YOUTUBE VIDEOS.

THEY SPEND A LOT OF TIME

INVESTING IN THIS, AND IT'S

INCONCEIVABLE TO THINK THAT

THEY'RE JUST GONNA WALK AWAY

AFTER THIS WEEKEND.

>> Reporter: SERGIO OLMOS FROM

OREGON PUBLIC BROADCASTING.

THANKS SO MUCH.

>> THANK YOU, MORI.

>> Sreenivasan: FOR MORE ON THIS

WEEK'S INAUGURATION EVENTS AND

THE LATEST NATIONAL AND

INTERNATIONAL NEWS VISIT

pbs.org/newshour.

>> Sreenivasan: PRESIDENT DONALD

TRUMP SPENT HIS FINAL WEEKEND IN

OFFICE IN THE WHITE HOUSE.

REPORTS ARE THAT HE PLANS TO

LEAVE WASHINGTON, D.C., ON

WEDNESDAY MORNING-- JUST HOURS

BEFORE PRESIDENT-ELECT JOE BIDEN

TAKES OFFICE.

FOR MORE ON THE PRESIDENT'S

PLANS, I SPOKE WITH NEWSHOUR

WHITE HOUSE CORRESPONDENT

YAMICHE ALCONDOR EARLIER THIS

AFTERNOON.

SO, YAMICHE, WHAT DO WE KNOW

ABOUT WHAT THE PRESIDENT IS

DOING THIS WEEKEND?

>> THERE ISN'T REALLY THAT MUCH

INSIGHT INTO WHAT THE

PRESIDENT'S DOING.

WE KNOW THAT THE PRESIDENT'S

MOOD IS ONE OF ANGER, ONE OF

FRUSTRATION.

HE IS REALLY LOOKING AT A LEGACY

THAT WAS ALREADY MARRED BEING

EVEN MORE TARNISHED BY THE FACT

THAT HE WAS IMPEACHED TWICE.

HE, OF COURSE, IS GOING OUT AS

THE PRESIDENT WHO DOES NOT WANT

TO GO TO INAUGURATION DAY.

SO THERE'S A LOT OF REPORTING

ABOUT HOW HE PLANS TO KIND OF

HAVE A BIG SEND OFF PARTY FOR

HIMSELF.

THE OTHER THING THAT THE

PRESIDENT'S DOING AND THAT THE

PEOPLE AROUND THE PRESIDENT ARE

DOING IS TRYING TO LOOK FOR WAYS

IN THE GOVERNMENT, I'M TOLD, TO

INSTALL TRUMP LOYALISTS,

POSSIBLY AT THE NATIONAL

SECURITY COUNCIL, POSSIBLY AT

OTHER AGENCIES.

NOW, I WILL SAY I'VE TALKED TO

SOME EXPERTS WHO SAY PRESIDENTS

OFTEN TRY TO HAVE SOME INFLUENCE

BY MAKING PEOPLE WHO HAVE THEIR

VIEWS, CAREER OFFICIALS.

BUT THE FEAR HERE IS THAT

PRESIDENT TRUMP, BECAUSE HE HAD

REALLY HAD THIS CONTINUOUS FALSE

CLAIM THAT THE ELECTION WAS

STOLEN FROM HIM, THAT HE MIGHT

BE INSTALLING PEOPLE WHO ARE NOT

ONLY JUST MAYBE PART OF THE

PEOPLE WHO BELIEVE IN SOME OF

HIS VIEWS, BUT THEY'RE REALLY

PEOPLE WHO MIGHT BE CONSPIRACY

THEORISTS, WHO MIGHT MEAN HARM

FOR THE BIDEN ADMINISTRATION IN

AMERICA OVERALL.

>> Sreenivasan: AND HE STILL HAS

THE POWER TO PARDON AND GRANT

CLEMENCY TO PEOPLE.

AND WE HAVE HEARD THAT THERE'S A

LOT OF JOCKEYING BECAUSE THERE'S

ONLY A COUPLE OF DAYS LEFT WHEN

HE CAN USE THAT POWER.

>> THAT'S RIGHT.

THAT'S THE BIG QUESTION HERE

WHEN IT COMES TO PARDONS IS NOT

ONLY IS WHO IS HE GOING TO

PARDON, BUT WILL HE PARDON

HIMSELF?

WILL HE PARDON HIS FAMILY

MEMBERS?

THERE'S REAL CONCERN THAT THE

PRESIDENT, BECAUSE HE FEELS AS

THOUGH HE MIGHT HAVE SOME LEGAL

LIABILITY WHEN IT COMES TO THE

SIEGE ON CAPITOL HILL, THAT HE

MIGHT TAKE STEPS TO PARDON

PEOPLE WHO HE THINKS ARE GOING

TO BE UNNECESSARILY OR UNFAIRLY

TARGETED.

OF COURSE, AS WE KNOW, HE'S

ALREADY BEEN IMPEACHED FOR

INCITING INSURRECTION, BUT THERE

IS SOME TALK OF PARDONS.

ANOTHER THING IS THESE FEDERAL

EXECUTIONS.

WE'VE SEEN MORE FEDERAL

EXECUTIONS IN THE LAST FEW WEEKS

AND MONTHS HERE THAN WE HAVE IN

DECADES.

SO THERE'S ALSO THIS FEELING

THAT THE TRUMP ADMINISTRATION IS

TRYING TO MAKE SURE THAT THEY

TRY TO GET ALL OF THESE

EXECUTIONS DONE THERE.

OF COURSE, PEOPLE WHO REALLY SEE

THAT AS BARBARIC AND ARE

CRITICIZING THE PRESIDENT FOR

NOT BEING MORE PATIENT AND NOT

TAKING A MORE CAUTIOUS STANCE ON

EXECUTIONS.

WE'VE SEEN A NUMBER OF PEOPLE

KILLED BY THE GOVERNMENT IN

RECENT DAYS.

>> Sreenivasan: AND WHAT ABOUT

LAST MINUTE PIECES OF EITHER

LEGISLATION OR RULEMAKING OR

EXECUTIVE ACTIONS?

WHEN PRESIDENT TRUMP CAME INTO

POWER, HE SPENT QUITE A BIT OF

TIME TRYING TO UNDO THINGS THAT

PRESIDENT OBAMA HAD SIGNED INTO

BEING.

>> FROM MY UNDERSTANDING, THERE

MIGHT BE SOME FEELING THAT THERE

ARE RULES AND REGULATIONS THAT

ARE BEING CHANGED.

BUT THE CHIEF FEELING THAT I'M

HEARING BOTH FROM BIDEN

ADMINISTRATION OFFICIALS AND

BIDEN TRANSITION OFFICIALS AND

EXPERTS ON TRANSITION, IT'S THAT

THEY'RE STILL IN SOME WAYS, THEY

FEEL LIKE THERE'S THIS FEELING

THAT THE TRUMP ADMINISTRATION

DOESN'T WANT TO BE REALLY

FORTHCOMING WITH SOME OF THE

THINGS THAT HAVE ALREADY

HAPPENED.

SO YOU LOOK AT THE DEPARTMENT OF

HOMELAND SECURITY AND ALL OF THE

DIFFERENT REGULATIONS AND

CHANGES TO OUR IMMIGRATION

SYSTEM.

THEY'RE SAYING THAT THAT'S IN

SOME WAYS GOING TO BE A MAZE TO

THE BIDEN ADMINISTRATION WHEN

THEY COME IN BECAUSE THEY

HAVEN'T BEEN AS FORTHCOMING.

THE SAME THING IS HAPPENING AT

THE DEFENSE DEPARTMENT.

WE'VE HEARD FROM JOE BIDEN

HIMSELF, PRESIDENT ELECT BIDEN,

SAYING THEY'RE NOT GETTING THE

COOPERATION THEY NEED AT THE

DEFENSE DEPARTMENT.

SO NOT ONLY ARE THERE THINGS

BEING CHANGED AT THE LAST

MINUTE, BUT THERE COULD BE

THINGS BEING IN SOME WAYS HIDDEN

IN BUREAUCRACY IN THESE LAST FEW

DAYS HERE IN THE TRUMP

ADMINISTRATION.

>> Sreenivasan: ONE OF THE

THINGS THAT WE'VE HEARD IS THAT

WHEN JOE BIDEN COMES INTO

OFFICE, HE WANTS TO HAVE A

SERIES OF EXECUTIVE ACTIONS TO

TRY TO BEGIN JUMPSTARTING THE

PROCESS ON HOW TO TACKLE THE

PANDEMIC, HOW TO ROLL BACK SOME

OF THE RULES THAT PRESIDENT

TRUMP HAS PUT INTO PLACE.

>> THAT'S RIGHT.

PRESIDENT ELECT BIDEN, WHEN HE

BECOMES PRESIDENT BIDEN, HE IS

GOING TO BE MOVING VERY QUICKLY

TO SIGN A NUMBER OF EXECUTIVE

ORDERS TO TRY TO REVERSE SOME OF

THE TRUMP ADMINISTRATION THINGS

THAT HAVE PASSED IN THE LAST FEW

YEARS.

THERE WAS AN EXTENSIVE LIST

RELEASED BY HIS CHIEF OF STAFF,

RON KLAIN.

SOME OF THEM INCLUDE REVERSING

THE MUSLIM BAN, ISSUING A

MASK MANDATE, REJOINING THE

PARIS CLIMATE ACCORD AND

EXTENDING THE PAUSE TO FEDERAL

STUDENT LOANS.

THAT'S GOING TO BE JUST ON DAY

ONE.

THERE'S GOING TO THEY'RE GOING

TO BE OTHER ONES ON JANUARY 21

AND INTO FEBRUARY, FOCUSED

MAINLY ON CABINET OFFICIALS,

CABINET AGENCIES TRYING TO

TACKLE THE COVID-19 PANDEMIC,

WHICH IS GOING TO BE THE

PRIORITY OF THE BIDEN

ADMINISTRATION WHEN THEY THINK

OF THIS PANDEMIC AND ALL OF THE

AMERICANS THAT ARE BEING KILLED.

>> Sreenivasan: ALL RIGHT.

NEWHOUR'S WHITE HOUSE

CORRESPONDENT YAMICHE ALCINDOR

JOINING US FROM WASHINGTON.

THANKS SO MUCH.

>> THANKS SO MUCH.

>> Sreenivasan: FOR A LOOK AT

WHAT TO MAKE OF THE WEEK AHEAD

WITH PRESIDENT-ELECT JOE BIDEN'S

INAUGURATION, AND PRESIDENT

TRUMP'S POTENTIAL IMPEACHMENT

TRIAL AND MORE, I SPOKE WITH

SPECIAL CORRESPONDENT JEFF

GREENFIELD FROM SANTA BARBARA,

CALIFORNIA.

SO, JEFF, LET'S START WITH

IMPEACHMENT, EVEN SOME STRONG

CRITICS OF THE PRESIDENT ARE

SAYING BASICALLY, WHAT'S THE

POINT?

HE WILL BE GONE BEFORE ANY TRIAL

EVEN BEGINS.

AND THEN THERE'S THE SORT OF

SEPARATE QUESTION, CAN HE BE

IMPEACHED ONCE HE IS OUT OF

OFFICE?

>> THE SHORT ANSWER TO THE

QUESTION OF CAN HE BE IMPEACHED

IS YES, AND THE THEORY IS, IF

YOU DIDN'T HAVE THAT POWER, THE

MOST WRONGDOING MISCREANT COULD

EVADE ANY OF THE CONSEQUENCES BY

JUST RESIGNING AND KEEP BENEFITS

AND NOT LOSE WHAT HE WOULD LOSE

OR SHE WOULD LOSE IF THAT PERSON

WERE CONVICTED.

THE MORE SERIOUS REASON IS THAT

IF THERE WERE 17 REPUBLICANS WHO

WOULD VOTE TO CONVICT TRUMP THIS

TIME, THE SENATE WOULD THEN MOVE

TO A DIFFERENT QUESTION: SHOULD

THIS PERSON BE BARRED FROM

HOLDING ANY OFFICE FOR THE REST

OF HIS OR HER LIFE?

AND THAT WOULD REQUIRE A SIMPLE

MAJORITY.

AND FINALLY, THERE'S THE WHOLE

NOTION OF ACCOUNTABILITY, GIVEN

WHAT HAPPENED ON JANUARY 6,

WHERE SOME PEOPLE FEEL EVEN IF

IT HAS NO REAL IMPACT, THE

PRESIDENT HAS TO BE HELD

ACCOUNTABLE AND IMPEACHMENT IS

ONE WAY TO DO IT.

>> Sreenivasan: YOU HAVE MEMBERS

OF CONGRESS, MOSTLY REPUBLICAN,

SINGING FROM A VERY SIMILAR

SONGBOOK THAT SAYS HERE IS

PRESIDENT ELECT BIDEN COMING IN.

HIS ENTIRE CAMPAIGN WAS ABOUT

UNIFYING THE COUNTRY.

IS AN IMPEACHMENT REALLY THE

RIGHT WAY TO START THIS?

>> WELL, THE CYNIC IN ME SAYS

THAT'S LIKE THE BOY WHO KILLS

HIS PARENTS AND PLEADS FOR MERCY

BECAUSE HE'S AN ORPHAN.

FOR WEEKS AND WEEKS, WE'VE HAD

VIRTUALLY MOST OF THE REPUBLICAN

PARTY, MOST OF THE MEMBERS OF

THE HOUSE, KEY SENATORS, THE

PRESIDENT OF THE UNITED STATES,

SPREADING THIS FALSE STORY THAT

THE ENTIRE ELECTION WAS A FRAUD.

AND IF THEY SAY, "WELL, GEE,

LOOK AT HOW DIVIDED THE COUNTRY

IS," WELL, GEE, HOW DID THAT

HAPPEN?

MAYBE IF THEY HAD ACKNOWLEDGED,

YOU KNOW, BIDEN WON THIS WEEKS

AGO, WE WOULDN'T HAVE SPARED

THIS.

AND I THINK WHAT BIDEN'S

RESPONSE MIGHT WELL BE IS, OKAY,

IF YOU'RE SERIOUS ABOUT UNIFYING

THE COUNTRY, LET'S TAKE A LOOK

AT WHAT WE DO ABOUT THIS

RAMPAGING PANDEMIC AND THIS

CATASTROPHE THAT IT'S A PRODUCT

OF THAT.

>> Sreenivasan: $1.9 TRILLION.

THAT IS WHAT WE NOW KNOW

PRESIDENT ELECT BIDEN'S PLAN IS

TO TRY TO JUMPSTART THE ECONOMY,

FIX THE PROBLEMS WITH THE

PANDEMIC AND SO ON.

DIRECT ACCESS PAYMENTS, $1,400

CHECKS TO PEOPLE.

THEY HAVE AN INCREDIBLY SLIM

MAJORITY IN THE SENATE.

THERE ARE SEVERAL REPUBLICANS

WHO ARE NOT LIKELY TO SIGN ON

FOR THIS KIND OF SPENDING AGAIN,

WHERE DO WE GO?

>> FIRST OF ALL, I THINK THAT

TWO OF THE BIGGEST CHALLENGES

BIDEN FACES, THE PANDEMIC AND

THE ATMOSPHERE AFTER THAT

JANUARY 6 ASSAULT MIGHT ACTUALLY

HELP HIM.

THE PANDEMIC IS UNLIKE ANY

ECONOMIC CRISIS WE'VE EVER BEEN

IN BEFORE, BECAUSE UNLESS IT'S

FIXED, YOU CAN'T REALLY RESTART

THE ECONOMY.

AND SO, YOU'RE FINDING THAT THE

ARGUMENT BIDEN IS MAKING, IN

EFFECT, LOOK, WE'RE IN A WARTIME

SITUATION AND YOU'RE FINDING

SOME CONSERVATIVE VOICES LIKE

THE U.S. CHAMBER OF COMMERCE

LOOKING WITH MORE FAVOR ON THIS

RATHER ENORMOUS SUGGESTION.

AND THE SECOND THING, IS IT

POSSIBLE, ALTHOUGH I'M NOT

CONFIDENT ABOUT THIS, THAT THE

IMPACT OF THAT ASSAULT AND THE

FEELING AMONG SOME REPUBLICANS

THAT THEY ARE AT FAULT HERE

COULD CONCEIVABLY PERSUADE THEM

TO DEMONSTRATE THEIR SENSE OF

UNITY.

SO, YOU SEE WHAT I'M SAYING,

THAT THE TWO OF THE MOST

DIFFICULT THINGS BIDEN HAS TO

FACE, THE POISONOUS POLITICAL

ATMOSPHERE AND THE PANDEMIC

COULD CONCEIVABLY WORK TO HIS

POLITICAL FAVOR.

>> Sreenivasan: AND IT STARTS ON

INAUGURATION DAY UNLESS THERE IS

THE SUDDEN DISAPPEARANCE OF

VIOLENT THREATS OF INSURRECTION

OR A GLOBAL PANDEMIC.

THIS INAUGURATION IS GOING TO BE

VERY DIFFERENT, TO PUT IT

MILDLY.

>> THE IDEA OF AN INAUGURAL WITH

AN EMPTY NATIONAL MALL AND

25,000 TROOPS IN THE STREETS AND

NO PARADE.

IT'S VERY DESPAIRING AND IN A

KIND OF ODD WAY.

AND IT'S AWFUL TO SAY THIS,

HARI, THE BAD GUYS HAVE WON THIS

ROUND.

IN THAT SENSE, THEY'VE TAKEN ALL

OF THE CELEBRATION AND PRIDE AND

TRIUMPH THAT A NEW PRESIDENT

ALWAYS HAS.

AND THEY BASICALLY SAID, "NO,

NOT THIS TIME."

I'M REMEMBERING, BY THE WAY,

JIMMY CARTER AND ROSALYNN CARTER

GETTING OUT OF THEIR CAR IN 1977

TO WALK THE INAUGURAL, WHICH I

BELIEVE EVERY SUBSEQUENT

PRESIDENT HAS DONE.

THAT'S NOT GOING TO HAPPEN.

AND ONE LAST THING: EVERY

PRESIDENT SINCE CARTER HAS

THANKED HIS PREDECESSOR, EVEN IF

HE WAS AN OPPONENT FOR YOUR

SERVICE, FOR THE TRANSITION.

I THINK I CAN PREDICT JOE BIDEN

WILL NOT BE THANKING DONALD J.

TRUMP ON JANUARY 20.

>> Sreenivasan: JEFF GREENFIELD,

THANKS SO MUCH.

>> OKAY.

>> Sreenivasan: NEWSHOUR WILL

HAVE LIVE COVERAGE OF

WEDNESDAY'S INAUGURATION OF

PRESIDENT JOE BIDEN AND VICE

PRESIDENT KAMALA HARRIS

BEGINNING AT 10:30 A.M. EASTERN

TIME.

YOU CAN WATCH ONLINE OR ON YOUR

LOCAL PBS STATION.

THAT'S ALL FOR THIS EDITION OF

"PBS NEWSHOUR WEEKEND."

FOR THE LATEST NEWS UPDATES

VISIT pbs.org/newshour.

I'M HARI SREENIVASAN.

THANKS FOR WATCHING.

STAY HEALTHY AND HAVE A GOOD

NIGHT.

>>PBS NEWSHOUR WEEKEND IS MADE

POSSIBLE BY:

SUE AND EDGAR WACHENHEIM III.

THE ANDERSON FAMILY FUND.

BERNARD AND DENISE SCHWARTZ.

THE CHERYL AND PHILIP MILSTEIN

FAMILY.

BARBARA HOPE ZUCKERBERG.

THE LEONARD AND NORMA KLORFINE

FOUNDATION.

WE TRY TO LIVE IN THE MOMENT,

TO NOT MISS WHAT'S RIGHT IN

FRONT OF US.

AT MUTUAL OF AMERICA, WE

BELIEVE TAKING CARE OF TOMORROW

CAN HELP YOU MAKE THE MOST OF

TODAY.

MUTUAL OF AMERICA FINANCIAL

GROUP, RETIREMENT SERVICES AND

INVESTMENTS.

ADDITIONAL SUPPORT HAS BEEN

PROVIDED BY:

CONSUMER CELLULAR.

AND BY:

AND BY THE CORPORATION FOR

PUBLIC BROADCASTING, A PRIVATE

CORPORATION FUNDED BY THE

AMERICAN PEOPLE.

AND BY CONTRIBUTIONS TO YOUR

PBS STATION FROM VIEWERS LIKE

YOU.

THANK YOU.