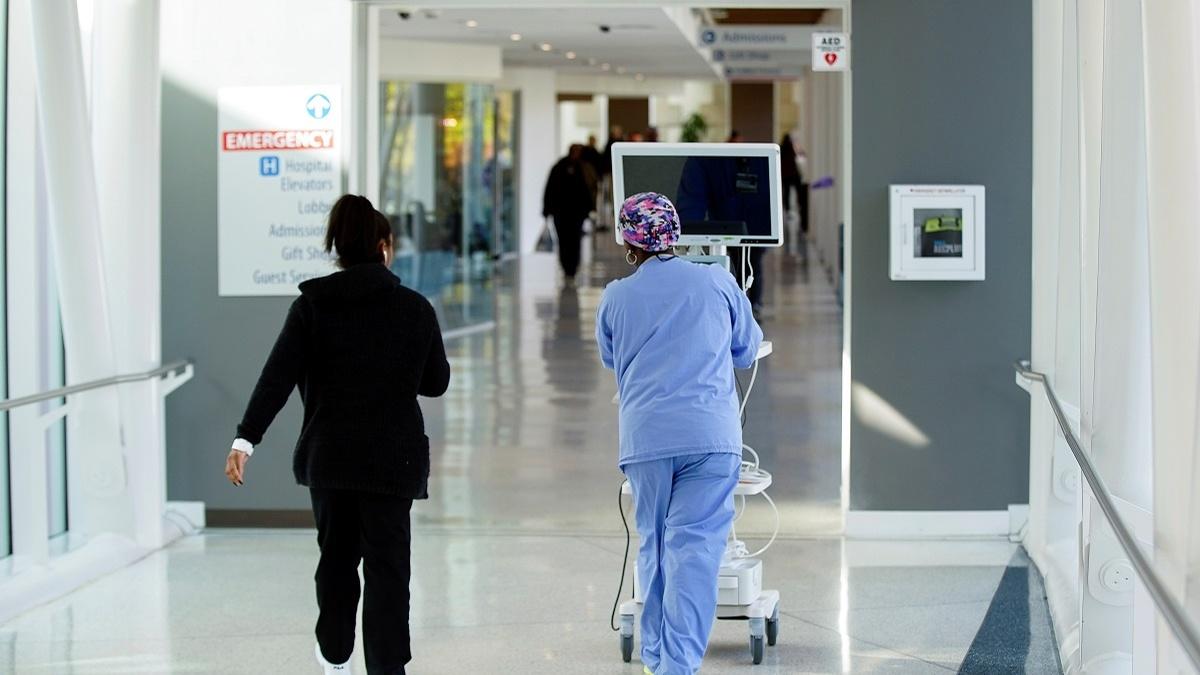 CLIP
Inside Georgia's new attempt to change access to Obamacare
In Georgia, a new health insurance proposal could upend the Affordable Care Act exchange. While proponents see the changes as a way to increase health insurance enrollment, critics warn that tens of thousands of Georgians could lose healthcare coverage. NewsHour Weekend's Christopher Booker reports.
TRANSCRIPT

>> Sreenivasan: HEALTHCARE IS

ALMOST ALWAYS A TOP ISSUE FOR

VOTERS, AND THIS YEAR, AS THE

U.S. REMAINS THE CENTER OF THE

CORONAVIRUS PANDEMIC, ACCESS TO

HEALTH INSURANCE HAS TAKEN ON

EVEN MORE IMPORTANCE.

GEORGIA HAS HAD MORE THAN

300,000 CONFIRMED CORONAVIRUS

INFECTIONS AND 6,900 DEATHS.

IT'S ALSO A STATE WITH ONE OF

THE HIGHEST RATES OF UNINSURED

PEOPLE IN THE COUNTRY.

IN RESPONSE TO SO FEW PEOPLE

BEING COVERED, STATE OFFICIALS

ARE TRYING TO CHANGE THE WAY

GEORGIANS FIND HEALTH INSURANCE

UNDER THE AFFORDABLE CARE ACT OR

OBAMACARE.

BUT WILL THE PROPOSAL, WHICH

NEEDS APPROVAL FROM THE FEDERAL

GOVERNMENT, HELP MORE GEORGIANS

GET COVERED, OR HAVE THE EXACT

OPPOSITE EFFECT?

AS PART OF OUR ONGOING "ROADS TO

ELECTION 2020" SERIES, NEWSHOUR

WEEKEND'S CHRISTOPHER BOOKER HAS

THE STORY.

>> Reporter: WHEN STEVEN CRAYNE

THOUGHT ABOUT STARTING HIS OWN

WEB DESIGN BUSINESS SEVEN YEARS

AGO AFTER A CAREER IN

MERCHANDISING AND MARKETING, ONE

OF THE BIGGEST CONCERNS WAS

HEALTH INSURANCE.

>> AND I WAS ALWAYS DEATHLY

AFRAID OF IT BECAUSE, ONE, YOU

KNOW, YOU KNOW, I NEED

HEALTHCARE BENEFITS.

>> Reporter: OVER THE PAST FOUR

YEARS, THE 62-YEAR-OLD, WHO

LIVES IN GAINESVILLE, GEORGIA,

HAS HAD SKIN CANCER REMOVED FROM

HIS FACE TWICE.

HE'S ON ROUTINE MEDICATION FOR

UNDERLYING HEALTH CONDITIONS AND

HE PROVIDES HEALTH INSURANCE FOR

HIS WIFE AND SON.

SO WHEN CRAYNE LAUNCHED HIS

BUSINESS IN 2014 HE EVENTUALLY

STARTED LOOKING TO GET INSURANCE

ON HIS OWN.

HE TURNED TO THE FEDERAL

MARKETPLACE CREATED BY THE

AFFORDABLE CARE ACT, OR A.C.A.,

THE 2010 HEALTHCARE LAW COMMONLY

KNOWN AS OBAMACARE.

HE WAS NERVOUS, THOUGH, SINCE

ALL HE HAD HEARD WERE NEGATIVE

THINGS ABOUT THE MARKETPLACE.

>> SO, WHEN I CALLED A.C.A., I

WAS LIKE, WOW.

THEY WERE REALLY, REALLY

HELPFUL.

WE WENT THROUGH THE DEDUCTIBLES

AND EVERYTHING.

AND TOGETHER WE FOUND THE RIGHT

PLAN.

>> Reporter: SO IT CAME AS A

SHOCK TO CRAYNE WHEN HE FOUND

OUT VIA A TWEET ONLY LAST MONTH

THAT THE STATE OF GEORGIA WAS

TRYING TO CHANGE HOW PEOPLE

ACCESS HEALTH INSURANCE UNDER

THE A.C.A.

>> WHEN I FIRST SAW IT, I WAS

LIKE, WHAT?

I DIDN'T HEAR ANYTHING ABOUT IT.

I WAS, LIKE, COMPLETELY

BLINDSIDED, OKAY.

AND, YOU KNOW, THAT WAS SCARY,

OKAY.

AND I WAS LIKE, WELL, WHAT IS

IT?

>> Reporter: WHAT IT IS IS A SET

OF TWO PROPOSALS THAT WERE

SUBMITTED TO THE FEDERAL

GOVERNMENT IN JULY FOR APPROVAL.

THE PROPOSALS WOULD, ONE, CREATE

WHAT'S CALLED A REINSURANCE

PROGRAM TO HELP OFFSET THE COST

OF POLICYHOLDERS WITH HIGH

MEDICAL BILLS.

THE SECOND AND MORE CONTENTIOUS

INITIATIVE WOULD ELIMINATE

ACCESS TO THE FEDERAL HEALTHCARE

MARKETPLACE healthcare.gov.

INSTEAD, GEORGIANS SHOPPING FOR

HEALTHCARE COVERAGE WOULD BE

STEERED TO PRIVATE BROKERS AND

INSURANCE WEBSITES IN WHAT'S

CALLED THE "GEORGIA ACCESS

MODEL."

GEORGIA GOVERNOR BRIAN KEMP'S

ADMINISTRATION DECLINED PBS

NEWSHOUR WEEKEND'S INTERVIEW

REQUEST.

BUT IN THE STATES' APPLICATION,

IT CONTENDS THAT MOVING TO THIS

MORE DECENTRALIZED MODEL COULD

INCREASE ENROLLMENT IN HEALTH

INSURANCE BY 25,000 PEOPLE IN

FIVE YEARS, THROUGH "IMPROVED

CUSTOMER SERVICE, OUTREACH, AND

EDUCATION PROVIDED BY THE

PRIVATE MARKET."

>> THE ESTIMATES THAT THE

GOVERNOR'S PLAN WILL INCREASE

THE NUMBER OF GEORGIANS WHO

CHOOSE TO ENROLL IN PRIVATE

HEALTH INSURANCE ARE, FRANKLY,

A LITTLE UNBELIEVABLE.

>> Reporter: LAURA COLBERT IS

EXECUTIVE DIRECTOR AT GEORGIANS

FOR A HEALTHY FUTURE, A NON-

PROFIT CONSUMER HEALTH ADVOCACY

ORGANIZATION.

>> THE TRANSITION FROM ONE

SYSTEM TO ANOTHER IS GOING TO BE

DIFFICULT, EVEN FOR CONSUMERS

WHO KNOW IT'S HAPPENING.

WE KNOW THAT NOT ALL CONSUMERS

WILL KNOW THAT THIS CHANGE IS

TAKING PLACE.

SO, SOME OF THOSE CONSUMERS ARE

GOING TO NEED TO CATCH UP.

SOME OF THEM MAY NOT GET THROUGH

THE PROCESS AT ALL.

IT'S MUCH MORE LIKELY THAT

CONSUMERS ARE GOING TO BECOME

UNINSURED IN THIS PROCESS RATHER

THAN HAVING MORE CONSUMERS

BROUGHT INTO THE PRIVATE

INSURANCE SYSTEM.

>> Reporter: THE KEMP

ADMINISTRATION'S PROPOSAL ARGUES

THAT MOVING AWAY FROM THE

FEDERAL MARKETPLACE WILL GIVE

GEORGIANS MORE OPTIONS FOR

HEALTHCARE PLANS AT LOWER

PRICES.

BUT OPPONENTS ARGUE THAT THE

CHEAPER PLANS THAT GEORGIANS MAY

BE STEERED TO BY A BROKER OR

INSURANCE WEBSITE MAY NOT COVER

PRE-EXISTING CONDITIONS AND ALL

OF THE ESSENTIAL HEALTH BENEFITS

THAT THE A.C.A. PLANS DO.

>> NEARLY ALL OF THESE PLANS

EXCLUDE PREGNANCY CARE.

MANY EXCLUDE MENTAL HEALTH.

SOME EXCLUDE PRESCRIPTION DRUGS.

>> Reporter: TARA STRAW IS A

SENIOR POLICY ANALYST WITH THE

CENTER ON BUDGET AND POLICY

PRIORITIES.

>> CONSUMERS HAVE BECOME

ACCUSTOMED TO THE IDEA THAT

THEIR HEALTH INSURANCE IS GOING

TO COVER PRE-EXISTING CONDITIONS

AND IMPORTANT HEALTH BENEFITS.

AND SO, CONSUMERS DON'T KNOW

THAT THEY MAY HAVE BEEN

HOODWINKED INTO PLANS THAT DON'T

OFFER COMPREHENSIVE COVERAGE.

>> Reporter: STRAW AUTHORED A

REPORT EARLIER THIS MONTH THAT

ESTIMATES THAT TENS OF THOUSANDS

OF GEORGIANS COULD LOSE ACCESS

TO HEALTH INSURANCE UNDER THE

KEMP ADMINISTRATION'S PROPOSAL

AND THAT ENDING ACCESS TO THE

A.C.A.'S EXCHANGE WILL ALSO

REDUCE ACCESS TO MEDICAID.

>> JUST DURING OPEN ENROLLMENT

IN 2020, 38,000 PEOPLE STARTED

AT healthcare.gov AND THEN

RECEIVED MEDICAID COVERAGE.

SO, WE CAN EXPECT THAT MANY OF

THOSE PEOPLE WOULD JUST NEVER

FIND THEIR WAY TO MEDICAID

BECAUSE BROKERS, WEB BROKERS AND

INSURANCE COMPANIES, HAVE NO

INCENTIVE TO ENROLL THEM.

THERE'S NO FINANCIAL BENEFIT TO

THEM TO HELP SEE PEOPLE THROUGH

THAT PROCESS.

>> Reporter: STRAW AND OTHERS

POINT OUT THAT EXPANDING

MEDICAID, WHICH THE STATE HAS

NOT DONE, COULD PROVIDE HEALTH

INSURANCE TO AS MANY AS 500,000

LOW INCOME GEORGIANS.

BUT IT IS PERHAPS THE EXCLUSIVE

USE OF BROKERS AND INSURANCE

WEBSITES THAT HAS CRITICS MOST

WORRIED ABOUT THE PLAN.

UNDER THE AFFORDABLE CARE ACT,

CONSUMERS CAN ALREADY USE

BROKERS AND INSURANCE WEBSITES.

IN FACT, FOR THE 2020 ENROLLMENT

PERIOD, CLOSE TO 90,000

GEORGIANS USED THIS APPROACH TO

SIGN UP FOR INDIVIDUAL

INSURANCE.

BUT ABOUT 380,000 GEORGIANS USED

healthcare.gov.

STEVEN CRAYNE WORRIES ABOUT WHAT

IT MIGHT MEAN TO GO DIRECTLY TO

A BROKER WORKING ON COMMISSION.

>> I WOULD BE CONCERNED ABOUT

THEIR IMPARTIALITY, OKAY.

AND AM I PAYING ADDITIONAL COSTS

FOR THAT BROKER?

>> Reporter: TARA STRAW SAYS

THERE'S A REASON TO BE

CONCERNED.

SHE POINTS TO AN AUDIT RELEASED

THIS MONTH BY THE NONPARTISAN

GOVERNMENT ACCOUNTABILITY

OFFICE.

G.A.O. HAD UNDERCOVER AGENTS

CALL 31 INSURANCE BROKERS POSING

AS CUSTOMERS WITH PRE-EXISTING

CONDITIONS LOOKING FOR

HEALTHCARE COVERAGE.

>> NOW, THIS IS GOING TO COVER

MY DIABETES, RIGHT AND MY

INSULIN AND ALL THAT I NEED?

>> YES.

YES, ABSOLUTELY, BECAUSE YOU

HAVE THAT PRESCRIPTION COVERAGE

IN THERE.

>> Reporter: THE AGENCY

CONCLUDED THAT A QUARTER OF THE

BROKERS, "ENGAGED IN POTENTIALLY

DECEPTIVE MARKETING PRACTICES,"

INCLUDING THIS ONE, WHICH SIGNED

THE UNDERCOVER AGENT UP FOR A

PLAN WHERE "PRE-EXISTING

CONDITIONS AND PRESCRIPTION DRUG

COSTS WERE NOT COVERED."

>> THIS IS DEFINITELY AN ISSUE

THAT'S BEEN FLYING UNDER THE

RADAR, BUT IT IS A REAL THREAT

TO THE A.C.A. AND COULD SERVE AS

A MODEL FOR OTHER STATES THAT

HAVE BEEN TRYING TO DISMANTLE

THE A.C.A. THROUGH THE COURTS

AND THAT HAVE BEEN TRYING TO,

TO, YOU KNOW, ATTACK THE A.C.A.

IN DEATH BY A THOUSAND CUTS.

>> Reporter: AS THE U.S. REACHED

ANOTHER GRIM MILESTONE EARLIER

THIS WEEK WITH THE DEATH TOLL

FROM COVID-19 PASSING 200,000,

LAURA COLBERT WORRIES THAT THIS

PROPOSAL COULDN'T COME AT A

WORSE TIME.

>> THIS PLAN WOULD ROLL OUT NEXT

FALL.

HOPEFULLY AT THAT TIME, THE

COUNTRY IS GOING THROUGH KIND OF

A MASSIVE VACCINE CAMPAIGN.

HOPEFULLY WE'RE ALL, YOU KNOW,

KIND OF, YOU KNOW, GETTING BACK

TO WORK AND THE ECONOMY IS KIND

OF ACCELERATING AGAIN.

AND THERE'S A SENTIMENT

EXPRESSED IN SOME OF THE

COMMENTS THAT, THAT FEEL LIKE

THIS WOULD REALLY JUST PULL THE

RUG OUT FROM UNDER FAMILIES AT A

TIME WHEN, WHEN HOPEFULLY PEOPLE

ARE GETTING BACK ON THEIR FEET.

>> Reporter: THE TRUMP

ADMINISTRATION, OR POTENTIALLY A

BRAND-NEW BIDEN ADMINISTRATION,

WILL DECIDE ON GEORGIA'S PLAN BY

FEBRUARY OF 2021.