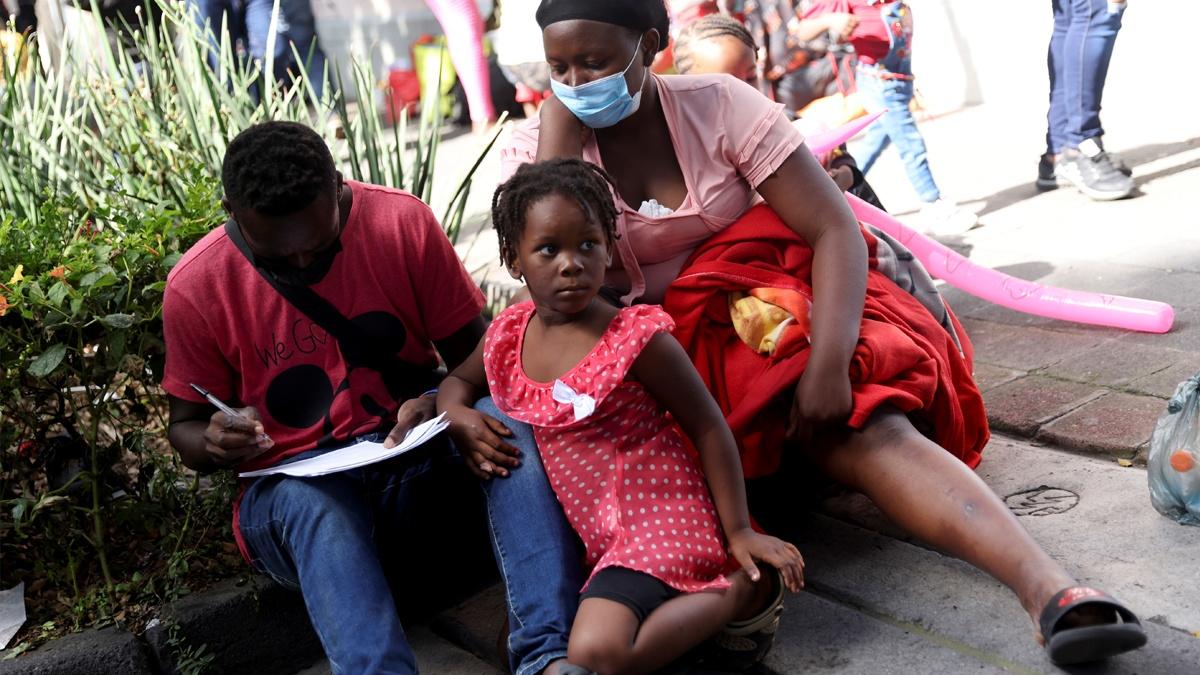 CLIP
In Michigan, an effort to take politics out of redistricting
In a gerrymandered state, it's not unusual to see towns carved in half and school districts split. This is by no means accidental — the redistricting process has long been conducted behind closed doors, under the watchful eye of the very politicians hoping to tip voting lines in their favor. But Michigan may have found a way to break this pattern — and take the politics out of the process.
TRANSCRIPT

>> Sreenivasan: EVERY TEN YEARS

SINCE 1790, THE U.S. HAS

EMBARKED ON A

CONSTITUTIONALLY-MANDATED COUNT

OF ITS POPULATION.

2020 WAS NO DIFFERENT.

DESPITE A PANDEMIC AND EXTENDED

LITIGATION OVER WHAT QUESTIONS

SHOULD BE ASKED, THERE IS NOW

NEW DATA ON WHO LIVES WHERE.

TONIGHT, WE BEGIN A NEW

OCCASIONAL SERIES ON THAT DATA,

PART OF THE MASSIVE TROVE OF

ECONOMIC AND DEMOGRAPHIC

STATISTICS PRODUCED BY THE U.S.

CENSUS BUREAU.

WE BEGIN WITH A LOOK AT

REDISTRICTING, THE PROCESS BY

WHICH STATES USE POPULATION

COUNTS TO REDRAW CONGRESSIONAL

AND STATE LEGISLATIVE DISTRICTS.

STATES HAVE WIDE LATITUDE IN

HOW THEY GO ABOUT THIS PROCESS.

THE VAST MAJORITY RELY ON

POLITICIANS TO DRAW DISTRICTS.

BUT SINCE 2010, A GROWING NUMBER

OF STATES, INCLUDING MICHIGAN,

HAVE CREATED INDEPENDENT

COMMISSIONS, DESIGNED TO TAKE

THIS PROCESS OUT OF THE HANDS OF

POLITICIANS.

IN A STATE THAT'S DEEPLY DIVIDED

POLITICALLY, IT'S A RADICAL

EXPERIMENT IN TRYING TO CREATE

MORE FAIR LEGISLATIVE DISTRICTS.

NEWSHOUR WEEKEND'S CHRISTOPHER

BOOKER REPORTS.

>> THE MOTION TO AMEND THE

RESOLUTION-- PLEASE RAISE YOUR

HAND AND SAY AYE.

>> Reporter: DRAWING LEGISLATIVE

MAPS IS A PROCESS THAT HAS

TRADITIONALLY BEEN DONE BEHIND

CLOSED DOORS, IN PROVERBIAL

DARK, SMOKE-FILLED ROOMS, BY THE

VERY POLITICIANS WHO WILL RUN IN

THOSE DISTRICTS.

>> THE MOTION TO AMEND THE

RESOLUTION IS ADOPTED.

>> Reporter: BUT FOR THE FIRST

TIME HERE IN MICHIGAN,

REDISTRICTING IS HAPPENING UNDER

BRIGHT FLUORESCENT LIGHTS FOR

ANYONE TO SEE, IN PERSON, OR

ANYWHERE IN THE WORLD ONLINE.

AND THE PROCESS IS ENTRUSTED TO

13 ORDINARY MICHIGANDERS, CHOSEN

BY LOTTERY FROM A POOL OF NEARLY

10,000 THAT APPLIED.

>> AYE!

>> Reporter: FOUR DEMOCRATS,

FOUR REPUBLICANS, AND FIVE

UNAFFILIATED VOTERS-- THIS IS

MICHIGAN'S INDEPENDENT CITIZENS

REDISTRICTING COMMISSION.

I SAT DOWN WITH THREE OF THE

COMMISSIONERS: DOUGLAS CLARK, A

REPUBLICAN; REBECCA SZETELA,

WHO'S UNAFFILIATED; AND M.C.

ROTHHORN, A DEMOCRAT.

ONE OF THE PRIMARY QUESTS, IF

NOTTHE PRIMARY QUEST OF THIS

PROCESS, IS TO TAKE THE POLITICS

OUT OF THE PROCESS.

FROM WHERE YOU STAND, IS THAT

POSSIBLE?

AND, DOES IT REMAIN POSSIBLE AS

THE PROCESS CONTINUES TO UNFOLD?

>> I THINK ONE OF THE REASONS

THAT WE'RE DOING THIS PROCESS

IN A TRANSPARENT WAY IS BECAUSE

WE ARE TRYING TO SHOW PEOPLE

THAT IT'S POSSIBLE TO DO

SOMETHING FAIRLY AND HAVE

PEOPLE, CITIZENS DOING IT.

YOU DON'T NEED THESE

PROFESSIONALS, SO TO SPEAK.

THE POLICY, THE PROFESSIONAL

POLITICIANS.

>> Reporter: THE COMMISSION

NEEDS TO DRAW 110 STATE HOUSE

DISTRICTS, 38 STATE SENATE

DISTRICTS, AND 13 CONGRESSIONAL

DISTRICTS-- ONE FEWER THAN THERE

IS RIGHT NOW, MEANING AT LEAST

ONE CONGRESSIONAL INCUMBENT WILL

BE WITHOUT A SEAT IN 2022.

DID YOU BELIEVE THE PRIOR

PROCESS WAS BROKEN?

>> YES.

>> I'LL SAY YES.

>> YES.

>> I BELIEVE SO.

ONE OF THE COMMENTS WE

HEAR ALL THE TIME IS, "START

FROM SCRATCH, GET RID OF THE

OLD MAPS."

WE HEAR IT EVERY PLACE WE GO.

>> MICHIGAN'S MAPS WERE A

POSTER CHILD FOR POLITICAL

GERRYMANDERING AND PARTISANSHIP.

>> Reporter: DEMOCRAT JOCELYN

BENSON IS MICHIGAN'S SECRETARY

OF STATE, THE CHIEF ELECTIONS

OFFICIAL AND THE ADMINISTRATOR

FOR THE COMMISSION.

>> THIS COMMISSION IS CHARGED

WITH LISTENING TO PEOPLE.

THEY'RE TAKING EVERYTHING INTO

CONSIDERATION.

BUT THEY'VE ALSO BEEN EXPLICITLY

CHARGED WITH NOT TAKING

PARTISANSHIP INTO CONSIDERATION.

>> Reporter: BEFORE THIS

REDISTRICTING CYCLE, THE MAPS

IN MICHIGAN WERE DRAWN BY THE

LEGISLATURE ITSELF.

IN 2010, THAT BODY WAS

CONTROLLED BY REPUBLICANS, AND

THE RESULTING MAPS WERE HEAVILY

TILTED IN THE G.O.P.'S FAVOR.

>> WE WERE VERY GOOD AT PLAYING

BY THE RULES, AND USING THE

RULES TO OUR ADVANTAGE.

"WE" BEING THE REPUBLICANS.

>> Reporter: JEFF TIMMER IS A

FORMER EXECUTIVE DIRECTOR OF THE

MICHIGAN REPUBLICAN PARTY, AND

HE WAS A CONSULTANT TO

REPUBLICAN LEGISLATORS IN 2011

AS THEY DREW LEGISLATIVE MAPS.

EVEN IN 2018, WHERE DEMOCRATIC

GUBERNATORIAL CANDIDATE GRETCHEN

WHITMER WON A STATE-WIDE VOTE BY

NEARLY TEN PERCENTAGE POINTS,

DEMOCRATS FAILED TO WIN CONTROL

OF THE STATE HOUSE, THE STATE

SENATE, OR A MAJORITY OF THE

STATE'S 14 CONGRESSIONAL SEATS.

>> WE WERE ABLE TO DRAW MAPS

THAT WERE EFFECTIVELY WAVE-

PROOF, GERRYMANDERED THEM IN A

WAY THAT WAS ABLE TO WITHSTAND

A WAVE ELECTION LIKE 2018,

NEARLY A DECADE LATER, THAT

SHOULD HAVE SWEPT DEMOCRATS INTO

CONTROL IN LANSING.

>> Reporter: TIMMER ARGUES THAT

IT'S NOT JUST THAT REPUBLICANS

PUT THEIR THUMBS ON THE SCALE.

THE WAY THAT PEOPLE HAVE SORTED

THEMSELVES NATURALLY BENEFITS

THE G.O.P., WITH DEMOCRATS

MORE LIKELY TO LIVE IN DENSER

URBAN AREAS, WHERE THEY WIN WITH

BIG MARGINS, AND REPUBLICANS

MORE LIKELY TO LIVE IN RURAL

AREAS, EVENLY SPREAD THROUGHOUT

THE STATE.

BUT THAT URBAN/RURAL DIVIDE

DOESN'T EXPLAIN SOME OF THE

ODDLY-DRAWN MAPS OF THE LAST

REDISTRICTING CYCLE.

TAKE THE 11th AND 14th

CONGRESSIONAL DISTRICTS, FOR

EXAMPLE.

FOLLOWING THE 2010 CENSUS,

LEGISLATORS SEPARATED THIS

CITY OF FARMINGTON FROM THE

SURROUNDING COMMUNITY OF

FARMINGTON HILLS, PUTTING

FARMINGTON INTO A DIFFERENT

CONGRESSIONAL DISTRICT-- EVEN

THOUGH THE TWO COMMUNITIES

STILL SEND THEIR KIDS TO THE

SAME SCHOOLS.

ON THE MAP, FARMINGTON LOOKS

LIKE A MUSHROOM-SHAPED BLOB,

CARVED OUT OF THE 14th AND ADDED

TO THE 11th.

>> IT'S OBVIOUS THAT WE ARE

ALL TOGETHER, AND WE EDUCATE

OUR KIDS TOGETHER.

SO THERE'S NO REASON THAT OUR

NEIGHBORS SHOULDN'T BE IN THE

SAME CONGRESSIONAL DISTRICT

WE ARE.

>> Reporter: AIMEE ERGAS IS A

LONGTIME RESIDENT OF FARMINGTON

HILLS.

AFTER THE 2016 ELECTION, SHE WAS

PART OF A GRASSROOTS CAMPAIGN TO

CHANGE REDISTRICTING IN

MICHIGAN, COLLECTING SIGNATURES

FOR A BALLOT PROPOSAL TO AMEND

THE STATE'S CONSTITUTION.

WHAT WAS YOUR PITCH LINE?

HOW DO YOU EXPLAIN TO PEOPLE

POLITICAL MAPS?

>> WELL, REALLY, FOR US, ALL WE

HAD TO DO IS SHOW THEM A PICTURE

OF IT, BECAUSE OUR DISTRICTS

HERE ARE SO CRAZY.

I MEAN, THEY LITERALLY ARE THE

DEFINITION OF GERRYMANDERING.

THEY WIND AROUND EACH OTHER, YOU

KNOW, LIKE THIS, FOR NO APPARENT

REASON OTHER THAN POLITICS.

>> Reporter: IN 2018, MORE THAN

61% OF VOTERS APPROVED

PROPOSITION 2, MAKING MICHIGAN

ONE OF 21 STATES WITH A

REDISTRICTING COMMISSION

RESPONSIBLE FOR DRAWING

LEGISLATIVE MAPS.

BUT CRUCIALLY, IT'S ONE OF

ONLY FOUR WHERE THE COMMISSION

INCLUDES NO POLITICIANS OR

POLITICAL APPOINTEES, AND IS

NOT SUBJECT TO REVIEW BY THE

LEGISLATURE.

THERE IS ANOTHER UNIQUE ASPECT

TO MICHIGAN'S PROCESS.

AFTER ENSURING DISTRICTS ARE

EQUAL IN POPULATION, FOLLOW

FEDERAL LAWS LIKE THE VOTING

RIGHTS ACT, AND ARE CONTIGUOUS,

THE NEXT PRIORITY IS THAT

"DISTRICTS SHALL REFLECT THE

STATE'S DIVERSE POPULATION AND

COMMUNITIES OF INTEREST," WHICH

IS DEFINED AS INCLUDING BUT NOT

BEING LIMITED TO "POPULATIONS

THAT SHARE CULTURAL OR

HISTORICAL CHARACTERISTICS OR

ECONOMIC INTERESTS."

>> THE TERM "COMMUNITIES OF

INTEREST" IS INHERENTLY

SUBJECTIVE, AND IT'S INHERENTLY

DEFINED BY THE PEOPLE IN THAT

COMMUNITY.

>> Reporter: AND COMMUNITIES

AROUND MICHIGAN HAVE BEEN MAKING

THEIR CASE.

>> WELL, HI, EVERYONE.

WELCOME TO KALAMAZOO.

>> Reporter: IN TOWN HALL

MEETINGS AROUND THE STATE, AND

IN HUNDREDS OF MAPS AND COMMENTS

SUBMITTED ONLINE, CITIZENS HAVE

ARTICULATED A WIDE RANGE OF

REASONS FOR WHY THEY BELIEVE

THEY SHOULD BE GROUPED TOGETHER;

WHETHER IT IS A SHARED

WATERSHED, AN ECONOMIC ANCHOR

LIKE AN AIRPORT, OR AREAS

DISPROPORTIONATELY IMPACTED BY

POLLUTION FROM TRUCKS.

THERE ARE ALSO CULTURAL

CONCERNS.

>> WE HAVE ENOUGH PEOPLE TO,

YOU KNOW-- YOU KNOW, PICK OUR

OWN REPRESENTATION.

BUT WE CANNOT DO IT, BECAUSE

WE ARE SPLIT IN FOUR DIFFERENT

DISTRICTS.

>> Reporter: SUMON KOBIR AND

JABED CHOWDHURY ARE TWO OF THE

LEADERS OF THE BANGLADESH

ASSOCIATION OF MICHIGAN.

THEY'VE HELPED LEAD AN EFFORT TO

MOBILIZE THEIR COMMUNITY AROUND

REDISTRICTING.

>> PUT ALL OF US IN ONE

PARTICULAR MAP.

>> Reporter: IN JUNE, KOBIR

HELPED ORGANIZE MORE THAN

50 MEMBERS OF THE BANGLADESHI

COMMUNITY TO SPEAK AT A

REDISTRICTING COMMISSION

MEETING.

>> IT WOULD BE A GOOD IDEA TO

PUT ALL BANGLADESHI COMMUNITY

MEMBERS TOGETHER.

>> Reporter: THE COMMISSION HAS

ALSO HEARD FROM PEOPLE THAT

BELIEVE THEIR COMMUNITY NEEDS TO

BE REUNITED.

>> THE 2011 MAPS SLICED THROUGH

GREATER WEST BLOOMFIELD TO SUCH

A DEGREE THAT EVEN THE MOST

ATTUNED VOTER STRUGGLED TO

REMEMBER WHICH DISTRICT THEY

LIVE IN AND WHO REPRESENTS THEM.

>> Reporter: 26-YEAR-OLD NOAH

ARBIT TESTIFIED BEFORE THE

COMMISSION IN JUNE, BRINGING A

VISUAL AID TO SHOW HOW HIS

SUBURBAN COMMUNITY WAS DIVIDED

IN 2011.

HE BROUGHT ME TO A CORNER IN

WEST BLOOMFIELD, TO SHOW HOW

THIS HEAVILY DEMOCRATIC AREA

WAS SEPARATED, ALLOWING A

REPUBLICAN TO REPRESENT PART OF

THE TOWNSHIP IN THE STATE

LEGISLATURE.

>> THIS IS THE 39th DISTRICT,

THE 39th HOUSE DISTRICT;

40th DISTRICT, SAME TOWN,

WEST BLOOMFIELD TOWNSHIP.

THERE IS NO REASON THAT IT

SHOULD BE DIVIDED THIS WAY.

>> Reporter: ARBIT IS AN AVOWED

DEMOCRAT.

HE'S WORKED FOR STATEWIDE

CAMPAIGNS, FOUNDED THE MICHIGAN

DEMOCRATIC JEWISH CAUCUS, AND IS

AN ASPIRING POLITICIAN HIMSELF.

>> WE JUST CAN'T AFFORD TO WAIT

FOR THE SAME OLD POLITICIANS TO

GET THEIR ACTS TOGETHER.

>> Reporter: HE RECENTLY

ANNOUNCED THAT HE WAS RUNNING

FOR THE MICHIGAN STATE HOUSE OF

REPRESENTATIVES NEXT YEAR, IN A

YET-TO-BE FINALIZED DISTRICT,

BELIEVING THAT IT WILL LIKELY

BE MORE DEMOCRATICALLY-LEANING

THAN IT IS NOW.

DO YOU HAVE ANY CONCERN THAT

YOUR VOICE, WHICH IS A PARTISAN

ONE, TAINTS THE INDEPENDENT

COMMISSION AT ALL?

>> NO!

>> Reporter: THAT-- THAT YOU

ARE SUSCEPTIBLE TO CRITICISM

FROM THE RIGHT, THAT SAYS THIS

IS JUST A PLOY BY THE LEFT AND

THE DEMOCRATS TO CHANGE THE

GAME.

>> WELL, HERE'S WHAT I'LL SAY.

AS SOMEONE WHO HAS WORKED ON

PARTISAN POLITICAL CAMPAIGNS FOR

CANDIDATES, I WAS INELIGIBLE TO

SERVE ON THE COMMISSION.

AND I THINK THAT THAT WAS AN

IMPORTANT SAFEGUARD, TO MAKE

SURE THAT PARTISANS OF EITHER

SIDE WERE NOT RUNNING ROUGHSHOD

OVER THIS PROCESS.

BUT, YOU KNOW, IT IS MY RIGHT TO

BE ABLE TO TALK ABOUT, YOU KNOW,

HOW I FEEL MY COMMUNITY HAS BEEN

HARMED BY THE, YOU KNOW,

PARTISAN REDISTRICTING THAT WE

SAW IN THE 2010 CYCLE.

>> Reporter: SECRETARY OF STATE

JOCELYN BENSON SAYS SHE HOPES

THE PROCESS MICHIGAN HAS PUT IN

PLACE CAN BE A NATIONAL MODEL,

THAT TRULY DOES NOT ADVANTAGE

EITHER POLITICAL PARTY.

IS THERE A HOPE OR BELIEF THAT

THIS WILL SOMEHOW TURN THE

TEMPERATURE DOWN A LITTLE BIT ON

PARTISAN POLITICS?

>> WE CAN'T FORGET THAT WHAT

THIS COMMISSION IS DOING IS WHAT

IS TYPICALLY A VERY POLITICIZED

PARTISAN PROCESS.

AND THE ECOSYSTEM THAT SURROUNDS

IT, THIS POLITICAL ECOSYSTEM,

THAT IS VERY TOXIC, IS STILL A

PART OF OUR DISCOURSE.

BUT I THINK THE BOTTOM LINE IS,

WHAT'S GOING TO EMERGE OUT OF

THIS COMMISSION IS A

DEMONSTRATION THAT CITIZENS CAN

GET IT RIGHT, EVEN WHEN

POLITICIANS TRY TO STOP THEM

FROM DOING SO.

AND I THINK WE CAN LEARN LESSONS

FROM THAT IN OTHER AREAS OF OUR

DEMOCRACY AS WELL.

>> HAD I KNOWN IN 2011 WHAT I

KNOW TODAY, I WOULD HAVE WALKED

AWAY AND, YOU KNOW, SCREAMED

BLOODY MURDER.

>> Reporter: FORMER MICHIGAN

G.O.P. EXECUTIVE DIRECTOR

JEFF TIMMER HAS RETHOUGHT HIS

OWN ROLE IN THE PROCESS.

HE'S BECOME A FIERCE CRITIC OF

FORMER PRESIDENT TRUMP, AND THE

DIRECTION OF THE CURRENT

REPUBLICAN PARTY, SERVING AS

A SENIOR ADVISOR TO THE

LINCOLN PROJECT.

>> GERRYMANDERING ALONE DOESN'T

EXPLAIN THE RISE OF EXTREMISM IN

OUR POLITICS, BUT IT CERTAINLY

IS A CONTRIBUTING FACTOR.

AND WHEN YOU HAVE A GREATER

NUMBER OF DISTRICTS, WHERE

REPUBLICANS OR DEMOCRATS ONLY

HAVE TO ANSWER TO PRIMARY

ELECTORATE VOTERS AND NOT HAVE

TO MODERATE THEIR POSITIONS IN

ORDER TO ATTRACT A MAJORITY IN

NOVEMBER, YOU GET EXTREME

POLARIZED POLITICS.

>> Reporter: BUT TIMMER BELIEVES

THAT NO MATTER HOW HARD THE

COMMISSION TRIES TO BE NEUTRAL,

THERE'S NO WAY TO TAKE POLITICS

OUT OF A POLITICAL PROCESS LIKE

REDISTRICTING.

>> I THINK WHAT THEY'RE GOING TO

PRODUCE WILL CERTAINLY NOT

ADVANTAGE THE REPUBLICAN PARTY

IN MICHIGAN THE WAY THE MAPS

HAVE FOR THE LAST 20 YEARS.

BUT THIS ATTEMPT TO

DE-POLITICIZE REDISTRICTING,

I DON'T THINK WILL ACTUALLY

DO THAT.

IT WILL JUST BE POLITICS OF A

DIFFERENT KIND.

>> ALL RIGHT, SO NOW, LET'S TAKE

THE REST OF DEARBORN-- SO,

MAKING A NEW DISTRICT.

>> Reporter: THE COMMISSION HAS

ALREADY MISSED ITS FIRST MAPPING

DEADLINE AND IS RACING TO FINISH

PROPOSED MAPS BY MID-NOVEMBER.

BUT, EVEN IF THEY REACH

CONSENSUS, IT DOESN'T MEAN ITS

MAPS ARE IN THE CLEAR.

THE COMMISSION ALREADY SURVIVED

A 2019 FEDERAL COURT CHALLENGE

BY THE MICHIGAN REPUBLICAN PARTY

AND SEVERAL REPUBLICAN-

AFFILIATED PLAINTIFFS, AND, AS

WITH REDISTRICTING EFFORTS ALL

OVER THE COUNTRY, MORE

LITIGATION IS ALMOST CERTAIN.

END OF THE DAY, DO YOU THINK YOU

WILL RECEIVE POLITICAL ATTACKS

BASED ON WHAT YOU CREATE?

>> YES.

I THINK THERE ARE POWERFUL

INTERESTS THAT HAVE A LOT AT

STAKE IN WHAT WE'RE DRAWING.

>> Reporter: SO, NO MATTER WHAT

YOU DO?

>> CORRECT.

>> YES.

>> YES.

BUT I THINK THAT'S ACTUALLY

CLARIFYING FOR US, BECAUSE

WE'RE NOT LETTING THE CONCERN

ABOUT WHAT PARTICULAR POLITICAL

GROUP THINKS DRIVE US.

INSTEAD, WE'RE FOCUSED ON THE

PROCESS BEING FAIR, BEING

TRANSPARENT, AND LISTENING TO

PEOPLE WHO COME AND-- AND

GIVE US OPINIONS ABOUT WHERE

THEY WANT THE LINES DRAWN.