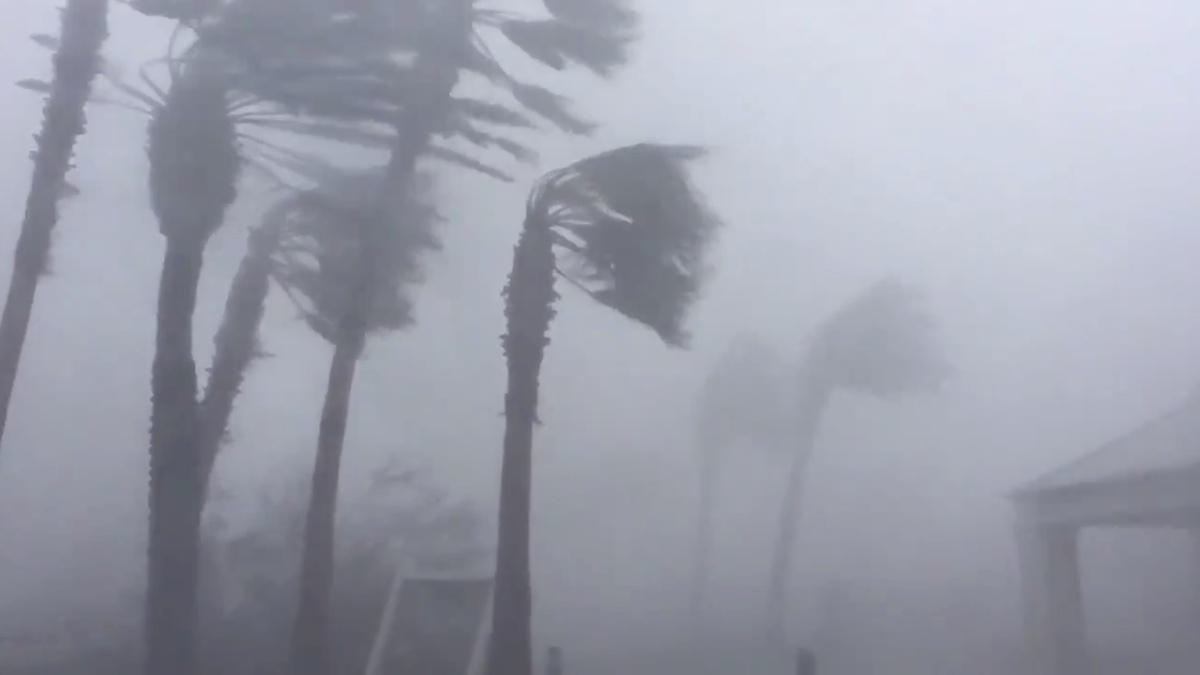 CLIP
Hurricane Michael slams Florida
Hurricane Michael made landfall Wednesday, lashing the Gulf Coast with Category 4 winds and dangerous storm surge. The storm is plowing through Georgia, then the Carolinas, which are still recovering from Hurricane Florence. Amna Nawaz discusses the impacts of the storm with Mayor Mike Thomas of Panama City Beach in Florida and Ken Graham, director of the NOAA National Hurricane Center.
TRANSCRIPT

AMNA NAWAZ: It's the strongest storm ever recorded on the Florida Panhandle, with sustained

winds of 155 miles an hour and the strongest anywhere on the U.S. mainland in nearly 50

years.

Hurricane Michael blasted its way onto the Florida coast today and rapidly moved inland.

The waves built all morning, and the wind grew stronger by the hour, bending trees and

blasting rain sideways.

Then, early this afternoon, the center of the storm came ashore east of Panama City,

near Mexico Beach, with sustained winds at 155 miles per hour.

Supercharged by abnormally warm waters in the Gulf of Mexico, the storm was just shy

of a Category 5 hurricane, the most powerful on the scale.

Still, some of the 375,000 residents order to evacuate chose instead to ride it out.

MAN: I love my little house, but I love to fish in my boat, so just going to try and

keep an eye on it.

Probably a stupid thing to do, but I have done dumber things.

AMNA NAWAZ: But federal, state and local officials alike warned it might be too late by then.

Brock Long is the director of FEMA, the Federal Emergency Management Agency.

BROCK LONG, Administrator, Federal Emergency Management Agency: Those who stick around

to experience storm surge don't typically live to tell about it, unfortunately.

AMNA NAWAZ: Others did heed the warnings, and, by this morning, more than 5,000 evacuees

were seeking shelter in Tallahassee, the state capital.

WOMAN: Understanding that this storm may be a little bit more intense than the others,

so I think it's a good idea, if people are concerned, that they have an option from here

or some of the other shelters.

AMNA NAWAZ: As the hurricane roared through the day, both civilians and officials could

only hunker down.

But Florida Governor Rick Scott had already said the state was gearing up for what happens

after the worst of Michael has passed.

GOV.

RICK SCOTT (R), Florida: We will work around the clock to make sure that roads and bridges

reopen as quickly as possible.

We have trucks loaded with tons of food, water and other critical supplies ready to move

in.

AMNA NAWAZ: The storm is also on a path to plow across Georgia and then through South

and North Carolina, both still recovering from last month's Hurricane Florence.

GOV.

ROY COOPER (D), North Carolina: Winds will be strong enough to bring down trees weakened

by Florence, especially with saturated ground.

Winds will be strong enough to rip tarps from roofs on homes damaged by Florence.

AMNA NAWAZ: FEMA, already coping with the aftermath of Florence, is morning that recovery

from Michael could be slow.

BROCK LONG: This is here again -- and I keep saying this word far off too much -- is unprecedented.

So it's going to be a major hit.

The power is going to be all for multiple weeks, and you need to get your mind-set set

on that, and do what you can to prepare to overcome that.

AMNA NAWAZ: From the Oval Office today, President Trump promised full federal aid to storm victims.

He said he will probably visit Florida to see the damage on Sunday or Monday.

And for the latest on Hurricane Michael and where it's headed over the next 24 hours,

we're joined again tonight by Ken Graham, director of the National Hurricane Center.

He joins me from Miami, Florida.

Mr. Graham, thanks for making the time.

Tell us now.

We're talking to you a little after 5:00 p.m. Eastern.

What's the latest that we know about the strength and the intensity of this storm?

KEN GRAHAM, Director, National Hurricane Center: Yes, we got some brand-new information that

just came in.

We're looking at still winds of 125 miles an hour, which is incredible, since we're

already inland.

So you still have some of those hurricane-force winds.

We're looking at a movement still about 16 miles an hour.

So expect some speeding up with time.

So, luckily, we're not getting some of those high rainfall totals.

But we are having some issues, of course, with the winds.

Being inland like that, we still expect hurricane-force winds to stretch into central portions of

Georgia, so not just a coastal event.

You're going to get some trees down and some power outages even stretching into Central

Georgia.

AMNA NAWAZ: Talk about those hurricane-force winds even further inland.

Before it made landfall, a lot of people were talking about this being a worst-case scenario

storm.

Is that still the case?

Where does most of the danger lie?

KEN GRAHAM: Yes.

A lot of it was, of course, the winds.

When you have a system this strong, you're going to have winds that just are absolutely

destructive.

So I think once we start seeing some of the damage areas, you will see some of the structural

damage, collapsed buildings and rooftops and trees down, power outages for weeks.

But what always scares me in these events without a doubt is the storm surge, because

half of the fatalities in these tropical systems is the storm surge.

And if you look at water in general, including the inland flooding, you start getting 90

percent of the fatalities.

So we have had some reports of some very large storm surge.

And these are the updated values.

We just updated these a little bit ago.

And you push all that water in with all that force and the hurricane-force winds, and it

- - just every little channel, every little river fills up well inland, in some cases

10 to 15 miles.

It takes time.

It really takes a lot of time, now that the wind relaxes.

It takes time to drain all of that out there.

So the values are going to stay high.

The water is always the most dangerous part of these.

AMNA NAWAZ: And tell us about the path now.

Where does the storm head next?

KEN GRAHAM: Yes, next, we're looking at continuing to move to the northeast.

And if you think about this, it's interesting.

So at some point, it will continue to be a hurricane and eventually a tropical storm,

continuing to be a tropical storm through the Carolinas, and actually exiting back into

the Atlantic.

So I think there's an interesting case here.

When you think about the flow around Michael, you have some onshore flow.

We actually have tropical storm warnings even from Georgia and the Carolinas.

So this is becoming an Atlantic issue too.

AMNA NAWAZ: Ken Graham at the National Hurricane Center, thanks for your time.

KEN GRAHAM: You bet.

AMNA NAWAZ: Now a closer look at the impact of Hurricane Michael so far.

Panama City Beach is getting hit hard.

And I spoke with Mayor Mike Thomas by phone this afternoon as the storm was making landfall.

MIKE THOMAS, Mayor of Panama City Beach, Florida: We have had quite a bit of damage.

But we actually, I think, are going to get less than I was expecting with the strength

of this storm and all in Panama City Beach.

I think Panama City and Mexico Beach and St. Joe are going to get a little worse.

It jogged just a little bit to the east before it hit us.

And the winds are horrible right now, these squalls coming through.

The surf was up real high.

But, all in all, we're in pretty good shape.

AMNA NAWAZ: Tell me a bit more, if you can.

Many people have never been through a storm like this.

Can you describe what you're seeing?

MIKE THOMAS: Well, the makeup of a hurricane is just amazing.

When the bands come through, one minute, it will be blowing out of the front of you, and

the next it's blowing from behind you.

It is amazing the way the dynamics change.

On the other end of the hurricane, I was just looking, and over Apalachicola, it's running

in their city streets.

The sustained will just take your breath away sometimes.

AMNA NAWAZ: This is looking like a historic storm potentially.

What are you most concerned about in the coming days?

MIKE THOMAS: This thing happened so quick.

It came out of the Caribbean.

And one minute, they are talking about it a little bit.

And the next minute, it's a huge hurricane.

They did a good job.

They warned everybody ahead of time, the state and our local people.

They have offered everything they have got and warned everybody ahead of time.

Some people are just concerned about leaving.

And when you -- when you leave and everybody leaves, there's no hotels around, there's

no gas around.

And it's difficult to persuade somebody to leave and make them feel good about it.

AMNA NAWAZ: What about the people who chose to ride this out?

Are you concerned about them?

And are you getting the response that you need?

MIKE THOMAS: I worry about people trying to get back too quick, power lines being down.

There is still a lot of danger out here.

And these gusts are still pretty strong.

And I have been through a bunch of them.

I have lived here all my life.

And I'm getting very old.

(LAUGHTER)

MIKE THOMAS: But it's just something you have to use common sense about it.

And I hope everybody will.

AMNA NAWAZ: Mayor Mike Thomas, thank you.