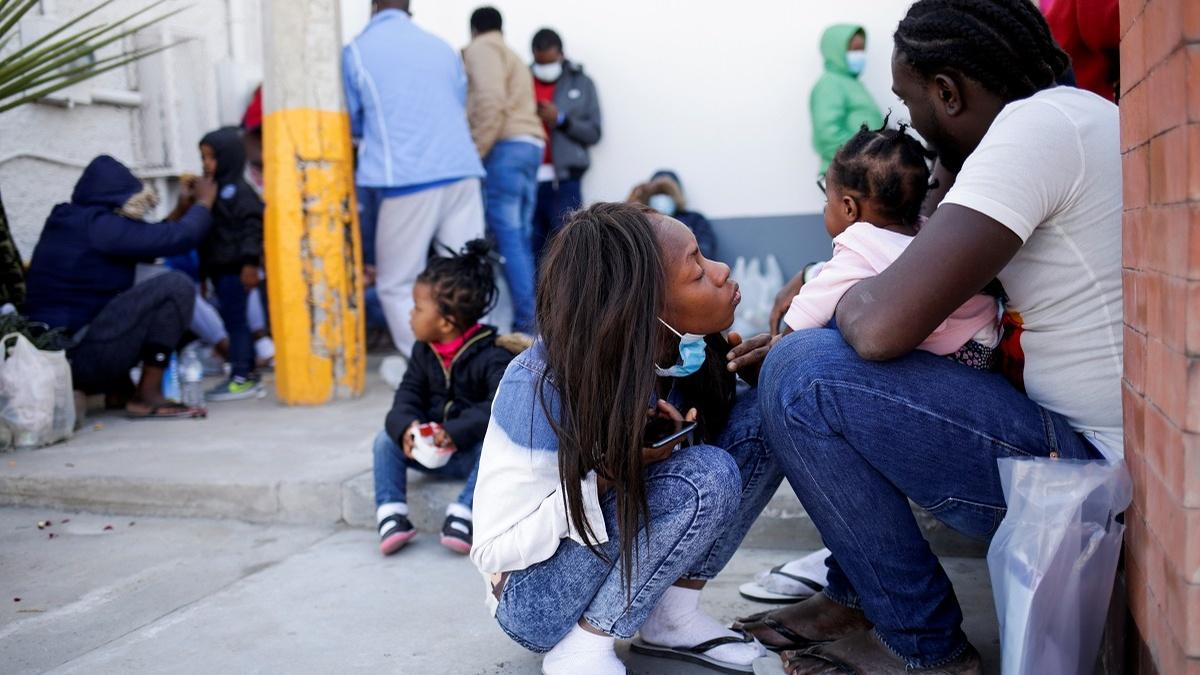 CLIP
How the expulsion of migrants is affecting Haiti
Thousands of Haitian migrants who have been deported by the U.S. have been arriving home as authorities scramble for resources including food and medical supplies. Haiti is reeling from a convergence of crises, and critics say America's actions will worsen the humanitarian crisis. Widlore Merancourt, editor-in-chief of Ayibopost, joins from Port-Au-Prince.
TRANSCRIPT

>> Sreenivasan: FOR MORE ON

THE CONDITIONS IN HAITI AND HOW

THE U.S. DECISION TO RETURN

THOUSANDS OF MIGRANTS IS

AFFECTING THE COUNTRY, I

SPOKE WITH WIDLORE MERANCOURT,

A JOURNALIST AND EDITOR IN CHIEF

OF AYIBOPOST IN PORT-AU-PRINCE,

HAITI.

WIDLORE, WERE YOU ABLE TO SPEAK

TO SOME OF THE HAITIANS THAT

HAVE BEEN DEPORTED FROM THE

UNITED STATES AND HAVE BEEN

LANDING IN PORT-AU-PRINCE?

WHAT ARE THEY THINKING RIGHT

NOW?

>> YES, I WAS ON THE GROUND TO

SPEAK TO SOME OF THESE PEOPLE

WHO, YOU KNOW, CAME FRESHLY FROM

THE U.S.

AND, IT'S A VERY DIFFICULT

SITUATION, ACTUALLY, BECAUSE

IF YOU TALK TO THESE PEOPLE,

SOME OF THEM, YOU KNOW, SPEND

THE LITTLE ECONOMY THAT THEY

BUILT OUTSIDE OF THE COUNTRY

SOMETIMES, YOU KNOW, IN CHILE

AND BRAZIL.

AND THESE PEOPLE TOOK A VERY

DANGEROUS JOURNEY.

THEY, YOU KNOW, RECOUNT TO YOU

HORRIFIC STORIES.

AND THESE PEOPLE, WHEN THEY

FINALLY REACH THE U.S., THEY

THOUGHT, YOU KNOW, THEIR

SUFFERING WAS OVER.

BUT, WELL, GUESS WHAT?

IT WAS NOT OVER, BECAUSE ONE

WOMAN TOLD ME, YOU KNOW, SHE

WAS TREATED, YOU KNOW, WORSE BY

U.S. AUTHORITIES, BY U.S.

AGENTS, THAN, YOU KNOW, WHAT SHE

EXPERIENCED ON THE ROAD, WHAT

SHE EXPERIENCED ACTUALLY IN

CHILE.

AND, YOU KNOW, THESE PEOPLE

WERE SHIPPED BACK FROM THE U.S.

TO HAITI.

AND THIS IS IN A CITY THAT IS IN

A VERY DIRE SITUATION.

AND THIS IS WHERE THEY NEED TO

FIND OUT WHAT'S THE NEXT TO DO.

>> Sreenivasan: I WANT TO ASK,

WHAT ARE THESE PEOPLE RETURNING

TO?

I MEAN, HAITI IS STILL

RECOVERING FROM A MASSIVE

EARTHQUAKE, A HURRICANE,

POLITICAL UPHEAVAL.

SO WHEN THESE PEOPLE GET OFF

THE PLANE, WHAT ARE THEY SEEING?

WHAT ARE THEY GETTING?

>> WELL, HERE IS A QUICK THOUGHT

FOR YOU.

JUST YESTERDAY, TEN PEOPLE WERE

KIDNAPPED IN PORT-AU-PRINCE.

THE KIDNAPPING IS RISING AGAIN

SINCE THE ASSASSINATION OF THE

PRESIDENT ON THE 7th OF JULY.

SO, THIS IS A CITY RULED BY GANG

LEADERS, AND THESE GANG LEADERS,

THEY RANSACKED NEIGHBORHOODS,

THEY CONDUCT MASSACRES, AND

THEY ARE EFFECTIVELY RUNNING THE

CITY.

IN THE SOUTH PART OF PORT-AU-

PRINCE, YOU HAVE THIS

NEIGHBORHOOD CALLED MARTISSANT.

THIS NEIGHBORHOOD, THIS ONE

NEIGHBORHOOD, ACTUALLY, IS

CONTROLLED BY GANGS.

A CLASH BETWEEN THESE GANGS,

SINCE THE FIRST OF JUNE, CAUSED

MORE THAN 20,000 PEOPLE TO LEAVE

THEIR HOMES, TO FLEE, BECAUSE OF

THIS GANG VIOLENCE.

AND IT'S A CITY THAT IS, YOU

KNOW, IN THE SAME SITUATION AS

THE REST OF THE COUNTRY.

YOU HAVE MORE THAN 4.4 MILLIONS

OF PEOPLE IN HAITI WHO ARE IN

SEVERE, YOU KNOW, NEEDS, AND

URGENT NEEDS OF HUMANITARIAN

AID.

AND THIS WAS BEFORE THE

EARTHQUAKE THAT WE WITNESSED IN

THE SOUTH PART OF THE COUNTRY.

AND RIGHT NOW, THE U.N. SAID

MORE THAN HALF OF THE PEOPLE IN

THIS AREA THAT WAS HIT BY THE

EARTHQUAKE HAVE NOT RECEIVED ANY

AID WHATSOEVER.

AND N.G.O.s THAT I TALKED TO

SAID THE NEEDS ARE HIGH, AND

THE AID THAT WE ARE RECEIVING IS

NOT ENOUGH.

>> Sreenivasan: DID WHAT

HAPPENED IN THE UNITED STATES

OVER THE PAST SEVERAL DAYS

CONVINCE ANY HAITIANS THAT

PERHAPS THEIR WINDOW OF

OPPORTUNITY TO GET TO THE

UNITED STATES HAS CLOSED, THAT

IT'S NOT WORTH TAKING THIS

PERILOUS JOURNEY?

>> WELL, I TALKED TO SOME

PEOPLE.

SOME HAVE DESIRED TO STAY IN

HAITI.

OTHERS HAVE DESIRED TO GO BACK

TO WHERE THEY CAME FROM, MAINLY

CHILE AND BRAZIL.

BUT A FEW OF THEM WANT TO COME

BACK, ACTUALLY, TO THE U.S.

AND IF YOU TALK TO POLITICAL

ANALYSTS AND IF YOU TALK TO

HISTORIANS, THEY WILL TELL YOU

THAT, YOU KNOW, WHAT IS

HAPPENING RIGHT NOW IS, IN PART,

IN PART, A CONSEQUENCE OF U.S.

POLICIES IN HAITI.

REMEMBER, THE TWO PAST

ADMINISTRATIONS WERE SUPPORTED

BY THE U.S., AND THIS IS

UNDER THIS ADMINISTRATION

THAT THE SITUATION IN THE

COUNTRY WORSENED.

AND I TALKED TO EXPERTS WHO TOLD

ME THERE IS A GUN TRAFFICKING

PROBLEM IN THE U.S. THAT IS

CAUSING CHAOS IN HAITI.

AND THIS, BECAUSE OF THESE

TRAFFIC, THAT, YOU KNOW, LOTS OF

PEOPLE LOSE THEIR JOBS AND THEY

CAN'T, YOU KNOW, STAY IN THE

COUNTRY.

SO IT'S A NEVER-ENDING CYCLE.

>> Sreenivasan: WIDLORE

MERANCOURT, JOINING US FROM

PORT-AU-PRINCE TONIGHT.

THANKS SO MUCH.

>> THANK YOU.