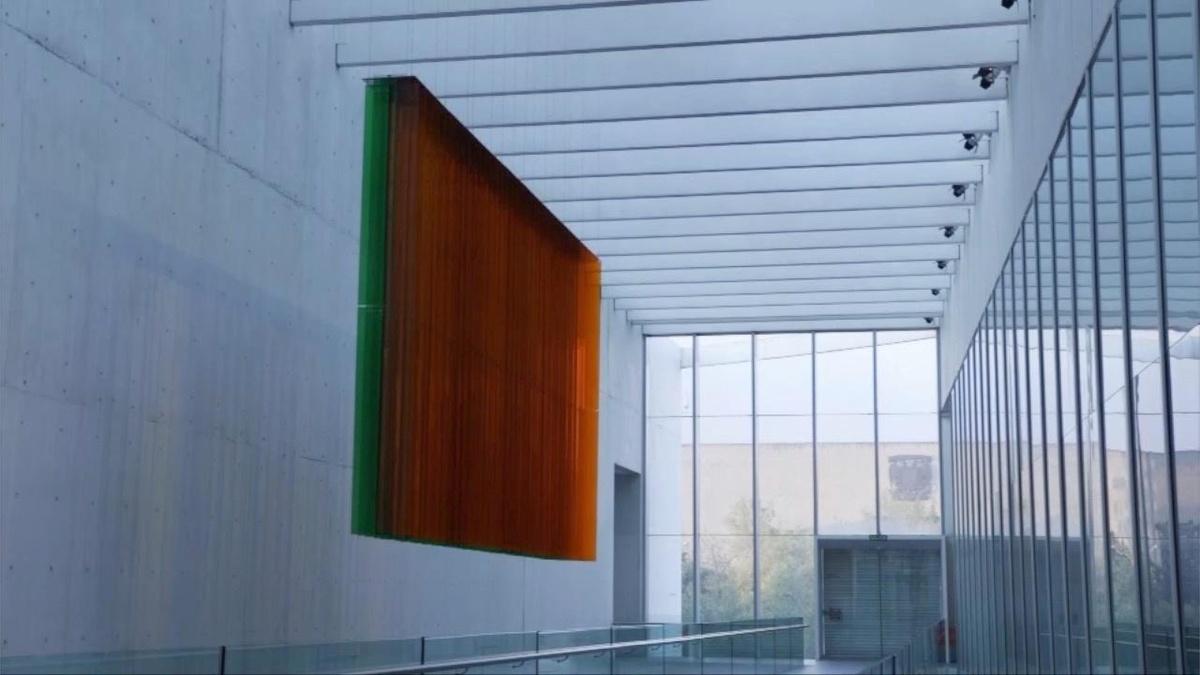 CLIP
How Mexico City became a global center for contemporary art
Mexico is a country where violence often dominates headlines. But in recent years, its capital has experienced something of a contemporary arts boom. Mexico City's annual Zona Maco festival has grown to become Latin America's largest art fair -- and a global center of creative culture. Jeffrey Brown reports on how the impact of Mexico's artistic surge can be felt far beyond museums.
TRANSCRIPT

JUDY WOODRUFF: We return now to our series on the arts in Mexico,

a country that, in recent years, has become one of the centers of the art world.

Jeffrey Brown was in Mexico City before the pandemic

to see how the country grabbed the art world's attention and what that means for its artists.

It is part of our ongoing coverage of art and culture, Canvas.

JEFFREY BROWN:

It's called Zona Maco, and it's become Latin America's biggest annual art fair, throngs of art

lovers packing a sprawling conference center on the northwest edge of Mexico City, major galleries

from the U.S., Europe and South America, as well as Mexico, showing art of all kinds.

ZELIKA GARCIA, Founder, Zona Maco: I always thought it would work,

but I never thought it would become as big as it is now.

JEFFREY BROWN: Zelika Garcia founded Zona Maco 18 years ago,

and has seen it grow to 200-plus exhibitors showing some 800 artists,

international in scope, but now the center of a thriving local scene.

ZELIKA GARCIA: I think an art fair has to rely on their local collectors first. And we grow with the

local market. If the local market had not started buying more, the fair would still be 70 galleries

JEFFREY BROWN: Over five days, the fair attracted some 72,000 visitors.

ZELIKA GARCIA: We are a good part of Mexico. If you come for the art fair,

you don't have to see the ugly part.

JEFFREY BROWN: Mexico has been a cosmopolitan art center for at least a century.

Just think of the famous murals of Diego Rivera and others.

But, today, signs of its place as a contemporary art hub are all around,

with new museums whose spectacular architecture has changed the skyline of this ancient capital.

An annual art week in February that's grown up around Zona Maco

and features smaller fairs like 7-year-old Material,

which takes place in an old jai alai arena and attracts a decidedly younger crowd.

Indeed, younger artists from the U.S. and elsewhere are flocking to Mexico City these days,

attracted by the lower costs and hip vibe. And galleries like House of Gaga

in the leafy Condesa neighborhood exhibit both local and international art stars,

like American artist Laura Owens, who painted the space with a mural of local colors and imagery.

Gallery co-founder Fernando Mesta:

FERNANDO MESTA, Co-Founder, House of Gaga: She thought of every inch of the architecture. She

did her research and she thought of the context. Young Mexican artists love to see this stuff.

JEFFREY BROWN: So, it's an American artist, but making a Mexican...

FERNANDO MESTA: Well, making something specific for here, yes.

JEFFREY BROWN: Like others we talked to, Mesta is well aware this is a Mexico

different from the one the rest of the world typically sees.

FERNANDO MESTA: I feel like a responsibility over it, because some of the best news about Mexico are

related to culture, our filmmakers, our artists, our institutions, our traveling shows.

And when people come here, they're fascinated to see how

relevant culture is in Mexico, how rich culture is in Mexico.

JEFFREY BROWN: But the other side of life in Mexico, the poverty,

the violence and the horror of drug cartel murders and disappearances, all that is never far away.

And many artists are addressing it directly. Luz Maria Sanchez joined a group of women in the

northern state of Sinaloa, in search of remains of loved ones who disappeared amid drug violence.

Her art piece, an eight-channel recording, presented the sounds, footsteps, chatter,

picks and shovels working the dirt,

to take us right there. This is art that aims for social impact.

LUZ MARIA SANCHEZ, Artist: How do you build empathy? That

was one of my main questions. First of all, how they survive within this context of extreme

violence, because their loved ones are taken away, and we don't know if they're dead or alive.

JEFFREY BROWN: It's very real for them.

LUZ MARIA SANCHEZ: It's very real. But, second, how you make all their groups

of citizens in Mexico to understand and maybe have some empathy with them.

JEFFREY BROWN: And there's nothing abstract about this for Sanchez. When she was 11,

her father was murdered in their Guadalajara home.

LUZ MARIA SANCHEZ: I know how I did survive. I don't know how these other people having -- coping

and having deals -- to survive as well. Maybe that's one of the reasons I started doing art.

JEFFREY BROWN: Today, Sanchez is also a college professor, and she sees her

students tackling serious issues in their work, violence, pollution, freedom of speech.

LUZ MARIA SANCHEZ: They are putting together these

kinds of exhibitions and they're always very critical about their surroundings.

JEFFREY BROWN: Trying to address the social issues through the art.

LUZ MARIA SANCHEZ: Because that's their reality, yes.

JEFFREY BROWN: Art does stir passions here, including recent protests at the famed Palacio

de Bellas Artes, at an exhibition on revolutionary hero Emiliano Zapata.

Some of the works were documentary, some reverential.

But many were angered by a painting that showed a naked Zapata in a pink sombrero and high heels.

Art and gay rights advocates defended the work. Ultimately, the museum installed a wall text

saying Zapata's family disagreed with the depiction.

People we spoke with also worry that budget cuts by the administration of

President Andres Manuel Lopez Obrador will have negative consequences for cultural life here,

where government support has traditionally been strong.

But at the influential University Museum of Contemporary Art,

chief curator Cuauhtemoc Medina says global trends in art are firmly embed here.

CUAUHTEMOC MEDINA, Chief Curator, University Museum of Contemporary Art: You just need to go

30 years ago and this was really a clique sector that only

a few people were interested in. That'S around the world.

And now, no. Now I would say that it's part of the tools by which people are asking

the questions they need to ask about their lives and their times.

JEFFREY BROWN: Not only that, says Medina, but the world has changed,

and, today, places like Mexico City are at the forefront of contemporary art and culture.

CUAUHTEMOC MEDINA: I would say the French and New Yorkers are parochial, and they don't know it.

(LAUGHTER)

JEFFREY BROWN: They just think that they are the center.

CUAUHTEMOC MEDINA: They used to think that they were the center.

They haven't noticed that they are not any longer, and that the center has vanished.

JEFFREY BROWN: For now, organizers of the Zona Maco art fair have tentatively set a date in late

April for next year's exhibition, hoping to keep the momentum going for this new global art center.

For the "PBS NewsHour," I'm Jeffrey Brown in Mexico City.

JUDY WOODRUFF: Thank you, Jeffrey, for taking us down the journey to this series.