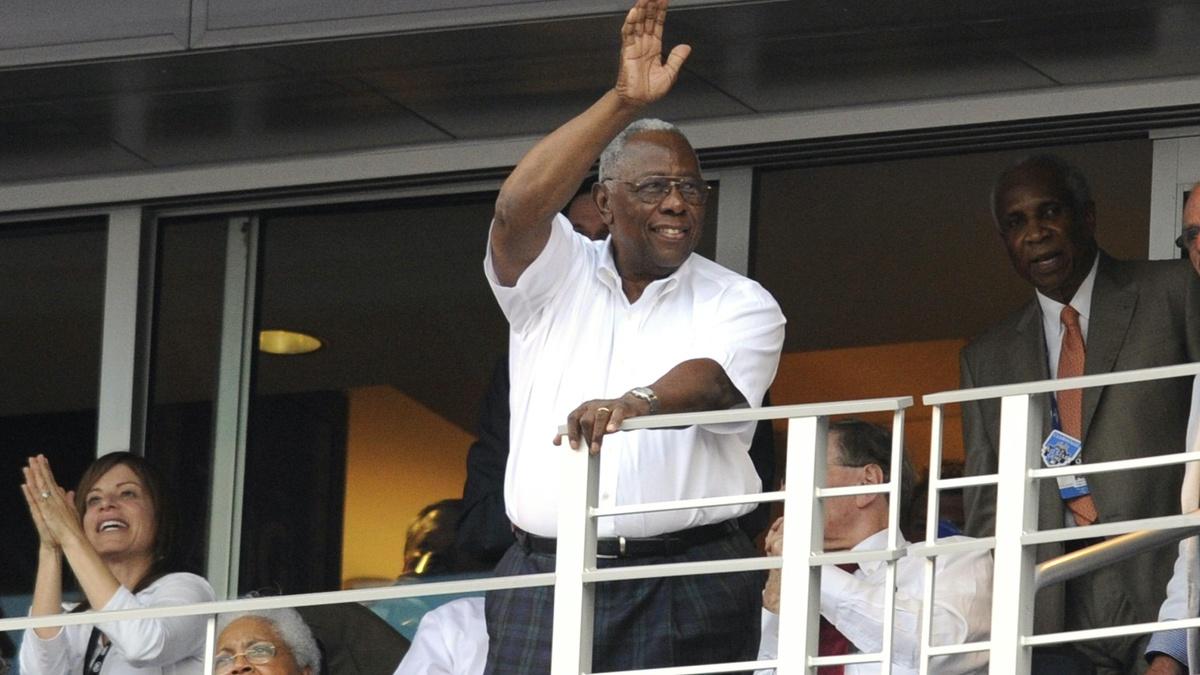 CLIP
A look back at the life of baseball legend Hank Aaron
One of America's greatest athletes, Henry Louis Aaron, died Friday at the age of 86. The famed baseball player endured blatant racism for much of his life, eventually breaking Babe Ruth's home run record. He was inducted into the Baseball Hall of Fame in 1982. Howard Bryant, a sports writer and author of, "The Last Hero: A Life of Henry Aaron," joins Jeffrey Brown to look back on Aaron's life.
TRANSCRIPT

JUDY WOODRUFF: As we reported, one of America's greatest athletes,

Henry Aaron, died today at the age of 86.

I was privileged to know him a little. A few years ago, he and his wife, Billye,

accepted my invitation to a press dinner here in Washington, where they were mobbed by admirers,

and he received the longest standing ovation I think I have ever heard.

He couldn't have been more gracious. It was typical of this man who,

as Jeffrey Brown reports, endured blatant racism through much of his life.

(CHEERING AND APPLAUSE)

ANNOUNCER: And another standing ovation.

JEFFREY BROWN: Atlanta-Fulton County Stadium April 8, 1974. Henry "Hank" Aaron steps into

the batter's box, one home run away from passing Babe Ruth for the all-time record.

ANNOUNCER: Seems to hit more to right and right center than to left.

ANNOUNCER: Oh!

ANNOUNCER: There's a long drive. Ball's hit deep, deep. It is gone!

JEFFREY BROWN: The moment a capstone to a career that

had already cemented Hank Aaron as one of baseball's best ever.

HANK AARON, Former Major League Baseball Player: I

felt great. I felt I had -- the world was lifted off my shoulders.

JEFFREY BROWN: A great moment in all of sports history, but also one tinged with the bitterness

of American history, as racism chased Aaron as he chased the record that would hold up for 33 years.

HANK AARON: I got threatening letters about kidnapping and things like this, vicious,

the racist letters. I had to slip out the back of the ballpark with escorts and things like this.

It was terrible, terrible. It was bad times for me.

JEFFREY BROWN: His perseverance and grace throughout would gain him widespread admiration,

and he became a trailblazer and inspiration for Black athletes who followed.

Aaron was born in Jim Crow era Mobile, Alabama, during the Great Depression. He played his early

baseball in the segregated Negro Leagues, and, at 20 years old, joined the Milwaukee Braves.

He followed the team to Atlanta, and in 21 one years with the franchise,

Hammerin' Hank became one of the game's most fearsome hitters.

In all, Aaron slugged 755 home runs and amassed 3,000 hits. He was an

All-Star for 21 straight seasons and won an MVP award and a World Series.

In 1982, he was inducted the Baseball Hall of Fame.

Today, tributes to Aaron today poured in. Former President Barack Obama called him

"one of the strongest people I have ever met."

We reach Dave Roberts, manager of the world champion Los Angeles Dodgers,

by phone. He had this to say:

DAVE ROBERTS, Manager, Los Angeles Dodgers: For me, even more so as a man of color,

just to kind of think about how he handled the adversities and the personal hate towards him

as he approached that home run record. And he always handled it with grace, dignity.

And there was never any resentfulness when he was talking to current players or peers of his.

JEFFREY BROWN: Hank Aaron died today at 86 years old.

And joining me now is Howard Bryant. He's a sports

writer and author of "The Last Hero: A Life of Henry Aaron."

Thanks for joining us again.

Let's start with the player first. I mean, we always talk about

the home runs, but he was one of the all-time greats in every way, right?

HOWARD BRYANT, Author, "The Last Hero: A Life of Henry Aaron": No question.

Let me just give you one example of how good Henry Aaron is or was as a player.

When he came into the Big Leagues in 1954, his goal, his mission

as a young prayer was to break Stan Musial's all-time National League hits record of 3,630.

By the time his career started to move forward, he began realizing that the team, the Atlanta Braves,

or the Milwaukee Braves at the time, needed more offense, and so he decided to hit more home runs.

And so, one day, I said to him, were you so good that you were able to choose which

all-time record you wanted to break? And he sort of laughed about it. But it is really

is true that he had so much ability as a hitter that he started his career trying to break one

all-time unreachable record, and ended up breaking another one.

JEFFREY BROWN: It is, though, impossible to talk about the achievement without looking at all the

evil that he went through.

I was reading about a 20th anniversary after he broke the home run record when he told a reporter,

"It really led to turning me off of baseball," all that he went through.

"It really made me see a clear picture of what the country is about."

Talk a little bit about that, what he did experience.

HOWARD BRYANT: What he experienced is the American

story. He experienced what America tells you to do,

which is to pull yourself up by your bootstraps. It tells you to work hard and not complain.

It tells you to give the best of your ability. And Henry did all those things.

And when he got to the top, what did he receive? He received people trying to

kill him, which undermined everything about this meritocracy that we have been told to believe in.

And when you have an FBI detail, and you have kidnapping threats to your family just because

you're swinging a baseball bat, it makes you look at things in a very different way. He always told

me: This was supposed to be the happiest moment of my life, and it never turned out to be that way.

And that's really telling. It's a real indictment. I think people recognized over

time that America caught up to Henry, but he was far, far ahead of it back in 1974.

JEFFREY BROWN: And yet he persevered. He went on to a career afterwards.

What was he like as a person that allowed him to do what he did, even after his career?

HOWARD BRYANT: Well, I think he had an enormous amount of confidence in himself,

an enormous amount of pride.

He understood that his ability was affording him a life that was never going to be available to

so many other African-Americans. And he felt he had a responsibility to use that talent.

One of my favorite stories with Henry was, I remember being in his House,

and we were talking, and he was telling me about how he did not want to move

to Atlanta when the Milwaukee Braves moved to Atlanta after the 1965 season,

because he knew what racism was down there. He knew what Jim Crow was all about.

And he ended up having a meeting Ralph Abernathy and Andrew Young and Martin Luther King Jr.

And they told him -- when he said:

I don't think I'm doing my part for this movement, I'm just a player.

And Dr. King said: You're as important to this movement as we are. You do the things that you do.

We need you as much as the rest of the country needs us.

And I remember him telling me that he couldn't imagine what life would have been like

had he not gone to Atlanta. That put him right in the center of

the civil rights movement, and it's centered him as a person.

JEFFREY BROWN: I wonder what he would have -- what he was thinking of where the game is now.

I mean, he talked a lot about lamenting that more Blacks weren't going into baseball, the

openings for managers still were fairly limited. Where are we now? What do you think he thought?

HOWARD BRYANT: He felt all of those things. You're absolutely right. But

I know he was far more concerned about where the country was at.

I talked to him three weeks ago to wish him a happy new year. One of the things he wanted to

talk about was, one, surviving the Trump era, and then also the fact how proud he was of Georgia,

that his state -- and he was very -- he and his wife, Billye, very, very deep into Democratic

politics there -- that they saw some history and that they were in the center of change.

I'm personally happy that he got to see this thing through.

JEFFREY BROWN: He saw history, he made history, the life and legacy of Henry "Hank" Aaron.

Howard Bryant, thank you very much.

HOWARD BRYANT: My pleasure. Thank you.