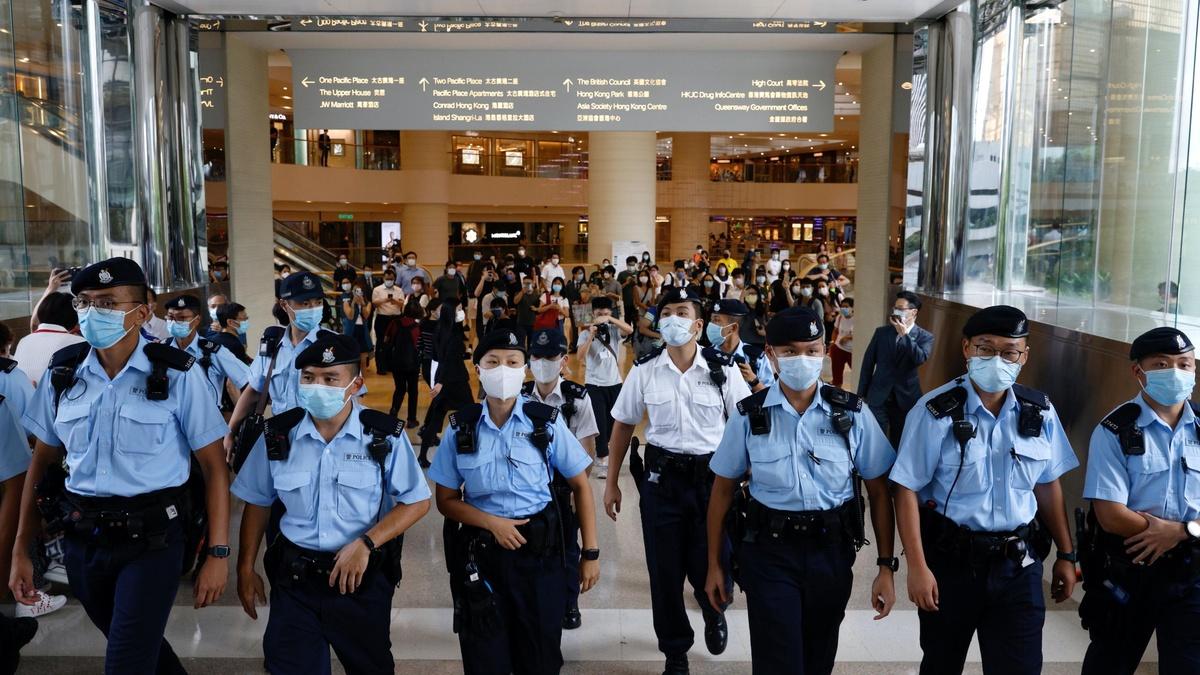 CLIP
Hong Kong residents worry immigration law may ban their exit
A pro-democracy protester in Hong Kong was sentenced Friday to nine years in prison, the first prosecution under Beijing's national security law. Now a new amendment to the city's immigration law takes effect Sunday that China says targets illegal refugees. But as special correspondent Richard Kimber reports, critics say the law's wording is vague and could ban residents from leaving the city.
TRANSCRIPT

JUDY WOODRUFF: A pro-democracy protester in Hong Kong was sentenced today to nine years in prison,

the first prosecution under the Beijing-imposed

national security law enacted just over a year ago.

That law, part of China's crackdown in Hong Kong, has sparked a growing public exodus.

This Sunday, a new amendment to Hong Kong's immigration law takes effect

that the government says only targets illegal refugees.

But, as special correspondent Richard Kimber reports, critics say the legislation's wording

is deliberately vague and could give it the power to ban residents from leaving the city.

RICHARD KIMBER:

Before COVID-19, this was one of the world's busiest airports. Now it's mostly a ghost town.

But a handful of late-night check-in counters in Hong Kong are still

operating at full throttle, and many of the people lined up

aren't sure if they will ever come back. This family is leaving for the U.S.

MAN (through translator): There are many things we can't say now. It's very dangerous.

We all know it. I want my kids to grow up in a place that has freedom of speech,

and where they can say whatever they want and pursue their dreams.

RICHARD KIMBER: These friends are saying goodbye before one of them moves to Scotland.

MAN (through translator):

What has happened in Hong Kong in recent years worries me. I'm concerned about my safety. It

feels like we are being restrained. We have lost a lot of freedoms and the chance to speak out.

RICHARD KIMBER: Congress is debating a bill to give special visas and refugee status to Hong

Kongers fleeing political persecution. The United Kingdom, Canada and Australia offer extended

work and residency permits to Hong Kongers and eventual pathways to full citizenship.

The programs are proving popular; 34,000 Hong Kongers emigrated to the U.K. in the

first three months of the year. Britain expects 300,000 to make the move by 2026.

Hong Kong used to be a British colony. It was handed back to China in 1997. That

process has sparked a dramatic series of political developments in Hong Kong in the past two years.

Months of anti-government street protests in 2019

led to China's introduction of a controversial national security law in the city in June of 2020.

Beijing says it has brought stability to Hong Kong, but the legislation has faced

international criticism for cracking down on public freedoms and stifling political dissent.

The latest worry for Hong Kongers is the potential end to their freedom of movement.

Beginning August 1, a newly updated immigration bill comes into force. Critics warn it could give

authorities the power to ban residents from entering or leaving the city.

Andrew Lo runs an immigration consultancy in Hong Kong.

He says initial news of the bill sparked panic.

ANDREW LO, CEO and Founder, Anlex Immigration: Oh, our phones rang up like crazy,

everyone was pushing our staff: Can you get me the visa on or before the end of July?

I'm very worried that we cannot leave Hong Kong.

RICHARD KIMBER: His company has been operating for more than 30 years, and seen waves of migration

before, especially around the time of Hong Kong's 1997 handover from Britain to China.

But he says, this time, the mood of his clients has changed.

ANDREW LO: Today is different from the old days. They decide to go

and not come back. They are so determined.

You see, even I have a client, he has three properties in Hong Kong. He sold all three

properties. In the old days, people would keep at least one, just in case they want to return.

RICHARD KIMBER: The government dismisses the concerns. It says

the new immigration bill will only target people it calls fake refugees,

who try to enter the city illegally, or who claim they can't be deported after arriving.

HOLDEN CHOW, Democratic Alliance for the Betterment of Hong Kong: The amendment

of the bill is by no means going to restrict any freedom of traveling of Hong Kong people.

So, people need not worry about that. People who raise that sort of doubt,

I think there may be an idea of scaremongering behind.

RICHARD KIMBER: Legal experts say the reason for the controversy is that,

just like the national security law, the terms of the legislation are too vague.

MARK DALY, Daly & Associates: Broadly worded provisions don't inspire confidence or certainty.

And those things are -- that's what you want when you have the rule of law.

So I think people -- there's a lack of trust with the government,

and there's a lack of scrutiny, because the people who have been the ones scrutinizing

the government in the legislative council, many of them are no longer there, some of them in exile.

RICHARD KIMBER: China has introduced sweeping political reforms in Hong Kong that give it

more control over the city's legislature. It says that'll make decision-making more

efficient and that there'll still be room for a variety of political views.

But the changes are deepening concerns among the public and in corporate boardrooms.

Here in Hong Kong's Central Business District,

there are global investment banks on every street corner. And many don't just use Hong

Kong as their gateway to China, but as their Asian regional headquarters.

That could be set to change. The U.S. says that, since the introduction of Hong Kong's

national security law, businesses operating there face new dangers,

including electronic surveillance without warrants and the enforced surrender of corporate data.

The American Chamber of Commerce says it's committed to staying in Hong Kong,

but it's calling on the authorities to be more transparent about their legislative plans

to give American companies more confidence to stay put.

The government says that its economic data shows that investor confidence in Hong Kong

has been boosted, not shaken, by the national security law,

and that, even if there is an exodus of talent from the city,

it can easily be replaced from overseas or from across the border in mainland China.

The economy is bouncing back strongly from the effects of COVID-19,

but that confidence isn't filtering through to all the city's potential future business leaders.

This woman is an intern at a fast growing tech start-up in the city.

We will call her Candice. She wanted to remain anonymous for this report.

A lifelong Hong Konger, she will soon graduate from the city's top-ranked university,

but says she and many of her friends are planning their future elsewhere.

WOMAN (through translator): The political situation in Hong Kong in recent years is

not stable. I'm not sure about the bottom line, what I can do and what I cannot do.

I feel insecure, since we are uncertain about our future and our career path.

We are not sure what our life will be. That's why I want to emigrate, and to try living abroad.

RICHARD KIMBER: Hong Kong's chief executive, Carrie Lam, says those

who decide to leave will eventually come to realize how good life in the city really is.

But, for many Hong Kongers, the uncertainty of life overseas

is a risk they're increasingly willing to take.

For the "PBS NewsHour," I'm Richard Kimber in Hong Kong.