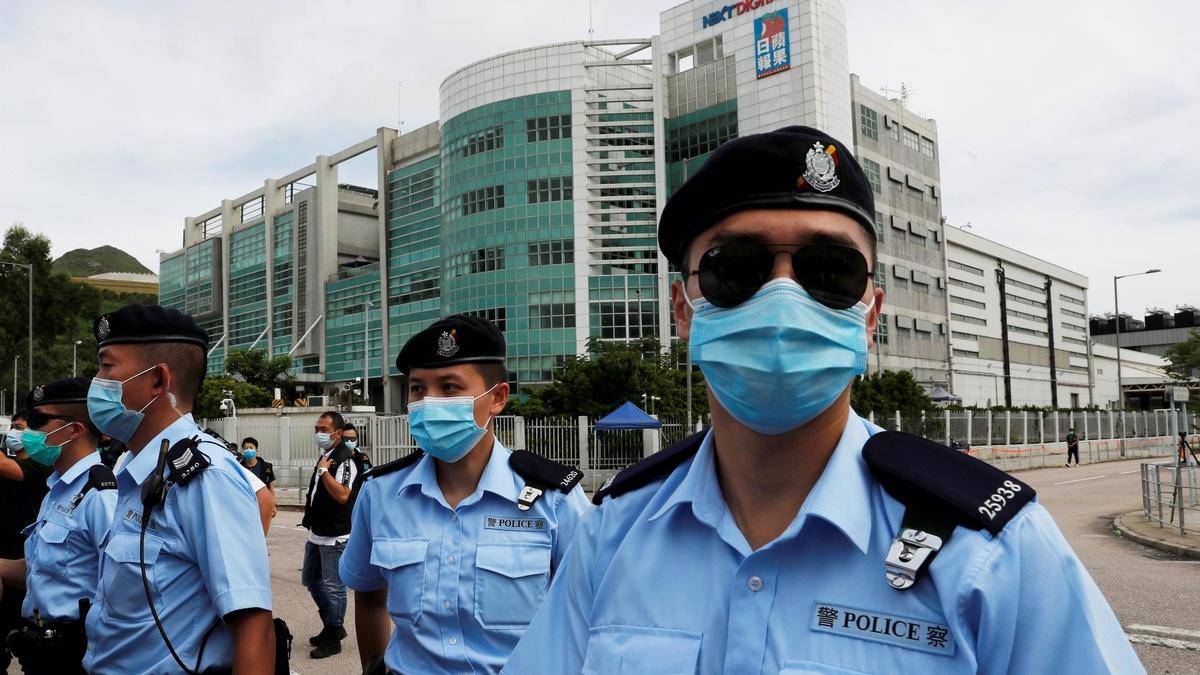 CLIP
How China is limiting freedom of the press in Hong Kong
China expanded its crackdown on Hong Kong Monday, arresting a prominent pro-democracy activist and media owner. Jimmy Lai was paraded through his newsroom in a move designed to silence the press in the semi-autonomous territory. And it comes as the highest-level American official in decades visited Taiwan to reinforce U.S. ties to that island -- in defiance of Beijing. Nick Schifrin reports.
TRANSCRIPT

JUDY WOODRUFF: China extended its crackdown in Hong Kong today, arresting a prominent

pro-democracy activist and media owner.

As Nick Schifrin tells us, it comes as the highest-level American official in decades

visited Taiwan to reinforce U.S. ties to the island, in defiance of Beijing.

NICK SCHIFRIN: For Beijing, this is what protecting national security looks like, frog-marching

a media tycoon through his own newsroom, plainclothes officers rifling through reporters' papers,

and hundreds of police corralling journalists and arresting editors who produce journalism

critical of the Chinese Communist Party, or CCP.

Apple Daily is Hong Kong's largest media outlet, and its owner, Jimmy Lai, an outspoken advocate

for democracy, whose arrest was designed to silence a Hong Kong media that, until now,

enjoyed freedoms that don't exist in mainland China, says senior aide Mark Simon.

MARK SIMON, Senior Aide to Jimmy Lai: We take a strong stand for pro-democracy. We don't

make any bones about it. Our media is starting to look more like the mainland than Hong Kong

in the past.

NICK SCHIFRIN: Many of Hong Kong's freedoms are stifled by Beijing's new national security

law. Lai and activist 23-year-old Agnes Chow were both arrested for -- quote -- "colluding

with foreign powers," punishable with life in prison.

And the law is written so vaguely, pro-democracy advocates fear it can be used against any

critics anywhere.

MARK SIMON: That law will mean exactly what they want it to mean, when they want to mean

in it, and when they need to use it. It will also be used if a young college student from

Hong Kong stands up at UCLA and starts talking about how much they love democracy and freedom.

This is a widespread and an overreaching law that has incredibly draconian implications.

NICK SCHIFRIN: Beijing says it's protecting Hong Kong from protesters who last year turned

violent.

And, last week, Chief Administrator Carrie Lam says, because of COVID, upcoming elections

that pro-democracy candidates were expected to win had to be postponed until next year.

In response, the U.S. imposed sanctions on Lam and 10 other Hong Kong officials and called

the national security law a tool for CCP repression.

Today, the Ministry of Foreign affairs called that proof the U.S. was biased against China.

HUA CHUNYING, Spokeswoman, Chinese Ministry of Foreign Affairs (through translator): Current

U.S. policy towards China is a strategic mistake, based on a lack of truth and evidence, venting

emotions, and McCarthyist bias.

NICK SCHIFRIN: And Beijing announced its own sanctions on six Republican lawmakers and

five leaders of NGOs critical of Beijing, including National Democratic Institute president

Derek Mitchell.

DEREK MITCHELL, President, National Democratic Institute: It's part and parcel of today's

China, where it's not just about what happens in China, but around the world, that they

want people to be quiet about what's really happening.

They don't care about law. They don't care about truth. They don't care about abiding

by the basic law of Hong Kong.

NICK SCHIFRIN: Last year, Mitchell spoke in Hong Kong and has co-written three books about

China. He argues, under Xi Jinping, the Chinese Communist Party is willing to try and silence

domestic and international critics, no matter the consequence.

DEREK MITCHELL: They're going to use their power and that they will not accept anything

that is remotely rights-based or democracy-based in Hong Kong, and keep going until they feel

it is squashed entirely.

It's very, very sad. We're seeing it in our headlines on a daily basis in broad daylight.

And it doesn't stop in Hong Kong. We have to recognize that. It can certainly move to

the free people of Taiwan.

NICK SCHIFRIN: The fear Taiwan is next is the backdrop for the highest-ranking U.S.

visit in four decades. Secretary of Health and Human Services Alex Azar gave a show of

support to President Tsai Ing-wen, considered a Beijing critic.

ALEX AZAR, U.S. Health and Human Services Secretary: It's a true honor to be here to

convey a message of strong support and friendship from President Trump to Taiwan.

NICK SCHIFRIN: Officially, Azar is visiting because Taiwan's a COVID success story, in

stark contrast to the U.S. Taiwan's had fewer than 500 cases, thanks to quick actions in

January, like widespread testing and tracing and mandatory masks.

But Beijing sees Taiwan as a breakaway province and U.S. support, especially military support,

as meddling in internal affairs. During Azar's visit, the nationalist tabloid Global Times

reported, Chinese planes entered Taiwanese airspace as a clear message.

And the clear message received in Hong Kong by the national security law, activists, residents,

even businesspeople are now considering leaving.

MARK SIMON: Information is everything. And this law is telling, especially the financial

community, there are certain pieces of information that we're not going to let you have.

The ripple effect is going to be significant. It is not just one more cut in the grain here.

This is like an axe chop.

NICK SCHIFRIN: Today, after the raid, Apple Daily vowed to continue its work, but it acknowledged

that, in Hong Kong today, press freedom is hanging by a thread.

For the "PBS NewsHour," I'm Nick Schifrin.