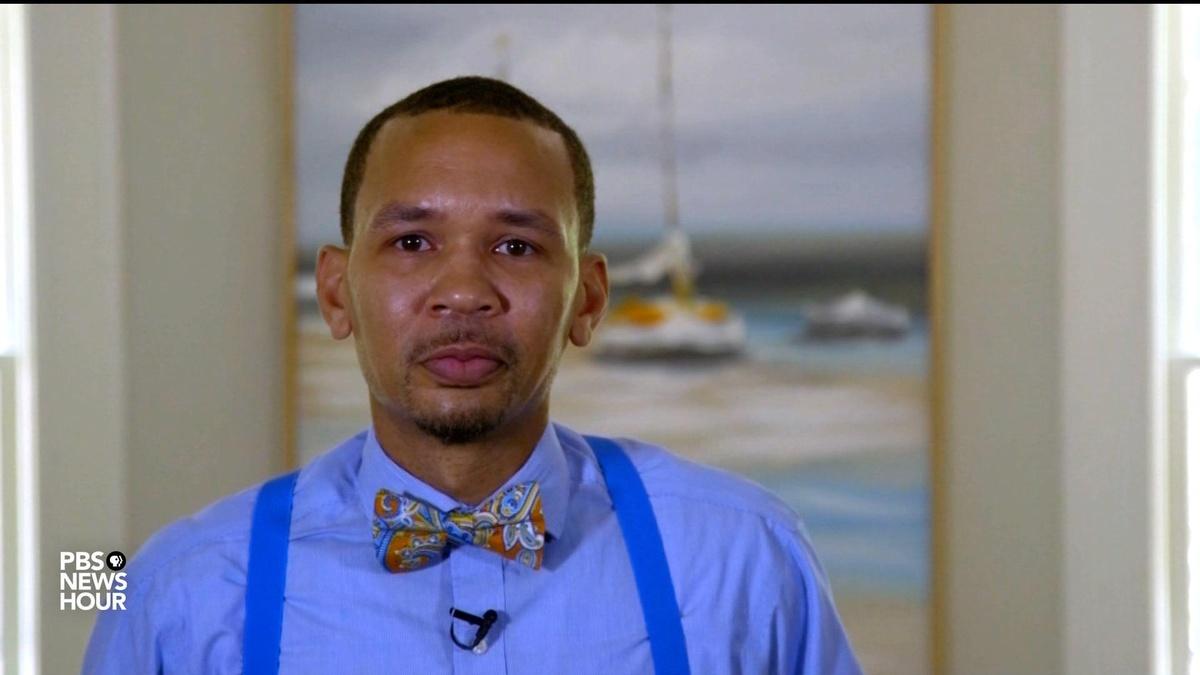 CLIP
Terun Moore on prison as a teen and getting a second chance
At age 17, Terun Moore was convicted of murder and sentenced to life without parole. But in 2012, the Supreme Court ruled such sentencing of minors unconstitutional. Now on parole after 19 years, Moore is enrolled in community college and working with the People's Advocacy Institute, which aims to reduce violence in Jackson, Mississippi. He offers his brief but spectacular take on second chances.
TRANSCRIPT

JUDY WOODRUFF: For the past few weeks, our Brief But Spectacular series has profiled

several voices from Jackson, Mississippi.

Tonight, we hear from Terun Moore, who, at the age of 17, was charged with capital murder

and sentenced to life without parole.

In 2012, the U.S. Supreme Court ruled such sentencing of minors unconstitutional.

As a result, Moore was recently paroled following 19 years of incarceration.

He's currently enrolled in community college and works with the People's Advocacy Institute,

focusing on reducing violence in Jackson.

TERUN MOORE, People's Advocacy Institute: I went to school in North Jackson my whole

life.

I love playing ball, you know, growing up around here.

On April 2, 1998, I was actually playing ball at the park, and a couple of my neighborhood

guys, they were about to commit a robbery.

They gave me a gun.

They asked me to stand there.

I was 17 and really wasn't thinking about consequences or whatever.

So, I held a gun on a dude.

He wanted to take the gun from me, so he ended up getting shot, and he later died.

QUESTION: who was it that shot the man?

TERUN MOORE: I did.

They didn't seek the death penalty because I was 17 years old at the time.

So they sentenced me to life without parole.

I was incarcerated for 19 years, six months, and six days.

That was my first time ever being locked up.

And the one person whose lessons always stood out to me was my grandma, because no matter

about me catching the charge or the family being embarrassed or whatever, she never changed

on me.

She never treated me any different.

And it takes a special type of person to be able to live like that.

When you get incarcerated, you find out who your real friends is.

You acquire a lot of jealousy for unknown reasons.

You acquire a lot of hate.

You have limited people you can trust.

And most people will friend you for what you can do for them.

So you had to learn how to move around and be in that environment.

So, I used to read a lot, because I was just 23 hours and one hour of recreation.

And I played ball.

And whenever I got to a place where I could play ball, that was my time being free.

I have been through a lot.

I have seen some friends die in there.

I have been abused by the guards before, when I was young.

I'm going to be honest with you man.

This is Mississippi.

So, prison in Mississippi is different from anywhere you ever want to be.

I kept a cell phone.

I stayed in touch with my people.

I was able to influence my little sister, pursue her dream and do what she wanted to

do in life.

She used to tell my grandma when she was little she was going to be a lawyer one day, so she

could be a judge and get me out.

But she started law school a couple weeks ago.

So that made me feel proud.

As I said, I had a phone.

And my mom called me and said: "I just seen on ABC News where they got a new law, and

I believe it will apply to you."

It was cruel and unusual punishment to sentence a juvenile to life without parole on his first

offense.

Bryan Stevenson, he was the one did the research on it.

He said, his grandma said, if you want to solve a problem, you got to get close to.

And he made a way for a lot of us to get free, because everybody make mistakes in life, but

it don't mean you're going to be bad your whole life.

You just had one bad day.

I have thought about that day every day, when my friends graduated college, when they were

getting married, having kids, moving on with their life, and I was still there in that

same place.

I thought about it every day, when my little sister grew up into a whole woman, and I wasn't

even around.

And my best friend passed last year, my grandma.

And I had to go to the wake in chains and a shackle.

QUESTION: If you could go back to 1998 to speak to your 17-year-old self, what would

you want to say?

TERUN MOORE: Walk home, man.

I'm Terun Moore, and this is my Brief But Spectacular take on second chances.

JUDY WOODRUFF: So powerful.

Tonight's episode was produced with help from Mississippi-based journalist Ko Bragg.

She's reported extensively on juvenile crimes.

You can watch her Brief But Spectacular take on our Web site.

That's PBS.org/NewsHour/Brief.