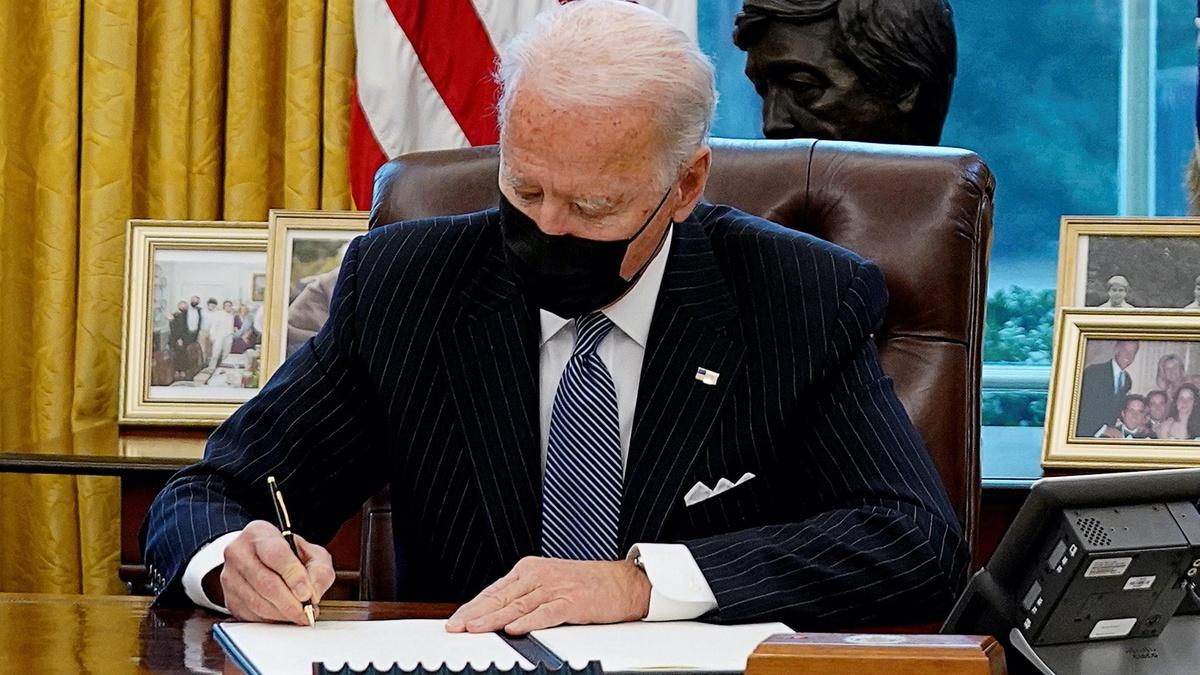 CLIP
Biden administration begins push for action on COVID relief
President Biden had a full Monday lifting a ban aimed at transgender troops, imposing a ban centered on COVID-19, and extending a mandate to buy goods made by Americans. White House correspondent Yamiche Alcindor reports.
TRANSCRIPT

JUDY WOODRUFF: President Biden has had a full day, lifting a ban aimed at transgender troops,

imposing a ban aimed at COVID-19, and expanding a mandate to buy goods made by Americans.

White House correspondent Yamiche Alcindor reports on the day's events.

YAMICHE ALCINDOR: President Biden's first full week in office, and a flurry of executive

actions. At a morning meeting with Defense Secretary Lloyd Austin, Biden revoked President

Trump's ban on transgender individuals serving in the military.

JOE BIDEN, President of the United States: What I'm doing is enabling all qualified Americans

to serve their country. Transgender personnel, if qualified in every other way, can serve

their government in the United States military.

YAMICHE ALCINDOR: The president also issued a buy American order. It is aimed at providing

support to U.S. manufacturers. The order raises the threshold for products to qualify under

existing buy American regulations, calls for a review of waivers of buy American requirements,

and appoints an official in the Office of Management and Budget to oversee the order's

implementation.

The president is reimposing a COVID-19 ban on foreign travelers from the U.K., Brazil

and Ireland, as well as other European countries with open borders. South Africa was also included

on the list over concerns about a coronavirus variant there.

Meanwhile, the Biden White House has begun its push for legislative action on a $1.9

trillion COVID relief package. On Sunday, National Economic Council Director Brian Deese

and other White House officials held a call with a bipartisan group of senators. But Republicans

Susan Collins of Maine and Mitt Romney of Utah said they remain concerned about the

size of the package. Many others in the GOP are too.

Vermont independent Bernie Sanders, who caucuses with Democrats, has said he is also skeptical

that a bipartisan deal can be reached. Instead, he is suggesting a process called budget reconciliation.

That would let the bill pass with a simple majority,instead of 60 votes.

For his part today, President Biden again voiced hope for a bipartisan agreement.

JOE BIDEN: Whether we get it all done exactly the way I want it remains to be seen, but

I'm confident that we can work our way through. We have to work our way through, because,

as I have said 100 times, there is no ability in a democracy for it to function without

the ability to reach consensus.

YAMICHE ALCINDOR: Meanwhile, the looming second impeachment trial of former President Donald

Trump threatens new divisions.

The first step is tonight, with House managers formally delivering the article of impeachment

to the Senate. It accuses Trump of incitement of insurrection. That comes after he urged

supporters to march to the Capitol on January 6 and a mob of them stormed the building.

On Sunday, Florida Senator Marco Rubio was questioned about whether it was unconstitutional

to try a former president. He said this:

SEN. MARCO RUBIO (R-FL): Yes, the first chance I get to vote to end this trial, I will do

it because I think it's really bad for America. If you want to hold people accountable, there's

other ways to do it, particularly for a president.

YAMICHE ALCINDOR: Senate Democrats on the other hand say it's important that President

Trump be held accountable.

SEN. CHUCK SCHUMER (D-NY): It makes no sense whatsoever that a president, or any official,

could commit a heinous crime against our country and then defeat Congress' impeachment powers

by simply resigning, so as to avoid accountability and a vote to disqualify them from future

office.

YAMICHE ALCINDOR: The trial will not begin until February. That gives the former president

more time to mount his defense and the current president more time to confirm his Cabinet

nominees.

That includes this evening's Senate vote to confirm Janet Yellen as Treasury secretary,

next up, Antony Blinken, the nominee for secretary of state.