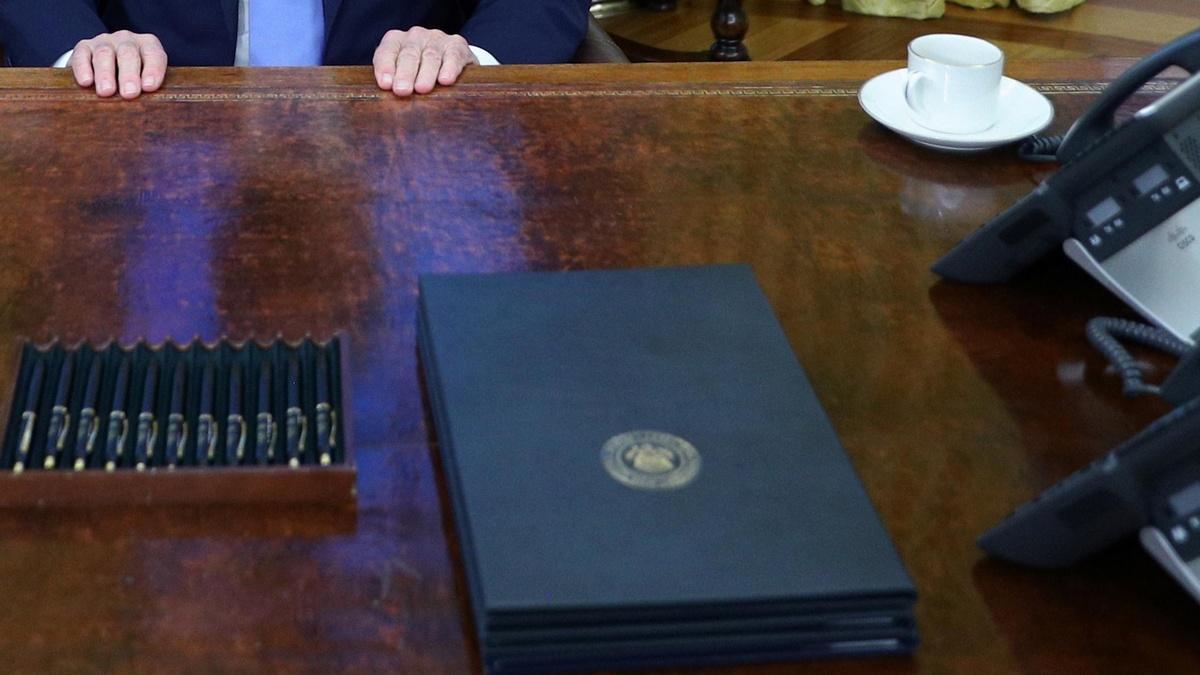 CLIP
Biden begins presidency with a flurry of executive orders
President Biden moved on a broad front Thursday to put his stamp on national policy, unveiling a number of new measures and pledging to confront the nation's public health crisis with COVID-19. White House correspondent Yamiche Alcindor joins Judy Woodruff to discuss Biden's response to the pandemic, confirmation hearings and former President Trump's impeachment trial.
TRANSCRIPT

JUDY WOODRUFF: President Biden is moving on a broad front tonight

to put his stamp on national policy, leading the list, the war on COVID-19.

Our White House correspondent, Yamiche Alcindor, begins our coverage.

JOHN ROBERTS, Chief Justice of the U.S. Supreme Court: Please your right hand and repeat after me.

YAMICHE ALCINDOR: A new president and a new packed agenda. Today,

on his first full day in office, President Biden was eager to hit the ground running.

JOE BIDEN, President of the United States: This executive order I'm signing...

YAMICHE ALCINDOR: He unveiled a number of new measures. He also

pledged to confront the nation's public health crisis head on.

JOE BIDEN: We didn't get into this mess overnight. And it's

going to take months for us to turn things around.

But let me be equally clear. We will get through this. We will the defeat this pandemic.

And to a nation waiting for action, let me be the clearest on this point. Help is on the way.

YAMICHE ALCINDOR: Today, he signed 10 executive orders to accelerate the distribution of COVID-19

vaccines, bolster their supply, along with testing, by ramping up manufacturing,

require masks on all public transportation, and address the disproportionate impacts of the

pandemic on communities of color by establishing a task force to offer recommendations.

President Biden's actions are at the center of a nationalized response.

They stand in stark contrast to the Trump administration's approach,

which relied heavily on the states to address the crisis.

Today's orders also come exactly one year since the first case of COVID-19

was confirmed in the U.S. Since then, well over 400,000 Americans have died.

And in the last 24 hours alone, the nation reported another 4,300 deaths.

DR. ANTHONY FAUCI, NIAID Director: Obviously, we are still in a very serious situation

YAMICHE ALCINDOR: At the White House today, Dr. Anthony Fauci did not sugarcoat the challenges.

He said that, from now on, the science would speak for itself.

DR. ANTHONY FAUCI: One of the things that we're going to do is to be completely transparent,

open and honest, if things go wrong, not point fingers, but to correct them,

and to make everything we do be based on science and evidence.

YAMICHE ALCINDOR: Dr. Fauci's, now the president's top medical adviser on COVID-19,

also acknowledged the difficulties he had working under President Trump.

DR. ANTHONY FAUCI: I can tell you, I take no pleasure at all in being in a situation

of contradicting the president. So, it was really something that you didn't feel that

you could actually say something, and there wouldn't be any repercussions about it.

YAMICHE ALCINDOR: Fauci is also leading efforts to return the U.S. to a major

role in the global response to the virus. He is seeking to mend ties broken by President Trump.

DR. ANTHONY FAUCI: The United States also intends...

YAMICHE ALCINDOR: This morning, via videoconference,

he addressed leaders of the World Health Organization.

He spoke about president Biden to move to resume funding and staffing support for the U.N. agency.

He also said, through the global initiative known as COVAX,

the U.S. will join in securing vaccines for poor countries.

The WHO's director-general, in turn, hailed the announcement.

TEDROS ADHANOM GHEBREYESUS, WHO Director General: Thank you so much,

my brother Tony. This is a good day for WHO and a good day for global health.

YAMICHE ALCINDOR: Beyond the pandemic, the new administration moved to unravel

President Trump's hard-line immigration policies.

Mr. Biden specifically rolled back the all-inclusive approach to deportations.

Instead, a memo from the Department of Homeland Security last night focused on priority targets.

It also paused all other deportations for the next 100 days. The president has already sent his own

immigration plan to Congress. It was unveiled, along with an initial 17 executive actions

signed by Mr. Biden hours after the inauguration. Some relate to immigration, including preserving

the DACA program that bars deportation of those who arrived in the U.S. as children.

Others direct that the United States will rejoin the Paris climate agreement, revoke the

permit for the Keystone XL pipeline, and extend a federal moratorium on home evictions. Meanwhile,

the House of Representatives moved to advance Mr. Biden's nomination

of retired Army General Lloyd Austin for secretary of defense.

MAN: On this vote, the yeas are 366, the nays are 78. The bill is passed.

YAMICHE ALCINDOR: Lawmakers voted to waive a ban on recently retired

officers serving in that role. The Senate approved the waiver as well. And, today,

there was also a hearing for the president's choice for transportation secretary.

Pete Buttigieg, the former mayor of South Bend, and once a primary rival of Mr. Biden,

promised to work to rebuild an economy ravaged by the pandemic.

PETE BUTTIGIEG, U.S. Transportation Secretary Nominee: Infrastructure can

be the cornerstone to all of this. And you have my commitment that I will work closely

with you to deliver the innovation and the growth that America needs in this area.

YAMICHE ALCINDOR: Amid the COVID-19 pandemic,

that's one pledge from the new administration among many.

JUDY WOODRUFF: And Yamiche joins us now from the White House.

So, Yamiche, this was day one

for this new administration. Overall, how would you say it's going?

YAMICHE ALCINDOR:

This is day one, the first full day of the 46th president of the United States' term.

President Biden hit the ground running. He is signing executive order after executive

order. Now, they say that they are really focused, this administration,

on changing the tone, turning the page away from Biden's predecessor, and really

focusing on a number of issues, top among them being the COVID-19 pandemic, wanting to really

talk about that and sign several executive actions really based on trying to fight that,

that virus, trying to really, they say, do it in an equitable way.

But they're also focused on a number of pillars. They have four pillars. It's COVID-19,

the economy, climate change, and racial justice. And they say racial justice includes

immigration, because we have seen a number of immigration executive actions as well.

But, overall what they're saying is,

this is really a complete change of tone, even today at the White House Briefing Room. Of course,

I should say we're already in a second White House briefing, which is a big change,

since the Trump administration was not holding those briefings regularly.

But they say, and Dr. Fauci in particular said that he feels more liberated because

he's letting science lead the way. That, he said, is a big difference, because,

at times, he felt uncomfortable when President Trump was out there

distributing information that he said was not scientifically based.

JUDY WOODRUFF: Yes, as we heard.

And, Yamiche, you mentioned what a priority COVID is for this administration.

What more is there to say about what they're doing on that front?

YAMICHE ALCINDOR: The chief thing that I have heard today,

talking to Biden officials about their COVID-19 response is, they inherited a mess.

I'm told that they're not starting from scratch, but they are very close to it. They say, yes,

it's true 16 million people have been vaccinated with the COVID-19

pandemic and -- the COVID-19 vaccine, but I just talked to a number of officials who told me

that the vaccine plan for the Trump administration was essentially dumping

it into states and letting the states deal with distribution.

They say that can't be the way that this is done.

Instead, they're going to be working with pharmacies, community centers,

a number of other ways to try to get vaccines into people's arms as much -- as quickly as possible.

They also told me that the Trump administration, in some way, they had some plans that they're

going to build on. So, they weren't at all saying that the Trump administration was completely all

bad. But what they really said was that this was a federal response that really didn't have

all the tools and resources necessary to fully

respond to the vaccine and -- fully response to the virus, rather.

They also said that testing, which, of course, has been something that we have been struggling with,

is still something that they need to deal with in this country.

JUDY WOODRUFF: And, Yamiche, I think almost everywhere we have seen the

new president in the last day or so, we have also

seen Vice President Kamala Harris. What more are you learning about what her role is so far?

YAMICHE ALCINDOR: The role of Vice President Harris, I'm told, is going to be evolving,

but it's going to be including a number of different areas, including the COVID-19 pandemic,

trying to be in a number of meetings, trying to really be a counselor to the president.

She's also going to be involved in, I'm told,

the economy and labor and jobs and racial equity across the agencies. I was also told

something very specific. Yes, it's true she's a former prosecutor, but they're stressing,

her team, not to make her -- not to make it too narrow of a focus on criminal justice.

They say they have a whole Department of Justice to deal with that, and that she

is not going to be overly involved in the Department of Justice. But she is,

of course, interested in criminal justice as well.

JUDY WOODRUFF: And finally, Yamiche, the question of when and how the impeachment trial

for former President Trump will take place in the Senate.

The White House has been asked a lot of questions about that. What are they saying?

YAMICHE ALCINDOR: Well, first, I want -- we should say, Nancy Pelosi today held a briefing,

and she said that President Trump, even though he's gone, cannot get a pass.

Let's listen to what she had to say.

REP. NANCY PELOSI (D-CA): You don't say to a president, do whatever you want in the

last months of your administration. You're going to get a get-out-of-jail-card free

because people think we should make nice-nice and forget that people died here on January 6.

It will be soon. I don't think it will be long. But we must do it.

YAMICHE ALCINDOR: Now, Lisa, of course, our congressional correspondent,

she's really been digging into this. She said that her sources are

telling her that McConnell wants to start the impeachment trial on the week of February 14.

Yes, that's right, February 14. That's a long way away. Essentially,

McConnell also put out a statement after Lisa's reporting saying that he wants to

make sure that President Trump has the proper time to get his defense ready,

and that the House should not be really trying to push this too quickly.

He said that this has, of course, been a short process. And it was a short process between

when they introduced the articles of impeachment and when they voted on it, much shorter than the

first time around. But, of course, Democrats say that the evidence is so clear that the president

incited insurrection, that this should not be really a hard thing to prove.

That said, President Trump is building his defense team. I was giving a call to

a lawyer that essentially is going to be part of his defense team. Rudy Giuliani,

his personal attorney, might actually not be part of that defense team. He's -- I'm being told now

that he might be a witness, because he was part of the rally before the mob stormed the Capitol.

So, all of this, we need to watch, but Mitch McConnell making very clear right now that he

wants this to go into February, so this was not going to be something

he wants to go into next week. We're waiting to hear what Democrats have to say,

of course, because it's now Senate Majority Leader Chuck Schumer.

He's going to have a big say in that.

JUDY WOODRUFF: Right.

YAMICHE ALCINDOR: And, of course, McConnell's the minority leader now.

JUDY WOODRUFF: Right. We will certainly have to watch and see how that gets worked out.

Yamiche Alcindor at the White House, thank you so much on this first day.

YAMICHE ALCINDOR: Thanks so much.