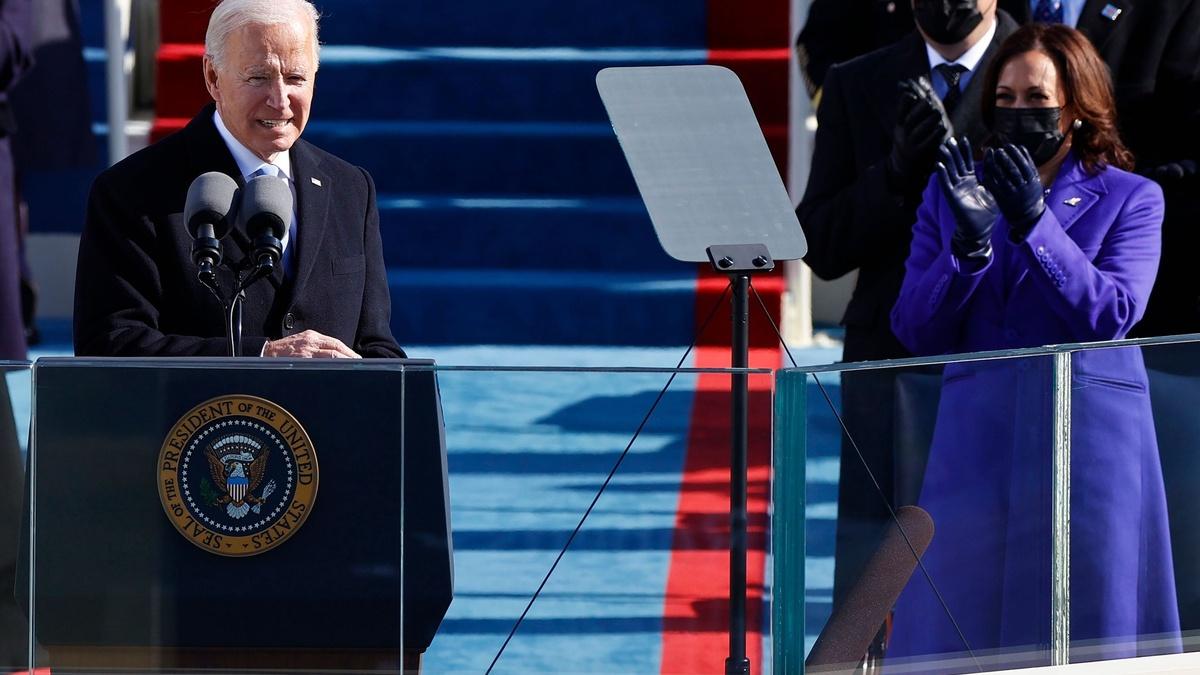 CLIP
Biden signs executive actions aimed at undoing Trump legacy
President Biden began his time in office by signing 17 executive actions, with plans to undo many of former President Trump's signature policies, like rejoining the Paris climate accord and beginning a national mask mandate on federal property. Biden's actions came as confirmation hearings for his Cabinet continued in Congress. Yamiche Alcindor and Lisa Desjardins join Judy Woodruff to discuss.
TRANSCRIPT

JUDY WOODRUFF: And we turn now to our Yamiche Alcindor, who has been at the White House

all this day.

So, Yamiche, for all the pomp and circumstance of this day, the new president has gotten

right down to business.

YAMICHE ALCINDOR: That is right, Judy.

After 48 years of government service, Joe Biden is now the 46th president of the United

States. And he said he wasn't wasting any time. He signed 17 executive orders, 17 executive

actions. They're focused on a number of things that will, I'm told, be the core of his presidency

and how he governs.

They include him rejoining the Paris climate accord, as well as instituting a national

mask mandate on federal property. He also is going to be directing agencies to do an

equity review, looking at all of their different policies to look at any sort of systemic racism

that might be plaguing their agencies.

He also directed some of his energy today to immigration reform, saying that DACA recipients

- - those are people that were brought to this country as undocumented immigrants as minors

- - that they should be protected.

He's also going to be joining, rejoining the World Health Organization. This is Joe Biden

saying that he wants to get to business soon. Also, as he was signing in the Oval Office

today, he spoke about a letter that President Trump, now former President Trump, left him.

Here's what he had to say.

JOE BIDEN: The president wrote a very generous letter. I have this. Because it was private,

I will not talk about it until I talk to him. But -- and it was generous.

YAMICHE ALCINDOR: Now, that, of course, is very interesting, given the fact that President

Trump, he encouraged his supporters to storm the Capitol just two Wednesdays ago because

he believed that Joe Biden was not the rightful winner of this election.

But it sounds as though President Trump, in his final moments, even though he skipped

inauguration, the first president to do so since 1869, that he did leave something nice

to say about Biden that, as of now, is between the two men.

JUDY WOODRUFF: Yes, Yamiche, it raises questions that we all want answers to about exactly

what was in that letter.

But I guess we will wait until President Biden shares that with us.

But, Yamiche, so much of these orders that he is signing are aimed at undoing the Trump

legacy, aren't they, including stopping the building of the wall on the border.

YAMICHE ALCINDOR: That's right, Judy.

He is also going to be revoking the Muslim ban that was a central part of President Trump's

presidency. He's also going to be rolling back the president's COVID-19 plans, making

an entirely new COVID-19 plan, asking the surgeon general to resign and putting in his

own group.

This goes -- if we can Zoom out a little bit, this goes to what President Biden spoke of

in his inaugural address. He said that this was a country that was struggling and that

we needed to be better than this, talking about the fact that there is real issues here

when it comes to truth and lies, saying that, before God and before the people who witnessed

him today take his oath, that he was going to level with the American people.

He didn't say President Trump's name, but you can insinuate, you can see that he was

talking about really turning the page on the Trump era.

Another thing to note is that he is going to be building what he says is the most diverse

Cabinet in history. That, again, is another rebuke for President Trump, who was at times

called racist, at times saying that he was - - people saying that he filled his government,

not with a government that looked like the American people.

And, of course, if we zoom out even more, there is Vice President now Kamala Harris,

the first Black woman, the first South Asian, the first member of Alpha Kappa Alpha Sorority,

Incorporated, the first African American sorority, to be vice president.

She is poetic justice in some ways to critics of President Trump, because President Trump

began his political career questioning the birthplace of the first African American president.

So, all of this is really a rebuke on President Trump.

JUDY WOODRUFF: At the same time, this new president is saying he wants to unite the

country. So, we will be figuring it out and trying to understand it. And I know you will

be asking a lot of questions starting tonight with the first news conference.

Yamiche Alcindor at the White House, thank you.

YAMICHE ALCINDOR: Thank you.

JUDY WOODRUFF: And now Lisa Desjardins joins us to discuss how the Senate, with its new

Democratic majority, will take up the Biden agenda.

Lisa, you have been at the Capitol all day long. And it wasn't quiet even after the inauguration,

because we saw the new vice president swearing in three new Democratic senators.

LISA DESJARDINS: That's right.

Judy, it's a working night here in the U.S. Capitol. Actually, you can see behind me one

of the leaders of the Republican Senate -- or the Republican leader in the Senate, John

Barrasso, with some National Guard troops.

But, Judy, in just the last hour or so -- the presidency changed hands this morning. This

evening, the Senate changed hands. The Senate is now Democratic-controlled, but barely,

50/50. Why?

Because we saw the swearing-in of three new senators again this evening. Those are the

two new senators from Georgia, as well as a new senator from California to replace Kamala

Harris, now Vice President Harris.

And they know that a lot of business needs to get done right away. As Yamiche was reporting,

President Biden is eager to get his Cabinet filled. First priority here at the Capitol

seems to be national security positions.

I am told that we expect a vote on one Cabinet nominee this hour. That is -- I'm sorry -- one

top national security figure. That's Avril Haines for the position of director of national

intelligence. There was a block on her nomination by Tom Cotton of Arkansas. He has removed

that block, I am told. And we expect that nomination to be confirmed this hour.

JUDY WOODRUFF: Very interesting. Watching that so closely.

And, Lisa, it's interesting. You're saying the Biden people want so much done quickly.

And yet they are looking at an impeachment trial in the Senate, which apparently is going

to go forward. That's going to gobble up time and attention, isn't it?

LISA DESJARDINS: It will.

And before we even get to talk about a trial, the Senate has to sort out how it will conduct

its own business. Right now, there is no real agreement as to how and when any kind of -- any

kind of legislation will come to the floor.

Because it is a 50/50 Senate, the leaders, the Republican leader now, Mitch McConnell,

and the new Senate majority leader, Chuck Schumer, have to work out a deal for how they

can bring legislation to the floor. They haven't figured that out yet. They haven't figured

out the exact composition of committees even.

So, while Democrats are beginning to operate the Senate, there still is not a process in

place to legislate. And, because of that, there's not really a clear path forward for

how to get the impeachment trial off the ground. It could start at any time, because, technically,

House Speaker Nancy Pelosi just has to transmit the article of impeachment.

But we all know that everyone is waiting for the Senate to figure out how it will conduct

business.

(CHEERING)

LISA DESJARDINS: Maybe you hear some National Guardsmen behind me celebrating, I think,

the end of a successful day, they feel.

JUDY WOODRUFF: A long day.

LISA DESJARDINS: Yes.

JUDY WOODRUFF: Well, we will be watching, and I know you will, to see how Chuck Schumer

and Mitch McConnell work out the next...

LISA DESJARDINS: Yes.

JUDY WOODRUFF: ... very next steps.

We like the beret.

(LAUGHTER)

JUDY WOODRUFF: Lisa Desjardins, thank you.

(CROSSTALK)

JUDY WOODRUFF: Thank you very much.