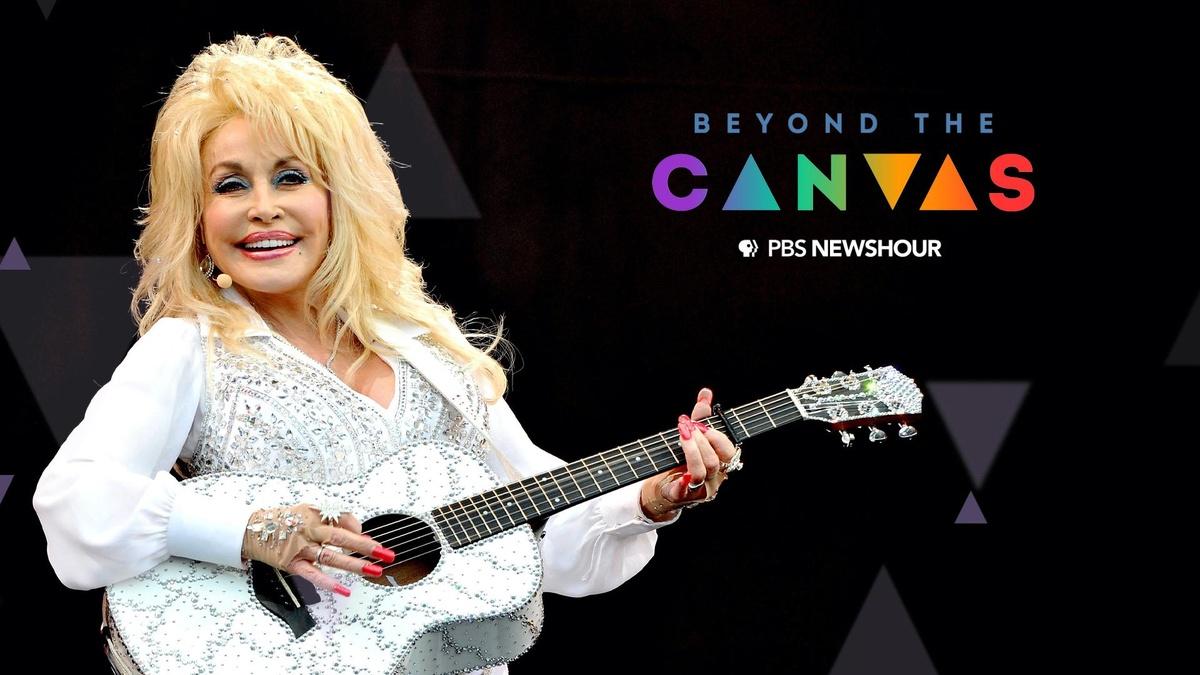 FULL EPISODE
Beyond the Canvas | Season 2 | Episode 3
"Beyond the CANVAS" honors five trailblazing women in the arts. In this episode of "Beyond the CANVAS," the legendary Dolly Parton, Julie Andrews, and other creators show us how the road to success wasn't just one they walked, but one they paved themselves.
TRANSCRIPT

Announcer: This program was made possible by

contributions to your PBS station

from viewers like you. Thank you.

When I was a girl, my grandfather said

that if you say a word often enough it becomes you,

and I've been trying to become "America" word for word.

In the way that you would think about putting yourself

in other people's shoes,

I'm putting myself in other people's words.

I interview people, and I learn what they say

and try to put together a lot of disparate parts

of interviews in one whole in order to make

a current problem come alive.

Anna: Hi, everyone. This is "Beyond the Canvas"

from "The PBS Newshour."

I'm Amna Nawaz.

On tonight's episode,

we honor 5 trailblazing women in the arts.

You just heard from performer Anna Deavere Smith,

who's perfected the art of getting into character.

She's the winner of a MacArthur Genius Award

and has earned critical acclaim for her one-woman shows

that bring societal issues to life onstage.

Tonight, Deavere Smith will be joined

by other masters of their craft:

iconic American singer Loretta Lynn;

beloved actress Julie Andrews;

the legendary Dolly Parton;

and the celebrated conceptual artist Carrie Mae Weems.

For all of these women,

the road to success wasn't just one they walked.

It's one they paved themselves.

The artists you're about to meet were first featured

on "The PBS Newshour" before the pandemic,

but tonight, you'll meet them on a new canvas

and maybe see them and their work

through a different lens

right here on "Beyond the Canvas."

Now back to our brief but spectacular take

from Anna Deavere Smith.

There are certain points in any interview that I do

that people start to speak in a way where the rhythm,

you know, leads me to believe that there's emotion

stored in there, and so as an actor,

emotions are my fuel,

and those are the types of moments

that I want to reenact onstage.

Drinking malt liquor.

This is not the time for us to be playing

the lottery or to be at the Horseshoe Casino.

This is not the time for us to be walking around without...

Deavere Smith: I was a mimic as a child,

and, you know, I guess you could say that

what I'm doing now is a more respectable version of that,

which was, you know, inevitably mimicry is

a little bit subversive.

I don't mean to be subversive.

I'm not an impressionist.

I'm delighted if audiences think something's funny,

but I'm not making fun of a person.

My most recent play "Notes

From the Field" was based on my

having done 250 interviews

around the United States

on the subject of what we call

the school-to-prison pipeline.

I'm interested in complicating the narrative

and revealing to the people in my audience

that there are many narratives.

The more roots you have going off in different directions

and grabbing the ground, you're probably gonna be

a stronger tree.

That would be my objective.

All of my works of art is a form of activism.

I don't have answers. I don't indict people.

I can let the judges do that.

I can let the media do that.

I'm a dramatist.

A drama is always a constructed journey

where something is lost,

and then it's going to be regained.

I went to New Orleans right after Katrina,

and to watch people looking around at everything they lost

and trying to make some sense

and making an impromptu plan is really important to me

and how I view the world.

You know, you could say, "Oh, my goodness.

Isn't that so hard? Doesn't that make you sad?"

For me, it's the opposite.

It shows me just how inventive people are.

My name is Anna Deavere Smith,

and this is my brief but spectacular take

on listening to people.

Another woman with a passion for the stage is Loretta Lynn,

considered by many to be the queen of country music.

With her sassy lyrics, unapologetic humor,

and woman-focused perspective,

Lynn transformed country music and achieved a superstardom

that few female singers had known before.

On the eve of her 87th birthday before the pandemic,

some of country music's finest gathered to celebrate.

♪ Still single ♪

Jeffrey Brown: A who's who of country music

and 12,000 fans filled Nashville's Bridgestone Arena

to mark Lynn's 87th birthday.

♪ I'm here to tell you, gal, ♪ to lay off of my man ♪

Brown: Serenading her, stars like Miranda Lambert

and all-time greats George Strait...

♪ And there's nothing ♪

Brown: Garth Brooks, and Trisha Yearwood.

♪ After the fire is gone ♪

Brown: Talking with us backstage before the show,

Lynn said all this was beyond imagining

when she was growing up

in the tiny coal-mining community

of Butcher Holler, Kentucky.

What was the hope, what was the dream?

What was the ambition back then?

You know, you never dared dream big

because...where have you been to dream?

I mean, how could you dream when you've never

seen nothing or never been nowhere?

Never been to tide, never been town,

so you didn't dare dream.

♪ Now I'm a honky tonk girl ♪

Brown: Her first hit "I'm a Honky Tonk Girl"

came in 1960 and set her on a trailblazing path.

First woman in country music to write a number one hit song,

"You Ain't Woman Enough to Take My Man."

Loretta Lynn!

Brown: First to be named Country Music Association

Entertainer of the Year

and to have more than 50 top 10 country hits.

What's the key to writing a good song?

What does it have to have?

I used to lock myself up,

you know, shut myself in a room

before I would get through with a song.

I wouldn't come out till I got it wrote.

And when did you know that you had it,

that it was done?

Well, I would know when I had it done.

If you don't know when you have it done,

you shouldn't be writing.

Yeah.

♪ Oh, but I don't think ♪ you can ♪

Brown: She was a strong voice for women

in a conservative industry,

a powerhouse in a business run by men,

making herself a multimillionaire.

It was an inspiration to women who followed

like Martina McBride.

She was really one of the first,

if not the first woman that sang

about stuff other than just being

somebody's love interest, you know?

She sang about her as a woman

and the things that she was going through

and the things that she was facing

and living with a man,

a not perfect relationship,

and, you know, songs like "The Pill,"

and just really groundbreaking stuff.

Because she was kind of like living

her whole truth in the fullest space

she could meant that the rest of us

in her wake could be ourselves,

so, I mean, it's just I owe her--

I owe her this space I stand in.

♪ If you're rated X, ♪ you're some kind of goal ♪

Brown: Lynn herself told us she's not done.

She's working on a new album.

So what's been the key to surviving and thriving

for so long in this business

as a songwriter, as a star, as a businesswoman?

You have to be smart.

Hard work and smart.

Mm-hmm.

That's all it takes.

If you got a little talent,

you can go a long way

if you're smart and put the work in it.

One of the best songs ever written!

Brown: The night's grand finale "Coal Miner's Daughter"

of course with the star of stars joining in.

♪ A coal miner's ♪ daughter ♪

Brown: At first, she seemed to have forgotten her own words,

but a few lines in, she was ready.

Lynn: Let me have that damn mike.

♪ Loved and raised 8 kids ♪ on a miner's pay ♪

♪ Mommy scrubbed our clothes ♪ on a washboard every day ♪

Brown: And she sang through to the end.

♪ Not much left of the floor ♪

♪ Nothing lives here anymore ♪

♪ Except the memories ♪ of a coal miner's daughter ♪

[Cheering and applause]

Thank you all.

Our next great struck it big on her first at bat,

winning an Oscar for her role

in the iconic movie "Mary Poppins."

Since that breakthrough moment, Julie Andrews

has been singing her way into our hearts.

Back in 2019, she reflected on her life and her career

with "PBS Newshour's" John Yang.

Yang: Both "Sound of Music"

and "Mary Poppins were touchstones

in my early--

In your youth? Yes.

My youth.

Actually, they were in mine, too.

And mine, as well.

And yours, as well.

Then talking to my colleagues,

they're showing their children.

Yes. Isn't that phenomenal?

I mean, that's a bonus

that you just don't expect,

but those timeless, good musicals,

they were so beautifully made.

Yang: Andrews' legendary career includes the stage,

movies, TV, concerts, and recordings.

She's a Dame Commander of the British Empire

and has 6 Golden Globes, 3 Grammys,

two Emmys, an Oscar, and a Kennedy Center Honor.

Andrews and daughter Emma Hamilton,

a professional writer and arts educator,

have written more than 30 books for children

and young adults.

They wrote "Home Work: A Memoir of my Hollywood Years"

as a team.

Emma, as you were growing up,

where there movies or projects

of your mother's that were

particular favorites?

Well, I was pretty much there most of the time

on set for most of the films.

I couldn't sit through "The Sound of Music"

for years without weeping because anytime

I saw my mother cry on film

I burst into tears myself, so...

She'd suddenly say, "I'm just going out

for a little," and blinking very furiously.

Yang: The book focuses on the importance of family:

Emma, the child of her first marriage

to theater director Tony Walton;

two stepchildren Jennifer and Geoffrey

from her second marriage to noted film director,

writer, producer Blake Edwards;

and the two daughters she and Edwards adopted

Amelia and Joanna.

Edwards, who died in 2010, directed Andrews in 7 movies,

including "10" and "Victor/Victoria."

♪ La la la la la ahh ahh ♪

♪ La la la ♪

Andrews: I love the unity that it provides,

and working with Blake, I felt so very safe

in his embrace, so to speak,

and I knew that I didn't have to worry about a thing

on camera, but just sticking together,

traveling together, being together,

it's why "Home" in "Home Work" is there

because making a home, keeping family together

means so much to me.

Yang: Yet not all the memories are happy.

Andrews: Blake was a very depressive personality

and yet devastatingly funny,

but when he was in a bad way,

it was very sad.

You felt the need to make things better,

to make people happy.

Well, it's sort of my job in a way, John,

if you think about it.

Being onstage all my life,

it's about hopefully giving joy,

and I love to do it.

Yang: In her next book, Andrews also expects to deal

with the emotional impact of losing her singing voice

after throat surgery in 1997,

though she says she can't discuss the procedure itself.

Andrews: Unfortunately, I can't talk about it

since it was part of my agreement

in a settlement where I gave

all the settlement to charity and so on,

but it was a devastating time in my life.

Welcome, my Greenies.

Yang: She's still working, though,

recently creating and appearing in "Julie's Greenroom"

on Netflix.

To the stage!

Others: To the stage!

Yang: The children's series produced

with the Jim Henson Company

is about puppets staging their own musical

under the watchful eye of Andrews,

now herself a grandmother of 10 and great grandmother of 3.

[Applause]

Another icon who's spent her entire life on the stage

is the legendary Dolly Parton,

who may be one of the busiest entertainers working today.

Even with more than 100 chart-topping singles

under her belt, Parton doesn't seem to be

slowing down anytime soon.

She's recently released a new album, a new book,

and a holiday musical.

"PBS Newshour" anchor Judy Woodruff spoke with Parton

about how she keeps her creative spark alive

after decades of hits.

Parton: ♪ Here you come again ♪

Woodruff: Everything is coming up Dolly,

all part of the Dolly empire.

Parton: ♪ You waltz right in the door ♪

You are writing songs, you're singing,

you're acting,

you are doing philanthropic work,

you're running your business,

you're producing musicals.

What's going on? How do you do this?

I have to say that I'm a lot busier now

than I was when I first started.

I just love being creative

and getting to do things

for other people, and especially working

during a time like this when everybody's

been kind of shut down from their normal life.

Is there more of you that's the singer,

more of you that's the writer?

Are they equal parts of who you are?

I think I take myself more serious

as a songwriter than anything else.

There are many writers greater than me,

but that's just been the thing

that I seem to enjoy the most

because it's my therapy, it's my pleasure,

it's my job, it's my joy.

Woodruff: Dolly Parton grew up the fourth of 12 children

in a one-room cabin on the banks of Little Pigeon River

in the tiny East Tennessee town of Pittman Center.

Parton: ♪ Puppy love just puppy love ♪

♪ Little boy, it's puppy love ♪

Woodruff: She began singing as a child

on local radio and TV.

By 13, she was recording her first records

and appeared at the Grand Ole Opry,

where Johnny Cash encouraged her to follow her talent.

♪ Although we had no money ♪

Woodruff: She's composed an extraordinary 3,000 songs,

including "Coat of Many Colors"...

Parton: ♪ Mama made for me ♪

♪ Working 9 to 5 ♪

Woodruff: "9 to 5"...

Parton: ♪ What a way to make a living ♪

♪ Barely getting by ♪

♪ Jolene, Jolene ♪

Woodruff: "Jolene"...

Parton: ♪ Jolene, Jolene ♪

♪ And I ♪

Woodruff: and "I Will Always Love You."

Parton: ♪ Will always love you ♪

♪ I will ♪

Woodruff: Dolly became the first country artist

to chart a top 20 "Billboard" across 7 consecutive decades,

beginning the sixties.

Parton: ♪ You better get to living, giving ♪

Woodruff: Another Parton passion is literacy.

Her Imagination Library, now in its 25th year,

will donate the 150 millionth book to children

around the world next month,

all the result again of Parton responding

to something close to home.

I am as proud of the Imagination Library

as I ever will be anything I ever do

for the rest of my life,

and I have told the story many times

of how it came to be because my own father,

who couldn't read and write,

grew up in a big family in the mountains,

and so when I saw how crippled that

had made my dad emotionally,

I wanted to do something to help him.

He just loved being part of that,

and he took such pride in it,

and that gave me such pride in myself

that I could do that for my daddy.

♪ When life is good again ♪

♪ I'll be a better friend ♪

Woodruff: In this song "When Life is Good Again,"

released in May, Parton was addressing the pandemic

and the crushing effect it's had across the country.

Parton: It's affected me in many ways.

It's affected my businesses,

everything that I stand for.

I didn't want to be crippled with fear

about it and that I had the freedom

and the ability and the equipment

to do something about it,

so I kept trying to work.

In the music video you released in the spring,

you did say at the end, "Wear a mask."

If wearing a mask is gonna keep

some germs off of you

or somebody else, why not?

Even if, you know, some people say it's crazy,

it's crazy not to.

Woodruff: She defines herself as nonpartisan,

but Parton does speak out on some important causes

like Black Lives Matter.

When someone blatantly asks you

"Do you think Black lives matter?"

Well, of course Black lives matter.

We're all God's children.

We all have a place in this world.

We all need to be loved and respected.

["9 to 5" playing]

Woodruff: In the 1980 feature film "9 to 5,"

Parton championed the rights of working women.

She told me about her own approach to overcoming barriers,

making music, and running her empire,

including the Dollywood theme park.

Parton: I protest in my own way

through my songs.

I had a talent that I thought

could make us all a bunch of money,

and that's what I'd go

into business meetings with men.

Of course, I've been hit on all my life,

and especially in those early days,

but I knew how to manage that myself.

I never sold out, never did anything

that was gonna take away from who I was

as a human being.

I don't care if you're, like I say,

Black or white or whatever.

I don't care if you're gay or lesbian

or transgender.

Everybody should have an equal chance.

You have said a couple times--

you've been quoted as saying anyway

that you didn't want to look old,

which of course you do not,

but is there anything good about getting older

do you think?

Some good things about getting older

is that you can look back on your life

and see what you've accomplished

and see what you can do to help

other people on their journey,

which is what I'm doing right now.

I want to live young, I want to think young,

I want to do young.

I want to always be important.

I want to be useful, and as I've often said,

I would much rather wear out

than to rust out.

Parton: ♪ When everything ♪

Woodruff: For someone in that rarified group of entertainers

to have received nominations for Grammy, Tony,

Emmy, and Academy Awards and has projects

backed up for the future,

rusting out seems highly unlikely.

Parton: ♪ Everything's gonna be all right ♪

♪ When life is good again ♪

Next, another remarkable woman using her canvas

to address the world we live in.

Multimedia artist Carrie Mae Weems created

a public art campaign to remind people

of the pandemic's disproportionate impact

on people of color.

Jeffrey Brown spoke with Weems about her lifelong mission

to create art for social change.

Brown: How does an artist respond

to a public health crisis?

For Carrie Mae Weems, it was simple.

Weems: We care about being in this community,

and we care about you,

we care about keeping you safe,

we care about keeping you whole.

Brown: "Resist COVID Take 6!"

named for the safe distance

required in the age of pandemic,

is a public art and health education project.

Weems: Our project is to be a public service

awareness campaign

that in some small way helps to save lives

as a constant reminder of what needs to be done

as we push through this pandemic

and its extraordinary effect on us.

Brown: Weems' project speaks directly

to the disproportionate impact of the virus

on Black, brown, and poorly resourced communities,

the inequities of our society writ large amid disease.

Her tools--photography, bold text,

advertising-style graphics,

imagery of all kinds

that literally puts information in the hands

of people who need it.

Weems: If we could get the bags and the messaging

with critical messaging to those sites

and those sites, the food banks

and the pantries, could use our material

so that people could take that message home with them.

Brown: And it's being installed to prompt viewers

around the world

from New York's Lincoln Center

to Detroit

and London here at the Goodman Gallery.

Woman: Take your 6, wash your hands,

thank your workers, and resist COVID.

Brown: Weems has long taken on big societal issues.

We most recently met her in 2018

at a public event she put on to address violence.

Titled "The Shape of Things," it featured

more than 50 artists who engage social issues in their work.

How are artists responding?

How are artists maintaining a level of dignity

and hope and progress and work

in the face of this devastating violence?

I want to know what that looks like.

Brown: Weems made her name as an artist

through photography that explores

history, race, and power.

We first spoke in 2014 when she became

the first African-American woman given a solo exhibition

at the prestigious Guggenheim Museum.

Among the works on display, the 1995 series

"From Here I Saw What Happened and I Cried,"

where Weems altered 19th century photographs of slaves,

and the 1990 "Kitchen Table Series"

in which Weems herself is a character

in a set of carefully constructed scenes

from a woman's life.

I saw this thing coming toward me.

Brown: In recent years, she's taken the aspect

of performance further to a theater piece

she created called "Grace Notes,"

her response to the 2015 murder of 9 members

of a Black church in Charleston, South Carolina,

by a white supremacist.

What is violence?

How would you characterize it?

Brown: For the Armory event, Weems set a theme for the day,

what she called "The History of Violence."

Weems: How violence disrupts

and dislocates, displaces,

fragments not only the self,

the person, but also the society.

Brown: Poet Aja Monet read her poem

called "The First Time"...

He was mouthing off his tongue to my brother

about how he ought to show him some respect.

Brown: about an interaction she witnessed

between her teenage brother and a police officer.

Monet: I couldn't undo all the hate that builds

watching the men you love cower,

watching the men you love cower, bend, kneel

to the scowls of overseers,

all the bright and magic that dims the light,

lowers the bright, and magic dims.

This police officer stopped us

and felt really entitled to question us,

interrogate us, and I noticed

the demeanor in my brother change,

and I noticed how that made him feel

and how it made me feel to watch that.

A violent crime occurs every 27 seconds.

Brown: That climate for the people here meant

a response to the growing divisions

within the country.

Has anything changed in terms

of your sense of an artist's resp--

you as an artist, your responsibility?

No. It's only deepened.

It's only deepened.

I do think that, you know, as I mature

and I age, I think more of creating

these spaces, of widening the path

and being clear about that so that others

can do their work more easily

in the future.

Brown: A future that Weems' current focus,

ending the spread of COVID through public awareness,

aims to ensure.

Thanks for joining us tonight to witness

these extraordinary artists and performers

share their love and passion for their craft.

Join our conversation online at pbs.org/newshour/canvas

and find more "Canvas" arts stories on "The PBS Newshour."

I'm Amna Nawaz.

For all of us at "The PBS Newshour,

thanks for joining me here on "Beyond the Canvas."

We'll see you soon.

Nawaz: Next time on "Beyond the Canvas,"

the rapper, actor, and writer known as Common.

Common: I have to speak up.

It's my duty as a human being,

as a artist.

To me, my speaking has to become action.

Nawaz: Opening up about his memoir

along with other artists using their platform to make change.

Parton: ♪ Working 9 to 5 ♪

♪ What a way to make a living ♪

♪ Barely getting by ♪

♪ It's all taking ♪ and no giving ♪

♪ They just use your mind ♪

♪ And you never get the credit ♪

♪ It's enough to drive you ♪ crazy if you let it ♪

♪ 9 to 5, yeah ♪

♪ They've got you ♪ where they want you ♪

♪ There's a better life ♪

♪ And you think about it, ♪ don't you? ♪

♪ It's a rich man's game ♪

Announcer: This program was made possible by

contributions to your PBS station

from viewers like you. Thank you.