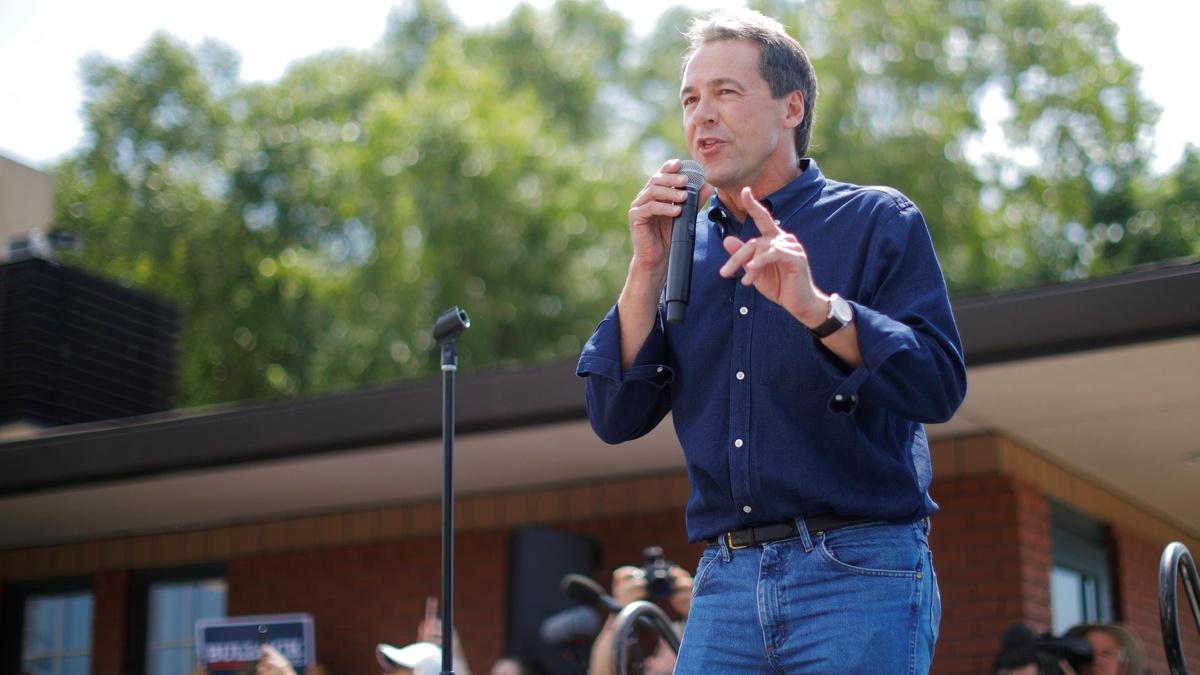 CLIP
How Montana Senate race became so competitive -- and costly
In the battle to control the U.S. Senate, one of the competitive contests pits a Republican incumbent, Steve Daines, against a two-term Democratic governor, Steve Bullock. Montana's Senate race has become the most expensive campaign in the state's history. Anna Rau of Montana PBS reports on how Big Sky Country has become a center of big political spending -- and even bigger stakes.
TRANSCRIPT

JUDY WOODRUFF: In the battle to control the U.S. Senate, one of the most hotly contested races

pits an incumbent Republican against a two-term Democratic governor.

Anna Rau Montana PBS reports.

ANNA RAU: Two thousand miles from the U.S. Capitol, it's one of the least

densely packed states in the country, but this election year, Montana has a new distinction.

It's one of the top Senate races in the country for political advertising.

STEVE BULLOCK (D), Montana Senatorial Candidate: I won't answer to party bosses.

ANNA RAU: In a recent two-week period, nearly 32,000 ads flooded the airwaves,

according to the Wesleyan Media Project, which tracks political ads.

SEN. STEVE DAINES (R-MT): More jobs and lower taxes, or bigger government and socialism,

that's your choice.

ANNA RAU: It's also become the most expensive campaign in state history.

Candidates and outside groups have spent more than $140 million. That's more than

$130 per resident, the highest per capita spending of any Senate race in the country.

On the ballot?

SEN. STEVE DAINES: The airwaves are flooded. Their mailboxes are full.

ANNA RAU: First-term Republican Senator Steve Daines.

SEN. STEVE DAINES: I don't think many Montanans are real impressed with that.

ANNA RAU: He's facing two-term Democratic Governor Steve Bullock.

STEVE BULLOCK: I hope, just like my family, that most Montanans see through it and say,

we know this guy.

ANNA RAU: It's a state that hasn't voted for a Democrat for president

in more than 20 years. But Montanans are known for their independence

and their ticket-splitting. When Donald Trump won the state by 20 points in 2016,

Bullock was running on the same ballot, and he won his race by four points.

It's something Bullock made a centerpiece of his campaign for the 2020 Democratic

presidential nomination, before dropping out and launching his Senate campaign.

That's one reason Daines says Montanans shouldn't trust Bullock.

SEN. STEVE DAINES: He said over and over again, looking straight into the eyes of

the American people and straight in the eyes of Montanans, and said, I'm not running for U.S.

Senate. I have no interest in the job. Over and over, unequivocally, he shut that door.

STEVE BULLOCK: I don't think D.C. works very well. I really think it's become a place

that's so hyperpartisan, and they have replaced

talking about an issue with doing something. So, I have had -- did have some reluctance.

ANNA RAU: The candidates have sharp disagreements

on issues key for Montana voters, from public lands.

STEVE BULLOCK: Senator Daines has cared about public lands for five months before an election.

SEN. STEVE DAINES: They call me the conservative conservationist.

ANNA RAU: To guns.

SEN. STEVE DAINES: You look at his track record, it's definitely

been a threat to the Second Amendment.

STEVE BULLOCK: As governor, I have expanded gun rights in Montana.

ANNA RAU: Recent polling shows the race is a dead

heat, with most polls putting the lead within the margin of error.

Despite the heated campaign, the two men have found common ground during the COVID-19 pandemic.

SEN. STEVE DAINES: I reached out and called Steve shortly after the pandemic hit,

just picked up the phone, called him directly on his cell phone, and just told him, I says,

this is a tough time, and you have got some tough decisions to make.

I just called and talked about schools and so forth, and just two Steves having a conversation.

STEVE BULLOCK: He gave me a call one day. And he didn't have to do that, actually said some

really nice things. And it was a conversation with the just two of us. And I appreciated that.

ANNA RAU: With early voting under way, the conversation expands to the voters,

who are set to decide which Steve they will send to the Senate.

For the "PBS NewsHour," I'm Anna Rau in Missoula, Montana.