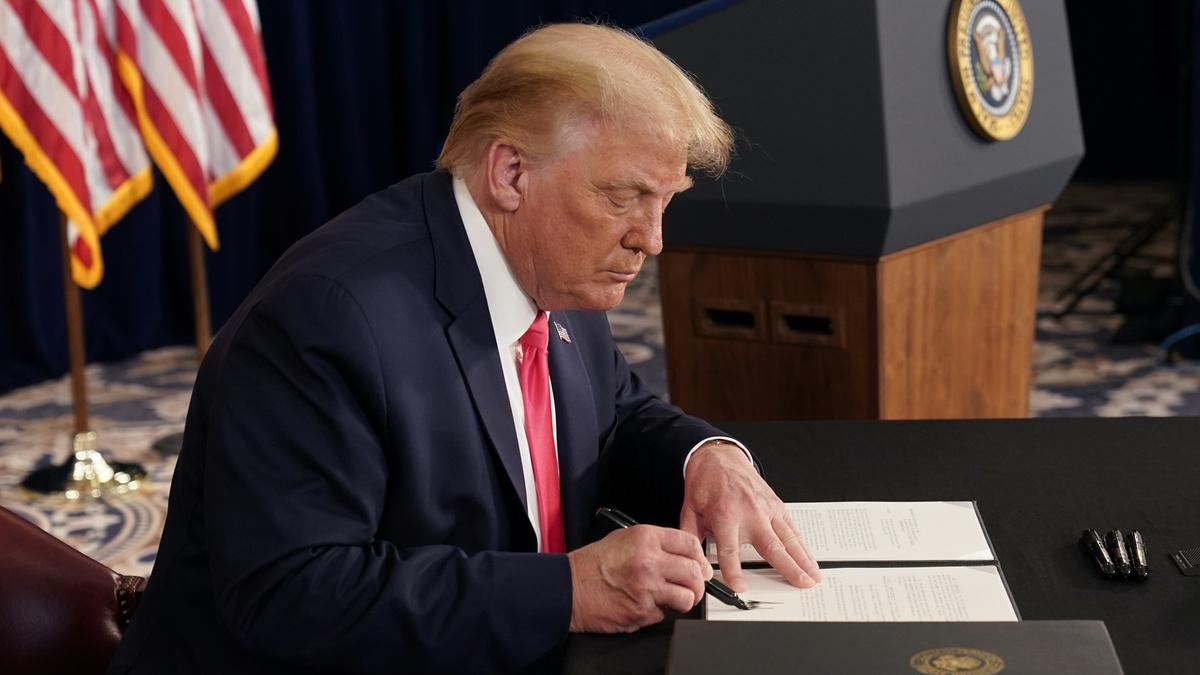 FULL EPISODE
August 9, 2020 - PBS NewsHour Weekend full episode
August 9, 2020 - PBS NewsHour Weekend full episode
TRANSCRIPT

>> Sreenivasan: ON THIS EDITION

FOR SUNDAY, AUGUST 9: QUESTIONS

ABOUT THE PRESIDENT'S POWERS

AFTER HIS EXECUTIVE ORDERS.

THE RISK OF SPEEDING UP THE

CENSUS COUNT.

SIX YEARS AFTER FERGUSON, THE

LEGACY OF MICHAEL BROWN'S

KILLING.

AND WHAT MAY BE THE END OF AN

ERA FOR POLITICAL CONVENTIONS.

NEXT ON "PBS NEWSHOUR WEEKEND."

>>PBS NEWSHOUR WEEKEND IS MADE

POSSIBLE BY:

SUE AND EDGAR WACHENHEIM III.

THE ANDERSON FAMILY FUND.

BERNARD AND DENISE SCHWARTZ.

THE CHERYL AND PHILIP MILSTEIN

FAMILY.

BARBARA HOPE ZUCKERBERG.

CHARLES ROSENBLUM.

WE TRY TO LIVE IN THE MOMENT,

TO NOT MISS WHAT'S RIGHT IN

FRONT OF US.

AT MUTUAL OF AMERICA, WE

BELIEVE TAKING CARE OF TOMORROW

CAN HELP YOU MAKE THE MOST OF

TODAY.

MUTUAL OF AMERICA FINANCIAL

GROUP, RETIREMENT SERVICES AND

INVESTMENTS.

>> FOR 25 YEARS, CONSUMER

CELLULAR HAS BEEN OFFERING

NO-CONTRACT WIRELESS PLANS,

DESIGNED TO HELP PEOPLE DO MORE

OF WHAT THEY LIKE.

OUR U.S.-BASED CUSTOMER SERVICE

TEAM CAN HELP FIND A PLAN THAT

FITS YOU.

TO LEARN MORE, VISIT

www.consumercellular.tv.

ADDITIONAL SUPPORT HAS BEEN

PROVIDED BY:

AND BY THE CORPORATION FOR

PUBLIC BROADCASTING, A PRIVATE

CORPORATION FUNDED BY THE

AMERICAN PEOPLE.

AND BY CONTRIBUTIONS TO YOUR

PBS STATION FROM VIEWERS LIKE

YOU.

THANK YOU.

>> Sreenivasan: GOOD EVENING AND

THANK YOU FOR JOINING US.

THE DAY AFTER PRESIDENT TRUMP

SIGNED FOUR DIFFERENT DOCUMENTS

ON COVID-19 ECONOMIC RELIEF,

BOTH CRITICS AND SUPPORTERS ARE

TRYING TO FIGURE OUT WHAT IS

POSSIBLE AND WHAT IS LEGAL.

DEMOCRATIC LEADERS CALLED THE

EXECUTIVE ACTIONS

UNCONSTITUTIONAL AND SAID THEY

WON'T PROVIDE NECESSARY RELIEF

TO AMERICANS.

SENATE MINORITY LEADER CHUCK

SCHUMER CRITICIZED THE

PRESIDENT'S PLAN TO PROVIDE $400

IN WEEKLY EMERGENCY UNEMPLOYMENT

BENEFITS-- $200 LESS THAN THE

BENEFIT THAT EXPIRED ONE WEEK

AGO.

STATES WOULD ALSO HAVE TO PAY

100 OF THOSE DOLLARS.

>> THIS IS AN UNWORKABLE PLAN.

MOST STATES WILL TAKE MONTHS TO

IMPLEMENT IT, BECAUSE IT'S

BRAND-NEW.

IT'S SORT OF PUT TOGETHER WITH

SPIT AND PASTE.

AND MANY STATES, BECAUSE THEY

HAVE TO CHIP IN $100, AND THEY

DON'T HAVE MONEY, WON'T DO IT.

>> Sreenivasan: YESTERDAY, THE

PRESIDENT SAID ONE OF THE ORDERS

WOULD PROVIDE A TEMPORARY

PAYROLL TAX CUT, WHICH HE SAID

WOULD BECOME PERMANENT AFTER THE

ELECTION.

>> IF I'M VICTORIOUS ON NOVEMBER

3, I PLAN TO FORGIVE THESE TAXES

AND MAKE PERMANENT CUTS TO THE

PAYROLL TAX, I'M GOING TO MAKE

THEM ALL PERMANENT.

>> Sreenivasan: THE EXECUTIVE

ORDER MR. TRUMP SIGNED DEFERS

PAYROLL TAXES, BUT DOES NOT CUT

THEM, MEANING EMPLOYERS AND

WORKERS COULD STILL BE

RESPONSIBLE FOR PAYING THEM

LATER.

PAYROLL TAXES HELP FUND SOCIAL

SECURITY AND MEDICARE, AND TODAY

WHITE HOUSE ECONOMIC ADVISOR

LARRY KUDLOW TRIED TO CLARIFY

WHAT THE PRESIDENT MEANT WHEN HE

SAID THE CUT WOULD BE PERMANENT.

>> WHEN HE REFERRED TO

PERMANENT, I THINK WHAT HE WAS

SAYING IS THAT THE DEFERRAL OF

THE PAYROLL TAX TO THE END OF

THE YEAR WILL BE MADE PERMANENT.

IT WILL BE FORGIVEN.

>> Sreenivasan: HOUSE SPEAKER

NANCY PELOSI SAID SHE HOPES THAT

THE WHITE HOUSE WILL COME BACK

TO THE NEGOTIATING TABLE AND DID

NOT COMMIT TO A LEGAL CHALLENGE.

>> RIGHT NOW, WE WANT TO ADDRESS

THE NEEDS OF THE AMERICAN

PEOPLE.

AS-- AS MY CONSTITUTIONAL

ADVISERS TELL ME THEY'RE

ABSURDLY UNCONSTITUTIONAL.

>> Sreenivasan: I SPOKE WITH

"POLITICO" REPORTER CAITLIN EMMA

WHO IS COVERING THE PRESIDENT'S

ACTIONS.

CAITLIN, WHEN WE SAW THE

PRESIDENT LAY OUT HIS EXECUTIVE

ORDERS YESTERDAY, ONE OF THE

FIRST QUESTIONS WAS, WHAT IS

WITHIN HIS RIGHTS AND HIS POWERS

TO DO VERSUS CONGRESS THAT

APPROVES SPENDING?

>> THESE EXECUTIVE ORDERS, AND I

THINK IT'S WORTH NOTING THAT

ACTUALLY ONLY ONE OF THEM IS AN

EXECUTIVE ORDER, THE REST WERE

MEMORANDUMS, IN A SENSE THEY

CARRY A LITTLE BIT LESS WEIGHT

IN THAT WAY.

BUT, YOU KNOW, CERTAINLY I THINK

WE'RE ALREADY SEEING SOME OF

THESE ORDERS, MEMOS, KIND OF IN

THE LEGAL CROSSHAIRS.

SO, IT IS CERTAINLY, THERE ARE

DEFINITELY A LOT OF QUESTIONS, I

GUESS, ABOUT THE LEGALITY OF

SOME OF THE THINGS THAT HE IS

PROPOSING HERE.

>> Sreenivasan: IN ONE OF THE

Q & A's WITH REPORTERS HE SAID

"WE HAVE GOT PLENTY OF MONEY

THAT WE HAVEN'T SPENT YET."

HOW MUCH MONEY ARE WE TALKING

ABOUT AND CAN IT FUND ALL OF THE

THINGS THAT WE'RE TRYING TO GET

FUNDED?

>> YOU KNOW, STATES HAVE ONLY

SPENT ABOUT A QUARTER OF THE

MONEY THAT THEY RECEIVED THROUGH

THE CARES ACT, WHICH WAS ABOUT

$150 BILLION.

AND THAT'S BECOME A POPULAR

REPUBLICAN TALKING POINT IN

THESE NEGOTIATIONS IN ARGUING

THAT MORE STATE AND LOCAL AID

ISN'T NECESSARY.

LOOK, ALL THESE STATES HAVE ALL

THIS MONEY THAT THEY HAVEN'T

SPENT.

BUT THAT REALLY VARIES WILDLY

ACROSS STATES.

AND A LOT OF THE MONEY THAT

HASN'T BEEN SPENT IS ALREADY

SPOKEN FOR IN THAT IT HAS BEEN

ALLOCATED FOR A SPECIFIC

PURPOSE.

SO, ASKING GOVERNORS TO PICK UP

ANY PART OF THE TAB FOR

UNEMPLOYMENT BENEFITS IS GOING

TO BE A VERY DIFFICULT ASK,

ESPECIALLY WHEN THEY SAY THAT

THEY ARE ALREADY GRAPPLING WITH

INADEQUATE LEVELS OF FEDERAL

AID.

>> Sreenivasan: FINALLY,

REGARDLESS OF WHAT NEGOTIATORS

IN WASHINGTON AGREE TO OR NOT,

WHAT THAT CHECK LEVEL IS, WHEN

DOES IT ACTUALLY GET TO PEOPLE

WHO RIGHT NOW MIGHT REALLY NEED

THAT $600 TO PAY RENT OR PAY FOR

FOOD?

>> IT'S REALLY UNCLEAR WHEN

THESE SUPPOSED PAYMENTS WOULD GO

OUT.

IT'S UNCLEAR HOW MANY STATES

WOULD BE ABLE TO PICK UP THE TAB

FOR THE REST OF THE $400 A WEEK

PAYMENT.

THIS IS A, IT'S A VERY UNCERTAIN

SITUATION AT THE MOMENT BOTH IN

TERMS OF LEGALITY AND WHEN SOME

OF THESE THING WOULD ACTUALLY

TAKE EFFECT TO POTENTIALLY HELP

PEOPLE.

>> Sreenivasan: CAITLIN EMMA

FROM "POLITICO," THANK YOU SO

MUCH FOR JOINING US.

>> THANK YOU.

>> Sreenivasan: AS POLITICAL

LEADERS GRAPPLE OVER ECONOMIC

RELIEF, THE UNITED STATES

REACHED A GRIM MILESTONE IN THE

CORONAVIRUS PANDEMIC.

THERE ARE NOW MORE THAN FIVE

MILLION CONFIRMED INFECTIONS IN

THE U.S.-- BY FAR THE MOST IN

THE WORLD.

THE DEATH TOLL IS NOW MORE THAN

162,000 ACCORDING TO RESEARCHERS

AT JOHNS HOPKINS UNIVERSITY.

THE NUMBER OF DAILY INFECTIONS

IS FALLING, ON AVERAGE, FROM

HIGHS EXPERIENCED IN MID-JULY.

GLOBALLY, THE NUMBER OF

CONFIRMED CASES IS APPROACHING

20 MILLION.

BUT THE VIRUS IS NOT SPREADING

EVERYWHERE.

TODAY, NEW ZEALAND MARKED 100

DAYS WITHOUT A DOMESTIC

TRANSMISSION OF CORONAVIRUS.

PRIME MINISTER JACINDA ARDERN

WARNED AGAINST COMPLACENCY, EVEN

AS MANY IN NEW ZEALAND HAVE

RETURNED TO NORMAL LIFE.

>> 100 DAYS IS A MILESTONE TO

MARK, BUT AGAIN, WE STILL NEED

TO BE VIGILANT REGARDLESS.

>> Sreenivasan: FIVE DAYS AFTER

A MASSIVE EXPLOSION IN BEIRUT,

INTERNATIONAL DONORS PLEDGED

TODAY TO HELP THE CITY RECOVER,

EVEN AS LEBANON DESCENDS INTO A

DEEPENING POLITICAL CRISIS.

AT AN EMERGENCY DONORS TELE-

CONFERENCE TODAY, ATTENDED BY

PRESIDENT TRUMP AND DOZENS OF

OTHER LEADERS, FRENCH PRESIDENT

EMMANUEL MACRON SAID WORLD

POWERS MUST PUT ASIDE THEIR

DIFFERENCES AND SUPPORT THE

LEBANESE PEOPLE WITH FINANCIAL

AID.

A TOP AMERICAN OFFICIAL SAYS THE

U.S. WILL PROVIDE $15 MILLION IN

ASSISTANCE.

THE PLEDGES OF ASSISTANCE COME A

DAY AFTER HUGE PROTESTS IN

BEIRUT.

YESTERDAY THOUSANDS SET FIRES

AND STORMED GOVERNMENT BUILDINGS

CARRYING NOOSES AND BANNERS

SAYING "RESIGN OR HANG."

PROTESTERS ACCUSE GOVERNMENT

OFFICIALS OF NEGLIGENCE AND

CORRUPTION, WHICH THEY BLAME FOR

THE EXPLOSION THAT INJURED

THOUSANDS AND KILLED MORE THAN

160 PEOPLE.

TODAY AFGHANISTAN OFFICIALS

AGREED TO RELEASE 400 "HARDCORE"

TALIBAN PRISONERS SIGNALLING THE

BEGINNING OF PEACE TALKS THAT

COULD END MORE THAN 19 YEARS OF

WAR IN THE COUNTRY.

AFGHAN PRESIDENT ASHRAF GHANI

ADRESSED THE COUNTRY'S GRAND

ASSEMBLY, WHICH APPROVED THE

RELEASE.

THE MOVE, SUPPORTED BY THE U.S.,

MEANS THE AFGHAN GOVERNMENT HAS

FULFILLED ITS PLEDGE TO RELEASE

5,000 TALIBAN PRISONERS.

THE PEACE DEAL SIGNED BY THE

TALIBAN AND THE U.S. IN FEBRUARY

CALLED FOR THIS RELEASE AND,

TODAY, THE TALIBAN WELCOMED THE

DECISION.

A SPOKESPERSON SAID TALKS COULD

BEGIN AS EARLY AS NEXT WEEK.

IN BELARUS TODAY, THE PRESIDENT

IS PROJECTED TO HAVE WON IN A

LANDSLIDE AFTER AN UNUSUALLY

CONTESTED ELECTION.

PRESIDENT ALEXANDER LUKASHENKO--

CALLED EUROPE'S LAST DICTATOR--

FACED ONE OF THE BIGGEST

CHALLENGES TO HIS 25-YEAR RULE.

SVETLANA TIKHANOUSKAYA EMERGED

AS A SURPRISING RIVAL, DECIDING

TO RUN AFTER HER HUSBAND WAS

BARRED FROM BEING A CANDIDATE

AND JAILED.

INTERNATIONAL OBSERVERS HAVE NOT

DEEMED THIS A FREE AND FAIR

ELECTION AND THERE ARE

ALLEGATIONS OF VOTE-RIGGING.

FOR THE LATEST ON THE ELECTIONS

IN BELARUS AND OTHER

INTERNATIONAL AND NATIONAL NEWS,

VISIT pbs.org/newshour.

>> Sreenivasan: SIX YEARS AGO

TODAY, MICHAEL BROWN, A YOUNG

UNARMED BLACK MAN, WAS SHOT AND

KILLED BY A POLICE OFFICER IN

THE STREETS OF FERGUSON,

MISSOURI.

THOUGH QUESTIONS STILL REMAIN

ABOUT WHAT HAPPENED THAT DAY,

THE PROTESTS AND THE MOVEMENT

THAT IT SPARKED HAVE CHANGED THE

COURSE OF CIVIL RIGHTS IN

THE U.S.

BRITTANY FERRELL IS A ST. LOUIS-

BASED ACTIVIST AND ORGANIZER FOR

THE POLITICAL ADVOCACY GROUP,

BLACK FUTURES LAB.

NEWSHOUR WEEKEND CORRESPONDENT

IVETTE FELICIANO SPOKE WITH HER

ABOUT THE FERGUSON PROTESTS AND

ABOUT HOW THE KILLING OF MICHAEL

BROWN LED US TO WHERE WE ARE

TODAY.

>> Reporter: FIRST OFF, I WANT

TO ASK YOU, YOU KNOW, TO

TAKE US BACK TO 2014.

HOW DID THE SHOOTING OF MICHAEL

BROWN INITIALLY IMPACT THE

FERGUSON COMMUNITY AND HOW DID

IT CHANGE YOUR LIFE?

>> I WAS ACTUALLY IN NEW YORK ON

A VACATION WITH SOME PEERS THAT

I WAS CURRENTLY AT THE TIME IN

UNDERGRAD WITH.

UM, I FOUND OUT ABOUT MIKE

BROWN'S MURDER WHEN I OPENED UP

TWITTER AND ANOTHER PEER OF MINE

WHO WAS HERE HAD TWEETED,

"FERGUSON POLICE DEPARTMENT JUST

SHOT AND KILLED AN UNARMED BLACK

BOY."

AND IT WAS THAT MOMENT THAT I

WAS JUST INSTANTLY GLUED TO MY

PHONE.

EVEN FROM HUNDREDS OF MILES

AWAY, THE GRIEF AND THE PAIN AND

THE ANGER THAT THE COMMUNITY WAS

FEELING WAS PALPABLE.

LIKE, IT WAS SO STRONG, YOU

KNOW, THE RESPONSE THAT FOLKS

HAD TO SUCH AN ATROCIOUS ACT OF

VIOLENCE.

THAT IS WHAT URGED ME TO BOOK MY

TRIP HOME THE VERY NEXT DAY.

IT ROCKED OUR COMMUNITIES.

IT ROCKED OUR COMMUNITIES.

AND WHEN-- WHEN PEOPLE HERE

GATHERED TO GRIEVE AND WHEN

FOLKS WERE MET WITH VIOLENCE,

THE RESPONSE TO THAT FROM THE

COMMUNITY, THE RESPONSE TO THE

POLICE VIOLENCE FROM THE

COMMUNITY WAS THAT WE'RE NOT

GOING TO LET YOU KILL US IN THE

STREET AND THEN TELL US THAT WE

CAN'T GRIEVE.

AND IT WAS THAT RESPONSE THAT

SENT THIS RIPPLE EFFECT AROUND

THE WORLD WHERE THIS CIVIL

RIGHTS MOVEMENT THAT WE ARE NOW

LIVING IN HAS EMERGED FROM.

>> Reporter: WHAT ARE YOUR

THOUGHTS ABOUT HOW THE MEDIA

COVERED THE PROTESTS?

YOU KNOW, MANY PEOPLE OUTSIDE OF

FERGUSON SAW IMAGES OF FIRES AND

DESTRUCTION TO PROPERTY AND

VIEWED THE PROTESTS LARGELY AS

RIOTS.

YOU KNOW, HOW IS THAT DIFFERENT

FROM WHAT YOU SAW AND

EXPERIENCED ON THE GROUND?

>> YOU KNOW, THE FRAMING OF OUR

MOVEMENT, THE FRAMING OF OUR

UPRISING AT THAT TIME, IT REALLY

PUT-- IT-- THEY NEEDED TO

CONTROL THE NARRATIVE.

SO, IN ORDER TO DO THAT, THEY

PIT THE PROTESTERS, PEACEFUL

DEMONSTRATORS, FOLKS WHO WERE

HAVING VIGILS, WHO WERE MET WITH

VIOLENCE, AS-- AS THE RIOTERS,

AS THE LOOTERS, AS THE DANGEROUS

ONES.

AND THE POLICE WERE FRAMED AS

BEING HEROIC, TRYING TO SAVE THE

COMMUNITY, TRYING TO SAVE THE

COMMUNITY FROM DESTROYING THEIR

OWN COMMUNITY.

IT WAS VERY CLEAR WHAT THEY WERE

TRYING TO DO.

WE SEE IT TODAY, RIGHT, WHEN

DONALD TRUMP, UM, HE CALLS THE

PROTESTERS RIOTERS AND LOOTERS--

LOOTERS.

IT'S A VERY IMPORTANT PART OF

HIS MESSAGE BECAUSE IT GIVES

VALIDATION TO THE FACT THAT

FEDERAL AGENTS GET TO SNATCH

PEOPLE OFF THE STREETS AND NO

ONE SHOULD BE CONCERNED

ABOUT IT.

LIKE, IT'S A REPETITIVE THEME

THAT I BELIEVE THE MEDIA IN THE

PAST HAS USED A LOT, AND THAT

PEOPLE GET TO HOLD ON TO, TO

CONTINUE TO PERPETUATE THIS--

THIS NARRATIVE THAT POLICE ARE

NECESSARY, VIOLENCE AGAINST

PROTESTERS IS NECESSARY BECAUSE

ALL THEY DO IS RIOT AND LOOT,

THERE'S NO PURPOSE IN-- FOR THEM

BEING OUT IN THE STREETS.

AND THAT'S JUST INACCURATE.

AND I'M ACTUALLY VERY HAPPY TO

SEE NOW, SIX YEARS LATER, THAT

PEOPLE ARE BEGINNING TO SEE HOW

INACCURATE THAT ACTUALLY IS.

>> Reporter: BACK IN 2014,

FORMER OFFICER-- POLICE OFFICER

DARREN WILSON WAS NOT INDICTED

FOR MICHAEL BROWN'S KILLING AND

HE WAS CLEARED OF ANY CIVIL

RIGHTS VIOLATIONS.

WHAT IMPACT DID THAT HAVE ON

YOUR ACTIVISM AND ON THE

NATIONAL MOVEMENT THAT WAS

SPARKED BY THIS INCIDENT?

>> I-- I FELT LIKE A SENSE OF

RAGE AND ANGER AND DEEP SADNESS

AND GRIEF ALL AT THE SAME TIME.

AND IT WAS IN THAT MOMENT THAT I

KNEW FOR THE REST OF MY LIFE MY

WORK WAS GOING TO BE GEARED

TOWARDS FIGHTING FOR THE JUSTICE

AND DIGNITY AND POWER FOR BLACK

COMMUNITIES.

AND I HAVE BEEN ON THAT SAME

TRAJECTORY SINCE THEN.

EVER SINCE THE NON-INDICTMENT

CAME OUT IN NOVEMBER OF 2014,

FOLKS HERE AND, I WOULD-- I

WOULD FEEL SAFE TO SAY AROUND

THE GLOBE HAVE NOT-- HAVE NOT

STOPPED MOBILIZING, HAVE NOT

STOPPED MOVING IN PURSUIT OF

JUSTICE FOR BLACK PEOPLE IN THIS

COUNTRY.

>> Reporter: WE'RE ONCE AGAIN IN

A PERIOD OF WIDESPREAD PROTESTS

SURROUNDING THE KILLINGS OF

UNARMED BLACK PEOPLE BY THE

POLICE.

YOU KNOW, SIX YEARS LATER, WHY

ARE WE BACK HERE AGAIN?

IS THERE ANYTHING ABOUT THIS

MOMENT THAT FEELS DIFFERENT TO

YOU?

>> YES.

THIS MOMENT, IT FEELS DIFFERENT,

DEFINITELY.

WE HAVE SHIFTED IN HOW WE

INTERROGATE POWER OVER THE PAST

SIX YEARS AND WE HAVE ALSO BEGUN

TO REIMAGINE JUSTICE.

IT'S NO LONGER, "ARREST THE COPS

THAT KILLED BREONNA TAYLOR."

IT'S ALSO "DEFUND THE POLICE AND

INVEST MONEY INTO COMMUNITIES

THAT NEED THAT TYPE OF

INVESTMENT, BLACK COMMUNITIES.

INVEST IN THINGS TO HELP BLACK

PEOPLE THRIVE."

>> Reporter: HOW DO YOU SUSTAIN

A MOVEMENT SUCH AS BLACK LIVES

MATTER?

WHAT MORE NEEDS TO HAPPEN TO

TRULY SHIFT POLICY AND PEOPLE'S

CONSCIOUSNESS?

>> I BELIEVE THAT THIS MOVEMENT

IS GOING TO CONTINUE MOVING

FORWARD BECAUSE WE-- WE HAVE TO.

WE HAVE TO.

WE KNOW THAT THE ONLY OTHER

OPTION AT THIS POINT, WHAT IT

LOOKS LIKE, IS WE ARE ON THE

PATHWAY TO A DICTATORSHIP.

AMERICA IS FALLING INTO FASCISM.

IS THAT WHAT WE WANT FOR OUR

COUNTRY?

ABSOLUTELY NOT.

I THINK THAT WE HAVE NO OTHER

CHOICE BUT TO ORGANIZE AROUND

THE MESSAGE BLACK LIVES MATTER,

BECAUSE WE KNOW THAT IF BLACK

FOLKS HAVE JUSTICE IN THIS

COUNTRY, EVERYBODY HAS JUSTICE

IN THIS COUNTRY.

>> Reporter: BRITTANY FERRELL OF

BLACK FUTURES LAB, THANK YOU SO

MUCH FOR JOINING US.

>> THANK YOU.

>> Sreenivasan: THIS PAST WEEK

THE U.S. CENSUS BUREAU SUDDENLY

ANNOUNCED THAT IT WILL END ALL

COUNTING FOR THE 2020 CENSUS ON

SEPTEMBER 30, A FULL MONTH

EARLIER THAN SCHEDULED.

THE CRITICAL COUNT REQUIRES THAT

ALL PEOPLE LIVING IN THE U.S. BE

COUNTED AND EFFORTS TO GET

RESPONSES ARE BEING SLOWED DOWN

DURING THE CORONAVIRUS PANDEMIC.

I SPOKE WITH NPR REPORTER HANSI

LO WANG EARLIER THIS WEEK ABOUT

THE CENSUS COUNT AND THE

DECISION TO MOVE UP THE

DEADLINE.

HANSI, WHAT DOES A SHORTENED

AMOUNT OF DAYS THAT THE CENSUS

BUREAU WILL KNOCK ON DOORS MEAN?

>> THIS MEANS THE CENSUS BUREAU

HAS EVEN LESS TIME THAN IT WAS

TRYING TO REALLY FINISH THE

COUNT OF EVERY PERSON LIVING IN

THE COUNTRY.

NOW, RIGHT NOW, ROUGHLY FOUR OUT

OF TEN HOUSEHOLDS NATIONWIDE

HAVE NOT BEEN COUNTED YET.

AND THESE REMAINING HOUSEHOLDS

ARE WHAT THE CENSUS BUREAU

CONSIDERS THE HARDEST TO COUNT.

THESE ARE POPULATIONS THAT HAVE

BEEN HISTORICALLY UNDERCOUNTED.

THEY INCLUDE PEOPLE OF COLOR,

RENTERS, RURAL RESIDENTS, GROUPS

THAT ARE NOT LIKELY TO FILL OUT

A FORM ON THEIR OWN.

AND THAT'S WHY THIS DOOR

KNOCKING, THAT'S ABOUT TO ROLL

OUT NATIONWIDE NEXT WEEK, THAT

DOOR KNOCKING IS SO CRITICAL TO

MAKING SURE THAT NO ONE IS LEFT

OUT AND NO RESIDENT IS LEFT OUT

OF THE COUNT.

>> Sreenivasan: NOW, THAT'S HARD

ENOUGH AS IT IS.

LAY ON TOP OF THAT, A PANDEMIC

WHERE PEOPLE ARE SCARED TO BE

WITHIN A FEW FEET OF ONE

ANOTHER.

>> DOOR KNOCKING IS THE LARGEST,

MOST EXPENSIVE OPERATION BECAUSE

IT IS REALLY HARD WORK AND

TRYING TO DO IT WHILE SOCIALLY

TRYING, TRYING TO KEEP SOCIAL

DISTANCE, THAT'S VERY HARD.

AND, I MEAN, THE P.P.E. AND

TRYING TO OVERCOME PEOPLE,

PEOPLE'S PUBLIC HEALTH CONCERNS.

BUT NOW TO DO THAT IN A SHORT

AMOUNT OF TIME, IN THE MIDDLE OF

HURRICANE SEASON, AS WELL AS

WEEKS AFTER THE TRUMP

ADMINISTRATION, AFTER PRESIDENT

TRUMP ISSUED A MEMO CALLING FOR

UNAUTHORIZED IMMIGRANTS TO BE

EXCLUDED FROM NOT THE CENSUS IN

GENERAL, BUT SPECIFICALLY FROM

THE CENSUS NUMBERS USED TO

REAPPORTION SEATS IN CONGRESS,

THAT'S CAUSING A LOT OF

CONFUSION.

A LOT OF OUTREACH CAMPAIGNS ARE

SAYING CONFUSION AMONG FOLKS,

EVEN THOUGH THE CONSTITUTION

SAYS THAT COUNTING OF THE WHOLE

NUMBER OF PERSONS IN EACH STATE,

THAT'S THE NUMBER THAT SHOULD BE

USED TO REAPPORTION SEATS IN

CONGRESS.

AND EVEN THOUGH THERE ARE

FEDERAL LAWS THAT SAY A PERSON'S

PERSONALLY IDENTIFIABLE

INFORMATION CANNOT BE USED

AGAINST THEM BY ANY FEDERAL

AGENCY OR IN COURT.

>> Sreenivasan: SO, YOU KNOW,

YOU HAVE BEEN FOLLOWING THIS

BEAT FOR QUITE SOME TIME NOW,

AND THERE WAS THIS SORT OF DRAMA

ABOUT THE CITIZENSHIP QUESTION.

THEN, OBVIOUSLY, CAME THE

PANDEMIC.

AND HERE WE ARE THINKING ABOUT

APPORTIONMENT.

WHAT KIND OF POWER DOES THAT

LEAVE IN THE HANDS OF THE

PRESIDENT, EVEN IF HE WERE TO

LOSE THIS ELECTION?

>> FIRST THING I THINK IT SHOULD

BE VERY CLEAR, THERE IS NO

CITIZENSHIP QUESTION ON THE 2020

CENSUS.

THE FEDERAL COURTS HAVE BLOCKED

THAT FROM BEING ADDED TO THE

FORMS.

HOWEVER, THE TRUMP

ADMINISTRATION HAS MOVED FORWARD

WITH THIS MEMO CALLING FOR THE

COMMERCE SECRETARY TO TRY TO

FIGURE OUT A WAY TO EXCLUDE

UNAUTHORIZED IMMIGRANTS IN THE

APPORTIONMENT COUNT.

AND, YOU KNOW, HERE'S ONE THING

TO KEEP IN MIND HERE: BY NOT

EXTENDING THE COUNTING, BY NOT

EXTENDING THE DEADLINES FOR

REPORTING THE CENSUS RESULTS,

WHAT THIS MEANS IS THAT BY THE

END OF THIS YEAR, UNDER FEDERAL

LAW, THE PRESIDENT WILL RECEIVE

THE LATEST STATE POPULATION

COUNTS.

THAT IS WHAT THE CENSUS BUREAU

RIGHT NOW IS WORKING TOWARDS.

AND THOSE ARE THE STATES, THOSE

STATE POPULATION COUNTS, THOSE

ARE THE NUMBERS THAT PRESIDENT

TRUMP, WHO HIS MEMO SAYS HE

WANTS TO EXCLUDE UNAUTHORIZED

IMMIGRANTS FROM.

>> Sreenivasan: THE CENSUS HAS

TO BE COMPLETED BY A CERTAIN

TIME, RIGHT?

SO, IF THIS DOES NOT GO WELL, IS

THERE SOME SORT OF STATISTICAL

THRESHOLD WHERE THE CENSUS

TAKERS CAN JUST SAY, LOOK, WE

ACTUALLY DON'T HAVE AN ACCURATE

PICTURE OF WHO'S IN THIS COUNTRY

BEYOND A REASONABLE DOUBT AND WE

KIND OF NEED A DO-OVER.

>> THAT'S A BIG OPEN QUESTION AT

THIS POINT.

THE CENSUS BUREAU DOESN'T HAVE

NECESSARILY DEADLINES TO SET--

DOESN'T HAVE SET LEGAL DEADLINES

FOR ENDING OF COUNTING, BUT IT

DOES HAVE REPORTING DEADLINES.

AND DECEMBER 31 IS THAT KEY

DEADLINE.

AND THE QUESTION IS, DOES THE

CENSUS BUREAU HAVE ENOUGH TIME

TO FINISH A COUNT AND ALSO HAVE

ENOUGH TIME TO PROCESS ALL THOSE

RESULTS TO MAKE SURE THAT THERE

AREN'T DUPLICATE RESULTS AND DO

ANY TYPE OF CLEANING NECESSARY

TO MAKE SURE THIS IS THE MOST

ACCURATE DATA SET POSSIBLE.

AND THE BIG QUESTION IS ALSO IS,

ARE THERE GOING TO BE ENOUGH

INDICATORS AND METRICS FOR THE

CENSUS BUREAU AS WELL AS OUTSIDE

RESEARCHERS TO REALLY MAKE THAT

ASSESSMENT OF HOW GOOD IS THE

2020 CENSUS?

HOW GOOD ARE THESE RESULTS?

>> Sreenivasan: NPR'S HANSI LO

WANG JOINING US FROM NEW YORK.

THANKS SO MUCH.

>> YOU'RE WELCOME, HARI.

>> Sreenivasan: BEFORE THE

CORONAVIRUS PANDEMIC CHANGED

EVERYTHING, THE SUMMER OF 2020

WAS GOING TO BE THE TIME OF THE

TRADITIONAL DAYS-LONG NATIONAL

POLITICAL CONVENTIONS.

BUT AS NEWSHOUR WEEKEND SPECIAL

CORRESPONDENT JEFF GREENFIELD

REPORTS, THE CONVENTIONS WERE

ALREADY FADING FROM THE

SPOTLIGHT AND THEIR HISTORIC

ROLE YEARS BEFORE COVID-19.

>> THE STRANGEST SOUND YOU WILL

BE HEARING THIS MONTH IS THE

SOUND OF SILENCE.

THERE WILL BE NO THRONGS OF

DEMOCRATS CHEERING THE

NOMINATION OF JOE BIDEN IN

MILWAUKEE; NO CROWDS OF

REPUBLICANS CELEBRATING

PRESIDENT TRUMP IN CHARLOTTE,

NORTH CAROLINA.

NOR IN JACKSONVILLE, FLORIDA,

WHERE THE REPUBLICANS PLANNED TO

DECAMP, THE BETTER TO HOLD A

MORE TRADITIONAL CONVENTION.

THE PERSISTENCE OF THE COVID-19

PANDEMIC HAS FORCED BOTH PARTIES

TO ABANDON AN EVENT THAT HAS

BEEN A MAINSTAY OF AMERICAN

POLITICS FOR CLOSE TO TWO

CENTURIES: THE NATIONAL

NOMINATING CONVENTION.

BUT IN A LARGER SENSE,

CONVENTIONS HAVE BEEN ON

SOMETHING CLOSE TO LIFE SUPPORT

FOR DECADES.

FROM THE FIRST GATHERINGS IN

1831, THROUGH CIVIL WARS AND

WORLD WARS, THROUGH PROSPERITY

AND DEPRESSIONS, THIS IS HOW

AMERICA'S POLITICAL PARTIES HAVE

CHOSEN THEIR CANDIDATES, AND

BATTLED OVER THE MOST

SIGNIFICANT OF ISSUES.

IT'S WHERE IN 1912, FORMER

PRESIDENT THEODORE ROOSEVELT

CHALLENGED HIS SUCCESSOR,

PRESIDENT WILLIAM HOWARD TAFT,

FOR THE NOMINATION, THEN LED HIS

SUPPORTERS INTO A THIRD PARTY.

IT'S WHERE, IN 1924, DEMOCRATS

BATTLED FOR 103 BALLOTS BEFORE

CHOOSING A CANDIDATE-- AND WHERE

THEY FOUGHT OVER PROHIBITION,

IMMIGRATION AND WHETHER TO

CONDEMN THE KU KLUX KLAN.

IT'S WHERE, IN 1948, DEMOCRATS

EMBRACED THE CAUSE OF CIVIL

RIGHTS AFTER A ROUSING SPEECH BY

HUBERT HUMPHREY.

>> THE TIME HAS ARRIVED IN

AMERICA FOR THE DEMOCRATIC PARTY

TO GET OUT OF THE SHADOWS OF

STATE'S RIGHTS, AND TO WALK

FORTHRIGHTLY INTO THE BRIGHT

SUNSHINE OF HUMAN RIGHTS.

(CHEERS AND APPLAUSE )

>> AND WHERE SOUTHERNERS WALKED

OUT, AND LAUNCHED A

SEGREGATIONIST THIRD PARTY THAT

ALMOST COST HARRY TRUMAN THE

WHITE HOUSE.

BUT IT WAS THE ARRIVAL OF

TELEVISION THAT BROUGHT

CONVENTIONS INTO MILLIONS OF

AMERICAN HOMES, COMPLETE WITH

FURIOUS CONFLICTS RHETORICAL AND

PHYSICAL.

IN 1952, WITH FIGHTS OVER

DUELING DELEGATE SLATES, AND AN

ANGRY DENUNCIATION BY ILLINOIS

SENATOR EV DIRKSEN OF THE

PARTY'S LAST NOMINEE, NEW YORK

GOVERNOR TOM DEWEY.

>> AND WE FOLLOWED YOU BEFORE,

AND YOU TOOK US DOWN THE ROAD TO

DEFEAT!

>> OR THE 1968 DEMOCRATIC

CONVENTION IN CHICAGO, WHERE

VIOLENT CLASHES IN THE STREETS

LED TO A FRONTAL BLAST AT

CHICAGO MAYOR RICHARD DALEY.

>> AND WITH GEORGE McGOVERN AS

PRESIDENT OF THE UNITED STATES,

WE WOULDN'T HAVE TO HAVE

GESTAPO-STYLE TACTICS IN THE

STREETS OF CHICAGO!

(CHEERS AND APPLAUSE )

>> AND WHERE A PRESS CREDENTIAL

WAS NO PROTECTION.

>> BUT DON'T PUSH ME.

TAKE YOUR HANDS OFF OF ME UNLESS

YOU PLAN TO ARREST ME!

>> AND EVEN WITHOUT SUCH HIGH

DRAMA, CONVENTIONS WERE OFTEN

FILLED WITH POLITICAL SUSPENSE.

WOULD GEORGE McGOVERN GET TO

KEEP ALL HIS DELEGATES FROM

CALIFORNIA IN 1972, THE KEY TO

HIS NOMINATION?

WOULD RONALD REAGAN FOUR YEARS

LATER SUCCEED IN UNSEATING

PRESIDENT GERALD FORD?

WOULD TED KENNEDY MANAGE TO KEEP

HIS NOMINATION HOPES ALIVE WITH

A PARLIAMENTARY MANEUVER?

BUT THAT 1980 CONVENTION WAS THE

LAST GASP OF ANYTHING

APPROACHING SUSPENSE.

THE PRIMARIES HAD ALREADY BECOME

THE WAY THE GREAT MAJORITY OF

DELEGATES WERE ELECTED.

NO MORE BROKERS IN SMOKE-FILLED

ROOMS PICKING A NOMINEE; NO

SECOND OR THIRD BALLOTS WHERE

ALLIANCES WERE FORMED OR BROKEN.

THERE HASN'T BEEN A SECOND

BALLOT FOR A PRESIDENTIAL

NOMINATION SINCE 1952.

AND EVERY FOUR YEARS, PUNDITS

PROCLAIM THAT, THIS TIME, THERE

WILL BE A REAL CONTESTED

CONVENTION, ONLY TO WATCH THE

NOMINATION WRAPPED UP WEEKS OR

MONTHS BEFORE THE CONVENTION

BEGINS.

THAT FACT, IN TURN, HAS MADE

CONVENTIONS MUCH LESS APPEALING

TO AUDIENCES, AND TO TV

NETWORKS.

THE MULTI-MILLION INVESTMENT IN

SKY BOOTHS, AND AN ARMY OF

REPORTERS AND TECHNICIANS, HAS

BEEN SCALED BACK IN RECENT

YEARS, AND THE MAJOR BROADCAST

NETWORKS DEVOTE LESS THAN AN

HOUR A NIGHT TO THE PROCEEDINGS.

THERE ARE NO CHALLENGES TO THE

RULES OR THE PLATFORM, OR THE

CREDENTIALS OF DELEGATES.

ABOUT THE ONLY CHANCE FOR

SURPRISE IS WHEN AN OBSCURE

FIGURE SUDDENLY EMERGES INTO

PROMINENCE; LIKE THIS KEYNOTE

SPEAKER FROM 2004.

>> THERE IS NOT A LIBERAL

AMERICA, AND A CONSERVATIVE

AMERICA, THERE IS THE UNITED

STATES OF AMERICA!

(CHEERS AND APPLAUSE )

>> FOUR YEARS AGO, THE ONLY

REMOTELY UNSCRIPTED MOMENT CAME

WHEN SENATOR TED CRUZ DID NOT

ENDORSE DONALD TRUMP, AND WAS

ROUNDLY BOOED FOR IT.

>> FREEDOM MATTERS, AND I WAS

PART OF SOMETHING BEAUTIFUL.

(MIXED CROWD REACTION )

>> NOW, THE PANDEMIC MAY HAVE

ANSWERED THE QUESTION MANY HAVE

BEEN ASKING FOR DECADES: DO WE

REALLY NEED FOUR DAYS OF

METICULOUSLY SCRIPTED PAGEANTRY?

IS THERE A POINT TO AN EVENT

WHICH-- LIKE MAIN STREET AT

DISNEY WORLD-- CREATES AN

ESSENTIALLY ARTIFICIAL REALITY?

OR DO WE NEED TO KEEP THE

CONVENTIONS ALIVE ON THE CHANCE

THAT SOME YEAR, SOME DECADE, AN

UNRESOLVED PRIMARY FIGHT MAY

ACTUALLY HAVE TO BE RESOLVED

ON THE CONVENTION FLOOR?

>> Sreenivasan: FINALLY, TODAY

MARKS THE 75th ANNIVERSARY OF

THE ATOMIC BOMBING OF NAGASAKI,

JAPAN.

(BELL RINGING )

AT EXACTLY 11:02 LOCAL TIME,

BELLS RANG OUT.

THAT'S THE MOMENT THAT AN

AMERICAN B-29 BOMBER DROPPED A

10,000 POUND PLUTONIUM BOMB ON

THE CITY, KILLING AN ESTIMATED

70,000 PEOPLE.

THAT WAS THREE DAYS AFTER THE

NUCLEAR BOMB DROPPED ON THE CITY

OF HIROSHIMA.

WITHIN A WEEK, ON AUGUST 15,

1945, JAPAN SURRENDERED, ENDING

WORLD WAR II.

THAT'S ALL FOR THIS EDITION OF

"PBS NEWSHOUR WEEKEND."

FOR THE LATEST NEWS UPDATES

VISIT pbs.org/newshour.

I'M HARI SREENIVASAN.

THANKS FOR WATCHING.

STAY HEALTHY AND HAVE A GOOD

NIGHT.

>>PBS NEWSHOUR WEEKEND IS MADE

POSSIBLE BY:

SUE AND EDGAR WACHENHEIM III.

THE ANDERSON FAMILY FUND.

BERNARD AND DENISE SCHWARTZ.

THE CHERYL AND PHILIP MILSTEIN

FAMILY.

BARBARA HOPE ZUCKERBERG.

CHARLES ROSENBLUM.

WE TRY TO LIVE IN THE MOMENT,

TO NOT MISS WHAT'S RIGHT IN

FRONT OF US.

AT MUTUAL OF AMERICA, WE

BELIEVE TAKING CARE OF TOMORROW

CAN HELP YOU MAKE THE MOST OF

TODAY.

MUTUAL OF AMERICA FINANCIAL

GROUP, RETIREMENT SERVICES AND

INVESTMENTS.

ADDITIONAL SUPPORT HAS BEEN

PROVIDED BY:

CONSUMER CELLULAR.

AND BY:

AND BY THE CORPORATION FOR

PUBLIC BROADCASTING, A PRIVATE

CORPORATION FUNDED BY THE

AMERICAN PEOPLE.

AND BY CONTRIBUTIONS TO YOUR

PBS STATION FROM VIEWERS LIKE

YOU.

THANK YOU.