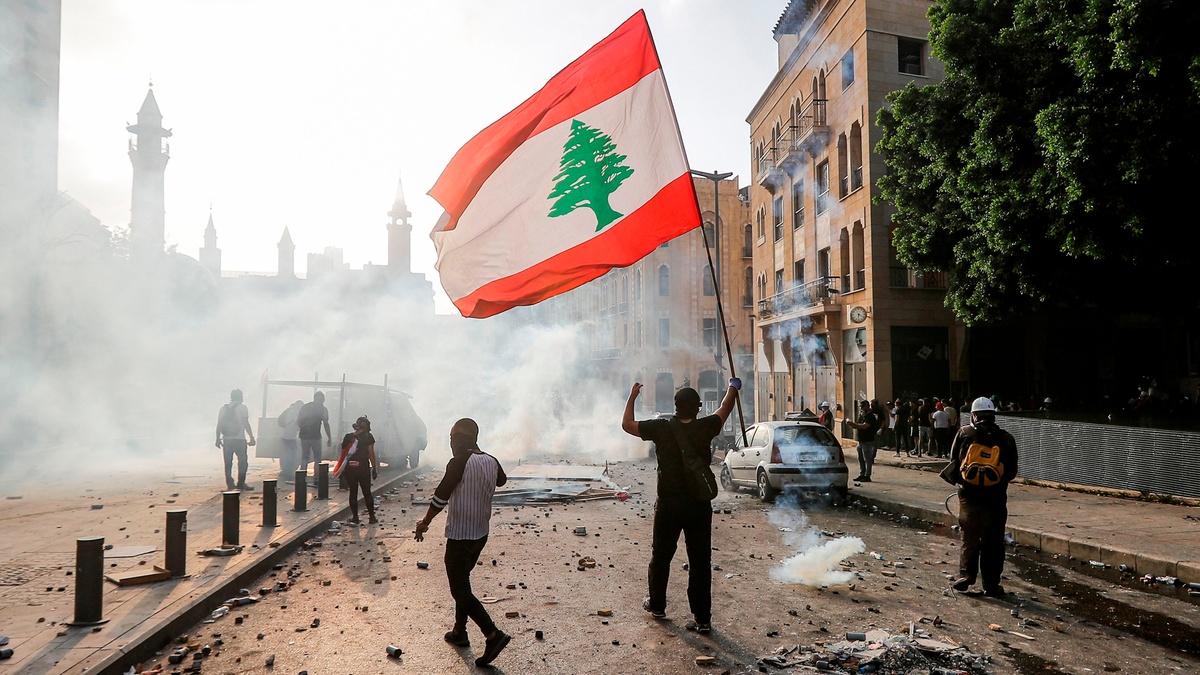 FULL EPISODE
August 8, 2020 - PBS NewsHour Weekend full episode
August 8, 2020 - PBS NewsHour Weekend full episode
TRANSCRIPT

>> Sreenivasan: ON THIS EDITION

FOR SATURDAY, AUGUST 8: THE

PRESIDENT WEIGHS IN ON COVID-19

ECONOMIC RELIEF; INTERNATIONAL

AID AND RECOVERY EFFORTS IN

BEIRUT; AND RUSSIA KEEPS A CLOSE

EYE ON AN ELECTION IN BELARUS.

NEXT ON PBS NEWSHOUR WEEKEND.

>>PBS NEWSHOUR WEEKEND IS MADE

POSSIBLE BY:

SUE AND EDGAR WACHENHEIM III.

THE ANDERSON FAMILY FUND.

BERNARD AND DENISE SCHWARTZ.

THE CHERYL AND PHILIP MILSTEIN

FAMILY.

BARBARA HOPE ZUCKERBERG.

CHARLES ROSENBLUM.

WE TRY TO LIVE IN THE MOMENT,

TO NOT MISS WHAT'S RIGHT IN

FRONT OF US.

AT MUTUAL OF AMERICA, WE

BELIEVE TAKING CARE OF TOMORROW

CAN HELP YOU MAKE THE MOST OF

TODAY.

MUTUAL OF AMERICA FINANCIAL

GROUP, RETIREMENT SERVICES AND

INVESTMENTS.

ADDITIONAL SUPPORT HAS BEEN

PROVIDED BY:

CONSUMER CELLULAR.

AND BY:

AND BY THE CORPORATION FOR

PUBLIC BROADCASTING, A PRIVATE

CORPORATION FUNDED BY THE

AMERICAN PEOPLE.

AND BY CONTRIBUTIONS TO YOUR

PBS STATION FROM VIEWERS LIKE

YOU.

THANK YOU.

>> Sreenivasan: GOOD EVENING,

AND THANK YOU FOR JOINING US.

WITH TALKS BETWEEN THE WHITE

HOUSE AND DEMOCRATS STALLED OVER

A NEW CORONAVIRUS AID PACKAGE,

PRESIDENT TRUMP TOOK MATTERS

INTO HIS OWN HANDS TODAY,

ISSUING EXECUTIVE ORDERS.

LATE THIS AFTERNOON, AT HIS GOLF

RESORT IN NEW JERSEY, THE

PRESIDENT ANNOUNCED THAT PAYROLL

TAXES AND STUDENT LOANS WOULD BE

DEFERRED THROUGH THE END OF THE

YEAR, AN EVICTION MORATORIUM

WOULD BE EXTENDED, AND HE WOULD

DIVERT UNSPENT MONEY FROM AN

EARLIER RELIEF BILL AND FROM

FEMA TO EXTEND FEDERAL

UNEMPLOYMENT INSURANCE PAYMENTS.

>> IT'S $400 PER WEEK, AND WE'RE

DOING THAT WITHOUT THE

DEMOCRATS.

WE SHOULD HAVE BEEN ABLE TO DO

IT VERY EASILY WITH THEM, BUT

THEY WANTED ALL OF THESE

ADDITIONAL THINGS THAT HAVE

NOTHING TO DO WITH HELPING

PEOPLE.

>> Sreenivasan: STATES WILL HAVE

TO CONTRIBUTE 25% OF THE COST,

AND THE EXTENSION WILL BE

VOLUNTARY FOR THOSE STATES.

ENHANCED FEDERAL UNEMPLOYMENT

BENEFITS EXPIRED A WEEK AGO.

THE $600 PAYMENTS HAVE BEEN A

MAJOR POINT OF CONTENTION

BETWEEN THE WHITE HOUSE AND

DEMOCRATIC LEADERS WORKING ON A

DEAL.

MR. TRUMP DEFENDED PROVIDING

UNEMPLOYED PEOPLELESS MONEY

THAN THEY WERE RECEIVING IN THE

PREVIOUS RELIEF LEGISLATION.

>> THIS GIVES THEM A GREAT

INCENTIVE TO GO BACK TO WORK.

SO, THIS WAS MUCH MORE THAN WAS

ORIGINALLY AGREED.

THE 600 WAS A NUMBER THAT WAS

THERE.

AND, AS YOU KNOW, THERE WERE--

THERE WAS DIFFICULTY WITH THE

600 NUMBER BECAUSE IT REALLY WAS

A DISINCENTIVE.

>> Sreenivasan: THE MONEY HAS

NOT BEEN A DISINCENTIVE,

ACCORDING TO FINDINGS BY BOTH

ECONOMISTS AT YALE AS WELL AS

THE CHICAGO FEDERAL RESERVE

BOARD.

IN A CALL WITH REPORTERS TODAY,

SPEAKER NANCY PELOSI SAID THE

EXECUTIVE ORDERS DON'T MAKE MUCH

OF A DIFFERENCE AND URGED THE

ADMINISTRATION TO COME BACK TO

THE NEGOTIATION TABLE.

SENIOR ADMINISTRATION OFFICIALS

SAID THEY ARE EXPECTING LEGAL

CHALLENGES AS CONGRESS CONTROLS

FEDERAL SPENDING, WHICH COULD

LEAD TO DELAYS IN

IMPLEMENTATION.

MR. TRUMP ALSO MENTIONED THE

PAYCHECK PROTECTION PROGRAM,

WHICH GIVES POTENTIALLY

FORGIVABLE LOANS TO SMALL

BUSINESSES.

TODAY IS THE DEADLINE FOR

APPLYING FOR THAT PROGRAM.

AS OF THURSDAY, MORE THAN

$520 BILLION HAVE BEEN APPROVED

FOR MORE THAN FIVE MILLION

BUSINESSES.

THE PROGRAM HAS ABOUT

$130 BILLION LEFT IN

APPROPRIATED FUNDS.

A FEDERAL MORATORIUM ON

EVICTIONS EXPIRED TWO WEEKS AGO.

DEMOCRATIC LEADERS HAVE SAID

THAT MR. TRUMP COULD EXTEND THE

MORATORIUM THROUGH EXECUTIVE

ACTION BUT HAVE ALSO SAID IT'S

OF LIMITED USE WITHOUT RENTAL

ASSISTANCE.

WE WILL HAVE MORE ON THE

EVICTIONS MORATORIUM AFTER THE

NEWS SUMMARY.

CORONAVIRUS CONTINUES TO SPREAD

THROUGHOUT THE WORLD.

THERE ARE NOW MORE THAN

19 MILLION CONFIRMED CASES IN

188 COUNTRIES, ACCORDING TO

RESEARCHERS AT JOHNS HOPKINS.

MORE THAN 700,000 PEOPLE HAVE

LOST THEIR LIVES.

IN BRAZIL, THE DEATH TOLL IS

EXPECTED TO HIT 100,000 TODAY,

AND THAT COUNTRY IS STILL

REPORTING MORE THAN 50,000 NEW

CONFIRMED CASES EACH DAY.

CITIES IN THAT COUNTRY HAVE

CONTINUED TO EASE LOCKDOWNS EVEN

THOUGH THE PANDEMIC HAS NOT YET

REACHED ITS PEAK.

THE UNITED STATES REMAINS THE

GLOBAL LEADER WITH NEARLY FIVE

MILLION CONFIRMED CASES AND MORE

THAN 161,000 DEATHS, MORE THAN

ONE-FIFTH OF THE TOTAL REPORTED

CORONAVIRUS DEATHS AROUND THE

WORLD.

THE U.S. REPORTED NEARLY 61,000

NEW CONFIRMED CORONAVIRUS

INFECTIONS YESTERDAY, ACCORDING

TO DATA COMPILED BY THE "NEW

YORK TIMES."

ON AVERAGE, THAT'S ACTUALLY AN

18% DECLINE COMPARED TO THE

DAILY TOTAL TWO WEEKS AGO.

A NEW STUDY FROM THE CENTERS FOR

DISEASE CONTROL AND PREVENTION

SHOWS THAT HISPANIC AND BLACK

CHILDREN HAVE BEEN AFFECTED BY

THE CORONAVIRUS PANDEMIC AT

DISPROPORTIONATE RATES.

IN THE STUDY OF MORE THAN 500

COVID-19 ASSOCIATED

HOSPITALIZATIONS PUBLISHED

YESTERDAY, RESEARCHERS FOUND

BLACK AND HISPANIC CHILDREN WERE

HOSPITALIZED AT DRAMATICALLY

HIGHER RATES THAN WHITE

CHILDREN.

THE DISPARITY AMONG MINORITY

CHILDREN FOLLOWS THE RACIAL

DISPARITY IN CORONAVIRUS

HOSPITALIZATIONS AMONG ADULTS.

BLACK AND HISPANIC ADULTS HAVE

BEEN HOSPITALIZED AT A RATE MORE

THAN FOUR TIMES HIGHER THAN

WHITES.

IN BEIRUT, PROTESTS OVER THE

LEBANESE GOVERNMENT'S RESPONSE

TO THIS WEEK'S DEADLY EXPLOSION

TURNED VIOLENT TODAY.

LEBANESE RIOT POLICE FIRED TEAR

GAS AT PROTESTERS IN BEIRUT'S

CITY CENTER.

SOME PROTESTERS SET FIRES AND

THREW OBJECTS AT POLICE.

THERE'S BEEN WIDESPREAD ANGER AT

GOVERNMENT OFFICIALS OVER

CORRUPTION AND INCOMPETENCE AT

FAILING TO PREVENT THE MASSIVE

BLAST ON TUESDAY WHICH KILLED AT

LEAST 158 PEOPLE, INJURED 6,000,

AND LEFT HUNDREDS OF THOUSANDS

HOMELESS.

MORE THAN 2,000 TONS OF

EXPLOSIVE AMMONIUM NITRATE HAD

BEEN STORED AT THE PORT FOR

YEARS.

SINCE THE BLAST, AT LEAST

19 PEOPLE HAVE BEEN DETAINED,

INCLUDING THE PORT'S CHIEF.

EVEN BEFORE THE BLAST, LEBANON

WAS IN THE MIDST OF ITS WORST

ECONOMIC CRISIS IN DECADES.

DOZENS OF PEOPLE ARE STILL

MISSING, AND, AT THE SITE OF THE

EXPLOSION, RESCUE WORKERS-- SOME

OF THEM FROM OTHER COUNTRIES--

CONTINUE THE SEARCH FOR

SURVIVORS.

NEWSHOUR WEEKEND SPECIAL

CORRESPONDENT LEILA MOLANA-ALLEN

HAS MORE.

>> Reporter: "LET HIM COME BACK.

DEAR GOD, JUST LET HIM COME

BACK."

AT THE ENTRANCE TO THE BEIRUT

PORT, THE EPICENTER OF TUESDAY'S

EXPLOSION, DESPERATE FAMILIES

SIT FOR HOURS PRAYING THEIR

LOVED ONES WILL BE FOUND.

ZAINAB IS WAITING FOR NEWS OF

HER HUSBAND, WHO WORKED HERE.

HE HASN'T BEEN SEEN SINCE THE

BLAST.

INSIDE, A SCENE OF UTTER

DEVASTATION.

THE ACRID STENCH OF BURNING

METAL, PLASTIC, AND CHEMICALS

HANGS HEAVY IN THE AIR, BLACK

ASH COATING EVERY SURFACE.

PACKING CRATES SPILL OUT

CHARRED, MISSHAPEN LUMPS AMID

THE RISING DUST, BARELY

RECOGNIZABLE AS THE FRESHLY

IMPORTED GOODS ONCE STACKED IN

THESE WAREHOUSES.

A WASHING MACHINE HERE, WHAT

MIGHT HAVE BEEN A GLASS JUG

THERE.

JUST A FEW DAYS AGO, THIS WAS A

THRIVING PORT, BEIRUT'S LIFELINE

TO THE REST OF THE WORLD.

AND NOW, PILES OF RUBBLE,

TWISTED, SMOKING METAL IS ALL

THAT REMAINS.

AND UNDERNEATH THAT RUBBLE,

HUMAN BEINGS.

THESE DISFIGURED, CRUMBLING

RUINS WERE ONCE LEBANON'S

NATIONAL GRAIN RESERVE.

15,000 TONS OF WHEAT AND 10,000

OF CORN WERE DESTROYED, NOW

FORMING AN UNSTABLE MOUNTAIN OF

WASTE THROUGH WHICH RESCUERS

MUST WADE.

DOZENS OF COUNTRIES HAVE SENT

RESCUE TEAMS TO HELP IN THE

EFFORT.

THESE FRENCH RESCUE WORKERS HAVE

BEEN DIGGING NONSTOP FOR

35 HOURS TO TRY AND REACH SEVEN

PEOPLE THEY BELIEVE ARE BURIED

UNDERNEATH AT LEAST 30 METERS OF

CONCRETE AND EARTH.

THE CONDITIONS ARE EXTREME.

THEY'RE WORKING IN FULL

PROTECTIVE GEAR, IN 90 DEGREE

HEAT, IN AIR THICK WITH TOXIC

FUMES AND DUST.

BUT EVEN MORE PERILOUS ARE THE

STRUCTURES ON THE POINT OF

COLLAPSE THAT SURROUND THEM.

>> (translated ): THE MAIN

DANGER IS FROM BOTH ABOVE AND

FROM BELOW.

FROM ABOVE, THE STRUCTURE BEHIND

COULD COLLAPSE WITH ANY

VIBRATIONS.

AND FROM BELOW, WHEN YOU'RE

LOOKING FOR THE FOUNDATIONS, IF

YOU HIT THE WRONG SPOT, YOU

COULD GET COLLATERAL DAMAGE.

>> Reporter: THE RISK IS SO

GREAT THAT THE TURKISH RED

CRESCENT HAS SET UP A FIELD

HOSPITAL DIRECTLY BEHIND THE

SEARCH AND RESCUE SITE.

IT'S NOT ONLY FOR RETRIEVED

VICTIMS, BUT FOR THE RESCUE

WORKERS IN CASE SOMETHING GOES

WRONG.

SO, IT'S SET UP JUST LIKE A REAL

EMERGENCY ROOM?

>> (SPEAKING DIFFERENT

LANGUAGE )

>> Reporter: SO, YOU HAVE A

VENTILATOR HERE, YOU HAVE A

MONITOR, ANYTHING THAT YOU MIGHT

NEED FOR SERIOUS INJURIES?

AND THE RISK ISN'T JUST AT THE

PORT AREA.

THE EXPLOSION DESTROYED

RESIDENTIAL NEIGHBORHOODS FOR

MILES AROUND.

HERE IN GEMMAZYE, ONE OF THE

WORST HIT, THE SEARCH IS ONGOING

FOR BOTH SURVIVORS AND WHATEVER

CAN BE RETRIEVED FROM PEOPLE'S

HOMES AND BUSINESSES.

BUT MANY BUILDINGS ARE NOW

DANGEROUSLY UNSTABLE, RISKING

FURTHER COLLAPSE AND INJURY.

BACK AT THE PORT, THE TEAM ARE

USING SNIFFER DOGS TO TRY AND

FIND DOZENS OF OTHER MISSING

WORKERS WHO COULD BE BURIED

ALONG THE SEASHORE.

MEANWHILE, FAMILIES LIKE

ZAINAB'S CAN ONLY WAIT, WONDER

AND HOPE.

>> Sreenivasan: LEILA

MOLANA-ALLEN JOINED US FROM

BEIRUT EARLIER TODAY FOR MORE ON

THE SITUATION IN LEBANON.

HOW IS BEIRUT RECOVERING NOW?

>> BEIRUT IS TRYING TO RECOVER.

WHAT'S HAPPENING AT THE MOMENT

IS THAT PEOPLE ARE TRYING TO

FIGURE OUT HOW THEY'RE GOING TO

LIVE OVER THE NEXT FEW WEEKS AND

THEN LOOK BEYOND THAT.

SO, PART OF THAT, OBVIOUSLY, IS

THE RECONSTRUCTION OF HOMES.

SO MANY HOMES DAMAGED HERE IN

THE IMMEDIATE VICINITY,

COMPLETELY RAVAGED.

AND UP TO NINE KILOMETERS AWAY,

A LOT OF DAMAGE HAPPENING.

AND WHAT WE'RE SEEING IS THIS

INCREDIBLE EFFORT OF GROUPS OF

YOUNG PEOPLE-- ARMIES, REALLY--

ARMING THEMSELVES WITH BROOMS

AND SPADES AND STRIDING OUT INTO

THE TOWN, WALKING DOWN THE

STREETS, CLEARING UP, TURNING UP

AT PEOPLE'S HOUSES AND WALKING

IN, SAYING, "WE WANT TO CLEAN,

WHAT CAN WE DO?"

AND IF THERE'S NO ONE THERE,

THEY CLEAN UP ANYWAY.

OF COURSE, ONE OF THE BIGGEST

ISSUES AT THE MOMENT IS STILL

THE ONGOING INJURIES IN

HOSPITALS.

EVERY HOSPITAL BED IS FULL.

STILL 60 PEOPLE... MORE THAN 60

PEOPLE MISSING, AND PROBABLY

MANY MORE THAN THAT.

THAT'S HOW MANY HAVE BEEN

REPORTED.

SO, LOTS OF FAMILIES DESPERATELY

STILL LOOKING.

OF COURSE, THE WHOLE COMMUNITY

IS JUST TRYING TO GET THROUGH

THE NEXT WEEKS BEFORE THEY CAN

THINK ABOUT THE MONTHS AND THE

YEAR AFTER THAT.

>> Sreenivasan: LEILA, MOST OF

THE WORLD HAS NOT BEEN PAYING

ATTENTION TO WHAT'S BEEN

HAPPENING IN LEBANON OVER THE

PAST SEVERAL MONTHS.

IT'S ALSO IN A STATE OF ECONOMIC

CRISIS.

SO, WHO PAYS FOR THIS CLEANUP?

HOW DOES THIS WORK GET DONE?

>> SO, IT'S ESTIMATED AT THE

MOMENT THAT THE DAMAGE IS

$15 BILLION, WHICH IS QUITE

INCREDIBLE FOR A COUNTRY THAT

ALREADY WAS IN SUCH DIRE

STRAITS.

RIGHT NOW, THE MAJORITY OF THIS

CLEANUP ON THE STREETS IS BEING

DONE BY THE PEOPLE.

THE ONLY PLACE WHERE THE

AUTHORITIESARE DOING THINGS IS

DOWN AT THE PORT BECAUSE THE

ARMY OPERATES THE PORT.

BUT IT'S NON-LOGISTICAL CARE,

AND WHAT WE'VE SEEN IS A LOT OF

INTERNATIONAL AID COMING IN.

SO, THAT STARTED A COUPLE OF

DAYS AGO, AND THEY'RE JUST TEAMS

FROM ALL ACROSS THE WORLD DOING

MEDICAL CARE, DOING SEARCH AND

RESCUE.

>> Sreenivasan: SO, WE'VE GOT A

PRE-EXISTING ECONOMIC CRISIS, A

PANDEMIC AND NOW CATASTROPHE.

ALL THESE FRUSTRATIONS ARE

STARTING TO BOIL OVER INTO THE

STREETS.

>> THEY ARE.

THE ANGER HAS BEEN PALPABLE THE

LAST FEW DAYS.

THERE ARE POSTERS THAT HAVE

GOING 'ROUND, SAYING, "NOW WE DO

CLEANUP.

BUT ON SATURDAY, THAT STOPS AND

WE CLEAN UP THE GOVERNMENT.

WE SWEEP THEM OUT."

AND FOR THE LAST FEW HOURS, THEY

HAVE ALL BEEN IN DOWNTOWN

BEIRUT.

AND IMMEDIATELY, THE MOMENT THE

PROTEST STARTED, TEAR GAS WAS

UNLEASHED.

THEN, RUBBER BULLETS STARTED.

DOZENS INJURED.

AND THE RAGE THAT IS ON THE

STREET, I HAVE NOT SEEN THIS

LEVEL THROUGHOUT THE ENTIRE

PROTEST MOVEMENT HERE.

THEY'VE NOW MANAGED TO BREACH

PART OF THE PARLIAMENT WALL,

WHICH IS WHERE THE SECURITY

FORCES HAVE BEEN TRYING TO KEEP

THEM AWAY FROM.

THERE'S ALSO, OBVIOUSLY, A FEAR

OF COVID-19.

AND THEY'VE BEEN SENT...

HOSPITALS HAVE BEEN SENDING OUT

INSTRUCTIONS ON HOW TO KEEP

YOURSELF SAFE IN THE

DEMONSTRATIONS-- ALMOST AN

IMPLICIT ENDORSEMENT OF THE FACT

THAT EVERYBODY IS OUT IN THE

STREETS AND ANGRY, SO ANGRY AT

THIS GOVERNMENT.

>> Sreenivasan: LEILA

MOLANA-ALLEN, THANKS SO MUCH FOR

JOINING US.

>> THANKS, HARI.

>> Sreenivasan: FOR MORE ON THE

LATEST NATIONAL AND

INTERNATIONAL NEWS, VISIT

www.pbs.org/newshour.

>> Sreenivasan: NATIONAL AND

STATE EVICTION MORATORIUMS HAVE

BEEN A BIG PART OF THE ECONOMIC

RELIEF FOR COVID-19.

BUT EVEN IF RESTRICTIONS ARE

TEMPORARILY HALTED, THEY CAN

HAVE LONG-TERM IMPACTS.

ARE THERE OTHER SOLUTIONS TO

AMERICA'S HOUSING CRISIS, WHICH

HAS BEEN MADE WORSE BY THE

PANDEMIC?

I SPOKE WITH MATTHEW DESMOND, A

PROFESSOR AT PRINCETON

UNIVERSITY WHO HELPED BUILD THE

FIRST NATIONWIDE DATABASE ON

EVICTIONS AT THE UNIVERSITY'S

EVICTION LAB.

>> SO, IN A NORMAL MONTH IN

AMERICA, 800,000 PEOPLE-- ABOUT

THE POPULATION OF SEATTLE-- ARE

THREATENED WITH EVICTION, HAVE

AN EVICTION FILED AGAINST THEM.

THAT'S A NORMAL AMERICAN MONTH.

THAT'S AN AMERICAN MONTH WHEN

UNEMPLOYMENT'S BELOW 5%.

NOW, WHEN WE HAVE UNEMPLOYMENT

AT LEVELS WE HAVEN'T SEEN SINCE

THE GREAT DEPRESSION, THERE ARE

MILLIONS-- BY SOME ACCOUNTS,

TENS OF MILLIONS OF FAMILIES WHO

COULD FACE EVICTION OVER THE

YEAR.

>> Sreenivasan: AND BECAUSE OF

THE PANDEMIC, THERE HAS BEEN

SOME STIMULUS MONEY-- $600 A

WEEK, A SUPPLEMENTAL INCOME TO

UNEMPLOYMENT INSURANCE-- THAT

HAS ALSO EXPIRED.

HOW CRUCIAL WERE THOSE $600 TO

FAMILIES WHO ARE AT-RISK?

>> INCREDIBLY IMPORTANT.

AND WE ALREADY SAW WARNING SIGNS

ON THE HORIZON THAT EVEN WITH

THAT EXTRA $600 BOOST, IT WASN'T

ENOUGH TO SHIELD FAMILIES FROM

HOMELESSNESS.

IN MAY, HOUSTON ALLOCATED

$15 MILLION EXTRA IN RENT

RELIEF.

IT WAS GONE IN TWO DAYS.

IN JUNE, CITIES LIKE CLEVELAND

AND MILWAUKEE SAW EVICTIONS

SPIKE 30% TO 40% ABOVE NORMAL

LEVELS WHEN MORATORIUMS EXPIRED.

>> Sreenivasan: WHAT IS UNCLEAR

TO ME IS, WHAT DOES A LANDLORD

GAIN BY KICKING A FAMILY OUT?

BECAUSE, DEPENDING ON THE RENTAL

MARKET, IT'S NOT LIKE THAT

FAMILY IS SUDDENLY GOING TO GIVE

THE LANDLORD THE MONEY THAT THEY

OWE IF THEY DON'T HAVE ANY MONEY

AT ALL.

AND UNLESS YOU HAVE ANOTHER

RENTER LINED UP, YOU'RE NOT

REALLY GETTING THAT MONEY THAT

YOU WANT IF YOU'RE A LANDLORD,

RIGHT?

>> RIGHT.

AND SO, IN THIS CASE IN

PARTICULAR, EVICTION SOLVES

NOBODY'S PROBLEM.

IT CERTAINLY DEEPENS THE POVERTY

AND THE VULNERABILITY OF THE

FAMILIES WHO WILL BE CAST OUT OF

THEIR HOMES.

AND IT ALSO DOESN'T-- DOESN'T

SOLVE THE LANDLORD'S FINANCIAL

PROBLEMS.

YOU KNOW, EVICTION RIGHT NOW,

THOUGH, IS KIND OF THE ONLY TOOL

WE'VE GIVEN TO LANDLORDS, RIGHT?

WE HAVEN'T SEEN A SERIOUS

INVESTMENT IN HOUSING FROM THE

FEDERAL GOVERNMENT.

AND SO, WHEN YOU'RE A LANDLORD

AND YOU'RE IN A PINCH, YOU KIND

OF REACH FOR THAT PINK SLIP.

SOME LANDLORDS DO IT GRUDGINGLY

AND AFTER MONTHS OF

NEGOTIATIONS, SOME LANDLORDS ARE

REALLY QUICK TO DO IT, BUT IT'S

NOT GOING TO SOLVE THEIR PROBLEM

IN THIS SITUATION.

IT'S ONLY GOING TO SOLVE-- IT'S

ONLY GOING TO SPREAD MORE

DISEASE AND MORE POVERTY.

>> Sreenivasan: YOU HAVE BUILT A

DATABASE IN THE EVICTION LAB AT

PRINCETON, BUT WHAT KIND OF

TRANSPARENCY EXISTS?

HOW DO WE KNOW HOW MANY PEOPLE

ON A STATE OR CITY BASIS ARE

GETTING EVICTED?

IF THEY'RE GETTING EVICTED

REPEATEDLY?

IF THEY ARE THE SAME LANDLORDS,

OR SOME LANDLORDS ARE DOING IT

MORE THAN OTHERS?

HOW DO WE FIGURE THAT OUT?

>> WE KNOW A LOT LESS THAN I

THINK WE SHOULD.

YOU KNOW, I PUBLISHED A BOOK ON

EVICTION IN 2016, AND IT WAS

BASED IN MILWAUKEE.

AND I WENT AROUND THE COUNTRY

TALKING ABOUT THE BOOK, AND

PEOPLE IN HOUSTON AND BATON

ROUGE AND L.A. WERE SAYING,

"WHAT'SMY EVICTION RATE?

HOW MANY PEOPLE GET EVICTED IN

AMERICA?"

WE HAD NO WAY TO ANSWER THAT

QUESTION.

THE FEDERAL GOVERNMENT DOES NOT

COLLECT DATA ON EVICTION.

IT DOESN'T EVEN KNOW HOW MANY

EVICTIONS IT EXECUTES THROUGH

PUBLIC HOUSING, HOUSING IT OWNS.

AND SO, WE DID BUILD THE FIRST

EVER NATIONAL DATABASE OF

EVICTION IN THIS COUNTRY.

WE FOUND THAT, YOU KNOW, ABOUT

EVERY MINUTE, SEVEN EVICTIONS

ARE FILED ALL AROUND THE UNITED

STATES.

AND THIS IS AFFECTING

COMMUNITIES BIG AND SMALL,

COMMUNITIES WITH HIGH HOUSING

COSTS AND PRETTY LOW HOUSING

COSTS.

IT'S A NATIONWIDE PROBLEM.

BUT THIS SHOULD BE A PROBLEM

THAT'S AT THE TOP OF THE

NATIONAL AGENDA AND WORTHY OF

OUR ATTENTION.

WE NEED REALLY HARD DATA ON THIS

THAT'S NOT JUST COLLECTED BY

SOME RAGTAG GROUP AT PRINCETON,

YOU KNOW, THAT ARE-- THAT ARE

GOING AFTER THE DATA.

>> Sreenivasan: BUT WHAT

AGENCIES SHOULD BE RESPONSIBLE

FOR THIS?

WHAT CAN THE FEDERAL GOVERNMENT

DO TO TRY TO LEAD STATES IN THE

RIGHT DIRECTION?

>> I'D LOVE TO SEE THE

DEPARTMENT OF HOUSING AND URBAN

DEVELOPMENT TAKE THIS OVER AND

REALLY KIND OF TRACK, YOU KNOW,

WHICH CITIES HAVE THE HIGHEST

AND LOWEST EVICTION RATES, WHICH

LAWS WORK, WHICH LAWS DON'T,

BRING SOME ACCOUNTABILITY TO WHO

OWNS OUR CITIES.

YOU KNOW, WHICH PROPERTY OWNERS

ARE EVICTING A LOT OF PEOPLE

IN-- IN BALTIMORE, AND WHICH

PROPERTY OWNERS ARE NOT, YOU

KNOW?

AND-- AND I THINK THAT-- AND

WHAT CAN WE LEARN FROM THEM?

I THINK THIS IS SOMETHING THAT

THE FEDERAL GOVERNMENT NEEDS TO

PAY ATTENTION TO AND IS

BEGINNING TO.

SO, IN DECEMBER, THERE WAS A

BILL CALLED THE EVICTION CRISIS

ACT, A BIPARTISAN BILL THAT WAS

PASSED IN THE SENATE-- OR THAT

WAS INTRODUCED IN THE SENATE,

EXCUSE ME-- THAT WOULD DO JUST

THIS, THAT WOULD BUILD A

NATIONAL EVICTION DATABASE AT

HUD.

AND I HOPE IT-- IT KIND OF GETS

MOMENTUM AND PASSES.

>> Sreenivasan: ARE YOU SEEING

THE SPIKES NOW IN THE NUMBER OF

PEOPLE WHO ARE BEING EVICTED?

>> WE'RE BEGINNING TO SEE THEM.

WE'RE BEGINNING TO SEE WARNING

SIGNS ON THE HORIZON.

I THINK THE MORATORIUMS WORKED

VERY WELL.

THE CARES ACT HELPED A LOT.

AND I THINK THERE WERE MANY

PROPERTY OWNERS THAT WERE

NEGOTIATING WITH THEIR TENANTS

ACROSS THE COUNTRY.

BUT AS THOSE MORATORIUMS

DISAPPEAR, AS THE FEDERAL AID

STOPS, I THINK WE'RE-- WE'RE

GOING TO SEE A LOT OF EVICTIONS

RIGHT AROUND THE CORNER.

>> Sreenivasan: SO, HOW DO WE

GET OUT OF THIS?

>> WE NEED SERIOUS FEDERAL

INVESTMENT.

THAT'S THE-- THE BEST WAY OUT OF

THIS.

YOU KNOW, WE NEED A NATIONAL

MORATORIUM ON EVICTIONS.

WE NEED TO SAY, "LOOK, IN THIS--

IN THIS PANDEMIC, THE HOME IS

MEDICINE, THE HOME IS SAFETY,

AND WE HAVE TO PROTECT THAT."

AMERICANS DESERVE THAT LEVEL OF

PROTECTION.

PROPERTY OWNERS NEED TO PAY

THEIR BILLS, TOO, AND SO WE

DON'T JUST NEED MORATORIUMS.

WE ALSO NEED RENT RELIEF.

WE NEED A-- A SERIOUS INVESTMENT

FROM THE FEDERAL GOVERNMENT

WITH THE RECOGNITION THAT, LIKE,

EVERYONE NEEDS A STABLE,

AFFORDABLE PLACE TO LIVE IN

NORMAL TIMES; AND ESPECIALLY

DURING THIS PANDEMIC, THAT'S

TRUE.

SO, I THINK THAT THE STIMULUS

DEBATE THAT WE'RE HAVING NOW IS

INCREDIBLY IMPORTANT.

IT'S LITERALLY A LIFE OR DEATH

ISSUE FOR AMERICAN RENTING

FAMILIES.

>> Sreenivasan: MATTHEW DESMOND

OF THE EVICTION LAB FROM

PRINCETON, THANKS SO MUCH FOR

JOINING US.

>> THANK YOU FOR HAVING ME.

>> Sreenivasan: TOMORROW, VOTERS

IN BELARUS WILL CAST THEIR

BALLOTS IN A SURPRISINGLY

COMPETITIVE PRESIDENTIAL

ELECTION.

AUTHORITARIAN LEADER ALEXANDER

LUKASHENKO IS FACING A CHALLENGE

FROM A POLITICAL NOVICE AFTER

RULING FOR MORE THAN A QUARTER

CENTURY.

AS SPECIAL CORRESPONDENT SIMON

OSTROFSKY REPORTS, IT'S AN

ELECTION WHERE THE COUNTRY'S

RELATIONSHIP WITH ITS NEIGHBOR

TO THE EAST, RUSSIA, LOOMS

LARGE.

>> Reporter: THESE ARE PICTURES

OF THE BELARUSIAN SECURITY

SERVICE ARRESTING MENITCLAIMS

ARE MERCENARIES FROM RUSSIA LAST

WEEK.

ACCORDING TO BELARUS STATE

TELEVISION, MOSCOW SENT THEM TO

STIR UP CHAOS AHEAD OF

TOMORROW'S PRESIDENTIAL

ELECTIONS.

>> (translated ): THE HOTEL

ADMINISTRATION BECAME SUSPICIOUS

OF THE VISITORS BECAUSE OF THEIR

UNUSUAL BEHAVIOR FOR RUSSIAN

TOURISTS.

THEY DID NOT DRINK ALCOHOL OR

VISIT ENTERTAINMENT VENUES.

THEY KEPT APART AND TRIED NOT TO

DRAW ATTENTION TO THEMSELVES.

>> Reporter: STATE TV DISPLAYS

THE MEN'S PERSONAL BELONGINGS,

PARADING THEM FOR THE WHOLE

COUNTRY TO SEE ON THEIR

TELEVISION SETS.

IT'S AN UNUSUAL BOUT OF

HOSTILITY FOR TWO COUNTRIES

WHICH UNTIL RECENTLY CONSIDERED

THEMSELVES THE CLOSEST OF

ALLIES.

BUT IN BELARUS, THESE ARE

UNUSUAL TIMES.

>> (translated ): I AM TIRED

OF BEING SILENT.

I AM TIRED OF BEING AFRAID.

AND YOU?

ARE YOU TIRED OF BEING PATIENT?

ARE YOU TIRED OF BEING SILENT?

>> Reporter: FOR WEEKS NOW, THE

PUBLIC HAS BEEN RALLYING AROUND

THIS WOMAN.

SVIATLANA TSIKHANOUSKAYA IS

RUNNING AS THE SOLE OPPOSITION

CANDIDATE IN A SURPRISINGLY

CONTESTED ELECTION FOR A COUNTRY

THAT'S BEEN RUN BY THE SAME MAN

FOR OVER A QUARTER CENTURY.

SHE THREW HER NAME IN THE HAT

AFTER HER HUSBAND, A VIDEO

BLOGGER, WAS JAILED AND BARRED

FROM RUNNING.

TWO OTHER OPPOSITION LEADERS

WERE ALSO STRUCK FROM THE

BALLOT.

ONE FLED THE COUNTRY, THE OTHER

WAS IMPRISONED.

TSIKHANOUSKAYA HAS GATHERED

MASSIVE RALLIES LIKE THIS ONE,

ATTENDED BY THOUSANDS OF

SUPPORTERS IN TOWNS AND CITIES

THROUGHOUT THE NATION, SOMETHING

THAT'S NEVER HAPPENED IN THIS

TIGHTLY RUN DICTATORSHIP BEFORE.

TODAY, BELARUS' LEADER FACES A

WAVE OF DISCONTENT LIKE HE'S

NEVER SEEN BEFORE.

EARLIER THIS YEAR, RUSSIA HIKED

ENERGY PRICES IN A PRESSURE

CAMPAIGN TO PUSH BELARUS INTO AN

EVER CLOSER UNION.

THEN, THE CORONAVIRUS PANDEMIC

HIT, WHICH HE DISMISSED AS

SOMETHING YOU COULD TREAT WITH A

SHOT OF VODKA.

NOW, THOUSANDS OF BELARUSIANS

USUALLY EARNING MONEY ABROAD ARE

STUCK AT HOME, PENNILESS.

IT'S THE PERFECT STORM, BUT

BELARUS' EMBATTLED PRESIDENT

ISN'T READY TO GIVE UP THE

REIGNS OF POWER JUST YET.

>> (translated ): WE WON'T

LET YOU TAKE OUR COUNTRY!

>> Reporter: CENTRAL TO HIS

PLAN TO STAY IN POWER ARE THE

ARRESTS OF THE ALLEGED RUSSIAN

MERCENARIES WHO HIS SECURITY

SERVICES ACCUSE OF ARRIVING IN

BELARUS TO HELP TSIKHANOUSKAYA'S

JAILED HUSBAND SOW DISCORD.

>> (translated ): THESE

PEOPLE, THEY HAVE GIVEN

TESTIMONY.

THEY WERE SENT TO BELARUS

SPECIFICALLY.

THEIR ORDERS WERE TO WAIT.

WE HAVE OUR OWN COUNTRY.

THE COUNTRY HAS LAWS.

NO ONE KNOWS OUR LAWS BETTER

THAN OUR DEAR RUSSIAN BROTHERS

AND THEIR LEADERSHIP.

>> Reporter: IT'S A SCENARIO

THAT MAY BE RINGING BELLS FOR

THOSE WHO REMEMBER THE CRISIS IN

UKRAINE'S CRIMEA PENINSULA IN

2014.

UNIFORMED MEN WITHOUT NATIONAL

INSIGNIA, WHO LATER TURNED OUT

TO BE RUSSIAN SOLDIERS, APPEARED

IN KEY LOCATIONS TO WREST

CONTROL OF THE TERRITORY AWAY

FROM UKRAINE AFTER A REVOLUTION

CREATED A POWER VACUUM THERE.

>> THE KREMLIN UNDERSTANDS THAT

IT IS A-- A REAL OPPORTUNITY FOR

THEM TO ADVANCE RUSSIAN NATIONAL

INTERESTS NOW IN BELARUS,

ESPECIALLY BECAUSE LUKASHENKO IS

IN-- IN A VERY VULNERABLE AND

WEAK POSITION.

>> Reporter: ARSENY SIVITSKY IS

DIRECTOR OF THE CENTER FOR

STRATEGIC AND FOREIGN POLICY

STUDIES IN MINSK, AN INDEPENDENT

THINK TANK.

HE TOLD NEWSHOUR WEEKEND HE

FEARED RUSSIA COULD USE THE

POLITICAL INSTABILITY INHIS

COUNTRY TO OVERTHROW THE REGIME

IN FAVOR OF A MORE PLIABLE

LEADER, OR WORSE.

>> IT SEEMS THAT WE ARE

PREPARING FOR A MAJOR BATTLE

WITH THE RUSSIANS, NOT ONLY IN

THE POLITICAL SPHERE, BUT ALSO A

MILITARY ONE.

I'M A MILITARY OFFICER IN

RESERVE.

SO, TWO WEEKS AGO, I RECEIVED

THE MOBILIZATION CALL FROM THE

RECRUITMENT OFFICE, AND I WAS

TOLD THAT I-- I NEED TO BE

PREPARED FOR SNAP MOBILIZATION

IN CASE SOMETHING GOES WRONG.

>> Reporter: RUSSIA HASN'T

TAKEN THE ALLEGATIONS OF

ELECTION MEDDLING SITTING DOWN.

FOREIGN MINISTRY SPOKESWOMAN

MARIA ZAKHAROVA CALLED THE

ARRESTS OF THE ALLEGED MILITARY

CONTRACTORS NOTHING MORE THAN A

"PLAY," ADDING OMINOUSLY THAT

MINSK KNOWS RUSSIA WON'T LET ANY

HARM BEFALL ITS CITIZENS.

WITH NO INTERNATIONAL OBSERVERS

INVITED TO MONITOR SUNDAY'S

POLLS, KATSIARYNA SHMATSINA OF

THE BELARUSIAN INSTITUTE FOR

STRATEGIC STUDIES FEARS

LUKASHENKO IS PLANNING TO

FALSIFY THE VOTE IN HIS OWN

FAVOR AND USE THE ALLEGED

RUSSIAN MERCENARY PLOT TO

BESMIRCH THE OPPOSITION IN THE

EYES OF THE PUBLIC AS BEING

SPONSORED BY FOREIGNERS BUT ALSO

TO SEND A MESSAGE TO WASHINGTON

AND THE E.U.

>> EITHER SUPPORT LUKASHENKO,

WHO-- WHO IS A POLITICIAN WHO

PROVIDES THE SOVEREIGNTY OF

BELARUS; OR OTHERWISE, IF

THERE'S SOMEONE NEW COMING IN,

HE OR SHE MIGHT BE NOT ABLE TO

CONTAIN THE RUSSIAN AGGRESSION.

>> Reporter: MEANWHILE,

BELARUSIAN POLICE HAVE TAKEN A

HARDER STANCE ON RANK AND FILE

OPPOSITION SUPPORTERS, ARRESTING

CLOSE TO A THOUSAND OVER THE

LAST FEW WEEKS, ACCORDING TO

SHMATSINA, EVEN THOUGH POLITICAL

RALLIESARE SANCTIONED AHEAD OF

ELECTIONS.

WHATEVER HAPPENS IN SUNDAY'S

VOTE-- BE IT AN UNLIKELY

TSIKHANOUSAKAYA VICTORY OR A

CRACKDOWN ON THE POLITICAL

OPPOSITION-- BELARUS IS IN FOR A

TENSE FEW WEEKS AS ITS LARGER

NEIGHBOR TO THE EAST WAITS AND

WATCHES.

>> Sreenivasan: WE WILL HAVE

MORE ON THE EMERGENCY COVID-19

FINANCIAL AID PLANS ONLINE

TONIGHT AND ON-AIR TOMORROW.

THAT'S ALL FOR THIS EDITION OF

PBS NEWSHOUR WEEKEND.

FOR THE LATEST NEWS, VISIT

www.pbs.org/newshour.

I'M HARI SREENIVASAN.

THANKS FOR WATCHING.

STAY HEALTHY AND HAVE A GOOD

NIGHT.

>>PBS NEWSHOUR WEEKEND IS MADE

POSSIBLE BY:

SUE AND EDGAR WACHENHEIM III.

THE ANDERSON FAMILY FUND.

BERNARD AND DENISE SCHWARTZ.

THE CHERYL AND PHILIP MILSTEIN

FAMILY.

BARBARA HOPE ZUCKERBERG.

CHARLES ROSENBLUM.

WE TRY TO LIVE IN THE MOMENT,

TO NOT MISS WHAT'S RIGHT IN

FRONT OF US.

AT MUTUAL OF AMERICA, WE

BELIEVE TAKING CARE OF TOMORROW

CAN HELP YOU MAKE THE MOST OF

TODAY.

MUTUAL OF AMERICA FINANCIAL

GROUP, RETIREMENT SERVICES AND

INVESTMENTS.

>> FOR 25 YEARS, CONSUMER

CELLULAR'S GOAL HAS BEEN TO

PROVIDE WIRELESS SERVICE THAT

HELPS PEOPLE COMMUNICATE AND

CONNECT.

WE OFFER A VARIETY OF

NO-CONTRACT PLANS, AND OUR

U.S.-BASED CUSTOMER SERVICE TEAM

CAN HELP FIND ONE THAT FITS YOU.

TO LEARN MORE, VISIT

www.consumercellular.tv.

ADDITIONAL SUPPORT HAS BEEN

PROVIDED BY:

AND BY THE CORPORATION FOR

PUBLIC BROADCASTING, A PRIVATE

CORPORATION FUNDED BY THE

AMERICAN PEOPLE.

AND BY CONTRIBUTIONS TO YOUR

PBS STATION FROM VIEWERS LIKE

YOU.

THANK YOU.