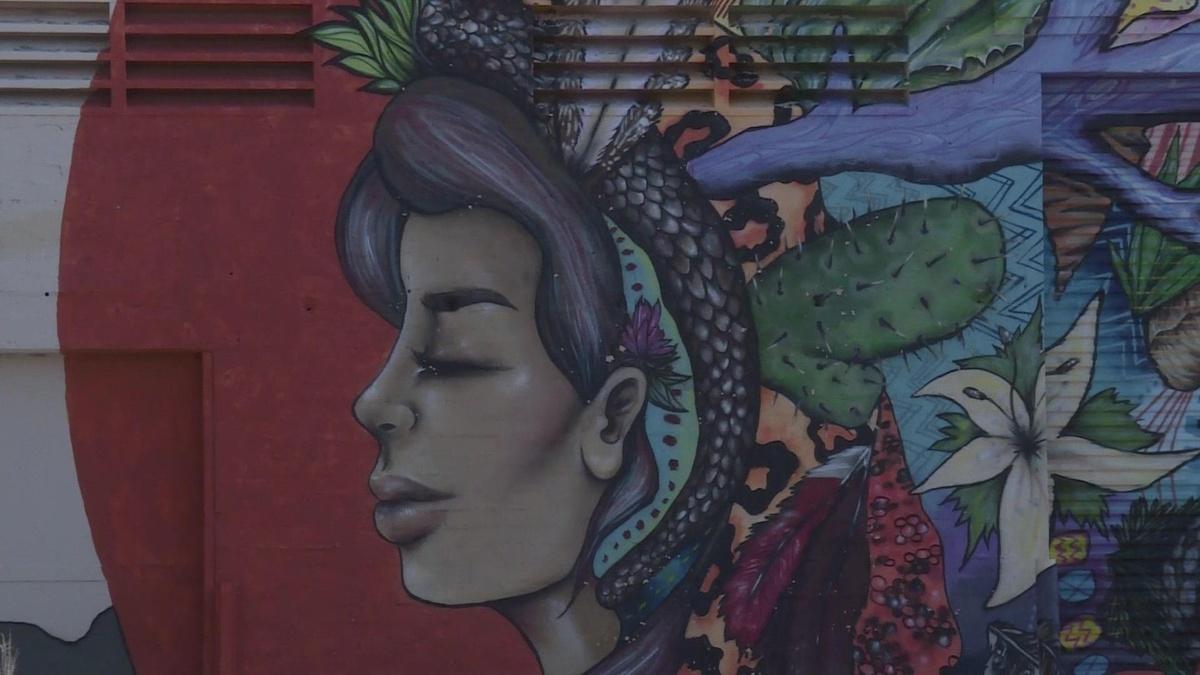 CLIP
Ariz. mining town reinvents itself as an arts destination
Ajo, Arizona, was once a robust mining community. Now it is seeking to cast off the image of a ghost town -- and reinvent itself as an arts destination of the Southwest. Stephanie Sy reports for our American Creators series and ongoing arts and culture coverage, Canvas.
TRANSCRIPT

JUDY WOODRUFF: In the American Southwest, a once robust

mining town is looking to a growing arts community as a new economic driver.

Stephanie Sy reports on how Ajo, Arizona,

is trying to cast off the image of a ghost town and become an arts destination.

It's part of our American Creators series and ongoing arts and culture coverage, Canvas.

STEPHANIE SY: In the middle of the 10,000 miles of the Sonoran Desert lies a dusty town

near the Arizona border with Mexico. A central plaza built in Spanish colonial revival style

emerges like an oasis, a vestige of an era when Ajo had a successful copper mine.

Today, it's reinventing itself through art. On an atypically cloudy Monday afternoon,

visiting artist Christopher Lutter-Gardella

was busy putting up his latest work in the center of the plaza.

The dove is made of reclaimed materials,

and incorporates written messages of peace from students across the border.

CHRISTOPHER LUTTER-GARDELLA, Artist: Inviting everybody in

and celebrating our common humanity was really important at this time.

TOM KIEFER, Artist: This was a bus schedule.

STEPHANIE SY: Artist Tom Kiefer moved to Ajo in 2001 from Los Angeles.

TOM KIEFER: This was an early photograph I took.

STEPHANIE SY: His current work focuses on everyday

items confiscated from migrants trying to cross the border.

TOM KIEFER: That's when El Sueno Americano, The American Dream,

began. Those items were confiscated and thrown in the trash.

It is my hope that I photograph them with reverence and deep regard and respect.

STEPHANIE SY: Like a lot of old mining towns in the West,

Ajo could easily have fallen into obscurity, were it not for an investment in the arts.

AARON COOPER, Executive Director, International Sonoran Desert Alliance: When artists and

creatives come in, in a critical mass, really interesting things start to happen.

STEPHANIE SY: Aaron Cooper is the executive director of the

International Sonoran Desert Alliance which, 15 years ago, converted classrooms from the

old Curley High School in the center of town into live-work units for artists.

AARON COOPER: So, it didn't matter if you lived in an Indian village or a Mexican

town or the predominantly Anglo town center. Everyone went to school at the Curley School.

STEPHANIE SY: It was a symbol worth preserving, he says.

BOBBY NARCHO, Artist: Turns out I really like it here.

STEPHANIE SY: Bobby Narcho grew up an hour away on the Tohono O'odham Nation,

and is one of the artists that resides in the Curley School.

BOBBY NARCHO: It's not a big adjustment from the rez,

aside from a little more diverse audience out here.

STEPHANIE SY: The project was a spark for an economic and artistic

revival. Public art now abounds in this town.

This is Artist's Alley. The community hopes attractions like this will make Ajo

much more than a pit stop on the way to Mexico.

There are signs it's working. Annual growth in tourism, as measured at the visitors center,

quadrupled between 2015 to 2018. One hundred percent of the plaza storefronts are occupied.

JASON SCHUPBACH, Dean, Westphal College of Media Arts and Design: A beautiful public square,

murals, those kinds of things, really help make people feel like they own the space.

STEPHANIE SY: Jason Schupbach, who has examined how to harness the arts to spur economic growth,

says investments in places like Ajo paid off in the years after the Great Recession,

and he sees the same opportunity with the COVID pandemic.

JASON SCHUPBACH: In every single community,

there are those artists. We call them culture bearers. They're the holders of our culture

and those places. And we need to activate those people to help us find a way forward.

STEPHANIE SY: Besides attracting entrepreneurs, artists themselves have become business owners.

ANNELISE KEUPER, Owner, Curley Coffee: I started selling a friend's coffee from Tucson.

STEPHANIE SY: Annelise Keuper, who uses fibers and textiles for her woven paintings,

started her own coffee roasting business five years ago,

and she hopes her cafe, which recently relocated, becomes a community hub.

What do you want your business to mean to Ajo?

ANNELISE KEUPER: Well, I think it's a meeting ground, especially during this pandemic time.

And it has continued to grow because the community enjoys what it is that I'm doing.

NINA SAJOVEC, Executive Director, Ajo Center for Sustainable Agriculture: When I first came here,

there was literally no local food system to talk about.

STEPHANIE SY: Nina Sajovec has built up a local farmers market and farm-to-table cafe

utilizing indigenous agriculture. Since the pandemic, she and volunteers have been

focused on distributing food to those in need.

NINA SAJOVEC: We are working with the groups here in Ajo offering up to 200 deliveries a week.

STEPHANIE SY: Tom Kiefer has witnessed the transformation of Ajo.

TOM KIEFER: There's this vibrancy, this determination

of kind of lift yourself up by your own bootstraps and make this work.

STEPHANIE SY: Keeping a rural town like Ajo from fading into history

isn't easy or cheap. Its redevelopment was largely subsidized by government and foundation grants,

but Cooper says these places are part of the nation's colorful tapestry.

AARON COOPER: If everybody sort of moves to the urban centers and leaves

the rest of America and the world out to sort of fall into disuse and disrepair,

we lose a lot of stories, we lose a lot of opportunities for

resiliency. We lose a lot of opportunities to have connection to land and landscape.

STEPHANIE SY: The hope now is not only that Ajo becomes self-sustaining,

but that it becomes a model for the reinvention of small rural towns across America.

For the "PBS NewsHour," I'm Stephanie Sy in Ajo, Arizona.

JUDY WOODRUFF: Wonderful story.