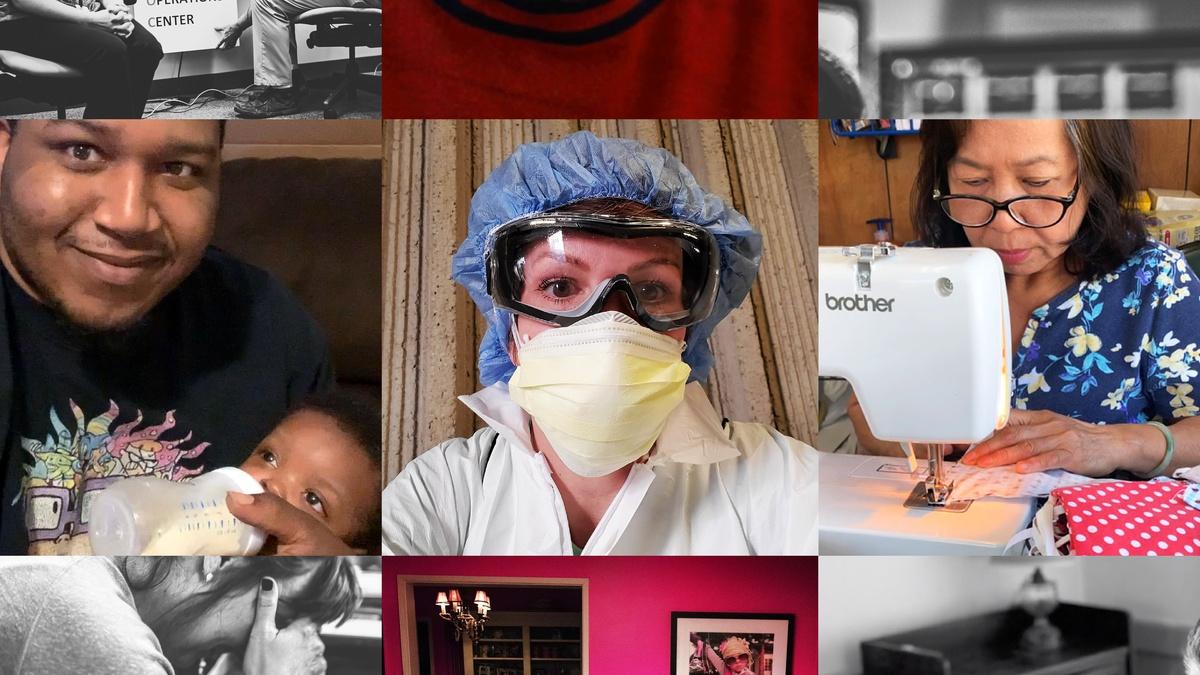 FULL EPISODE
In This Together: A PBS American Portrait Story
Through personal stories, photographs and videos, people across America share their firsthand stories of how the global coronavirus pandemic has affected their lives, our nation and brought us all together.
TRANSCRIPT

ANNOUNCER: NOW--GO INSIDE THE LIVES

OF A FIRST RESPONDER...

IF WE DON'T TAKE CARE OF OURSELVES,

WE'RE GONNA GO HOME AND GET OUR FAMILIES SICK.

ANNOUNCER: AN ESSENTIAL WORKER...

IT'S GONNA BE OK. I'MA COME RIGHT BACK.

ANNOUNCER: A MOM WITH COVID-19...

I'VE BEEN SLEEPING ON THE COUCH.

WE'RE STILL SELF-ISOLATING.

ANNOUNCER: AND HEAR STORIES TOLD BY YOU,

PEOPLE ACROSS THE COUNTRY...

WOMAN: I WAS RAISED TO BELIEVE THAT WE TAKE CARE OF EACH OTHER.

ANNOUNCER: AS THEY TAKE YOU THROUGH A MONTH

WHEN THE WORLD CHANGED.

WOMAN: WE WANT TO PLAN FOR THE WORST

AND THEN HOPE FOR THE BEST.

ANNOUNCER: ON "IN THIS TOGETHER:

A PBS AMERICAN PORTRAIT STORY."

♪

PBS AMERICAN PORTRAIT...

IS A PLATFORM WHERE PEOPLE CAN GO TO...

SHARE THEIR STORIES ABOUT THEIR LIVES.

THERE'S A WHOLE GREAT LIST OF PROMPTS

TO GET YOU STARTED.

MAN: I WAS RAISED TO BELIEVE...

WOMAN: A DAY'S WORK IS...

MAN: I TOOK A RISK WHEN...

WHEN I WAS 18 AND JOINED THE MARINE CORPS.

WHEN I DECIDED TO ACCEPT MY AUTHENTIC SELF.

AND IT'S BEEN AN AMAZING JOURNEY EVER SINCE.

PBS AMERICAN PORTRAIT IS ABOUT YOU.

BECAUSE YOUR STORY IS POWERFUL.

AND CONNECTING TO EACH OTHER WILL ALLOW US

TO INSPIRE ONE ANOTHER TO KEEP OUR HEAD ABOVE WATER

JUST ONE MORE DAY.

WOMAN: I NEVER EXPECTED...

GIRL: I NEVER EXPECTED TO MISS HIGH SCHOOL SO MUCH.

I THOUGHT WE WERE ONLY GONNA BE OUT FOR A FEW DAYS.

I NEVER EXPECTED TO JUST COME TO A GRINDING HALT.

STUCK IN THE HOUSE.

LIVING IN SOLITUDE.

BECAUSE OF YOU KNOW WHAT.

I NEVER EXPECTED TO HAVE TO COMMUNICATE

WITH MY GRANDMOTHER, MY NEXT-DOOR NEIGHBOR,

BY YELLING THROUGH A WINDOW IN MY BEDROOM.

THAT HUGGING MY LOVED ONES

AND TELLING THEM I LOVE THEM FACE-TO-FACE

WOULD BECOME A DREAM FOR ME.

WOMAN: COME ON. COME ON.

WOW.

COVID-19'S A MYTH. HMM.

APPARENTLY, SOMEBODY THINKS COVID-19'S A MYTH,

RIGHT NEXT DOOR, SO, I MEAN, WOW.

[SIREN WAILING] [HORN HONKING]

I'VE BEEN A NURSE FOR THE PAST 15 YEARS,

WITH A BACKGROUND IN INTENSIVE CARE AND EMERGENCY NURSING.

I'VE LOVED EVERY MINUTE OF IT.

MY HUSBAND AND I ARE BOTH IN HEALTHCARE.

WHEN THE CORONAVIRUS HIT THE U.S.,

WE KNEW THAT OUR FAMILY WAS IN DANGER OF BEING EXPOSED

AND WE KNEW THAT OUR SON, WHO'S 6 YEARS OLD,

WAS NOT GONNA BE ABLE TO STAY WITH US DURING THIS TIME.

MAN: LOOK WHO JUST POPPED INTO THE PICTURE, PRESTON.

WOMAN: IS CUJO THERE? PRESTON: AH, YEAH.

CUJO, DO YOU SEE-- DO YOU HEAR PRESTON?

PRESTON: I'M OUTTA HERE. ALLISON: AND HE'S DONE.

PAULA: HE'S OUT. HE'LL CALL YOU BACK. SORRY, GUYS.

MAN: ALL RIGHT. THAT'S OK.

WE TOOK MY SON DOWN TO MY PARENTS' PLACE.

WE HAD TO SIGN A POWER OF ATTORNEY FOR MY PARENTS

TO HAVE GUARDIANSHIP OVER MY SON

AND WE ALSO HAD TO ARRANGE OUR WILLS AND MAKE STATEMENTS

SAYING THAT IF SOMETHING WERE TO HAPPEN TO MY HUSBAND AND I,

THAT MY SISTER AND HER HUSBAND GET GUARDIANSHIP.

WE ACTUALLY SAT THEM DOWN AND DISCUSSED, HEY,

WILL YOU PLEASE TAKE CARE OF MY SON

IF SOMETHING WERE TO HAPPEN TO US?

I NEVER THOUGHT I'D HAVE TO DO THIS IN MY LIFETIME.

I HAVE SURVIVED WORKING EBOLA, H1N1.

THIS IS THE FIRST TIME THAT I'M ACTUALLY SCARED.

EVERYBODY IS SAYING, JUST WAIT.

YOU HAVEN'T SEEN [BEEP] YET.

IT'S COMING.

PRESTON ASKED, WHEN ARE WE GONNA SEE MOMMY AND DADDY AGAIN?

GOD, THIS SUCKS.

HOW DO YOU EXPLAIN TO YOUR 6-YEAR-OLD, WE DON'T KNOW?

WE DON'T KNOW WHEN YOU CAN SEE MOMMY AND DADDY AGAIN.

SO, IT'S JUST ANXIOUS AND ANXIETY

AND NERVE-WRACKING NOT KNOWING.

I NEVER EXPECTED TO BE ON THE FRONT LINES OF A PANDEMIC.

AS A GROCERY STORE WORKER, I NEVER THOUGHT

THAT I WOULD BE CONSIDERED AN ESSENTIAL PART OF THE WORKFORCE.

ESSENTIAL WORKERS. CONSTRUCTION INDUSTRY.

TRANSFORMING A STATE UNIVERSITY ATHLETIC FACILITY

INTO A TEMPORARY HOSPITAL.

WOMAN: WE HAVE TO DO OUR OWN THING AND BE SAFE.

I EVEN HAND-SANITIZED THE TRUCK, THE STEERING WHEEL.

WE HAVE OUR CLOROX WIPES,

WHICH WE'RE ALMOST OUT, BY THE WAY.

WOMAN: I HADN'T REALIZED HOW MUCH MY JOB MEANS

IN TERMS OF, LIKE, WHAT'S NEEDED IN SOCIETY.

DELIVERY, IT'S THE ONLY OPPORTUNITY FOR ME TO WORK.

MAYBE IF YOU HAVE SOME MONEY, YOU'RE SECURE,

BUT IF YOU'RE LIKE ME, YOU DON'T HAVE NOTHING.

MAN: HEY, SON! HI. I LOVE YOU.

I DON'T WANT TO BRING THE VIRUS HOME TO YOU, OK?

YOU ARE MY PRIDE AND JOY.

SAY HI, STINKY BUTT.

SAY HI!

[INDISTINCT].

SAY HI!

MARIO, VOICE-OVER: I'M SCARED, BECAUSE I KNOW I HAVE

A 3-MONTH-OLD, A 6-YEAR-OLD,

AND THE MOTHER OF THIS CHILD AT MY HOUSE.

OK.

I'M IN THE CAR WITH MY MOTHER.

TAKING ME TO WORK.

HOW DO YOU FEEL ABOUT ME STILL GOING TO WORK

KNOWING THAT THERE IS CONFIRMED CASES AT MY JOB?

WELL, I HAVE SOME CONCERN.

DO EVERYTHING YOU CAN. PREVENTION, YOU KNOW,

SO YOU WON'T BRING NOTHING,

AND THEN ALSO, TWO, VOICE YOUR OPINION,

BECAUSE YOU'RE VERY OPINIONATED.

GO AHEAD AND SAY WHAT YOU GOT TO SAY

AND CONTINUE TO BE CAUTIOUS.

I WANT TO MAKE SURE YOU'RE OK,

'CAUSE WHEN YOU'RE NOT OK...[NO AUDIO]

MARIO: BACK INTO WORK. ANOTHER DAY.

WE DO NOT HAVE ANY ESSENTIAL ITEMS NO MORE.

WE RUNNING OUT OF GLOVES. WE HAVE NO HAND SANITIZER.

WE HAVE NO FACE MASKS TO COVER THESE 4,000 PEOPLE'S MOUTHS.

AND ON TOP OF ALL OF THAT, WE HAVE TWO CONFIRMED CASES,

BUT WE DON'T KNOW WHO THE PEOPLE ARE,

WE DON'T KNOW WHAT DEPARTMENT THEY IN,

WHICH SHIFT THEY WORK. NOTHING.

SO, I LITERALLY JUST RECEIVED

A MESSAGE ABOUT ANOTHER CONFIRMED CASE

OF COVID-19.

NOW I HAVE TO GO BACK INTO THIS BUILDING TOMORROW

KNOWING THAT, HEY, THERE'S ANOTHER ADDITIONAL CASE,

ANOTHER PERSON THAT WE DON'T KNOW THE SHIFT,

DON'T KNOW THE NAME, DON'T KNOW THE DEPARTMENT. NOTHING.

YOU GOT ONE PERSON WALKING AROUND CLEANING THE STATIONS NOW

WITH ONE BLEACH WIPE?

YES, I HAVE A FACE MASK THAT WAS PROVIDED TO ME

BY MY MOTHER.

MY FAMILY IS SCARED! I'M SCARED.

BUT STILL, I HAVE BILLS TO PAY,

AND SADLY, I GOT TO GO INTO THIS DIRTY WAREHOUSE

THAT SAYS WE'RE TAKING PRECAUTIONS.

NO, YOU'RE NOT!

WOMAN: WE'RE ABOUT TO GET TESTED.

I THINK THEY JUST-- ROLL DOWN YOUR WINDOW

AND THEN THEY JUST SWAB YOU.

IT'S SCARY HERE. IT'S SCARY.

SECOND WOMAN: IT IS SCARY.

I AM A COVID-19 SURVIVOR.

I KNOW THAT I'M STILL HEALING.

I KNOW THAT I'M GETTING THROUGH THIS

AND I WILL GET THROUGH IT.

I'M ALSO WORRIED ABOUT FAMILY AND LOVED ONES AT HOME

BUT ALSO FOR THE ENTIRE NAVAJO NATION,

BECAUSE THIS IS INCREASINGLY SPREADING.

I TESTED POSITIVE FOR COVID WHILE PREGNANT WITH...

[SNIFFLES] [VOICE BREAKING] WHILE PREGNANT WITH MY TWINS

AT 33 WEEKS.

[EXHALES] [SNIFFLES] [CLEARS THROAT]

I'VE HAD MY TWINS FOR A FEW DAYS NOW.

THEY WERE DELIVERED, AND IT WAS HARD

BECAUSE THEY HAD TO INTUBATE ME,

SO, I COULDN'T EVEN-- I COULDN'T EVEN SEE THEM.

IN ORDER TO SEE THE BABIES, WE'LL HAVE TO

TAKE TWO MORE COVID TESTS,

AND THEY BOTH HAVE TO COME BACK NEGATIVE.

I THINK FOR ME, IT'S JUST MAKING SURE,

[VOICE BREAKING] LIKE, I DON'T WANT TO--

I DON'T WANT TO GET THE BABIES SICK.

IS--IS--IS IT GONNA BE CLEAN ENOUGH FOR THEM?

[CRYING]

[EXHALES] SO, JUST GETTING OUT OF THE HOSPITAL RIGHT NOW.

PEOPLE ARE JUST GETTING SICKER AND SICKER.

BUT ON THE BRIGHT SIDE OF THINGS...

THERE ARE SOME PEOPLE THAT WE WERE ABLE TO

TAKE THE INTUBATION TUBE OUT

AND, YOU KNOW, WE GOT TO SEE THEM GO HOME.

IN ALL TYPES OF DARKNESS,

THERE'S ALWAYS GONNA BE SOME FORM OF LIGHT.

I NEVER EXPECTED TO BE ENGAGED

AND THEN HAVE TO BE SEPARATED.

WE ARE STILL GOING AHEAD WITH OUR CEREMONY

BUT IT'S JUST GONNA BE US,

OUR PASTOR, AND OUR PARENTS.

MY VERY BEST FRIEND AND NOW MY HUSBAND.

MAN, VOICE-OVER: YOU MAY KISS THE BRIDE.

[PEOPLE CHEERING]

WOMAN, VOICE-OVER: THERE'S STILL MAGIC GOING ON RIGHT NOW.

SECOND WOMAN, VOICE-OVER: WE ARE ABOUT TO HAVE OUR SECOND BABY

AMIDST THIS PANDEMIC.

IT'S GONNA BE NOT GREAT IN THAT RESPECT,

BUT WE ARE STILL TRYING TO FIND

JOY IN BRINGING HER HOME

AND HOPING THAT SHE'S HEALTHY AND I'M HEALTHY.

PEOPLE: ♪ HAPPY BIRTHDAY TO YOU

WOMAN: YAY!

WOMAN: HAPPY BIRTHDAY!

[HORN HONKING]

WOMAN: HI, GRANDMA!

HAPPY EASTER!

GONNA HAVE A NICE EASTER DINNER?

WOMAN: GO! SECOND WOMAN: YAY!

I FOUND ONE!

WOMAN: OOH!

MAN: EVEN IF I DON'T UNDERSTAND HOW,

I KNOW THAT GOD WILL GUIDE US.

MAN, VOICE-OVER: NOW GOD HAS OPENED UP OTHER DOORS FOR US.

[CHANTING IN NATIVE LANGUAGE]

[SECOND MAN SINGING IN NATIVE LANGUAGE]

[THIRD MAN SPEAKING NATIVE LANGUAGE]

[FOURTH MAN SPEAKING NATIVE LANGUAGE]

[WOMAN SPEAKING NATIVE LANGUAGE]

MAN: WE ARE GLAD TO HAVE ALL OF YOU TODAY

FOR OUR DRIVE-IN SERVICE, AND WE KNOW

THIS IS A SUPER INCONVENIENCE, BUT AT THE END OF THE DAY,

IS IT REALLY? I MEAN, COME ON.

COME ON, GIVE A HONK TONIGHT OF PRAISE.

[HORNS HONKING] YOU GOT MORE ANGELS WITH YOU THAN YOU REALIZE.

YOU GOT MORE HONKS THAN YOU REALIZE.

WOMAN, VOICE-OVER: WE GATHER HERE TO COMMEND

OUR BROTHER TO GOD,

OUR FATHER, AND TO COMMIT HIS BODY

TO EARTH AND THE ELEMENTS.

WOMAN: IT'S REALLY NICE.

MAKE YOU FEEL GOOD SEEING IT.

SECOND WOMAN: MM-HMM. BARELY KNOW THE PAIN.

[FIRST WOMAN LAUGHS]

WOMAN: HE HAS NOT HAD A FEVER

OR ANY SORT OF COVID SYMPTOMS, CORRECT?

OK, AND NO RESPIRATORY COMPLAINTS.

[EXHALES] SO, YESTERDAY SUCKED.

ALREADY MISSING PRESTON, AND HE'S MISSING US

AND NOT REALLY FACETIMING MUCH BECAUSE HE JUST--

IT MAKES HIM MISS US MORE, AND THEN

I TRANSPORTED TWO PATIENTS ON THE NON-COVID TRUCK.

ON THE WAY BACK WITH A PATIENT,

THE RADIOLOGIST FINALLY UPLOADED ALL THE

INTERPRETATIONS OF THE CT SCAN,

AND IT SAID BILATERAL GROUND GLASS OPACITIES,

WHICH HAS BEEN ONE OF THE KEY THINGS

THAT PEOPLE HAVE FOUND IN THESE COVID-19 PATIENTS

THAT ARE COMPLETELY ASYMPTOMATIC.

FOR THE CHEST PAIN PATIENT, WE WORE SURGICAL MASKS.

WE DIDN'T WEAR N95s. [EXHALES]

THIS NAGGING FEELING HE MIGHT BE POSITIVE.

SO, WHAT IF? THAT WHAT IF.

[HELICOPTER'S BLADES WHIRRING]

MARIO: WELL, WE WALKING OUT BECAUSE OUR SAFETY IS NOT CARED FOR.

WE JUST HAD OUR THIRD CONFIRMED CASE.

IT TOOK THE BUILDING 9 DAYS, 9 DAYS TO LET US KNOW THAT

THE FIRST PERSON IN OUR BUILDING WAS HERE.

WE REFUSE TO GO BACK INSIDE THAT BUILDING.

[HORNS HONKING] I DON'T FEEL VALUED AT ALL,

ESPECIALLY WHEN 3 OF MY COWORKERS HAVE GOTTEN SICK,

AND YOU'RE--YOU'RE JUST NOW TELLING ME?

I FEEL LIKE IT'S GONNA TAKE SOMEBODY TO DIE

FOR THEM TO FINALLY TAKE ACTION.

[HORNS HONKING]

WE STAND TOGETHER.

GOOD MORNING. TODAY IS APRIL 8

AND IT'S MY FOURTH MORNING

WAKING UP AT HOME IN RECOVERY.

WE'RE STILL SELF-ISOLATING. HERE'S MY OXYGEN

THAT I HAVE TO BE CONNECTED TO.

THIS IS MY BREAST PUMP

FOR WHEN THE BABIES COME HOME.

SO, WE'RE JUST LOOKING AT THE BOYS

ON THE LIVESTREAM RIGHT NOW.

FIRST ONE RIGHT HERE, THIS ONE IS BRUCE,

AND LET'S SEE IF KAL IS ON HIS MONITOR.

SOMETIMES WHEN THEY'RE BEING FED,

WE'LL GET A MESSAGE SAYING--WHICH IS THIS.

"THE NURSE IS CARING FOR YOUR BABY RIGHT NOW."

IT'S BEEN...VERY SURREAL TO GIVE BIRTH TO BABIES

AND NOT BE ABLE TO HOLD THEM.

LIKE I'M NOT A MOM, THEIR MOM YET.

WELL, I WAS RAISED TO BELIEVE THAT WE TAKE CARE OF EACH OTHER.

WHAT I AM MAKING CURRENTLY IS SURGICAL GOWNS

FOR A LOCAL HOSPITAL.

WOMAN, VOICE-OVER: I WENT AHEAD AND STARTED FINDING VOLUNTEERS.

[SEWING MACHINE WHIRRING] SECOND WOMAN: RIGHT NOW,

WE HAVE MAKE ABOUT 600 MASKS SO FAR

FOR OUR FRONTLINE HEROES.

[SEWING MACHINES WHIRRING]

WOMAN: WE'VE BEEN BUSY AT WORK PRINTING 3-D MASKS

FOR PEOPLE IN HOSPITALS WHO ARE IN SHORT SUPPLY.

SO, WE'RE OUT HERE TRYING TO SERVE PEOPLE

AND GIVE THEM FOOD THAT THEY NEED.

SO, THEY GOT A LOT OF GOOD FOOD HERE,

AND THEY ARE GONNA BE DONATING

180 BAGS OF GROCERIES OR GOODIES.

WHERE MY CHURCH IS, THE [INDISTINCT],

THEY DO THE WATER GIVEAWAY,

THE LINE IS MORE THAN A MILE AND A HALF TO TWO MILES.

FOR NOT JUST WATER, FOR FOOD.

I'M HERE DELIVERING 3 FROZEN MEALS

AND WHAT WE CALL SHELF-STABLE MEALS,

BECAUSE IT'S PROBABLY THEIR ONLY SOURCE OF FOOD THIS WEEKEND.

[ELEVATOR BELL DINGS] GIVEN THE CIRCUMSTANCES,

I'M GOING TO HANG THEM HERE ON THE DOOR.

I'M ALL ALONE. THE HIGHLIGHT, REALLY,

OF MY DAY IS WHEN GOD'S LOVE WE DELIVER COMES,

BRINGS ME A WONDERFUL MEAL THAT KEEPS ME GOING.

THERE'S SO MUCH WORK TO DO. JUST KEEP IT UP, EVERYBODY.

I NEVER EXPECTED NONE OF THIS.

BUT SADLY, I HAVE TO MAKE TODAY MY LAST DAY,

BECAUSE THIS COVID-19, OUR SAFETY IS NOT BEING

TAKEN SERIOUSLY, SO, I DECIDED TO

MAKE THIS MY LAST DAY BECAUSE I START MY TRUCKING JOB

NEXT WEDNESDAY.

GIRL: ♪ Y-YEAH, Y-YEAH, Y-YEAH ♪

MARIO: EVEN THOUGH COMMERCIAL DRIVERS

STILL AT RISK OF GETTING COVID-19,

BUT I FEEL LIKE IT'S LESS OF A RISK BECAUSE

I'M NOT WITH A LARGE GROUP OF PEOPLE,

SOMETIMES 500-600 PEOPLE PER SHIFT.

THE ONLY BAD THING ABOUT IT IS

SPENDING A LOT OF TIME AWAY FROM MY FAMILY,

SOMETIMES 4 WEEKS, 5 WEEKS.

I DON'T WANT TO MISS DIFFERENT MILESTONES.

HIS FIRST TIME SPEAKING, HIS FIRST TIME WALKING,

HIS FIRST TIME CRAWLING,

BUT WILL I LET THAT SCARE ME? NO.

THIS IS A MUCH BETTER OPPORTUNITY TO PUT

ME AND MY FAMILY IN A BETTER POSITION,

SO, I'M GOING TO DO THAT.

I'M GONNA MISS YOU.

I GOTTA LEAVE, AMARI. I GOTTA LEAVE.

[KISS] LOVE YOU.

I LOST TWO JOBS IN ONE DAY. I NEED THE INCOME.

WHAT AM I GONNA DO WITHOUT THAT INCOME?

I DON'T KNOW HOW I'M GONNA PAY THE BILLS.

NOT KNOWING WHEN MY WORK'S GONNA OPEN AGAIN,

NOT KNOWING WHEN MY EX-HUSBAND'S

WORK'S GONNA OPEN AGAIN.

THERE'S NO GIGS. THERE'S NO LIVELIHOOD HAPPENING.

THAT WAS MY LIFE.

YOU KNOW, I TRY TO FEEL STRONG,

BUT SOMETIMES, I FALL DOWN.

RIGHT NOW, I'M WALKING THROUGH THE RESTAURANT

THAT IS COMPLETELY EMPTY.

I NEVER EXPECTED TO SEE BUSINESS DETERIORATE LIKE THIS.

NOW ALL OF A SUDDEN, ALL THE ORDERS WERE DROPPED

AND WE STARTED POURING MILK DOWN THE DRAIN.

THIS IS GOING TO POSSIBLY BE THE END OF A LOT OF FARMS.

PAULA: WELL, Y'ALL HAVE A GOOD DINNER.

I'LL TRY AGAIN IF I CAN, BUT TRY TO HAVE A GOOD EVENING.

GOOD LUCK AT WORK TOMORROW.

ALLISON: I WILL. THANK YOU.

LOVE YOU. BYE. PAULA: LOVE YOU. [BLOWS KISS] BYE.

[EXHALES]

IT'LL GET EASIER EVENTUALLY, RIGHT?

MAN: YEAH, IT WILL. I FEEL LIKE IT'S GETTING HARDER.

AS LONG AS HE TALKS TO US, IT WILL.

I FEEL LIKE IT-- NO, I FEEL LIKE

IT'S GETTING HARDER AND HARDER.

PAULA: PRESTON IS, HE'S A REALLY SMART KID.

HE'S REALLY SMART.

HE HAS A PICTURE OF THE CORONAVIRUS

ON HIS PICTURE WALL.

HE TOLD HIS MOM AND DAD HE WANTED A PICTURE OF THE VIRUS.

HE LOOKED AT IT ONE NIGHT AND HE SAID,

"I'M REALLY WORRIED ABOUT MOM AND DAD."

AND I SAID, "WHY? HE SAID, "BECAUSE

I'M AFRAID THEY'RE GONNA DIE FROM THE CORONAVIRUS,"

AND THEN IMMEDIATELY, HE TURNED AROUND AND DID SOMETHING ELSE.

AND THEN A FEW DAYS LATER, HE SAID, "DANNY, I NEED MORE HUGS

"BECAUSE I'M REALLY LONELY FOR MOMMY AND DADDY,

SO I NEED YOU TO HUG ME MORE."

WE FIGURED THE FIRST WEEK WOULD BE OK.

THE SECOND WEEK WOULD BE THE ACT-UP WEEK,

WHICH IT WASN'T.

THE LAST 3 DAYS HAVE BEEN HOLY HELL.

HE'S VERY, VERY ANGRY. AND TRYING TO REMAIN CALM

WAS NOT ALWAYS EASY.

HE'S--HE'S LOST. HE'S REALLY LOST.

THE THING THAT GETS ME, YOU DON'T THINK ABOUT IT TILL--

WHEN EVERYBODY'S IN BED.

AROUND 2:00 IN THE MORNING

IS WHEN YOU WAKE UP AND GO,

"DID I MAKE SURE THEY WERE HAPPY TODAY?

"DID I MAKE SURE PRESTON FELT SECURE?

"DID I TELL HIM HIS MOMMY LOVES HIM, HIS DADDY MISSES HIM?

DID I TELL HIM ENOUGH? DOES HE KNOW THIS?"

AND EVERY TIME YOU READ ABOUT ANOTHER HEALTHCARE WORKER

GETTING SICK OR DYING, IT'S ANOTHER WORRY.

MAN: WE ARE MORE THAN LIKELY

GOING TO BE PICKING UP

ONE OF OUR TWIN BOYS TOMORROW FROM THE NICU,

AND BOTH SEEING AT LEAST ONE OF OUR BABIES

FOR THE VERY FIRST TIME.

IT'S A REALLY BITTERSWEET MOMENT.

WE ORIGINALLY WEREN'T GONNA BE ALLOWED AT THE HOSPITAL

A COUPLE WEEKS AGO UNLESS WE WERE CONTAGIOUS-FREE

FOR 72 HOURS...

AND PASSED TWO--TWO COVID TESTS.

WELL, THOSE HAVEN'T BEEN AVAILABLE FOR US

FOR OVER TWO WEEKS NOW.

NOW THEY'RE TELLING US WITHOUT ANY TESTING,

AND REGARDLESS OF HOW MANY DAYS WE'VE BEEN SYMPTOM-FREE,

YOU'RE--WE'RE ABLE TO COME PICK UP OUR BABIES.

I'M GLAD THEY'RE, YOU KNOW, THAT WE GET TO TAKE OUR BABIES HOME,

BUT WE DON'T KNOW IF WE'RE STILL CONTAGIOUS.

WOMAN: I NEVER EXPECTED TO BE ALONE.

MY HUSBAND HAD--HE HAD TESTED POSITIVE FOR COVID.

HE LASTED OVER A WEEK. HE DIDN'T DIE UNTIL

ST. PATRICK'S DAY.

WE'RE--WE'RE 78 AND I KNOW IT SOUNDS FUNNY,

BUT I THOUGHT WE WERE GOING TO GROW OLD TOGETHER.

[CRYING SOFTLY]

AND NOW I'M ALONE.

[VIOLIN PLAYING]

I KNOW SO MANY PEOPLE ARE GOING TO SUFFER FROM THIS,

AND I'M JUST HOPING THAT CREATIVITY AND COMMUNITY

CAN CARRY ME AND OTHER ARTISTS LIKE ME THROUGH THIS PERIOD.

[PLAYING INSTRUMENTS]

MAN, VOICE-OVER: I PLAY MUSIC. MY NEIGHBORS COME OUT AND DANCE.

WOMAN: ONE THING THAT I KNOW HOW TO OFFER

IS A SPACE FOR PEOPLE TO MOVE

AND TO CONNECT WITH ONE ANOTHER.

MAN, VOICE-OVER: I JUST TRY TO FIND A WAY TO

ACCEPT THE WORLD WE LIVE IN AND JUST TRY TO FIND WAYS

TO COPE WITH IT, AND THE ONLY WAY I CAN REALLY DO THAT

IS THROUGH ART.

WOMAN, VOICE-OVER: I JUST STARTED CREATING.

THIS IS MY THERAPY.

I'M MAKING PAINTINGS FOR CHILDREN.

MISS DORI, CAN YOU PLEASE MAKE ME

A BEAUTIFUL UNICORN?

WOMAN: ♪ DA

MAN: COVID-19 HAS MADE ME REALIZE THE POWER

AND IMPORTANCE OF ARTISTS

AND THE ROLE THAT WE PLAY IN SOCIETY.

WE WERE VICTIMS OF VANDALISM.

A BUNCH OF ARTISTS REACHED OUT TO ME

AND SAID, "HEY, WE'RE GONNA PAINT

THESE BOARDED-UP WINDOWS FOR YOU FOR FREE."

HERE I AM ON MY WAY TO A NEW JOB.

THIS IS A NEW CHAPTER IN MY LIFE.

I'M NERVOUS BECAUSE

I'VE NEVER BEEN AWAY FROM MY FAMILY FOR THIS LONG.

I'M SO EXCITED AS WELL

TO START A NEW JOB,

A BETTER-PAYING JOB.

THIS IS ONLY THE BEGINNING. IT GOES UP FROM HERE.

[MAN SPEAKING INDISTINCTLY]

ALLISON: NOW IT'S SAYING THAT OUR PEAK DAY

IS SUPPOSED TO BE JUNE 1.

IT'S NOT APRIL 15 ANYMORE.

SO, THIS IS WHAT PISSES ME OFF. WE SENT OUR SON

TO MY PARENTS' HOUSE AT THE BEACH.

SO, WE HAVEN'T SEEN HIM. SO, THIS SUCKS.

ARE YOU ON THE TRUCK? YES.

ORIGINALLY, THE PEAK WAS SUPPOSED TO BE

BETWEEN TODAY, THE 15TH, AND THE 20TH.

HOWEVER, THEN, OF COURSE, WE JUST HEARD, LIKE,

PEAK MAY BE JUNE 1. YEAH.

WHATEVER. I'M JUST-- I'M WAITING FOR THE SURGE HERE.

I'M JUST WAITING.

WHEN THIS ALL ENDS, I HOPE THAT

MY SON IS NOT TOO TRAUMATIZED FROM THIS.

I HOPE THAT...YOU KNOW, HE KNOWS THAT HIS MOM AND DAD

LOVE HIM MORE THAN ANYTHING IN THE WORLD

AND THAT...WE DID IT TO KEEP HIM SAFE.

[SIGHS] THAT'S MY HOPE.

CAT: HERE THEY COME. HERE'S MY BABIES.

MY SWEET HUSBAND.

ZACH: AND HERE'S MOM,

LOOKING AT HER BABIES FOR THE FIRST TIME.

HI, MY LOVE.

HI, LITTLE BRUCE. IT'S MOMMY.

ZACH: MOMMY'S FIRST TIME SEEING BRUCE. HI, BABY.

I LOVE YOU. WELCOME HOME.

WHEN THIS IS ALL OVER, I'M JUST HOPING THAT

WE CAN JUST APPRECIATE LIFE SO MUCH MORE.

EVEN THOUGH IT WAS AWFUL, JUST HAVING A GRATEFUL HEART

AND BEING APPRECIATIVE OF EACH DAY

THAT WE'RE GIVEN.

HI, MY LOVE. IT'S MOMMY.

DO YOU REMEMBER MY VOICE? YES, YOU DO.

I LOVE YOU, BABY.

WHEN THIS IS ALL OVER...

WHEN THIS IS ALL OVER...

I HOPE I'LL BE ABLE TO INTRODUCE

MY BABY GIRL TO ALL MY FRIENDS AND FAMILY.

I'D JUST REALLY LOVE TO GRADUATE.

MAYBE RESCHEDULING PROM. THAT WOULD BE NICE.

WHEN THIS IS OVER...

I'M GOING TO GET MY HAIR CUT.

I'LL DEFINITELY GO STRAIGHT TO THE BEACH.

AND MEET WITH MY FRIENDS AS OFTEN AS POSSIBLE.

IT'S GONNA BE A PARTY EVERY DAY.

I THINK I MIGHT JUST RUN OUT MY FRONT DOOR

AND JUST RUN AROUND THE NEIGHBORHOOD AND BE LIKE,

"WE'RE FREE, WE'RE FREE, WE CAN DO THINGS!"

AND, OF COURSE, THE FIRST FRIEND THAT I SEE

WILL GET A HUG SO LONG THAT IT'S GONNA GET KINDA WEIRD.

WHEN THIS IS OVER, OUR LIFE IS GOING TO CHANGE.

SO MUCH HAS TO BE FIXED.

I HOPE THAT WE DON'T GO BACK TO NORMAL,

BECAUSE NORMAL WASN'T WORKING.

WHEN THIS IS OVER, I PLAN ON DEFINITELY

GOING TO SEE MY PARENTS,

AND I JUST LOOK FORWARD

TO GIVING THEM A VERY BIG HUG.

ALL I WANNA DO IS HUG MY MOM.

YOU KNOW, IT'S FUNNY HOW WE TAKE THINGS FOR GRANTED

WHEN...WHEN WE HAVE THEM,

AND WHEN THIS THING IS OVER,

I'M NOT GONNA TAKE THINGS FOR GRANTED ANYMORE.

WHEN THIS IS OVER...

MAY WE ALL UNDERSTAND THAT WE EXPERIENCED

THIS GLOBAL PANDEMIC TOGETHER.

AND WALK INTO A DIFFERENT SOCIETY

WHERE WE CAN REFRESH OUR BOND AS HUMAN BEINGS.

YOU SHOULD BE A PART OF AMERICAN PORTRAIT.

BECAUSE YOU HAVE A STORY TO TELL, TOO.

YOUR STRUGGLES, YOUR DREAMS,

YOUR HOPES, YOUR TRIUMPHS.

AND PEOPLE WANT TO HEAR IT.

ESPECIALLY NOW.

BECAUSE IT MAY INSPIRE AND CHANGE THE LIFE OF OTHERS.

AND THE AMERICAN STORY WOULDN'T BE COMPLETE

WITHOUT YOUR STORY.

-TO JOIN IN... -GO TO PBS...

-DOT ORG... -SLASH..

-AMERICAN PORTRAIT. -JOIN US

AND BE A PART OF HISTORY.