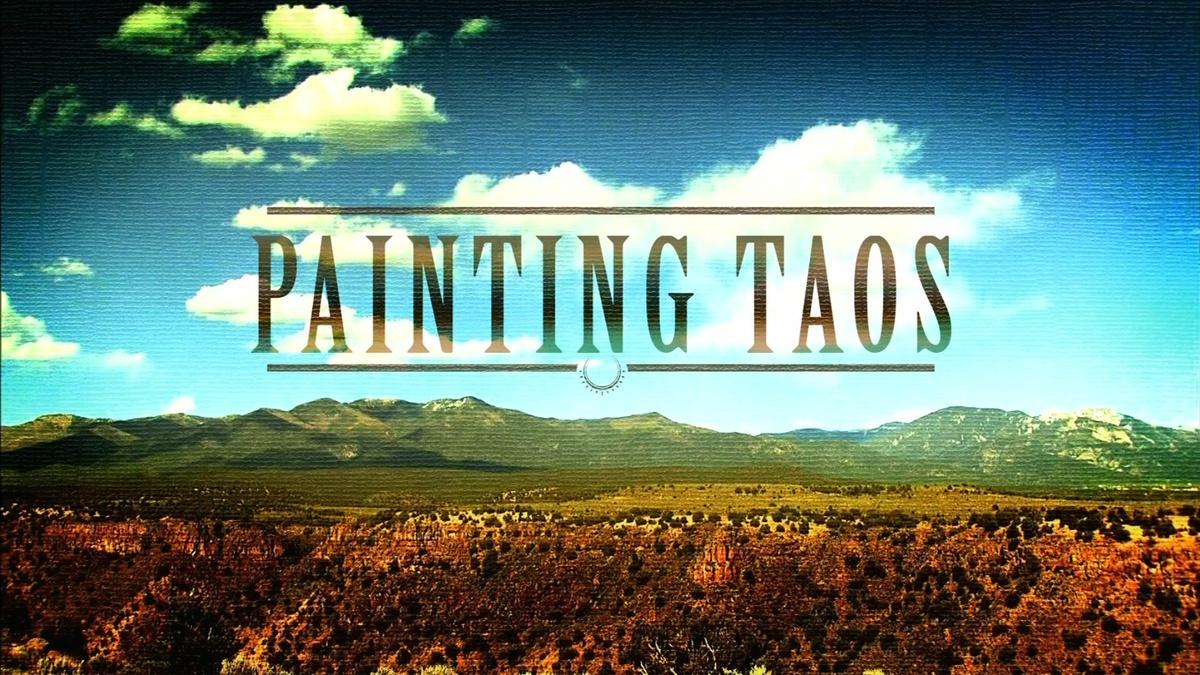 FULL EPISODE
Painting Taos
In the early 20th century, six relatively unknown painters -collectively known as the Taos Society of Artists - helped turn a small mountain village in New Mexico into the premier American art destination. PAINTING TAOS reveals how these young, ambitious artists captured the "vanishing" West for an America on the brink of modernity.
TRANSCRIPT

Funding for the production of

this program provided by the

Community, its more than a word.

It's a belief in action, a

passion. We're proud to stand

by our neighbors and friends,

sharing a smile, lending a hand

or a shoulder to lean on. First

The Taos Art Museum.

and Randy Briggs.

>>Narrator: In 1898 the world

famous Taos Art Colony of New

Mexico began with a road trip.

>>GC: Where we're going is, we

call it the sacred site.'

>>DW: We'll be headed about

almost 22 miles north of Taos.

>>FENN: those Taos painters,

were

a very unusual bunch of people

in a very unusual place at an

impossible time

>>DW: We finally found it on

July 16, 1993.

>>GC: It took us three years to

find it.

>>DW: When they first came in

they had to figure out how do we

handle this landscape?

>>DW: We found a rock that's

pictured in the photograph so we

knew we had it.

>>SU: there was a deep love of a

place that was new and endlessly

entrancing

>>TB: How many people have been

to this site?

>>GC: Maybe 20, wouldn't you

say?

>>DW: So from here we walk.

>>What Taos was for everybody,

and still is, is a place where

people can be the person they

really want to be

>>DW: I want it to disappear

from all human knowledge again

when we're all gone. And then

this will give incentive for a

future generation of art

historians to start all over

again including going on the

hunt.

>>DW: The reason it's important

is that if you think about the

great places in New Mexico like

the Palace of the Governors or

Trinity Site, this is one of

those sites in New Mexico, right

here, where everything changed

as a result of something

happening here.

>>FENN: Hold on just a second.

Can

I read you a letter?

>>FENN: Why is it you can never

find anything when you're

looking for it?

>>FENN: I wanted to read you

this.

This is an original manuscript

written by Bert Phillips in 1898

about their trip from Denver to

Taos.

>>GC: Phillips and Blumenschein

were young illustrators in New

York. They had both been

studying in France. They were

living together in New York and

illustrating and they just

decided they wanted a western

adventure. Something that was

symbolic of America. And America

different from anyplace else in

the world.

>>FENN: This is a wonderful

adventure. We're going to go to

Mexico City. Do you know how far

Mexico City is? And then back to

Cincinnati in a wagon? But they

didn't care. They were young.

They bought a bunch of painting

supplies in Denver before they

left.

>>GC: Apparently knew so little

about this that they didn't even

know how to hitch the wagon up.

>>GC: It was all an accident-

how they ended up here!

>>DW: So there was once a road

here and it was all flat, as you

can see, it's not flat anymore.

But it used to be. As they were

coming along, they would have

hit a rut. They hit a rut and I

don't know the wheel broke, I

would guess something went

wrong...

>>EL: Broke a spoke.

>>DW: OK. A spoke broke on the

wheel.

>>EL: And somewhat the rim, got

distorted.

>>DW: The rim was messed up and

they were in trouble. Since they

didn't want to leave all the

stuff in the wagon, they brought

some of it over and put in on

this...rather magnificent rock.

>>DW: So Phillips took his great

photograph from over there,

looking right towards me. But it

was this rock that we were

looking for, out of a million

square acres in the Carson

National Forest, we were looking

for this particular stone.

>>GC: You can see how there were

not other big rocks like that in

the area. It was amazing!

>>FENN: Bert Phillips is making

notes: What shall we do? What

can we do? The wheel must be

fixed! Or we'll never get out of

here! But you know, what makes

it good, is that these things

were written when Bert Phillips

was sitting there, while it was

happening. And Bert Phillips had

a problem getting paper, you

know, we're talking about 1900.

But the grocery stores had paper

sacks. So that's what these

things are. These are paper

sacks that Bert Phillips would

get and tear up and start

writing on. Look at this...

>>DW: They probably would have

walked up here. And looked

around because they were in a

valley, trying to see out how in

the world they were going to get

out of it because they didn't

know what was ahead of them.

There was no way for them to

know. So all they could do was

look out over these mountains,

which had been logged, and

wonder exactly what should they

do next.

>>DW: They'd later claimed that

they'd flipped a three dollar

gold piece while standing down

there by that rock and that the

loser would have to carry the

wheel into Taos, to get it

fixed. Blumenschein has the

problem of going all the way

into Taos, and Phillips gets to

sit up here, without a horse,

without anyway of getting out,

and wondering if he's ever going

to escape this place or not.

>Narrator: I won the toss,

saddled up and started down the

mountain. It was slow work

getting down that long road. I

would carry the wheel first in

one hand, then the other, around

my shoulder, around my neck, on

my foot, until my muscles ached.

I rode over foothills, though

gorges, out upon the great

desert plateau. Slowly I moved

across a vast sage-brush plain

under vast and beautiful skies;

in the distance, snow capped

mountains, romantic mountains,

green everlasting mountains. I

saw a few wild animals, a few

strange dark people, but they

were quite insignificant in this

superb landscape. All the time I

was juggling that wheel, my eye

was enraptured by the glorious

impressions. Never shall I

forget these first powerful

impressions: my own impressions

direct from a new land through

my own eyes. Not another man's

picture this, not another's

adventure. I was receiving under

rather painful circumstances the

first great unforgettable

inspiration of my life...New

Mexico had gripped me§and I was

not long in deciding that if

Phillips would agree with me, if

he felt as inspired to work as

I, the Taos valley and its

surrounding magnificent country

would be the end of our wagon

trip. Ernest Blumenschein

>>Narrator: here in the red-gold

light of turn of the century

Taos, this adventurous group of

artists finds new inspiration.

>>narrator: near the ancient

Indian pueblo, in the shadow of

the Sangre de Cristo mountains,

the town of Taos, New Mexico is

still very much a part of the

old west.

>>ME: What a hell of a place

that was. Just walk into that

plaza, the history, the battles,

the flags, the mountain men,

Apaches had ridden across that,

the Comanche had ridden, the

Spanish Army, the whole world

had been there in battle, in

great struggle, before all this

art

>>Narrator: when Joseph Sharp

joins his friends Ernest

Blumenschein and Bert Phillips,

they set out to create the next

great American art colony.

>>DW: What drew me to Taos was

everything that drew

Blumenschein and Phillips to

Taos, I've interviewed many

artists, scores of artists over

time and I've asked what brought

you here or what kept you here

which is maybe more important

many people came here

accidentally they were passing

through and a week later they

own a house and they've moved

here . I've heard that story

many times Almost every artist

that you talk to who's here

today going back to Joseph Sharp

had that same experience. They

came up over one of these

mountain passes, they looked at

the valley, and they thought I'm

home and been completely

transfixed and transformed

immediately.

>>Narrator: Taos isn't some

great untouched wilderness when

Phillips, Blumenschein, and

sharp arrive. Indian farmers and

Hispanic pilgrims have already

settled here at the edge of a

deep gorge created eons before.

In Taos, the dawn of the 20th

century looks much like it has

for the last ten centuries.

>>FENN: In my opinion, Taos or

Santa Fe would not have become

an art center had it not been

for the Taos painters. It was

the mountains. The beautiful

chamesa in the fall that blooms

beautiful yellow. And the

Indians on horseback. The

romance. All the lines crossed

at Taos, New Mexico.

>>Narrator: We had heard of

Taos, the home and burial place

of Kit Carson; of the Indian

people who live in five storied

communal houses and the

beautiful Spanish girls; romance

and beauty; pictures to be

painted; adventure, all lured us

on. Then, in a few short weeks

I had found more inspiration and

material for creative work than

I could use in a lifetime; more

than that, I had found the ideal

climate for out-door work; also

a realization that one artist,

alone, could do no more than

scratch the surface of this

locality, while the Great

Southwest, an artistic empire,

was practically undiscovered

country to the art

world....especially by people in

a profession that had almost

lost the pioneer spirit. Bert

Phillips

>>ME: people believed it. It was

honest. And it was. And to look

at a painting, if you've never

been in the Taos country, to see

a painting from there, I think

it's a spiritual thing that

comes through. And the love for

that landscape. What a

landscape! With the great

aspens, out into that wonderous

massive desert, across that

gorge, it's a rival of any in

the world. And there wasn't any

houses out there then. It was

just that great wondrous sage

brush desert. the scent, you

know, the least little breeze of

that vast area of sagebrush it's

like a special perfume factory

inundating the air permeating

the air. It became a part of

you. Whether you liked it or

not. You were breathing it right

into your bloodstream...And all

the way up from the desert to

the high terrain of snow, and

the great golden aspens. How can

you beat that for a peek at the

new world? It was new world to

them! Still is to me. Always

will be. I love it deeply.

>>RR: even in those early days,

I think there was the feeling -

I can't imagine quite what it

was - but as artists came, as

people came, they were sort of

absorbed into the community like

a sponge, and they came to

understand the total community,

the Hispanic traditions, the

Pueblo traditions, and people

were very much involved in all

of these different areas of

Taos. People really lived in

Taos, not on the surface of

Taos....What Taos was for

everybody, and still is, is a

place where people can be the

person they really want to be

and, or maybe find the person

that they really want to be.

>>Narrator: Sharp, Phillips, and

Blumenschein come to Taos hoping

to start a new chapter in their

careers. All three had gone to

art school in Paris only to

return to America to face the

hard realities of making a

living. In New York they joined

the ranks as freelance

illustrators where they

developed a keen commercial eye

working for magazines and

newspapers.

>>SU: the artists were not slow

to see what was popular and what

was not.

>>Narrator: they learn to put

the taste of their readers and

their editors before their own.

Illustrations in the late 1800s

was black and white. But all of

these artists were in love with

color.

>>Narrator: another artist,

Oscar Berninghaus, is hired to

illustrate travel pamphlets for

the Denver and Rio Grande

railroad. Like others before

him, it's a trip that'll his

life.

>>Narrator: I boarded a narrow

gauge freight train

(affectionately known as the

Chili Line) bound for Santa Fe,

New Mexico. That was in 1899.

For reasons unknown to me the

little train would stop every

few miles, perhaps to cool down

the axle, take in fuel and water

or to remove some fallen boulder

from the mountain side. Anyway,

whatever it was this gave me

pleasant opportunity to make

sketches of such objects as

sagebrush, Piñon trees, and

rock formations. The train

crew, taking an interest in me

and what I was doing, suggested

I might ride the top of the

freight car that I may better

see the country as we rolled

along, the crew soon ties a

chair on top of the train car,

then ties Berninghaus onto the

chair! It was a beautiful

bright sunny day in May; the

warmth of the sun was warmth to

the soul and body in this high

altitude of northern New

Mexico...the sun casting its

glowing color over the hills

that gave the Sangre de Cristo

mountains their name. I found

Taos just as beautiful as the

brakeman had described it and

more so. Berninghaus decides to

stay. Others soon follow.

>>GC: my grandfather was E.I.

Couse, he one of the founding

members of the Taos art colony.

And had been told about Taos

from Blumenschein while they

were living in New York. He

wanted a place to paint Indians

that would be successful and

Blumenschein said there's no

place like Taos go there and try

it out.

>>Narrator: in 1902 Irving Couse

and his family arrive in Taos.

>>GC: they bought this house in

1909.it was pretty primitive.

Berninghaus said that there were

only 25 Anglos lived in town.

there was no electricity, no

running water, it was the

hottest summer ever recorded in

Taos that summer, there were no

trees in the valley to speak of,

a few orchards. And you can

imagine the clothes they wore

in those days were heavy, and so

it was very miserable existence

for my grandmother. but my

grandfather could have cared

less he enjoyed the painting so

much. My grandmother in her

letter tells a funny story about

when they first arrived in 1902

she went to the store, the

butcher store and she found that

the butcher was also the

undertaker. And he had the

coffins and sides of beef

hanging side by side which

pretty much shocked her. So she

said she couldn't buy any meat

until she found another place to

buy it.

>>Narrator: Sometimes I ask

myself why I remain away from

the 'land of civilization' but

never before have I tried to

formulate a reply. I have simply

been content to stay on. The

charm of the great stretches of

mountain and plains and interest

of their inhabitants is never

ending. As I visit their

villages and talk with my Indian

friends, I see and hear the

young bucks wrapped in their

white blankets standing on the

bridge singing a love song in

the moonlight and I feel the

romance of youth, so the answer

comes as I write and I believe

that it is the romance of this

great pure aired land that makes

the most lasting impression on

my mind and heart. Bert

Phillips

>>SU: American society was much

more complex than we sometimes

realize at that point. there

were all kinds of social issues

around poverty, immigration,

around development of all kinds

so this was an escape. but also

a passage into somewhere that

seemed more connected to the

past to a kind of authentic

American experience where things

were made by hand, where time

moved a little more slowly,

where life was simpler as they

perceived it. this was very

appealing to a world in which

industrialization felt like a

runaway train.

>>Narrator: as the painters

settle in Taos, they no longer

see themselves as illustrators,

but rather as pioneers - both

of the untamed west' and of a

new school of American art.

>>DW: The center of the art

world was Paris, and American

artists showing in Paris

...hadn't really come up with

anything new. And one of the

ways they tried was by founding

art colonies : Provincetown,

Carmel, Taos

>>SU: For most American artists

who were European trained and

who had success for example in

the Paris salons, as

Blumenschein, sharp, and Couse

did, it was a real sacrifice to

come back to the united states

and then decide you weren't

going to make your career solely

in New York where you could have

regular gallery representation,

where the buyers were, where

life was easier

>>DW: coming to Taos was a way

to concentrate on doing art work

as opposed to being a part of

the scene in New York or

completely devoted to making a

living.

>>Narrator: I believe that if

America gets a National Art it

will come from the Southwest and

not from the Atlantic Board.

Because we are really different

from Europeans, and the farther

away from European influence,

the better for us...Gradually

and with the Indians here, I

believe we can give much to

American Art in the future. The

Southwest has gradually gained§

though it is still wild§by

taking within its fold the

Artist." Walter Ufer

>>Narrator: what better group

than these hungry commercial

artists to sell the public on a

new and distinct American art?

They set out with lofty dreams

and paintbrushes in hand to

showcase the beauty of the

vanishing frontier.... Before it

was gone.

>>DW: there was an incredible

rainstorm last night, big

thunderstorm but to the west of

here there were no clouds, so

the sun was coming in, it was

incredibly bright at the same

time there was a rainstorm

pouring down on us, and over the

valley last night was this

amazing double rainbow. it was

fantastic...so when the painters

of the Taos society started

capturing images like that, and

then circulating their paintings

back east, this quality of light

they found, was disbelieved, the

kinds of greens that show up,

the double rainbows, sunlight

during thunderstorms, all of

this was thought to be either

made up or truly spectacular,

which of course is what it turns

out to be

>>Narrator: the Taos art scene

is growing. The expanding group

is joined by a real character,

Blumenschein's former student,

Buck Dunton

>>FENN: W Herbert Dunton, they

called him Buck, was a tall,

good lookin' man with a mustache

and the women hovered around him

and he was a real ladies man and

he wore a cowboy hat . He had a

lot of hair and he'd pull his

hat down on his head and there's

lots of pictures of Buck with

creases where the hat has been

around his head.

>>Narrator: He becomes known as

the cowboy painter. Each year,

the Stetson hat company takes

notice. Each year the company

sends Dunton a new hat with his

name spelled out in gold in the

sweatband. Buck and the other

painters have a hard time

selling oversized oil canvases

from the Taos frontier.

Individual sales come in fits

and starts. And they struggle to

make a living. In 1915 the

artists hatch a momentous plan.

To sell more paintings back

east, they will create a

traveling group exhibit of their

works. They call themselves "The

Taos Society of Artists." The

art colony is born.

>>GC: There's a famous

photograph of the Taos Society

of Artists taken at this very

spot. The first six members of

course it was probably the first

photo taken of them as a

society.

>>Narrator: The artists are

friends and competitors. And

living together in the relative

isolation of Taos brings out the

best and worst in each other

>>FENN: It was lonesome in Taos.

. and they needed each other and

they helped each other.

>>Narrator: Joseph Sharp is the

wise old man of the group.

>>FENN: sharp was one of the

good guys in Taos. And he was an

easterner. He went to school in

Cincinnati. when he was 14 he

fell off a bridge into the water

and he was deaf the rest of his

life.

>>FENN: Sharp could get his

dander up, but I never heard of

anybody disliking Bert Phillips.

>>Narrator: Bert Phillips is the

group's anchor.

>>FENN: Bert Phillips like the

rest of them was an Easterner.

And he came West, set up a

house, married his wife, and

never did leave.

>>Narrator: And then there's

Blumenschein, known around town

as Blumy.

>>FENN: This is a photograph of

Ernest Blumenschein in his

studio, holding his palette. And

notice the little unpretentious

palette he has. I always said

Ernest Blumenschein was a very

severe person. He was set in his

ways, and he wanted you to be.

He wanted to do things his way.

>>Narrator: Taos is no bohemia.

The artists find ways to hold

onto their east coast

lifestyles.

>> the Taos baseball team. they

had uniforms. and there's

Blumenschein standing there.

There were eleven players on the

team...FENN: Here's a picture

with his prize fish wearing a

tie. Happy Christmas from Blumy.

And he sent this to everybody he

knew. I think everyone in North

America got a picture of this

because he was bragging about

that fish. Blumenschein played

tennis with a tie on, not a

coat, but a tie. and a certain

kind of tie and a sweater. they

didn't do anything without

wearing a tie...

>>Narrator: His wife conducts

tea time in their adobe home

amidst French armchairs,

Victorian lamps, and oriental

rugs. And there were endless

parties! The Taos society of

artists have many paintings to

exhibit. Inspiration is

everywhere. If the landscape had

brought them in, it was the

pueblo that made them stay. Here

was the authentic America they

hadn't found in art school in

Paris.

>>RR: just try to imagine New

Mexico without the Pueblos in

Northern New Mexico, and what

have you got? You know half of

wanting to live here is gone.

And whether you are a spiritual

person or a religious person, or

have no interest in any of that,

the fact that some people have

been living here and have

hundreds of years of history,

praying and thinking of the

mountains, of the fields, of the

rivers really makes New Mexico

special.

>>PR: Taos pueblo used to be an

agricultural community and the

daily life was getting water at

the river... one of my great

grandfathers, my father's

grandfather, used to have an

orchard and he watered, he had

access to the ditches, he

bartered with the town, with the

fruit that he grew, the pigs

that he raised, I mean it was

just a simple lifestyle...

>>VL: I think during those

years, the beauty of it was

already here. The setting was

very quiet, and very

conservative. A lot of limits

were placed between the town of

Taos and the Pueblo here. There

was not that much intrusion. And

our people are known for-they

like peace and tranquility.

>>Narrator: There is in the mind

of every member of the Taos art

colony the knowledge that here

is the oldest of American

civilizations... The Taos

Indians are a people living in

an absolutely natural state,

entirely independent of all the

world. If the rest of humanity

were wiped from the earth, they

would go ahead just as they are

today, self-supporting, self-

reliant, simple and competent...

Their architecture is the only

naturally American architecture

in the nation today. All other

styles were borrowed from

Europe. Victor Higgins

>>RR: when you think of the

paintings of the Taos Society of

Artists, it was just the whole

freshness of it. not only the

beauty of the landscape, but new

subject matter. You know, you

weren't painting Grecian

sculptures or Roman busts of

Caesar. You were actually

seeing something that hadn't

been painted in America before.

>>PR: The word art is not in our

native vocabulary. We don't have

a word for that because

everything we do is a part of

that thought. Its in our daily

life, everything that we do,

it's an art form, its the

pottery we make, the drums we

make, the hides we tan, the

horses we take care of, the

fields we water, I mean

everything that's an art form

>>Narrator: Outside their

studios and doors there are

endless places to be explored in

New Mexico. But the Taos artists

still apply classical technique

to their Indian subjects.

>>GC: This is my grandfather's

beautiful studio. One of the

best in town really. He designed

it when they first bought the

house in 1909, the first thing

he did was to build on this big

studio.

>>GC: there really was nothing

else he liked to do except work

or prepare for his work. He and

the family would take these

field trips up in the mountains

or down to the river to do

photographs for photo studies.

it was always working. both my

father and grandfather would

both have cameras and would be

taking different photographs

from different angles.

>>EL: after we had found about

5000 of Couse's original model

studies and photographs and the

films in his darkroom, we

discovered cleaning up the

studio, over in this corner, the

packing boxes were removed, we

opened what we thought was just

a blocked up doorway and another

5000 of the negatives and prints

were found in there.

>>EL: He would take the

photograph and grid it in half

inch squares and that was the

means of transferring the pose

to the canvas with charcoal.

>>SU: the body of work produced

by the Taos society artists had

in many ways a level of personal

involvement, a level of humanity

in those subjects, and in part

that arose because these artists

knew their subjects well. the

models they hired became

personal friends or almost like

members of the family. so when

they painted these people again

and again, sometimes over a

period of decades, we can see

into their faces, we can see

them age, we can see life

imprinting itself upon them on

their features.

>>GC: all of the artists had,

special models. Ben Lujan

started posing for granddad when

he was 10 years old, he posed

for him for 34 years until my

granddad passed away. He helped

raise my brother and sister when

we were little. he was a part

of the family.

>>PR: To be taken out of our

community to model, it's a

foreign concept.

>>PR: . taking them out of their

original space, into a made up

space...and the whole idea of

somebody else coming in and

impacting the daily life. come

to town. sit and model for me.

ill pay you. and they're sitting

listening to stories of other

places. you know its going to

impact the way we think, the

visions are going to change

>>PR: It gave us money. It

provided for a few extra things

but I'm not quite sure that it

was a positive impact.

>>PR: and I think the painters

that were here assisted the

change in perspective...

>>VL: The culture aspect of the

pueblo has constantly been

practiced. We're one of the

strongest from any of the

Pueblos. So we like to preserve

that. And protect it as much as

we can. We don't want to exploit

it. Expose it.

>>Narrator: But the artists'

depictions of the native people

does bring the nation's

attention to Taos pueblo. sales

and publicity come quickly. No

longer art students or hack

illustrators, they've made it

into the fine art establishment.

more members join. Walter Ufer,

Victor Higgins, and Martin

Hennings all come west. Blumy

and Phillips' dream of an art

colony in the Rockies has

arrived. The pioneer painters

are on the verge of establishing

a new American art- but maybe

not the one they had originally

envisioned. Their paintings will

soon help to blow open the doors

to their isolated pocket of

paradise. In the late 1880s the

Atchison, Topeka, and Santa Fe

railroad completes their line to

California. Competition for

tourist passengers is fierce-

and no one understands this

better than William Simpson.

Hired by the railroad to promote

their western lines, Simpson

knows he needs to change the

image of the American Indian in

the public eye. the Taos society

is the perfect outfit to help

him accomplish his dream. Color

photography is still years away,

but the bright colorful images

in the Taos paintings are

perfect for advertising. And

their depictions of peaceful,

serene pueblo Indians are just

what Simpson needs to sell the

west to easterners still

frightened from the Indian wars.

>>GC: They were not threatening

paintings of Indians. Simpson

really liked my granddad's work

very much and he saw it was

popular with people and how he

would be able to promote the

railway. So he started buying

paintings and in 1914 he had the

idea to create a series of

calendars. And he bought a

painting from Couse that

year...and it was so popular he

continued to buy a painting from

Couse for the next, well til

Couse died.

>>Narrator: The yearly calendars

are distributed to 300,000

homes, schools, and offices.

And their paintings hang in

Harvey restaurants and railway

stations across the country.

>>SU: the RR executives,

especially William Simpson, knew

what the American traveling

public was looking for. so he

encouraged his painters to

produce certain kinds of

subjects§or maybe to modify a

subject they had in mind,

there's all kinds of

correspondence, letters going

back and forth. there were

adjustments that were made

>>Narrator: Dear Mr. Couse: You

may have noticed our pen and ink

color sketch in The Chief

folder, copy attached...What

would you think of using that

idea again, but making the

standing figure of the chief as

large as possible by bringing it

more into the foreground... If

this can be done, may I trouble

you to submit a color layout for

Mr. Black's inspection?

>>Narrator: Couse complies. And

the painting, the chief, appears

on the next year's calendar.

>>TB: Is it art or is it

advertising?

>>SU: some things cross over the

line. but art has been used as a

form of advertising as long as

we can remember. it's not a new

idea but it was very

successfully exploited by the

railway

>>Narrator: the Taos artists

find themselves doing the kind

of work for hire, they had hoped

to leave behind.

>>FENN: when the SF RR bought a

painting, they bought the

copyright with it. so the artist

lost all control of it. which is

not how it happens today, most

of the time. ..a sale was a

sale...

>>SU: in a way the artists in

Taos had to become jugglers. I

think they were constantly

weighing, is it worth it? what

do I need to survive here as an

artist? how can I sustain this?

and what am I giving up by doing

that?

>>Narrator: The artists came to

Taos looking for an escape from

the drudgery of their old lives.

But staying in Taos proved even

harder.

>>DW: When I first came to Taos

at the beginning of the 1970s, I

saw a painting here. the

painting is called winter

funeral, its by victor

Higgins...and just before he

died he came into the Harwood,

with this painting, hung it on

the wall in the main room and

said something like that looks

really good there why don't you

keep it. in it we see this

amazing cloud bank this storm of

huge magnitude which just dwarfs

everything else, including the

people in the cemetery, there's

a funeral going on here, I mean

they are up to their waists in

snow practically, their vehicles

can barely get through this its

so deep, the mountain above them

that's looming above them is so

huge, is itself overwhelmed by

the storm but in this there's a

patch of blue sky and no matters

what's about to happen here, in

this moment, with this funeral,

with this storm, those clouds

are going to break and they're

going to go away and the blue

sky is going to come back again

>>Narrator: Success comes at a

cost. Chasing fame and gallery

bookings from the remote corner

of New Mexico requires countless

hours of tedious work. But just

as the society achieves fames,

cracks begin to appear.

>>Narrator: At the recent

meeting of the Society at my

residence, no action was taken

thanking me for my services

during my two years in office. I

was very careful to see that the

Society recognized the labors of

the secretary, but the entire

bunch, including the secretary,

forgot there had been a

president...I do not feel

included to be of further

service to this organization.

>>Narrator: In the group,

tensions are mounting, when it

comes time for Blumenschein to

serve in office again, he

refuses.

>>FENN: They were mad at

Blumenschein and it was not the

world's hardest thing to do to

be mad at Ernest Blumenschein.

>>Narrator: Blumenschein's

formal resignation from the Taos

society of artists comes in

1923. Then, in 1924, Buck

Dunton refuses to take a turn in

his elected office. And he too

is told to leave. But

bigger problems are looming

Sales are falling.

>>SU: certain of the artists

were predictable in a way they

returned to a particular subject

matter. And almost as if they

were frozen in time. Critics who

saw this work coming, entered in

the shows, or circulating in the

TSA exhibits, began to see in it

a kind of predictability, or

repetitiveness and they'd say oh

no here comes another group of

Indians and aspens.

>>Narrator: And no one knows

what's waiting in the wings.

Photography has come a long way

since the 1890s. It's better,

cheaper, and faster. It will

soon become the medium to

capture' the west. Railroads

are also giving way to the car.

With profits falling, the

railroads commission fewer

paintings. Taos is far away from

the new sources of artistic

innovation. By 1913, the now

famous armory show in New York

had already introduced the

public to a bold new direction

of art.

>>DW: the modern artists, the

modernists were providing us

with a new way to see. A new way

to organize how we perceive the

world, this does not happen very

often in the history of

civilization. And so this was

one of the great turning points

out of the last 1000 years.

>>DW: So right from the

beginning of the Taos society of

artists in 1915, the world of

modern art has already intruded

on them.

>>Narrator: The new art form is

taking the east coast by storm.

And it's not long before

modernists are looking to escape

west. Mabel Dodge, the eccentric

New York socialite and arts

patron who arrives to Taos in

1917.

>>DW: she was responsible more

than anyone for making sure the

Taos art community would be a

lasting success. Mabel built

this place right at the edge of

Taos, and made it a social

center for Taos.

>>Narrator: Andrew Dasburg, a

leading modernist, comes in

response to Lujan's telegram

which says simply: wonderful

place. You must come. Am sending

tickets. Bring me a cook.

>>RR: Andrew was truly the first

modern painter to

come to Taos just at the turn of

the year in 1918.

>>Narrator: Dasburg writes that

Taos valley seemed like the

first day of creation

>>RR: And when he arrived here

there was nobody else who came

with his credentials in modern

art and understanding of what

was going on in Europe.

>>Narrator: Andrew Dasburg is

just one of many modernists to

arrive. Nicholai Fechin comes

all the way from Russia. John

Marin and Marsden Hartley are

well established in the New York

modernists scene. But they all

set out to Taos to paint.

>>Narrator: In the years leading

up to his arrival in Taos, Marin

is searching and he writes: The

true artist must perforce go

from time to time to the

elemental big forms§sky, sea,

mountains, plain...to sort of

re-true himself up, to recharge

the battery. AND IN TAOS, HE

DOES.

>>DW: for parts of two summers

in 29 and 30 he spent here,

lived here at the house . he did

less than 100 paintings in 2

summers. But they were

fantastic. And everyone in Taos-

including Dasburg, victor

Higgins, and many others- were

very much influenced by what he

did. His fluidity in painting,

his capturing of motion, was

something no one had ever seen

before

>>Narrator: A new generation

discovers Taos and experiences

the same wonderment as the first

pioneers. But the relationship

between the old guard and the

new arrivals is sometimes rocky.

Lovely landscape here and

there, but the society of cheap

artists from Chicago and New

York makes the place impossible,

and they tell themselves that

the great art of America is to

come from Taos. Well there will

have to be godlike changes for

the better in this case. -

Marsden Hartley

>>RR: it was like the difference

between Frank Sinatra and heavy

metal. There just wasn't much

of a meeting place anywhere in

between there.

>>Narrator: The two generations

approach art in radically

different ways. For the 19th

century artists New Mexico means

new subject matter. They're

painting things they've never

painted before. For the

modernists Taos is again

inspiring but for different

reasons. It offers powerful new

designs taking them back to the

very basic principles§color,

form, shadow, line, rhythm.

>>Narrator: America extends the

superb invitation to the

American painter to be for once

original...The sense of form in

New Mexico is for me, one of the

profoundest, most original and

most beautiful I have personally

experienced. Marsden Hartley

>>RR: When they looked at the

landscape, it was not just

looking at a nice mountain or a

hill with trees on it or an

orchard. They were very

concerned about how the mountain

got there. What made it a

mountain? What were the forces

of nature? Was it a volcano?

What were the really, the bones

of a landscape?

>>Narrator: Some artists of the

Taos society are influenced and

inspired by the new arrivals and

their take on the ancient land.

Even Blumenschein, a founding

member of the old guard, takes

his paintings in a bold new

direction. In a way, he's the

bridge between the two

generations.

>>DW: I think with time what

we'll see the similarities more

than the differences. What we'll

see is that in their various

approaches, is that they were

all influenced by the amazing

quality of light that was here,

they were all influenced by the

sense of space, they were all

influenced by native American

and Hispanic cultures, and the

artifacts and art from those

cultures, they were all

influenced by those things.

>>Narrator: As the decade of the

1920s closes, Taos is a very

different place. The western

public relations campaign has

been a success. Taos paintings

extolling its beauty and

isolation bring large crowds

Americans are now flocking

west...in their new cars. Fred

Harvey brochures beckon

motorists to New Mexico: First,

it is usually worth while to

visit every Indian village. Even

if no dance is in progress other

things will repay the time.

Motorists crossing southwestern

states are nearer to the

primitive than anywhere else on

the continent. Car culture has

arrived. More and more tourists

come to Taos.... As do

billboards, hotels, and summer

crowds. By 1930, the art colony

has become...the art market.

Taos is now firmly established

as a jewel in the crown of the

Rockies. It's the beauty of Taos

that continues to draw a wide

array of painters, filmmakers,

and musicians. All coming to

experience its special light and

majestic landscape even today.

>>su: yes it was romanticized

and yes there was far too much

of that, but there was a deep

love of a place that was new and

endlessly entrancing

>>DW: one of the contributions

of the Taos society of artists

as well as the modernists who

came here, was to try to

understand this landscape and

try to make it visually coherent

it wasn't anything they had ever

encountered and so these Taos

artists, this first generation

of Taos artists did that was

different, was not so much

creating a new style of art, but

coming to terms with the western

landscape, no one had done it

before.

>>FENN: Here's a telegram: Uncle

Henry passed away in Saturday

afternoon August 29 . Please

notify all our friends of the

funeral. Tuesday morning Ives

and Ware Mortuary, as ever,

Louise B Sharp. And sharp, those

Taos painters, were a very

unusual bunch of people in a

very unusual place at an

impossible time. Andy Warhol

said everyone has their 15

minutes, he must have been

thinking about the Taos Society

when he said that, And all of

them were so good, it was just

something impossible to happen

but it did.

>>ME: It was a wondrous time.

Everyday was a great adventure

there wasn't anywhere you could

move where you didn't run into

one of these artists, writers,

or poets, or painters. It was

wonderful. It never had been

before and it will never be

again.

>>Narrator: Together, they

created and branded the iconic

images that have brought

generations of artists to

northern New Mexico. These

images have been interpreted and

recreated again and again by

each passing generation§and have

become a classic American

subject as much as the New York

skyline or New England rocky

coast.

>>RR: I think at its deepest

level, the very best painting is

still dealing with the very

basic idea of who we are, where

>>Narrator: The early Taos

artists did more than imprint

images on the American psyche.

They showed the young nation

that the high desert was more

than just a beautiful landscape

Taos contains both physical

beauty and spiritual truth. Its

an ancient land that continues

Funding for the production of

this program provided by the

Albuquerque Tricentennial.

Community, its more than a word.

It's a belief in action, a

passion. We're proud to stand

by our neighbors and friends,

sharing a smile, lending a hand

or a shoulder to lean on. First

Community Bank, here for you.

The Taos Art Museum.