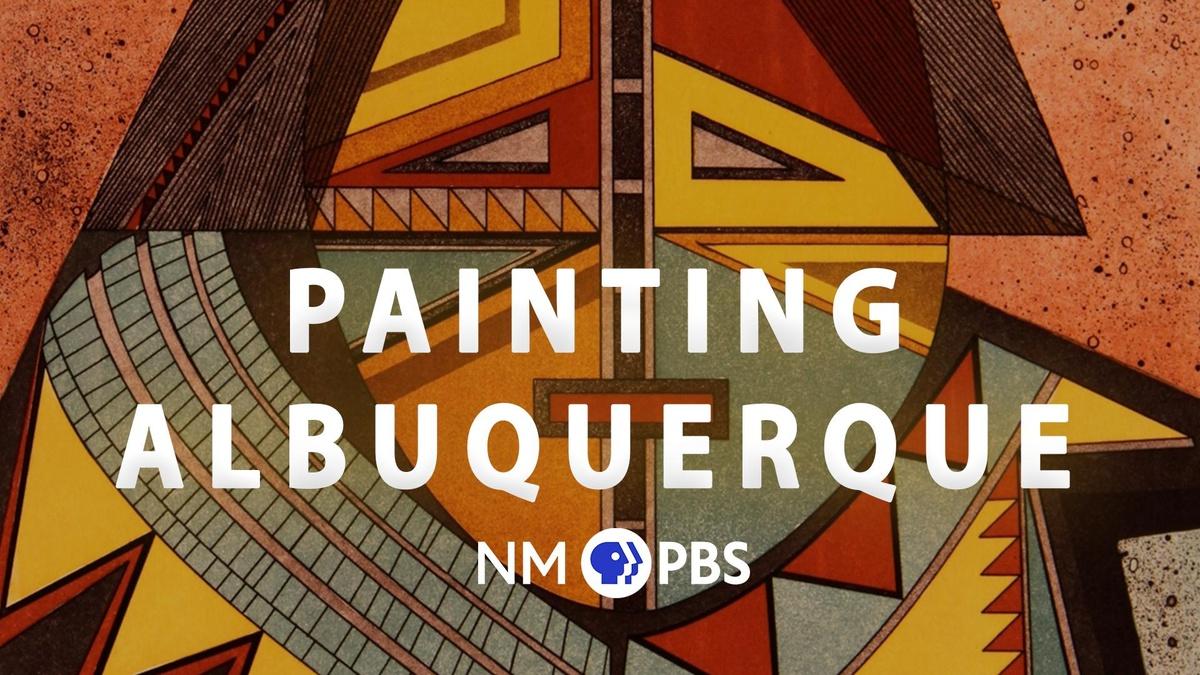 FULL EPISODE
Painting Albuquerque
Experience a great and colorful visual journey celebrating Albuquerque's diverse painters who've contributed to our cultural identity and artistic heritage over the last century. Painting Albuquerque goes beyond the canvas for an intimate look at the great characters behind the brush. We share their unique stories and legacy. A New Mexico PBS Original Production.
TRANSCRIPT

>> PARTIAL FUNDING FOR THE

PRODUCTION OF PAINTING

ALBUQUERQUE PROVIDED BY THE

URBAN ENHANCEMENT TRUST

FUND OF THE CITY OF

ALBUQUERQUE.

OBJECTS I HAVE SEEN IN MY

LIFETIME THAT HAVE JUST

BROUGHT

ME TO A STANDSTILL.

>> A GREAT PAINTING HAS A WAY

OF

CALLING OUT TO US.

CAUSING US TO STOP AND LOOK.

AND THAT ONE-ON-ONE EXPERIENCE

EXCITES OUR HEARTS AND

IMAGINATION.

>> IT IS TELLING YOU SOMETHING

AND YOU'RE ABLE TO ACTUALLY BE

IN THAT MOMENT, AND NOT HAVE

ANYTHING

ELSE AROUND YOU.

EVERYTHING ELSE KIND OF DROPS

AWAY.

>> WE BECOME PART OF IT.

YOU'RE DRAWN INTO IT.

YOU STAY WITH IT FOR A WHILE.

AND THEN IT STAYS

WITH YOU WHEN

YOU TURN AROUND AND WALK AWAY.

>> PERHAPS WHAT MAKES A GREAT

PAINTING MASTERPIECE, IS THAT

IT

TRANSCENDS WHAT IS LITERALLY

ON

THE CANVAS.

>> FOUND WITHIN IS A STORY OF

ARTISTIC SPIRIT AND TIME AND A

PLACE THAT COMPELS US TO SEE

AND

BETTER UNDERSTAND WHO WE ARE.

>> MENTION NEW MEXICO

TO ANYONE,

TAOS AND SANTA FE AND ARTIST

COLONIES SPRING TO MIND.

PAINTINGS OF ASPENS, ADOBES

AND

PUEBLO INDIANS REMAIN LOCKED

IN POPULAR

OUR CONSCIOUSNESS TO THIS DAY.

BUT MENTION ALBUQUERQUE

AND ART

IS LIKELY THE LAST THING

TO COME

TO MIND, AFTER RAILROADS,

FREEWAYS, AIRPORTS AND THE

MILITARY INDUSTRIAL COMPLEX.

ALBUQUERQUE DOES NOT FIT THE

IMAGE OF THE SOUTHWEST ART

COLONY, YET IN MANY WAYS ITS

HISTORY IN THE ART WORLD IS AS

DEEP AND AS DYNAMIC

AS ANYTHING

DREAMED UP IN THE VILLAGES OF

>> CONNECTING WORD MASTERPIECE

WITH

ALBUQUERQUE IS RATHER NEW

TO OUR

THINKING.

>> NEW MEXICO HAD BEEN

MARKETED

AS AN ARTS AND CULTURE CENTER

FOR DECADES AND ALBUQUERQUE

WAS

NEVER REALLY INCLUDED IN THAT

STORY.

SO, WHEN PEOPLE CAME TO

ALBUQUERQUE, WHAT THEY FOUND

THERE IN TERMS OF

THE INDIVIDUAL

ARTISTIC EXPRESSION WAS

SO MUCH

BETTER THAN THEY HAD BEEN LED

TO

BELIEVE, BECAUSE IT DIDN'T FIT

ANY STEREOTYPE.

>> ALBUQUERQUE'S PAINTINGS

TELL

A STORY LONG WAITING TO BE

TOLD.

>> 1922 WAS NOT AN ESPECIALLY

NOTEWORTHY YEAR FOR

ALBUQUERQUE.

YET IN HINDSIGHT IT ENORMOUS

SIGNIFICANCE FOR THE GROWING

RAILROAD TOWN.

>> TWO PAINTERS AT

THE BEGINNING

OF THEIR CAREERS,

WITH CONTRARY

VISIONS, ARRIVED.

AFTER THE TREACHEROUS DESCENT

OF

LA BAJADA.

CARL VON HASSLER STOPPED IN

ALBUQUERQUE FOR CAR REPAIRS.

HE VENTURED WEST FROM NEW YORK

CITY BUT VISITS TO SANTA FE

AND

TAOS MADE IT APPARENT HOW

CROWDED ARTISTIC REAL ESTATE

CAR WAS REALLY AN

INDIVIDUALIST.

HE WAS VERY CRITICAL OF OTHER

ARTISTS' WORK.

I THINK HE FELT MORE

COMFORTABLE

HERE AS OPPOSED TO BEING UP

THERE.

>> THE WIRY WORLD WAR

I VETERAN

WASTED NO TIME PRIMING AND

PAINTING THAT CANVAS.

WITHIN A DECADE OF HIS

ARRIVAL,HE AND HIS BLACK BERET

WERE FIXTURES IN ALBUQUERQUE

AND

HE WOULD INFLUENCE A CADRE OF

REPRESENTATION OF PAINTERS TO

EARN THE TITLE DEAN OF THE

>> VON HASSLER WAS SMART.

HE PAINTED WHAT PEOPLE LOVED.

BETTY SABO WAS SMART. SHE DID

THE SAME.

BEN TURNER, THEY ALL DID.

THEY PAINTED WHAT WAS

>> SO, A VOCABULARY OF

CELEBRATING BEAUTY OUT OF A

COMMUNITY THE REST

OF THE WORLD

DIDN'T SEE NECESSARILY AS

BEAUTIFUL, MADE A VERY

IMPORTANT

CONTRIBUTION TO OUR OWN SENSE

OF

WHO WE WERE.

IT ELEVATED OUR SELF-ESTEEM,

BY

SAYING, IT IS OKAY, THERE IS

BEAUTY HERE AND WE ARE GOING

TO

SHARE IT WITH OTHERS.

>> TO VON HASSLER, REALISM AND

KEEN OBSERVATION OF NATURE

WERE

KEYS TO GREAT ART.

THROUGHOUT HIS LIFE, HIS

PAINTING EXHIBITED ALLEGIANCE

TO

PLACE.

I THINK THAT VON HASSLER

REALLY

BROUGHT TO ALBUQUERQUE A SENSE

OF PAINTING AS AN ART FORM.

AND, REALLY, ALLOWED

ALBUQUERQUE

TO SEE ITS ENVIRONMENT

IN A NEW

WAY, IN AN ARTISTIC WAY.

IT WASN'T JUST ALBUQUERQUE WAS

THE TECHNOLOGY CENTER,

ALBUQUERQUE WAS ROUTE 66,

ALBUQUERQUE WAS THE RAILROAD.

IT WAS ALBUQUERQUE CAN BE A

AND VON HASSLER GAVE US THAT

>> IN A STROKE OF FATE,

THE OTHER

PAINTER THAT MADE AN LASTING

IMPACTED ON ALBUQUERQUE

ARRIVED

THE SAME YEAR.

INSPIRED BY A VISIT TO SANTA

FE

IN 1922, CHARLES RAYMOND

JONSON

LEFT BIG CITY LIFE IN CHICAGO,

RELOCATED TO NEW MEXICO

IN 1924,

FIRST IN SANTA FE AND LATER IN

ALBUQUERQUE.

>> I THINK JONSON PROBABLY SAW

SOME POTENTIAL WITH

THE UNIVERSITY.

>> ALBUQUERQUE HAD MORE OF AN

EDGE; STILL DOES.

SO, IF AN ARTIST WAS INSTALLED

IN ALBUQUERQUE, THERE WERE NO

LIMITS.

>> ALBUQUERQUE WAS BOOMING.

THE RAILROAD SHOPS HAD JUST

MADE

A MAJOR EXPANSION.

>> POST WORLD WAR I, IT IS

SORT

OF BECOMING A REAL CITY.

IT IS EXPANDING.

THE UNIVERSITY IS EXPANDING.

THERE IS A LOT OF BRAND NEW

ENERGY TO THE CITY BY THE

1920'S.

>> A PROFIT FOR MODERN ART,

OVER

THE COURSE OF JONSON'S

PROLIFIC

CAREER, HE CHAMPIONED ABSTRACT

PAINTING AND HAD A

DEEP SELF-CONVICTION THAT ART

WAS THE NOBLEST CALLING

FOR ANY

HUMAN BEING.

>> I THOUGHT HE WAS THIS

INCREDIBLE MYSTIQUE, THIS

PICTURE OF A 19TH CENTURY

ROMANTIC GENIUS WHO WAS ALL

ABOUT ESOTERIC RELIGION AND I

COULDN'T REALLY BELIEVE THAT

HE

WAS A MODERNIST PAINTER.

BUT AS I GOT TO KNOW HIM

BETTER,

I BEGAN TO UNDERSTAND THAT HE

WAS ACTUALLY A VERY PRAGMATIC

FELLOW, THAT HE WASN'T ABOUT

RELIGION SO MUCH, THAT HE WAS

ABOUT THE SPIRIT AS A WAY OF

COMMUNICATING WITH REALITY,

AND

HE HAD A MUCH BROADER

CONCEPTION

OF WHAT REALITY WAS ALL ABOUT.

AND IT IS KIND OF HARD

FOR MOST

PEOPLE TO SEE PAST THOSE

AMAZING

EYEBROWS OF HIS.

THEY LOOK LIKE THESE ANTENNA

THAT ARE REACHING OUT FROM HIS

EYES ALLOWING HIM TO SEE

THINGS

THAT OTHER PEOPLE COULDN'T

SEE.

>> THE ART PROGRAM AT THE

UNIVERSITY REALLY DIDN'T GET

GOING UNTIL THE 1920'S AND IT

WASN'T UNTIL 1934 THAT RAYMOND

JONSON CAME DOWN FROM SANTA FE

>> WE DON'T KNOW MUCH

ABOUT THE

ARTISTIC LANDSCAPE IN

ALBUQUERQUE IN THE 1920'S.

THE PERSON WHO STANDS OUT

FOR ME

THE MOST DURING THAT TIME IS

AN

ARTIST NAMED ROMERO DE ROMERO.

HE STUDIED WITH SOME

OF THE BEST

NATIONALLY AND INTERNATIONALLY

INCLUDING, FOR INSTANCE, DIEGO

RIVERA.

AND WHAT HE IS DOING IS HE IS

DOCUMENTING NEW MEXICANS

AND NEW

MEXICO THROUGH THE EYES OR

THROUGH THE GAZE OF HISPANIC

NATIVE NEW MEXICANS.

>> THE BLACK SHAWL IS

IMPORTANT

TO US.

HE'S DOCUMENTING A TRADITION

THAT FOR THE MOST PART HAS

GONE

AWAY IN NEW MEXICO, THE WOMEN

WEARING THE BLACK SHAWL,

AND IT

IS A VERY POIGNANT MOMENT

ALMOST

LIKE A TRANSITIONAL MOMENT

GOING

INTO THE TWENTIETH CENTURY.

>> YET, IT IS VON HASSLER AND

JONSON WHO WILL TAKE CENTER

>> NATURE IS A GREAT TEACHER,

TO

BE A TRULY GOOD ARTIST ONE HAS

TO BE FIRST A NATURALIST.

UNLESS YOU GET THE FEEL OF A

PLACE, YOU'RE PAINTING WILL

LACK

STRENGTH AND BEAUTY, CARL VON

HASSLER.

>> VON HASSLER HAD THIS

ABILITY

TO TELL STORIES IN A REAL WAY.

IN A WAY THAT REALLY ALLOWED

PEOPLE TO SAY, YES, I KNOW

THAT

PLACE.

AND THAT IS JUST THE WAY THAT

IT

FEELS.

AND PEOPLE BEGAN TO REALIZE

THAT

IT IS OKAY TO PAINT

OUR REALITY,

AND IF WE PAINT IT WITH TRUTH

AND VERACITY, PEOPLE WILL COME

ALONG WITH US AND WANT TO HEAR

>> FOR DECADES VON HASSLER

HELD

COURT AT THE BAR

OF THE STYLISH

ALVARADO HOTEL.

PATRONS GLADLY BOUGHT A FEW

ROUNDS FOR THE PEPPERY

GENTLEMAN

WITH A WAY WITH WORDS,

IN HOPES

OF SECURING A PRESTIGIOUS VON

HASSLER PAINTING.

OWNING A VON HASSLER WAS QUITE

THE STATUS SYMBOL.

>> I AM SURE CARL WOULD WANT

TO

BE REMEMBERED AS THE BEST

ALBUQUERQUE ARTIST THERE EVER

I AM SURE.

>> HE SEEMED VERY

KNOWLEDGEABLE

TO US.

WE WERE ALWAYS A LITTLE BIT IN

AWE, PUT IT THAT WAY.

>> HE WAS ON A CANE WHEN I

REMEMBER HIM.

I THINK HE HAD BEEN

IN HIS 70'S,

SOMETHING LIKE THAT.

>> HE WAS VERY OPINIONATED.

>> AND THE MORE HE WOULD DRINK

THE MORE HE WOULD START KIND

OF

RAVING ABOUT MODERN ART AND IF

HE SUSPECTED MAYBE YOU WERE A

MODERN ARTIST, YOU BETTER

WATCH

OUT FOR HIS CANE.

>> VON HASSLER WAS TO BECOME

AN

ICON OF ALBUQUERQUE AS MUCH AS

THE ALVARADO ITSELF.

ALTHOUGH MUCH OF HIS HISTORY

IS

UNKNOWN, WE DO KNOW HE WAS

BORN

IN BREMMEN GERMANY.

HE WAS CALLED LITTLE REMBRANDT

BECAUSE AS A CHILD HE WAS

ALWAYS

SKETCHING.

AT AGE 14 HE ATTENDED

THE GERMAN

NAVAL ACADEMY WHERE HE WAS

FREE

TO STUDY AT THE DUSSELDORF ART

ACADEMY AND TRAVEL.

VISITING THE U.S. IN 1912 HE

SETTLED IN NEW YORK CITY'S

GREENWICH VILLAGE, A MECCA FOR

ARTISTS AND A HOT BED

OF LIBERAL

THINKING.

VON HASSLER STUDIED

WITH REBELS

IN THE ART WORLD, JOHN SLOAN,

ROBERT HENRI, AND GEORGE

BELLOWS.

HE CHAMPIONED THE ASH CAN

SCHOOL.

THEY BELIEVED WORKING CLASS

AND

URBAN SETTINGS PROVIDED

THE BEST

MATERIAL FOR PAINTERS.

>> HE WAS ALSO AT GROUND ZERO

FOR THE ARRIVAL OF MODERNISM

WITH 1913 ARMORY-SHIP.

VON HASSLER MUST HAVE BELIEVED

IN HIS NEWLY ADOPTED COUNTRY

BECAUSE IN 1917 HE ENLISTED IN

THE U.S. ARMY TO FIGHT AGAINST

HIS BROTHER FOUGHT FOR THE

KAISER AND WAS KILLED.

DISINHERITED BY HIS MOTHER,

VON

HASSLER NEVER LOOKED BACK.

>> THIS WAS ONE OF THE MOST

PROVOCATIVE TIMES IN ART AND

SOCIETY AND VON HASSLER WAS

RIGHT IN THE MIDDLE OF IT.

IT IS INTERESTING HIS PAINTED

WERE OFTEN REPEATED SCENES OF

BLOWING COTTONWOOD TREES

ALONGSIDE QUAINT ADOBE HOMES

OR

NATIVE PORTRAITS REFLECT SO

LITTLE OF BEING PART OF THIS

PERHAPS HE HAD LOST FAITH WITH

THE MODERN WORLD, PERHAPS THE

FAILURE OF MODERN SOCIETY

SEEING

UNPRECEDENTED CASUALTIES OF

WORLD WAR I, THE CONGESTION

AND

COMPETITIVENESS COMBINED WITH

PERSONAL TRAGEDY, ALL NEEDED

TO

BE BRUSHED AWAY.

HOMELESS, PERHAPS VON HASSLER,

LIKE SO MANY OTHER ARTISTS,

SAW

THE AMERICAN SOUTHWEST AS A

REFUGE, A NEW START,

AND A WORLD

>> RAYMOND JONSON FOUND

INSPIRATION FROM THE LAND AS

WELL, DURING A CAMPING TRIP TO

SANTA FE IN 1922.

SAYING, THIS WAS A TURNING

POINT

AND A NEW BEGINNING WAS

NECESSARY.

SPREADING OUT IN EVERY

DIRECTION

IS MATERIAL, MARVELOUS

MATERIAL,

>> HE FELT A KIND OF INTERNAL

RHYTHM, A LIVING PRESENCE

IN THE

LANDSCAPE.

>> JONSON WAS ALSO AMONG THE

GENERATION OF ARTISTS WHO SAW

THE WAR SWEEP AWAY THE PROMISE

OF A NEW CENTURY.

HE FELT THE WORLD NEEDED TO

DECISIVELY BREAK WITH WHAT

WERE

OBSOLETE AND DESTRUCTIVE

VALUES

IMPRESSED WHEN HE SAW

THE ARMORY

SHOW DURING THE CHICAGO RUN,

JOHNSON WAS INSPIRED

BY RUSSIAN

BORN PAINTER, WASSILY

KANDINSKY.

KANDINSKY BELIEVED THE 20TH

CENTURY WAS THE DAWNING OF A

GREAT SPIRITUAL AGE IN WHICH

MANKIND WOULD BE TRANSFORMED

THROUGH THE ARTS.

>> KANDINSKY THOUGHT

THE SPIRIT

OR INNER LIFE OF THE ARTIST

WAS

FAR MORE SENSITIVE TO ESTHETIC

STIMULI THAN ANY OTHER SENSE.

HE ALSO ELABORATED ON THE FACT

THAT COLOR IN LINE AND FORM

COULD PLAY WITH A PERSON'S

>> EQUATING REPRESENTATIONAL

PAINTING WITH THE FAILURE OF

TRADITIONAL THINKING, JONSON

EXPLAINED, MY WORKS ARE REALLY

CONTRAST TO THE ENVIRONMENT IN

WHICH THEY EXIST.

AROUND US WE HAVE REALISM,

STRIFE, PAIN, AND GREED.

I WISH TO PRESENT THE OTHER

SIDE

OF LIFE, NAMELY THE FEELING OF

>> IT IS THE INNER

SIGNIFICANCE

OF THINGS THAT COUNTS AND THAT

IS A QUALITY THAT IS ABSTRACT.

SETTLING IN SANTA FE IN 1924,

HE

SAID, IN EXPRESSING MY IDEA OF

THIS COUNTRY, I STRUGGLE

ESPECIALLY TO OBTAIN A UNITY,

THE UNITY OF ALL THE MEANS

USED

SUCH AS FORM, DESIGN, COLOR,

RHYTHMS, LINE.

SIMPLIFYING THE UNDERLINING

STRUCTURE, HIS EARLY EARTH

RHYTHM PUEBLO SERIES AND GRAND

CANYON TRILOGY EXHIBIT THE

EXCITEMENT HE FOUND IN THE

>> THE GRAND CANYON TRILOGY,

IT

MOVES, THERE IS THAT

SUCCESSION

OF GOING FROM ONE PANEL TO THE

NEXT.

IT IS LARGE, LIKE A THEATER

SCREEN, SO IT IS EMERSIVE, THE

SHAPES, THE CENTRAL PANEL IS

VERY CLEAR IN ITS SENSE OF

WANTING TO BRING THE VIEWER

DOWN

INTO THE DEPTHS OF THE CANYON.

>> HE WANTED TO CARRY ACROSS

THE

FEELING OF BEING

IN THE PRESENCE

OF THIS MONUMENTAL FACT OF

NATURE.

>> JONSON'S WORK BECAME

PROGRESSIVELY MORE

NONOBJECTIVE

SAYING THE HOPE HAS BEEN TO

ARRIVE AT A STATE OF PURE

FEELING, TO CREATE THROUGH THE

SPIRIT, RATHER THAN THE

>> IN ABOUT 1936, HE WAS

COMPLETELY INTO ABSTRACTION AT

THAT POINT AND TO TRY

TO CONVEY

EMOTION THROUGH LANDSCAPE WAS

NOT IMPORTANT TO HIM ANYMORE.

ALONG WITH TAOS'S EMIL

BISTTRAM,

IN 1938, JOHNSON HELPED FORM

THE

TRANSCENDENTAL PAINTING TO

BROADEN PUBLIC'S KNOWLEDGE AND

ACCEPTANCE OF NONOBJECTIVE

THE NINE MEMBERS TURNED THEIR

GAZE INWARD SEEKING THE TYPE

OF

ART VITALLY ROOTED IN THE

SPIRITUAL NEED OF THESE TIMES.

>> IN 1936, THE 17 YEAR OLD

FLORENCE MILLER, LATER

FLORENCE

MILLER PIERCE, ARRIVED IN TAOS

TO STUDY WITH PAINTER EMIL

BISTTRAM.

RETURNING IN 1937 SHE WAS

SURPRISED BISTTRAM WAS

NO LONGER

DOING REPRESENTATIONAL WORK,

BUT

WAS FOCUSING ENTIRELY ON

ABSTRACT ART.

HE HAD A VISION OF THIS NEW

ABSTRACT ART, THE ART OF THE

FUTURE, HE SAID THE ART WAS

GOING TO BE FROM THE SPIRIT

AND

THE HEAD, A PURE MENTAL OR

SPIRITUAL IMAGE, MILLER SAID

IN

1991, HER AFFILIATION WITH THE

TRANSCENDENTAL GROUP WAS

TENUOUS.

BUT THE MANIPULATION OF LIGHT

WAS A MAJOR EMPHASIS IN HER

TRANSCENDENTAL PAINTING, NOTED

BIOGRAPHER

LUCY LIPPARD, AND WOULD REMAIN

THE FOCUS

OF PIERCE'S ART.

IN 1935, JOHNSON BEGAN

TO LEAVE

THE EARTH AND LEAP INTO THE

COSMOS, AS SEEN IN

THE UNIVERSE

SERIES AND COSMIC THEME

SERIES.

>> VON HASSLER'S VISION WAS

MORE

DOWN TO EARTH.

IN 1927, HE PRODUCED ONE OF

ALBUQUERQUE'S FIRST PUBLIC ART

PIECES THAT WOULD FOREVER

CEMENT

HIS CAREER AND MARKETABILITY.

>> VON HASSLER ADDED

A CROWNING

TOUCH TO ALBUQUERQUE'S

TO GRAND

NEW PUEBLO DECO KIMO THEATER,

WORKING ON A 20-FOOT HIGH

SCAFFOLDING FOR MONTHS, HE

PAINTED NINE LARGE MURAL BASED

ON THE MYTH OF THE SEVEN

CITIES

OF CIBOLA.

IT INCLUDED ROMANTIC

INTERPRETATIONS OF LANDMARKS

SUCH AS ACOMA AND TAOS PUEBLO.

FIRST STEP IN BUILDING AN

APPRECIATION OF THE CULTURES

AND

BEAUTY OF THE WORLD

SURROUNDING

>> THEY ARE A TOUCHSTONE

TO WHEN

ALBUQUERQUE TOOK A FIRST STEP

IN

SECURING AN IDENTITY THAT

TRANSCENDED EVERYDAY LIFE

OF THE

SMALL RAILROAD TOWN.

I THINK

OF PURE ENERGY, THE KIND OF

ENERGY THAT EMANATES

FROM PEOPLE

WHO DON'T BELIEVE ANYTHING IS

IMPOSSIBLE.

>> ELAINE DE KOONING'S

TRIUMPHANT

ALBUQUERQUE PAINTED IN 1960

REPRESENTS THE FULL-FLEDGED

ADOPTION OF MODERN PAINTING IN

ALBUQUERQUE.

IT IS A BOLD SYMBOL OF THE

TREMENDOUS ENERGY AND ARTISTIC

EFFORT HAPPENING AT THAT TIME.

>> EXPRESSION IN GENERAL WAS

MUCH MORE ABOUT THE GESTURE.

YOU COULD FOLLOW THE PAINT

INTO

THE PAINTING AND SO YOU HAD AN

EXPERIENCE IN RELATIONSHIP TO

THAT PAINTING THAT MOVED

BEYOND

SIMPLY VEIWING A CANVAS.

IT WASN'T A SCENE.

IT WAS AN EXPERIENCE.

>> CONFLICTS HAVING TO GET

INTO

THE HIGH POINT BEGINS WITH THE

END OF WORLD WAR II.

>> ALBUQUERQUE WENT MODERN

AFTER

WORLD WAR II AND IN INFLUX OF

MODERN ARTISTS TEACHING AT THE

CAMPUS CHANGED THE ART OF

ALBUQUERQUE.

>> IN 1946, THE ALBUQUERQUE

ART

SCENE EXPLODED.

1100 STUDENTS ENROLLED

IN UNM'S

FINE ARTS DEPARTMENT, DOUBLE

FROM 1940.

AFTER THE WAR, FORMER MILITARY

PERSONNEL CAME TO

THE UNIVERSITY

OF NEW MEXICO ON THE GI BILL.

THEY BROUGHT THEIR EXPERIENCES

TO THE TABLE.

AND RESPONDED BY MAKING

ABSTRACT

ART NOT REPRESENTATIONAL ART.

>> FOR ARTISTS TO BASICALLY

SHOW

THEIR VISCERAL RESPONSESON

CANVAS TO THE

WORLD WAS ENTIRELY

EARTH SHATTERING WAY

OF VIEWING

PAINTING AND THERE WASN'T THIS

EXPECTATION OF HAVING TO

PERFORM, OF HAVING TO SHOW UP

AT

THE RIGHT EVENTS,

BECAUSE THERE

WERE NO RIGHT EVENTS IN THE

50'S.

SO, ARTISTS REALLY HAD THIS

FREEDOM AND THERE WAS AN

INDEPENDENT SPIRIT IN

ALBUQUERQUE THAT ALLOWED THEIR

INDEPENDENT CREATIVITY.

>> IN THE LATE 1940'S,

CALIFORNIA ARTIST LEZ HAAS

BROUGHT UNM'S ART DEPARTMENT

TO

UNPRECEDENTED HEIGHTS.

THE DEPARTMENT ATTRACTED

SOME OF THE FINEST ARTISTS IN

THE STATE AND FROM AROUND THE

COUNTRY.

STUDENTS OR TEACHERS

INCLUDED ARE AGNES MARTIN,

RICHARD DIEBENKORN, KENNETH

ADAMS, ENRIQUE MONTENEGRO,

HOWARD SCHLEETER AND RAYMOND

JOHNSON WHO WOULD BECOME A

PERMANENT FIXTURE.

THE DEPARTMENT BECAME ONE

OF THE

BEST ART SCHOOLS IN THE U.S.

>> I FELT RIGHT FROM THE

BEGINNING, I WAS BEING TREATED

LIKE A HUMAN BEING, NOT AS A

GIRL.

LEZ HAAS LET ME BE AN ARTIST.

HE LET ME FIND MY PATH.

AND THAT WAS A VERY GOOD THING

>> HAAS WOULD ALSO BE ONE

OF THE

FIRST IN ACADEMIA TO TAKE

NOTICE

OF THE GROWING NATIVE AMERICAN

ART MOVEMENT.

"MY DAD WAS THE FIRST PERSON

TO

TEACH AMERICAN INDIAN ART AS

ART," JONATHAN HAAS SAID.

HE RECRUITED NATIVE AMERICAN

ARTISTS TO COME TO THE

DEPARTMENT, AND TREATED THEM

AS

ARTISTS.

BY 1952, JOAN EVANS WRITING

FOR

OUR DIGEST NOTED SLOWLY THE

ARTISTIC CENTER OF GRAVITY IN

NEW MEXICO WAS SHIFTING.

THE CITY, HOME OF THE ATOMIC

BOMBS AND JET FIGHTER PILOTS

AND

FRED HARVEY INDIANS IS

THE SCENE

OF AN EXCITING SPIRITUAL

RENAISSANCE IN

NEW MEXICO ART.

>> SO, ARTISTS COMING TO

ALBUQUERQUE WERE HEAVILY

INFLUENCED BY THE ENVIRONMENT.

YOU COULD GET IN A CAR

AND DRIVE

FIVE MINUTES IN ANY DIRECTION

AND FIND THEMSELVES OUT IN THE

MIDDLE OF THE DESERT.

IT WAS INCREDIBLE.

THEY CREATED NEW VISIONS,

BASED

ON LIGHT, SPACE, FORM.

>>PERHAPS THE BIGGEST STAR

FROM

THIS PERIOD WAS RICHARD

DIEBENKORN, WHO WOULD BECOME

ONE

OF THE AMERICA'S BEST LATE

20TH

CENTURY PAINTERS.

HIS REPUTATION ALREADY RISING

WHEN HE ENTERED UNM MASTERS

PROGRAM IN 1950.

WHILE SOME MIGHT CONSIDER

ALBUQUERQUE A MERE STOP

OVER ON

HIS JOURNEY INTO THE ART

STRATOSPHERE, IT WAS NOT THE

CASE.

HE AND HIS PAINTINGS WERE

NEVER

THE SAME AFTER ALBUQUERQUE.

BIOGRAPHER MARK LAVATELLI TOLD

THE ALBUQUERQUE JOURNAL

IN 2007,

HERE WAS A NEW FREEDOM

FOR HIM.

DIEBENKORN LIVED ON A RANCH

JUST

WEST OF OLD TOWN.

LAVATELLI SAID DIEBENKORN

PICKED

UP INSPIRATION EVERYWHERE,

FROM

THE CATTLE AND HORSES OUTSIDE

HIS DOOR, TO ARROYOS

AND MESAS,

EVEN AERIAL VIEWS OF THE LAND

THINGS REALLY STARTED TO COME

TOGETHER FOR ME THERE.

IT WAS A VERY GOOD SITUATION

FOR

ME.

BECAUSE THERE WAS NONE OF THIS

FEAR OF PAINTING, DIEBENKORN

TOLD INTERVIEWER JAMES

SCHEVILLE,

IN 1957, BUT NOT EVERYONE

APPRECIATED DIEBENKORN'S

TALENT.

WHEN HE PRESENTED HIS ABSTRACT

EXPRESSIONIST GRADUATE SHOW IN

1952, UNM'S CONSERVATIVE

FACULTY

FAILED HIM.

>> SO JONES THREATENED

TO QUIT,

THE FACULTY RECONSIDERS AND

DIEBENKORN FINALLY GRADUATES.

HE IS NOT QUITE GOOD ENOUGH

FOR

A UNM MASTERS DEGREE BUT GOOD

ENOUGH TO BECOME ONE

OF THE BEST

AMERICAN PAINTERS AT THE END

OF

>> DIEBENKORN SCHOLAR, JANE

LIVINGSTON SAW HE CAME TO NEW

MEXICO TO GET A MASTERS DEGREE

IN FINE ART AND HE FOUND HIS

>> I JUST REMEMBER PAINT

ON HIS

FINGERNAILS AND EVERYTHING HE

EVER WORE HAD PAINT ON IT.

HE WAS JUST ALWAYS COVERED

WITH

PAINT AND HE ALSO HAD LIKE

THREE

OR FOUR DIFFERENT PAINTINGS

GOING AT THE SAME TIME.

>> A FRANK UNPRETENTIOUS MAN

WITH A SOMEWHAT SHAGGY GRAY

MUSTACHE AND RELAXED POSTURE,

HOWARD SCHLEETER SAID

IF PEOPLE

JUST LET ME ALONE AND LET ME

PAINT, I'LL BE HAPPY.

>> AND I DON'T THINK THAT

HE WAS IN

THE PRESENT WHEN HE WAS

PAINTING.

I THINK HE WAS IN HIS OWN

WORLD.

>> SCHLEETER STORIES ALMOST

LOST

IN TIME.

NOT A SELF PROMOTER, HE MADE

UP

FOR IT WITH A LIFETIME OF ART

WORKS THAT EARNED HIM CLAIM.

>> WHEN I CAME TO NEW MEXICO,

I

DIDN'T HAVE ANYTHING BUT THE

CLOTHES ON THEIR BACK AND A

SMALL SATCHEL.

>> HE WAS ALSO A RARITY,

A LOCAL

ARTIST SUPPORTED HIMSELF

WHOLLY

BY THE SALES OF HIS PAINTING

OR

AT LEAST HE TRIED.

HIS DENTIST AND DOCTOR AMASSED

FINE SELECTIONS OF HIS WORKS.

>> ANYTHING THAT HE COULD

EXCHANGE FOR A PAINTING,

I THINK

HE DID.

THAT IS HOW THEY LIVED.

>> BESIDES DIGGING DITCHES,

SCHLEETER'S EARLY WORK

INCLUDES

WPA MURALS.

HIS EARLY PAINTINGS ARE

TRADITIONAL NEW MEXICO SCENES

IN

REALIST STYLE.

THEY WERE SEEN CRACKLING WITH

>> USING OIL PAINT, BLACKS,

GOLD

LEAF, HIS APPROACH TO THE

SURFACE WAS AS DYNAMIC AS HIS

VISIONS.

BY THE LATE 1940'S HE WAS

FULLY

ENGAGED WITH ABSTRACTION AND

PRIMITIVE MOTIFS DOMINATED.

HIS SUCCESS KEPT PACE WITH HIS

ENORMOUS OUTPUT.

HIS WORKS WERE EXHIBITED

NATIONWIDE, IN VIENNA, BERLIN,

AND MUNICH.

IN 1954 HE CLAIMED A PRIME

SPOT

IN THE PRESTIGIOUS

GUGGENHEIM'S

YOUNG AMERICAN PAINTERS SHOW.

THE ONLY ARTIST INVITED

FROM THE

ALTHOUGH HE SUFFERED FROM

PARKINSONS, HE WOULD NOT GIVE

UP.

HE LEARNED TO PAINT

LEFT-HANDED.

>> HE EVEN PAINTED WITH HIS

TEETH.

HE DIDN'T LET PARKINSON SLOW

HIM

DOWN.

HE LOVED IT.

IT WAS HIS LIFE.

>> SCHLEETER PAINTED UNTIL HIS

DEATH IN 1976.

THEY PAID FOR THEIR FUNERAL

EXPENSES WITH A PAINTING.

ISN'T THAT JUST LIKE

>> HE TENACIOUSLY PRODUCED

THOUSANDS OF WORKS AND ADDED A

FASCINATING LAYER TO

ALBUQUERQUE'S MODERNEST

HISTORY.

>> THAT KIND OF WORK THAT

MAKES

YOU WONDER, I THINK THAT IS AN

OLD CHINESE SAYING, THAT THE

BEGINNING OF KNOWLEDGE IS

WONDER.

AND, OFTEN ARTISTS WHO I THINK

HAVE FELT THAT IMPULSE AND

THOUGHT, IT WOULD REALLY BE

GREAT IF I COULD SPEND MY LIFE

MAKING ART ABOUT

>> SCHLEETER MAY HAVE SUMMED

UP

HIS ARTISTIC CREDO THE BEST.

SOME PEOPLE PAINT

THEIR BRUSHES

OUT.

OTHERS PAINT THEIR HEARTS OUT.

AND INTO

THE 60'S ARTISTIC ENERGY GREW

AS

ALBUQUERQUE'S POPULATION

DOUBLED.

NOTABLES WHO PLIED THEIR ART

DURING THAT DECADE INCLUDE

JACK

AND ALICE GARVER, ROBERT

WALTERS, RICHARD HOGAN

AND FRANK

THERE WAS NOTHING TO STAY ON

ACADEMIA ABOUT THE THING

AT ALL.

IT WAS UNFORGETTABLE.

>> IT WAS THE KIND

OF ATMOSPHERE

THAT MOST ARTISTS HUNGER FOR.

A KIND OF ONCE-IN-A-LIFETIME

>> IMPRESSED, UNM VISITING

PROFESSOR, ELAINE DE KOONING

ORGANIZED A LANDMARK

EXHIBITION

FOR 14 ALBUQUERQUE PAINTERS.

DE KOONING, WHO CAME STRAIGHT

FROM THE HEART OF PAINTING IN

NEW YORK CITY, BROUGHT

TOGETHER

RAYMOND JONSON AND UNM STUDENT

WILLIAM CONGER, AMONG OTHERS,

FOR A SHOW AT THE GREAT JONES

GALLERY IN NEW YORK CITY IN

>> BY THE POST WAR ERA, WE

REALIZED THAT NEW YORK

COULDN'T

TELL THE WHOLE AMERICAN STORY

AND THERE WERE OTHER STORIES

THAT NEEDED TO BE TOLD.

ALBUQUERQUE WAS VERY HAPPY TO

STEP IN AND SAY, WE'RE ONE OF

THOSE, WE ARE AN AMERICAN ART

CREATION STORY AS WELL AND

THINGS THAT WERE GOING ON HERE

WERE DIFFERENT THAN WHAT WAS

GOING ON IN NEW YORK

BUT EQUALLY

VALID AND EQUALLY INNOVATIVE

AND

I THINK A LOT OF PEOPLE SAW

THAT

AND SAID, THIS IS ONE OF THE

THOSE GREAT NEW STORIES THAT

WE

HAVE HERE IN POST WAR AMERICA.

>> IN THE PROGRAM

FOR THE SHOW,

DE KOONING NOTED ABOUT

ALBUQUERQUE PAINTERS, "LIKE

NEW

YORKERS, MOST OF THEM ARE BORN

ELSEWHERE AND HAVE A FIERCE

DEFENSIVE DEVOTION TO THE CITY

OF THEIR CHOICE."

THERE ARE SEVERAL WHOM THE

ADVANTAGE IS, HOWEVER,

TO BEING

NEGLECTED.

THE MAIN ONE BEING THAT A

GLORIOUS, TOUGH ORIGINALITY

>> OH, FREDERICK HAMMERSLEY, I

LOVED THAT MAN.

HE WAS THE MOST WONDERFULLY

ECCENTRIC PERSON I HAVE EVER

KNOWN IN MY LIFE.

>> HE WAS ABLE TO DEVELOP THIS

WHOLE BODY OF WORK IN THE

SILENCE OF ALBUQUERQUE.

>> HAMMERSLEY CAME TO

ALBUQUERQUE TO TEACH AT THE

UNIVERSITY BUT QUICKLY

DISCOVERED THAT HE COULD GET

BY

INEXPENSIVELY WITHOUT

TEACHING.

HE WAS ABLE TO

SPEND MOST OF HIS TIME IN THE

STUDIO.

>> FRED LIVED, BREATHED, ATE,

DRANK, SLEPT HIS OWN ART.

HE WAS THE TRUEST ARTIST

IN THE

SENSE OF THE WORD OF BEING

COMPLETELY AND TOTALLY

DEDICATED

TO THAT ASPECT OF HIS LIFE.

IT WAS REALLY -- I CAN'T EVEN

SAY THE MOST IMPORTANT THING

TO

HIM BECAUSE IT WAS REALLY THE

>> HE HAD THE MOST TRULY

UNIQUE,

AND I HATE USING THAT WORD,

BUT

HIS WAS A UNIQUE TAKE ON

EVERYTHING.

>> TO CREATE A TITLE, HE WOULD

WRITE PUN AFTER PUN AFTER PUN,

SACRED AND PROFAME.

>> HIS TITLES WERE MORE THAN

JUST SIMPLE JOKES.

OFTEN, THEY REPRESENTED A KIND

OF BUDDHIST KOAN, THAT ALLOWED

THE VIEWER TO THINK MORE

PHILOSOPHICALLY ABOUT

HAMMERSLEY WAS INCLUDED IN THE

1959 EXHIBITION FOR ABSTRACT

CLASSICISTS AT SAN FRANCISCO

MUSEUM OF ART WHICH INSPIRED

THE

TERM HARD-EDGE PAINTING AND

BROUGHT HIM GREAT RECOGNITION.

>> FRED WAS ALWAYS A COUPLE

DECADES AHEAD OF EVERYBODY

ELSE.

HARD-EDGE PAINTINGS WERE

REALLY

VERY MUCH A RESPONSE AGAINST

THE

FREE FLOW OF ABSTRACT

EXPRESSIONIST IMAGERY THAT WAS

TAKING PLACE IN CALIFORNIA AS

WELL AS IN NEW YORK.

BUT THE PUNY TITLES, THEY WERE

SERIOUS ON ONE HAND

AND PLAYFUL

ON THE OTHER AND PUTS FRED

IN A

CATEGORY SORT OF ALL

BY HIMSELF.

>> IN THE 60'S HIS REPUTATION

GREW WITH EXHIBITS

AT THE MUSEUM

OF MODERN ART, THE WHITNEY, LA

COUNTY MUSEUM, CORCORAN

GALLERY

AND THE INSTITUTE OF

CONTEMPORARY ART LONDON.

BY THE TIME HE CAME TO

ALBUQUERQUE IN 1969, HE HAD

BEGUN WORKING ON HIS ORGANICS

PAINTING FILLED WITH FREE FORM

SHAPES THAT INCLUDED BLENDS OF

COLORS AND EDGES.

"IT WAS MY GUT THAT TOLD ME

WHICH COLORS TO CHOOSE

AND WHERE

TO PLACE THEM ON THE CANVAS,"

HE

TOLD ART CRITIC WESLEY PULKKA.

IF MY BRUSH HAND SHOWS A

DIFFERENT BLUE THAN WHAT I

THOUGHT WAS RIGHT, I WOULD GO

WITH WHAT MY HAND PICKED.

IT WAS MARVELOUS NOT TO HAVE

TO

THINK.

>> FRED DIDN'T GET VERY MUCH

RECOGNITION AT ALL AND I THINK

IT IS REMARKABLE IN MANY WAYS

THAT HE CONTINUED TO DEVOTE

HIMSELF TO HIS PAINTING WHOLLY

IN EVERY RESPECT WITHOUT EVER

HAVING THAT RECOGNITION.

>> WHEN FRED SAW SOMETHING

BEAUTIFUL, HE CRIED.

I REMEMBER SITTING IN THE CAR

WITH HIM.

IT WAS ONE OF THE LAST

OPENINGS

HE EVER WENT TO IN SANTA FE.

IT WAS RAINING A LITTLE BIT

AND

THE LEAVES WERE BLOWING IN THE

TREE AND I LOOKED OVER AT

FREDERICK AND HE HAD TEARS

ROLLING DOWN HIS CHEEKS

AND ALL

HE COULD SAY WAS, "THAT IS SO

BEAUTIFUL.

LOOK AT THAT.

IT IS THE MOST BEAUTIFUL

I LOVED THAT MAN.

PABLITA'S HOME TO REQUEST

OF HER

TO STOP PAINTING.

IT WASN'T PROPER FOR A PUEBLO

WOMAN TO PURSUE PAINTING AS A

CAREER.

JUST GET INTO SOME POTTERY,

LET

IT GO.

AND SHE SAID, SHE GOT UP, AND

SAID TO HIM, "GET THE HELL OUT

OF MY HOUSE.

I WILL DO WHATEVER I WANT.

I WILL PAINT IF I WANT,

AND THAT

IS WHAT I AM GOING TO DO

AND YOU

GET OUT."

SHE WAS SO AHEAD OF HER TIME.

>> ONE OF ALBUQUERQUE'S MOST

BELOVED AND MOST DEVOTED

PAINTERS DOCUMENTED WHAT SHE

FOUND BEAUTIFUL IN

HER CULTURE.

>> KNOWN BY HER PUEBLO NAME,

TSE

TSAN OR GOLDEN DAWN, PABLITA

VELARDE WAS BORN IN SANTA

CLARA

PUEBLO IN 1918.

SHE MORE THAN MADE UP WITH HER

SMALL SIZE WITH AN INDOMITABLE

SPIRIT.

>> FOR PABLITA TO HAVE THE

COURAGE TO MAKE THAT CHOICE TO

BE ARTIST AT THAT TIME WAS

PRETTY AMAZING.

>> EVEN IF IT CONFLICTED WITH

TRADITIONAL VIEWS OF HOW A

PUEBLO WOMEN SHOULD BEHAVE, IT

WAS OKAY FOR WOMEN TO MAKE

POTTERY, BUT PAINTING WAS FOR

MEN.

>> MUST HAVE BEEN PRETTY

TERRIFYING TO HAVE TO CHOOSE.

SHE WAS TRUE TO HERSELF.

SHE KNEW THAT SHE HAD THIS

CREATIVE FIRE IN HER THAT SHE

HAD TO EXPRESS AND SHE WAS NOT

GOING TO LET ANYBODY TELL HER

OTHERWISE.

SO, SHE HAD TO MOVE AWAY.

>> FORTUNATELY AT AGE 14, SHE

ENDED UP AT SANTA FE INDIAN

SCHOOL, WHERE TONITA PENA AND

DOROTHY DUNN HELPED VELARDE

FIND

THE CONFIDENCE TO CONTINUE

DOING

WHAT SHE LOVED.

FEARLESS, VELARDE'S BRUSH

FOCUSED ON THE RITUALS AND

CUSTOMS OF PUEBLO LIFE.

>> SHE DID RECORD MUCH OF THE

HISTORY WITH SUCH LOVE

AND SUCH

REFINED SKILL.

EVERY LITTLE THING IS

IN PLACE.

EVERYTHING THAT IS GOING ON,

YOU

CAN FEEL THE MOTION, YOU CAN

FEEL THE ENERGY, IT IS ALMOST

THAT YOU CAN STEP INTO IT

AND BE

>> BY GRADUATION VELARDE'S ART

WORK HAD BEEN DISPLAYED AT

MUSEUM OF NEW MEXICO, CHICAGO

CENTURY OF PROGRESS EXHIBITION

AND THE CORCORAN GALLERY IN

GRANDDAUGHTER MARGARETE

BAGSHAW

SAID, "YOU LOOK AT ONE OF HER

PAINTINGS AND IT HAS GOT MEAT.

IT TOLD A STORY, AND THAT IS

WHAT HER TALENT WAS.

TELLING A STORY WITH HER

PAINTING."

>> PABLITA MARRIED FORMER

POLICEMAN HERB HARDIN 1942 AND

THEY LATER MOVED

TO ALBUQUERQUE

TO START A FAMILY INCLUDING

DAUGHTER HELEN AND

GRANDDAUGHTER

MARGARETE, WHO HAD BOTH BECOME

RENOWN ARTISTS.

VELARDE NEVER ADJUSTED TO

MARRIED LIFE AND EVENTUALLY

DIVORCED IN 1957.

DESPITE THE UPHEAVAL SHE STILL

LOVED AND WANTED TO SHARE THE

GREAT BEAUTY OF PUEBLO LIFE.

IN

1958, SHE PRODUCED ONE OF HER

MASTERPIECES, OLD FATHER STORY

>> VELARDE'S HUMILITY AND

STRENGTH WOULD KEEP HER AFLOAT

THROUGH THE WAVES OF ACCLAIM

SHE

RECEIVED AND DAUGHTER HELEN'S

PREMATURE DEATH TO CANCER.

PASSING AWAY IN 2006,

SHE WOULD

BE REVERED AS A TRAIL BLAZER.

>> OH PABLITA HAD COURAGE.

WITHOUT THAT, THERE WOULDN'T

HAVE BEEN A CAREER.

THERE WOULDN'T HAVE BEEN

HELEN.

THERE WOULDN'T HAVE BEEN

MARGARET.

THERE WOULDN'T HAVE BEEN THIS

INCREDIBLE LEGACY.

SHE HAD COURAGE TO SPARE.

>> VELARDE SUMMED UP

THE SOURCE

OF STRENGTH SAYING, "HAVE A

FAITH IN YOURSELF.

OTHERWISE IT JUST WON'T COME

OUT

>> I THINK IT WAS A PART OF

THEIR DNA.

THE HEIGHT OF VIENNESE CULTURE

WAS BETWEEN 1850 AND 1938

AND IT

I THINK THEY WANTED

TO RECREATE

IT OR AT LEAST THEY WANTED TO

TAKE THE SEED THAT

THEY BROUGHT

WITH THEM AND PLANT IT

SOMEWHERE

WHERE IT COULD GROW.

LACKING CONSISTENT VENUE,

PAINTERS WERE OFTEN SUPPORTED

AND PROMOTED BY PATRONS WHO

SET

UP PRIVATE SALONS.

>> OUR LIVING ROOM BECAME THE

SALON THAT USED TO EXIST IN

EUROPE.

THEIR FRIENDS GOT TO MEET

ARTISTS LIKE SCHLEETER OR

KUHLMANN OR ALICE GARVER WHO

THEY WOULD HAVE NEVER HAD AN

OPPORTUNITY TO MEET ON THEIR

OWN.

MY MOM AT ONE POINT SHE BOUGHT

SCHLEETERS AT $10 DOWN, $10 A

WEEK.

WHEN SHE DEALT WITH RAYMOND

JONSON, HE WOULD TAKE OUT HIS

MEASURING TAPE AND SAY, WELL,

THIS IS X SQUARE INCHES

AND THE

PRICE IS X PER SQUARE INCH.

SO THAT MAKES THIS ONE X.

YOU KNOW.

>> MUCH LAMENTED BY VON

HASSLER

AND MANY OTHER ARTISTS

OVER THE

YEARS, ALBUQUERQUE HAD A MAJOR

PROBLEM TO OVERCOME; THE LACK

OF

A PERMANENT PLACE FOR THE

COMMUNITY TO SEE THE GREAT

WORK

BEING PRODUCED.

>> 1950, THERE WAS NOTHING

ELSE

AVAILABLE HERE IN TOWN.

>> THIS IS THE FIRST.

>> 1950'S, RAYMOND JONSON WAS

ENSCONCED IN THE UNM CAMPUS

IN A

COMBINATION RESIDENT STUDY AND

GALLERY INTENDED TO BE A

PERMANENT ART LABORATORY.

RETIRING FROM TEACHING

IN 1954,

HIS GALLERY BECAME A LIFE LINE

FOR ARTISTS.

>> NONE OF US HAD EVER SEEN

WORK

LIKE THAT BEFORE.

IT WAS ALWAYS A NEW AND

EXHILARATING EXPERIENCE,

SOMETIMES A MIND-BLOWING

EXPERIENCE.

>> IT WAS KIND OF AN ESTHETIC

SHELTER FOR ME.

AND I WAS DOING THESE

CRITIQUES.

AND I DIDN'T PAY FOR IT OR

ANYTHING ELSE.

HE JUST TOOK ME ON THE BASIS

OF

MY BEING INTERESTED.

>> HE BELIEVED IN ART AS A

SOCIAL ACTIVITY.

>> THAT IT WAS CRUCIAL AND

CENTRAL TO THE PROPER

FUNCTIONING OF A SOCIETY.

WE WOULD TALK AND TALK

AND TALK

AND THEN ALL OF A SUDDEN, HE

WOULD ACT LIKE HE WAS BEING

INTERRUPTED, YOU KNOW, AND HE

WOULD SAY, "WELL, I MUST GO

NOW,

I HAVE TO GO TO WORK ON A

JOHNSON."

>> OUTSIDE OF UNM, SOME

ARTISTS

TOOK THE PROBLEM AT HAND.

IN 1953, A HEROIC ENTERPRISE,

THE ALBUQUERQUE MODERN MUSEUM

DEBUTED.

THE FIRST OF ITS KIND, THE

MUSEUM CREATED AN IMPORTANT

DIRECT CONNECTION BETWEEN THE

COMMUNITY AND MODERN ART.

>> IT STARTED WITH HERB

GOLDMAN

AND BOB WALTERS, MY HUSBAND,

EX-

GI'S TALKING ABOUT NEW ART,

THE

MODERN ART.

AND THEY WOULD TALK INTO THE

NIGHT, AND FINALLY THEY SAID,

WHAT CAN WE DO TO INTRODUCE

IT WAS A SPIRIT THAT WAS GOING

AROUND THAT JUST MADE YOU KIND

OF WALK ON AIR.

IT WAS VERY A INVIGORATING

TIME.

>> WALTERS COULDN'T KEEP THE

MUSEUM AFLOAT.

IT CLOSED IN 1956.

THE NEXT PIVOTAL STEP FOR THE

ARTS VENUE WAS IN 1961 WITH A

PUSH FROM DOROTHEA FRICKE

WHITCRAFT WHO STARTED

THE UNM'S

ART DEPARTMENT IN 1928,

ALBUQUERQUE MUSEUM ASSOCIATION

INCORPORATED AND BEGAN

ITS QUEST

TO SEE AN ART AND HISTORY

MUSEUM

BUILT.

BY 1967 THE FIRST INCARNATION

OF

THE MUSEUM OPENED AT THE OLD

>> 1961 WAS ALSO AN IMPORTANT

YEAR MARKING THE ARRIVAL OF

CLINTON ADAMS WHO HAD A LOVE

FOR

CANVAS AND STONE.

ADAMS WOULD RELOCATE THE

TAMARIND LITHOGRAPHY WORKSHOP

TO

ALBUQUERQUE AND HELP ESTABLISH

IT AS AN INTERNATIONAL CENTER

FOR LITHOGRAPHY.

AS THE NEW DEAN OF UNM FINE

ARTS

DEPARTMENT HE WOULD ENGAGE THE

ART PROGRAM IN A PROVOCATIVE

NEW

DIRECTION AND ADAMS ENLISTED

PHOTOGRAPHER AND HISTORIAN,

VAN

DEREN COKE TO LAUNCH THE UNM

ART

MUSEUM IN 1963.

THE MUSEUM WAS A QUANTUM LEAP

FOR ALBUQUERQUE, HAVING THE

DISTINCTION OF BEING THE FIRST

PERMANENT LARGE SCALE

EXHIBITION

SPACE, THE MUSEUM WOULD HOST

SCORES OF IMPRESSIVE

EXHIBITIONS.

THEY BEGAN WITH TAOS AND SANTA

FE, THE ARTISTS ENVIRONMENT,

FOLLOWED BY IMPRESSIONISM IN

AMERICAN AND GEORGIA O'KEEFFE.

>> THAT WAS A BIG COUP TO HAVE

HER.

GEORGIA WAS KIND OF SITTING ON

THE SIDE AND NOBODY WAS

TALKING

TO HER.

I DON'T KNOW WHAT HAPPENED.

MAYBE BECAUSE SOME PEOPLE WERE

IN AWE SO I WENT OVER AND

STARTED TALKING TO HER AND SHE

WAS EXTREMELY LOQUACIOUS.

SHE DIDN'T WANT TO LET US GO.

>> THEY COMMUNICATED

TO PEOPLE,

WE DON'T HAVE TO THINK OF

OURSELVES AS SECOND CLASS.

>> ADAMS TURNED THE FOCUS

OF THE

PROGRAM FROM STUDIO ART, UNM'S

BREAD AND BUTTER FOR DECADES,

TO

INCLUDE THEORY AND HISTORY.

UNM BEGAN TURNING OUT NOT ONLY

RIGOROUSLY TRAINED ARTISTS,

BUT

ART TEACHERS WHO WOULD

CAPITALIZE ON NEW

OPPORTUNITIES

OPENING IN THAT FIELD.

>> AND THERE HAD TO BE SOME

JUSTIFICATION FOR HAVING THIS

WITHIN AN ACADEMIC SETTING.

>> WERE YOU MAKING ART OR WERE

YOU TRYING TO MAKE PEOPLE JOB

READY, YOU KNOW.

>> WE WERE PUSHED.

WE WERE CHALLENGED.

>> THAT MEANT THAT THE ARTISTS

WHO WERE BEING TRAINED AT UNM

HAD TO TAKE ART SERIOUSLY.

AND THEY HAD TO CONSIDER THEIR

WORK IN RELATIONSHIP AND IN

COMPETITION, REALLY, WITH THE

BEST ART IN THE WORLD.

I MEAN, ALL OF THE ART IN THE

MUSEUMS, THE WHOLE HISTORY OF

ART.

>> THROUGHOUT HIS CAREER,

ADAMS

MOVED EFFORTLESSLY BETWEEN

PAINTING AND LITHOGRAPHY.

>> ONE OF THE THINGS I MOST

THE ESSENCE OF THINGS,

REGARDLESS OF THE SUBJECT,

AND I

THINK THAT DISTILLING THAT

ESSENCE WAS SOMETHING THAT WAS

VERY IMPORTANT TO HIM AND HIS

>> WHETHER HE WAS, IN FACT,

PAINTING OR DRAWING A PLANT OR

PAINTING AN ABSTRACT SCENE

FROM

ONE OF HIS TRIPS TO THE SOUTH

OF

>> BY THE TIME HE COMPLETED

HIS

LAST WORKS IN 2001, ADAMS HAD

LOST AN EYE TO CANCER AND

DIAGNOSED WITH TERMINAL LIVER

CANCER.

YET HE PAINTED EVERYDAY.

FORMER DIRECTOR OF UNM ART

MUSEUM PETER WALCH SAID, "THE

ASTONISHING THING TO ME IS

THEY

>> ONE RESULT OF UNM'S

EMPHASIS

ON MODERNISM WAS THAT IT

IGNITED

A LONG SMOLDERING ANIMUS

BETWEEN

CONTEMPORARY AND TRADITIONAL

PAINTERS.

THE TENSION FLARED IN 1966

DURING THE ANNUAL NEW MEXICO

ARTS AND CRAFTS FAIR.

UNM FACULTY MEMBERS WHO HELPED

JURY THE SHOW WEEDED OUT

NEARLY

HALF OF THE 110 ARTISTS WHO

APPLIED, CAUSING FUROR.

A STRONG SUPPORTER OF NEW

MEXICO

ARTS AND CRAFTS FAIR, PAINTER

BETTY SABO'S VIEWS ON ELITISM

IN

THE ARTS ARE CLEAR IN HER 1970

"THOSE OF US WHO STILL FIND

JOY

IN A WELL MODELED ASPEN TRUNK

OR

FIND OUR SATISFACTION IN

DEPICTING THE BROODING SKY

OVER

ONE OF THE TINY ADOBE HOUSES,

FIND IT DIFFICULT TO ACCEPT

THE

ATTITUDE OF OUR

CONTEMPORARIES.

CRITICS RIDICULE US.

OUR FELLOW ARTISTS SNEER AT US

AND SELF-STYLED INTELLECTUALS

IGNORE IS, BUT THE AVERAGE GUY

LOVES US."

FROM KANSAS, SABO, THEN BETTY

JEAN BEALS, HAD THE FIRE TO

BECOME AN ARTIST AT AN EARLY

AGE.

>> BETTY WAS AN EXTREMELY

STRONG

WILLED WOMAN.

I LOVE THAT SHE WOULD SPEAK

HER

MIND.

>> SHE MAJORED IN ART AT UNM

BUT

WAS UNDER THE TUTELAGE OF CARL

VON HASSLER.

HE DREW OUT OF HER WHAT

SHE WAS

SEEING, BUT HE ADDED

TO HER WHAT

HE SAW AND I THINK THAT IS

WHAT

EXPANDED HER SCOPE.

>> "I HAVE NEVER FORGOTTEN ANY

OF HIS INSTRUCTIONS BUT AFTER

FIVE YEARS I WAS PAINTING TOO

MUCH LIKE HIM," SHE TOLD

WRITER

MARY CAROL NELSON.

HER HOME LIFE PRESENTED A

TREMENDOUS CHALLENGE.

HER HUSBAND WAS DIAGNOSED WITH

PARANOID SCHIZOPHRENIA

AND THEY

DIVORCED IN 1958.

>> IT WAS TOUGH WITH FIVE

KIDS.

MOM WOULD WORK HARD ALL DAY

LONG, COME HOME, FEED

THE KIDS,

GET US READY FOR BED, DO OUR

HOMEWORK, AND THEN PAINT ALL

NIGHT SO SHE COULD DELIVER A

PAINTING THE NEXT DAY WHICH

WERE

ALMOST ALWAYS WET AND TO MAKE

ENDS MEET, SHE WOULD OFTEN

TRADE

PAINTINGS FOR THINGS, FOR

CHRISTMAS PRESENTS,

FOR EXAMPLE,

>> IN 1964, BETTY JEAN MARRIED

ENGINEER DAVE SABO

AND HER HOME

LIFE IMPROVED.

BY NOW SABO WAS WELL-KNOWN FOR

HER TRADITIONAL NEW MEXICO

SCENES.

SHE, ALONG WITH NOVELLA KING,

BEN TURNER AND OTHERS, HAD

TAKEN

THE TORCH FROM VON HASSLER BUT

BETTY DID IT IN A GRAND WAY.

HER NEW MEXICO PAINTINGS TOOK

ON

THE DETAIL, VARIETY,

COMPLEXITY

AND A SCALE THAT HAD YET BEEN

REALIZED.

SABO ALSO BECAME ONE OF THE

BIGGEST BOOSTERS OF

ALBUQUERQUE'S ART SCENE.

>> MOM FELT THAT ALBUQUERQUE

WAS

REALLY A CENTER OF ART, MORE

SO

THAN EVEN TAOS AND SANTA FE,

BECAUSE THERE WAS A GREAT

WEALTH

OF ART HERE THAT JUST HADN'T

BEEN CAPITALIZED ON.

>> SABO WAS A SUPPORTER OF THE

NEW MEXICO ARTS AND CRAFTS

FAIR,

CO-FOUNDED THE GALLERIA DEL

SOL,

THE FIRST GALLERY DEDICATED TO

WORK OF LOCAL WOMEN ARTISTS

AND

WORKED TIRELESSLY ON BEHALF OF

THE ALBUQUERQUE MUSEUM AND ITS

FOUNDATION.

>> THERE WAS NO CHARITABLE

ORGANIZATION THAT CAME ALONG

THAT ASKED FOR A PAINTING THAT

SHE DIDN'T GIVE TO AND IT

WASN'T

A QUESTION OF, OH, OKAY, YEAH,

I'LL

GIVE YOU A PAINTING.

NO, IT IS HOW BIG

OF A PAINTING

WOULD YOU LIKE.

MY MOM WAS ALL HEART.

>> BETTY WAS THE FIRST MAJOR

FEMALE PLAYER IN THE ART

MARKET.

PAINTINGS OF

NEW MEXICO ARE PRIZED.

SHE WOULD LATER MOVE

INTO MAKING

SCULPTURE.

>> NOBODY DOES ADOBES AND SNOW

LIKE BETTY.

I CAN'T TELL YOU HOW MANY

PEOPLE

DO THEM.

PROBABLY 1000.

BUT NOBODY DOES THEM LIKE

BETTY.

SO WHEN YOU SAY WHAT MAKES HER

WORK DIFFERENT, IT ISN'T

BUT IT

IS BETTER.

SAW A PAINTING AS A WAY TO

EXPRESS EMOTION.

SHE AND CARL COULD PORTRAY

THINGS ON CANVAS THAT WERE

THEIR

INNER FEELINGS.

A LOT OF TIMES HER PAINTINGS

WOULD EVOKE AN EMOTION THAT

PEOPLE WOULD -- THEY

THEMSELVES

HAD.

ARTS AND CRAFTS FAIR, PEOPLE

WOULD COME TO SEE MY MOM'S

PAINTING AND I WOULD HEAR THEM

TALK ABOUT, OH, MY GOSH, THAT

IS

JUST LIKE I SAW THAT.

AND I THINK THAT IS WHAT MADE

HER SO POPULAR.

SHE COULD CAPTURE OTHER

PEOPLES'

>> SUMMING UP HER APPROACH,

SABO

SAID, "I TRY TO GIVE YOU AN

AWARENESS OF THE SIMPLE

EVERYDAY

WORLD FOR THEN I WILL BELIEVE

I

>> ONE THING THAT I NOTICED IN

THE MID 70'S WHEN I STARTED

ARTS

SPACE MAGAZINE WAS

THE ENORMOUS

COMPLEXITY AND VIBRANCY OF THE

ART SCENE HERE IN ALBUQUERQUE.

>> WHAT THE 70'S HELD IN STORE

WOULD BE UNCLEAR

AS MODERNISM'S

DOMINANCE BEGAN TO WANE.

CHANGE WAS IN THE AIR.

FEMINIST ARTISTS,

IN PARTICULAR,

SUPPORTED IMAGERY BASED

ON THEIR

PERSONAL EXPERIENCES AS WOMEN.

THEIR CONCERNS SPURRED

DIALOGUE

ABOUT CULTURE AND INDIVIDUAL

IDENTITY.

>> AS KIDS WE USED TO PLAY

THIS

GAME WITH MAGAZINES WHERE WE

WOULD GO THROUGH THE PAGES

REAL

QUICKLY AND SAY, "I AM HER,

I AM

HER, I AM HELEN. NO, I ALREADY

SAID I AM HELEN, YOU CAN'T BE

HELEN.

YOU HAVE TO BE SOMEBODY ELSE.

I ONLY WANT TO BE HELEN."

>> SHE DID HAVE THAT SORT OF

ROCK STAR, POP CULTURE EDGE TO

HER.

I THINK THAT BECAME A TOOL TO

MAKE HER ART EVEN MORE

ACCESSIBLE, BECAUSE PEOPLE

WERE

DRAWN TO HER BECAUSE OF HER

PERSONALITY AND THEN IT IS

LIKE,

OH, WHAT, YOU'RE THIS PROFOUND

>> IF PABLITA VELARDE WAS THE

GODMOTHER OF NATIVE AMERICAN

ART, HER DAUGHTER, HELEN

HARDIN,

WAS ALBUQUERQUE'S FIRST ROCK

STAR PAINTER.

HARDIN IS PART OF A GENERATION

AND GROUNDBREAKING NATIVE

ARTISTS WHO WOULD TRANSFORM

NATIVE AMERICAN PAINTING.

>> THE SHEEK PHOTO

OF HER ON THE

COVER OF MARCH-APRIL, 1970

ISSUE

OF NEW MEXICO MAGAZINE HELPED

SEAL HER POP CULTURE STATUS.

>> SHE WAS ABLE TO KIND

OF LIVE

IN THAT GLAMOROUS ART WORLD.

THEN SHE COULD PUT ON HER

MOCCASINS AND GO WALK UP

TO SEE

THE ECLIPSE AND NEVER SKIP A

BEAT.

>> HER SUCCESS CAME

ABOUT WHILE

FACING TREMENDOUS STRUGGLES.

TSA-SAH-WEE-EH, HELEN'S TEWA

NAME, MEANS LITTLE STANDING

SPRUCE, LIVED IN THE SHADOW OF

HER FAMOUS MOTHER PABLITA

>> AMBIVALENT ABOUT PAINTING

INITIALLY WHEN HARDIN ENTERED

UNM IN 1961, SHE SAW A FUTURE.

ART HISTORY AND ANTHROPOLOGY

CLASSES DEEPENED HER INTEREST

IN

BY THE EARLY 70'S, HARDIN WAS

MOVING AWAY FROM A

REPRESENTATIONAL STYLE

TO CREATE

PETROGLYPH INSPIRED IMAGERY

AND

ADD MORE COMPLEX ABSTRACTIONS

IN

HER WORK.

IN 1974, SHE PRODUCED WHAT IS

CONSIDERED ONE OF HER FIRST

MASTERPIECES, "PRAYERS OF BLUE

DAUGHTER MARGARET SAID, "I

CALLED HER DEPARTURE PAINTING

BECAUSE IT WAS SORT OF WHEN

SHE

STOPPED PAINTING THINGS THAT

WERE EARTHLY, AND STARTED

PAINTING THINGS THAT WERE

HEAVENLY.

SHE SORT OF WENT UP INTO HER

SPIRIT WORLD FROM THERE."

SHE SEEMED TO HAVE REALLY HIT

THIS PLACE OF KNOWING, AN

INTERNAL KNOWING.

>> AT THE HEIGHT OF HER CAREER

IN 1981, SHE CREATED TWO

OF HER

MOST CELEBRATED WORKS,

"CHANGING

WOMAN" AND "MEDICINE WOMAN."

THEY WERE THE FIRST OF WHAT

WOULD BECOME HER WOMEN SERIES

AND EMBODIED THE HEIGHT OF HER

ARTISTIC, INTELLECTUAL AND

>> YOU CAN JUST STAND IN FRONT

OF ONE OF THESE PAINTINGS

AND IT

SORT OF FEELS LIKE THIS WOULD

BE

A VEHICLE TO TELE-TRANSPORT TO

SOME INCREDIBLE SPIRITUAL

>> THEN, HARDIN LEARNED

SHE HAD

BREAST CANCER.

SHE BEGAN UNDERGOING TREATMENT

BUT KEPT PAINTING.

"LISTENING WOMAN" COMPLETED

HER

WOMENS SERIES AND SHE PASSED

AWAY IN 1984.

IN A 1976 DOCUMENTARY, HARDIN

TOLD VIEWERS, "ART IS

IMMORTAL.

I CAN THINK OF GROWING OLD AND

PASSING ON AND I THINK THE

REASON IS BECAUSE I KNOW I'LL

ALWAYS BE HERE THROUGH MY

DAUGHTER MARGARET BELIEVES

THIS

KNOWLEDGE LIBERATED HER,

SAYING,

"FACING HER OWN MORTALITY GAVE

MY MOTHER THE FREEDOM TO PAINT

WHATEVER SHE WANTED, WHICH

CAME

FROM HER SOUL."

THAT IS WHERE THE MASTERPIECES

>> ALBUQUERQUE NEEDS A MUSEUM.

IT NEEDED IT THEN.

IT NEEDS IT NOW.

>> ONE; WE WANTED PEOPLE TO BE

ABLE TO COME IN AND SEE

OURSELVES, WHO WE ARE.

THE OTHER SIDE OF THAT COIN IS

WE WANTED TO BRING THE WORLD

INTO THAT GALLERY AND THE

ALBUQUERQUE MUSEUM.

>> AND, ARTIST HERE SUDDENLY

SAW

THEMSELVES IN THIS GREAT LONG

MIX OF CREATIVITY AND SAID,

"WE

HAVE A PLACE IN THE STORY AS

WELL."

>> SO, WITH THE ARRIVAL OF THE

ALBUQUERQUE MUSEUM, THERE WAS

ANOTHER VENUE FOR

THE COMMUNITY

TO SEE ITSELF REPRESENTED, NOT

FILTERED THROUGH A UNIVERSITY

ESTHETIC.

>> IN 1979, THE CITY OPENED

THE

NEW ALBUQUERQUE MUSEUM.

A SLEEK, MODERN, TEMPERATURE

CONTROLLED BUILDING IN OLD

TOWN,

TO REPLACE THE QUAINT SUNPORT

MUSEUM.

>> THAT WAS REALLY EXCITING

BECAUSE WE OPENED PEOPLES'

EYES

TO WHAT IS AVAILABLE HERE.

>> INITIALLY THE EXHIBITION

SPACE

WAS SMALL BUT THE IMPACT WAS

SIGNIFICANT.

>> FIRST OF ALL, THE STORY OF

THIS PLACE WAS NOT BEING TOLD

BY

ANY MUSEUM, WHERE WE COULD

REGULARLY BRING IN

OVER 100,000

PEOPLE A YEAR AND OCCASIONALLY

BRING IN 100,000 PEOPLE TO SEE

A

SINGLE EXHIBITION

OVER A PERIOD

OF THREE MONTHS.

>> I THINK THE MUSEUM MAY HAVE

HELPED WITH THE IDENTITY OF

ALBUQUERQUE ART, MAYBE MORE

THAN

>> WHEN I DID EXHIBITIONS OF

ALBUQUERQUE ARTISTS, IT AMAZED

ME AS THE DIVERSITY.

YOU HAD TO ALLOW FOR COWBOY

ART.

YOU HAD TO ALLOW FOR

ABSTRACTION.

YOU HAD TO ALLOW FOR

NONFIGURATIVE AND ALLOW FOR

FIGURATIVE.

YOU HAD TO ALLOW

FOR LANDSCAPE.

>> AND BEING OPEN, YOU HAVE A

GREATER VARIATION GOING ALL

THE

WAY FROM ONE STYLE TO ANOTHER

AND MORE OF AN ACCEPTANCE IN A

SENSE.

>> ALBUQUERQUE'S ARTISTIC

IDENTITY IS A WORK

IN PROGRESS,

CONSTRUCTED FROM

TRADITIONALISM

AND MODERNISM; ASPENS

AND AVANT

GARDE.

IN RETROSPECT, A STYLE NEVER

COALESCED AND PERHAPS NEVER

WILL.

>> ARTISTS LIKE OKLAHOMA

NATIVE

WILSON HURLEY CONTINUED

TO FIND

ALBUQUERQUE.

THEY BRUSH YET ANOTHER LAYER

ON

THE CITY'S BLANK CANVAS.

HURLEY'S PAINTING

OF THE SANDIA

MOUNTAINS AT THE SUNPORT

REACHES

OUT TO US, CAUSES US TO PAUSE

AND LOOK.

>> WILSON HURLEY LOVED THE

SANDIA MOUNTAINS.

PART OF THAT, WHICH PROBABLY

PEOPLE DON'T THINK, IS THEY

THINK IT IS THE GRANDEUR

OF THE

SANDIAS.

IT WASN'T THAT.

HE WAS A MASTER AT COLOR.

THE SKIES AREN'T BLUE.

THEY ARE PINK.

FOR HIM, IT WASN'T JUST

A MAJOR

MOUNTAIN, IT WAS A BEAUTIFUL

PALLET FROM WHICH YOU COULD

>> PEOPLE WHO COME HERE FROM

CHICAGO AND FROM NEW YORK LOOK

FOR PLACES WITH ALL THIS STUFF

TO DO ALL THE TIME, COME HERE

AND IT IS LIKE A VACUUM, THE

SILENCE.

IT IS A SHOCKING DIFFERENCE.

BASICALLY IT IS SAYING, WHAT

DO

YOU WANT TO DO?

RATHER THAN WHAT DOES IT HAVE

TO

OFFER YOU?

>> CARL VON HASSLER

AND RAYMOND

JOHNSON SEIZED THAT

OPPORTUNITY.

THEY, ALONG WITH OTHER

ALBUQUERQUE PAINTERS, USED

PAINTING TO TELL US ABOUT A

SPIRIT AND A PLACE IN A WAY NO

OTHER MEDIUM CAN.

>> WHEN VAN HASSLER DIED IN

1969, HIS OBITUARY NOTED SADLY

THAT HE LEFT NO KNOWN

SURVIVORS

YET THROUGH HIS PAINTINGS HE

LEFT SOMETHING OF HIMSELF.

FOUND THROUGHOUT THE CITY, HIS

PAINTINGS ARE A TESTAMENT

TO HIS

LIFE LONG PASSION TO PAINT AND

TO SHARE WHAT HE FOUND

BEAUTIFUL

IN THIS PLACE.

>> JOHNSON CREATED HIS LAST

PAINTING AND HE GAVE MATERIALS

I KNOW PEOPLE WHO GOT

HIS PAINT,

HIS CANVASSES, HIS BRUSHES,

AND

METAPHORICALLY, THAT IS A NICE

IMAGE TO SAY THAT HIS SPIRIT

JUST KIND OF SPREAD OUT

THROUGHOUT THE CITY AND HAS

>> HE GAVE A LOT OF ARTISTS

WORKING INDIVIDUALLY

IN VARIOUS

PARTS OF THE CITY A KIND OF

FOCAL POINT TO CONNECT WITH.

TO FEEL THE KIND OF IMPORTANCE

IN WHAT THEY WERE DOING.

>> HE DIED IN 1982 AT THE AGE

OF

90.

HIS PAINTINGS REMAIN A FIXTURE

IN OUR LIVES AND SYMBOLS

OF HOW

ART CAN BE SPIRITUALLY

UPLIFTING.

>> IT WAS REALLY IMPORTANT

TO DO

THE WORK.

HE REALLY BELIEVED THAT IF YOU

PAINTED THE PAINTING,

THE ENERGY

OF THAT WENT OUT

INTO THE WORLD

AND THAT IS KIND OF WHAT

ALBUQUERQUE DOES.

IT IS THE PLACE WHERE PEOPLE

WORK AND THAT ENERGY GOES OUT

INTO THE WORLD.

EVEN THOUGH THEY MIGHT NOT GET

RECOGNIZED, THEIR INFLUENCE IN

EVERYTHING AROUND THEM IS

EVIDENT.

>> IN ALBUQUERQUE PEOPLE

AREN'T

SO INTERESTED IN BECOMING AN

ARTIST WITH AN ADJECTIVE IN

FRONT OF IT.

IN ALBUQUERQUE, ARTISTS ARE

ARTISTS, ARTISTS MAKE ART.

>> I THINK IN ALBUQUERQUE IT

IS

A CARE FOR THE WORK AND WHAT

IT

REALLY SAYS, AND WHAT IT

MEANS.

I THINK IT IS JUST A CARE FOR

WHAT AN ARTIST DOES THAT

MATTERS.