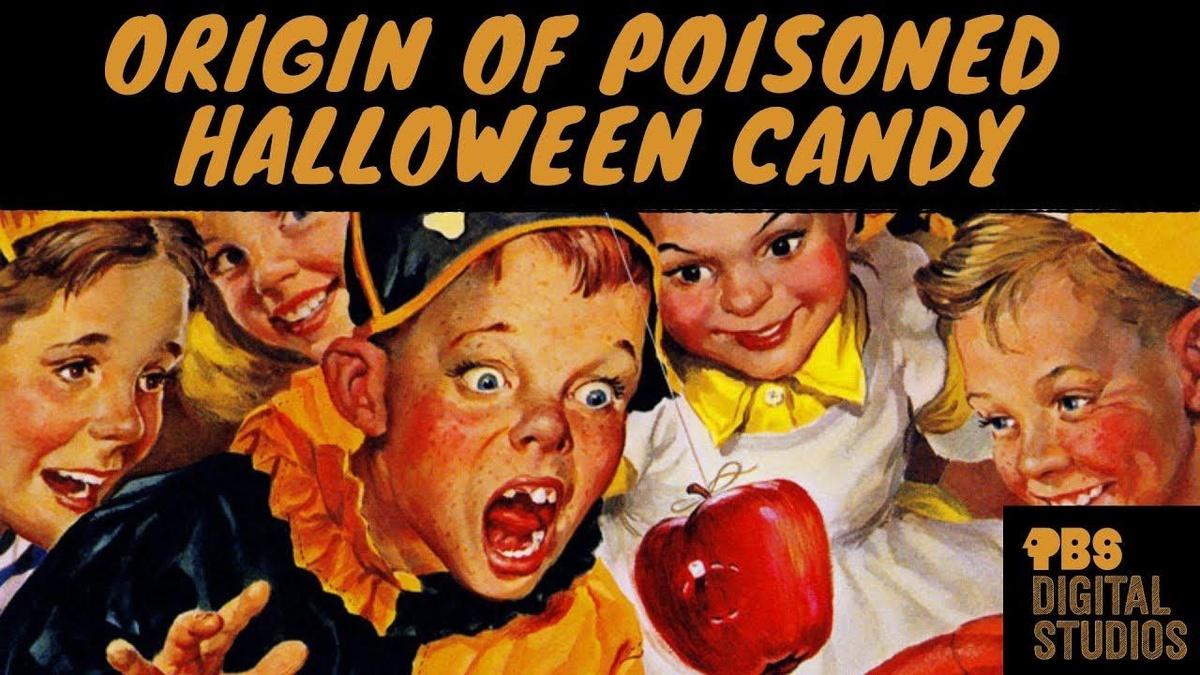 S1 E8 | FULL EPISODE
Is Poisoned Halloween Candy a Myth?
Is Poisoned Halloween Candy a Myth? Every year around Halloween, we hear the same concern: you gotta check the candy for poison because strangers put laxatives in Tootsie Rolls, Razor Blades in Apples and heroine in Snickers. But is this trick or treat dilemma an actual reality or just a clever way for your parents to steal your candy?
TRANSCRIPT

So Halloween is coming up and we have one question: are sadistic strangers actually

poisoning kids' candy?

So lots of kids who trick or treat can remember bringing home pillowcases and plastic pumpkins

full of candy every October 31st.

And if you were like me, you had to fork those bags over to an adult for individual inspection

to make sure they weren't full of razors, needles, poison, and laxatives wrapped to

look like Tootsie Rolls...Which is honestly the craziest version of this story that I

heard growing up....But does all of this candy chaos come from somewhere or is it just a

ghost story?

Well I decided to do a little digging into the "killer candy" urban legend and the

answer is a resounding!...not really?

Kind of?

Maybe?

Because even though we've been hearing this myth for decades, there isn't a whole lot

of proof that any kids have actually been poisoned and killed by strangers.

In fact, it seems that most confirmed instances of candy tampering cropped up after the urban

legend became legendary.

But before we get deeper into candy than Charlie in Willy Wonka's factory we have to ask

ourselves: Why do kids trick or treat and get candy in the first place?

So tricking or treating on Halloween already has a spotty history as a holiday.

Turns out that Halloween has its roots in the Celtic Festival of Samhain (Saw-Win).

Celebrated on October 31st, some would gather to pay homage to the dead, or dress in costumes

to fool the demons who returned to earth.

In the ninth century when Christianity spread through Celtic regions, they converted November

2nd into All Souls' Day because they were trying to convert pagan holidays into Christian

celebrations.

Adults and eventually children would go around "souling" or asking for treats in exchange

for praying for the souls of strangers' deceased relatives.

Another version of this tradition is Guy Fawkes Day aka Bonfire Night, where British children

would walk around singing and begging for pennies to commemorate the foiling of the

"Gunpowder Plot" of 1605.

(Although most of us just know the Guy Fawkes Mask in V for Vendetta.)

The US got in on the act in the mid-19th century, and by the early 20th century kids begging

for candy caught on...along with a certain amount of pranks and vandalism.

But ask for candy door to door is a fairly recent custom in the US popularized in part

by Irish immigrants.

The phrase "Trick or treating" as we know it started to emerge in the 1930s and 1940s.

Today, Americans spend an estimated $2 billion on candy a year for just for Halloween! and

the average pumpkin bucket carries 250 pieces of candy, which is 9,000 calories and 3 pounds

of sugar.

So halloween is now a huge industry.

Ok so we've established a loose history of why every year we fork over tons of candy

to cute kids dressed like Spiderman and Elsa from Frozen, but that brings us to our next

question: when did we start hearing about strangers handing out candy that kills?

Well it seems like the answer here is part truth, and part hysteria and part groupthink.

And our contentious relationship to tainted treats stretches back to the late 19th century.

According to Professor Samira Kawash, there were reports as early as 1899 and the early

20th century that kids were dropping dead from poisoned candy, although all of these

cases turned out to be related to meningitis and not toxic treats.

So have strangers ever handed out tainted candy to unsuspecting kids?

Short answer is yes.

On Halloween 1959 a California dentist named Dr. William V. Shyne passed out approximately

450 candy covered laxatives to the children in his neighborhood.

30 of those kids got seriously sick and he was charged with "outrage of public decency"

among other crimes . . .like being the worst.

According to Professor Joel Best at the University of Delaware, there's been about 80 cases

of sharp objects found in kids' halloween candy.

But even though there have been isolated instances of pins and needles found in candy bars, they

were usually placed there by family members trying to play a prank, and haven't proven

fatal.

Because nothing says "gotcha" like an open blade in your kids' Snickers bar.

Ok so a deranged dentist and some sensational media coverage helped this myth take hold.

But has a child ever been Killed by poisoned halloween candy?

The answer to that is also a yes....but it wasn't by random strangers.

In 1970 a little boy's family reported he had died after ingesting tainted candy at

his home in Michigan.

Police later discovered that the boy had actually died from accidentally ingesting his uncle's

heroin supply and his family tried to cover it up by sprinkling the drugs on his halloween

candy.

Then in 1974 Ronald Clarke O'Bryan poisoned his 8-year-old son with a cyanide laced pixie

stick.

O'Bryan had taken a life insurance policy out on his two children in order to wipe out

his debts so he gave the poisoned candy to his son, daughter, and several neighborhood

children to make it look like a random act.

His son died, but his daughter and the other children never opened the candy, opting for

other treats instead.

O'Bryan was executed in Texas in 1984.

So it seems that while kids have been given candy with poison, needles, and razors, it's

actually family members and not strangers that pose the greatest risk in terms of candy

related fatalities.

Well that leaves us with our final question: if the evidence doesn't support the urban

legend, then why do tall tales of poisoned candy persist?

Because it's starting to seem like the main reason for all the candy caution was giving

my father an excuse to pick out all the fun sized Whoppers from my Halloween haul (and

seriously: who likes Whoppers???)

The 80s saw a resurgence of tainted candy fears when stories and warnings were targeted

at parents to keep their kids safe from candy criminals.

James Barron ran a 1982 article in the New York Times urging anxious parents to give

their kids' candy the once over before letting them rot their teeth and a 1983 piece by advice

columnist "Dear Abby" urged the same.

And this wasn't just a media frenzy.

This urban legend was the perfect storm of fiction, fact, and spooky sensationalism.

There's just enough accuracy to make the story credible as a widespread issue.

Plus the holiday is all about pulling pranks and dressing up in disguises, which makes

the idea of dangerous strangers more believable.

But overall it seems like you're more likely to get a neighbor who hands out toothbrushes

than toxins.

So how does it all add up?

Well it seems like Halloween trick or treat had pagan roots that eventually evolved into

kids going door to door around the US asking for food.

And even though there are scattered instances of candy that's been tampered with, there

isn't evidence to support the claim that there are hoards of strangers handing out

poison to kids.

In fact, the only fatalities from halloween candy came from family members, not strangers

on the street.

So even though both sides of this story exist to a certain extent, the actual meeting of

"stranger danger" and "candy that kills" isn't really a thing and it's definitely

not a rampant evil in our midst.

But on the plus side, it's still advisable for parents to check kids' candy and throw

away unwrapped stuff for sanitary reasons.

Because some neighbors still throw handfuls of dirty pennies into Halloween bags.

And they're the real villains here.