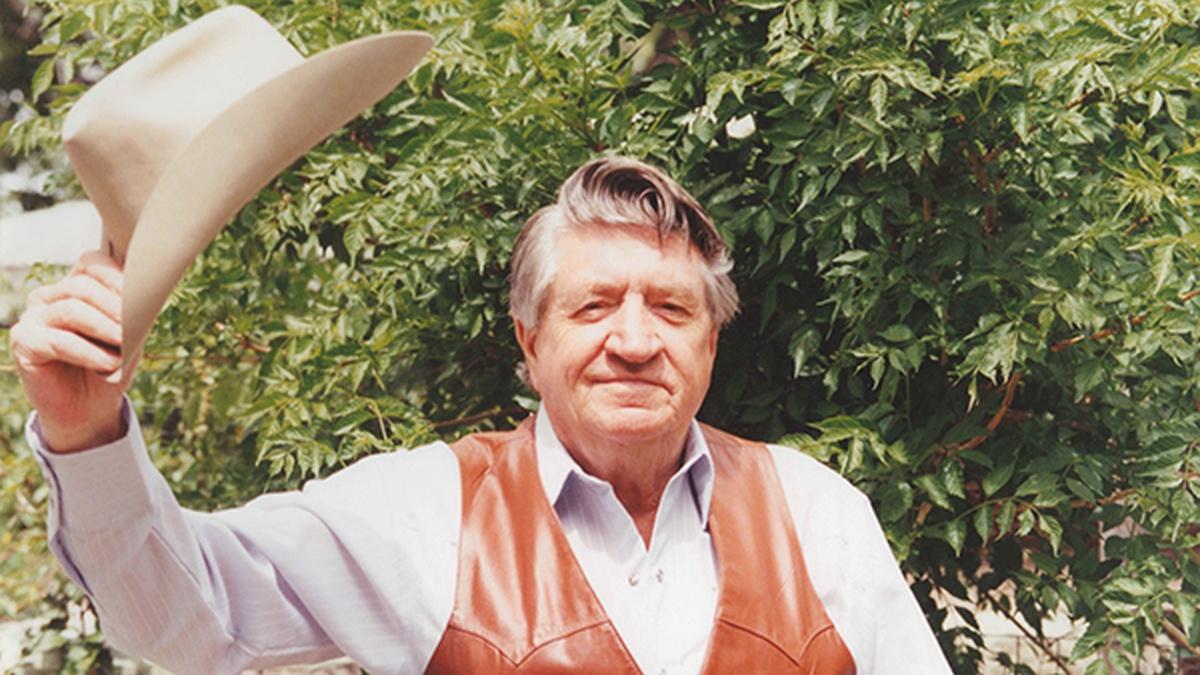 FULL EPISODE
Ol' Max Evans: The First Thousand Years
A documentary portrait of New Mexican writer Max Evans, author best known for The Rounders and The Hi Lo Country (both made into feature films). The film is the story of Max's improbable life from teenage cowboy, to soldier in WWII (Max landed on Omaha Beach on D-Day), to struggling small ranch owner, to mining speculator, to painter working in the artists' colony of Taos.
TRANSCRIPT

>>Sam Elliott: Not very long ago I had been one of them, but

I had left and gone to another part of the land. The people

were fast becoming strangers to me as I to them, but the

land, the great swelling earth under my feet, was mine,

and I belonged to it even as the man it now reclaimed.

>>Candy Moulton: Max Evans writes about people and

connections to the land.

>>Luther Wilson: Max has a great sense of life

itself and he writes about universal human issues.

>>Max Evans: This is the first hand scribbled treatment for

The Hi Lo Country . It was a strange feeling to go back to

that country and watch them bury my best friend killed

by his brother. That is what inspired that book.

>>Ruth Francis: He's a writer of place about the

transitions of life.

>>Forrest Fenn: He knows how to turn a phrase, he told me,

he said, "One day I was so broke I forgot how to count."

>>Sam Elliott: Half farm, half grassland and only

half enough of either one.

>>Ollie Reed: Nowadays we give prizes for everything

except knife throwing.

>>Sam Elliott: A voice as smooth and slick as new shoes on ice.

>>Slim Randles: There's just been all these wonderful

things going on in his mind all these years.

>>Luther Wilson: Mostly though what you see is a very, very

astute observer, not only of the human world, but

of the animal world and the physical world itself.

>>Hall of Fame Announcer: Please welcome the one

and only Max Evans.

>>Candy Moulton: We're inducting Max into the Western Writers

Hall of Fame, Lifetime Achievement in Western Writing

or writing about the west.

>>Ollie Reed: He is a cowboy, he is a writer, but he's not a

cowboy writer. I think he writes great American literature.

>>Max Evans: I don't think I deserve this cockeyed

award, but I'll take it.

>> Slim Randles: People say, "oh yeah, he's that western

writer," he's never written a western in his life.

>>Luther Wilson: Very rarely is there a gun play in one

of his books. There aren't swaggering characters with

guns on their hips having shootouts on Main Street.

He sees life as tragicomic and many of his characters

are that and most of them the tragic wins in the end.

>>Candy Moulton: Max Evans has the ability to capture story

and character. His work is fiction, but there was

some kernel of reality in everything he writes.

>>Peter Coyote: Ol' Max Evans, as he would come to be known,

was born in a small town in West Texas, in 1924.

>>Max Evans: My parents and their parents, my grandparents,

it was a big family, about seven of them and a girl.

They had a great blizzard and froze all their cattle in the

1918 blizzard. Killed their chickens, all their cows,

everything, there was one mule left alive. They just had it

with the cow business, so my father put in a mercantile

and a grocery store so that's what we were doing

in Ropes where I was born.

>>Max Evans with Luther Wilson: The thing about it is they

didn't even have these corrals, they tied ropes together to

hold the cattle, that's why it's named Ropes. And they were

shipping thousands of cattle out of Ropes at one time.

>>Max Evans: My dad was always a pioneer and he built a little

town halfway between Hobbs and Lovington and called it Humble

City. His concept was that the two towns would grow together

and it'd be one town and there he'd be owning all that in

the middle. It really was named properly, it was really

humble. That was all ranch country then, just a few little

farms starting up. The Great Depression was on, people

just had to struggle just to get food. And I hunted all

over those pastures, horseback and afoot, had great adventures

for a kid. I'd go out in the pastures all day, never tell

them I was going or when I was coming back, they just trusted

me and I had a great childhood.

>>Peter Coyote: Years later, Max would write of his early

years in Humble City in several short stories, including one

named after his first pony.

>>Sam Elliott: Cricket didn't realize he was thriving in the

era of the Great Depression and Dust Bowl of the thirties.

I didn't either, it seemed to have always been this way and

I thought it always would be. A few scattered lots sold and

eight or ten houses were built, but it still looked like what

it was, a dried up cow pasture. There was a small grocery and

a filling station. He soon got a two room schoolhouse built

and an authorized post office which was located in the front

room of our house. My mother, Hazel, was the Post Mistress.

>>Max Evans: And got rabbits and learned how to hunt quail

with a little rifle, I had a 22, and I supplied a lot

of our food. And I got to where I could really shoot.

[sound of gunshot]. >>Slim Randles: Max is a

fantastic shot with a gun. He would wait until these quail

would line up together and then he'd shoot 'em through

the head and get two or three with one shot. I said,

"Why did you do that?" He said, "Well ammunition costs money."

>>Sam Elliott: I soon learned how to make every shot

count by easing the sites onto a critter's head and

pulling the trigger softly. [sound of gunshot]

This not only killed our food instantly, but it saved

damaging edible meat or having a wounded animal to run down.

>>Max Evans: Hunting for food when I was a kid, I learned

to respect animals and their habits and their ways. I had

a pair of old dogs that I loved them so much and they were just

like my brother and sisters and closest of friends.

>>Sam Elliott: Sometimes, when I'd had a good day with the dogs

and rabbits, I'd simply ride Cricket way out in a big circle,

either to the east or west of Humble City, just to look at the

prairie so flat that on a clear day, that was a day when the

wind hid out, we could observe the horizon to the vanishing

point and actually see the earth bend in the beginning of

its great circle. And the sky, well it was so big and blue

that all I could measure in my little mind was forever

and ever, up, down and around. I'll never forget the

wondrous feeling of the two of us being all alone way out

there, at great peace and thankfulness for the magic

of all that quiet space.

>>Peter Coyote: Max hated being confined in school. He was quite

the rascal and later pranked the audience of a theater by

covering up its chimney with an empty lard can, laughing

as the patrons ran out, coughing and wheezing. He also

ran into more serious trouble.

>>Max Evans: In that little town the houses were all scattered

except this one house was close to us, so there's a kid there

in that house, for what reason I'll never know, he threw a rock

and hit my dog and my dog was really hurt. So I just didn't

even think, I was in a rage, my grandfather had given me

a little ten cent knife, it had a blade that you could just

bend and I ran him up on his front porch and threw him down

and got his hand and I stabbed him in the hand and stuck his

hand to the porch. So I told him, "Now you little S.O.B.

see how you can rock a dog now," and walked off and left him

there screaming and yowling.

>>Peter Coyote: The uproar got Max expelled from school.

His parents sent him to live with his Grandmother, across

the border on the outskirts of Ropes, Texas. Max loved his

Grandmother. Birdy Swafford was half Choctaw Indian, a medicine

woman, a healer, people came to her for advice and she

passed on her gifts to Max.

>>Max Evans: I see these people come to her back door and they

were ashamed to have their fortunes read. She showed me

how she'd do it with a teacup, but that wasn't really it,

that was just a focal point. She never charged anything,

but people would sometimes give her gifts. Supernatural

things are natural things, they just seem super because

people are not adjusted to or experienced them. But there

is something in the sky you see that guides us all,

gives us all breath and everything else, so I've called

on the Great Mystery in the Sky many times. Our stories

come from sources that we have no reckoning of actually,

we have no way of explaining, no one ever has. I used to

come over here when I was a little kid and sat around

that old potbellied stove and listened to the old timers talk.

They were real old timers, back before automobiles, and I don't

know whether their stories were true or not, didn't matter,

they were great. It seemed wild to me in those days, but they

were true about, most of the time they were true stories.

>>Ollie Reed: I got to sit around. Listening is

as important as telling stories and Max did pay

attention to these old timers when he was young

and started soaking them up.

>>Peter Coyote: Out by the rope corrals, young Max once

witnessed a horse bucking off down along the tracks with an

odd character of a cowboy named Boggs along for the ride.

Max later wrote about him in his novella, My Pardner .

It tells the mostly true story of Boggs and the

twelve-year-old Max, driving a small herd of horses across

the Texas panhandle to auction, crossing the treacherous

Canadian River along the way.

>>Sam Elliott: The old gray stumbled and the extra force

against the ground broke the crust, He went in up to

his belly. I rode up beside him and pulled his mane,

my horse was sweated and excited and almost jumped out

from under me, For a moment I thought the quicksand would

get him. The more I pulled, the more the old gray fought,

the deeper he sank. I was crying and begging the old horse now

and it wasn't just because it meant another loss to Papa, but

it was a loss to me, He was my friend, this old horse. In his

eyes there was an acceptance along with the terror.

>>Peter Coyote: When Max was eleven, he began his

cowboy career up on Glorieta Mesa, southeast of Santa Fe.

He went up there to visit his Uncle Slim Evans,

an amazing horseman. Working for rancher Pete Coleman and later

Ed Young, Max survived many an ordeal over the next few years,

great fodder for his short stories. The ranchers grew to

appreciate his determination and a certain, very useful skill.

>>Max Evans: I just naturally could use a rope and if you're

branding and you heel a calf and drag it to the fire you

don't lose near as much weight, you don't injure it. So the

old ranchers really started liking me because I could heel.

>>Sam Elliott: Most fellers make the mistake of throwing too

fast a loop to be good heelers. You've got to kind of let it

float down, then just as the hind legs move against the loop,

you pull the slack and you've got him. The big calf began

bucking and bellering, but I turned Old Snip and dragged

it to the fire. Eldon ran up and got ahold of his tail and

over he went. Pretty soon you could smell the hair burning

from where they put the brand to him. Ed castrated,

earmarked and vaccinated him while Eldon held him. I let

them have the slack and the finished product got up shaking

his head wondering what in the world had happened to him.

>>Peter Coyote: The older cowboys invited Max on a

trip into Santa Fe, the state capital, The Big City.

>>Ollie Reed: They went to LaFonda - I guess they let

dusty cowboys into LaFonda back in those days - to have some

drinks, but Max was too little to go and because he's got

this artistic soul, he went to the museum and spent his day

looking at art there and when he came back to meet the cowboys,

they had forgotten about him and gone home and left him there.

Those benches that are still sitting around the plaza now,

he curled up on the one nearest La Fonda and just went to sleep

there. A policeman found him. They took him over to the jail

so he could just sleep in a cell, you know and might have

been Max's first time in jail, although it's not his last.

>>Sam Elliott: In order to give me time to do my cowboy

job, we had worked it out so I could go to school in

Andrews, Texas, just across the New Mexico line, during

football season. I was a fair halfback and a punter so I was

allowed certain privileges.

>>Slim Randles: If you can play football in Texas,

all is forgiven. He didn't go to class, the principal

gave him books to take to the ranch to study.

>>Sam Elliott: I choose Balzac, Tolstoy, Chekhov and

Shakespeare by assignment to continue my education.

>>Ruth Francis: He discovered a library up in Glorieta and they

had shelves of books and he discovered Balzac when he was

a very young man and Balzac wrote short stories and

Max was very, very taken with those short stories.

>>Max Evans: I moved to the Hi Lo Country when I was

17 years old. I had a wonderful aunt who had a little ranch.

She said if you can raise $500 for a down payment I'll sell you

that ranch at a real reasonable rate. I went out and did it,

I raised the 500 and now I've got me a little ranch up there,

beautiful little ranch, good water and it's a great

time in my life. I loved the country because there was

hunting and I could have deer, I ran coyotes to sell their

pelts, then I got married.

>>Peter Coyote: Max and Helene Caterlin were sweethearts

in high school and married soon after Max got his ranch.

He bought a few cows and worked for local ranchers.

Max loved the cowboy life and gave it everything he had.

>>Max Evans: A working cowboy, it's a miracle if they

ever get anything you know because there wasn't any

social security or anything for them. They used to wind

up sweeping out the saloons.

>>Peter Coyote: Mending fences, rounding up cattle and the

million adventures that make up a cowboy's life all went

into Max's most famous book published by Macmillan in 1960.

>>Ollie Reed: My favorite book of Max's is still

The Rounders, about Dusty and his friend, Wrangler,

and the horse, Old Fooler, a couple of crazy cowboys

and an even crazier horse.

>>Peter Coyote: "Rounders" spend months as itinerant

laborers doing the rounds of farms and ranches. This

builds up plenty of steam. When they do get to town,

rounders hit the bars with predictable results, drunk

and disorderly for a night or two and then back to work.

>>Forrest Fenn: A rounder to me is somebody that can do

it all, building fences, digging postholes, breaking

broncs or buying your friend a beer in a bar.

>>Peter Coyote: Max's rounders, Dusty and Wrangler, played

in the 1965 film by Henry Fonda and Glenn Ford.

>>Jim Ed Love: "Howdy Boys!"

round up cattle 'for wealthy rancher Jim Ed Love. First they

have to break in a string of horses, one horse in particular.

>>Jim Ed Love: "Boys I'm tellin' you that roan's got the

makings of a good rope pony. Probly' want him for the old

lady and the kids to ride!"

>>Sam Elliott: I had my right hand around that saddle horn

like it was the doorknob to Heaven's Gate, and my right

elbow was crimped down over my hipbone like a vice.

But it just didn't do any good, that son of a bitch bogged his

head and jumped way off toward the Arizona border and came

down hard on his front legs. The next jump was just as high

and just as long, but when he drove into the ground again he

was headed toward the Texas border. The world was jumping

around and going in crazy circles and eleven hundred

pounds of horseflesh was pounding my behind to pieces.

"Hell's fire he sure fooled the hell out of me,"

I said. "That's what I'll call him Old Fooler."

>>Candy Moulton: Well, we all love The Rounders, right?

It's just sort of iconic to the time and the era,

everything is somehow steeped in the connection to place.

>>Peter Coyote: Max's place has weathered some in the

past seventy five odd years.

>>Max Evans: That little ranch was 14 miles from a little town

way up northeastern New Mexico, called Des Moines. I call it

Hi Lo in the book and the movie and one thing and another.

>>Sam Elliott: Hi Lo is a little cow town, population of about

one hundred and fifty, on a long piece of pavement from way

down somewhere in Texas into and across northern New Mexico.

To the south of town is Sierra Grande Mountain, some

claim it to be the largest lone mountain in the world. It is

forty-five miles around at the base and about nine thousand

feet high. To the north, east and west is rolling

gramma-covered rangeland broken now and then by a steep,

jagged, malpais-studded canyon.

>>Peter Coyote: Dominating the landscape near Des Moines

is Capulin Mountain, an extinct volcanic cinder cone.

>>Max Evans: It was a grand, grand adventure to be there

in that vast country. You go up there right now and you can

find places where you can just see the gramma grass hills

just roll on and on and on, and it looks like it goes on

forever. In my mind they did.

>>Candy Moulton: The Hi Lo Country, that's a special place.

It's hard to make a living in a place like that. What's

gonna happen with the weather, are you gonna get enough

snow, are you gonna have water, are you gonna get enough rain.

Is it gonna be so darn windy that even if you get the rain

it just sucks the moisture right out of the land.

>>Max Evans: So there I am, just getting started,

I have a baby coming, been so lucky, so absolutely lucky

beyond comprehension. All of a sudden the war comes along.

The experience was pretty bad, we landed on June the 6th,

D-Day, the 2nd Infantry Division, the supporting

division for the 1st and the 4th, on that great invasion.

And we couldn't get in, there were just ships as far as you

could see in every direction, it was the most amazing thing

to me. We lost about 200 men that day, our engineers.

So when we finally got on land the next day, well we

didn't have any heavy weapons, our engineers had lost them

because they got shot up, no artillery, nothing. Many, many,

many years later I did what I think's the major work of

my life, Blue Feather Fellini . It came to a point in the

story that if he hadn't had war experience he couldn't carry

on and do the things he had to, so I wrote 90 pages of war.

>>Sam Elliott: On the beach were parts of men, and in

the water were parts of men. A small percentage were whole,

however, having drowned as their landing craft disgorged

them into water too deep for solid footing. The beach was

a cauldron of chaos beyond the limbs and bones and scraps

of torn flesh mingled with discarded gas masks, useless

punctured canteens, broken and bent concrete and steel

beach obstacles, erratic piles of smashed and destroyed

equipment, and disabled and destroyed vehicles already being

reclaimed by the sand and the sea. Destruction incarnate.

The war was a blur, like a barroom brawl. There were

no great organized plans and brilliant military tactics,

no inflamed thoughts of glory and winning of great

battles, no patriotic images of heroics and the flags of

one's country waving in victory. There was simply a moving

blur of frazzled images in a twenty-yard circle. The war,

the world, everything, was all in this very small twenty-yard

circle. That's all he knew. All he felt. All he realized of

existence and nonexistence. All.

>>Max Evans: All the patriotism, all that political agendas and

one thing and another goes way out into the breeze when you're

in deadly combat and people dying on both sides and in front

and the back and everywhere else. I wasn't thinking about

killing anybody just had to. My being a good shot led to the

infantry I'm sure. Eventually though I switched it around

on them and fired mortars. At impact, you know we

didn't, we weren't trained to take care of our hearing.

>>Ollie Reed: Messed up his inner ear and over the years

it's gotten real bad for him.

>>Peter Coyote: Max fought on for six months, until another

injury ended his war.

>>Max Evans: I got a little bit of shrapnel in my skull,

but the main thing was the explosion goofed up

my head for a long time.

>>Slim Radles: He said, "Well yeah, I was stumbling along

there and kept whamming into trees. My inner ear was

all messed up and I was falling down and puking all

over the place." So he said they, they sent me, they

said, "You're going back to England." So they shipped him

back to England where they put him to work as a lineman,

climbing up telephone poles. He says, "You know only

the Army would do something like that." I said, "Yeah

that's true, that's true."

>>Ruth Francis: Humor and comedy come out of deep sorrow,

deep trauma, even physical pain of war. You know in

a way I think Balzac gave him permission to say,

"yeah the human condition it is absurd and it is funny."

>>Peter Coyote: Home at last, Max got back to ranching,

cowpunchin' an' huntin' coyotes. His daughter Sharon was now

a toddler. His best friend, Wiley "Big Boy" Hittson,

also made it back from the war.

>>Max Evans: All the guys that survived in that lonely country

up there, we went pretty crazy for a while, and I must say

that the people of that Hi Lo Country, they really treated us

with great kindness because they just put up with us.

>>Slim Randles: The fictional town of Hi Lo is Des Moines, New

Mexico, with the Wildcat Bar on one side of the street. That was

Des Moines and it's just a little wide spot in the road.

>>Max Evans: I wanted to tell the country all

about the wildlife and the land and the cattle and

the people and the wind.

>>Sam Elliott: The everlasting wind naturally creates

great thirst. Hi Lo has two establishments for the relief

of this torture, The Wild Cat Saloon is on the south side

of the highway and directly across the street stands

the Double Duty Saloon. The two places eye each other

like two young herd bulls.

>>Max Evans: So we'd get to drink in one for a while and go

over and close it down at night or the other one or vice versa.

>>Sam Elliott: Big Boy picked up a chair and broke it all to

pieces over the top of a table, then he jumped up on it to

dance. The table collapsed under his weight and piled

up alongside the chair. He fell down flat on his back,

kicking and hollering. It wasn't long afterward that Delfino

decided he was a tiger and went to snarling and trying to climb

the wall. Then he ran his head through a large plate-glass

window. The blood running down in his eyes from a three-inch

cut in his scalp made him stop and consider. He said,

"I make my mind now, I go home." Delfino wound her up

and backward he went. He took about six inches off one corner

of the Double Duty Saloon and was gaining speed all the time

until he crashed through Mitch Peabody's henhouse. Then he

changed gears with a terrible clashing and drove back through

the same big hole he'd just made and hit the highway. You could

hear him gaining speed as he headed south for Sano. It would

take him six months to pay the damages and Hi Lo wouldn't

see him till he had the money.

The party was just about over, besides, after Delfino

knocked the window out the wind whooshed in and made

conversation uncomfortable.

>>Ollie Reed: He's just a gifted master of the language, of a

natural voice, it doesn't come off as pretentious at all, You

know it's just the way people talk, it's just the way he

talks. And when you can take the way you are and put it

into what you write, then you're getting something that's true.

>>Ruth Francis: The one thing through all of his work are

the transitions of life. Max started his writing about

transitions back with the war.

>>Max Evans: You know I've been writing about this my

whole cockeyed life, but this thing right here, it's hard

to believe, but this is what changed the west forever,

completely changed it forever. Cattlemen made a lot of money

during the war. The pickup truck suddenly came in and they had

the money to buy them you see.

We're now a pickup cattle country, you see the pickups

everywhere. Instead of all day long to get someplace

you could just jump in the pickup and boom you're there.

>>Ollie Reed: One time I was asked to do a story about pickup

trucks, that's it, just pickup trucks. Well I called Max,

I said, "Max have you got any pickup truck stories?" He said,

"I owned the first new pickup truck in New Mexico after World

War II." I said, "You did not." He said, "I did too!" He was

a little upset with me that I would even question that.

And he had an uncle who had some connections and managed

to get him, I think it was a Dodge pickup truck.

>>Ruth Francis: You have a horse and you love your horse, but

you know that horse is another living animal, you may think

you possess it, but you don't, the pickup truck you possess.

>>Slim Randles: He mostly was a coyote hunter in those days.

He had dogs and he'd go chase these coyotes and shoot

'em for the bounty. The idea was you kill a coyote so

the calves don't get eaten.

>>Sam Elliott: We turned the dogs loose and took out after

them at top speed. We had about a three-quarter mile downhill

run before we hit a snag between two hills. I didn't

know it, but the radiator was low on water and by the

time we'd run half a mile the motor was getting pretty hot.

Big Boy was bouncing around in the back, barely able to stay

inside. Then I saw smoke coming out of the glove compartment.

I yelled at Uncle Bob to reach in and take out the box of

shotgun shells before they went off. He was standing,

holding onto the steel posts where the windshield had once

been, yelling, "They're goin' to get him, they're goin'

to get him, hurry, hurry!" I was hurrying as fast as

I could, but at the same time I didn't want those shotgun

shells exploding. I needn't have worried, though, because

just then we hit a gully about three feet wide and three

feet deep and the vehicle did a flip and the trip was over.

Since there was no top to hold us in, all three of us were

propelled toward the sky like a trio of big-assed birds.

>>Slim Randles: One day a coyote pup ran back to help

its mother and got killed for its pain and Max hasn't

killed a coyote since.

>>Max Evans: Two of the pups up on the hill watching and these

dogs were killing their mother. And one pup came just full

speed and he just dived right into that, into those hounds

and he gave up his life. One of them turned loose, caught it

and killed it, I could never hunt coyotes ever again. I got

to respecting them so much, the vastness of their knowledge

and their cunning and their understanding of all kinds

of animals and the human animal especially, and all

I do is admire them from afar, deeply with all my heart.

>>Slim Randles: He has always told me that the coyote

is his brother and he said that would be like shooting

a brother of mine now and he said I won't do it.

>>Peter Coyote: Max's many and varied pursuits distracted

him from his life with Helene. Their marriage ended and

she moved back to Texas with their daughter, Sharon.

His ranching days were over.

>>Max Evans: I couldn't really make a living, a decent living.

I couldn't run enough cattle, it's just too small. But before

I sold that little ranch over there, I decided to do

a painting called Normandy Night Fire. We fought at night

you know we'd shell one another, I hadn't studied that much,

I hadn't painted hardly anything, it was a magic thing,

I don't know where it came from. So I moved to town to be an

artist and old Luis Martinez was the only artist in that

whole country, we teamed up.

>>Sam Elliott: I bought a lot of paint in little metal tubes,

some brushes made out of camel hair, a sketch pad, a few

canvas boards, and started painting horses and cowboys.

Whenever I finished a picture I would tack it up on the

wall at a fancy price, I had gone that silly. No one else

in that country did any serious painting. We called our place,

Ye Olde Masters Art Gallery. Nobody ever stopped by.

>> Slim Randles: That tended to be when he got real colorful.

One night an entire row of mailboxes got mowed down by a

drunk driving a pickup truck. And there was a gas pump got run

over when Max was gonna go down and shoot this guy that ran the

gas station because he didn't like him. He said he called

in every IOU from every old cowboy he'd ever met and

they got it all patched up. He did a leave an indelible

impression on that bird.

>>Max Evans: No matter what the hardships were in the art world,

and there's plenty of 'em, they were nothing compared

to what I'd already survived. The war actually helped me

become a painter and a writer.

I moved to Taos to be a painter and become rich

and famous. I figured I could get that done in about a year.

>>Forrest Fenn: Taos was an art colony in those days and

Max was part of it. It was a dusty little mountain town

watered by the Rio Grande River and shaded by the Taos

Mountain and of course the Indians were there and Max

mixed with all those people.

>>Max Evans: They had wide open gambling, Ol' Long John Dunn

was running wide open gambling. My best friend, Big Boy

Hittson, we'd go into Taos, just for adventure, you drink,

you raise hell. We won $4,000 if you can imagine how much

money that was. I thought it was a lucky place for me and

in some ways I guess it was.

>>Slim Randles: He's kind of a legendary bar brawler.

>>Ruth Francis: And he did, he got into a lot of scuffles

and really bad fistfights.

>>Forrest Fenn: Max was sinew tough, everybody knew that.

He was not a big person, but he was known to fight in the bars.

I think he had the tough beat out of him a few times too,

I mean you can look at Max's knuckles and tell that he

didn't win all those fights.

>>Max Evans: My hands have been through quite

a trip in this world.

>>Slim Randles: To Max, hey you know this is recreation.

>>Max Evans: If somebody disagreed with me a certain

way on things we'd have a nice fistfight.

>>Slim Randles: He looks like he's been rode hard and put

away wet you know and one nice thing about Max, you always

know where you stand with him.

>>Peter Coyote: He's always been a hard worker, Ol' Max. His

paintings are tough to find now, but they were plentiful

back in his Taos days.

>>Forrest Fenn: I think he painted something like,

he told me 300 paintings, that's a pretty big inventory.

>>Peter Coyote: The Great Mystery in the Sky clearly

intended that Max meet Woody Crumbo, the great artist

from the Potawatomi Nation. Woody became his artistic

and spiritual mentor.

>>Slim Randles: And he said it was like oh, there you are.

These guys had been friends for several lifetimes.

>>Max Evans: He taught me a lot of things about art and

painting and the Indian side of the spiritual world.

>>Slim Randles: Woody taught Max how to do nocturnals, night

paintings, and he did a lot of them. He'd go into bars

and he'd find these single women and he'd go hustle them

and buy 'em drinks until they bought his paintings, He's kind

of a smooth talking old devil.

>>Ollie Reed: Max told me one time about painting and

writing, painting always relaxed him, but writing if

you mean it, was a torture. He became a writer because

that's what he should be.

>>Max Evans: Taos was lucky for me. The luckiest part was

meeting Pat. Her father had a station and a garage and

a motel and a little ol' store and I got acquainted with him

and we became real good friends. Doc James he was called.

We'd get drunk and dance and raise hell and have a great

time together and then they kept talking about their

daughter's off to college. I really got sick of hearing

about her. Anyway, she did come home, I came in one day,

she's running that little ol' store and I really had

a hangover. And she said, "I know you've seen the pink

elephants" and I said, "Have you ever seen a purple bubble?"

And she was chewing some purple bubble gum, she blew

a great big purple bubble and I fell in love with her right

there. I can't explain it, this is a wonderful, crazy

woman that she could put up with me because she

can blow a purple bubble.

>>Ollie Reed: Pat has stayed with him through you know all

those tough times you know. You can't say enough about

what a sweet and generous and patient person Pat is man.

>>Max Evans: I'd bought this little tiny ranch out west

of Taos in the mesa. We were married quite a while before

she got pregnant. We took Pat down to the hospital at Embudo.

The nurse came running through there waving this x-ray,

and said it's twins, it's twins. I was really, really

happy, I thought my God, two for one shot. Yeah, we had

twin daughters, Charlotte and Cheryl, they're great, great

kids, we love them very much.

>>Peter Coyote: You can get a lot done in a year when

you're twenty-six. Max worked ranches, kept a few head

o' cattle and some ropin' horses, painted, and began to

write when he had the chance.

>>Forrest Fenn: He says, you know, "How do you know

where the edge is if you don't go out there and look."

And Max was always on the edge. Max was an adventurer,

it always back to that.

>>Peter Coyote: As if that weren't enough for a young

feller in 1950, he and Woody went into business together.

>>Max Evans: It's a surprising thing, two artists in the

mining business, and we really did good. We started selling

claims for uranium around the country. It was a great

boom, people were going out in the mountains to look for

uranium with their Geiger counters and everything.

We bought and staked a lot of claims around the country

and just sold them. And we opened up these mines in copper,

and we were shipping ore, really fixing to clean up.

I saw where somebody had dug a prospect hole, back up on

this hill here. And I imagine they were looking for gold or

some other mineral and I saw that and I thought that could

possibly be perlite. It purifies medicine and makes plants grow

all over the world. This was a very poor area. People didn't

have any money, they didn't have any jobs. No telling how many

kids went to college from this mine, the mine and the mill did

a lot of good, I'm proud of it.

And without the mines, I would never have understood the

relationship with the earth, the animals. You see all the

world in the rocks and that's what the world is, it's rock.

And the wonder of discovering something that will benefit

people, the Great Mystery, that's where you get in

tune with the Great Mystery.

And then the price of copper dropped from 48 cents

to 19 cents in just 90 days. We went from millionaires

to semi-paupers overnight. it was a strange feeling

and a wonderful feeling, I've used it all through

my works all my life. The worst thing in the

world can happen to you and it all winds up on the page.

>>Ollie Reed: Every part of Max's life plays into his

books at one time or another. His mining, for example,

in Mountain of Gold .

>>Sam Elliott: The muscles in Benito Anaya's legs were

like those of a mountain lion. So many miles of up and down

were worked into them that he could walk and climb the whole

day long without stopping except to take a quick breath into

his strong, leathery lungs.

The mountain had forged this strength in him. So now he

walked with his shaggy, greying hair eternally bent forward,

and with that hump that comes in the prospector's shoulders

from the ageless bending and the set, stabbing stare of

eyes fronting for a dream. eyes fronting for a dream.

The hundreds of miles behind had The hundreds of miles behind had

no meaning, all that mattered was the next step. Each time

Benito made another track he felt sure his eyes would fall

upon the white quartz rock, pregnant with the glistening

strands of purest gold.

>>Peter Coyote: The failure of the mining enterprise

convinced Max that he should turn his attention to

a more secure profession.

>>Max Evans (panel discussion): I walked in there one day and

told Pat, said well hell I'm gonna be a writer.

she's a dead shot by the way. And I saw her look, I saw her

look around the room for a gun and I'd already hidden the

guns before I asked her that question. She said, "we just

got to where we can eat, now we're gonna start starving

again." And of course we did off and on for the rest of

our damn lives. Lived there twenty years, lived ten years

out in the country, I thought well I'll move into town and

somehow this great big old house appealed to me and sure

enough the attic, we turned it into a studio. Something

happened to me in that place, it just fit. I remember I did

the One Eyed Sky in one night. Pat was sitting down in the

kitchen with her best friend, the next morning and they

were having coffee and I came down the stairs, that lady,

Betty Mullen, she said, "Max, you look like you've lost

all your blood, you're pale as a ghost." And I had that

manuscript in my hand here and I said, "Yeah there's my blood

all over these pages right here." And that came from my

adventures in the Hi Lo Country.

>>Sam Elliott: The old coyote turned over a cow chip and let

one of the pups eat the black bugs underneath. They could

survive this way, but their whole bodies ached for meat.

>>Ruth Francis: This poor mama cow is trying to protect her

calf from a coyote and the coyote eyes the calf, just

basic competition between two species and what

is going to happen here.

>>Sam Elliott: The old one smelled the tracks of the cow,

hesitating, sniffing again. Then she raised her head to

taste the air with her nostrils. The pups all stood motionless,

heads up, waiting. There was a dim scent there. With head

dropping now and then to delineate the trail of the

old cow, the old coyote moved swiftly, silently

followed by four hungry pups, copying her every move.

>>Slim Randles: Not everybody can write something like

that, that takes a guy who has seen this happen.

>>Luther Wilson: Hunters, good ones as Max was, really

know animals better than almost anybody. There's

an authenticity to what he writes, those animals act

as they would in the wild.

>>Max Evans: I had no idea it was gonna be my best, I think

every one's gonna be, but it was, it turned out to be the

best thing in my life's work.

My favorite form in the world to read and write is the

novella, half way between a short story and a novel.

>>Ollie Reed: His rhythm as a writer kind of fits that

length, the novella, the long story or the short novel.

>>Slim Randles: He writes what he has to write and that's it.

>>Ollie Reed: And even though his subjects are about

cowboys and horses, he's not just a western writer.

>>Forrest Fenn: Some of these people that write western books

today, the hero gets shot four times on each page, well Max

was never that kind of a guy.

>>Candy Moulton: When you think of western writers, often

it's the perception that they write about, this very

specific time span of the quote "cowboy west, 1860 to

1890, last of the frontier period, Manifest Destiny."

(sound of shot fired)

>>Luther Wilson: Max does not like being pigeonholed as

a western writer. Even our marketing people wanted

to pigeonhole him that way and I kept telling them,

position him as a writer who happens to live and write

about the 20th Century west.

>>Ruth Francis: I take issue with any human being that says

that Max Evans is a cowboy writer. He is writing literature

about the human condition.

>>Peter Coyote: Max kept in touch with his family down in

Ropes and often visited his Grandmother, Birdy Swafford.

>>Max Evans: We were down there one time and she called me

and Pat off in the kitchen and she said I'm just gonna

be here about another month, on this earth, and she said

I wanna show you how to really read these tea leaves.

>>Peter Coyote: The Great Mystery worked in Max to

such an extent that Woody, among others, pestered Max

for readings. But that wasn't his only distraction.

>>Max Evans: I was reading people's minds, what they're

thinking, and it didn't matter who it was, you'd have a

thought here and it'd jump over here. I didn't want

that to happen, it just was.

>>Slim Randles: This interfered with his writing so much

that he had to kind of go through a cleansing to

get it out of his system.

>>Max Evans: Woody Crumbo, my mentor, had introduced to me to

Joe Bernal at Taos Pueblo and he was really a noted medicine

man. So I went out to see him and he said, "Well you just

have to make up your mind if you're gonna be a spiritualist

or go on creating your books and your stories." He gave

me two pods of peyote, just to instigate it a little bit.

One of the visions I had was this beautiful, clear river,

except it wasn't moving, it was just pure emerald

water and you could see the sand in the bottom.

This guy walked over on the, way across the river, up to the

bank, and he looked at me and he waved me like this, come on

over here. And, I didn't do it, I couldn't do it. I wasn't

bothered anymore, I got to where I could just concentrate on what

I was supposed to do in life.

>>Slim Randles: When you meet Max you find out these kind of

things really happened to him. And sometimes they turn up in

his stories. In Bluefeather Fellini , his main character

slips peyote to some bad guys in their tea to get out of a jam.

>>Sam Elliott: Bluefeather pounded at the drum with

swiftly increasing velocity. He sang now, songs of

the Pueblos, the Anasazi before them, and the ancients

even before them. The sounds vibrated into the air like

the noise of a million geese rising in migratory flight.

The men stared at him, mouths slowly opening, eyes flickering

as things began to flutter and move in their peripheral vision.

The trees of the forest were uprooting and flying through

the air leaving a vast circle. Lightning ripped jagged holes in

the sky without letup, crossing, crisscrossing and colliding with

such force that great balls of whirling blue and orange lights

were formed, whizzing so fast the best eyes could not begin

to follow, much less endure the brilliant kaleidoscope

of plunging, bouncing lights that inundated everything.

The skeletons under all things were visible, even the inner

textures of wood and rocks.

>>Peter Coyote: Bluefeather Fellini is Max's magnum

opus in every way.

>>Luther Wilson: I looked at it and by that time I had

been friends with Max a long time, and used to a long

manuscript from Max being a hundred and fifty pages, maybe

two hundred, max. And this one was eleven hundred pages.

Max could barely see me over the desktop, I was

startled to say the least.

>>Ollie Reed: He's told me that it was his grandparents

that called him Bluefeather when he was little. Fellini,

the Italian director of films like 8-1/2, is Max's

favorite movie director.

>>Luther Wilson: I proposed that we do it as two volumes,

it had a kind of a natural break in it and we did it that way.

Max is a mystic, most people don't recognize that in him,

but he really is and he believes that there are many

dimensions to the world and that occasionally we bump into them.

And he's had experiences that he cannot explain any other way.

That shows up in his writing. The second volume was called

Bluefeather Fellini In the Sacred Realm, when he creates

this whole underground world in southern New Mexico, the very

intelligent, highly advanced civilization that never chose

to appear above ground. From front to back there are mystical

experiences in that book and in many of his other writings.

With The Rounders he was selling paintings still dripping paint,

barely scraping by with a wife and twin kids. Somebody told

him if he's gonna be a writer, write what you know and he

wrote what he knew and wrote The Rounders. But he did it in

a very short amount of time and it was an instant success.

>>Ollie Reed: It's our earliest work that really expresses

who we are. We're not really stretching as writers yet,

so we're basing everything on what we know best and how

we grew up, so The  Hi Lo Country tells that story and

I think that's why it's got the heart of Max Evans in it.

>>Max Evans: It was a strange feeling to go back to that

country and watch them bury my best friend, killed

by his brother, survived the invasion of four or five

islands in the South Pacific in the Marine Corps, and there

he was, that's what inspired that book, The Hi  Lo  Count .

>>Sam Elliott: I watched them lower Big Boy Matson into his

grave. It was a large coffin, and yet I half expected it

to burst apart from the weight and size of the man. Not only

his physical bigness, but from the whole of his being. Not very

long ago, I had been one of them, but I had left and gone

to another part of the land.

The people were fast becoming strangers to me as I to them;

but the land, the great swelling earth under my feet, was mine,

and I belonged to it even as the man it now reclaimed.

I looked down from the wind stroked hill to the town, Hi Lo,

New Mexico. It didn't seem to be affected by the death

of its strongest son. The event had been anticipated for so

long it had lost its impact.

>>Luther Wilson: He had gained a lot of publicity from the

publication of The Rounders and the making of the movie,

and his editor at MacMillan was in London at the time,

very eager to promote him more widely worldwide.

>>Peter Coyote: Ol' Max was on the brink of big

success, but a fight in a bar in Taos threatened

the whole deal. Apparently, there was a woman involved.

>>Slim Randles: She was trying to kill him with a high heel

or something, she was hitting him on the head with that.

>>Ollie Reed: News of that got into wire services

and there were papers all over the country.

>>Luther Wilson: And it just scandalized the editor so

he dropped his publicity of The Hi Lo Country at that time.

I think there are a lot of stories, either embellished or

totally made up, about Max, from people who don't know him.

>>Slim Randles: The Code of the West is kind of America's

knighthood, cowboys consider themselves knights in many ways.

Max is chairman of the board of that outfit. You don't

hit women, you protect women. He got blamed for hitting some

woman and he didn't do it.

>>Ollie Reed: Max is finally getting to tell his side of

the story. "Well your honor I was just lying on the floor,

minding my own business, and this woman I didn't even know

came up and started kicking me in the head." Now you could

not buy publicity like that.

>>Luther Wilson: And Max I think felt that it had a significant

effect on his career. On the other hand, it probably gave

him some credibility and legitimacy with the Hollywood

people he came in contact with.

>>Max Evans: My agent called me and said a big star wants to

meet you about The Rounders , Fess Parker, he loves it and

he wants to talk to you about making a movie. So anyway

I went out there and for just a little bit of money

optioned The Rounders and I sent the money home to

Pat and there I am broke.

>>Peter Coyote: A few weeks later Ol' Max found he

couldn't pay his hotel bill. The managers were unsympathetic.

>>Max Evans: They said well we have to just throw you out

in the street here. I'd met an actor in Texas, Morgan

Woodward, and I called old Morgan and here drives Morgan

up in a great big Lincoln car. We were loading my bags in

there and I looked in at those people staring out the window,

wondering, what's that bum, what's that famous actor in the

huge limousine picking him up and I just looked in there and

grinned at 'em. I stayed around there a month, made friends with

the some of the finest stars and directors in the world

and some of them personal friends for a lifetime.

>>Slim Randles: Max became kind of a legend in Hollywood when he

first went out there because they'd say well we'll just get

this old cowboy drunk and steal his stuff. He could drink

those producers and directors under the table, and did.

>>Peter Coyote: The director Burt Kennedy became one

of Max's closest friends. He both directed and

wrote the film version of The Rounders . Max himself is

an accomplished screenwriter. Many of his original scripts

are now archived at Texas Tech University in Lubbock.

>>Andy Wilkinson: Max, thanks for coming in and going through

a few of these scripts with me so that we can get a

little background on them. This is one of my favorite of

your stories, Xavier's Folly .

>>Max Evans: This was a Rogo Productions, Robert Goulet, one

of the most famous singers in America. After they dropped it,

theatrical producers optioned it and I was amazed at that.

They kept the option for five years, I really made good money

out of this little novella.

>>Peter Coyote: Tony Hillerman, the great mystery writer,

was very familiar with the Hollywood game and gave

Max a piece of advice.

>>Max Evans (with Andy Wilkinson): He told me one

time, once you get a movie made, you can't ever sell any

more options, so just don't get one made. It's all just

ridiculous. I made a livin' doing that kind o' stuff.

>>Ollie Reed: Movies were a big deal for him, he was very

doggone happy they, The  Rounds was made, but the one he

really wanted to get made was The Hi Lo Country and it took

a long time for that to happen.

>>Max Evans: The option run out and my agent sent it out to some

other people and one of them happened to be a young director

that had just been recognized, Sam Peckinpah and he'd made

a film called Ride the High Country . He called my agent

and he said, "I wanna meet the sonofabitch that wrote

this book." Sam flew me out there and we became lifelong

friends, and then he became a world famous director.

>>Slim Randles: They were buddies, both of them had

been soldiers in combat in World War II, Peckinpah in the

Pacific. Lee Marvin was one of their close buddies. These were

all tough old veterans that hung together and got drunk and

beat each other up all the time.

>>Luther Wilson: Max describes in his book on Peckinpah many,

many times brawls that they got in and tried to kill each other.

>>Slim Randles: He described him to me as a magnificent,

terrible sonofabitch.

Max is completely loyal, he said,

"be a good friend even if you can't stand the sonofabitch."

Max broke Peckinpah's arm once, "had to, that sonofabitch was

trying to drown me, you know I can't swim. But he said

it was all a mistake. I was trying to break his neck."

>>Luther Wilson: Max wrote a book called Sam Peckinpah,

Master of Violence , just abot the filming of The Ballad of

Cable Hogue . Max I think was a screen consultant on that

for dialogue. Max knew the voice of the west and was able

to speak for the voice of the characters that Peckinpah

tried to portray in his film. And Peckinpah asked Max to

play a part in the film.

>>Max Evans: He really trapped me, I didn't wanna work

in his films, that's not what I intended to do in

this world. So I became an actor for one film.

("The Ballad of Cable Hogue")

Slim Pickens yelling at horses

>>Jason Robards, Jr: "Hey wait a minute fellers ..."

>>Slim Randles: Ride shotgun for Slim Pickens in The Ballad

of Cable Hogue . It was a marvelous, marvelous, piece,

He actually spoke too.

("The Ballad of Cable Hogue") >>Max Evans: We're near halfway

in, how about three dollars? >>Jason Robards, Jr.: Now, if

sugar were two cents a barrel I couldn't afford a pinch of

salt and an egg to put it on.

>>Luther Wilson: It's more than just a walk on, it's a,

it's a major, minor part I guess I would call it.

("The Ballad of Cable Hogue")

>>Max Evans: Mister you're damn lucky to be alive.

>>Man in stagecoach: Your language is

disgusting, both of you. >>Slim Pickens: Hell we

know that. >>Max Evans: Don't fret

your honor, we're just fixing to leave as soon

as I count my money. >>Man in stagecoach:

Count your what? >>Max Evans: As soon as

I water my mule!

>>Luther Wilson: Apparently Peckinpah had to get him

drunk every time he put him in front of the camera.

>>Max Evans (panel discussion): Yeah he thought I was afraid

to get up on that stagecoach, I mean that's kind of silly,

and I just went along with it and he gave me a full glass,

glass of whiskey, and I was glad to get it and Jason Robards

told him, why Max is drunk, he ain't moving, he's paralyzed.

And ol' Slim Pickens he said, "well where in the hell's

my part of the whiskey?" And Sam said, "you're an actor,

you act like it, go ahead."

>>Ollie Reed: Max is probably a part of a lot more movies

than we know because I think he doctored a lot of

scripts over the years that he probably doesn't even get

screen credit for, but he worked on and helped along.

>>Max Evans (with Andy Wilkinson): I didn't intend to

be a screenwriter, that wasn't what I really loved. The stuff

I did with Sam, he was so afraid they'd catch on that we had to

completely swear to never give anything away and he got me

a lot of jobs that way because he knew I'd keep my mouth shut.

>>Andy Wilkinson: I was looking at this one, I was particularly

interested because it says it's a treatment

for The Hi Lo Country .

>>Max Evans: Yeah, this is the first treatment I did this

for Sam Peckinpah. He went off on a picture and forgot all

about this. And he, he spent the rest of his life trying to

get this made, never did get it made, but this is the first

hand scribbled treatment for The Hi Lo Country .

>>Andy Wilkinson: So this would be the very first

one that you did. >>Max Evans: People would think

about it, producers and studios would say, oh you got a western,

oh God we don't want to have anything to do with anymore

westerns, they're going out of fashion. And, Scorsese

read it and he decided to make it, it's the characters,

he said they're so real.

These are contemporary cowboys and the whole story is

very modern, contemporary. It's still called a western

you know no matter what.

Stephen Frears, he read it and he really liked it, Scorsese

had the name, I guess he still does, to get a

film made that he likes.

(" The Hi Lo Country ") >>Jim Ed Love: "Them boys

come back from the war with a stink on 'em that

draws women like flies."

>>Big Boy Matson: "Mona, this Mona that everyone's

so damn interested in,". (slams down gun on bar)

....she is a beautiful woman. And there ain't no backstabbin'

gossiping bunch 'o yellobellied chickenshits gonna stop me."

>>Max Evans: I really enjoyed the movie world, I never

intended to stay in it at all, but I enjoyed it

as just part of my life.

>>Peter Coyote: Vertigo, the result of his wartime inner ear

injury, kept Max from flying. He took the train back and

forth from Los Angeles to Albuquerque, and Pat drove

down from Taos to pick him up. Finally, it was time to move.

They've lived in Albuquerque since New Year's Day, 1967.

>>Max Evans (narrating Rio Grande: River of Legends ):

Albuquerque, named for a Duke from Spain, settled

because of the nourishment from the Rio Grande.

>>Max Evans: I made two documentaries that I'm really

proud of, Every Man's Mountain , on Sandia Mountain, and The Rio

Grande River , I filmed it all the way to the Gulf of Mexico

and I narrated that film myself.

>>Max Evans ( narrating Rio Grande: River of Legends ):

The great river splitting Albuquerque is spanned

by famed Highway 66.

>>Peter Coyote: When he was in town, Max often had lunch

with authors Rudolfo Anaya, Tony Hillerman and others

at Baca's on Albuquerque's Central Avenue. Those lunches

became as legendary as Route 66.

>>Slim Randles: Jim Belshaw, another columnist, said, "Have

you met Max" And I said, "No."

>>Luther Wilson: And he said, "Well let's meet at Baca's on

Central at 11:30, that's Max's favorite time to have lunch."

>>Slim Randles: Don't plan to do anything else for

the rest of the day. Well I thought he was kidding.

>>Ollie Reed: I met him there at noon and before I know it it's

8 o'clock at night, you know we'd been there eight hours.

>>Slim Randles: Lunches usually lasted from 11:30 in the

morning until closing time.

>>Luther Wilson: Max and I, I think we stayed until about

9:30 or 10:00 that night.

>>Ollie Reed: Trouble was I'd had so much to drink

I couldn't find the door out.

>>Slim Randles: I had made up little red and white gimme caps

that said, "I Survived Lunch with Max Evans" on it. In all

that time, these 30 years, I've only seen Max drunk once.

>>Luther Wilson: One thing that Max has never done is

drink and write. When he was committed to writing something

sometimes he would write around the clock and then

just be totally wrung out and when he's finished he feels

really it's been his blood that's gone into those words.

>>Ollie Reed: There's an element of him that has nothing to

do with busted up cowboy hats and old boots, there's

something more going on there.

>>Max Evans: I've called on the Great Mystery

in the Sky many times.

>>Pete Coyote: Writing became real trouble for Max,

because of his beat-up hands he could no longer type.

>>Max Evans: Then with a pen, a lot of my books were really

hard to write, I wrote Blue Feather Fellini in absolute

agony most of the time.

>>Sam Elliott: The war was a bugger, like a barroom brawl.

That's all he knew. All he felt. all he realized of existence

and non-existence. All.

>>Forrest Fenn: Of course, it falls to Pat's lot to type

all of those manuscripts for him and I've seen those things.

>>Max Evans: She was a good typist and a good editor,

so she cleaned those stories up. She's been my editor and

confidant through all my work.

>>Slim Randles: And she's quite an artist, she did the cover

for Blue Feather Fellini I know.

>>Peter Coyote: A mysterious and unexpected visitation was the

inspiration for another book.

>>Slim Randles: FarAway Blue, which was his story

about the buffalo soldiers that were down there at the

fort fighting the Apaches.

>>Max Evans: The only historical novel I ever did, about Nana,

the great Apache warrior. I was walking out in the

backyard here taking a walk, this book, all this stuff came

to me out there just walking, you know. This great big

golden butterfly came over my head and just followed me

and the story of Nana came from this butterfly, somehow.

Really accurate history, that butterfly wrote that book.

>>Slim Randles: Nana told him how to write it, Max is

full of surprises like that. There's one thing in that book

that describes a bullet coming to a guy, unlike anything

I have ever read in my life.

>>Sam Elliott: Nana went into the floating space now.

The vacuum of time stopped, where everything hesitated for

a fulfillment. The Winchester centered on the general's mouth

and Nana saw the lead leave his gun and his old, half

blind eyes could see the bullet as it moved toward its target.

The hunting spirit left his body and guided the bullet

through the general's upper lip, knocking the roots of two

teeth to bits and tearing apart the vertebrae that

connected his head to his spine. Before the general

fell backward, spewing blood on the ground, the hunting spirit

had returned to Nana's soul.

>>Ollie Reed: And of course he's a writer of both fiction and

nonfiction. His nonfiction is as strong as his fiction.

Madam Millie, she was a madam in houses of prostitution, up in

Alaska and down in Silver City.

>>Slim Randles: Max told me that they had to wait to

publish that book until a whole bunch of judges and

politicians died because they'd all been customers

at one time or another.

>>Sam Elliott: When Debbie and the bishop went into her room,

Pluto, in the manner of cats, silently followed right at

Debbie's feet, before the door was closed. It was only a short

time later, by whorehouse standards, that a terrifying

scream of agony ripped apart the pleasant air. A door was

heard bursting open, a pair of white socks came racing down

a long hail with the naked bishop in them, charging right

into the parlor, yelling unintelligible words and

clawing at his behind.

>> Slim Randles: Let's just say the cat attacked

at the wrong time.

>>Sam Elliott: The beloved canine pets of the house, along

with other cats, joined in the melee, barking, squealing and

adding to a whorehouse symphony of sound so originally musical,

that had it been recorded, it would most likely have been

number one on the charts of both heaven and hell forever.

>>Max Evans: In the old days these two amateur rodeos that

were really famous across the west, that's Cimarron

and Magdalena. The last time I went down and roped at

Magdalena, I was 60 years old, I celebrated my 6Oth birthday

at a hotel there, they had a team roped and roped calves.

>>Peter Coyote: In 1998, Max helped found the New Mexico

Farm and Ranch Heritage Museum in Las Cruces. It's devoted

to the important contributions made by farmers, ranchers,

cowboys and farm hands in building the state.

New Mexico has a vibrant film industry and Max had a hand

in that, too. Back in the sixties, he helped Governor

Dave Cargo, Albuquerque Tribune editor Ralph Loonie and others

pitch New Mexico talent and locations to Hollywood insiders.

The effort led to the creation of the New Mexico Film Office.

Max has been honored many times for his writing and

contributions to life in New Mexico, including being the

first recipient of the annual Rounders Award. He has won two

Spur Awards from the Western Writers of America and was

a 2014 inductee into the Texas Institute of Letters.

>>Slim Randles: You know Max is the only guy I know who has

at least 200 people that says that he's their best friend and

every one of them is telling the truth and I'm one of them.

>>Ruth Francis: He's mined, he's ranched, he was a soldier, he's

a husband, a father, Hollywood screenwriter, an observer

of life across the world.

>>Ollie Reed: From Des Moines, New Mexico to Hollywood.

>>Slim Randles: There's isn't anybody like Max.

>>Luther Wilson: He's many, many people, he really has lived

a hundred lives apparently.

>>Slim Randles: Max will tell you he's a thousand

and thirty-four years old.

>>Luther Wilson: I think he's right and the way he's going

he may make it that far.

>>Ollie Reed: The question I always ask him is what are

you doing next? It's important for me to know that he's still

doing something next, you know?

>>Ruth Francis: He and I have been pretty much focused on

The King of Taos , his new book. And there are two or three

incidents that are incredibly tragic, you want to start crying

and then you're laughing, you're laughing about it.

>>Slim Randles: It's been a really long life and we're

planning his 100th birthday party and I told him that too,

so he'd better stick around.

>>Ruth Francis: Well he's, he's 92 years old and

I just can't imagine not talking to him and you know

that's not gonna . . . last.

>>Ollie Reed: I'm finding it hard to think about a world

where Max isn't and that he's not working on that next novel.

>>Slim Randles: He was terribly sick, 'bout a year or two ago,

almost died, but he said, "I made a trip into space,"

he said, " I was way out there. I was goin' past all these

worlds and everything, he said, "It's really beautiful and

there's this and I saw that and I saw all these different

worlds and everything. And I got out there and

I thought, Well, I'm just gonna keep goin' forever."

We invite you to watch some archival interviews with

Lorene Mills and Max Evans at the close of these credits.

DVD copies of Ol' Max Evans: The First Thousand Years

are available by calling 1 888 367-5369, that's

1 888 FOR-KENW. They can also be ordered at our

website kenw.org. DVDs cost $20.00 plus $5.00 shipping

and handling. Blu-ray discs are available for $25.00 plus

$5.00 shipping and handling.

>>Lorene: Hi, I'm Lorene Mills, the co-director and co-producer

of the film you just watched. This movie came about because

each time I interviewed Max on my Report from Santa Fe program,

and it was 10 times over 15 years, I would say to myself,

"Max is so amazing, somebody has to do a documentary about him."

Well, it was me it turned out, with Paul Barnes, and David

Leach, along with KENW-TV and Eastern New Mexico University,

and the generous support of the Healy Foundation in Taos, NM.

We wanted to share with you a few choice Max interviews

from the archives of Report from Santa Fe . We thought

you would really enjoy them and we thank you for watching.

>>Lorene: This one is called Now and Forever and I just finished

it and I must tell you its an extraordinary read and its set

in the most unusual setting that no one in New Mexico has

even touched - the Uranium Rush around Grants, NM.

>>Max: It's an astounding thing and there's nothing that

threatens the world for instantaneous destruction

like this does and I thought my God here's the thing that has

actually created the greatest fear in the history of the

human race in its totality of what it could just instantly

wipe us all out, and there's nothing written about it and

I can write that down in that manner - how it operated, what

affected the people's minds, how the humor, the tragedy

that occurred. They came from every state in the Union and

they were all over our hills with Geiger counters. And if you

found a patch of ground that had uranium, that little magic

buzz on that Geiger counter, that would be like a person that

picked up that first gold nugget and stared at it, the gleam,

the gold, the weight of it, the feel, they would go crazy.

And it was a tremendous study for me of the human animal.

>>Lorene: So what was the first book you wrote?

>>Max: It was a collection of short stories called Southwest

Wind. And my first review that I ever read about myself was

done by a book reviewer here at the Santa Fe New Mexican

and it said if you read this book, at all, start at the end,

read through the middle and throw the cockeyed thing away.

>>Lorene: Oh, no. >>Max: So that was the first

words I ever read about myself as a writer.

>>Lorene: So, after that you only wrote the

second half of books. >>Max: So I did pinch them down

a little. And I didn't even get mad about that I thought it

was pretty close to the truth. And anyway, a lot of people

would have been defeated right there and I thought well here's

where I find out if I'm tough enough to be a writer on my

own terms, not anybody else's terms in this whole world

just mine. It's a very selfish thing but it's the way you

have to be if you're going to write and get out of your soul

what you've absorbed in truth, real truth, not somebody else's

truth and that experienced truth, visionary truth.

>>Lorene: You write the most passionate love stories, Hi Lo

Country is an extraordinary love story and Now and

Forever , Bluefeather Fellini, they're just great love stories

and yet you're such a cowboy. >>Max: Well, cowboying was just

the early part of my life and I got obsessed with ropin' calves

for a while but I knew I wasn't ever going to be a champion

and make a living at it or anything but I liked it, it was

beautiful, it was like music to me, like a symphony calf ropin',

the horse and the rope and the calf and yourself and the rhythm

it has to be like music and I'm a musical idiot so this

kind of made up for music to me. And I have no concept of why

I went into all these other things but I suppose that in the

end it had to be, I had to have these adventures to know these

truths that I had been trying to write my whole long life.

>>Lorene: How did you ever become a writer, how many

books have you written? >>Max: You know I don't know

I think about 30 or so. >>Lorene: How did you

first start writing? >>Max: Well I guess just stories

and reading, my mother read to me there at that little old town

there in Lea County, she read to me nearly every night and

if you got me to read, I was reading, she had me reading

by the time I started school. And I actually read better than

anyone in that little school, of course there was only

15 or 20 in the whole school. But, the worlds that open up

to me through reading were just so wonderfully magic and huge.

And my love of the word, the written word, was formed right

there by my mother, reading and sacrificing the time, giving

me the time. That was hard for her to do, I realize now, what

a great gift she was giving me. And I kind of, I kind of hope

that more mothers and fathers will think of that and realize

their children need that, it's a great, great gift

you give them to open their mind with the words, the great

words of the past, people who have experienced it and lived

it and loved it and wrote it down in beautiful poetic ways.

It's no greater gift, maybe that's why I had

to write, I don't know.

>>Lorene: And now, same month, we are celebrating after 50

years, you say your last novel, I pray it's not so, War and

Music - an extraordinary book. Congratulations!

>>Max: Well, thank you and I'm kind of proud myself

for breathing that long much less writing that book.

>>Lorene: Tell me about writing and how did you first know

you were a writer and how did you perfect your craft say in

this last book War and Music . It will become an American

classic, it is impeccably, beautifully written.

>>Max: The classics attracted me and it isn't that I didn't

read Will James and Jack London, well, of course, they are both

classics in their own world, but when I was really young

I got into Balzac and people like that, Chekov and it just

obsessed me and the only thing I can think Lorene is that

rubbed off into my old blood some way and I thought well

they're telling them beautifully and magnificently about their

world and what was going on in their world, I'll just

try it with mine. But all my life's experiences, metaphysical

or wars or cowboying or mining or whatever I was painting,

whatever I had been involved in, motion pictures, all of it came

into being, the essence of that, in this book. And I had dreamed

that I could concentrate a book with that much power and

with so few words. That's what I dreamed of accomplishing in

my writing and that's why I say it's my final novel, I just

happen to know that I can't write any better than that.

>>Lorene: I don't think anybody can write any better than that.

>>Max: Well thank you so much. >>Lorene: There are passages

that are so lyrical and you manage to combine so many

things, the horror, and for me, having been in war, you

reproduce the sounds of war that I actually thought I was there.

You're a story teller, and you tell some of the

best stories I have ever read. >>Max: Well, thank you so much

>>Max: Well, thank you so much >>Lorene: I also want

to mention your advice to young writers which

was don't hit a critic. >>Max: Not only is it against

the law, but it'll get you some bad reviews.