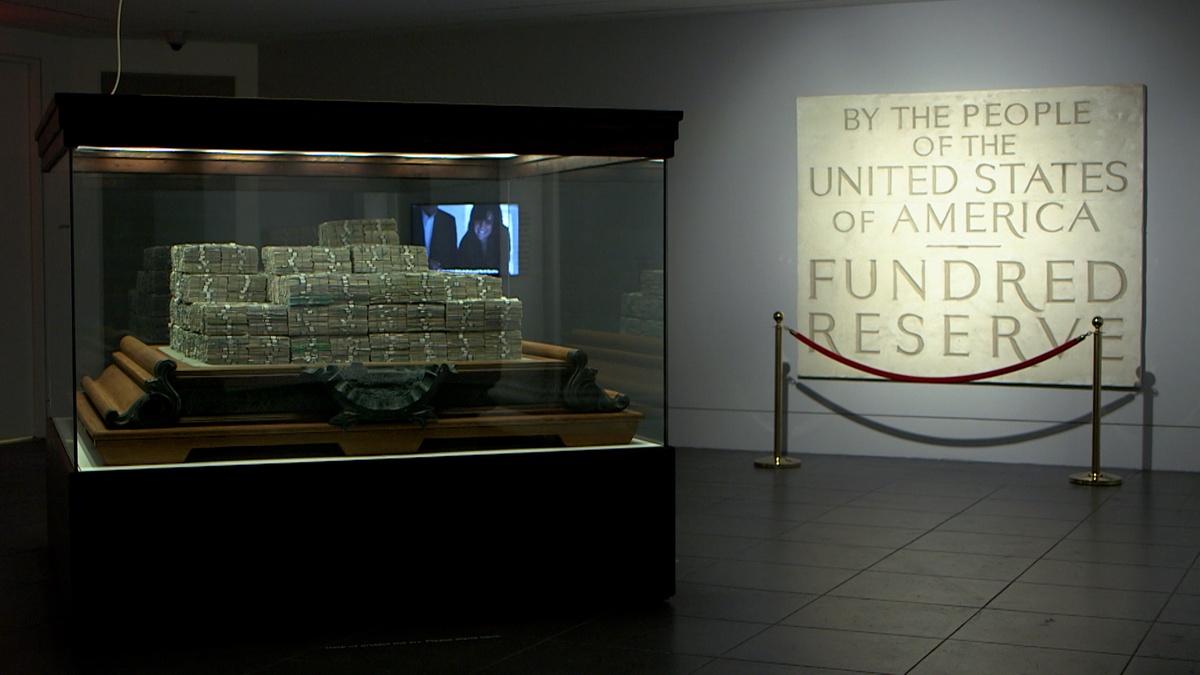 S2021 E530 | CLIP
The Slipstream at the Brooklyn Museum
NYC-Arts visits the Brooklyn Museum for "The Slipstream: Reflection, Resilience and Resistance in the Art of Our Time." Whether it's the pandemic, civil unrest or climate change, this exhibition of works by a diverse group of artists offers us new ways to reflect on the changes we faced in 2020 and beyond.
TRANSCRIPT

>>> GOOD EVENING, AND WELCOME TO

"NYC-ARTS."

I'M PAULA ZAHN.

WE BEGIN OUR PROGRAM TONIGHT

WITH A LOOK BACK AT THE

TUMULTUOUS YEAR 2020, AS

REFLECTED IN WORKS OF ART ON

VIEW AT THE BROOKLYN MUSEUM.

"THE SLIPSTREAM: REFLECTION,

RESILIENCE, AND RESISTANCE IN

THE ART OF OUR TIME" HIGHLIGHTS

WORKS FROM THE MUSEUM'S

COLLECTION OF GENERATIONS OF

ARTISTS OF COLOR, FROM THE 1960s

TO THE PRESENT DAY.

WHETHER IT'S THE PANDEMIC, CIVIL

UNREST, OR CLIMATE CHANGE, THE

EXHIBITION OFFERS US NEW WAYS TO

REFLECT ON THE CHALLENGES WE

FACED IN 2020 AND MAY EVEN

SUGGEST A WAY FORWARD.

>> WE'RE STANDING HERE IN AN

EXHIBITION ENTITLED "THE

SLIPSTREAM: REFLECTION,

RESILIENCE, AND RESISTANCE IN

THE ART OF OUR TIME."

THIS IS AN EXHIBITION OF 50

ARTISTS FROM THE BROOKLYN

MUSEUM'S CONTEMPORARY

COLLECTION.

"THE SLIPSTREAM" IS ACTUALLY A

TERM BORROWED FROM AERONAUTICS.

IT IS THE TURBULENCE THAT

FOLLOWS A LARGE MOVING OBJECT.

WE ARE CURRENTLY IN THE

SLIPSTREAM, WHICH OFFERS US A

PERSPECTIVE FROM WHICH TO LOOK

AT 2020, THE LARGE OBJECT THAT

JUST PASSED.

KAREN DAVIS' NICOTINE SCULPTURE

SEEMS PARTICULARLY RELEVANT FOR

THIS MOMENT.

I SELECTED IT BECAUSE IT DEPICTS

A HEALTH CARE WORKER, SEEMINGLY

LOST IN HER OWN THOUGHTS,

REGAINING THE STRENGTH TO MAKE

IT THROUGH ANOTHER DAY.

ONE OF THE MOST STRIKING THINGS

ABOUT "NICOTINE" IS THE MATERIAL

OUT OF WHICH IT'S MADE.

IF YOU LOOK CLOSELY, YOU MIGHT

BE ABLE TO SEE THAT THOSE

SHREDDED PIECES OF PAPER ARE

MEDICAL BILLS AND SUGGEST THE

ENORMOUS EXPENSE THAT'S OFTEN

INVOLVED IN HOSPITALIZATION.

YOU CAN ALSO TELL THAT DAVIS WAS

INTERESTED IN EGYPTIAN ART.

THERE'S A CERTAIN MUMMIFIED LOOK

WHICH EVOKES THIS LONG TRADITION

OF DEATH BUT ALSO PERHAPS OF

ETERNAL LIFE.

THERE'S A MURAL BELOW HER FEET.

SO AS WE STAND THERE LOOKING AT

THE SCULPTURE, WE SEE OURSELVES

REFLECTED.

WE'RE IMPLICATED OR INCLUDED IN

PART OF THIS SCENE.

OFTENTIMES, EQUESTRIAN STATUES

ARE MADE OUT OF BRONZE OR MARBLE

BUT "THE COMMONS" IS MADE OUT OF

CORK.

IT'S ESSENTIALLY A GIGANTIC

BULLETIN BOARD WHERE VISITORS

ARE INVITED TO LEAVE SOMETHING,

A MESSAGE, AN OBJECT, FOR OTHERS

TO SEE OR INTERACT WITH.

MONUMENTS ARE A VERY HEATED

TOPIC AT THIS POINT BECAUSE IT

HAS TO DO WITH WHO HAS POWER AND

WHO THEN IS POWERLESS.

SO ONE OF THE THINGS THAT PAUL

RAMIREZ JONAS' "THE COMMONS" HAS

DONE IS ADVOCATE FOR DETHRONING

IMPERIAL POWER AND GIVING IT TO

THE PEOPLE, WHICH I THINK MANY

PEOPLE AFTER THE PAST YEAR ARE

THINKING ABOUT.

HUGH LOCKE IS A LONDON-BORN

ARTIST WHO GREW UP IN GUYANA.

IF YOU'VE EVER LOOKED AT BRITISH

CURRENCY OR POSTAGE STAMPS, YOU

MIGHT RECOGNIZE THE ICONIC

PROFILE OF QUEEN ELIZABETH II.

HE HAS RECREATED THAT ICON OUT

OF KITSCHY, INEXPENSIVE OBJECTS

LIKE SWORDS, DOLL HEADS, AND

BEADS, PRODUCTS THAT ARE CREATED

GR

GLOBALLY, A KIND OF CONTEMPORARY

VERSION OF THE BRITISH EMPIRE.

THE TITLE OF THE WORK IS THE

NAME OF THE LARGEST DIAMOND IN

THE WORLD.

AT THE END OF THE 19th CENTURY

IT BECAME A PART OF THE BRITISH

COLLECTION OF JEWELS,

SYMBOLIZING THE POWER OF THE

BRITISH EMPIRE AT THE TIME.

HE'S LOOKING AT THE COLONIAL

RELATIONSHIP BETWEEN GREAT

BRITAIN AND THE REST OF THE

WORLD.

ONE OF THE MOST STRIKING PIECES

IS MEL CHIN'S PROJECT.

WHEN YOU LOOK AT THE PIECE,

YOU'LL SEE A VERY LARGE VITRINE

WHICH CONTAINS 7,500 BUNDLES OF

WHAT APPEAR TO BE HUNDRED DOLLAR

BILLS.

THEY WERE MADE BY CHILDREN

AROUND THE COUNTRY.

WHILE YOU'RE CUSTOMIZING YOUR

BILL, YOU ALSO LEARN ABOUT THE

PROBLEM OF LEAD POLLUTION.

HE STARTED THIS PROJECT TO

ENCOURAGE CONGRESS TO FUND A

BILL FOR REMEDIATION.

HE MADE A CASE TO HOUSE OF

BILLS, MAKING IT LOOK LIKE AN

OFFICIAL GOVERNMENT PIECE OF

FURNITURE, SO TO SPEAK.

HE ALSO CREATED A LARGE PLAQUE

TO PUT BEHIND IT MADE OUT OF

STYROFOAM, WHICH IS FLANKED BY

STANCHIONS.

HE BALANCES HIS INTEREST IN

ACTIVIST ART WITH HIS INTEREST

IN CRAFT AND MAKING THINGS BY

HAND.

THERE ARE SO MANY THINGS THAT

VISITORS CAN COME AWAY WITH

AFTER SEEING "THE SLIPSTREAM."

CERTAINLY YOU CAN SEE THE WIDE

RANGE OF CONTEMPORARY PRACTICE.

YOU CAN ALSO SEE HOW ENGAGED

ARTISTS ARE WITH THE WORLD

AROUND THEM, PROVIDING A KIND OF

REFUGE TO THINK ABOUT AND

REFLECT UPON OURSELVES AND OUR

PLACE IN THE WORLD AND WHAT THE

WORLD CAN BECOME.