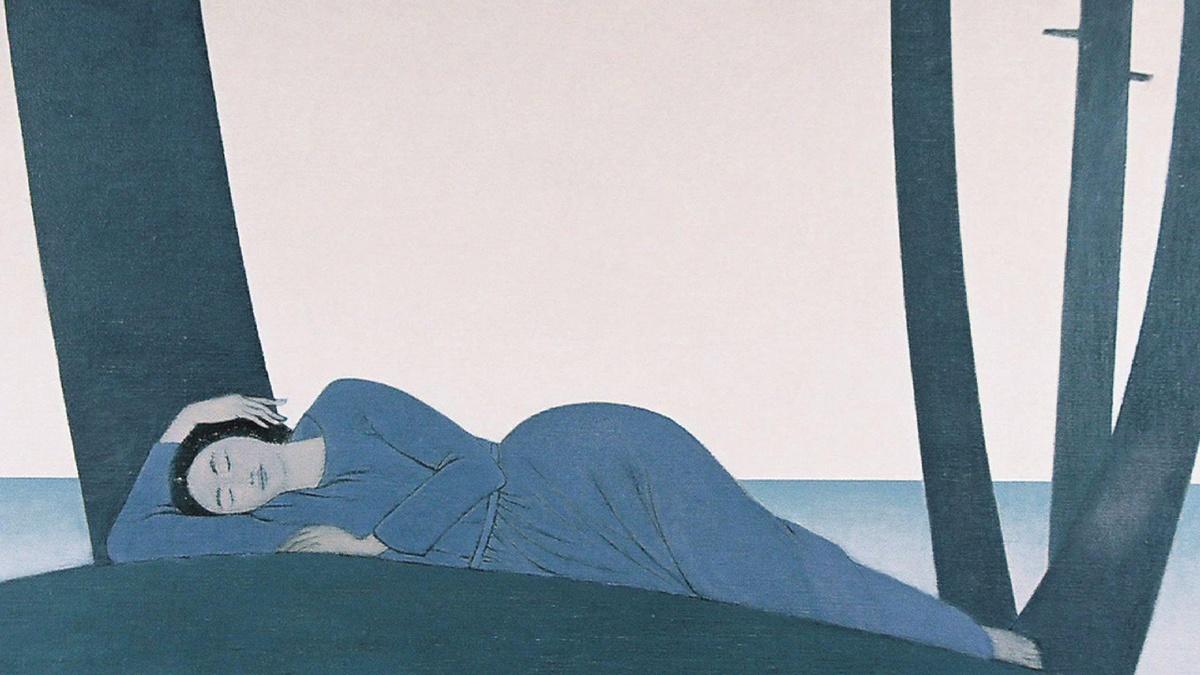 S2014 E283 | FULL EPISODE
NYC-ARTS Full Episode: August 28
A tour of The International Hall of Fame and Museum in Newport, Rhode Island. In memoriam, a profile of beloved artist Will Barnet. And a visit to The American Wing galleries of The Metropolitan Museum of Art for a look at works by Augustus Saint-Gaudens.
TRANSCRIPT

FUNDING FOR NYC-ARTS IS

MADE POSSIBLE BY -

ROSALIND P. WALTER

ELISE JAFFE AND JEFFREY BROWN,

JODY AND JOHN ARNHOLD,

THE MILTON AND SALLY AVERY ART

FOUNDATION

AND ELROY AND TERRY KRUMHOLZ

FOUNDATION

THIS PROGRAM IS SUPPORTED, I

PART, BY PUBLIC FUNDS FROM THE

NEW YORK CITY DEPARTMENT O

CULTURAL AFFAIRS, IN PARTNERSHIP

WITH THE CITY COUNCIL.

ADDITIONAL FUNDING PROVIDED BY

MEMBERS OF THIRTEEN.

"NYC ARTS" IS MADE POSSIBLE, I

PART, BY FIRST REPUBLIC BANK

>> FLEXIBILITY, COORDINATION

EXCELLENCE

FIRST REPUBLIC PRIVATE WEALT

MANAGEMENT, IT'S A PRIVILEGE T

SERVE YOU.

♪♪

>>> GOOD EVENING AND WELCOME T

"NYC ARTS.

I'M PHILIPPE DE MONTEBELLO A

THE TISCH WNET STUDIOS A

LINCOLN CENTER

IT'S BEEN MY PLEASURE, ALONG

WITH MY COLLEAGUE, PAULA ZAHN,

TO BRING YOU THE VERY BEST I

THE ARTS AND CULTURE IN TH

TRI-STATE AREA

>> WHETHER IT'S MUSIC, DANCE

FILM, THEATER, THE VISUAL ARTS

CLASSIC TO CONTEMPORARY,

WELL-KNOWN OR NEWLY DISCOVERED

"NYC ARTS" HAS PROVIDED UNIQUE

ACCESS TO THE PEOPLE AND PLACE

THAT REPRESENT THE RICHNESS OF

OUR ARTS COMMUNITY

IN THIS PROGRAM, WE'D LIKE T

SHARE WITH YOU SOME OF OUR

FAVORITE SEGMENTS AND WE HOP

THEY'RE SOME OF YOUR FAVORITES

TOO.

>> WE'D LIKE TO BEGIN THIS

EVENING'S PROGRAM WITH A BOW T

AN EXCITING EVENT GOING ON I

THE WORLD OF SPORTS.

WITH THE U.S. TENNIS OPEN IN

FULL SWING THIS WEEK, WE THOUGHT

THAT A RETURN VISIT TO THE

INTERNATIONAL TENNIS HALL OF

FAME & MUSEUM IN NEWPORT, RHOD

ISLAND, WAS IN ORDER

>> SET IN THE ORIGINAL ROOMS O

THE HISTORIC NEWPORT CASINO, THE

MUSEUM'S AIM IS TO TELL TH

HISTORY OF THE SPORT AND

NEWPORT'S ROLE AS THE CRADLE O

AMERICAN TENNIS.

THIS NATIONAL HISTORIC LANDMAR

CONTAINS A COLLECTION OF RELATED

MEMORABILIA, ART, FASHION AN

MORE FROM THE 12th CENTURY

THROUGH THE PRESENT DAY.

>> SINCE 1955, THE INTERNATIONAL

TENNIS HALL OF FAME HAS HONORE

THE GAME'S GREATEST CHAMPION

AND INNOVATORS

IT'S A WONDERFUL DESTINATION FOR

THE WHOLE FAMILY, SET IN ONE O

THE MOST BEAUTIFUL SITES ALONG

THE COAST OF HISTORIC NE

ENGLAND.

>> MY NAME IS DOUG STARK, AND

AM THE MUSEUM DIRECTOR AT TH

INTERNATIONAL TENNIS HALL OF

FAME AND MUSEUM, WHICH I

LOCATED ON HISTORIC BELLEVUE

AVENUE IN NEWPORT, RHODE ISLAND.

THE STORY OF THE NEWPORT CASIN

BEGAN IN THE SUMMER OF 1879 WITH

JAMES GORDON BENNETT, JR., WHO

WAS THE PUBLISHER OF THE "NE

YORK HERALD TRIBUNE.

HE WAS ALSO A SUMMER RESIDENT IN

NEWPORT.

SO, HE PURCHASED THE LAND ACROSS

THE STREET AND HE HIRED TH

ARCHITECTURAL FIRM OF MCKIM,

MEADE & WHITE, AND CONSTRUCTIO

STARTED IN JANUARY OF 1880

AND SIX MONTHS LATER, IN THE

SUMMER OF 1880, THE NEWPOR

CASINO OPENED.

THE NEWPORT CASINO REPRESENT

ONE OF THE FINEST EXAMPLES O

SHINGLE STYLE ARCHITECTURE I

AMERICA.

WE ARE A NATIONAL HISTORIC

LANDMARK

AND RECENTLY, WE BECAME TH

FIRST SPORTS HALL OF FAME TO B

ACCREDITED BY THE AMERICAN

ALLIANCE OF MUSEUMS.

IN 1881, THE UNITED STATES

NATIONAL LAWN TENNIS ASSOCIATION

WAS LOOKING FOR A PLACE TO HOS

ITS FIRST CHAMPIONSHIPS.

THE NEWPORT CASINO WAS SELECTED.

AND WITH THAT, THE FIRST U.S

NATIONALS WAS CONTESTED HERE I

1881, WHICH WAS WON BY

DICK SEARS

THAT TOURNAMENT TODAY IS THE

U.S. OPEN.

NEWPORT HAS THREE DISTINCT

THINGS -- ARCHITECTURE, LEISUR

AND SPORTING EVENTS.

AND THE TENNIS HALL OF FAME AN

THE NEWPORT CASINO SIT AT TH

CONFLUENCE OF ALL THREE.

SO AS VISITORS COME THROUGH OU

GROUNDS, THEY'RE TRANSPORTED

BACK TO GILDED AGE OF NEWPORT.

TODAY, OUR SITE IS SIX ACRES

WE HAVE 13 GRASS COURTS, THREE

INDOOR HARD COURTS, ONE CLAY

COURT, ONE COURT TENNI

BUILDING, WHICH IS A PREDECESSOR

OF THE GAME OF TENNIS.

IT'S THE GAME FROM WHICH TENNI

EVOLVED.

IT WAS PLAYED IN MEDIEVA

MONASTERIES.

TENNIS WEEK IN NEWPORT IS STIL

A VERY BIG EVENT

IT'S USUALLY THE SECOND WEEK O

JULY

WE HAVE OUR TOURNAMENT

AND THEN AT THE END OF THE WEEK,

WE HAVE OUR HALL OF FAME

INDUCTION CEREMONY

EACH YEAR, WE INDUCT A NEW CLASS

OF HALL-OF-FAMERS.

WE HAVE 235 HALL-OF-FAMERS

REPRESENTING 20 COUNTRIES AROUND

THE WORLD.

TODAY, OUR MUSEUM OCCUPIES THE

SECOND FLOOR OF THE NEWPOR

CASINO

AS VISITORS WALK THROUGH THE

MUSEUM, THEY CAN GET A SENSE

BOTH OF THE HISTORY OF THE

NEWPORT CASINO AS WELL AS TH

HISTORY OF TENNIS.

WE HAVE A RECREATED CARD ROOM.

OUR MUSEUM COLLECTION TOTALS

MORE THAN 25,000 OBJECTS

AND WE HAVE TROPHIES, TENNIS

BALLS, RACQUETS, RACQUET

PRESSES, OUTFITS, STAMPS

MEDALS

IT'S REALLY THE CENTRA

REPOSITORY FOR THE STUDY OF TH

HISTORY OF TENNIS.

TENNIS WAS PATENTED IN 1874 BY

QUEEN VICTORIA, AND THAT PATEN

IS CURRENTLY ON DISPLAY IN OUR

CREDENTIALS GALLERY.

WE ALSO HAVE A PAINTING FROM

1538

WE BELIEVE IT'S THE EARLIEST

KNOWN PAINTING OF TENNIS

VISITORS ALSO LIKE THE EVOLUTION

OF FASHION AND CLOTHING.

WE HAVE SOME EARLY OUTFITS THA

WOMEN WOULD HAVE WORN IN THE

VICTORIAN ERA, AND WE ALSO HAV

VENUS WILLIAMS' OUTFIT FROM HE

PARTICIPATION IN THE

2012 WIMBLEDON CHAMPIONSHIPS

AND WE ALSO HAVE ROGER FEDERER'S

OUTFIT FROM WHEN HE PARTICIPATED

AND WON IN THE 2009 WIMBLEDO

CHAMPIONSHIP

ALSO ON DISPLAY IS MEMORABILIA

FROM THE HISTORIC MATCH, THE

BATTLE OF THE SEXES, CONTESTED

BETWEEN BILLIE JEAN KING AND

BOBBY RIGGS IN SEPTEMBER O

1973

AND A LOT OF VISITORS STIL

REMEMBER SEEING THAT MATCH O

TV, WHICH WAS QUITE A SPECTACLE,

BUT OBVIOUSLY IT HAD SIGNIFICANT

RAMIFICATIONS FOR EQUAL RIGHTS

AND EQUAL PAY FOR SPORTS IN THIS

COUNTRY.

FROM THE START, THE NEWPOR

CASINO WAS BOTH FOR MEN AND FO

WOMEN, AND IT'S ONE OF THE

EARLIEST THAT INCLUDED WOMEN

ONE OF THE THINGS THAT WE DO

WHEN WE TELL THE STORY OF TENNIS

IS WE TELL THE EVOLUTION AND

THE GROWTH AND DEVELOPMENT O

THE GAME THROUGH OUR

HALL-OF-FAMERS

SO, WITH 235 HALL-OF-FAMERS FROM

AROUND THE WORLD, IT'S A

OPPORTUNITY TO GIVE A PERSONAL

ELEMENT TO THE STORY OF TENNIS

AND IT'S IMPORTANT BECAUSE

PEOPLE CAN RELATE.

A LOT OF OUR VISITORS COME I

AND THEY CAN REMEMBER, "OH,

USED TO PLAY WITH JIMMY CONNORS'

T-2000 RACQUET" OR "I HAD

JACK KRAMER RACQUET" OR THEY

MIGHT REMEMBER GOING TO

TOURNAMENT AND SEEING

HALL-OF-FAMER PLAY

AND SO THAT'S A REALLY UNIQU

EXPERIENCE

THE NEXT TIME THAT YOU'RE IN

NEWPORT, WE HOPE THAT YOU'

VISIT THE HALL OF FAME

IT'S A UNIQUE OPPORTUNITY TO SEE

AND LEARN ABOUT THE HISTORY OF

TENNIS, BUT ALSO TO PLAY ON OU

HISTORIC GRASS COURTS.

AND WE WELCOME EVERYONE TO

NEWPORT AND THE TENNIS HALL OF

FAME

>>> HELLO.

I'M RAFAEL PI ROMAN.

WELCOME TO THIS WEEK AT LINCOL

CENTER, WHER

EVENTS HAPPENING IN THIS VIBRANT

HOME FOR THE ARTS AND ARTIST

FROM AROUND THE WORLD.

THIS WEEK AT LINCOLN CENTER --

THE FIFTH ANNUAL COCA-COLA

GENERATIONS IN JAZZ FESTIVAL

IN KEEPING WITH TRADITION, THI

YEAR'S FESTIVAL FEATURES ARTISTS

SPANNING THREE GENERATIONS WIT

PROGRAMMING THAT HONORS ICONIC

MUSICIANS AND COMPOSERS AS WEL

AS SOME OF THE MOST EXCITING

EMERGING ARTISTS OF TODAY.

THE FESTIVAL KICKS OFF WIT

VOCALIST MICHAEL MWENS

SHOWCASING THE COMPOSITIONS OF

FATS WALLER.

♪ I GOT A GIRL THAT'S ALWAY

LATE EVERY TIME I HAVE A DATE,

BUT I LOVE HER ♪♪

>> AND OPENING WEEK ALSO

INCLUDES CONCERTS BY FOUNDIN

MEMBER OF THE JAZZ AT LINCOL

CENTER ORCHESTRA, REVERE

SAXOPHONIST JOE TEMPERLEY.

THE COCA-COLA GENERATIONS IN

JAZZ FESTIVAL WILL RUN FRO

SEPTEMBER 1st THROUGH SEPTEMBE

30th AT DIZZY'S CLUB COCA-COLA

FOR COMPLETE LISTINGS, PLEAS

VISIT JALC.ORG

AND FOR EVEN MORE INFORMATIO

HERE AT LINCOLN CENTER, YOU CA

VISIT THEIR WEBSITE AT

LINCOLNCENTER.ORG.

>> IT'S SAID A TRUE ARTIST I

ONE WHOSE WORKS CAN STAND TH

TEST OF TIME

FOR EIGHT DECADES, WILL BARNET

HAS HAD ONE MOST DISTINGUISHED

CAREER IN AMERICAN ART

HIS PAINTINGS, DRAWINGS AN

PRINTS ARE IN MAJOR MUSEUM

AROUND THE WORLD

AND ON THE EVE OF HIS 100t

BIRTHDAY, HE IS STILL CREATING

THE WORKS OF A TRUE AMERICAN

MASTER

>> WELL, YOU ALWAYS FEEL A

CERTAIN AMOUNT OF YOUTH, EVE

WHEN YOU'RE 100 OR 99.

THERE'S ALWAYS THAT INTEREST I

LIFE AND WHAT'S GOING ON

SO, THAT LIFE IS ALWAYS AN

EXCITING EXPERIENCE TO BE ALIVE.

>> BORN IN 1911, BARNET LIVE

THOUGH EVENTS OTHERS COULD ONL

READ ABOUT

>> IN THE '20s, COOLIDGE WAS

PRESIDENT.

AND I REMEMBER THE SACCO AND

VANZETTI CASE VERY WELL.

IT WAS QUITE TALKED ABOUT AMON

THE PEOPLE GENERALLY

AND THAT WAS AN INTERESTING CASE

OF BEING -- PROSECUTING CERTAI

FOREIGNERS AT THAT TIME.

AND I REMEMBER IT QUITE WELL

I USED TO BE A BIG RED SOX FAN

WHEN I WAS YOUNG, WHEN BABE RUTH

WAS PLAYING FOR THE RED SOX.

AND THAT'S IN THE '20s

AND I BECAME A GREAT FAN OF TH

RED SOX FOR ALMOST 50 YEARS,

UNTIL THEY LOST TO THE METS.

WHEN THEY LOST TO THE METS,

GAVE UP.

>> BY 1931, BARNET LONGED FO

MORE THAN MASSACHUSETTS COUL

OFFER, SO HE MOVED TO NEW YORK

AND STUDIED AT THE ARTS STUDENTS

LEAGUE

>> WHEN I GOT TO THE ART

STUDENTS LEAGUE, IT WAS PERHAP

THE MOST EXCITING PLACE IN THE

ART WORLD AT THAT TIME

IT WAS REALLY THE CENTER OF TH

ART WORLD.

STUART DAVIS WAS ONE OF MY

TEACHERS

I CAME INTO THE LEAGUE AT TH

SAME TIME AS JACKSON POLLACK

EXACTLY THE SAME DAY ALMOST.

AND WE WERE THERE TOGETHER FOR

TWO OR THREE YEARS, YOU KNOW

AND HE STUDIED WITH BENTON

HE LIKED BENTON'S WORK

I LIKED BENTON BECAUSE HE WA

LIKE A SMALL-TOWN SHERIFF, YOU

KNOW, THE WAY HE BEHAVED

BUT I DIDN'T PARTICULARLY LIKE

HIS WORK, SO I STUDIED WIT

STUART DAVIS

THERE WAS A DIFFERENCE IN OU

POINT OF VIEWS

SO, YOU CAN SEE HOW DIFFEREN

OUR ART CAREERS WERE

SEE, WHEN I CAME TO NEW YORK

PEOPLE WERE STARVING O

BREADLINES ALL AROUND NEW YORK

AND PEOPLE WERE LIVING ON TH

STREETS AND HOMELESS

AND IT WAS A MESSY SITUATION

NO ONE WAS MAKING ANY MONEY AT

THAT TIME SELLING THEIR WORK O

ANYTHING

IT WAS ALL BASED UPON TH

GOVERNMENT

I CAN TELL YOU THAT FROM

1930 UNTIL ABOUT 1950 ALMOST, NO

ONE SOLD MUCH ART WORK

BETWEEN '30 AND '40, THERE WER

ABSOLUTELY NO SALES' EXCEPT ON

BY KUNIYOSHI, THE JAPANESE

PAINTER.

AND HE SOLD A PAINTING FOR $500.

AND IT WAS CONSIDERED A BI

EVENT.

AND THEN PEOPLE BEGAN TO GET A

CERTAIN HOPE BECAUSE ROOSEVELT

WAS MUCH MORE OPTIMISTIC ON WHAT

TO DO.

SO, EVENTUALLY, WE ENDED UP WITH

THE FAMOUS PWA WAS THE FIRST

PROJECT.

AND THEN FROM THAT, WE WENT TO

THE WPA, WHICH IS A BIGGER

PROJECT.

IT WAS REALLY QUITE WONDERFUL.

I WAS EVENTUALLY A SUPERVISOR ON

THE WPA IN GRAPHICS BECAUSE OF

MY SKILL AS A PRINTER.

BUT ALL MY FRIENDS WERE ON WPA

DOING GREAT MURALS

SO, ALL OVER THE UNITED STATES

MURALS WERE BEING PUT UP

>> LIKE THE MURALISTS, BARNE

PAINTED SCENES OF EVERYDAY LIFE.

>> I BEGAN EARLY TO LOOK A

THINGS AROUND ME, LIKE ON TH

STREET OR AT HOME, AND SO FORT

IT BECAME MY SUBJECT MATTER.

I USED SAY TO MY CLASS, YO

KNOW, YOU DON'T HAVE TO GO VER

FAR.

IF VERMEER COULD TAKE THE CORNER

OF A ROOM AND MAKE A WORK OF ART

OUT OF IT, YOU DON'T HAVE TO G

TO SPAIN OR AFRICA OR ANYWHERE

ELSE

IT'S RIGHT NEXT TO YOU, RIGH

HERE IN THIS ROOM.

I WAS BROUGHT UP WITH LANDSCAPE,

BECAUSE I USE TO SIT ON A ROCK

WITH A BIG LIGHTHOUSE IN

BEVERLY AND LOOK OUT IN TH

OCEAN, LOOKING AT PARIS, WHERE I

WANTED TO GO

DREAMING OF PARIS.

THIS IS A WOMAN RELAXING BY TH

OCEAN.

BUT YOU SEE, IT'S AN

ARCHITECTURAL STRUCTURE, THE WAY

SHE BECOMES PART OF THESE SHAPES

IN HERE.

IT'S ALL BUILT TOGETHER AS ONE

THING.

A PAINTING HAS TO HAVE TO

CERTAIN STRUCTURE TO IT,

OTHERWISE IT FALLS APART

IT DOESN'T HAVE THE ESSENCE OF

CONTAINING ITSELF IN A RICH WAY.

SO, THE IDEA OF STRUCTUR

DOMINATED MY ENTIRE CAREER

ALMOST FROM THE BEGINNING, I

THOUGHT OF THAT THAT WAY

>> ONE OF THE UNIQUE ASPECTS O

BARNET'S WORK IS HOW HE USES

SHAPES AND SPACE ON A CANVAS

DISTILLING FORMS TO THEI

ESSENTIAL QUALITIES LOSING THEIR

SENSE OF DIMENSION

>> YOU LOOK AT THIS AND THERE'

SPACE.

BUT IT'S FLAT.

THE OCEAN IS NOT MODELED O

ANYTHING

THE SKY IS NOT RENDERED OR

ANYTHING

AND FOR ME, IT IS EXCITING TO BE

ABLE TO DO IT.

AND IT TAKES ME TIME TO GET AWAY

FROM REALISTIC IDEAS AND MOV

INTO THIS AREA OF PAINTING

TO ME, IT'S A VERY EXCITIN

EXPERIENCE

AND IF I GET IT RIGHT, I'M

EXCITED.

IF I DON'T GET IT RIGHT, I A

NOT HAPPY.

I DID DO THREE-DIMENSIONAL

THINGS, YOUNGER.

BUT I DID AWAY WITH IT BECAUSE I

FELT THAT THE LANGUAGE O

PAINTING WAS A FLAT CANVAS

IT WAS NOT PHOTOGRAPHY

IT IS NOT REALISTIC.

IT IS JUST A FLAT PLANE YOU AR

WORKING ON

THAT FLAT PLANE HAS A LANGUAGE

OF ITS OWN

AND YOU DON'T NEED TO HAVE

PERSPECTIVE.

IT'S NOT JUST FLAT

IT IS FLATLY PAINTED, BUT IT'S

ALIVE IN ANOTHER WAY

AND IT'S A LANGUAGE WHICH

LEARNED OVER MANY, MANY YEARS.

AND IT'S A LANGUAGE THAT WAS

VERY EVIDENT IN SOME OF TH

GREAT CULTURES OF THE PAST

BECAUSE IF YOU LOOK AT THEIR

WORK, IT'S FLAT.

BUT YET YOU LOOK AT IT AND YOU

ADMIRE IT A GREAT DEAL

YOU LOOK AT THE GREAT SYRIAN

SCULPTURES, FLAT AS A PANCAKE.

THE WORD PANCAKE YOU CAN USE

BUT IT'S STRUCTURALLY POWERFUL

THIS IS A SERIES OF IMAGES THA

I DID WHEN MY FAMILY WAS

DISAPPEARING

EVERYBODY WAS DYING AND THE ONLY

ONE LEFT WAS MY SISTER, EVA.

AND I SAW HOW FRAGILE THINGS

WERE

AND I WANTED TO REMEMBER WHA

TOOK PLACE WHILE I LIVED THERE

AND THIS IS A KITCHEN SCENE OF

MY FATHER SEATED HERE WITH THE

PARROT AND MY MOTHER AND M

OTHER SISTER HERE.

AND MY SISTER IN THE BACKGROUND,

WHO IS ENVISIONING THIS FAMILY

IS NO LONGER ALIVE

BUT SHE SORT OF SEES THEM.

HERE I AM IN LATER PERIOD.

HERE I AM AS A YOUNG MAN

I WAS VERY TALL, BY THE WAY.

AND MY FATHER ASLEEP HERE.

SO, THE FEELING OF THE ROOM AN

MY THOUGHTS AS I MADE TH

PAINTING

HERE I AM AS A YOUNG MAN

SKETCHING HER.

SO, IT'S SOMETHING VER

DIFFERENT.

IT'S UNUSUAL

IT'S ALMOST LIKE A PART IN A

MOVIE.

THIS IS, TO ME, ONE OF M

FAVORITE PAINTINGS OF MY WIF

AND DAUGHTER

AND IF YOU STUDY THIS, IT'

ABSTRACT, THE WAY IT'S DESIGNED.

THE VERTICALITY OF THE FIGURE,

WHICH GIVES YOU A SENSE OF

HEIGHT AND MOVEMENT.

THE HAIR FALLS DOWN.

IT'S LIKE A WEIGHT DROPPING DOWN

AND IT RELATES TO THE FIGURE

BUT IT ALSO HAS A FORM OF IT

OWN.

TO ME, TO BE ABLE TO USE A BRUSH

ON A CANVAS, IT'S A VERY

WONDERFUL DAY, AND I'M LUCKY

THAT WAY

>>> "NYC ARTS" ISN'T ONL

AVAILABLE ON THURSDAY, BUT ALS

ON THE WEB

VISIT OUR WEBSITE BY LOGGING

ONTO NYC-ARTS.ORG, WHERE YOU CAN

WATCH CLIPS AND LEARN MORE ABOUT

INSTITUTIONS AND EVENTS FEATURED

ON THIS SHOW

>> I'M SARAH TOLLES.

I'M CURATOR IN THE AMERICAN WING

AT THE METROPOLITAN MUSEUM O

ART AND WE'RE STANDING IN TH

NEW AMERICAN WING GALLERIES.

26 NEW SPACES DEVOTED TO ART

FROM THE 18th CENTURY THROUG

THE EARLY 19th CENTURY

I'M HERE TODAY TO TALK ABOUT

AUGUSTUS SAINT-GAUDENS, WHO IS

ARGUABLY THE GREATEST AMERICAN

SCULPTOR OF THE LATE 19t

CENTURY.

THE METROPOLITAN HAS 50 WORKS BY

SAINT-GAUDENS, AND WE'RE VER

FORTUNATE TO BE ABLE TO PRESEN

HIS WORK IN SUCH A COMPREHENSIVE

WAY, FROM EARLY CAMEO PORTRAIT

TO LOW RELIEF PORTRAITS OF HIS

FRIENDS AND FELLOW ARTISTS, TO

MODELS FOR AND REDUCTIONS AFTE

HIS GREAT CIVIL WAR MONUMENTS.

SAINT-GAUDENS WAS BORN I

IRELAND, BUT CAME HERE TO NE

YORK AS AN INFANT AND WAS RAISED

ON THE LOWER EAST SIDE

HE BEGAN, AT AGE 13, WORKING A

AN APPRENTICE FOR

CAMEO-CUTTER, AND THAT REALL

FUELED HIS INTEREST IN BECOMIN

A SCULPTOR

IN 1867, HE WENT ABROAD TO PARIS

TO STUDY AND TRAINED AT TH

ECOLE DES BEAUX-ARTS, WHICH WA

REALLY THE FOREMOST TRAINING

GROUND FOR STUDENTS ACROSS THE

WORLD AT THAT TIME

SAINT-GAUDENS ALSO STUDIED I

ROME

HE CAME BACK TO NEW YORK AND

ESTABLISHED A CAREER AS

SCULPTOR OF GREAT CIVIL WA

MONUMENTS.

SOME OF THE BEST KNOWN WORKS I

NEW YORK ARE THE "FARRAGUT

MONUMENT" IN MADISON SQUAR

PARK, AND THE GREAT GILDED

EQUESTRIAN STATUE OF GENERAL

SHERMAN AT 59th STREET AND 5th

AVENUE IN A SPACE CALLED GRAND

ARMY PLAZA

IN 1892, AFTER SHERMAN DIED,

SAINT-GAUDENS RECEIVED A

COMMISSION FOR A MONUMENT TO

HONOR HIS CONTRIBUTIONS TO THE

UNION CAUSE.

SAINT-GAUDENS INCORPORATED A

ALLEGORICAL FIGURE INTO

REALISTIC PORTRAIT OF THE PERSON

WHO WAS BEING COMMEMORATED

SO WHILE GENERAL SHERMAN I

MARCHING ALONG ON HORSEBACK, THE

WINGED FIGURE OF VICTORY I

LEADING HIM ON

SHE'S MOVING FORWARD WITH THES

WIND-BLOWN DRAPERIES

SHE HOLDS THE PALM FROND IN HE

HAND, WHICH IS A SYMBOL OF

VICTORY, AND SHE IS REALLY QUITE

AMERICAN IN A SENSE.

SAINT-GAUDENS WORKED WIT

SEVERAL DIFFERENT MODELS T

CREATE THIS SCULPTURE.

GENERALLY, THIS WAS A PROCES

THAT WAS KIND OF AN AMALGAMATION

OF POSES

MOST INTERESTING IS THE FACT

THAT ONE OF THE MODELS WAS A

WOMAN NAMED HETTIE ANDERSON, WHO

WAS AN AFRICAN-AMERICAN WOMA

FROM SOUTH CAROLINA, AND

SAINT-GAUDENS WORKED WITH HE

FREQUENTLY AND SAID SHE HAD

FIGURE LIKE A GODDESS.

SAINT-GAUDENS WAS A REAL

PERFECTIONIST.

IN THE CASE OF THE "VICTORY," HE

ARRANGED DRAPERIES O

FOUR DIFFERENT MODELS AND IT

TOOK HIM SOMETHING LIKE TW

WEEKS TO GET THE LOOK HE WAS

AFTER.

AND WHEN HE FINISHED THE FIGURE,

HE WROTE, "HURRAY, IT'S TH

GREATEST VICTORY ANYONE EVER

MADE."

HERE I AM IN FRONT OF ONE OF OUR

MOST RECENT SCULPTUR

ACQUISITIONS, SAINT-GAUDENS'

"STANDING LINCOLN.

THIS IS A REALLY EXCITING PIEC

FOR OUR COLLECTION, BECAUS

DESPITE THE COMPREHENSIVENESS OF

THE COLLECTION, WE HAD N

SCULPTURES REPRESENTING THIS

GREAT COMMISSION THAT HE DID FOR

THE CITY OF CHICAGO.

SAINT-GAUDENS WAS COMMISSIONED

TO COMPLETE A FULL-LENGT

PORTRAIT OF ABRAHAM LINCOLN IN

1883, AND IT WAS UNVEILED IN

LINCOLN PARK IN CHICAGO IN 1887.

FOR SAINT-GAUDENS' PORTRAIT OF

LINCOLN, HE RELIED ON A NUMBER

OF DIFFERENT SOURCES, BUT VERY

INTERESTINGLY, HE HAD FIRST-HAND

EXPERIENCE WITH LINCOLN BECAUS

HE GREW UP IN NEW YORK CITY AN

SAW LINCOLN WHEN HE CAME TO NE

YORK IN 1861 ON HIS WAY TO

WASHINGTON TO ASSUME THE

PRESIDENCY

LATER, SAINT-GAUDENS WAS ONE O

THOUSANDS OF PEOPLE WHO WENT

THROUGH A LINE AT CITY HALL TO

SEE THE SLAIN PRESIDENT LYIN

IN-STATE IN APRIL OF 1865.

SO, HE SAID THAT THESE TWO TIMES

THAT HE SAW LINCOLN REALLY

FORMED HIS IMPRESSION OF "TH

GREAT MAN," AS HE CALLED HIM

SAINT-GAUDENS ALSO READ HI

SPEECHES AND WRITINGS AN

REFERENCED PHOTOGRAPHS THAT WERE

TAKEN OF LINCOLN DURING TH

CIVIL WAR, BUT A VER

INTERESTING OPPORTUNITY AROS

FOR HIM IN 1885 WHEN AN ARTIST

FRIEND OF HIS SHOWED

SAINT-GAUDENS PLASTER MODELS O

LINCOLN'S FACE AND HANDS

AND THESE WERE MODELS THAT HIS

FATHER, THE SCULPTOR LEONARD

VOLK, HAD TAKEN FROM LIFE WHEN

LINCOLN WAS RUNNING FO

PRESIDENT IN THE SPRING OF 1860.

SO, SAINT-GAUDENS WAS ABLE T

USE THE LIFE MASK AS WELL AS THE

MODELS OF THE HANDS TO

INCORPORATE INTO HIS SCULPTURE

HERE'S LINCOLN IN A TRANSITIONAL

MOMENT

WE CAN PRESUME HE'S JUST STOOD

UP FROM THIS OVERSIZED CHAIR O

STATE, WITH AN EAGLE EMBLAZONE

ON ITS CREST RAIL.

AND HE IS IN THIS MOMENT O

CONTEMPLATION WHERE WE PRESUME

HE'S ABOUT TO LIFT HIS HEAD TO

ADDRESS THE AUDIENCE IN FRONT OF

HIM AND SAY SOMETHING MEANINGFUL

AND SERIOUS AND PROFOUND

AND SAINT-GAUDENS CAPTURES THE

PENSIVENESS AND THE SOLEMNITY OF

THE MOMENT AND THE BURDEN THAT

LINCOLN FELT DURING THIS GREAT

WAR.

SAINT-GAUDENS WAS KNOWN FOR HI

ATTENTION TO NATURALISTI

DETAIL, NOT ONLY TO GETTING AN

ACCURATE PORTRAIT, FACIA

REPRESENTATION, BUT ALWAYS

THINKING OF LITTLE WAYS TO

ENLIVEN THE COMPOSITIONS, TO

MAKE THEM MORE INTERESTING

WHETHER IT'S ATTENTION T

TEXTURAL DETAIL OR JUST LITTLE

NARRATIVE DETAILS THAT REALL

BRING THE PIECES ALIVE

I'M SARAH TOLLES, CURATOR IN THE

AMERICAN WING AT THE

METROPOLITAN MUSEUM.

AND I HOPE YOU'LL COME AND VISIT

OUR GALLERIES AND PAY SPECIA

ATTENTION TO THE INSTALLATION OF

OUR SCULPTURE COLLECTION

>>> WE HOPE YOU'VE ENJOYED OUR

PRESENTATION THIS EVENING.

IT'S BEEN OUR PLEASURE TO HAVE

BEEN YOUR GUIDE TO THE BEST IN

ARTS AND CULTURE IN OUR AREA

FROM THE TISCH WNET STUDIOS AT

LINCOLN CENTER, I'

PHILIPPE DE MONTEBELLO

>> AND I'M PAULA ZAHN.

THANKS SO MUCH FOR WATCHING AN

PLEASE JOIN US NEXT TIME

>>> NEXT WEEK ON "NYC ARTS" --

AN INTERVIEW WITH GLENN ADAMSON,

THE DIRECTOR OF THE MUSEUM O

ARTS AND DESIGN.

>> I THINK VISITORS WILL BE MOST

IMPRESSED BY THE VARIETY OF WHAT

THEY SEE

SO THERE ARE MUSICAL

ININSTRUMENTS, CERAMICS, SCULP

SURE, PAINTING, THERE'

TECHNOLOGY

THERE'S FASHION.

WE HAVE PEOPLE THAT WORK FOR THE

STAGE.

FOR EXAMPLE, BEHIND THE STAGE AT

THE METROPOLITAN OPERA

SO EVERY KIND OF MAKING THAT W

COULD FIND REALLY.

>> AND A VISIT TO THE HISTORIC

ALICE AUSTEN HOUSE IN STATEN

ISLAND

>> EARLY AMERICAN PHOTOGRAPHER

DIDN'T JUST WORK IN THE STUDIO

SHE DID DOCUMENT HER HOME AN

HER FAMILY AND FRIENDS, BUT SH

ALSO WENT OUT ONTO THE STREETS

AND SHE REALLY CAPTURED

CHANGING STATEN ISLAND AND A

CHANGING NEW YORK CITY

>>> FUNDING FOR "NYC ARTS" I

MADE POSSIBLE BY -

ROSALIND P. WALTER

ELISE JAFFE AND JEFFREY BROWN,

JODY AND JOHN ARNHOLD,

THE MILTON AND SALLY AVERY ART

FOUNDATION

AND ELROY AND TERRY KRUMHOLZ

FOUNDATION

THIS PROGRAM IS SUPPORTED, I

PART, BY PUBLIC FUNDS FROM THE

NEW YORK CITY DEPARTMENT O

CULTURAL AFFAIRS, IN PARTNERSHIP

WITH THE CITY COUNCIL.

ADDITIONAL FUNDING PROVIDED BY

MEMBERS OF THIRTEEN.

"NYC ARTS" IS MADE POSSIBLE, I

PART, BY FIRST REPUBLIC BANK

>> FLEXIBILITY, COORDINATION

EXCELLENCE

FIRST REPUBLIC PRIVATE WEALT

MANAGEMENT, IT'S A PRIVILEGE T

SERVE YOU.