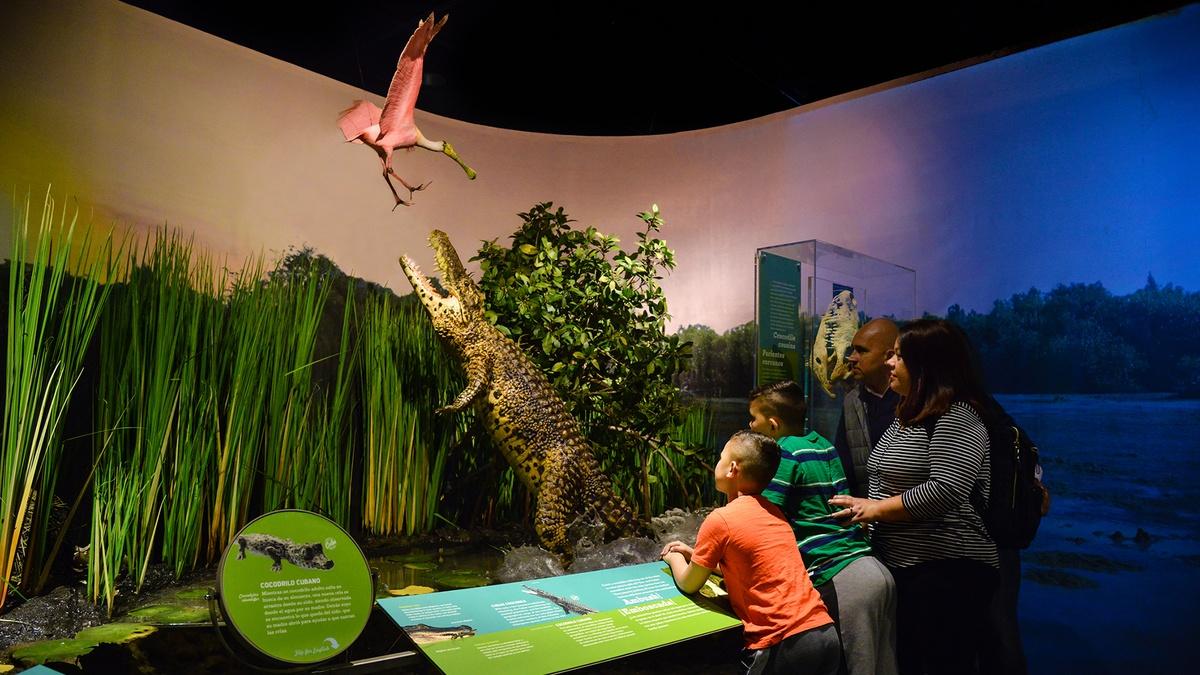 S2017 E87 | FULL EPISODE
NYC-ARTS Full Episode: April 6, 2017
A profile of the Broadway Dance Lab, a think tank for choreographers. And a visit to the Cuba exhibition at the American Museum of Natural History.
TRANSCRIPT

♪

>>> COMING UP ON NYC-ARTS, A

PROFILE OF THE BROADWAY DANCE

LAB, A THINK TANK FOR DANCE.

>> WE PROVIDE SPACE FOR CORE OG

RAFRS AND A DANCE COMPANY FOR

CORE OG RAFRS SO ALL A DANCER

HAS TO DO IS WALK IN AND BEGIN.

FIRST THING IS A BRAID, AFTER

SETS AND WE GO --

>> AND A VISIT TO THE CUBA

EXHIBITION AT THE AMERICAN

MUSEUM OF NATURAL HISTORY.

>> WE FELT WE WERE IDEALLY

POSITIONED TO GO BEYOND THE

HEADLINES, BEYOND WHAT YOU MIGHT

ALREADY KNOW ABOUT CUBA AND

DELVE DEEPER AND LEARN MORE

ABOUT CUBAN NATURE AND CULTURE

TO GET A FULLER PICTURE.

>>> FUNDING FOR NYC-ARTS IS MADE

POSSIBLE BY ROSS LIND P. WALTER,

KATE W. CASSIDY FOUNDATION, JEAN

DUBINSKY APPLETON ESTATE, JODIE

AND JOHN ARNHOLD, ELLEN AND

JAMES S. MARCUS, THE LEWIS

"SONNY" TURNER FUND FOR DANCE,

ELISE JAFFE AND JEFFREY BROWN,

THE MILTON AND SALLY AVERY ARTS

FOUNDATION, AND ELROY AND TERRY

KRUMHOLZ FOUNDATION.

THIS PROGRAM IS SUPPORTED IN

PART BY PUBLIC FUNDS FROM THE

NEW YORK CITY DEPARTMENT OF

CULTURAL AFFAIRS IN PARTNERSHIP

WITH THE CITY COUNCIL.

ADDITIONAL FUNDING PROVIDED BY

MEMBERS OF THIRTEEN.

NYC-ARTS IS MADE POSSIBLE IN

PART BY FIRST REPUBLIC BANK.

♪

>> FLEXIBILITY.

COORDINATION.

EXCELLENCE.

FIRST REPUBLIC PRIVATE WEALTH

MANAGEMENT, IT'S A PRIVILEGE TO

SERVE YOU.

>>> AND BY SWAN AUCTION

GALLERIES.

>> SWAN AUCTION GALLERIES, WE

HAVE A DIFFERENT WAY OF LOOKING

AT AUCTIONS, OFFERING VINTAGE

BOOKS AND FINE ARTS SINCE 1941.

WHETHER YOU ARE A LIFELONG

COLLECTOR, FIRST TIME BUYER OR

LOOKING TO SELL, INFORMATION AT

SWANGALLERIES.com.

♪

♪

♪

>>> GOOD EVENING AND WELCOME TO

NYC-ARTS.

I'M PAULA ZAHN AS THE TISCH WNET

STUDIOS AND LINCOLN CENTER.

TONIGHT WE WILL LOOK AT THE

CHALLENGE ALSO OF MAKING IT IN

NEW YORK CITY, THE ARTS CAPITAL

OF THE WORLD.

ALL REQUIRES TREMENDOUS WORK TO

ADVANCE AND MATURE.

A WRITER DOESN'T NEED MUCH MORE

THAN A PAPER AND PEN.

A MUSICIAN, JUST A PLACE TO

PRACTICE.

A PAINTER NEEDS CANVAS, BRUSHES

AND PAINT.

HOWEVER, A CHOREOGRAPHER CAN'T

WORK IN STUDIO.

BROADWAY DANCE LAB WAS CREATED

AS A PLACE FOR DANCE MAKERS TO

TEST NEW IDEAS AND WORK IN

DIFFERENT STYLES.

IT IS KIND OF A DANCE THINK TANK

THAT OFFERS CHOREOGRAPHERS A

PLACE TO WORK AND A COMPANY OF

PROFESSIONAL DANCERS FOR FREE,

AND WITHOUT THE PRESSURE TO

DELIVER A COMMISSIONED

PERFORMANCE.

IT WAS FOUNDED BY BROADWAY

CHOREOGRAPHER JOSH PRINCE.

♪

♪

>>> CURRENTLY THERE ARE NO OTHER

PLACES IN NEW YORK CITY THAT

EXIST LIKE BROADWAY DANCE LAB.

WE PROVIDE SPACE FOR

CHOREOGRAPHERS AND A DANCE

COMPANY TO A CHOREOGRAPHER SO

ALL HE HAS TO DO IS WALK IN THE

ROOM AND BEGIN.

♪

>>> WE DO NOT PLACE DEMANDS IN

THE LAB ON WHAT YOU ARE TO WORK

ON, WHAT YOU ARE TO EXPLORE.

IT IS TRULY A CREATIVE PLACE FOR

YOU AS A CHOREOGRAPHER TO COME

IN WITH THE BEST TOOLS AT YOUR

DISPOSAL AND JUST START, JUST

PLAY, FOLLOW YOUR IMPULSES IF

THAT'S WHAT YOU FEEL LIKE DOING

AND SEEING WHERE THAT LEADS, OR

COMING IN WITH A PREPLANNED IDEA

AND SEEING IF IT WORKS.

SO THAT THEY HAVE NO CONCERN

WHATSOEVER BUT THE ARTISTIC

PROCESS.

I AS AN ARTISTIC DIRECTOR DO NOT

DICTATE WHAT A CHOREOGRAPHER

WORKS ON.

I COULD REACH OUT TO MARCELLO GO

MEZ FROM THE VALLEY WORLD AND HE

COULD COME IN AND WANT TO DO

SOMETHING HIP-HOP.

I KNOW THAT SOUNDS SOMEWHAT

OUTRAGEOUS TO SOME PEOPLE, BUT

THIS IS THE FREEDOM WE ARE

LOOKING TO OFFER OUR ARTISTIC

COMMUNITY.

♪

>> THIS WAS REALLY FOR ME AN

INCREDIBLE INVITATION TO SAY,

HEY, WE ARE GIVING YOU THE

STUDIO FOR FOUR HOURS EACH DAY,

AND YOU CAN CREATE WHATEVER YOU

WANT.

AND IT IS FINE IF YOU DON'T SHOW

SOMETHING AND IT IS FINE IF YOU

DO SHOW A LITTLE PIECE OF IT, IF

YOU WANT TO JUST TALK TO YOUR

DANCERS YOU CAN.

AND TO HAVE THAT BLANK CANVAS,

YOU ARE ABLE TO BE MUCH MORE

CREATIVE.

>> IT IS NOT EASY BEING A

WELL-KNOWN DANCER AND BECOMING A

CHOREOGRAPHER AFTER.

IT IS DEFINITELY VERY HARD,

BECAUSE I THINK THAT THE

EXPECTATIONS ARE VERY HIGH.

I THINK PEOPLE COME TO SEE ME IN

A PERFORMANCE, EXPECT THE SAME

KIND OF LEVEL OF MY

CHOREOGRAPHY, AND I AM FINDING

MY VOICE.

I AM FINDING MY VOCABULARY.

I AM EXPERIMENTING, AND THIS IS

WHAT BROADWAY DANCE LAB HAS

GIVEN ME.

♪ WAIT AND SEE

♪ WE MIGHT GET TOGETHER

♪ THAT WOULD BE

♪ MY LUCKY DAY, YEAH

♪ COME BY ME

>> BROADWAY DANCE LAB IS THE

ONLY PLACE THAT EMPLOYS DANCERS

AT COMPETITIVE SALARY TO RETAIN

THEIR SERVICES AND GIVE THEM

INSURANCE.

IF A DANCER IS INJURED, THAT CAN

BE A COSTLY THING FOR THEM.

THEY HAVE DOCTOR'S APPOINTMENTS

AND PHYSICAL THERAPISTS, AND

RECUPERATION CAN BE VERY, VERY

EXPENSIVE FOR THEM.

SO IF I'M A CHOREOGRAPHER IN A

ROOM WITH MY DANCERS AND I KNOW

THEY DON'T HAVE WORKMAN'S COMP

INSURANCE, AM I GOING TO ASK

THEM TO TRY SOMETHING THAT MIGHT

BE A LITTLE BIT DANGEROUS?

MY PHILOSOPHY IS WE SECURE THESE

DANCERS WITH COMPETITIVE

SALARIES AND INSURANCE IN ORDER

TO ALLOW THEM TO FEEL THE

FREEDOM TO TRY ANYTHING.

♪

>>> I DON'T THINK IT CAN BE

UNDERESTIMATED, THE EFFECT THAT

WORKING WITH ALL OF THESE

MULTIPLE CHOREOGRAPHERS HAS ON

THE DANCE COMPANY ITSELF.

AND THAT COMPANY OF YOUNG

DANCERS, SO ONE WEEK THEY HAVE

MARCELLO GOMEZ, NEXT WEEK

WORKING WITH A TONY AWARD WINNER

WHO MAY COME IN AND WORK ON

PREPRODUCTION FOR A NEW MUSICAL

HE IS DEVELOPING.

♪

>>> WORKING WITH CAMILLE BROWN

WHO MAY WISH TO DO AS MANY

TWO-MINUTE SEQUENCES AS SHE

POSSIBLY CAN, AND ALL OF THESE

DANCERS ARE HIRED SO THAT THEY

CAN DO AS MUCH OF THAT AS

POSSIBLE AND PROVIDE AS MUCH OF

THAT FOR EACH CHOREOGRAPHER AS

POSSIBLE.

♪

>>> I FOR ONE HAVE SEEN THE

DANCE WORLD AROUND ME BE VERY

SEGREGATED.

YOU ARE EITHER A BROADWAY

CHOREOGRAPHER OR A MODERN

CHOREOGRAPHER OR A BALLET

CHOREOGRAPHER.

BY GATHERING TOGETHER THE DANCE

COMMUNITY AT LARGE, THAT WE CAN

STRENGTHEN THE PRODUCTS WE SEE

ON THE STAGE.

>> THINK THAT AS DANCERS WE

TRAIN OUR BODIES TO OVER THE

YEARS, MANY, MANY YEARS, TO BE

ABLE TO DO THAT CERTAIN STEP OR

TO BE ABLE TO BE THE PERFECT

JULIETTE OR THE PERFECT SWAN

QUEEN.

I THINK YOU NEED TIME AS WELL TO

DEVELOP YOURSELF AS A

CHOREOGRAPHER.

>> THE FIRST THING IS THE BRAID.

THEN AFTER SET ANEW AND THEN WE

GO --

>> YOU DON'T KNOW WHAT THE

FUTURE HOLDS.

YOU CREATE SOMETHING YOU ARE

FIELDING IN THE MOMENT.

IN THIS CASE I WANTED TO MAKE

THE STORY.

PROGRAMS IT COULD BECOME A PLAY,

IT COULD BECOME A MUSICAL, IT

COULD STAY AS A BALLET.

♪

>> BUT WHAT I KNOW IS THAT WE

WERE ALL INVESTED FOR THOSE

HOURS, BEING CREATIVE IN THE

STUDIO, AND THAT'S REALLY WHAT I

WISH PEOPLE WOULD SEE MORE IN

OUR ART FORM.

♪

>> THE PROCESS OF THOSE MAYBE

ONE OR TWO DANCES HAVE PUSHED

THEMSELVES TO SUCH LIMITS THAT

THEY DIDN'T KNOW THAT THEY COULD

DO.

THAT IS REALLY AN INCREDIBLE

POINT THAT I THINK THAT BROADWAY

DANCE LAB HAS DONE.

OF COURSE, IT IS NICE IF

SOMETHING HAS A FUTURE.

OF COURSE, SOMEBODY, IF THEY SEE

IT AND THEY LIKE IT, BUT IT IS

ALSO OKAY IF IT IS NOT BECAUSE I

KNOW THAT DANCES AND I HAVE DONE

SOMETHING AND WE HAVE WORKED

TOWARDS SOMETHING.

>> I CANNOT TELL ANYONE WHERE WE

WILL BE IN TEN YEARS, BUT THE

ARTS COMMUNITY FROM THE BALLET

WORLD TO THE BROADWAY WORLD NEED

A PLACE LIKE THIS.

SO IT IS MY FIRM BELIEF THAT ALL

IT TAKES IS THE AWARENESS THAT

IT IS HERE NOW, THAT WE'RE HERE

TO STAY, THAT WE NEED YOUR

SUPPORT, AND IT WILL FIND ITS

WAY.

♪

>>> HELLO, I'M RAPHAEL P. ROMAN

AND WELCOME TO THIS WEEK IN

LINCOLN CENTER.

NOTICE WHEN THE THEATER IS

OVERFLOWING WITH BEST IN MUSIC,

DANCE, OPERA, DRAMA AND FILM

FROM AROUND THE WORLD, IT IS

TRULY THE INTERNATIONAL

CROSSROADS OF ARTS AND CULTURE.

LATER THIS MONTH THE JAZZ AT

LINCOLN CENTER ORCHESTRA WILL

CELEBRATE THE CENTENNIAL OF ELLA

FITZGERALD WHOSE INFLUENCE

DEFINES A CLASSIC ERA OF JAZZ.

FROM APRIL RAUL CASTRO 27-29,

VETERAN VOCALISTS WILL BE

JOINING THE ORCHESTRA FOR A

SERIES OF CONCERTS TITLED

"CELEBRATING ELLA, THE FIRST

ALLIED OF JAZZ."

♪ COME ON

♪ BLOW FOR ME

>>> THEN ON JUNE 7 AND 8,

MICHAEL FEINSTEIN WILL BRING

TOGETHER THE FINEST VOICES FROM

JAZZ AND BROADWAY TO PAY TRIBUTE

TO ELLA AS THE ULTIMATE

PRESENTER OF AMERICAN POPULAR

SONG.

FOR COMPLETE DETAILS VISIT

JAZZ.org.

♪ THAT COTTON TAIL

>>> AND FOR EVEN MORE

INFORMATION ABOUT EVENTS AT

LINCOLN CENTER VISIT THEIR

WEBSITE AT LINCOLNCENTER.org.

♪

>>> NEXT, WE TAKE A TRIP TO CUBA

THROUGH THE AMERICAN MUSEUM OF

NATURAL HISTORY ON CENTRAL PARK

WEST.

IN LIGHT OF THE RECENT CHANGES

IN RELATIONS BETWEEN THE UNITED

STATES AND CUBA AS WELL AS THE

DEATH OF FIDEL CASTRO, THERE'S

RENEWED INTEREST IN THE REGION.

JUST 94 MILES FROM FLORIDA'S

SHORE, CUBA IS THE LARGEST

ISLAND NATION IN THE CARIBBEAN.

IT IS HOME TO MANY PLANTS AND

ANIMALS FOUND ONLY ON THE

ISLAND.

IT IS ALSO HOME TO 11 MILLION

PEOPLE.

THE MUSEUM'S BILINGUAL

EXHIBITION FOCUSES ON CUBA'S

NATIVE SPECIES, DIVERSE

ECOSYSTEMS AND UNIQUE GEOLOGY.

BUT IT ALSO HIGHLIGHTS CUBA'S

TRADITION, ARTS AND CULTURE, AS

WELL AS THE VOICES OF ITS

PEOPLE.

NOW LET'S EXPLORE THIS

FASCINATING DESTINATION.

♪

♪

>>> WE WANTED VISITORS WHO CAME

TO THIS EXHIBITION TO LEAVE WITH

A BETTER UNDERSTANDING OF FOUR

KEY ASPECTS OF CUBA.

WHO THE CUBAN PEOPLE ARE.

HOW CUBA IS BIOLOGICALLY UNIQUE.

HOW IT HAS BEEN CONNECTED TO THE

REST OF THE WORLD THROUGHOUT ITS

HISTORY, AND HOW IT IS CHANGING

TODAY.

WE FELT IT WAS THE IDEAL MOMENT

TO GO BEYOND THE HEADLINES,

BEYOND WHAT YOU MIGHT ALREADY

KNOW ABOUT CUBA AND DELVE DEEPER

AND LEARN MORE ABOUT CUBAN

NATURE AND CULTURE TO GET A

FULLER PICTURE.

AND WE FELT WE WERE IDEALLY

POSITIONED TO DO THAT GIVEN OUR

EXPERTISE IN CUBAN BIOLOGY AND

CULTURE, BUT ALSO BECAUSE OF OUR

LONG RELATIONSHIP WORKING WITH

CUBA.

MANY PEOPLE MAY NOT BE AWARE OF

HOW UNIQUE CUBA IS BIOLOGICALLY.

TO BEGIN WITH, IT IS A LARGE

ISLAND FOR CARIBBEAN STANDARDS,

WAY LARGER THAN ANYTHING ELSE IN

THE CARIBBEAN.

IT HAS BEEN ISOLATED EVER SINCE

ITS FORMATION AND IT HAS VERY

DIVERSE KIND OF SOILS AND

ENVIRONMENTS AND TOPOGRAPHY, AND

WITH THAT YOU GET THIS REALLY

EXTRAORDINARY AND UNIQUE SET OF

SPECIES ON THE ISLAND.

SOME OF THE SPECIES YOU FIND IN

CUBA ARE FOUND NOWHERE ELSE.

95% OF THE FROGS, 98% OF THE

LAND SNAILS, NOWHERE ELSE.

IT IS LIKE THE KEY PIECE OF THE

PUZZLE IF YOU WANT TO UNDERSTAND

HOW ALL OF LIFE IN THE CARIBBEAN

EVOLVED.

CUBA HAS DONE A REMARKABLE JOB

IN TERMS OF SETTING ASIDE

PROTECTED AREAS OF MULTIPLE

CATEGORIES.

WE HAVE FOUR MAIN TYPES OF ECO

SYSTEMS REPRESENTED IN THE

EXHIBITION.

CAVES, WHICH ARE VERY ABUNDANT

IN CUBA.

THEY PROVIDE A GLIMPSE INTO THE

PAST OF CUBA AND PROVIDED AN

OPPORTUNITY TO FEATURE, FOR

EXAMPLE, REMARKABLE EXTINCT

ANIMAL ALSO THAT USED TO LIVE IN

CUBA THAT FOLKS MAY NOT KNOW

ABOUT LIKE THE EXTINCT GIANT

CUBAN OWL THAT WAS VERY LARGE,

THE LARGEST OWL THAT EVER LIVED.

WE ALSO FEATURE FORESTS THROUGH

HUMBLE NATIONAL PARK, THE

LARGEST AREA OF CONTIGUOUS

FOREST IN THE CARIBBEAN.

IT ALSO HAS A DIVERSE CITY OF

LANDSCAPE, ALL THE WAY FROM SEA

LEVEL AND COAST ALL THE WAY TO

THE MOUNTAINS.

A LOT OF SPECIES THAT ARE FOUND

ONLY THERE.

WE ARE FEATURING SOME WONDERFUL

LIVE SPECIMENS IN THE

EXHIBITION, ESPECIALLY FROGS,

SNAKES AND LIZARDS.

WE FEATURE CORAL REEFS OF CUBA

THROUGH A DIORAMA OF THE GUARD

ENLS OF THE QUEENS, THE MARINE

LIFE AROUND CUBA IS ONE AND THE

SAME WITH THE MARINE LIFE WE

HAVE IN THE GULF OF MEXICO AND

FLORIDA.

IT IS VERY IMPORTANT TO

UNDERSTAND THOSE CONNECTIONS.

THEY CAN ACTUALLY BE A CRUCIAL

PART OF CONSERVATION STRATEGIES

MOVING FORWARD.

WE FEATURE THE WETLANDS OF CUBA

THROUGH THIS DIORAMA OF THE PATA

WETLANDS.

WE HAVE RECREATED A CUBAN

CROCODILE IN THE ACT OF TRYING

TO HUNT.

CUBAN CROCODILES ARE FASCINATING

BECAUSE THEY'RE THE MOST

ENDANGERED CROCODILE SPECIES IN

THE WORLD.

THEY HAVE THE SMALLEST

POPULATION AND THE SMALLEST

GEOGRAPHIC DISTRIBUTION.

CUBAN CROCODILES ARE KNOWN FOR

LEAPING OUT OF THE WATER

VERTICALLY ALMOST TO HUNT.

EARLY ON WE DECIDED WE HAD TO

INCLUDE BOTH THE NATURE, THE

BIODIVERSITY COMPONENTS AND THE

CULTURAL COMPONENTS.

ON THE CULTURAL SIDE, WE FEATURE

TOBACCO CULTIVATION AND

AGRICULTURE.

WE FEATURE AFRO CUBAN RELIGION,

AND WE FEATURE CUBAN ART.

WHAT WE DECIDED TO DO WAS THE

ROOM THAT IS A BIT LIKE A

GALLERY, AND WE HAVE AN

INTERACTIVE TABLE WHERE VISITORS

CAN PICK DIFFERENT ARTISTS AND

ON THE WALLS.

AND ON THE SIDES OF THIS GALLERY

WE HAVE A WONDERFUL COLLECTION

OF -- I THINK IT IS 30 POSTERS

MADE BY YOUNG CUBAN ARTISTS IN

THE LAST TEN YEARS THAT REALLY

TELL YOU A LOT ABOUT THE

VIBRANCY OF THE CULTURAL LIFE IN

CUBA TODAY.

IT WAS IMPORTANT TO US THAT

CUBANS THEMSELVES WOULD HAVE A

VOICE IN THIS EXHIBITION.

WE DIDN'T WANT TO BE SPEAKING

FOR THEM, AND SO IN ADDITION TO

COLLABORATING WITH CUBAN

SCIENTISTS ON THE CONTENT OF THE

DIORAMAS, WE ALSO WORKED WITH A

PHOTO JOURNALIST, LAWRENCE

MATEO, WHO WENT TO CUBA AND TOOK

WONDERFUL FOOTAGE AND PHOTOS AND

INTERVIEWS OF CUBANS FROM ALL

WALKS OF LIFE.

AND SO AS YOU WALK INTO THE

EXHIBITION YOU WILL MEET THEM,

YOU WILL HEAR FROM THEM, AND ALL

OF THEIR DIVERSE OPINIONS AND

VOICES REALLY ON WHAT IT MEANS

TO BE CUBAN, WHAT IS CUBA TO

THEM.

AT THE END OF THE EXHIBITION,

WHAT ARE THEIR FEARS AND HOPES

AND REALLY A DREAM FOR THE

FUTURE.

♪

♪

>>> NYC-ARTS ISN'T JUST

AVAILABLE ON THURSDAYS.

YOU CAN ALSO FIND IT ON THE WEB.

PLEASE VISIT OUR WEBSITE AT

NYC-ARTS.org WHERE YOU CAN WATCH

CLIPS AND LEARN MORE ABOUT

INSTITUTIONS AND EVENTS FEATURED

ON OUR SHOW.

FOR MORE INFORMATION IN ARTS AND

CULTURE, HERE IS CHRISTINA HA

WITH THE NYC-ARTS NEWS.

♪

>> GOOD EVENING, I'M CHRISTINA

HA WITH TONIGHT'S NYC-ARTS NEWS.

WE ARE AT THE BROOKLYN MUSEUM,

ONE OF THE LARGEST AND MOST

COMPREHENSIVE MUSEUMS IN THE

COUNTRY.

CURRENTLY ON VIEW HERE IS

GEORGIA O'KEEFFE, LIVING MODERN,

A REEXAMINATION OF O'KEEFE'S

LIFE AND WORK.

THE EXHIBITION IS PART OF A YEAR

OF YES, REIMAGING FEMINISM AT

THE BROOKLYN MUSEUM.

A YEAR-LONG CELEBRATION OF THE

TEN-YEAR ANNIVERSARY OF THE

ELIZABETH A. SACKLER CENTER FOR

FEMINIST ART.

THE CENTER PIECE OF THIS 8300

SQUARE FOOT SPACE IS JUDY

CHICAGO'S MASTERPIECE, THE

DINNER PARTY FROM 1979.

THIS INSTALLATION INCLUDES 39

ELABORATE PLACE SETTINGS

RECOGNIZING THE CONTRIBUTIONS OF

WOMEN TO WESTERN CIVILIZATION.

FROM THE GODDESSES OF PREHISTORY

THROUGH ACTIVISTS, WRITERS AND

ARTISTS OF THE 20th CENTURY.

PROMINENTLY POSITIONED NEAR THE

ENTRANCE TO THE INSTALLATION IS

A PLATE SET FOR GEORGIA

O'KEEFFE, THE VISIONARY PAINTER

AND FEMINIST ICON.

GEORGIA O'KEEFFE, LIVING MODERN,

INCLUDES KEY PAINTINGS BY THE

ARTIST AS WELL AS EXAMPLES OF

THE ARTIST'S CLOTHING AND

ACCESSORIES THROUGH WHICH SHE

ESTABLISHED HER PERSONAL STYLE

AND A MODERNIST PERSONA.

O'KEEFE'S FIRST MUSEUM

EXHIBITION WAS AT THE BROOKLYN

MUSEUM IN 1927.

IT FEATURED THE PAINTING "BLACK

PANSY AND FORGET-ME-NOTS" NOW

PART OF THE MUSEUM'S PERMANENT

COLLECTION AND ON DISPLAY IN THE

CURRENT EXHIBIT.

>>> WE KNOW A LOT ABOUT THE ART

OF O'KEEFE BUT WE KNOW FAR LESS

ABOUT HOW SHE SELF-FASHIONED

HERSELF.

ONE WAY SHE SELF-FASHIONED

HERSELF WAS ALWAYS TO STAY WITH

BLACK AND WHITE AND TO PRESENT

HERSELF SO THAT THEY'RE KIND OF

GEOMETRIES TO THE WAY SHE IS

DRESSED.

>> IMAGES OF O'KEEFE BY FAMOUS

PHOTOGRAPHERS FROM HER HUSBAND

ALFRED STIEGLITZ TO BRUCE WEBER

DOCUMENT THE WAY SHE CONSCIOUSLY

POSED FOR THE CAMERA, TAKING

OWNERSHIP OF HER IDENTITY AS AN

ARTIST AND A WOMAN.

GEORGIA O'KEEFFE, LIVING MODERN,

IS AT THE BROOKLYN MUSEUM

THROUGH JULY 23rd.

>>> THE PARK AVENUE ARMORY

PRESENTS AN EPIC STAGING OF

EUGENE O'NEILL THE HAIRY APRIL,

DIRECTED BY RICHARD JONES AND

STARRING TONY NOMINEE BOBBIE

CANIVALLI.

IT HAS BEEN REIMAGINED FOR THE

WADE THOMPSON DRILL HALL.

WRITTEN IN 1922, THIS ICONIC

AMERICAN DRAMA ABOUT THE DIVIDE

BETWEEN RICH AND POOR IN THE

GILDED AGE HAS GIVEN NEW

RESIDENCE FOR CONTEMPORARY

AUDIENCE.

THE ACTION MOVES FROM THE UNDER

BELLY OF A TRANS ATLANTIC OCEAN

LINER TO THE WEALTHY

NEIGHBORHOODS OF NEW YORK R

NEW YORK SOCIETY IN THE ROARING

20s.

PLAYS YANK A POWERFUL MAN SEEN

AS A BRUTE.

>> NIX ON THE LOUD NOISE.

CAN'T YOU SEE I'M TRYING TO

THINK?

>> IT IS AT THE PARK ARMORY

DRILL HALL THROUGH APRIL 22nd.

THE BRUCE MUSEUM IN CONNECTICUT

PRESENTS THE FIRST RETROSPECTIVE

IN THE UNITED STATES IN NEARLY

TWO DECADES OF THE FRENCH

IMPRESSIONIST AFTER FRED SICILY.

BORN IN PARIS TO WELL-TO-DO

BRITISH PARENTS HE SPENT TWO

YEARS IN LONDON STUDYING THE OLD

MASTERS AND GREAT BRITISH

LANDSCAPE PAINTERS CONSTABLE AND

TURNER.

WHEN HE RETURNED TO PARIS HE MET

FUTURE FELLOW IMPRESSIONISTS

MONET AND RENOIR AND SHOWED

FIRST IMPRESSIONIST EXHIBIT IN

1874.

THIS EXHIBITION KBIFS ART LOVERS

A FRESH OPPORTUNITY TO GET TO

KNOW THE WORKS OF THIS LARGELY

UNDERAPPRECIATED PAINTER.

ALFRED SICILY, IMPRESSIONIST

MASTER, INCLUDES ABOUT 50 OF HIS

PAINTINGS, PRIMARILY LANDSCAPES.

INTIMATE IN SCALE, THEY'RE

INFUSED WITH LIGHT, PLAYING WITH

SHADES AND TONES.

SICILY WOULD OFTEN PAINT THE

SAME PLACES AT DIFFERENT TIMES

OF DAY UNDER DIFFERENT WEATHER

CONDITIONS.

HE PAINTED MANY VILLAGES HE

LIVED IN ON THE RIVER SEINE WEST

OF PARIS AND TO THE SOUTHEAST OF

THE CITY, CAPTURING PLACES IN

BETWEEN THE CITY AND THE

COUNTRY.

DANCE THEATER OF HARLEM

CELEBRATES SPRING SEASON AND

48th ANNIVERSARY WITH

PERFORMANCES AT NEW YORK CITY

CENTER.

THE PROGRAM FEATURES NEW YORK

PREMIERES AS WELL AS AUDIENCE

FAVORITES.

>>> THE PROGRAM INCLUDES THE

PREMIERE OF A D.T.A. PRODUCTION

OF LIMON'S CLASSIC CHICAN, THE

RETURN OF CHANGE CREATED BY

DIANE McINTYRE FOR THE COMPANY,

AND THE NEW YORK PREMIERE OF

SYSTEMS BY FRANCESCA HARPER, THE

LATEST WORK IN DANCE THEATER OF

HARLEM'S WOMEN WHO MOVE US

INITIATIVE.

♪

>>> ALSO ON THE BILL, "VESSELS"

BY NEW YORK CHOREOGRAPHER DARRYL

GRAND MOULTRIE.

DANCE THEATER IS APRIL 19-22.

MISSAIGON RETURNS TO BROADWAY IN

A NEW PRODUCTION MARKING THE

CLASSIC MUSICAL'S 25th

ANNIVERSARY.

>>> THE STORY OPENS IN A SHADY

SAIGON NIGHTCLUB DURING THE LAST

DAYS OF THE VIETNAM WAR.

THIS DARKER VERSION OF THE

POPULAR MUSICAL FEATURES A FRESH

FACE, THE 20-YEAR-OLD EVA

NOBLAZADA, MAKING HER BROADWAY

DEBUT IN THE LEAD ROLE AS KIM.

NEWLY ARRIVED IN THE CITY, SHE

FALLS IN LOVE WITH AN AMERICAN

G.I. NAMED CHRIS.

♪ STAY WITH ME AND HOLD ME

TIGHT ♪

>>> HAS THE SHOW STOPPING ROLE

OF THE ENGINEER, A NOTORIOUS

HUSTLER LOOKING FOR THE AMERICAN

DREAM.

MS. SAIGON IS IN A LIMIT EDDEN

GAUGEMENT AT THE BROADWAY

THEATER THROUGH JANUARY 13, 2018

AND WILL LAUNCH A NORTH AMERICAN

TOUR LATER NEXT YEAR.

>>> AND THAT'S THE NYC-ARTS

NEWS.

BE SURE TO CONNECT WITH NYC-ARTS

ONLINE BY LIKING US ON FACEBOOK

AND FOLLOWING US ON TWITTER,

INSTAGRAM AND TUMBLER.

FROM THE BROOKLYN MUSEUM, I'M

CHRISTINA HA.

♪

>>> I HOPE I OF YOU HAVE ENJOYED

OUR PROGRAM THIS EVENING.

I'M PAULA ZAHN AT THE TISCH WNET

STUDIOS AT LINCOLN CENTER.

THANKS FOR JOINING US.

GOOD NIGHT.

>>> NEXT WEEK NYC-ARTS VISITS

THE PARISH ART MUSEUM IN

WATERMILL, NEW YORK.

>> WHAT WE WANT TO DO IS BE ABLE

TO SHOW WORKS BY ARTISTS THAT

HAVE BEEN IMPORTANT TO THIS

COMMUNITY AND ALSO WHOSE

INFLUENCES REVERBERATED

THROUGHOUT AMERICAN ART HISTORY

TO GREATER DEPTH.

♪

>>> AND THE BOUND PRINT SHOP AT

THE SOUTH STREET SEAPORT.

>> IN 1995 I WAS BUYING A FRIEND

A BIRTHDAY GIFT.

IT WAS MY FIRST VISIT.

I SAW A LITTLE SIGN BY THE DOOR

THAT SAID, VOLUNTEER FOR THE

SOUTH STREET SEA PORT MUSEUM.

SO I DID.

♪

♪

♪

♪

♪

♪

>>> FUNDING FOR NYC-ARTS IS MADE

POSSIBLE BY ROSALIND P. WALTER,

KATE W. CASSIDY FOUNDATION, JEAN

DUBINSKY APPLETON ESTATE, JODIE

AND JOHN ARNHOLD, ELLEN AND

JAMES S. MARCUS, THE LOUIS

"SONNY" TURNER FUND FOR DANCE,

ELISE JAFFE AND JEFFREY BROWN,

THE MILTON AND SALLY AVERY ARTS

FOUNDATION, AND ELROY AND TERRY

KRUMHOLZ FOUNDATION.

THIS PROGRAM IS SUPPORTED IN

PART BY PUBLIC FUNDS FROM THE

NEW YORK CITY DEPARTMENT OF

CULTURAL AFFAIRS IN PARTNERSHIP

WITH THE CITY COUNCIL.

ADDITIONAL FUNDING PROVIDED BY

MEMBERS OF THIRTEEN.

NYC-ARTS IS MADE POSSIBLE IN

PART BY FIRST REPUBLIC BANK.

♪

>>> FLEXIBILITY.

COORDINATION.

EXCELLENCE.

FIRST REPUBLIC PRIVATE WEALTH

MANAGEMENT, IT'S A PRIVILEGE TO

SERVE YOU.

>>> AND BY SWANN AUCTION

GALLERIES.

>> SWAN AUCTION GALLERIES, WE

HAVE A DIFFERENT WAY OF LOOKING

AT AUCTIONS, OFFERING VINTAGE

BOOKS AND FINE ARTS SINCE 1941,

WORKING TO COMBINE KNOWLEDGE

WITH ACCESSIBILITY, WHETHER A

COLLECTOR OR FIRST TIME BUYER OR

LOOKING TO SELL, INFORMATION AT

SWANGALLERIES.com.