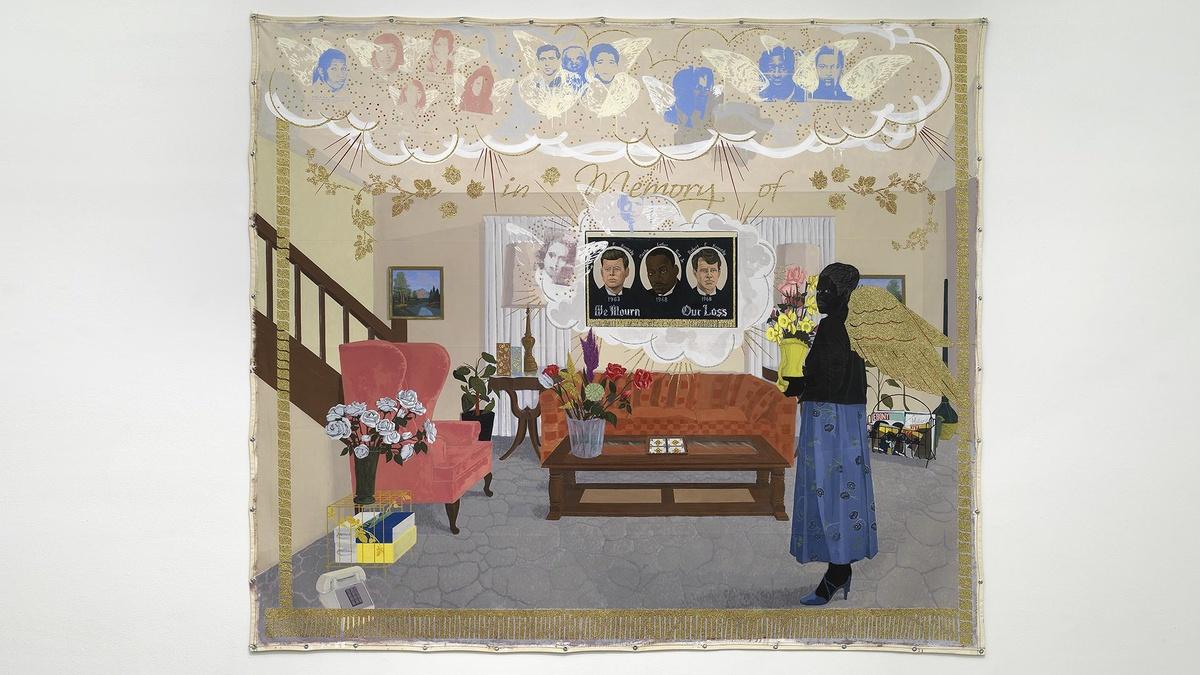 S2021 E518 | CLIP
NYC-ARTS New Museum, "Grief and Grievance"
A look at "Grief and Grievance: Art and Mourning in America" at the New Museum. The exhibition is a reflection on concepts of mourning, made urgent by the racist violence now experienced by Black communities across America. It brings together the work of thirty-seven artists in a variety of mediums, filling all three main floors of the museum.
TRANSCRIPT

NEXT, WE'LL VISIT THE NEW

MUSEUM, ONLY MUSEUM IN NEW YORK

CITY EXCLUSIVELY DEVOTED TO

CONTEMPORARY ART.

FOUNDED IN 1977, MUSEUM HAS BEEN

LOCATED ON THE BOWERY SINCE

2007.

CURRENTLY ON VIEW IS "GRIEF AND

GRIEVANCE: ART AND MOURNING IN

AMERICA," THE EXHIBITION A

REFLECTION ON CONCEPTS OF

MOURNING MADE URGENT BY THE

RACIST VIOLENCE NOW EXPERIENCED

BY BLACK COMMUNITIES ALL ACROSS

AMERICA.

IT BRINGS TOGETHER THE WORK OF

37 ARTISTS IN A VARIETY OF

MEDIUMS, FILLING ALL THREE MAIN

FLOORS OF THE MUSEUM.

THE EXHIBITION WAS ORIGINALLY

CONCEIVED BY NIGERIAN BORN CURE

CURATOR, ONE OF THE MOST

INFLUENTIAL OF HIS GENERATION.

AFTER HIS DEATH IN 2019, HIS

LONG TIME COLLABORATORS AND

CURATORS CAME TOGETHER TO

REALIZE HIS PERSONAL AND

POLITICAL VISION FOR THE SHOW.

THE EXHIBITION HIGHLIGHTS

DIVERSE ARTISTS EXPLORING

AMERICAN HISTORY FROM THE CIVIL

RIGHTS MOVEMENT OF THE 1960s TO

ISSUES OF POLICE VIOLENCE IN THE

1980s UP UNTIL TODAY.

SOME OF THESE WORKS LOOK AT

HISTORY AND TRAUMA IN VERY

DIRECT AND RECOGNIZABLE WAYS,

OTHERS USE ABSTRACTION TO

CONFRONT OR MEDIATE PAINFUL

MOMENTS.

TEXT PIECE ON THE NEW FACADE

SPELLS OUT IN LARGE NEON LETTERS

THE PHRASE -- BLUES, BLOOD --

UTTERED BY A TEENAGER ARRESTED

AND BEATER BY POLICE IN 1964.

2012 PORTRAIT SERIES CALLED THE

BIRMINGHAM PROJECT IS MEMORIAL

TO THE FOUR YOUNG GIRLS KILLED

BY THE BOMBING OF THE BAPTIST

CHURCH.

PEACEKEEPER IS A HARASS ENCASED

IN TAR AND FEATHERS, CREATED IN

1995 AND RECREATED ESPECIALLY

FOR THIS SHOW, EXEMPLIFIES

INCOMPLETE OR UNFINISHED

MOURNING.

OTHER HIGHLIGHTS, PAINTINGS BY

MARSHALL AND JULIE, AND

PHOTOGRAPHY, SCULPTURES BY

MELVIN EDWARDS, AND MONUMENTAL

INSTALLATION BY RASHEED JOHNSON,

AND SOUND, VIDEO AND PRODUCTION

BY GATES.

"GRIEF AND GRIEVANCE: ART AND

MOURNING IN AMERICA" ON VIEW

THROUGH JUNE 6th.