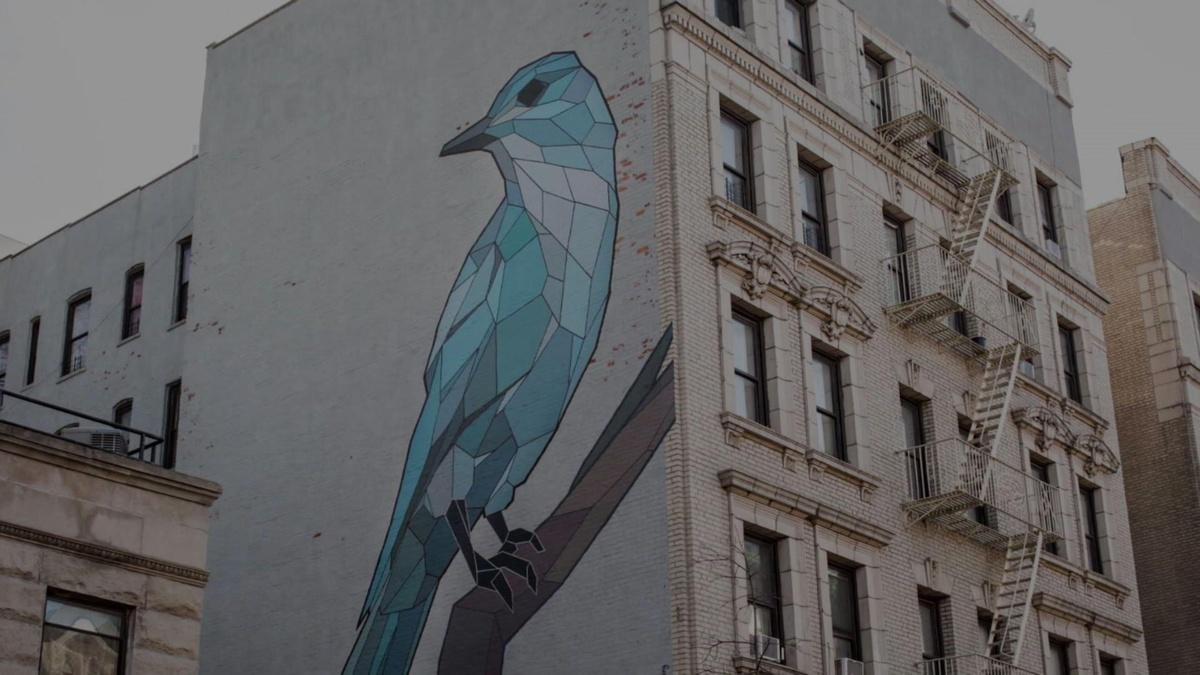 S2017 E122 | FULL EPISODE
NYC-ARTS Full Episode: September 14, 2017
Louise Mirrer, President and CEO of the New-York Historical Society, talks about the opening of its transformed fourth floor and the new Center for Women's History. Avi Gitler and Mark Jannot present The Audubon Mural Project, whose mission is to create, with the help of local artists, beautiful murals of climate-threatened birds throughout Hamilton and Washington Heights.
TRANSCRIPT

>>> COMING UP ON NYC ARTS, A

CONVERSATION WITH LOUISE MIRROR,

PRESIDENT AND CEO OF THE NEW

YORK HISTORICAL SOCIETY AS ITS

CELEBRATES THE OPENING OF ITS

TRANSFORMED FOURTH FLOOR.

>> IT'S EXQUISITE.

>> IT IS.

>> BREATHTAKING IN ITS BEAUTY.

BUT IT ALSO TELLS AN EXTREMELY

IMPORTANT STORY.

>> IT'S NEW CENTER FOR WOMEN'S

HISTORY.

THE FIRST OF ITS KIND IN A MAJOR

U.S. MUSEUM.

AND A LOOK AT THE AUDUBON MURAL

PROJECT IN UPPER MANHATTAN.

FUNDING FOR NYC ARTS IS MADE

POSSIBLE BY ROSYLIND P. MERRIL,

GENE DUBINSKY, ELLEN AND JAMES

S. MARCUS, THE LEWIS SUNNY

TURNER FUND FOR DANCE, ELISE

JAFY AND JEFFREY BROWN.

THE MILTON AND SALLY AVERY ARTS

FOUNDATION AND ELROY AND TERRY

CRUMBHOLTZ FOUNDATION.

IN PARTNERSHIP WITH THE CITY

COUNCIL.

ADDITIONAL FUNDING PROVIDED BY

MEMBERS OF 13.

NYC ARTS IS MADE POSSIBLE IN

PART BY FIRST REPUBLIC BANK.

>> FLEXIBILITY.

COORDINATION.

EXCELLENCE.

FIRST REPUBLIC PRIVATE WEALTH

MANAGEMENT, IT'S A PRIVILEGE TO

SERVE YOU.

>> AND BY SWAN AUCTION

GALLERIES.

>> SWAN AUCTION GALLERIES.

WE HAVE A DIFFERENT WAY OF

LOOKING AT AUCTIONS.

OFFERING VINTAGE ART.

>>> GOOD EVENING AND WELCOME TO

NYC ARTS.

I'M PAULA ZAHN AT THE WNET

STUDIOS AT LINCOLN CENTER.

TONIGHT WE'RE GOING TO VISIT THE

NEW YORK HISTORICAL SOCIETY ON

CENTRAL PARK WEST BETWEEN 76th

AND 77th STREET.

IT HAPPENS TO BE THE OLDEST

MUSEUM IN NEW YORK CITY.

IT WAS FOUNDED BACK IN 1804 BY A

SMALL GROUP OF PROMINENT NEW

YORKERS WHO WERE CONSCIOUS OF

THE SIGNIFICANCE OF THEIR TIME

IN HISTORY.

NEW YORK, OF COURSE, WAS AND

STILL IS VERY MUCH THE CORE OF

THE AMERICAN EXPERIENCE.

THE MUSEUM FOUNDERS KNEW THAT

COLLECTED DOCUMENTS AND OBJECTS

WOULD SOME DAY PRESERVE OUR

NATION'S STORY.

OVER TWO CENTURIES LATER, NEW

YORK HISTORICAL CONTAINS MORE

THAN 4 MILLION HOLDINGS FROM

COLONIAL TIMES TO THE PRESENT.

HERE YOU CAN FIND DOCUMENTS,

PHOTOGRAPHS, FURNITURE,

SILVERWARE, CLOTHING AND WORKS

OF ART SUCH AS WATERCOLORS,

PORTRAITS AND SCULPTURE.

WHAT'S NEW AT THE NEW YORK

HISTORICAL?

WELL, FOR STARTERS, A FULLY

RENOVATED FOURTH FLOOR.

THE HENRY MOOT, III, CENTER.

IT'S A GALLERY OF 100

STUNNING

TIFFANY LAMPS.

THE CENTER CELEBRATES THE STORY

OF WOMEN WHO HAD AN ENORMOUS

IMPACT ON AMERICAN HISTORY.

FIRST LADY DOLLEY MADISON, WIFE

OF OUR NATION'S FOURTH PRESIDENT

JAMES MADISON, HAS A POWERFUL

STORY TO TELL AT A TIME WHEN

WOMEN WERE EXCLUDED FROM AFFAIRS

OF STATE, SHE INVITED MEN AND

WOMEN FROM ALL BACKGROUNDS TO

THE WHITE HOUSE CREATING A NEW

DIVERSE SOCIAL SPHERE.

LAST SPRING, I MET WITH LOUISE

MIRROR, PRESIDENT AND CEO OF NEW

YORK HISTORICAL IN A GALLERY

THAT BROUGHT TO LIFE MRS.

MADISON'S POPULAR SOCIAL

GATHERINGS.

LOUISE, CONGRATULATIONS.

>> THANK YOU.

THANK YOU SO MUCH.

>> GREAT TO SEE YOU.

>> GREAT TO BE HERE.

>> ONE OF YOUR GOALS IN CREATING

THIS WOMEN'S GALLERY IS TO

PROMOTE THE CONTRIBUTIONS OF

AMERICAN WOMEN TO OUR HISTORY.

WOMEN WHO OFTEN WORKED BEHIND

THE SCENES THAT DIDN'T GET MUCH

CREDIT FOR WHAT THEY WERE DOING.

WHAT WERE SOME OF THE CHALLENGES

YOU ENCOUNTERED IN OCCUR RATING

THIS EXHIBIT?

I THINK FIRST OF ALL, THE

DECISION HAD TO BE MADE AS TO

WHERE TO BEGIN.

WHERE DO WE BEGIN OUR STORY?

AND GIVEN THAT OUR COLLECTION AT

THE NEW YORK HISTORICAL SOCIETY

IS SO STRONG IN THE EARLY PERIOD

AFTER THE AMERICAN REVOLUTION,

WE DECIDED THAT THAT WOULD BE

OUR MOMENT AND THAT DOLLEY

MADISON WOULD BE OUR WOMAN.

SO THAT WAS THE MAIN CHALLENGE

THAT WE FACED.

BUT THERE REALLY IS AN INFINITE

NUMBER OF POSSIBLE STORIES TO

TELL THAT HAVE TO DO WITH

WOMEN'S HISTORY.

>> SO WHY HAS IT TAKEN SO LONG

TO TELL THEM?

BY THE WAY, I GIVE YOU A GREAT

DEAL OF CREDIT FOR MAKING THIS

HAPPEN.

AS I UNDERSTAND IT, THERE ARE

STILL PEOPLE OUT THERE WHO

BELIEVE THAT WOMEN'S HISTORY IS

TRIVIAL.

>> THE TRUTH OF THE MATTER IS IS

THAT WOMEN'S HISTORY IS

EXCEEDINGLY IMPORTANT TO THE

MAINSTREAM NARRATIVE OF AMERICAN

HISTORY.

AND IT IS REALLY PRETTY SHOCKING

THAT THERE'S BEEN SUCH

RELUCTANCE TO RECOGNIZE THAT AND

TO IDENTIFY EXAMPLES OF WOMEN

WHOSE ROLE IN OUR OWN AMERICAN

HISTORY HAVE BEEN SO CENTRAL

THAT WE REALLY SHOULD NEVER

FORGET ABOUT THEM.

>> AS I WALK THROUGH THE

GALLERY, IT STRUCK ME THAT YOU

HAVE FOUND A REALLY GOOD BALANCE

HERE OF PROVIDING MUSEUM GOERS

WITH THE MALE NARRATIVE FROM THE

MAN CAVE AND THE OPPOSITE SIDE

OF THE GALLERY AND BALANCING IT

WITH THE VOICES OF WOMEN.

>> OUR STRATEGY WAS REALLY TO

HAVE VISITORS ENTER THROUGH A

REPERTOIRE OF FAMILIAR FACES AND

FIGURES AND OBJECTS AND ITEMS

AND STORIES.

AND THOSE ARE THE STORIES OF THE

IMPORTANT MEN WHOSE VOICES WERE

HEARD AND WHOSE VOICES WE KNOW.

ALEXANDER HAMILTON, GEORGE

WASHINGTON, THOMAS JEFFERSON,

JOHN ADAMS.

>> THEN YOU COMBINE THAT WITH

THE OFTEN OVERLOOKED STORIES OF

WOMEN WHO HAD TREMENDOUS IMPACT

DURING THOSE SAME YEARS.

>> ABSOLUTELY.

BEGINNING WITH THE AMERICAN

REVOLUTION AND JUST TO TELL THE

STORY THAT ON JULY 4, 1776, THE

STATUE OF KING GEORGE III THAT

WAS IN DOWNTOWN MANHATTAN WAS

PULLED DOWN BY COLONISTS THAT

WANTED TO REBEL FROM BRITAIN.

WHAT THEY DON'T KNOW IS THE

PIECES OF THE STATUE WERE LATER

MELTED DOWN AND IT WAS WOMEN

ALONG WITH CHILDREN WHO MADE

MUSKET BALLS THAT WERE USED TO

PROSECUTE THE AMERICAN

REVOLUTION.

AN EXTREMELY IMPORTANT EFFORT

DONE BY WOMEN.

>> YOU MENTIONED DOLLEY MADISON

AT THE BEGINNING OF THE

INTERVIEW.

IT'S QUITE IMPRESSIVE WHAT SHE

DID BEHIND THE SCENES IN HER

TIME WHAT WAS CONSIDERED A

SOCIALIZING BUT ENDED UP HAVING

SO MUCH MORE TRACTION THAN THAT.

>> DOLLEY MADISON WAS THE

HOSTESS.

BUT THAT DIDN'T MEAN THAT SHE

HAD A TRIVIAL ROLE IN

WASHINGTON.

SHE INVENTED WASHINGTON AS A

CITY THAT WOULD REALLY BRING

TOGETHER PARTISANS, AS WE WOULD

CALL THEM TODAY.

PEOPLE FROM ALL OVER THE YOUNG

COUNTRY.

>> WOULDN'T SHE PUT OUT NOTICES

AND INVITE PEOPLE TO COME TO THE

WHITE HOUSE, PEOPLE OFF THE

STREET?

>> YES.

WE'RE IN THE MIDDLE OF A

RECREATION OF ONE OF DOLLEY

MADISON'S WEDNESDAY NIGHT

SQUEEZES.

PEOPLE WERE SQUEEZED TOGETHER IN

DOLLEY MADISON'S DRAWING ROOM.

AND THEY WERE FORCED TO GET TO

KNOW ONE ANOTHER.

AND DOLLEY MADISON UNDERSTOOD

THAT YOU NEEDED TO BRING PEOPLE

TOGETHER TO UNIFY THE COUNTRY.

WE TEND TO FORGET THAT THIS WAS

A GREAT EXPERIMENT.

SO SOMEBODY REALLY HAD TO WORK

VERY HARD TO MAKE THE WORDS OF

OUR CONSTITUTION WORK ON THE

GROUND.

>> WHAT ARE SOME OF THE OTHER

OBJECTS YOU WOULD LIKE TO SHARE

WITH US THAT YOU THINK REFLECT

DOLLEY MADISON AND HER STRENGTH?

>> THERE'S A WONDERFUL GOWN THAT

DOLLEY MADISON WORE WHICH IS

DESIGNED IN SORT OF THE GRECO

ROMAN REPUBLICAN STYLE.

SHE WAS CHARGED WITH SETTING A

STYLE THAT WOULD BE AMERICAN AND

DEMOCRATIC, WHICH MEANT SHE

COULDN'T DRESS OPULENTLY AS

ROYALTY WOULD DRESS IN EUROPE.

SOMETHING ELSE THAT REALLY IS

WONDERFUL IS HOW THIS FIGURE IS

THE HEADRESSES SHE WOULD.

SHE WOULD WALK AROUND IN THE

SQUEEZE WHERE EVERYONE WOULD BE

TIGHTLY PACKED.

IT WOULD BE HARD TO IDENTIFY

ANYONE.

DOLLEY WORE A TURBAN.

YOU WOULD BE ABLE TO PICK HER

OUT IN A CROWD.

>> SHE WOULDN'T ALIENATE THE

CROWD?

>> SHE WOULDN'T ALIENATE --

>> IT WASN'T PERCEIVED AS A

CROWN?

>> IT WAS NOT A CROWN.

IT WAS NOT A TIARA.

EVEN THOUGH IT'S EXOTIC TO LOOK

AT THE HEADDRESSES AND THEY WERE

IN THEIR OWN PERIOD AS WELL, IT

HAD A PURPOSE THAT WAS

RECOGNIZABLY AMERICAN.

>> DID SHE SEE HERSELF AS AN

EQUALIZER, SOMEONE WHO LEVELLED

THE PLAYING FIELD.

>> SHE SAW HERSELF AS TAKING

THOSE THREE GREAT WORDS OF THE

CONSTITUTION, WE THE PEOPLE, AND

MAKING THEM WORK.

AND SHE SAW HERSELF AS

ACCOMPLISHING A GOAL THAT WAS

NOT POSSIBLE OR WAS DIFFICULT TO

ACHIEVE BY HER HUSBAND WHO

HAPPENED TO BE THE PRESIDENT.

>> THE NAME OF THE EXHIBIT IS

CALLED SAVING WASHINGTON.

IT IS CALLED THAT FOR A VERY

GOOD REASON.

>> YEAH.

WE WANTED TO DRAW ATTENTION TO

THE TOPIC OF WHAT WOMEN ACTUALLY

DID AND ACHIEVED IN THE EARLY

REPUBLIC.

HERE WE WERE IN A TIGHT

SITUATION WITH THE BRITISH, WAR

OF 1812.

THERE WAS DOLLEY INSIDE THE

WHITE HOUSE AND THE BRITISH WERE

APPROACHING.

SHE'S LOOKING OUT HER WINDOW

WITH HER SPY GLASS.

SHE SEES WHAT'S ABOUT TO HAPPEN.

>> SHE KNOWS THEY'RE GOING TO

SET WHITE HOUSE ON FIRE?

>> SHE KNOWS THEY'RE GOING TO

COME TO THE WHITE HOUSE AND SHE

GUESSES THAT WHAT THEY ARE GOING

TO IS THEY ARE GOING TO SEIZE

UPON THE PORTRAIT OF GEORGE

WASHINGTON.

AND SHE BELIEVES THAT THEY ARE

GOING TO TAKE IT AS A TROPHY OF

WAR AND THEY ARE GOING TO PARADE

IT AROUND THE STREETS OF LONDON.

THE BRITISH INTENDED TO PARADE

HER AROUND THE STREETS ALSO AS A

PRISONER OF WAR.

SO SHE HAD A VERY LUCKY BUT

QUICK ESCAPE.

>> WHAT DID IT MEAN TO THE

PUBLIC THAT DOLLEY MADISON WAS

BEHIND THE EFFORT TO RESCUE AND

GET THIS PORTRAIT OUT OF THE

WHITE HOUSE BEFORE THE BRITISH

TOOK IT.

>> DOLLEY MADISON WAS CONSCIOUS

OF SYMBOLIC OF EVERYTHING.

OF IT THE PORTRAIT OF GEORGE

WAUS, FATHER OF OUR COUNTRY, A

PERSON WHO REALLY STOOD FOR

AMERICAN INDEPENDENCE.

REALLY KEEPING HIS PORTRAIT FROM

THE HANDS OF THE BRITISH WAS

EXCEEDINGLY IMPORTANT.

>> THE LAST TIME NYC ARTS

VISITED THE MUSEUM, IT WAS A

COMPLETELY DIFFERENT PLACE.

WHAT YOU'VE DONE ON THE FOURTH

FLOOR IS EXTRAORDINARY.

>> MANY PEOPLE DON'T REALIZE

WHAT AN EXTENSIVE MUSEUM

COLLECTION WE HAVE AT NEW YORK

HISTORICAL.

THE CENTER FOR THE STUDY OF

AMERICAN CULTURE REALLY SIMPLY

REWORKED, RENOVATED, OPENED UP,

MADE ARCHITECTURALLY DAZZLING.

AND MADE INTO A SPACE THAT

REALLY ENABLES THESE MUSEUM

OBJECTS TO SHINE AND AT THE SAME

TIME TO BETTER INFORM THE PUBLIC

ABOUT THE HISTORY OF NEW YORK

AND THE NATION.

ONE OF THE MAIN ELEMENTS OF OUR

NEW TOP STORY AT NEW YORK

HISTORICAL IS A 4,000 SQUARE

FOOT TIFFANY LAMP GALLERY.

>> IT'S EXQUISITE.

>> IT IS BREATHTAKING IN ITS

BEAUTY.

BUT IT ALSO TELLS AN EXTREMELY

IMPORTANT STORY.

>> A STORY THAT NOT MANY OF US

HAVE HEARD.

>> ABSOLUTELY NOT.

THE STORY BEGINS ACTUALLY IN OUR

OWN MUSEUM WITH OUR

EXTRAORDINARY TIFFANY LAMP

COLLECTION GIVEN TO US.

BUT IN 2005, WE DISCOVERED THAT

THERE WAS A BACK STORY.

>> THE STORY OF CLARA?

>> EXACTLY.

>> LETTERS WERE DISCOVERED BY

SOME HISTORIANS WORKING ON

TIFFANY.

THE LETTERS WERE CORRESPONDENCE

BETWEEN A YOUNG WOMAN FROM RURAL

OHIO NAMED CLARA AND HER MOTHER

AND SISTERS BACK HOME.

WHAT SHE DESCRIBED TO THEM IN

ABSOLUTE DETAIL WAS HOW TO MAKE

A TIFFANY LAMP.

CLARA HEADED THE ALL WOMEN'S

GLASS CUTTING DEPARTMENT.

THEY DESIGNED THE TIFFANY LAMPS

THAT WERE THEMED AROUND NATURE

ALMOST EXCLUSIVELY.

>> WAS THE PUBLIC AT THE TIME

AWARE THAT THESE WOMEN EXISTED

BEHIND THE SCENES, THE WOMEN WHO

ACTUALLY -- IN CLARA'S CASE

CREATED A DRAGONFLY DESIGN?

>> IT WAS NOT COMMONLY KNOWN

TIFFANY EMPLOYED WOMEN TO DESIGN

SOME OF HIS MOST PRIZED AND MOST

EXPENSIVE LAMPS.

HOWEVER, GIVE FULL CREDIT TO

LEWIS TIFFANY.

HE RECOGNIZED HER TALENT AND HE

BELIEVED THAT WOMEN WERE QUITE

ADEPT AT DESIGNING LAMPS.

THEREFORE, HE EMPLOYED THEM.

HE ALSO PAID THE WOMEN VERY

WELL.

>> WHAT ARE SOME OF THE OTHER

TREASURERS WE WILL SEE?

>> THERE'S SOME EXTRAORDINARY

PIECES.

ONE IS THE ONLY REMAINING DRAFT

WHEEL.

PEOPLE TEND TO KNOW THAT THERE

WERE DRAFT RIOTS IN 1863.

LINCOLN INTRODUCED THE DRAFT IN

NEW YORK.

WEALTHY PEOPLE COULD BUY THEIR

WAY OUT OF THE DRAFT.

THERE WERE A LOT OF IMMIGRANTS,

IRISH AND GERMAN IMMIGRANTS IN

PARTICULAR, WHO COULD NOT AFFORD

TO BUY THEIR WAY OUT OF THE

DRAFT AND THEY RIOTED.

IT IS STILL TO THIS VERY DAY THE

WORST RIOTS THAT WE HAVE

EXPERIENCED IN NEW YORK.

WE HAVE ON DISPLAY A DOOR THAT

AN ARTIST IN NEW YORK ALLOWED

HIS FRIENDS TO DO GRAFFITI ON.

IT'S NOT SOMETHING THAT WOULD BE

PRIZED AS HIGH ART PROBABLY.

BUT IT IS SOMETHING THAT RECALLS

TO MANY PEOPLE A FAMILIAR MOMENT

IN TIME.

PEOPLE TEND TO THINK THAT

HISTORY IS SOMETHING THAT

HAPPENED A LONG TIME AGO.

BUT ACTUALLY, HISTORY HAPPENS

EVERY MOMENT OF OUR LIVES.

>> WHAT DO YOU WANT VISITORS TO

WALK AWAY FROM THE MUSEUM

FEELING?

>> THE MAYBE TAKEAWAY FOR OUR

VISITOR SHOULD REALLY BE THAT

MUSEUMS AT THEIR VERY BEST TELL

STORIES THAT THE PUBLIC HAS NOT

HEARD BEFORE.

AND THOSE STORIES SHOULD TOUCH

THE PUBLIC IN WAYS THAT THEY

CAN'T EVEN BEGIN TO ANTICIPATE.

AND THEY SHOULD MAKE THEM THINK

DIFFERENTLY.

SO I WOULD HOPE THAT VISITORS TO

OUR NEW SUITE OF GALLERIES ON

OUR FOURTH FLOOR WOULD THINK

DIFFERENTLY ABOUT THE AMERICAN

NARRATIVE AND ABOUT THE ROLE

THAT VARIOUS PARTICIPANTS PLAYED

IN IT AND HOW THEY SHOULD NOT

OVERLOOK THE STORIES THAT THEY

HAVEN'T HEARD BEFORE.

THEY SHOULD VALUE THEM.

AND THEY SHOULD ACT ON THEM AS

WELL.

>> THANK YOU SO MUCH FOR YOUR

EXPERTISE.

>> IT'S BEEN A PLEASURE.

>> AND YOUR HOSPITALITY.

>> THANK YOU VERY MUCH.

>>> DESPITE LIVING IN AN URBAN

JUNGLE, NEW YORKERS CAN STILL

CATCH SNIPPETS OF BIRD SONG.

HOWEVER THOSE SONGS MAY

DISAPPEAR OVER THE NEXT FEW

DECADES.

A REPORT RELEASED BY THE AUDUBON

SOCIETY IN 2014 REVEALED HALF OF

ALL BIRDS ON OUR CONTINENT WILL

SOON BE THREATENED BY CLIMATE

CHANGE.

TO DRAW ATTENTION TO THE PLIGHT

OF THE BIRDS, AVI GITLER, TEAMED

UP WITH MARCH CHANNEL.

TOGETHER THEY LAUNCHED THE

AUDUBON MURAL.

IT PAYS TRIBUTE TO THESE

BEAUTIFUL AT RISK BIRDS.

>> I HAD OPENED THE GALLERY AND

WANTED TO BRING SOME ATTENTION

TO THE GALLERY.

ASKED THE ONE FINE ARTIST I KNEW

WHO DID STREET ART TO PAINT A

MURAL TO THE ADJACENT GATES TO

THE ART GALLERY.

HE IS FROM FLORIDA.

HE SAID, I'M GOING TO PAINT A

FLAMINGO.

BRING SOME FLORIDA FLAVOR.

I MADE THE CONNECTION, BIRDS,

THAT'S HOW THE PROJECT GOT

STARTED.

>> WOW.

THIS IS A GREAT IDEA.

GET THE WORD OUT ABOUT THE

THREATENED BIRDS, BEAUTIFY THE

NEIGHBORHOOD.

BUT LET'S BE MORE AMBITIOUS.

LET'S DO ALL 314 THREATENED

BIRDS.

DO MURALS OF ALL OF THEM ON

GATES AND WALLS ALL OVER THE

NEIGHBORHOOD.

AVI SAID, SURE, LET'S DO IT.

WE HAVE BEEN CHASING OUR 314

NUMBER EVER SINCE.

>> IT'S NICE TO SORT OF

PUBLICIZE ONE OF THE GREAT

AMERICANS AND ONE OF THE MOST

INTERESTING AMERICANS TO PEOPLE

WHO ARE FAMILIAR WITH THE NAME

BUT UNFAMILIAR WITH THE ACTUAL

PERSON.

>> JOHN JAMES AUDUBON WAS

POSSIBLY AMERICA'S GREATEST BIRD

AND NATURAL WORLD ARTIST AND AN

EXTRAORDINARY PIONEERING

ORNITHOLOGIST.

HE SPENT THE LAST YEARS OF HIS

LIFE HERE IN WASHINGTON HEIGHTS.

>> THE CENTER OF THE PROJECT HAS

SHIFTED TO WHAT WAS ONCE THE

AUDUBON ESTATE AND IT'S

APPROPRIATE BECAUSE HIS FINAL

RESTING PLACE IS IN TRINITY

CEMETERY ON 155th.

>> WE MADE THE DECISION TO PAINT

FROM APPROXIMATELY 135th STREET

WEST TO 193rd STREET, THE END OF

AUDUBON AVENUE.

THERE'S NO GREAT LOGIC TO IT.

WE THOUGHT IT WOULD BE NICE TO

KEEP THE PROJECT UPTOWN.

>> PICKING THE LOCATION IS A

CHALLENGE.

ONE OF THE THINGS WE DECIDED

FROM THE BEGINNING WAS WE

WEREN'T JUST GOING TO PAINT

ANYWHERE.

WE'RE LOOKING TO BOO PHI.

WE'RE SEEKING OUT SPACES IN NEED

OF A FIX.

THEY HAD CRUMBLING PAINT AND

WERE IN A STATE OF DISREPAIR.

WE HAVE WORKED WITH LANDLORDS TO

SECURE SPACES LIKE EMPTY I'LL

COVES BOARDED UP.

WE CAN WORK WITH STUDIO ARTISTS

WHO ARE PAINTING PANELS THAT WE

THEN INSTALL INTO THE BUILDING.

>> WE'RE MOSTLY WORKING WITH

ARTISTS WHO ARE FROM THE

NEIGHBORHOOD OR FROM THE GREATER

NEW YORK AREA.

WE WORK WITH THEM TO CHOOSE A

BIRD.

WE TRY NOT TO PAINT THE SAME

BIRDS TWICE.

WE ASK THEM TO DO WHAT THEY WANT

WITHIN REASON.

SOME OF THE MURALS CONTAIN MORE

THAN ONE BIRD.

SO WE HAVE PAINTED ABOUT 70

BIRDS SO FAR.

THERE ARE CHALLENGES TO PAINTING

OUTSIDE.

BUT THERE ARE ALSO BENEFITS TO

PAINTING OUTSIDE.

THERE ARE PEOPLE WHO COME WHILE

AN ARTIST PAINTS AND THEY'RE

ENGAGING THE ARTIST AND IT'S

DISTRACTING.

THE POSITIVE IS THEY'RE ENGAGING

THE ARTIST.

THEY'RE LEARNING ABOUT THE

PROJECT.

THEY'RE LEARNING NOT JUST ABOUT

GLOBAL WARMING.

THEY'RE LEARNING ABOUT ART.

I'M FROM THE NEIGHBORHOOD

ORIGINALLY.

I WANTED PEOPLE UPTOWN TO BE

ABLE TO SEE THE ART THAT YOU

WOULD NORMALLY HAVE TO GO TO

CHELSEA OR THE LOWER EAST SIDE

OR BROOKLYN FOR.

>> ONE OF THE THINGS I LOVE

ABOUT COMING UP HERE TO LOOK AT

AND FOR THE MURALS IS THAT YOU

CAN'T BE SURE ON ANY GIVEN VISIT

WHICH ONES YOU ARE GOING TO SEE

OR ARE YOU GOING TO SEE THEM

ALL.

IT'S LIKE GOING OUT FOR A

BIRDING EXPEDITION.

YOU CAN'T KNOW WHICH BIRDS YOU

ARE GOING TO SEE.

WHEN YOU ARE TALKING ABOUT HALF

OF ALL NORTH AMERICAN BIRDS

BEING THREATENED, YOU ARE GOING

TO SEE SOME BIRDS THERE THAT YOU

WOULDN'T EXPECT TO SEE.

THEY WILL SHIFT.

THEY WILL MOVE.

THE BALTIMORE ORIOLES IS

PREDICTED TO BE SEEN NO LONGER

IN BALTIMORE.

THE LOON IS PROJECTED NOT TO BE

ABLE TO BE FOUND IN MINNESOTA.

I THINK SEEING THESE MURALS OF

BIRDS IN THIS URBAN ENVIRONMENT

IN A PARTICULARLY URBAN SORT OF

ART FORM IS SOMETHING THAT GETS

PEOPLE'S ATTENTION.

I HOPE THEY WILL SORT OF

INVESTIGATE AND SEE WHAT IS

THIS?

WHY ARE THESE MURALS ALL HERE?

AND LEARN ABOUT THIS THREAT TO

THE BIRDS THAT WE ARE USED TO

SEEING AROUND US, EVEN IN AN

URBAN ENVIRONMENT.

I HOPE THAT IT INSPIRES PEOPLE

TO THINK ABOUT THAT AND TO KIND

OF BE INSPIRED TO DO SOMETHING

ABOUT IT.

>> ON 163rd, ONE OF MY FAVORITE

MURALS.

IT'S BY THE ARTIST CRUZ.

IT'S A PAINTING OF THREE

TRI-COLORED HERONS.

IN THE MURAL, THE POLAR ICE CAPS

HAVE MELTED, SEA LEVELS WITH

RISING.

THE THREE HERONS ARE FIGHTING

FOR THE LAST FOOD.

IN THIS CASE, A SNAKE.

THERE'S SO MANY THINGS I WOULD

LOVE FOR PEOPLE TO TAKE AWAY

FROM THE MURALS.

AN UNDERSTANDING OF THE THREAT

THE ENVIRONMENT FACES.

MORE NEIGHBORHOOD PRIDE FOR

UPTOWN MANHATTAN.

A SENSE THAT ART IS ACCESSIBLE.

>> I STRONGLY ENCOURAGE PEOPLE

TO GET UP HERE.

IT'S AN EXTRAORDINARY

EXPERIENCE.

>> HELLO.

WELCOME TO LINCOLN CENTER.

ALL YEAR ROUND, NEW YORKERS AND

GUESTS FROM AROUND THE WORLD

VISIT THIS CULTURAL MECCA FOR

ITS THEATERS OVERFLOWING WITH

THE BEST IN MUSIC, DANCE, OPERA,

DRAMA AND FILM.

NEW YORK CITY BALLET WILL OPEN

ITS FOUR WEEK 2017 FALL SEASON

ON SEPTEMBER 19.

THE SEASON WILL BEGIN WITH 13

PERFORMANCES OF PETER MARTIN'S

PRODUCTION OF SWAN LAKE WHOSE

CHOREOGRAPHER HAS SPEED AND

CLARITY THAT NEW YORK CITY

BALLET IS TYPICALLY KNOWN FOR.

THE PERFORMANCES OF THE FALL

SEASON WILL TAKE PLACE IN THE

DAVID H. COPE THEATER AT LINCOLN

CENTER THROUGH OCTOBER 15th.

FOR MORE INFORMATION ABOUT

MUSIC, DANCE, THEATER, OPERA AND

FILM HERE AT LINCOLN CENTER, YOU

CAN VISIT THEIR WEBSITE AT

LINCOLNCENTER.ORG.

>> I HOPE YOU HAVE ENJOYED OUR

PROGRAM THIS EVENING.

I'M PAULA ZAHN AT THE WNET

STUDIOS AT LINCOLN CENTER.

THANKS SO MUCH FOR JOINING US.

GOOD NIGHT.

NEXT WEEK ON NYC ARTS, A TRIP TO

THE METRO GRAPH THEATER, A

DESTINATION FOR LOVERS CINEMA IN

CHINATOWN.

A VISIT TO JAMES CARROUSEL, AN

HOMAGE TO THE GOLDEN AGE OF

CARROUSEL MAKING AT BROOKLYN

BRIDGE PARK.

AND A PROFILE OF ABSTRACT

PAINTER DOROTHEA ROCKBURN.

>> I REALIZED THERE WAS MORE TO

NATURE THAN PAINTING A

LANDSCAPE.

>> FUNDING FOR NYC ARTS IS MADE

POSSIBLE BY ROSALYND MERRIL,

GENE DUBINSKY APPLETON ESTATE,

ELLEN AND JAMES MARCUS, THE

LEWIS SUNNY TURNER FUND FOR

DANCE, ELISE JAFFY, ELROY AND

TERRY CRUMBHOLTZ FOUNDATION.

THIS PROGRAM IS SUPPORTED IN

PART BY PUBLIC FUNDS FROM THE

NEW YORK CITY DEPARTMENT OF

CULTURAL AFFAIRS IN PARTNERSHIP

WITH THE CITY COUNCIL.

NYC ARTS IS MADE POSSIBLE IN

PART BY FIRST REPUBLIC BANK.

>> FLEXIBILITY.

COORDINATION.

EXCELLENCE.

FIRST REPUBLIC PRIVATE WEALTH

MANAGEMENT, IT'S A PRIVILEGE TO

SERVE YOU.

>> AND BY SWAN AUCTION

GALLERIES.

>> SWAN AUCTION GALLERIES.

WE HAVE A DIFFERENT WAY OF

LOOKING AT AUCTIONS OFFERING

VINTAGE BOOKS AND FINE ART SINCE

1941, WORKING TO COMBINE

KNOWLEDGE WITH ACCESSIBILITY,

WHETHER YOU ARE A LIFE LONG

COLLECTOR OR LOOKING TO SELL,

INFORMATION AT

SWANGALLERIES.COM.