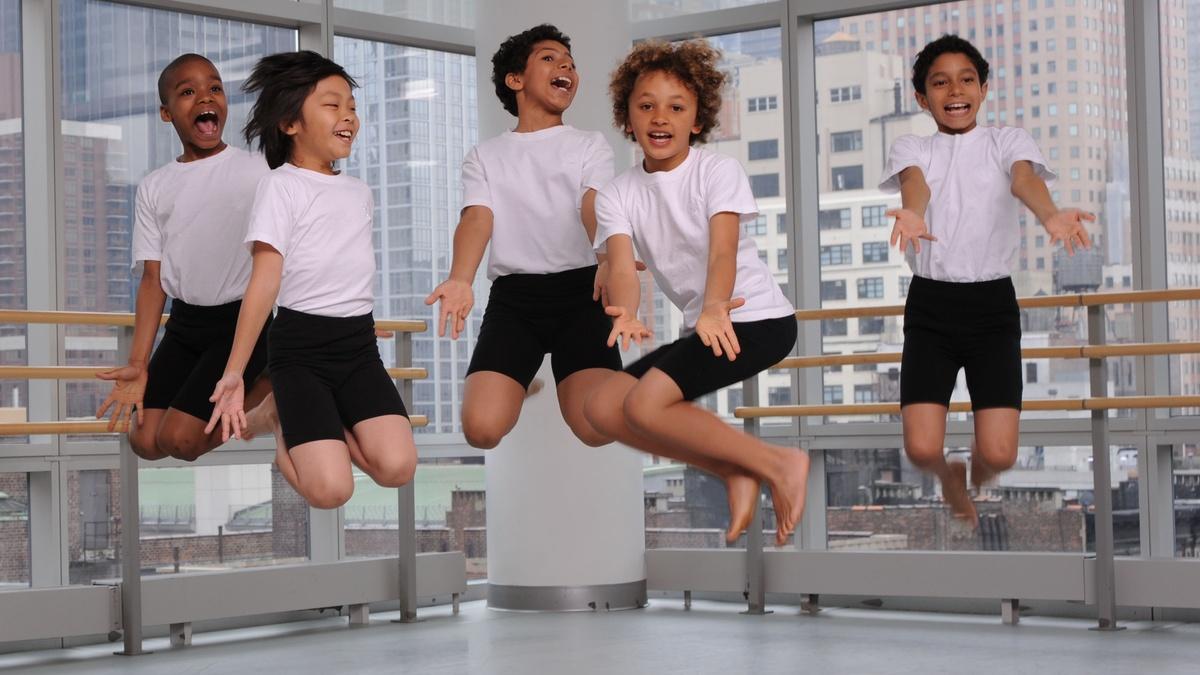 S2020 E498 | FULL EPISODE
NYC-ARTS Full Episode: October 1, 2020
A celebration of the Alvin Ailey American Dance Theater and its educational mission, featuring dancer Solomon Dumas. Followed by a profile of artist Jeffrey Gibson, whose beadwork, ceramics, sculptures and paintings are inspired by his complex cultural heritage, as well as by minimalism and abstraction. Then NYC-ARTS visits the American Folk Art Museum for a look at the work of Ammi Phillips.
TRANSCRIPT

♪

>>> COMING UP ON NYC ARTS, A

CELEBRATION OF THE SPIRIT OF THE

ALVIN AILEY DANCE THEATER AND

ITS EDUCATIONAL COMMISSION.

>> I ATTENDED THE AILEY CAMP AT

THE AGE OF 13.

I LEARNED ABOUT MR. AILEY

HISTORY AND THE WORKS HE

CHOREOGRAPHED AND DISCIPLINE.

>> A PROFILE OF ARTIST JEFFREY

GIBSON WHOSE BEAD WORK,

SCULPTURE AND PAINTINGS ARE

INSPIRED BY HIS NATIVE AMERICAN

HERITAGE.

>> WHEN YOU ARE A FOREIGNER, YOU

DON'T KNOW WHAT YOU ARE HEARING

ALL THE TIME.

SO YOU HAVE THIS KIND OF

SUBJECTIVE COMPREHENSION OF THE

WORLD AROUND YOU THAT IS AN

ESTIMATED GUESS.

>> AND A VISIT TO THE AMERICAN

FOLK ART MUSEUM.

>> ONE OF THE MOST HIGHLY

RECOGNIZED AMERICAN SELF-TAUGHT

ARTISTS IS THE PORTRAIT PAINTER

AND MIKE PHILIPS.

IN THE PERIOD OF 1817 TO 1820 OR

SO, THESE PORTRAITS ARE VERY

DREAMY.

THEY'RE BEAUTIFUL PALETTES OF

THESE SHIMMERING MUTED COLORS.

>> FUNDING FOR NYC ARTS IS MADE

POSSIBLE BY --

.

>>> SWANN AUCTION GALLERIES.

WE HAVE A DIFFERENT WAY OF

LOOKING AT AUCTION, OFFERING

VINTAGE BOOKS AND FINE ARTS

SINCE FINE 41 WORKING TO COMBINE

KNOWLEDGE WITH ACCESSIBILITY,

WHETHER ARE YOU A LIFE-LONG

COLLECTOR OR FIRST TIME BUYER OR

LOOKING TO SELL INFORMATION AT

SWANN GALLERIES.COM.

♪

>>> GOOD EVENING, AROUND WELCOME

TO NYC ARTS.

I'M PAULA ZAHN.

WE ARE DELIGHTED TO MAKE OUR

RETURN AFTER WHAT HAS BEEN AND

CONTINUES TO BE A VERY

CHALLENGING TIME FOR ALL OF US,

INCLUDING THE ARTS INSTITUTIONS

WE LOVE.

WHETHER ON GALLERY WALLS OR ON

STAGE, THE ARTS HAVE ALWAYS

LIFTED US UP, INSPIRED US AND

MADE US FEEL A SENSE OF

COMMUNITY.

FORTUNATELY, MANY OF OUR

WONDERFUL MUSEUMS ACROSS ALL

FIVEBOROS ARE, ONCE AGAIN,

OPENED TO THE PUBLIC.

FROM THE MUSEUM OF ARTS AND

DESIGN TO THE METROPOLITAN

MUSEUM OF ART.

THE MUSEUM OF JEWISH HERITAGE,

TO THE NEW YORK HISTORICAL

SOCIETY, ALICE AUSTINHOUSE IN

STATIN, ISLAND.

THE QUEENS MUSEUM.

THE BROOKELYNN MUSEUM.

AND THE NEW YORK BOTANICAL

GARDEN IN THE BRONX.

WHILE MUSEUMS AND GALLERIES ARE

WELCOMING BACK VISITORS, NEW

YORK'S PERFORMING ARTS GROUPS

HAVE A MORE DIFFICULT ROAD.

THE PANDEMIC HIT THE ALVIN AILEY

DANCE THEATER SPECIAL HARD.

IT CANCELLED ALL OF ITS

PERFORMANCES AND CLOSED THE

DOORS OF ITS JOAN WEIL CENTER

FOR DANCE.

BUT THE ORGANIZATION HAS FOUND

NEW WAYS TO KEEP THE AILEY

SPIRIT ALIVE.

THROUGH AILEY ACCESS PROGRAMS,

THEY ARE SHARING PAST VIDEOS OF

THE COMPANY PERFORMING ON STAGE

AS WELL AS INSPIRED NEW

PERFORMANCES OF CLASSIC AILEY

WORKS RECORDED TOGETHER WHILE

APART BY THE DANCERS.

SN♪ AND THEY HAVE CREATED

POWERFUL AND MOVING RESPONSES TO

THE PANDEMIC AND THE FIGHT

AGAINST SYSTEMIC RACISM.

>> WHEN OUR HEARTS BREAK, WE

STAND UP.

AND WHEN OUR HEARTS BREAK, WE

DANCE.

WE DANCE.

WE DANCE.

>> THIS FALL, THE AILEY SCHOOL,

LIKE ALL NEW YORK SCHOOLS, IS

TAKING ITS FIRST TENTATIVE STEPS

BACK AND THE AILEY EXTENSION

PROGRAM IS WORKING TO KEEP ITS

YOUNGEST DANCERS, AS WELL AS

ENTHUSIASTIC ADULTS DANCING WITH

AILEY WITHOUT EVER HAVING TO

LEAVE THEIR HOMES.

ON TONIGHT'S PROGRAM, WE

CELEBRATE THE ALVIN AILEY

EDUCATION MISSION, FOUNDED MORE

THAN 60 YEARS AGO BY THE

LEGENDARY DANCER AND

CHOREOGRAPHY ALVIN AILEY, THEY

OFFER THE UNIQUENESS OF

AFRICAN-AMERICAN CULTURE AND IS

DEDICATED TO THE PRESERVATION

AND ENRICHMENT OF AMERICAN

MODERN DAMAGES.

SINCE ITS EARLIEST DAYS, THE

COMPANY PROVIDED A SCHOOL WHERE

STUDENTS CAN DEVELOP INTO THE

BEST DANCERS THEY COULD BE.

THROUGH SPECIAL PROGRAMS

BOUNDING BOARDS AND AILEY

ATHLETIC BOYS, IT NURTURES YOUNG

MEN WHO ARE UNCERTAIN OF THEIR

PATH.

BUT IT ALSO PROVIDES

OPPORTUNITIES THROUGH ARTS AND

EDUCATION PROGRAMS LIKE SUMMER

AILEY CAMPS FOR ALL YOUNG PEOPLE

TO LEARN AND ENJOY DANCE.

>>> EDUCATION REALLY FITS INTO

THE BROADER MISSION OF THE OMNI

AMERICAN DANCE THEATER.

THE COMPANY WAS FOUNDED IN 1958

BY ALVIN AILEY.

HE WAS TRYING TO SPEAK TO THE

NEEDS CERTAINLY OF OPPORTUNITIES

FOR PEOPLE OF COLOR TO BE SEEN

ON THE CONCERT DANCE STAGE.

SO IT WAS MISSION DRIVEN FROM

THE BEGINNING, THAT IT WASN'T

JUST ABOUT ENTERTAINMENT, THAT

IT WAS ABOUT EDUCATING THE

PUBLIC ABOUT THE CONTRIBUTIONS

OF BLACK PEOPLE TO THIS COUNTRY.

HE WANTED TO HAVE AN AILEY

SCHOOL, BECAUSE HE WANTED TO

GIVE OPPORTUNITY FOR YOUNG

PEOPLE TO HAVE ACCESS TO THIS

ART FORM.

BUT WHEN I THINK OF A MALE

DANCER, THERE IS STILL A CERTAIN

STIGMA ATTACHED TO BEING A BOY

DANCER AND SO, THAT'S WHY SOME

OF OUR PROGRAMS LIKE AILEY

ATHLETIC BOYS, FOUNDING BOYS,

AILEY CAMP REALLY TRIED TO GIVE

THAT INROAD FOR YOUNG PEOPLE AND

CERTAINLY FOR YOUNG MEN WHO WANT

TO DANCE.

>> THE AILEY ATHLETIC BOYS

PROGRAM IS A PROGRAM DESIGNED TO

TRAIN YOUNG MEN IN THE

TECHNIQUES THAT WE OFFER HERE AT

THE AILEY SCHOOL THE PROGRAM WAS

CREATED FOR BOYS TO OVERCOME THE

OBSTACLE OF BEING OSTRACIZED OR

CHALLENGED WITH ALL OF THIS IS

FOR GIRLS, TO REALLY CREATE A

SAFE PLACE THAT WOULD ALLOW THEM

TO BE FREE AND FEEL GOOD ABOUT

WHAT THEY'RE DOING.

AILEY ATHLETIC BOYS DANCE

PROGRAM, BECAUSE WE WANT THEM TO

UNDERSTAND THAT YOU ARE AN

ATHLETE.

AS MUCH AS PEOPLE DON'T SEE

DANCERS AS ATHLETES, THEY ARE

SUPERIOR ATHLETES.

>> AILEY CAMP IS A SUMMER DAY

PROGRAM FOR AT-RISK YOUTH, WHO

ARE UNDER SERVED, I LIKE TO SAY

IT THAT WAY.

IT WAS ONE OF THE LAST PROGRAMS

THAT ALVIN AILEY IMPLEMENTED

BEFORE HE DIED IN 1989 AND WHAT

IT REALLY DOES IS GIVE THESE

YOUNG PEOPLE A VOICE.

YOU KNOW, SOME OF THEM ARE

COMING FROM SITUATIONS THAT THEY

SHOULDN'T EVEN BE DEALING WITH

AT SUCH A YOUNG AGE AND SO THEY

HAVE THESE AFORMATIONS THAT THEY

DO.

THEY HAVE DRUMMING, ESPECIALLY

FOR THE BOYS, WHO ARE INTO LIKE

THE DRUMMING A LOT.

THEY GET TO LEARN DIFFERENT

REPERTOIRE.

THEY GET TO SHOW THAT CREATIVE

PART OF THEMSELVES THAT GIVE

THEM REALLY, TRULY, A VOICE, A

SENSE OF OWNERSHIP.

>> I ATTENDED AILEY CAMP IN

CHICAGO, ILLINOIS IN 2001 AT THE

AGE OF 13.

MY MOTHER FORCED ME TO ATTEND

THE CAMP AND AT THE CAMP, I

LEARNED ABOUT MR. AILEY'S

HISTORY, THE WORKS HE

CHOREOGRAPHED AND WE LEARNED

DISCIPLINE.

LEARNING ABOUT MR. AILEY'S

HISTORY, KNOWING THAT HE WAS

RAISED BY A SINGLE MOM.

HE WAS INTRODUCED TO DANCE LATER

IN LIFE IN HIGH SCHOOL, LEARNING

HOW HE CELEBRATED HIS OWN

HISTORY, HIS OWN EXPERIENCES

THROUGH DANCE REALLY LEFT AN

IMPACT.

I NEVER SEEN ART CREATED IN THE

GENRE OF DANCE THAT WAS

DEDICATED TO THE HISTORY OF

BLACK AMERICANS AND BLACK LIFE

AND BLACK EXPERIENCES.

IT MADE ME PROUD AFTER SEEING

IT, IT MADE ME PROUD TO BE WHO I

AM.

HE SAW HIMSELF AS AN ARTIST AND

HE EMBRACED THAT.

HE EMBRACEED THAT LOVE FOR ART

AT A YOUNG AGE.

IT GAVE ME PERMISSION TO EXPLORE

THAT WITHIN MYSELF.

I NEVER IN A MILLION YEARS PRIOR

TO AILEY CAMP THOUGHT I WOULD

HAVE HAD THE COURAGE TO DO

SOMETHING LIKE THAT.

AND IT REALLY GAVE ME THE

COURAGE TO STEP OUT AND LEARN,

EDUCATE MYSELF, PUSH MYSELF,

IMMERSE MYSELF.

THE WORK THAT WE DO AS A DANCER

IN ALVIN AILEY AMERICAN DANCE

THEATER TAKES A DEDICATION AND A

FOCUS AND A DISCIPLINE THAT IS

REQUIRED AT ALL TIME.

I WAS INTRODUCED TO THAT

DISCIPLINE AT AILEY CAMP.

AILEY CAMP WAS THE CATALYST THAT

CHANGED IT ALL FOR ME.

♪

>>> WE DO UNDERSTAND THAT IF

THEY'RE NOT GOING TO BE A

DANCER, THAT'S OKAY.

THEY'RE GOING TO GET MORE FROM

THIS THAT WILL LAST THEM IN THE

LONG RUN BESIDES JUST THE

DISCIPLINE.

IT'S THE FOCUS, THAT ENGAGEMENT

THAT THEY WILL UNDERSTAND THAT

WILL TAKE THEM WELL BEYOND

DANCE, ANYTHING THEY DO.

>> THE OUTREACH ASPECT OF THE

ORGANIZATION THAT MR. AILEY WAS

SO PASSIONATE ABOUT IS IMPORTANT

BECAUSE IT INTRODUCES UNDER

SERVED, UNDER PRIVILEGED

CHILDREN TO THE HEALING AND

DISCIPLINE AND THE PRIVILEGE OF

BEING CHANGED THROUGH THE ARTS,

THROUGH ARTS EDUCATION.

IT'S SOMETHING THAT WE ALL NEED,

AND I DON'T WANT TO SOUND CORNY,

BUT THE ARTS ARE HEALING.

THE ARTS ARE HEALING IN MORE

WAYS THAN I CAN EVEN COUNT.

IN RETROSPEC, I CAN LOOK BACK

AND I CAN UNDERSTAND THAT IT

REALLY SAVED MY LIFE IN WAYS

THAT I DON'T EVEN WANT TO

IMAGINE MY LIFE WITHOUT.

WHAT ALVIN AILEY SAID IS WHAT HE

IS REALLY TRYING TO DO IS HOLD

UP A MIRROR TO SOCIETY SO PEOPLE

CAN SEE HOW BEAUTIFUL THEY ARE.

THAT'S AT THE CORE I THINK OF

WHAT YOU ARE TRYING TO DO.

>> THAT WE'RE DOING A SERVICE TO

ALVIN AILEY'S LEGACY.

I CAN SEE HIM SMILING.

HE LOVED YOUNG PEOPLE, BECAUSE I

THINK HE KNEW WHAT IT FELT TO BE

LEFT OUT AS A YOUNG PERSON.

THAT WAS THE REASON THAT HIS

ARMS WERE OPENED SO WIDE,

ESPECIALLY TO INCLUDE THE YOUNG

PEOPLE IN THE UNDER SERVED

COMMUNITIES.

>>> FOR MORE INFORMATION ON

CULTURAL EVENTS IN OUR AREA,

PLEASE SIGN UP FOR OUR FREE

WEEKLY E-MAIL AT NYC-ARTS.ORG

SLASH E-MAIL.

TOP FIVE PICKS WILL KEEP YOU UP

TO DATE ALL YEAR ROUND AND BE

SURE TO CONNECT WITH NYC ARTS ON

FACEBOOK, INSTAGRAM AND TWITTER.

>>> NEXT, WE'LL MEET ARTIST

JEFFREY GIBSON, WHOMPLS AWARDED

THE PRESTIGIOUS MacARTHUR

FELLOWSHIP LAST YEAR.

BORN IN COLORADO SPRINGS, GIBSON

GREW UP AROUND THE WORLD THANKS

TO HIS FATHER'S CAREER WITH THE

DEPARTMENT OF DEFENSE.

HE SAID HIS CHILDHOOD IN KOREA

AND GERMANY BEFORE EVENTUALLY

MOVING BACK TO THE STATES.

AFTER GRADUATING FROM THE ART

INSTITUTE OF CHICAGO, HE WENT TO

LONDON TO STUDY AT THE ROYAL

COLLEGE OF ART.

HIS BEADWORK, CERAMICS,

SCULPTURES AND PAINTINGS ARE

INFLUENCED BY CHEROKEE TRADITION

INSPIRED BY SAMPLED AND REMIXED

POP MUSIC, HE COMBINES HIS

CULTURAL HERITAGE WITH

MINIMALISM AND ABSTRACTION.

HIS STUDIO IS IN HUDSON, NEW

YORK, IN AN OLD ELEMENTARY

SCHOOL.

WHY WHICH ULNA OLSEN CONVERTED

INTO STUDIO SPACE NOW GROWING TO

AN ARTISTIC COMMUNITY.

AN EXHIBITION OF GIBSON'S WORK

IS NOW ON VIEW AT THE BROOKLYN

MUS

MUSEUM.

>> GROWING UP AS A FOREIGNER IS

SOMETHING I THINK ABOUT A LOT

NOW.

YOU KNOW, WHEN ARE YOU A

FOREIGNER, YOU DON'T ENTIRELY

UNDERSTAND WHAT YOU ARE LOOKING

AT OR YOU ARE HEARING ALL THE

TIME.

SO YOU HAVE THIS KIND OF

SUBJECTIVE COMPREHENSION OF THE

WORLD AROUND YOU THAT IS AN

ESTIMATED GUESS.

THEY THINK ABOUT THAT A LOT IN

TERMS OF HOW I USE MATERIALS.

BECAUSE I USE A LOT OF MATERIALS

THAT I THINK MANY PEOPLE MAY NOT

KNOW THE CONTEXT THAT I AM

DRAWING THEM FROM OR WHAT THE

CULTURE IS OR THE HISTORY IS.

SO MY MOTHER'S FAMILY LIVES IN

OKLAHOMA.

MY FATHER'S FAMILY LIVES IN

MISSISSIPPI.

AND THOSE CHEROKEE CULTURES ARE

EXTREMELY DIFFERENT.

SO WHEN I WOULD GO THERE, IT

WOULD BE TO VISIT MY FAMILY.

I NEVER WANTED TO OBSERVE MY

FAMILY.

YOU WANT TO BE A PARTICIPANT IN

MY FAMILY.

SO WE DON'T LOOK AT EACH OTHER

AND THINK, OH, THAT'S NATIVE

AMERICAN.

THEN I BEGAN THINKING, WHAT WAS

IT ABOUT THE QUILTS THAT GRANDMA

MADE OR THE JEWELRY THAT SHE

WORE OR THE DRESSES THAT SHE

MADE, WHAT DID THE SONG MEAN

THAT SHE WOULD SING AND THEN IT

BECOMES SOMETHING CULTURALLY

SPECIFIC, I SUPPOSE.

OTHERWISE, IT'S KIND OF

INHERENTLY FAMILIAL.

IT STARTED FROM PLACES I WANT TO

TAKE PART IN ALL OF THESE

THINGS.

I WANT TO KNOW HOW TO BE AND IT

STARTS OFF A PATTERN, DESIGN,

COLOR CHOICES.

IT STARTS OFF THE CHALLENGE OF

WHAT YOU CAN ACTUALLY DO WITH

BEADS.

I WANTED TO MAKE FOUND OBJECT

WORK AND OVER THE COURSE OF

TIME, SOMETIMES THEY ARE MASHED

TOGETHER.

I'M INTERESTED IN EXPLORING THE

TRANSFORMATIVE NATURE OF

MATERIALS AND NOW THE LANGUAGE

CAN SHIFT FROM A BEADED TRIANGLE

TO A PAINTED TRIANGLE TO A WOVEN

TRIANGLE AND WHAT THOSE THREE

DIFFERENT VERSIONS OF A TRIANGLE

MEAN.

>> THERE IS THIS PERIOD OF CLUB

MUSIC THAT WITH THE TRANSITION

OF ANALOG MUSIC INTO DIGITAL AND

IT WAS THE SAMPLING AND THE TURN

TABLES WHERE PEOPLE COULD SAMPLE

MUSIC THAT WAS REALLY HAD AN

IMPRESSION ON ME.

SO THIS KIND OF REPETITIVE

NATURE OF REPEATING AND PICKING

SOMETHING FROM ONE CONTEXT AND

STICKING IT INTO ANOTHER ONE AND

MAKING SOMETHING NEW.

I CAN SPEND THE TIME IN MY

STUDIO MAXING UP, REMIXING,

TAKING APART, RECONSTRUCTING.

I CAN INVITE OTHER PEOPLE TO

TAKE PART IN THAT WITH ME.

I THINK IT'S IMPORTANT TO JUST

BE TRANSPARENT ABOUT THE

PROCESS.

WE ACT KNOWLEDGE THE ASSISTANCE

ALL THE TIME AS MUCH AS WE CAN.

IT'S JUST ME MAKING, FOR

INSTANCE, A VIBE, WE WOULD BE

SEEING ONE A YEAR.

THE LINES BETWEEN CRAFT AND

WHAT'S YOU KNOW HISTORICALLY

BEEN THOUGHT OF AS FINE ART, THE

DECORATIVE EMBELLISHMENT, ALL OF

THOSE THINGS IN THIS ENVIRONMENT

ARE EQUALIZED.

IF YOU LOOK AT PALO GARMENTS,

THEY'RE SO LOUD AND COLORFUL.

WITH THAT AS MY INSPIRATION IN

MANY WAYS, THERE WAS NO LIMIT TO

THE COMBINATION OF COLORS.

IT'S MORE THINKING ABOUT WHAT

THE COLOR DOES IN COMBINATION

WITH EACH OTHER.

SO IT'S REALLY EITHER KIND OF

POP OR EWILLIELECTRIC OR REFLK

NEXTIVE.

OR OPTIC.

I DO HAVE AN ATTRACTION BETWEEN

THE IDEA OF MINIMALISM AND HOW

MINIMALISM LEADS TOWARDS LIKE

MAX MALDENSITY.

I USED TO THINK MINIMALISM WAS

MAINTAINING THIS QUIET, SOLID

PLACE, LIKE THIS VOID UNFILLED

WITH THINGS.

NOW I REALIZE THE REMOVAL OF

INFORMATION IN AN EFFORT TO

ACTUALLY BE ABLE TO SEE HOW MUCH

IS PRESENT IN A VERY SMALL SPACE

OR IN A VERY LIMITED PALETTE.

THE IDEA IS TO LIKE SAY SLOW

DOWN THE COLOR RED AND

UNDERSTAND HOW MANY SHADES OF

RED THERE ARE.

SLOW DOWN THE COLOR BLUE,

UNDERSTAND HOW MANY SHADES OF

BLUE TONES OF BLUE AND THEN, OF

COURSE, IT OPENS RIGHT BACK UP

INTO INCLUDING EVERY SINGLE

COLOR.

MY TRAINING IS AS AN ENTIRELY

PROCESSED ABSTRACT ARTIST.

BUT THE TEXT WAS ALWAYS MEANT TO

NAME THIS ENTIRELY SUBJECTIVE

LANGUAGE OF SUBTRACTION.

AND AT SOME POINT WHEN THE

AUDIENCE WASN'T ABLE TO GET THE

CONTENT THAT I THOUGHT I WAS

PUTTING INTO THE ABSTRACTION, I

DECIDED TO JUST START PUTTING

THE TEXT DIRECTLY ON IT.

MOST OF THE TITLES, FOR

INSTANCE, COME FROM

APPROPRIATATED LYRICS.

AND THEN IT JUST KIND OF HIT.

THERE WAS SOMETHING ABOUT THE

UNDERSTANDING THAT THESE WORDS

DESCRIBE WHAT YOU ARE LOOKING

AT.

THEY BECAME A REALLY BIG PART OF

THE WORK FOR ME.

PEOPLE WHO ARE LOOKING AT MY

WORK AT THE TIME WOULD ALWAYS

QUESTION, WELL, HOW DOES THIS

RELATE TO WHO YOU ARE?

YOU KNOW, HOW DOES THIS RELATE

TO YOU AS A NATIVE-AMERICAN

PERSON, AS A GAY PERSON?

IS THE SUBJECTIVITY SOMEHOW

REPRESENTATIVE OF THAT

EXPERIENCE?

AND IT SEEMED NO MATTER HOW HARD

I WOULD SAY, NO, IT'S NOT.

IT ALMOST COMPOUNDED MORE FOR

PEOPLE TO LOOK FOR CONNECTIONS

IN THE WORK AND AT SOME POINT I

DECIDED TO OWN THE WORDS

NATIVE-AMERICAN, TO OWN THE

WORDS GAY AND NOT GIVE THEM ANY

KIND OF POWER OVER DETERMINING

WHO I AM, BUT I WAS FINE WITH

THE WORK BEING DESCRIBED IN A

WAY.

BECAUSE IT IS TRUE.

THIS IS MY EXPERIENCE IN THE

20th CENTURY AT THE TIME AND

EVEN TODAY, THAT'S VERY MUCH HOW

WE DESCRIBE EACH OTHER.

I ACKNOWLEDGE THAT WE'RE ALL

VERY, VERY LAYERED COMPLICATED

PEOPLE.

IN OUR CONTEMPORARY WORLD, WE

DON'T ALWAYS HAVE THE

OPPORTUNITY TO EXPLORE THAT OR

TO SHARE THAT WITH EACH OTHER.

BUT IT'S WHAT YOU CAN DO IN ART.

NEXT, WE'LL VISIT THE AMERICAN

FOLK ART MUSEUM LOCATED ACROSS

FROM LINCOLN CENTER, IT IS ALSO

REOPENED TO VISITORS.

SINCE 1961, THIS MUSEUM HAS BEEN

SHOWCASING THE CREATIVITY OF

ARTISTS WHOSE TALENTS HAVE BEEN

REFINED THROUGH PERSONAL

EXPERIENCE RATHER THAN THROUGH

FORMAL ARTISTIC TRAINING.

ITS COLLECTION INCLUDES MORE

THAN 8,000 WORKS OF ART FROM

FOUR CENTURIES REPRESENTING

NEARLY EVERY CONTINENT.

>> ONE OF THE MOST HIGHLY

RECOGNIZED AMERICAN SELF-TAUGHT

ARTISTS IS THE PORTRAIT PAINTER

AMI PHILIPS.

PHILIPS WAS BORN IN 17 EIGHT IN

CONNECT.

DURING HIS LIFETIME HE PAINTED

FOR MORE THAN 55 YEARS.

TODAY WE ARE AWARE OF CLOSE TO

1,000 PORTRAITS PAINTED BY HIM.

IN THE PERIOD OF 1817 TO 1820 OR

SO, HIS PORTRAITS ARE A VERY

DREAMY, THEY'RE BEAUTIFUL

PALETTES OF THESE SHIMMERING

MUTED COLORS, MOSTLY THEY'RE

VERY ESSENTIAL PORTRAITS, VERY

PRODUCTIVE STRIPPED DOWN TO THE

ESSENCE OF CONVEYING THE

CHARACTER AND PERSONALITY OF

WHOEVER WAS BEING PORTRAYED.

IN HIS PORTRAIT OF RHODA

GOODRICH BENTLEY AND HER

DAUGHTER MARIA LUISA PAINTED

PROBABLY AROUND 1817, WE HAVE

THE INCLUSION OF A FEW DETAILS

THAT ARE SIGNIFICANT AND THAT

ARE UNUSUAL IN PAR TRAITS BY

PHILIPS -- PORTRAITS BY PHILIPS.

HER DAUGHTER IS HOLDING A SLICE

OF WATERMELON AND SHE IS HOLDING

A PIECE OF PLEATED COTTON.

WHICH MAY BE A REFERENCE TO, OF

COURSE, THE COTTON PLANTATIONS

IN THE SOUTH.

SO WE HAVE THIS PORTRAIT THAT

INCLUDES THESE ELEMENTS THAT

SEEM UNUSUAL FOR A MIDDLE CLASS

FAMILY IN NEW YORK STATE AND

THAT SEEM TO BE MAKING AN

ILLUSION TO THIS VERY SERIOUS

ISSUE OF SLAVERY THAT CLEARLY

HAD GREAT MEANING FOR THIS

FAMILY.

AMI PHILIPS PAINTED FOR MORE

THAN 55 YEARS AND HIS STYLE

UNDERWENT DRAMATIC CHANGES FROM

ONE PERIOD TO ANOTHER.

MRS. BENTLEY WAS PAINTED AT THE

HEIGHT OF WHAT WE CALL THE

NEOCLASSICAL ERA, REFLECTING THE

ROMANTICISM AND THE PALETTE

ASSOCIATED WITH CLASSICAL

ICONOGRAPHY AND FASHION, THE

EMPIRE STYLE DRESSES.

BUT, BY THE 1830s, THERE WAS A

VERY DIFFERENT AESTHETIC AT

PLAY.

IT WAS MUCH HARDER EDGED.

IT WAS VERY CLEAR, VERY CLEARLY

DEFINED.

THERE WERE MUCH DEEPER CONTRASTS

OF COLOR.

THE AMERICAN FOLK ART MUSEUM

HOLDS ONE OF PHILIPS' GREATEST

MASTERPIECES IN ITS COLLECTIONS

AND IT'S SIMPLY TITLED, GIRL IN

RED DRESS WITH CAT AND DOG AND

ITS THE BRILLIANCE OF THE RED

AGAINST THE STARK BLACK

BACKGROUND THAT SETS UP THESE

JUXTAPOSITIONS THAT ARE TIMELESS

AND BEAUTIFUL BUT VERY, VERY

DIFFERENT FROM THE EARLIER

PORTRAITS.

♪

>>> I HOPE YOU'VE ENJOYED OUR

PROGRAM THIS EVENING.

I'M PAULA ZAHN.

THANK YOU SO MUCH FOR WATCHING.

HAVE A GOOD NIGHT.

.

>>> NEXT WEEK ON NYC ARTS, A

LOOK AT THE AUDUBON MURAL

PROJECT IN UPPER MANHATTAN WHICH

PAYS TRIBUTE TO BIRDS THAT ARE

AT RISK DUE TO THE CLIMATE

CRISIS.

A PROFILE OF ONE OF TODAY'S MOST

DYNAMIC TAP DANCERS.

>> TAP DANCING FOR ME IS MAGIC.

IT'S MUSIC IN MOTION.

>> AND WE'LL MEET UP WITH IAN

FORREST, ALSO KNOWN AS

EYEGLASSES, A TALENTED CELLIST

THAT IS A PART OF THE MTA'S

MUSIC UNDER NEW YORK PROGRAM.

>> I'LL PLAY A BASS PART, A

PERCUSSION PART AND HARMONY PART

AND I CAN LOOP THAT SEGMENT OVER

AND OVER AGAIN.

I'M PLAYING NINE OR TEN

DIFFERENT CELLO PARTS AT THE

SAME TIME.

>> TO ENJOY MORE OF YOUR

FAVORITE SEGMENTS ON NYC ARTS,

PLEASE VISIT OUR WEBSITE ON

NYC-ARTS.ORG.

[ MUSIC PLAYING ]

♪

.

>> FUNDING FOR NYC ARTS IS MADE

POSSIBLE BY -- THIS PROGRAM IS

SPERTED IN PART BY PRIVATE FUNDS

IN PARTNERSHIP BY CITY COUNCIL.

NYC ARTS IS MADE POSSIBLE IN

PART BY --

SPERTED IN PART BY PR

FUNDS IN PARTNERSHIP BY CITY

COUNCIL.

NYC ARTS IS MADE POSSIBLE IN

PART BY --

PSPERTED IN PART BY P

FUNDS IN PARTNERSHIP BY CITY

COUNCIL.

NYC ARTS IS MADE POSSIBLE IN

PART BY --

POSPERTED IN PART BY

FUNDS IN PARTNERSHIP BY CITY

COUNCIL.

NYC ARTS IS MADE POSSIBLE IN

PART BY --

NSPERTED IN PART BY P

FUNDS IN PARTNERSHIP BY CITY

COUNCIL.

NYC ARTS IS MADE POSSIBLE IN

PART BY --

SPERTED IN PART BY PRE

FUNDS IN PARTNERSHIP BY CITY

COUNCIL.

NYC ARTS IS MADE POSSIBLE IN

PART BY --

ESPERTED IN PART BY

PRIVATE FUNDS IN PARTNERSHIP BY

CITY COUNCIL.

NYC ARTS IS MADE POSSIBLE IN

PART BY --

RSPERTED IN PART BY

PRIVATE FUNDS IN PARTNERSHIP BY

CITY COUNCIL.

NYC ARTS IS MADE POSSIBLE IN

PART BY --

ESPERTED IN PART BY

PRIVATE FUNDS IN PARTNERSHIP BY

CITY COUNCIL.

NYC ARTS IS MADE POSSIBLE IN

PART BY --

DSPERTED IN PART BY

PRIVATE FUNDS IN PARTNERSHIP BY

CITY COUNCIL.

NYC ARTS IS MADE POSSIBLE IN

PART BY --

ED IN PART BY PRIVATE

FUNDS IN PARTNERSHIP BY CITY

COUNCIL.

NYC ARTS IS MADE POSSIBLE IN

PART BY --

D IN PART BY PRIVATE

FUNDS IN PARTNERSHIP BY CITY

COUNCIL.

NYC ARTS IS MADE POSSIBLE IN

PART BY --

IN PART BY PRIVATE

FUNDS IN PARTNERSHIP BY CITY

COUNCIL.

NYC ARTS IS MADE POSSIBLE IN

PART BY --

.

>> SWANN AUCTION GALLERIES, WE

HAVE A DIFFERENT WAY OF LOOKING

AT AUCTIONS, SINCE 1941, WORKING

TO COMBINE KNOWLEDGE WITH

ACCESSIBILITY.

WHETHER YOU ARE A LIFE-LONG

INVESTOR, INFORMATION AT

SWANNGALLERIES.COM.