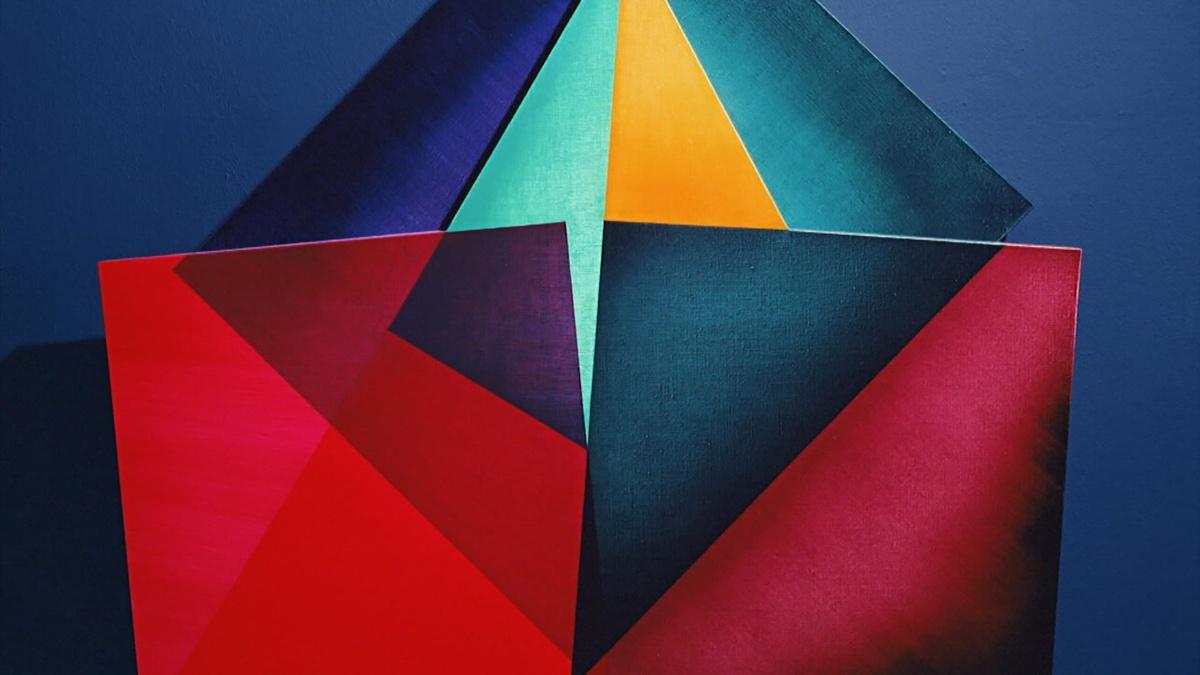 S2019 E470 | FULL EPISODE
NYC-ARTS Full Episode: November 28, 2019
NYC-ARTS visits Shahpour Pouyan, Jeffrey Gibson and Dorothea Rockburne in their studios. Pouyan's works range from drawing and painting to sculpture and performance art. Gibson's beadwork, ceramics, sculptures, and paintings are influenced by Cherokee and Choctaw tradition. Rockburne is an abstract painter who draws inspiration from her interest in mathematics and astronomy.
TRANSCRIPT

♪

♪

>>> NEXT ON "NYC ARTS," A LOOK

BACK AT SOME OF OUR FAVORITE

SEGMENTS FEATURING THE BEST IN

ARTS AND CULTURAL EVENTS IN OUR

AREA.

>> I MAKE CERAMIC, AND AT THE

SAME TIME I DO PAINTING,

DRAWING, PHOTOGRAPHY,

EVERYTHING.

♪

♪

>> I'M INTERESTED IN EXPLORING

THE TRANSFORMATIVE NATURE OF

MATERIALS AND HOW THE LANGUAGE

CAN SHIFT FROM A BEADED TRIANGLE

TO A PAINTED TRIANGLE TO AOVEN

TRIANGLE AND WHAT THOSE THREE

DIFFERENT VERSIONS OF A TRIANGLE

MEAN.

>> I DON'T MAKE ART THAT IS --

THAT MEN WOULD MAKE.

I MAKE STRONG WOMAN ART.

>> FUNDING FOR NYC ARTS IS MADE

POSSIBLE BY ROSALIND P. WALTER,

TEA PATCHIC YORBA LINDA

FOUNDATION, THE LOUIS SONNY

TURNER FUND FOR DANCE, JODY AND

JOHN ARNEHOLD, KATE W. CASSIDY

FOUNDATION, ELISE JAFFE AND

JEFFREY BROWN, CHARLES AND

VALERIE DIKER, GENE DUBIN SKI

APPLETON ESTATE, EL ROY AND

TERRY CRUMB HOLT FOUNDATION AND

ELLEN AND JAMES S. MARCUS.

ADDITIONAL FUNDING PROVIDED BY

MEMBERS OF 13.

NYC ARTS IS MADE POSSIBLE IN

PART BY FIRST REPUBLIC BANK.

FIRST REPUBLIC BANK PRESENTS

FIRST THING'S FIRST.

AT FIRST REPUBLIC BANK FIRST

REFERS TO OUR FIRST PRIORITY,

THE CLIENT WHO WALKS THROUGH OUR

DOORS AND THE FIRST STEP,

RECOGNIZE THAT EVERY CLIENT IS

AN INDIVIDUAL WITH UNIQUE NEEDS.

FIRST DECREE, THE BANK WHOSE

CURRENCY IS SERVICE, AND THIS IS

FIRST REPUBLIC'S MISSION AND IT

IS STILL THE FIRST THING ON OUR

MINDS.

♪

♪

>>> GOOD EVENING AND WELCOME TO

NYC ARTS, I'M PETE DE MONTEBELLO

AT THE TISH AT LINCOLN CENTER.

IT'S BEEN MY PLEASURE ALONG WITH

PAULA ZAHN TO BRING YOU THE VERY

BEST OF ARTS AND CULTURE IN THE

TRI-STATE AREA, WHETHER IT IS

MUSIC, DANCE, FILM, THE VISUAL

ARTS AND CONTEMPORARY OR NEWLY

DISCOVERED AND NYC ARTS HAS

PROVIDED THE RICHNESS OF OUR

ARTS COMMUNITY.

IN THIS PROGRAM WE'D LIKE TO

SHARE WITH YOU SOME OF OUR

FAVORITE SEGMENTS.

WE HOPE THEY ARE SOME OF YOUR

FAVORITES, AS WELL.

>> ON TONIGHT'S PROGRAM, WE'LL

VISIT WITH SHAPUR PUYAN AN

IRANIAN ARTIST WHO SPLITS HIS

TIME BETWEEN NEW YORK AND

TEHRAN.

BORN IN 1979, THE YEAR OF IRAN'S

ISLAMIC REVOLUTION, PUYAN'S

CHILDHOOD WAS PROFOUNDLY

IMPACTED BY THE EIGHT-YEAR WORK

WITH IRAQ.

HIS WORKS RANGE FROM DRAWING AND

PAINTING TO SCULPTURE AND

PERFORMANCE ART FOCUSING ON

POWER, MILITARY AGGRESSION AND

RELIGION, ALTHOUGH NOT ALSO IN

AN OBVIOUS WAY.

LAST YEAR, PUYAN WAS ONE OF

THREE YOUNGER ARTISTS INCLUDED

IN AN EXHIBITION IN NYU'S GREAT

ART GALLERY.

GREATER LOCAL 1960 TO 2015.

SIX ARTISTS FROM IRAN.

ON DISPLAY WERE HIS DIGITAL

COPIES OF PERSIAN MINIATURES

WITH HISTORICAL FIGURES ERASED

AND THE LANDSCAPE FILLED IN.

ALSO INCLUDED WERE HIS

PROJECTILES, A SERIES OF

IMPOSING SCULPTURES MADE OUT OF

CHAIN MAIL.

A CRAFTY ARTIST LEARNED FROM A

MASTER PERSIAN ARMOR BUILDER AND

ETCHED WITH CALLIGRAPHY.

HIS LATEST WORK IS IN CERAMICS

CREATED AT BROOKHOUSE CERAMIC

ARTS CENTER IN LONG ISLAND CITY

AND ARE PART OF HIS FIRST SOLO

EXHIBITION IN FRANCE.

♪

♪

>> I MAKE CERAMICS, AND AT THE

SAME TIME I DO PAINTING,

DRAWING, PHOTOGRAPHY,

EVERYTHING.

THE FUN PART IS DOING EVERYTHING

WITH MY OWN HANDS.

I WAS BORN IN TEHRAN AND LIVE IN

BROOKLYN NOW.

IRAN IS THE MODERN NAME MEANING

IN POLITICAL TERMS AND PERSIA

WITH A THOUSAND YEARS OF

HISTORY.

I DON'T THINK IT'S ABOUT IRAN.

IT'S NOT ABOUT THE SPECIFIC

GEOGRAPHY.

IT'S MORE ABOUT THE CULTURE AND

INTERACTIONS THAT HAPPEN.

.

PROJECTILES ARE BASED ON

PRODUCING ARMOR IN IRAN AND TO

BE IN IRAN FOR 2,000 WROERS AND

3,000 YEARS AND THE PHYSICAL

PROCESS IS ABOUT BRINGING IT

BACK TO LIFE AND IT'S A VERY

CONTEMPORARY FORM OF PRACTICING

ART.

.

ARMORED LAYERS OF HISTORY AND

LAYERS OF AGGRESSION, AND AT

SOME POINT IT TURNED TO BE A

VERY POETIC PRODUCT WHICH IS

COVERED BY DECORATION, POETRY

AND LAYERS AND LAYERS OF RICH

CULTURE.

PEOPLE ALWAYS ASK ME WHAT HE'S

TRYING TO SAY, BUT TELLING

ANYTHING ABOUT THIS MAKES IT

MORE COMPLICATED BECAUSE THESE

WO

WORDS HAVE VERY STRONG

MISUNDERSTANDING BETWEEN

CULTURES AND I WOULD SAY IT'S

LAYERS AND LAYERS OF

MISUNDERSTANDING WHICH IS THE

TRUTH.

>> I COLLECTED A VERY SPECIFIC

MINIATURE OF MEDIEVAL AND 15th

AND 16th CENTURIES AND WE'RE

TALKING ABOUT A VERY LAST

GEOGRAPHY OF TODAY AS MANY

COUNTRIES.

WITH VERY IMPORTANT HISTORICAL

MOMENTS AND REMOVED ALL THE

FIGURES, HEROS AND ANTI-HEROES

AND I FREED THE MINIATURE FROM

THAT WEIGHT OF FIGURES.

SO WHAT YOU SEE IS THIS EMPTY

LANDSCAPE AND ARCHITECTURAL

THING.

THERE IS A STORY THERE.

HOWEVER, YOU CAN READ IT OR NOT,

SO IT'S JUST, I WOULD SAY

UPDATED.

I DO MANY SKETCHES, AND I KEEP

DOING SKETCHES AND CHANGING AND

CHANGING AND CHANGING, BUT

THEY'RE ALL COMING FROM AN IDEA.

SO I HAVE SOMETHING IN MY MIND

AND I HAVE, LIKE, A CONCEPT AND

SOMETHING THAT HAS TO GET A

THREE-DIMENSIONAL FORM AND WE

START BUILDING ON THE CERAMIC

PIECE, AND IT KEEPS CHANGING AND

CHANGING AND THE FINAL RESULT IS

SOMETHING ELSE.

WORKING WITH CLAY IS AMAZING

BECAUSE IT SOOTHES ME.

EVERY DAY YOU'RE WAITING THAT

SOMEHOW IT WILL SURPRISE YOU

WITH SOMETHING WITH A NEW CRACK,

WITH A CHANGE, AND WITH THE

FORMATION AND WITH MANY OTHER

THINGS, BUT IT'S A FIGHT THAT'S

THE MEDIUM AND DISCUSSIONS LIKE

I WANT TO TAKE YOU TO THE

PERFECT STEP AND HE'S JUST

RESISTING AND GETTING THE SHAPE

AND GETTING THE FORM AND THEN

YOU FIRE IT TWO TIMES AND THEN

WHEN IT'S COMING OUT IS THE

MONSTER IS TOO DIFFERENT, AND SO

THE NEGOTIATION WORKED.

MY IDEAS AND THE SKETCHES ARE

NOT FROM SPECIFIC PLACES AND NOT

REALLY, SO WHAT I DO IS GET THAT

SENSE OF ALPHABET IN FORM OF

ARCHITECTURE AND BRING IT TO MY

SCULPTURES.

>> WHEN I WAS WORKING ON THIS

CITY SCAPE I WAS THINKING THE

BEST WAY TO CELEBRATE A NATION

OF ARCHITECTURE.

♪

I DIDN'T GLAZE THESE NEW WORKS

BECAUSE IT'S LIKE AN UNFINISHED

PROJECT.

THE SKETCH OF THE FUTURE IS LIKE

A DREAM OR NIGHTMARE.

>> CERAMIC IS VERY FRAGILE AND

IT'S A FRAGILE CONDITION OF ALL

OF US AS PEOPLE, AS A NATION, AS

A CITY, AS A STATE.

♪

>> SO EVERYTHING HAPPENED IS THE

TRUTH THAT YOU TRY TO FIND, BUT

HOW MUCH IS CORRECT YOU NEVER

KNOW.

♪

♪

>> TONIGHT ON OUR PROGRAM WE'LL

MEET ARTIST JEFFREY GIBSON.

BORN IN COLORADO SPRINGS, GIBSON

GREW UP AROUND THE WORLD THANKS

TO HIS FATHER'S CAREER WITH THE

DEPARTMENT OF DEFENSE.

HE SPENT HIS CHILDHOOD IN KOREA

AND GERMANY BEFORE EVENTUALLY

MOVING BACK TO THE STATES.

AFTER GRADUATING FROM THE ART

INSTITUTE OF CHICAGO, HE WENT TO

LONDON TO STUDY AT THE ROYAL

COLLEGE OF ARTS.

HIS BEAD WORK, CERAMICS,

SCULPTURES AND PAINTINGS ARE

CHERISHED BY CHEROKEE AND

CHOCTAW TRADITION AND INSPIRED,

HE HAS MINIMALISM AND

ABSTRACTION.

HIS STUDIO IS CURRENT LOCATED IN

NEW YORK AT AN AELEMENTARY SCHOL

WHICH THEY BOUGHT LAST YEAR AND

CONVERTED TO STUDIO SPACE NOW

HOME TO A GROWING ARTISTIC

COMMUNITY.

♪

♪

>> GROWING UP AS A FOREIGNER IS

SOMETHING THAT I THINK ABOUT A

LOT NOW.

EVEN WHEN YOU'RE A FOREIGNER YOU

DON'T ENTIRELY UNDERSTAND WHAT

YOU'RE LOOKING AT ORE WHAT

YOU'RE HEARING ALL OF THE TIME.

SO YOU HAVE THIS SUBJECTIVE

COMPREHENSION OF THE WORLD

AROUND YOU THAT IS AN ESTIMATED

GUESS.

I THINK ABOUT THAT A LOT IN

TERMS OF HOW I USE MATERIALS

BECAUSE I USE A LOT OF MATERIALS

THAT I THINK MANY PEOPLE MAY NOT

KNOW THE CONTEXT THAT I'M

DRAWING THEM FROM OR WHAT THE

CULTURE IS OR WHAT THE HISTORY

IS.

SO MY MOTHER'S FAMILY LIVES IN

OKLAHOMA AND MY FATHER'S FAMILY

LIVES IN MISSISSIPPI AND THOSE

CULTURES ARE EXTREMELY

DIFFERENT.

SO WHEN I WOULD GO THERE IT

WOULD BE TO VISIT MY FAMILY.

I NEVER WANTED TO OBSERVE MY

FAMILY.

YOU WANT TO BE A PARTICIPANT IN

MY FAMILY.

YOU DON'T WANT TO LOOK AT EACH

OTHER AND SAY THAT'S NATIVE

AMERICAN.

I BEGAN THINKING WHAT WAS IT

ABOUT THE QUILTS THAT GRANDMA

MADE OR WHAT WAS IT ABOUT THE

JEWELRY THAT SHE WORE OR THE

DRESSES THAT SHE MADE?

WHAT DID THE SONG MEAN THAT SHE

WOULD SING?

AND THEN IT BECOMES SOMETHING

CULTURALLY SPECIFIC, I SUPPOSE,

BUT OTHERWISE IT'S JUST

INHERENTLY FAMILIAL.

IT STARTED FROM A PLACE OF I

WANT TO TAKE PART IN ALL OF

THESE THINGS AND I WANT TO KNOW

HOW TO BE IN A STARTS OFF

PATTERN AND IT STARTS OFF DESIGN

AND COLOR CHOICES AND IT STARTS

OFF THE CHALLENGE OF WHAT YOU

CAN ACTUALLY DO WITH BEADS.

I WANTED TO MAKE FOUND OBJECT

WORK AND OVER THE COURSE OF

TIME, SOMETIMES THEY ARE MASHED

TOGETHER.

I'M INTERESTED IN EXPLORING THE

TRANSFORMATIVE NATURE OF

MATERIALS, AND HOW THE LANGUAGE

CAN SHIFT FROM A BEADED TRIANGLE

TO A PAINTED TRIANGLE TO A WOVEN

TRIANGLE AND WHAT THOSE THREE

DIFFERENT VERSIONS OF A TRIANGLE

MEAN.

THERE'S THIS PERIOD OF CLUB

MUSIC THAT -- WITH THE

TRANSITION OF ANALOG MUSIC INTO

DIGITAL AND IT WAS THE SAMPLING

AND THE TURN TABLES WHERE PEOPLE

COULD SAMPLE MUSIC AND THAT

WAS -- THAT HAD AN IMPRESSION ON

ME SO THIS REPETITIVE NATURE OF

REPEATING AND PICKING SOMETHING

OF ONE CONTEXT AND STICKING IT

INTO ANOTHER ONE AND I CAN SPEND

TIME IN MY STUDIO, MASHING UP

REMIXING AND REMAKING AND TAKING

ARC PART AND RECONSTRUCTING AND

I CAN INVITE OTHER PEOPLE TO

TAKE PART WITH ME.

I THINK IT'S IMPORTANT TO BE

TRANSPARENT ABOUT THE PROCESS.

>> WE ACKNOWLEDGE THE ASSISTANCE

ALL OF THE TIME AS MUCH AS WE

CAN.

>> IF IT WAS JUST ME MAKING, FOR

INSTANCE, A PUNCHING BAG, WE

WOULD BE SEEING ONE A YEAR.

THE LINES BETWEEN CRAFT AND

WHAT'S, YOU KNOW, HISTORICALLY

BEEN THOUGHT OF AS FINE ART, THE

DECORATIVE EMBELLISHMENT, ALL OF

THOSE THINGS, IN THIS

ENVIRONMENT ARE EQUALIZED.

IF YOU LOOK AT POWWOW GARMENTS

THEY'RE SO LOUD AND COLORFUL.

WITH THAT AS MY INSPIRATION IN

MANY WAYS, WAS THERE NO LIMIT TO

THE COMBINATIONS OF COLORS AND

IT'S MORE THINKING OF WHAT THE

COLOR DOES IN COMBINATION TO

EACH OTHER SO IT'S REALLY KIND

OF POP OR ELECTRIC OR REFLECTIVE

OR OPTIC.

♪

♪

>> I DO HAVE AN ATTRACTION

BETWEEN THE IDEA OF MINIMALISM

AND HOW MINIMALISM LEADS TOWARDS

MAX MALDENSITY.

I USED TO THINK THAT MINIMALISM

WAS ABOUT MAINTAINING THIS

QUIET, SILENT PLACE LIKE THIS

VOID UNFILLED WITH THINGS AND

NOW THE REMOVAL OF INFORMATION

IS TO SEE HOW MUCH IS PRESENT IN

A VERY SMALL SPACE OR IN A VERY

LIMITED PALETTE.

THE IDEA IS TO, LIKE I SAY, SLOW

DOWN THE COLOR RED AND

UNDERSTAND HOW MANY SHADES OF

RED THERE ARE AND UNDERSTAND HOW

MANY SHADES OF BLUE, TONES OF

BLUE AND IT OPENS RIGHT BACK UP

INTO INCLUDING EVERY SINGLE

♪

♪

>> MY TRAINING IS AS AN ENTIRELY

PROCESS-BASED ABSTRACT ARTIST,

BUT THE TEXT WAS ALWAYS MEANT TO

NAME THIS ENTIRELY SUBJECTIVE

LANGUAGE OF OBSTRUCTION AND AT

SOME POINT WHEN THE AUDIENCE

WASN'T ABLE TO GET THE CONTENT

THAT I FELT I WAS PUTTING INTO

THE OBSTRUCTION I DECIDED TO

JUST START PUTTING THE TEXT

DIRECTLY ON IT.

MOST OF THE TITLES, FOR

INSTANCE, COME FROM APPROPRIATED

LYRICS.

AND THEN IT JUST KIND OF HIT.

THERE WAS SOMETHING ABOUT THE

UNDERSTANDING THAT THESE WORDS

DESCRIBE WHAT YOU'RE LOOKING AT.

THEY BECAME A REALLY BIG PART OF

THE WORK FOR ME.

PEOPLE WHO WERE LOOKING AT MY

WORK AT THE TIME WOULD ALWAYS

QUESTION HOW DOES THIS RELATE TO

WHO YOU ARE?

HOW DOES THIS RELATE TO YOU AS A

NATIVE-AMERICAN PERSON AND AS A

GAY PERSON AND THE SUBJECTIVITY

SOMEHOW REPRESENTATIVE OF THAT

EXPERIENCE.

AND IT SEEMED NO MATTER HOW HARD

I WOULD SAY, NO, IT'S NOT, IT

ALMOST COMPOUNDED MORE FOR

PEOPLE TO LOOK FOR KECONNECTION

IN THE WORK AND AT SOME POINT I

DECIDED TO OWN THE WORDS NATIVE

AMERICAN, TO OWN THE WORDS GAY

AND NOT GIVE THEM ANY KIND OF

POWER OVER DETERMINING WHO I AM,

BUT I WAS FINE WITH THE WORK

BEING DESCRIBED IN THAT WAY

BECAUSE IT IS TRUE.

THIS IS MY EXPERIENCE AND IN THE

20th CENTURY AT THE TIME AND

EACH TODAY, THAT'S VERY MUCH HOW

WE DESCRIBE EACH OTHER.

♪

♪

>> I ACKNOWLEDGE THAT WE ARE ALL

VERY, VERY LAYERED, COMPLICATED

PEOPLE AND IN OUR CONTEMPORARY

WORLD WE DON'T ALWAYS HAVE THE

OPPORTUNITY TO EXPLORE THAT OR

TO SHARE THAT WITH EACH OTHER,

BUT IT'S WHAT YOU CAN DO IN ART.

♪

♪

>> DOROTHIA ROCKBURN DRAWS

INSPIRATION FROM MATH AND

ASTRONOMY.

IN 1950 SHE MOVED FROM THE

UNITED STATES TO CANADA TO

ATTEND BLACK MOUNTAIN COLLEGE,

AN EXPERIMENTAL LIBERAL ARTS

SCHOOL IN NORTH CAROLINA.

THERE SHE STUDIED WITH SUCH

INNOVATIVE FIGURES AS FRANCE

KLEIN, JOHN CAGE AND VERN

CUNNINGHAM.

A FEW YEARS LATER SHE MOVED TO

NEW YORK CITY WHERE SHE MET MANY

OF THE LEADING ARTISTS AND POETS

OF THE TIME.

NYC ARTS RECENTLY HAD A CHANCE

TO VISIT WITH ROCKBURN IN HER

SOHO STUDIO.

>> I DON'T MAKE ART THAT IS ART

THAT MEN WOULD MAKE.

I MAKE STRONG WOMAN ART.

WHEN I WAS IN THE FOURTH GRADE I

DREW A NASTY PICTURE OF MY

TEACHER, AND I PASSED THE

PICTURE AROUND, YOU KNOW, AND

SHE TOOK THE PICTURE AWAY AND

SHE SAID WHO DID THIS PICTURE?

I WENT TO A STRICT SCHOOL, AND I

SAID OH E WELL, YOU KNOW, HERE

IT GOES.

AND SHE SAID I WANT YOU TO STAY

AFTER SCHOOL AND I STAYED AFTER

SCHOOL AND SHE SAID YOU CAN

REALLY DRAW.

WOULD YOUR PARENTS LET ME TAKE

YOU TO ART SCHOOL ON SATURDAY?

I ASKED MY PARENTS AND THEY SAID

SURE AND SHE TOOK ME TO ECOBOAZ

ART I HAD GREAT TEACHERS AND

THEY TOLD ME TO GET OUT OF

MONTREAL AS SOON AS I WAS OLD

SNUFF TO LEAVE AND THAT'S HOW I

LEFT CANADA TO COME TO AMERICA.

I APPLIED TO BLACK MOUNTAIN

COLLEGE AND GOT INTO BLACK

MOUNTAIN AND MY FELLOW STUDENTS

WERE JOHN CHAMBERLAIN AND PEOPLE

LIKE

♪

♪

>> UNLIKE MOST SCHOOLS THAT I

HAD EXPERIENCED, THEY WELCOMED

USEFUL ENERGY AND CURIOSITY, AND

THEY DID NOT SUPPRESS IT, AND

THEY ENCOURAGE YOU YOU DO

EVERYTHING AND I LOVED IT.

BY THE TIME I WENT TO BLACK

MOUNTAIN, I HAD NO IDEA OF WHAT

TO PAY.

I KNEW THAT I DID NOT WANT TO DO

LANDSCAPES OR FIGURES BECAUSE

I'VE HAD A LOT OF THAT.

♪

♪

>> I WAS INTERESTED IN SCIENCE

FROM A VERY EARLY AGE.

I THINK PART OF THAT COMES FROM

THE WAY I GREW UP.

MY FATHER WAS PART ALGONQUIN

INDIAN AND I REALIZED THERE WAS

MORE TO NATURE THAN PAINTING A

LANDSCAPE.

I WANTED TO KNOW WHAT MADE

THINGS TICK.

>> I WAS ALWAYS STRADDLING ART

AND PHILOSOPHY AND PLATO AND

PYTHAGORIS, AND EGYPT.

I WAS ALWAYS STUDYING EGYPT AND

I WAS STARTING TO FIND MY WAY

THROUGH MATHEMATICS AND

EVENTUALLY ART.

WHAT CAUGHT MY INTEREST IN MATH

WAS THAT THERE WAS A SENSE OF

ONGOING CREATIVITY AND CHANGE

WHEREAS, WHEN I LOOKED AT

PAINTING, EVEN GOOD PAINTING,

MORE OR LESS PEOPLE POUND

PAINTING TO DO AND WITH

VARIATIONS THEY DID THAT.

♪

♪

>> I KNEW THAT I DON'T HAVE THAT

KIND OF MIND.

I KNOW THAT I HAVE TO -- THE

METAPHOR I USE FOR MYSELF IS

STEP ON A NEW CONTINENT EVERY

DAY.

♪

♪

>> ASTRONOMERS SEE A SPACE

BETWEEN THE PLANETS AND THE

STARS AS BEING A CONTINUOUS

SURFACE.

AND THERE'S MATHEMATICS FOR

THAT, AND THAT MATHEMATICS IS

ABSOLUTELY INTRIGUING TO ME.

I'VE BEEN WORKING ON A GROUP OF

WORK CALLED THE STARDUST

THEORIES BASED ON THE WAY THE

PARTICLES FROM STARS ARE EMITTED

AND FORM STARDUSTS AND OTHER

STARS AND ARE TOSSED AROUND BY

ELECTROMAGNETIC CURRENTS.

I'VE ALWAYS LOVED WATER COLOR

AND NEVER LIKED THE WAY IT WAS

USED.

I PERSONALLY DO NOT LIKE WATER

COLOR THINKING INTO THE SURFACE

OF THE PAPER BECAUSE I THINK

THEN THE WATER COLOR LOSES ITS

OWN VOICE.

SO I WANTED TO WORK ON A

MATERIAL WHERE IT WOULDN'T SINK

IN, AND IT HAD TO SIT ON TOP,

AND I ALSO WANTED BECAUSE THIS

IS ASTRONOMY, I WANTED TO CREATE

VIBRATIONS.

I WANTED A CERTAIN AMOUNT OF

CRACKING TO OCCUR, I MEAN,

BECAUSE AGAIN, THE ENERGIES AND

THE UNIVERSE ARE ALWAYS IN A

STATE OF VIBRATION AND NOTHING

IS EXACT.

SEA POINT MANIFOLD, THAT IS A

STORY OF WHAT HAPPENS IN THE

UNIVERSE AS BEST AS I CAN

UNDERSTAND IT, AND THEN THERE'S

ANOTHER PAINTING THERE WHICH IS

CALLED ANGULAR MOMENTUM.

THE EARTH TURNS AN ANGULAR

MOMENTUM AND YOU KNOW, THAT'S

VERY UNDERSTOOD CONCEPT AND I

CAN ONLY UNDERSTAND IT FOR

MYSELF IF I MADE A PAINTING.

WHEN I'M WORKING I'M ALSO

LOOKING AT THE WORK, AND TRYING

TO LISTEN TO THE WORK, TRYING TO

MAKE SURE THAT IT IS A CRACKLING

ENERGY, THAT THE COLORS ARE

MOVING BACK AND FORTH MORE THAN

THROUGH A TWO-DIMENSIONAL SPACE.

I'M PUTTING ALL OF THE KNOWLEDGE

THAT I HAD INTO IT AND THEN

THERE'S A CERTAIN POINT WHEN I'M

NO LONGER LOOKING AT IT.

IT'S LOOKING AT ME, AND THAT'S

WHEN IT'S COMPLETE.

WHY ARE THINGS GEOMETRIC?

WHY ARE THINGS MATHEMATICAL?

WHY IS THERE NO SUCH THING AS

CHANCE?

I MEAN, THAT IS OUR, YOU KNOW,

THAT'S WHAT I MEAN ABOUT WALKING

ON A DIFFERENT CONTINENT EVERY

DAY.

♪

♪

♪

♪

>> WE HOPE YOU'VE ENJOYED OUR

PROGRAM THIS EVENING FROM THE

TISH WNET STUDIOS AT LINCOLN

CENTER I'M PETER DI MONTEBELLO

AND I'LL SEE YOU NEXT TIME.

♪

♪

♪

>> FUNDING FOR NYC ARTS IS MADE

POSSIBLE BY ROSALIND P. WALTER,

TEA PITCHIC YORBA LINDA

FOUNDATION, THE LOUIS SONNY

TURNER FUND FOR DANCE.

JODY AND JOHN ARNEHOLD.

KATE W. CASSIDY FOUNDATION.

ELISE, JAFFE AND JEFFREY BROWN.

CHARLES AND VALERIE DIKER, GENE

DUBINSKY APPLETON ESTATE.

ABNER AND TERRY CRUMBHOLT

FOUNDATION.

THE AVERY AND SALLY ARTS

FOUNDATION AND ELLEN AND JAMES

S. MARCUS.

ADDITIONAL FUNDING PROVIDED BY

MEMBERS OF 13.

NYC ARTS IS MADE POSSIBLE IN

PART BY FIRST REPUBLIC BANK.

>> FIRST REPUBLIC BANK PRESENTS

FIRST THING'S FIRST.

AT FIRST REPUBLIC BANK FIRST

REFERS TO OUR FIRST PRIORITY,

THE CLIENTS WHO WALK THROUGH OUR

DOORS, THE FIRST STEP, RECOGNIZE

THAT EVERY CLIENT IS AN

INDIVIDUAL WITH UNIQUE NEEDS.

THE BANK WHOSE CURRENCY IS

SERVICE IN THE FORM OF PERSONAL

BANKING.

THIS IS FIRST REPUBLIC'S MISSION

FROM OUR VERY FIRST DAY.

IT'S STILL THE FIRST THING ON

OUR MINDS.