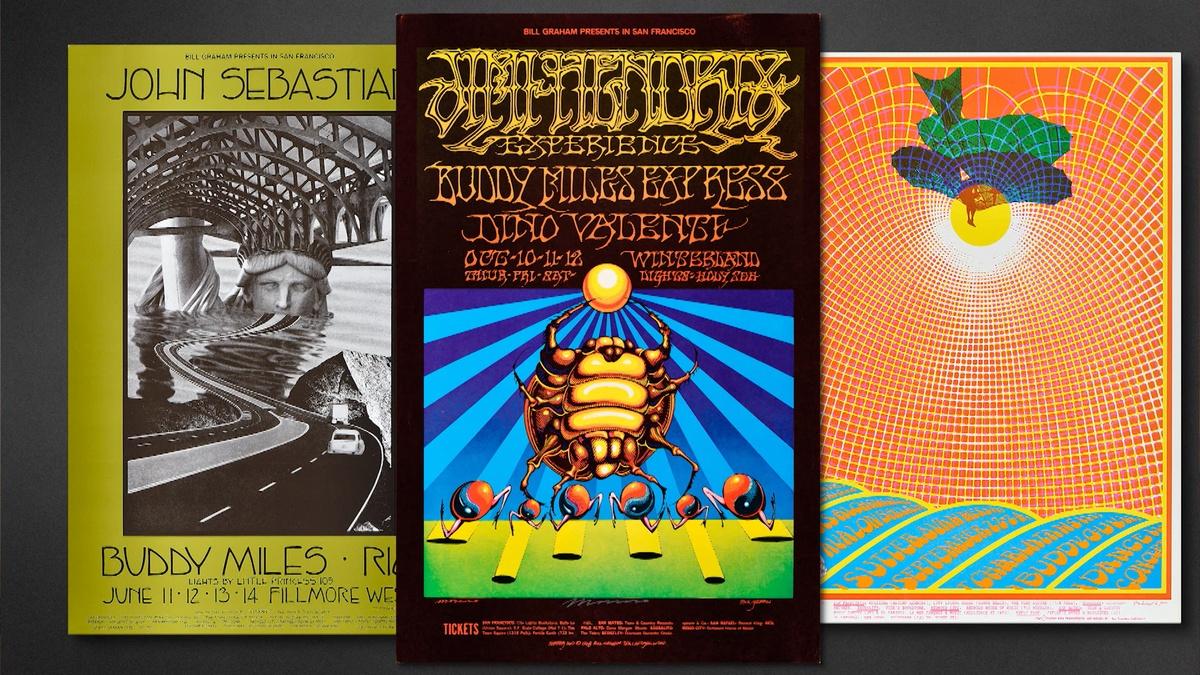 S2020 E504 | FULL EPISODE
NYC-ARTS Full Episode: November 12, 2020
A visit to Poster House in Chelsea, which celebrates the art and social impact of posters from the 1800's to the present day; and a tour of the exhibition "Stretching the Canvas: Eight Decades of Native Painting," at the National Museum of the American Indian.
TRANSCRIPT

>>> COMING UP ON NYC ARTS, A

VISIT TO POSTER HOUSE IN

CHELSEA WHICH CELEBRATES THE ART

AND SOCIAL IMPACT OF POSTERS

FROM THE 1800s TO THE PRESENT

DAY.

>> YOU SEE THE IMAGE AND

UNDERSTAND IT.

IF A POSTER DOESN'T COMMUNICATE

ITS PURPOSE IN LESS THAN A

SECOND, IT'S FAILED.

>> A LOOK AT THE EXHIBITION

STRETCHING THE CANVAS AT THE

NATIONAL MUSEUM OF AMERICAN

INDIAN.

>> I THINK IT WAS THE FIRST

PAINT IN KINDERGARTEN THAT SAID

TO ME, THIS IS WHAT I'LL BE

DOING THE REST OF MY LIFE.

I REMEMBER BEING SIX YEARS OLD

AND THINKING, I DON'T KNOW.

THIS FEELS -- I'M IN MY ZONE

NOW.

LIGHTNING HIT ME.

THIS IS WHAT I'LL BE DOING THE

REST OF MY LIFE AND I'LL STILL

DOING THIS.

I THINK YOU CAN BE BORN A

PAINTER SOMETIMES.

>> FUNDING FOR NYC ARTS IS MADE

POSSIBLE BY: THE PROGRAM IS

SUPPORTED IN PART BY PUBLIC

FUNDS FROM THE NEW YORK CITY

DEPARTMENT OF CULTURAL AFFAIRS

IN PARTNERSHIP WITH THE CITY

COUNCIL.

ADDITIONAL FUNDING PROVIDED BY

MEMBERS OF 13.

NYC ARTS IS MADE POSSIBLE BY

FIRST REPUBLIC BANK.

BLAN

.

>>> GOOD EVENING AND WELCOME TO

NYC ARTS.

ON LOCATION AT THE METROPOLITAN

MUSEUM OF ART.

I'M IN THE GRAND SPACE CON

CONTAINING THE TREASURE THAT IS

THE TEMPLE.

IT WAS BUILT AROUND 15 BC.

THE 1965, THE TEMPLE AND ITS

GATEWAY WERE GIFTED BY EGYPT TO

THE UNITED STATES.

AWARDING TO THE MET TWO YEARS

LATER AND INSTALLED HERE IN

1978.

TRANSPORT TO THE MET AND

INSTALLATION WAS DONE WITH GREAT

CARE.

THE SETTING WAS DESIGNED TO

APPROXIMATE THE LIGHTING IN ITS

ORIGINAL LOCATION INCLUDING A

REFLECTING POOL THAT EVOKES THE

NILE.

IT'S ONE OF THE ICONIC AND MOST

BELOVED WORKS OF ART AT THE MET.

THE TEMPLE WAS SAVED AS A RESULT

OF THE INTERNATIONAL CAMPAIGN TO

SAVE THE MONUMENTS OF NUBIA.

IN THE EARLY 6'60, THE CAMPAIGN

BROUGHTTOGETHER 60 COUNTRIES.

WITHOUT THIS CARE, THE TEMPLE

WOULD HAVE BEEN FLOODED

PERMANENTLY.

THERE WERE ALSO THE STAGE FOR

DAILY RITUALS THAT WERE IDEALLY

PERFORMED BY THIS PHAROAH BUT IN

FRA BY PRIESTS.

THE DESIGN REPRESENTED A VARIETY

OF RELIGIOUS AND MYTHOLOGICAL

CONCEPTS.

WHEN IMPORTANT ASPECT WAS BASED

ON THE UNDERSTANDING OF THE

TEMPLES AS AN IMAGE OF THE

NATURAL WORLD AS THE EGYPTIANS

KNEW IT.

THESE ARE REPRESENTED BY THE

MANY CARVINGS THAT SEEM TO GROW

FROM THE WATER.

FROM EGYPTIAN ANTIQUITY ON THE

CITY'S UPPER EAST SIDE, WE MAKE

OUR WAY DOWNTOWN TO WEST 23rd

STREET TO VISIT ONE OF

MANHATTAN'S NEWEST MUSEUMS.

POSTER HOUSE WHICH OPENED ITS

DOORS IN JUNE OF 2019 IS THE

FIRST MUSEUM IN THE UNITED

STATES DEVOTED SOLELY TO THE

HEART, HISTORY AND IMPACT OF THE

MEDIA.

THE COLLECTION CONTAINS OVER

10,000 POSTERS SPANNING THE

LATEST 1800s TO THE PRESENT DAY.

OVER 100 COUNTRIES ARE

REPRESENTED.

POSTERS HAVE BEEN AN IMPORTANT

MEANS OF MASS COMMUNICATION

ESPECIALLY IN TIMES OF CRISIS.

EARLIER THIS YEAR IN RESPONSE TO

THE PANDEMIC, POSTER HOUSE

PARTNERED WITH PRINT MAGAZINE,

TIME SQUARE ARTS AND FOUR

FREEDOMS TO LAUNCH A CITY WIDE

PUBLIC SERVICE CAMPAIGN.

THE PSAs WERE SEEN THROUGHOUT

THE CITY ON NEARLY 1800 DIGITAL

SCREENS AND BILLBOARDS.

CURRENTLY ON VIEW, THE PRESS

POSTER OF PAUL KENNEDY JUNIOR

CHRONICLES THIS DETROIT BASED

PRINTER'S ADVERTISEMENT OF BLACK

BASE IN THE RULE SOUTH.

THE SLEEPING GIANT POSTERS AND

THE CHINESE ECONOMY EXPLORES

ECONOMY THAT'S ECONOMIC

RELATIONSHIP WITH THE WORLD

THROUGH POSTER DESIGNS IN WHICH

WESTERN MARKETING IDEAS ARE

TRANSLATED INTO CHINESE VE

VERNACULAR.

IT'S CONSIDERED ONE OF THE MOST

IMPORTANT MOVEMENTS IN GRAPHIC

DESIGN HISTORY.

CHIEF CURATOR WILL BE OUR GUIDE

TO THIS UNIQUE EDITION TO NEW

YORK'S ART COMMUNITY.

>> HI.

I'M ANGELINA.

THE FIRST MU SSEUM IN THE UNITE

STATES DEDICATED TO THE ART AND

HISTORY OF POSTER.

IT MARRIES WORD AND IMAGE.

THIS REALLY BEGAN IN THE LATE

1860s WHEN THE FATHER OF THE

POSTER PERFECTED THE ALREADY

EXISTING COLOR LITHOGRAPHIC

PROCESS THAT THAT POSTERS COULD

BE MADE CHEAPLY AND QUICKLY

USING THE FULL SPECTRUM OF THE

RAINBOW.

POSTERS WERE PRIMARILY TEXT

BASED SO THEY WERE BROAD SIZE.

THAT REQUIRES YOU HAD TO BE

LITERATE IN ORDER TO UNDERSTAND

THEM.

YOU SEE AN IMAGE AND YOU

UNDERSTAND THE PURPOSE OF THE

POSTER RIGHT AWAY.

IN FACT, THAT'S WHAT MAKES A

GOOD EFFECTIVE POSTER.

IF A POSTER DOESN'T COMMUNICATE

ITS PURPOSE TO YOU IN LESS THAN

A SECOND, IT'S FAILED.

POSTER HOUSE TYPICALLY HAS TWO

OR THREE EXHIBITIONS ON VIEW AT

ANY TIME IN ADDITION TO OUR

PERMANENT POSTER HISTORY TIME

LINE WHICH YOU CAN SEE BEHIND

ME.

THE BEGINNING OF THIS TIME LINE

STARTS WITH THE FATHER OF THE

POSTER.

BECAUSE THE EARLIEST POSTERS ARE

DONE VIA STONE LITHOGRAPHY.

EVERY POSTER WOULD HAVE TO BE

MADE SEPARATELY.

IT'S A PROGRESSIVE PROOF.

A PRINTER WOULD ONLY MAKE ONE.

IT'S A WAY FOR A PRINTER TO

DETERMINE IF THE DIFFERENT

COLORS SEPARATED THAT LINE UP

AND IF IT PRINTS CLEANLY.

IT WAS ORIGINALLY DESIGNED FOR A

DEPARTMENT STORE.

IT REJECTED IT.

WE DON'T KNOW BECAUSE IT'S A

BEAUTIFUL IMAGE.

THE NEXT STOP ON THE POSTER

HISTORY TIMELINE FOCUSED ON THE

FATHER OF MODERN ADVERTISING.

HE PUTS A WOMAN IN A GREEN DRESS

ON A RED HORSE.

WHAT DOES THAT HAVE TO DO WITH

CHOCOLATE.

THIS POSTER IF FOR CHOCOLATE.

THAT WAS THE ENTIRE POINT.

THIS IS FIRST TIME WE SEE A

MASCOT BORN IN ADVERTISING.

PEOPLE WERE SO CAPTIVATED AND IN

STE

STEAD OF ASKING FOR IT BY NAME,

THEY WOULD SAY CAN YOU GIVE ME

THE LADY ON THE RED HORSE.

THAT'S HOW THE BRAND BECAME

MEMORABLE AND KNOWN THROUGHOUT

PARIS.

THE NEXT STOP ON THE TIMELINE

THE THE POSTER FOR COMPARI.

THEY HAVE CREATED HUNDREDS OF

POSTERS.

ALL ARE STAND OUT.

THIS IS VERY INTERESTING BECAUSE

IT'S ITALIAN ART DECO.

IT COMBINED A WILL THE OF

DIFFERENT STYLES.

YOU'LL GET ELEMENTS OF FUTURISM,

OF CUBISM AND THE ITALIANS LOVED

TO PLAY WITH SHADOW IN DEEP,

RICH COLORS IN THEIR POSTER.

YOU'LL GET A LOT OF THAT IN THIS

DESIGN.

IT'S FOR THE FILM THE LAST

FLIGHT.

POSTER DESIGN IN RUSSIA AT THIS

TIME WAS A HOT BED OF

CREATIVITY.

THESE DESIGNERS RARELY SAW

IMPORTED FILMS BEFORE CREATED

THE POSTERS FOR THEM.

THEY WOULD JUST GET THE TITLE OR

MAYBE A FILM STILL.

VERY MINIMAL INFORMATION.

I HAVE TO TELL PEOPLE THIS IS

NOT FOR THE MONTAGE.

THE ABILITY TO INSERT A LARGE

PHOTOGRAPH INTO POSTERS WAS NOT

REALLY AVAILABLE AT THIS TIME.

INSTEAD WHAT THEY WOULD DO IS

PROJECT A FILM STILL ONTO THE

WALL OF THEIR STUDIO AND THEN

TRACE OVER THAT FIGURE.

ALSO, THIS TILE WOULD BE MADE

COMPLETELY ILLEGAL UNDER STALIN.

IT'S SHORT, BEAUTIFUL, IMPORTANT

PERIOD IN HOSTER HISTORY.

AFTER THAT WE LOOK AT THE MID

CENTURY POSTERS OF SWITZERLAND

AND THE INTERNATIONAL

TYPOGRAPHIC STYLE.

THESE ARE AMAZING BECAUSE YOU

GET AN ARRAY OF PRINTING

TECHNIQUES ALL IN ONE POSTER.

AFTER THAT, WE FOCUS ON

PSYCHEDELIC POSTER WHERE WE HAVE

NINE AMAZING EXAMPLES OF THE

MOST IMPORTANT PSYCHEDELIC

POSTER ARTIST FROM 1966 TO 1970.

AN INCREDIBLY SHORT EXPLOSIVE

PERIOD IN POSTER DESIGN.

ALL THESE POSTERS ADVERTISE THE

MAIN VENUES FOR PSYCHEDELIC

MUSIC FOR THAT TIME.

AFTER THAT WE FOCUS ON THE

REMARKABLE CON TRITRIBUTIONS TO

PUBLIC THEATER WHICH IS ALMOST

30 YEARS OF ADVERTISING.

SHE HELPED REDEFINE HOW

ADVERTISING WAS DONE IN NEW

YORK.

MAKING IT AS VIBRANT AND

EXPLOSIVE AS THE THEATER ITSELF.

HE'S MAKING HIS LIVING MAKING

POSTERS TODAY WHICH IS AMAZING.

POSTER HOUSE IS STILL DIRECTING

IMPORTANT POSTERS MADE TODAY.

WE ACTIVELY COLLECT POSTERS FROM

ALL AROUND THE WORLD FROM ALL

MAJOR AND MINOR AD AGENCIES.

PLEASE STOP BY AND SEE THEM.

>> FOR MORE INFORMATION, SIGN UP

FOR OUR FREE WEEKLY E-MAIL AT

NYC-ARTS/EMAIL.

TOP FIVE PICKS WILL KEEP YOU UP

TO DATE ALL YEAR ROUND.

CONNECT WITH NYC ARTS ON

FACEBOOK, INSTAGRAM AND TWITTER.

NEXT ON OUR PROGRAM WE'LL VISIT

THE SMITHSONIAN NATIONAL MUSEUM

OF THE AMERICAN INDIAN.

IT'S LOCATED DOWNTOWN IN NEW

YORK CITY AT BOWLING GREEN.

THE MUSEUM'S MISSION IS TO

FOSTER AN UNDERSTANDING OF

NATIVE PEOPLE OF THE AMERICAS.

STRETCHING THE CANVAS 80 YEARS

OF NATIVE PAINTING.

THERE'S GROUP SHOW OF WORK BY

OVER 30 ARTISTS AND ALL DRAWN

FROM THE MUSEUM'S PERMANENT

COLLECTION AND CREATED BETWEEN

1940 TO THE PRESENT DAY.

THE PREMISE OF THE EXHIBITION IS

TO CHALLENGE EXPECTATIONS OF

WHAT CONSTITUTES INDIAN ART.

THE WORKS REFLECT A GREAT

VARIETY OF COLORS, STYLE AND

SUBJECT FROM FLAT, ILLUSTRATIVE

PIECES THAT DEPICT IDEAL IEDS

SCENES TO LARGE ABSTRACT WORK

THAT USES IRONY TO CON FRONT

NATIVE ISSUE.

THE SHOW HINGES ON THE MOMENT

WHEN THESE ARTISTS BROKE THROUGH

TO MODERNISM.

>> I THINK IT WAS THAT FIRST

PAINT ON THESE PRINT IN KINDSER

GARDEN THAT SAID TO ME THIS IS

WHAT I'M GOING TO BE DOING THE

REST OF MY LIFE.

IT WAS THAT P.

I REMEMBER BEING SIX YEARS OLD

OR SOMETHING LIKE THAT AND

THINKING, I DON'T KNOW, I'M IN

MY ZONE NOW.

LIGHTNING HIT ME.

THIS IS WHAT I'M GOING TO BE

DOING THE REST OF MY LIFE, AND

I'M STILL DOING THIS.

I THINK YOU CAN BE BORN A

PAINTER SOMETIMES.

SGR WE BEGIN EXHIBITION

STRETCHING THE CANVAS IN THIS

LARGE SALON SCALED GALLERY WITH

SOME OF OUR OVERSIZED LARGE

PAINTINGS.

THE REASON THERE IS THAT WE FELT

THAT THIS WORK WAS COMPARABLE TO

ANYTHING YOU WOULD SEE AT THE

WHITNEY.

ANYTHING YOU WOULD SEE AT THE

MUSEUM OF MODERN ART.

WE REALLY WANTED TO PUT SOME OF

OUR BEST FOOT FORWARD AND INVITE

OTHER MUSEUMS TO IMAGINE THIS

KIND OF WORK IN THEIR GALLERIES.

MAKING PAINTINGS IS NOT SO MUCH

A TRADITIONAL ART FORM.

THERE ARE TRADITIONS OF

PAINTING.

MOST OF THE MODERN PAINTINGS

COMING OUT OF THESE EPISODES IN

THE 19 TEENS.

WHEN YOUNG NATIVE STUDENTS IN

THE SOUTHWEST AND OKLAHOMA WERE

LEARNING THE BASICS OF ART

INSTRUCTION IN THEIR SCHOOLS.

THE SCHOOLS ENCOURAGED THIS

AMERICAN INDIAN ART STYLE.

IT WAS THE FLAT ILLUSTRATIVE

STYLE FOCUSED ON NATIVE AMERICAN

SUBJECTS.

THE KIND OF FOUNDATION FROM

WHICH THIS WORK GREW.

FROM THERE WE INVESTIGATE IN A

SUITE OF GALLERIES.

SOME OF THE THEMES THAT INVITED

ARTISTS TO THINK ABOUT.

WE HAVE SMALL GALLERY THAT LOOKS

AT ARTISTS WHO TRAVEL TO NEW

YORK CITY IN THE 19 WHOS AND

1950s AND THINK ABOUT THEMSELVES

MORE AS ARTISTS ON A WORLD

STAGE.

SOME ARTISTS WERE INSPIRED BY

POP ART IN THE DEVELOPMENT OF

THE 1960s AND 1970s WHERE THEY

ARE OF SIZED CANVASS AND HOT

COLORS AND MORE PLAYFUL APPROACH

TO NATIVE AMERICAN SUBJECTS.

ONE THING THAT AMERICAN INDIAN

STRUGGLED WITH THROUGHOUT THE

20th CENTURY AND 21st CENTURY

ARE THESE EXPECTATIONS THAT THEY

NOT, NOT PART OF MODERN WORLD SO

KP

PEOPLE BAEXPRESSED SURPRISE.

THOSE ARTISTS ARE PART OF THE

CONTEMPORARY WORLD.

THEY ARE PART OF THEIR

TRADITIONAL WORLD AND

COMMUNITIES AS WELL.

AMERICAN CHEROKEE ARTIST IS

CURRENTLY THE EDITOR OF A VERY

INF

INFLUENTIAL ART JOURNAL.

SHE'S ALSO AN ARTIST PAINTER.

>> I WENT TO GRADUATE SCHOOL.

I HAD FELLOW CLASSMATES SAY WHY

WOULD ANYONE GO TO GRAD SCHOOL

FOR PAINTING.

I HAD A LOT OF TIME TO THINK.

I WAS LIKE WHY IS PAINTING

RELEVANT.

OKAY.

HUMAN BEINGS HAVE BEEN PAINTED

FOR LAST 100,000 YEARS.

SO IS DANCINE IING PASSE.

IS SINGING ING PASSE?

I THINK PAINTING IS THE CORE IF

YOU'RE PASSIONATE ABOUT TEXTURE

AND COLOR.

THIS PIECE IN THE SHOW IS FROM

2005.

THE MAIN CHARACTER IS VERY

CONTROVERSIAL MEDICINE MAN.

HE'S SAYING GO OUT INTO THE

WORLD.

THESE WERE USED BY THE ARTISTS

WO WERE PAINTING ON ANIMAL

HIDES.

MANY PEOPLE DON'T GET TO ART

WITH THE CAPITAL A.

YOU PAINT ON RECTANGLE AND IT'S

PAPER, THEN IT'S OKAY.

VERY ABSTRACT, HEFRLY OUTLINED

SNAKE AND EAGLE.

THE FLAT ON THE CORNER IS WHAT I

GREW UP WITH IN OKLAHOMA THAT

MAKE HOME SCHOOL PAINTING STYLE.

IT'S FLAT.

IT'S THE SOUTHWEST LANDSCAPE

THAT I USE ON KIND OF POP

IMAGERY.

WE SEE A LOT OF CONTROL IN

NATIVE ART AND WE DON'T SEE A

LOT OF PEOPLE LIVING LOOSE.

>> I'VE ALWAYS LOVED

ABSTRACTION.

I HAVE PROCLIVITY TO IT.

I WAS DRAWN TO IT BECAUSE THERE

I UNDERSTOOD AS A YOUNG KID YOU

CO

DIDN'T DO CULTURAL IMAGERY.

AS A KID I KNEW I COULDN'T USE

THAT IMAGERY.

I GUESS A GREAT AVENUE OUT WOULD

BE WHAT I FELL IN LOVE WITH IN

WESTERN MODERNISM.

>> I THINK ANOTHER THEME OF THE

SHOW IS THAT PEOPLE BEING

UNCONSTRAINED.

YOU HAVE A LOT OF PEOPLE LOOKING

OUTSIDE THEIR HERITAGE AND

LOOKING AT THE BROADER WORLD.

WALKING STICK WAS BORN IN NEW

YORK.

SHE'S STILL IN THE NORTHEAST.

SHE IS CHEROKEE BUT SHE USES ANY

KIND OF OVERT CHEROKEE IMAGERY.

SHE'S DEVELOPED HER OWN.

IN THIS SHOW SHE HAS THE

BEAUTIFUL SOUTHWESTERN

LANDSCAPE.

SHE HAS HER OWN STYLE WHERE

SHE'S USING LANDSCAPE.

THIS KIND OF INNER AND OUTER

WORLD.

IT'S A SYMBOLIC WORLD.

WHEN I WAS A CHILD, I LIVED AT

COLLEGE CAMPUS.

IT'S ALWAYS BEEN RUN BY NATIVE

ART DIRECTORS.

IT STARTED IN 1935 AND THEY HAVE

A PIECE BY THE FIRST DIRECTOR.

DICK WEST WAS A DIRECTOR.

IN THE SHOW THERE'S TWO PIECES.

ONE IS IN THE SECTION CALLED

TRAINING GROUND THAT IS

CONSIDERED THE 20th CENTURY

NATIVE WAY TO PAINT WHERE IT'S

HEAVILY OUTLINED AND HEAVILY

CON

CONTOURED.

IN THIS PAINTING IT'S VERY

ABSTRACT.

HE'S PLAYING WITH COLOR.

HE'S PLAYING WITH TEXTURE.

THE FACT HE GAVE HIMSELF

PERMISSION TO EXPERIMENT IN MANY

DIFFERENT WAYS.

I THINK THE ART CANNON DOESN'T

REALLY REFLECT HOW FREE SOME OF

THESE ARTISTS WERE.

>> WE THINK ONE OF THE GREAT

STAND OUTS IS JAMES LAVADOR.

WHAT I ENJOY ABOUT HIS WORK AND

I WOULDN'T SAY HE'S ENTIRELY

SELF-TAUGHT BUT HE'S NOT

FOLLOWED.

HE DOESN'T COME OUT AFTER A

UNIVERSITY, STUDIO SCHOOL

SYSTEM.

HE HAS THIS WONDERFUL INSIGHT

ABOUT THE QUALITY OF PAINT AND

ITS RELATIONSHIP TO GEOLOGY.

CREATING A PAINTING YOU'RE

ALMOST MIMICKING GEOLOGICAL

FORCES AND LAYERING.

HE WORKS WITH THE PIGMENTS ON

SURFACE AND MANIPULATES THEM

UNTIL SUGGESTIONS OF LANDSCAPE

BEGIN TO EMERGE.

IF HE'S NOT PAINTING AN IMAGE OF

LANDSCAPE BUT CONSTRUCTING LAND

HIMSELF OUT OF THE PAINT.

TURNS OUT THAT MUSEUMS ACROSS

THE COUNTRY ARE BEGINNING TO

UNDERSTAND THEIR REPRESENTATION

OF AMERICAN ART HISTORY IS

LIMITED AND CONSTRAINED TO A

CERTAIN EXTENT.

IT DOESN'T INCLUDE THE MARK OF

SOME OF THESE ACCOMPLISHED

ARTISTS WHO HAVE BEEN WORKING

FOR DECADES.

>> I'M VERY IMPRESSED WITH THE

SHOW BECAUSE IT SAYS COME

ATTENTION OR NOT, COME SEP

ACCEPACCEP

ACCEPTANCE OR NOT, WE'RE GOING

TO DO WA WE'RE GOING TO DO.

IT'S PROOF THAT WE ARE PART OF

THE AMERICAN CULTURE EXPERIENCE.

>> NEXT WEEK ON NYC ARTS.

A VISIT IN LONG ISLAND CITY FOR

A LOOK AT THE EXHIBITION MARKING

TIME.

ART IN THE AGE OF MASS

INCARCERATION.

>> ONE OF THE MOST SYMBOLIC AND

LITERAL USE OF PORTRAIT IS TO

OFFER IMPRISONED PEOPLE ANOTHER

REPRESENTATION OF THEMSELVES

OTHER THAN THE MUGSHOT OR THE

PRISON ID, CARD.

IF YOU SEE THE REALLY POWERFUL

IN EXHIBITION WITH MARK SERIES

PERIOD DEFEAT.

HE'S CURRENTLY IN PRISON.

SINCE 2014, HE'S ENGAGED IN THIS

SERIES THAT CONSISTS OF 20

MINUTE SKETCHED OF OTHER

IMPRISONED PEOPLE.

>> AN INSPIRATION OF VIVA

AMERICANA.

MEXICAN MURALISTS REMAKE

AMERICAN ART, 1925, 1945 NOW ON

VIEW AT THE WHITNEY.

>> THE FIRST MURAL WAS MADE IN

CALIFORNIA.

WE HAVE REPLICATED THAT MURAL AT

HALF SCALE.

IT FILLS THE GALLERY WITH THIS

TREMENDOUS FIERY FIGURATIVE

EXPRESSIONIST VOCABULARY.

THANK YOU FOR JOINING US THIS

EVENING.

GOOD NIGHT AND SEE YOU NEXT

TIME.

TO ENJOY MORE SEGMENTS VISIT OUR

WEBSITE AT NYC-ARTS.ORG.