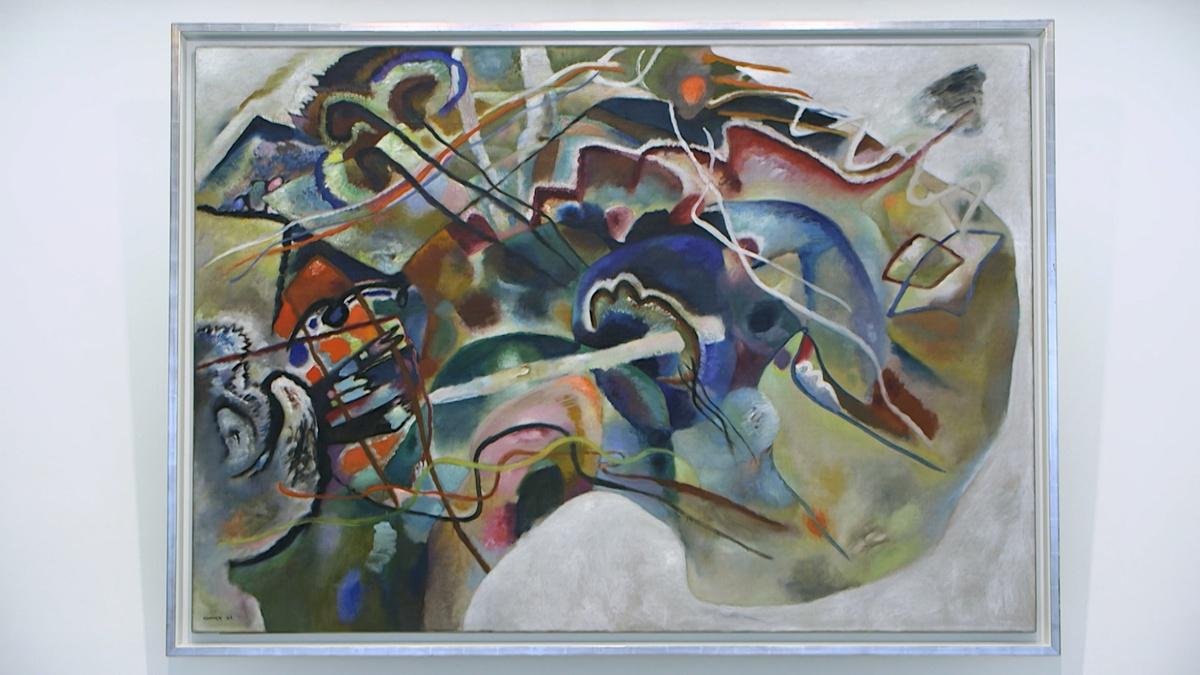 S2021 E535 | FULL EPISODE
NYC-ARTS Full Episode: November 11, 2021
A visit to the Guggenheim for "Vasily Kandinsky: Around the Circle," an exhibit that looks at Kandinsky's stylistic journey leading up to his groundbreaking abstractions. Then a look at the Arts of Japan gallery at the Brooklyn Museum. Finally, a visit to the Nevelson Chapel at St. Peter's Church, a sculptural environment created by Louise Nevelson, one of New York City's most celebrated artists.
TRANSCRIPT

♪

>> COMING UP ON NYC ARTS, A LOOK

AT AROUND THE SISHLGLE, A VIEW

AT THE GUGEHEIM.

>> HE PURSUED AN ARTISTIC CAREER

AFTER ABANDONING A LAW CAREER.

>> WE SEE THIS BLUE MOUNTAIN

ANCHORING THE CANVAS, AND THIS

WONDERFUL SERIES OF HORSE AND

RIDERS.

CAN YOU ALMOST FEEL THE WIND

THROUGH THE RIDERS' HAIR.

>> AND THIS REFLECTS 2000 YEARS

OF ARTISTIC ACCOMPLISHMENT.

>> IN THE NEW GALLERY, A PAIR OF

FOLDING SCREENS, THAT DATE FROM

1610.

THEY HAVE LARGELY GOLD

BACKGROUNDS, WHICH WOULD HAVE

HELPED TO REFLECT LIGHT IN THE

DARK INTERIOR OF THE CASTLE, AND

MADE THE ROOM MORE WARM, AND

GLOWING.

>> AND THE TRIP TO THE

METROPOLITAN MUSEUM, FOR A

HIGHLIGHT IN THE CAREER OF

POSTWAR AND CONTEMPORARY ART.

>> THE PAINTING SERVES AS AN

INVENTORY OR CATALOG OF PAINTER

STROKES, SOME THICK, SOME THIN.

SOME STABLE, SOME STRONG.

OTHERS, FLUID.

OTHERS WEAK.

>> FUNDING FOR NYC ARTS IS MADE

POSSIBLE BY --

IN MIDTOWN MANHATTAN, MORGAN

BEGAN AS THE PRIVATE LIBRARY OF

PIERRE MORGAN, ONE OF THE

PREMIER BENEFACTORS IN THE

UNITED STATES.

FOUNDED IN 1906, THE MORGAN

SERVES AS A MUSEUM, LIBRARY,

ARCHITECTURAL LANDMARK AND

HISTORIC SITE.

I AM HERE AT THE EAST RIVER, MR.

MORGAN'S LIBRARY, DESIGNED BY

CHARLES McKIN.

COMPLETED YEARS BEFORE McKIN'S

DEATH, IT IS CONSIDERED TO BE

HIS MASTERPIECE.

THE IDEAL OF THE UNITY OF ALL

THE ARTS, INTEGRATING,

ARCHITECT, SCULPTURE AND

PANTING, USING THE FINEST

MATERIALS AND MASTERSHIP.

>> 300 YEARS OF COLLECTING IN

DRESDEN.

THE EXCEPT IICAL, ESTABLISHES I

1720, IT IS ONE OF THE WORLD'S

OLDEST MUMPS DEDICATED TO WORKS

ON PAPER.

60 DRAWINGS BETWEEN THE 15th AND

20th CENTURY, AND CELEBRATING

PIVOTAL MOMENTES AND KEY

TRADITIONS IN THE HISTORY OF

EUROPEAN DRAFTSMANSHIP.

THE "PORT TRAIT OF AN OLDER MAN"

BY THIS GREAT PAINTER.

IT HAS NEVER BEFORE TRAVELLED TO

THE UNITED STATES.

DELICATELY MODELLED, USING

SILVER POINT, THE "PORT TRAIT OF

AN OLDER MAN."

INCLUDED, NORTHERN EUROPEAN

DRAWINGS.

AS WELL AS REMBRANT.

SOUTHERN EUROPE WORKS ARE

REPRESENTED BY OTHERS.

REMBRANT'S OF 1635, WAS ONE OF

THE MASTERPIECES OF THE DRAWING

COLLECTION.

MADE WITH PEN, BRUSH AND BROWN

INC., AN EAGLE ABDUCTING A

YOUNG, GREEK HERO FROM TROY.

IT DELINEATE THE EAGLE'S BODY,

TO LOOSE SWIRLS, IT WAS USED AS

A PREPATORY STUDY, IN THE

DRESDEN COLLECTION.

AND AMONG THE WORKS PRODUCED IN

THE 19th AND 20th CENTURIES.

ON THE COLOR DESIGN OF 1926,

AMONG THE RICH HOLDINGS OF

MODERN DRAWINGS, ASKED TO DESIGN

THE INTERIOR, LADIES SALON, IN

THE HOUSE OF THE COLLECTOR.

A PROPONENT FOR MODERNISM IN THE

CITY.

ALTHOUGH THE COMMISSION WAS

NEVER REALIZED, THE DESIGN IS

PRESERVED IN THIS MASTER PLAN.

THE ARTIST USED A STYLE OF

PAINTING CONSISTENTING OF

STRAIGHT LYINGS, RECK

RECTANGULAR SHAPES AND PRIMARY

COLORS, TURNING THE PLAN INTO A

THREE DIMENSIONAL SPACE.

NATIVE WATER COLOR, GRAPHITE

PENCIL, CLEARLY OUTLINED, FIELDS

OF VIBRANT COLOR.

THE EXPECTATION IS ON VIEW

THROUGH JANUARY 23, 2022.

>> A CENTRAL HAVING IN THE

GUGGENHEIM.

>> HIS GROUND BREAKING ABSTRAXZ,

TO OFFER A THOUGHT PROVOKING

VIEW OF HIS WORK.

>> I THINK WHEN PEOPLE THINK OF

K

KADENSKI, HE IS REINVENTING

HIMSELF AT EVERY TURN.

WE ARE IN THE EXHIBITION AT THE

GUGGENHEIM.

THIS IS OVER 70 WATER COLORS,

WOOD CUTS, AND PAINTINGS FROM

THE GUGGENHEIM COLLECTION.

HIS HE BEGAN COLLECTING HIS WORK

IN THE 1920s.

HE WAS A RUSSIAN-BORN ARTIST,

STARTED IN ART, AFTER ABANDONING

A LAW CAREER.

IT WAS A VIBRATE CULTURE.

BLUE MOUNTAIN IS A CANVAS FROM

1906, WORKING IN AN

EXPRESSIONISTIC MANNER.

WE SEE A BLUE MOUNTAIN,

ANCHORING THE BACKGROUND, IN THE

FOREGROUND, A SERIES OF HORSE

AND RIDERS.

YOU CAN ALMOST FEEL THE WIND

RUSTLING THROUGH THE RIDER'S

HAIR.

HE WAS STILL FINDING HIMSELF AS

AN ARTIST.

AND WORKING IN THIS REALM,

BECOMING LOOSER WITH HIS BRUSH

WORK.

IMAGERY IS LESS IMPORTANT THAN

THOSE COLORS.

LINE AND FORM.

IN JUST A FEW SHORT YEARS, HE AM

CANS TO A MORE ABSTRACT STYLE.

>>> 1913 WAS A VERY IMPORTANT

YEAR FOR KANDIKSKI, HE WOULD DO

WHAT HE WOULD CALL ABSTRACT

CANVASS, PAINTING WITH WIDE

BOARD, HE IS ON THE PRECIPICE.

HE IS ABOUT TO JUMP OFF THE

CLIFF, HE HASN'T DONE SO YET.

THE IMAGERY IS LOOSE, A LOT OF

SWIRLING BRUSH WORK IN THERE.

JUST A FEW MONTHS, PRIOR, TO THE

FALL OF 1920, HE RETURNED TO

NATIVE MOSCOW, WHEN WE COMES

BACK TO MUNICH, HE WANTED TO

CAPTURE THE FEELING OF MOSCOW

ITSELF.

A THREE-HORSE SLED IN THE

CENTER.

A THE PATRON SAINT OF MAS KOE,

TO THE DRAGON.

THIS WORK, UNDERSCORES THE WAY

MEMORY, AND PLACE INFUSED HIS

WORK.

COMPOSITION E, A PAINTING FROM

1923.

THE YEAR PRIOR, KANDENSKI, THE

ART SCHOOL FOUNDED AFTER THE

FIRST WORLD WAR.

THIS PAINTING EPITOMIZES HIS

STYLE IN THIS MOMENT.

A MORE GEMETRY LANGUAGE, THE

CIRCLE, THE SQUARE, THE

TRIANGLE, THE LINE.

THERE IS A WONDERFUL ENERGY TO

THE CANVAS, PULSATING BETWEEN

CALM AND AGGRESSIVE.

THIS GEOM TREE THAT TAKES US

INTO THIS OTHER DIMENSION.

SEVERAL CIRCLES FROM 1926, IS

ANOTHER PAINTING FROM HIS BOW

HOUSE PERIOD.

FOR HIM, IT WAS A SHAPE THAT

REPRESENTED BALANCE AND HARMONY.

IN THIS WORK, IT IS HARD NOT TO

THINK OF ANOTHER DIMENSION, A

SPIRITUAL REALM.

AROUND THE CIRCLE FROM 1940 IS A

LATE LIFE PAINTING, CKANDENSKI

SAID THAT LIGHT OF PARIS

EXPANDED HIS PALLET.

WE SEE PASTELS, AND BIOMORIF I

CAN IMAGERY.

FOR ME, IT BRINGS EVERYTHING

TOGETHER.

THE WAYS IN WHICH HE IS GOING

BACK TO EARLIER MOMENTS IN HIS

CAREER.

WE SEE THIS KIND OF SUSTAINED

INTEREST IN FOLKLOWER, DRAWING

FROM NARRATIVES OF METE MO

MORPHESIS, THINKING ABOUT S

SPIRITUAL ASKENDANCE AND TRANCE

FORMATION.

HIS STORY IS ONE OF ADAPTATION,

AND DISPLACEMENT, AS HE ADAPTS

TO EACH NEW SURROUNDING.

ULTIMATELY, IT IS A STORY OF

RESILIENCE.

IT WAS GROUND-BREAKING.

IT SET THE STAGE FOR SO MANY

ARTISTIC ADVANCEMENTS THROUGH

THE NEXT DECADES.

♪

>> IN A TRIP TO THE MILLKEN

MUSEUM, THE ARTS OF JAPAN

GALLERY.

2000 YEARS OF JAPANESE ART, B

BUD

BUDDHIST.

>> ALL OF OUR BEAUTIFUL

TREASURES TO, IT WILL NEW AND

INTERESTING STORIES WE NEVER

TOLD BEFORE.

THE BROOKLYN MUSEUM IS UNUSUAL,

WITH LARGE HOLDINGS FROM

MATERIAL FROM THE CULTURE OF

NORTHERN JAPAN.

WE ARE VERY FORTUNATE TO HAVE

ROUGHLY A THOUSAND ARTIFACTS

THAT INU PEOPLE.

CARVED WOOD, TOORNAMENTS,

COSTUMES, WHAT THEY WORE IN A

CEREMONIAL SETTING.

WE HAVE A NUMBER OF ROBES FROM

THE PEOPLE THAT WERE PROBABLY

SPECIAL OCCASION ATTIRE.

MOST OF THE ROBES MADE BY THE

COSTUME MAKERS WERE MADE OF

INDIGENOUS FABRIC, BUCK CLOTH.

IT HAS A TEXTURE KIND OF LIKE

BURLAP.

THE ROBE WE ARE SHOWING NOW, IT

IS MADE ENTIRELY OF COTTON.

COTTON WAS SOMETHING THAT THEY

HAD TO TRADE FOR.

THEY COULDN'T GROW COTTON UP IN

THE NORTHERN CLIMBS OF THE

ISLAND.

SO, COTTON AS A TRADE GOOD WOULD

HAVE BEEN A LUXURY ITEM.

THE ROBES MADE ENTIRELY OF

COTTON WERE VERY MUCH STATUS

OBJECTS.

THIS WONDERFUL, OVERSIZED GREEN

HEAD DATES FROM THE 1,200S, A

MOMENT WHEN SCULPTURE IN JAPAN

BECAME MORE LIVE LIER AND

EXPRESSIVE.

THE HEAD IS MUCH LARGER THAN

LIFE SIZE, AND WOULD HAVE STOOD

ATOP A FIGURE 12 FEET HIGH.

IT WOULD HAVE BEEN ONE OF FOUR

FIGURES MARKING THE FOUR CORNERS

OF A PLATFORM AROUND AN EVEN

LARGER SEATED BUDDHA, AND IN THE

DARK, DIM LIGHT OF THE TEMPLE,

YOU WOULD HAVE LOOKED WAY UP

TOWARD THE CEILING AND SEEN THE

FIGURES GLINTING EYES AND WHITE

TEETH, INTIMIDATING AND

DRAMATIC.

THE EYES IN FACT ARE MADE OF

ROCK CRYSTAL, PAINTED ON THE

REVERSE.

THEN INSERTED INTO THE WOOD

HEAD.

SO, A FIERCE FIGURE LIKE THIS,

TO A WESTERN AUDIENCE, CAN BE

MISTAKEN FOR A DEMONIC OR EVIL

PRESENCE, IN FACT, IN THIS

BUDDHIST TRADITION, THEY ARE ON

OUR SIDE.

FIGHTING FOR THE RIGHT THINGS.

ONE OF THE GREATEST HIGHLIGHTS

IN THE NEW GALLERY IS A PAIR OF

FOLDING SCREENS THAT DATE FROM

1610.

THESE WERE MADE FOR THE INTERIOR

OF THE CASTLE.

THEY HAVE LARGELY GOLD

BACKGROUNDS THAT WOULD HAVE

HELPED TO REFLECT LIGHT IN THE

DARK INTERIOR OF THE CASTLE.

MADE THE ROOM SORT OF MORE WARM

AND GLOWING.

THE THEME OF THESE TWO FOLDING

SCREENS IS DRYING FISH NETS.

THAT IS NOT SOMETHING THAT WE IN

THE MODERN WORLD SEE A LOT OF.

BACK IN THE DAYS WHEN FISH NETS

WERE MADE OF NATURAL MATERIALS,

THERE WERE CONCERNS THEY WOULD

GET MOLDY.

IF YOU ARE A FISHERMAN, YOU NEED

TO THROW THEM.

YOU NEED THEM TO BE LIGHTER.

NOT SO WET.

IT WAS A COMMON SIGHT TO SEE

NETS HANGING OUT TO DRY.

THAT WAS CONSIDERED EXTREMELY

SCENIC, PICTURESQUE. IT

REPRESENTS THE FOUR SEASONS, WE

WILL READ IT RIGHT TO LEFT.

IF YOU START AT THE FAR RIGHT

END, YOU SEE THERE ARE GRASS

SAYS, GROWING AROUND THE NETS,

THEY ARE RELATIVELY SHORT.

AS YOU MOVE TO THE LEFT, YOU

HAVE TALLER GRASS SAYS.

YOU HAVE GONE FROM SPRING TO

SUMMER.

THE NEXT SPRING, THEY ARE BROWN

AROUND THE EDGE, THEY HAVE GONE

TO SEED.

THAT IS FALL.

IN THE FAR LEFT.

AND THE BROOKLYN MUSEUM HOUSES A

WONDERFUL COLLECTION OF JAPANESE

PRINTS, MANY OF WHICH HAVE NOT

BEEN OUT ON VIEW IN DECADES.

NOW, THIS IS FROM THE SAME

SERIES AS THE GREAT WAVE.

THE IMAGE BY THE GREAT JAPANESE

PRINT DESIGNER.

IT IS A SERIES THAT FOCUSES ON

MOUNT F

THAT IS IN FACT THAT WE ARE

SEEING BLUE SKIES OFF IN THE

DISTANCE.

THE BROOKLYN MUSEUM ARTS OF

JA

JAPAN, IS SOMETHING WE WILL BE

CHANGING MANY TIMES, IN ORDER TO

SHOW MORE AND MORE TREASURES.

WE ENCOURAGE PEOPLE TO MAKE

DISCOVERS OF THEIR OWN.

>> NEXT, A VISIT TO THE

METROPOLITAN MILLENNIUM POSTWAR

ART, IT EXPLORES LARGE SCALE

ABSTRACT PAINTINGS, AND OTHER

WORK OF ART.

IT SEEMS TO BROADEN THE

NARRATIVE 6 ABSTRAKZ, FROM THE

METROPOLITAN'S COLLECTION,

JACKSON POLLACK, MARK ROTHGO,

MARK PATRICK.

CONTEMPORARY ART AT THE MET,

PRESENTS ONE OF OF THE

HIGHLIGHTS OF THE EXHIBITION.

>> COLORFUL AND ATTRACTIVE

PAINTING BEHIND ME.

>> A SENSE OF EXPERIMENTATION.

SPECIFICALLY, THE MINIMALIST

THAT WAS CONSIDERED TO BE THE

MOST DESIRABLE TEMP PLATE.

COMPETITION AND DESIGN FOR SO

MANY ARTISTS, PAINTERS COMING OF

AGE IN THE LATE 1960s AND 1970s.

THIS IS A PAINT OG CANVAS, USING

A WIDE RANGE OF PAINT.

ACRYLIC AND SPRAY ENARMLE.

APPLYING PAINT FOR THE SEQUENCE

OF CLEAR BREAST STROKES, MOST OF

THEM WITH THE OIL PAINT.

THERE ARE INSTANCES, HER PROCESS

IS ADDITIVE AND SUBSTRAKTIVES,

MAKING STROKES BY ADDING BRUSH

MARKS, AND EXECUTES, IN SOME

CASES, TO MAKE AN ABSENCE OF A

STROKE.

PART OF THE APPEAL OF THE

PAINTING IS THAT IT EXPANDS AND

BLOWS UP IN SCALE WHAT AN ARTIST

PALLET MIGHT LOOK LIKE.

YOU GET A SENSE OF THE FULL

RANGE OF AN ARTIST PALLET THAT

SHE IS PREPARING TO USE.

THE PAINT AND IN CERTAIN

PASSAGES, IS PILED UP.

IT IS THICK, AND COAGULATED, IN

OTHER INSTANCES, SHE IS ALLOWING

THE STROKES TO RUN AND POUR OVER

EXPANS.

IT SERVES AS A CATALOG OF

PARTICIPATING STROKES, SOME

THICK, SOME THIN, SOME STABLE,

SOME STRONG, OTHERS, FLUID.

OTHERS, WEAK.

SCHNEIDER HERE, WALKS A FINE

LIKE BETWEEN EXPERIMENTATION AND

DELIBERATION.

♪

>> NEXT WEEK ON NYC ARTS, THE

TRIP DOWN TO THE JASPER MUSEUM,

A RETROSPECTIVE OF THIS

91-YEAR-OLD ARTIST OVER SEVEN

DECADES.

>> ALTHOUGH JOHNS IS WELL KNOWN

FOR HIS DRAWINGS, PAINTINGS AND

PRINTS, HE MADE SCULPTURES, LIKE

THE TWO ELK CANS, OR THE CAN

FULL OF BRUSHES, HE RETURNED IN

A RIGOROUS WAY TO SUPTURES IN

THE EARLY 2000S.

>> A VISIT TO THE AMERICAN FOLK

ART MUSEUM, AND AMERICAN WEATHER

VAINS.

THE ART OF THE WINDS.

>> IT IS AN EXHIBITION AT THE

FOLK ART MUSEUM, BRINGING

TOGETHER A NEVER BEFORE GROUP.

A SENSE OF PRIDE, AND PERSONAL

OR SOCIAL IDENTITY.

>> A VISIT TO THE CHAPEL IN ST.

PETER'S CHURCH IN MIDTOWN

MANHATTAN.

>> ONCE INSIDE, ARE YOU

SURROUNDED BY NEFIL SON, SHE WAS

THE GRAND MOTHER OF ART IN

AMERICA, SURROUNDING PEOPLE WITH

ART.

>> I HOPE YOU ENJOYED OUR

PROGRAM TONIGHT.

ON LOCATION, AT MARGAN LIBRARY

AND MUSEUM.

THANK YOU FOR WATCHING, SEE YOU

NEXT TIME.