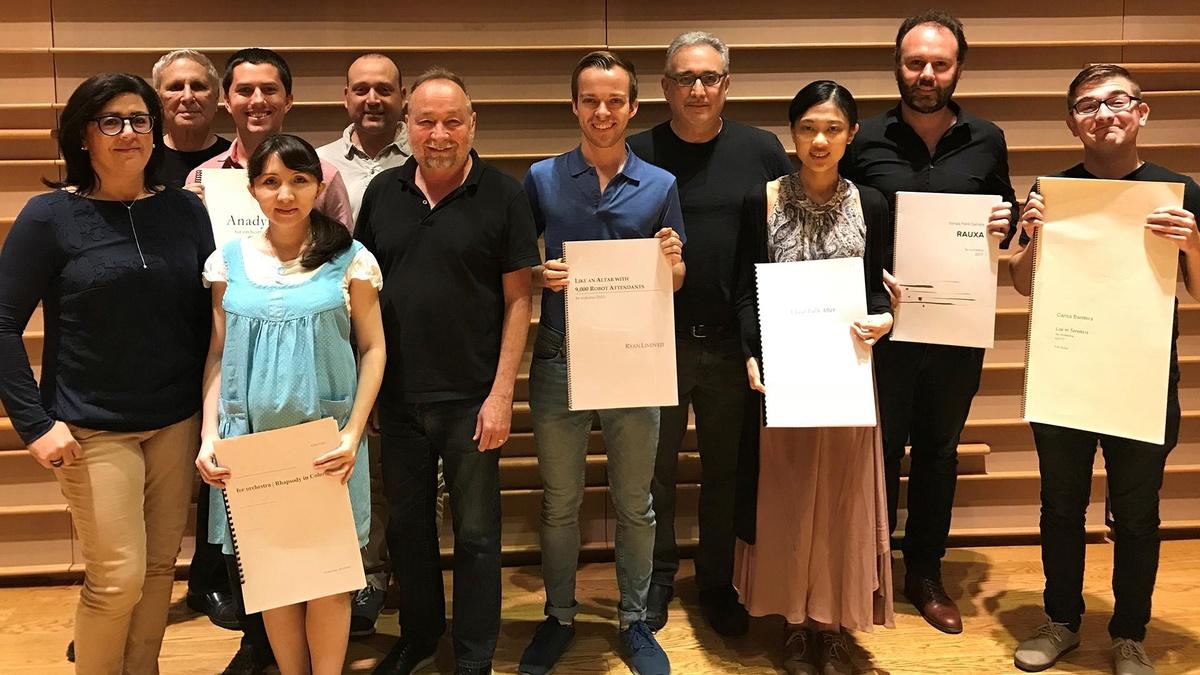 S2020 E483 | FULL EPISODE
NYC-ARTS Full Episode: March 5, 2020
A profile of the American Composers Orchestra, ACO, the only orchestra in the world dedicated to the creation, performance, and promotion of music by American composers. Followed by a look at Jane's Carousel in Brooklyn Bridge Park. And a visit to the American Folk Art Museum, where curator Stacy Hollander describes an intriguing sculpture created by Asa Ames and known as the "Phrenological Head."
TRANSCRIPT

>>> COMING UP ON "NYC ARTS" THE

PROFILE OF AMERICAN COMPOSERS

ORCHESTRA, THE ONLY ORCHESTRA IN

THE WORLD DEDICATED TO THE

CREATION AND PERFORMANCE OF

MUSIC BY AMERICAN COMPOSERS.

>> YOU'RE HEARING WHAT'S BEEN IN

A COMPOSER'S MIND WHICH THEY PUT

INTO A BIG OR ORCHESTRAL SCORE

AND THE CONDUCTOR IS GOING TO BE

CONDUCTING THIS IN FRONT OF 60

MUSICIANS THAT ARE MAKING THE

MUSIC HAPPEN LIVE FOR THE VERY

FIRST TIME.

>> I THINK THIS PROGRAM IS JUST

FANT

FANTASTIC BECAUSE THE COMPOSERS

NOT ONLY GET THE FEEDBACK FROM

THE COMPOSERS BUT ALSO THE

PLAYERS FROM THE ORCHESTRA AND I

THINK THAT'S IMPORTANT.

>> MAYBE A LITTLE MORE PIANO.

>>> A TRIP TO BROOKLYN BRIDGE

PARK TO VISIT A SHINING EXAMPLE

OF THE GOLDING AGE OF CAROUSEL

MAKING IN THE U.S.

>> I THINK IT WAS 27 YEARS I

WORKED ON IT.

IT OPENED IN THE PARK IN 2011.

>>> FUNDING FOR "NYC ARTS" IS

MADE POSSIBLE BY ROSALIND P.

WALTER, THEA PETSCHEK,

JODY AND JOHN ARNHOLD, ELLEN AND

JAMES S. MARCUS, THE LEWIS

SONNY TURNER FUND FOR DANCE

ELISE JAFFE AND JEFFREY BROWN

THE MILTON AND SALLY AVERY ARTS

FOUNDATION AND THE ELROY AND

TERRY KRUMHOLZ FOUNDATION.

THIS PROGRAM IS SUPPORTED, IN

PART, BY PUBLIC FUNDS FROM THE

NEW YORK CITY DEPARTMENT OF

CULTURAL AFFAIRS IN PARTNERSHIP

WITH THE CITY COUNCIL.

ADDITIONAL FUNDING PROVIDED BY

MEMBERS OF THIRTEEN.

NYC-ARTS IS MADE POSSIBLE IN

PART BY FIRST REPUBLIC BANK.

>> FIRST REPUBLIC BANK PRESENTS

FIRST THING'S FIRST.

FIRST REFERS TO CLIENTS WHO WALK

THROUGH OUR DOORS.

THE FIRST STEP, RECOGNIZE THAT

EVERY CLIENT IS AN INDIVIDUAL

WITH UNIQUE NEEDS.

FIRST DECREE, BE A BANK WHOSE

CURRENCY IS SERVICE IN THE FORM

OF PERSONAL BANKING.

THIS WAS FIRST REPUBLIC'S

MISSION FROM OUR VERY FIRST DAY.

IT'S STILL THE FIRST THING ON

OUR MINDS.

>>> AND BY SWANN AUCTION

GALLERIES.

♪

>>> GOOD EVENING AND WELCOME TO

"NYC-ART."

ON OUR PROGRAM TONIGHT, WE GO

BEHIND THE SCENES WITH THE

AMERICAN COMPOSER'S ORCHESTRA OR

ACO, THE ONLY

MUSIC BY AMERICAN COMPOSERS.

IT GIVES VOICE TO COMPOSERS OF

VARIOUSAL STYLES AND GENRES

ALLOWING AUDIENCES TO EXPERIENCE

NEW HYBRIDS, WRITING FOR

SYMPHONY REMAINS ONE OF THE

GREATEST CHALLENGES FOR THE

ASPIRING COMPOSER.

AND OPPORTUNITIES FOR HANDS-ON

EXPERIENCE WORKING WITH AN

ORCHESTRA ARE RARE.

UNDERWOOD NEW MUSIC READINGS

GIVES AUDIENCES A CHANCE TO LOOK

BEHIND THE SCENES OF BRINGING

NEW DIVERSE ORCHESTRAL MUSIC TO

LIFE.

EACH YEAR A HANDFUL OF EMERGING

COMPOSERS ARE SELECTED FROM

HUNDREDS OF SUBMISSIONS TO

PARTICIPATE AT THE UNDERWOOD

READINGS.

RECEIVING VALUABLE MENTORING AND

FEEDBACK FROM PROFESSIONAL

COMPOSERS, CONDUCTORS, AND THE

ORCHESTRA PLAYERS THEMSELVES.

IN 2018, NYC-ARTS CAPTURED THESE

FINAL READINGS WHICH WERE OPEN

TO THE PUBLIC AT NYU'S FREDERICK

LOWE THEATER.

AT STAKE, TWO $15,000 MISSIONS

TO WRITE NEW WORKS FOR ACO.

♪

>> SO, MY NAME IS LILIA OGUY.

I'M FROM UZBEKISTAN.

BUT I'M ALSO HALF KOREAN, AND I

LIVED IN THIS COUNTRY FOR EIGHT

YEARS SO FAR.

VERY OFTEN I WRITE MUCH MORE TO

THE STYLE OF DRAMATIC PIECES.

AND WITH THIS ONE, I DECIDED TO

GO A DIFFERENT DIRECTION AND TO

WRITE SOMETHING THAT WOULD BE

RATHER LIGHT AND PLAYFUL AND IN

A CERTAIN WAY REFLECT, FOR ME,

REFLECT THE INFLUENCE OF

AMERICAN MUSIC ON ME.

♪

IT ALMOST FEELS QUITE INCREDIBLE

BECAUSE I LIKE PAINTERS, FOR

EXAMPLE, CAN JUST PAINT THE

PICTURE WITH ALL THE COLORS.

WE, AS COMPOSERS, IMAGINE OUR

SOUNDSCAPE, BUT WE CANNOT HEAR

IT LIVE UNTIL WE ACTUALLY HEAR

IT LIVE.

>> YOU'RE HEARING WHAT'S BEEN IN

A COMPOSER'S MIND WHICH THEY PUT

INTO A BIG ORCHESTRAL SCORE,

THEY WROTE IT ALL DOWN.

AND NOW THEY'VE PUT IT FROM THE

CONDUCTOR AND THE CONDUCTOR IS

GOING TO BE CONDUCTING THIS IN

FRONT OF 60 MUSICIANS WHO ARE

MAKING THE MUSIC HAPPEN LIVE FOR

THE VERY FIRST TIME.

>> IT CAN BE DIFFICULT NOT TO

FEEL NERVOUS AND NOT TO NOTICE

MISTAKES OR SMALL THINGS THAT

YOU WOULD LIKE TO DO BETTER AND

JUST TO PERCEIVE IT THE WAY THE

LISTENER WOULD.

>> I FEEL FOR EVERY COMPOSER

WHO'S GETTING A FIRST

PERFORMANCE BECAUSE I JUST KNOW

HOW I FELT THE FIRST TIME I DID

AN ORCHESTRA PIECE PLAYED.

AND IT WAS SO INCREDIBLY

FRIGHTENING AND YET

EXHILARATING.

IT WAS LIKE THIS GREAT FREIGHT

TRAIN JUST RAN OVER YOU.

>> WELL, I THINK THIS PROGRAM IS

JUST FANTASTIC BECAUSE THE

COMPOSERS NOT ONLY GET THE

FEEDBACK FROM THE MENTOR

COMPOSERS, BUT THEY ALSO HAVE

THE FEEDBACK FROM THE PLAYERS

FROM THE ORCHESTRA.

AND I THINK THAT'S EXTREMELY

IMPORTANT.

>> MAYBE A LITTLE MORE FORTE

PIANO.

>> AS FAR AS THE READINGS GO, WE

ARE ENCOURAGING THESE YOUNG NEW

COMPOSERS.

AND OFTEN THE MARKS THAT THEY DO

PUT ON THE PAPER ARE NOT AS

CLEAR AS THEY NEED TO BE.

AND SO IT'S A LITTLE BIT OF A

TEACHING ROLL TO SAY WELL THAT'S

WHAT YOU WANT TO HEAR, THEN THIS

IS WHAT WE NEED TO SEE.

[ APPLAUSE ]

>> HELLO.

MY NAME IS LILY CHIN.

MY PIECE IS INSPIRED BY BOTH

BEAUTIFUL SONGS, BEAUTIFUL AND

SOME TERRIFYING MOMENTS.

>> LILY CHIN IS A WONDERFULLY

CREATIVE COMPOSER FROM TAIWAN

WHO NOW LIVES IN THE BAY AREA

AND IS ATTENDING UNIVERSITY OF

CALIFORNIA AT BERKELEY.

HER MUSIC USES MANY, MANY

EXTENDED TECHNIQUES.

SO, YOU'LL SEE THE STRING

PLAYERS TAPPING.

YOU'LL SEE SOME STYROFOAM CUPS

BEING USED.

SO, SHE'S EXTREMELY CREATIVE,

AND SHE HAS THE SENSIBILITY OF

AN EXPERIMENTAL COMPOSER.

AND SHE'S TRYING TO SQUARE THAT

WITH WRITING FOR A LARGE

ORCHESTRA.

>> GOOD EVENING EVERYONE.

MY NAME IS RYAN LEEVITE AND I'M

EXCITED FOR YOU ALL TO HEAR MY

PIECE.

>> RYAN'S PIECE IS BEAUTIFULLY

ORCHESTRATED AND IT'S A PIECE

ABOUT ROBOTS.

SO, YOU'LL HEAR A KIND OF

MECHANICAL QUALITY ABOUT THIS

PIECE.

>> WHAT'S GREAT ABOUT THIS

ORCHESTRA IS THAT THESE PLAYER,

THESE MUSICIANS, ARE SO QUICK TO

CATCH ALL THE OF THE GESTURES

AND TRICKY RHYTHMS.

THESE GUYS EAT IT UP RIGHT AWAY.

SO, THAT'S ONE OF THE REASONS I

THINK THAT THE AMERICAN

COMPOSER'S ORCHESTRA IS UNIQUE

AND SPECIAL WITH THIS PARTICULAR

THING THAT WE DO WITH COMPOSERS.

>> OUR FIRST PIECE IS BY SOPHIA.

YOU CAN TELL THEM THE TITLE.

>> ALL RIGHT.

>> EDUCATION IS A VERY IMPORTANT

PART OF WHAT WE DO AT ACO.

WE LIKE TO THINK THAT WE'RE ALL

ABOUT GIVING COMPOSERS ACCESS AT

DIFFERENT PHASES.

AT THE VERY YOUNGEST PHASE WHEN

THEY'RE STILL IN JUNIOR HIGH

SCHOOL, HIGH SCHOOL, WHEN YOU'RE

JUST STARTING TO WRITE MUSIC AND

THEY'RE TRYING TO FIGURE OUT

WHAT TO DO, THAT'S WHEN WE HAVE

THE EDUCATIONAL PROGRAMS LIKE

COMPOSE YOURSELF.

>> REVISE THE PIECE.

I WOULD CONSIDER MAYBE PUTTING

IN SOME BAR TICKS.

>> AT THE PHASE WHEN COMPOSERS

ARE JUST ABOUT TO EMBARK ON

PROFESSIONAL CAREERS, WE HAVE

THE UNDERWOOD READINGS.

>> BECAUSE THE PIECE IS SO

INTENSE.

>> THAT'S A GREAT SUGGESTION.

>> THAT'S ONE OF THE

PARTICULARLY GRATIFYING THINGS

ABOUT THE UNDERWOOD READINGS IS

IT'S YOUNG COMPOSERS WHO ARE

HERE TO LEARN AND THAT WE GIVE

THEM THIS POSITIVE FEEDBACK,

HOPEFULLY POSITIVE, BUT

CRITICISMS.

WE CAN CERTAINLY BE FRANK ABOUT

WHAT'S WORKING.

>> CARLOS HAS BEEN REALLY

INTERESTED IN DIVIDING THE

ORCHESTRA INTO A THIN CURTAIN OF

SOUND.

HE COMES FROM AN INTERESTING

MUSICAL BACKGROUND BECAUSE HE

WAS INTO HEAVY METAL WHEN HE WAS

YOUNGER.

SO, HE DRAWS FROM A VERY WIDE

PALLET OF SOUND.

>> CARLOS, YOU ALSO WIN THE

PRIZE FOR THE LARGEST SCORE.

>> I'M GOING TO TURN AROUND ONCE

WE START THE PASSAGE AND SEE IF

THE TEMPO IS WHERE YOU WANT IT

TO BE.

>> THOMAS WANTED THIS PIECE TO

BE JUST A BIG RUSH OF SOUND.

AND HE WANTS TO SEE THE

ORCHESTRA FUNCTIONING AT THEIR

MOST INTENSE LEVEL.

AND I THINK YOU RARELY HEAR THAT

IN HIS PIECE.

>> IS THE BASS CLARINET TOO LOUD

ON THE SUSTAINED FIGURES?

>> OKAY.

PERFECT.

ROUND UP BASSOONS.

>> THE REAL QUESTION IS WHY

WRITE FOR ORCHESTRA?

WHAT'S UNIQUE ABOUT THE

ORCHESTRA?

AND WHAT CAN YOU SAY UNIQUELY?

WHAT CAN YOU BRING AS AN ARTIST?

ONE OF THE COMPOSERS WILL GET A

COMMISSION, BUT I DON'T LIKE TO

THINK OF THIS AS A COMPETITION

BECAUSE WHEN THERE ARE SIX

SCORES CHOSEN OUT OF ABOUT 240,

THEN EVERYONE REALLY IS A

WINNER.

EVERY COMPOSER WILL COME OUT OF

THIS READING WITH A UNIQUE AND

ONCE IN A LIFETIME EXPERIENCE.

AND THAT'S WHAT MATTERS FOR US,

AND THAT'S WHAT ACO IS ALL

ABOUT.

♪

>>> THE NEIGHBORHOOD OF DUMBO

ALONG THE WATERFRONT OF BROOKLYN

BETWEEN THE MANHATTAN AND

BROOKLYN BRIDGES IS HOME TO A

VIBRANT ART AND CULTURE SCENE.

ONE OF THE HIGHLIGHTS OF THE

NEIGHBORHOOD IS JANE'S CAROUSEL

IN BROOKLYN BRIDGE PARK.

INTRICATELY CARVED AND BUILT BY

THE PHILADELPHIA TOBOGGAN

COMPANY IN 1922, IT REPRESENTS

THE GOLDEN AGE OF AMERICAN

CAROUSEL MAKING.

NYC-ARTS SPOKE WITH JANE WHO

BOTH RESTORED THE CAROUSEL AND

IS ITS NAME SAKE, ABOUT THE

CAROUSEL'S LONG JOURNEY FROM ITS

ORIGINAL HOME IN OHIO TO THE

CURRENT RESIDENCE ON THE EAST

RIVER.

♪

>> MY HUSBAND, DAVID, WAS TO

DEVELOP WHAT'S NOW BROOKLYN

BRIDGE PARK BACK IN THE EARLY

'80 LS.

HE HAD A MASTER PLANNER, BEN

THOMPSON.

IT WAS BEN'S IDEA TO HAVE A

CAROUSEL OUT HERE.

THERE WAS NOTHING HERE.

IT WAS PRETTY MUCH A DESOLATE

NEIGHBORHOOD.

I WAS AN ARTIST AND ART

DIRECTOR.

I WORKED AT ESTEE LAUDER AT THE

TIME.

THEN MY HUSBAND GAVE ME THE TASK

OF FINDING A CAROUSEL.

IT WAS IN 1984, YOUNGSTOWN,

OHIO.

IDORA PARK WAS THE PARK IT WAS

IN, VERY BELOVED PARK.

IT WAS BEING SOLD FOR

DEVELOPMENT.

THEY AUCTIONED THE WHOLE PARK.

THE CAROUSEL WAS THE CROWN

JEWEL.

IT WAS IN FAIRLY GOOD CONDITION,

AND IT WAS ALL ORIGINAL TO 1922.

WE DIDN'T THINK WE HAD A CHANCE.

AND THEN WE WERE THE ONLY BID

AND IT WAS LIKE HOLY COW.

NOW WHAT DO WE DO?

I SPENT YEARS RESTORING IT.

I WANTED TO BRING IT ALL BACK TO

THE 1922 PALLETTE.

IT HAD LIKE 10 COATS OF PAINT ON

IT.

THE WAY TO DO IT WAS TO USE

RAZOR BLADES AND SCAPE IT ALL

OFF.

AND I WOULD DOCUMENT IT WITH

VERY CAREFUL DRAWINGS AND COLOR

MATCHES.

WHEN WE REPAINTED, WE MIXED ALL

THOSE COLORS.

IT'S VERY MUCH WHAT IT WAS THEN

EXCEPT FOR THE GUILDING.

I TOOK ARTIST'S LICENSE WITH THE

GUILDING.

WHEN I FIRST STARTED RESTORING

THE LEAF ON IT IN ALUMINUM, I

THOUGHT IT LOOKED AWFUL.

SO, I DECIDED TOO BAD, I'M USING

GOLD LEAF, AND I DID.

IT WAS EXCITING.

IT WAS LIKE A LITTLE SANTA'S

WORKSHOP.

PEOPLE WALKED IN, GASPED.

IT WAS 48 HORSES ALL LINED UP.

I THINK IT WAS 27 YEARS THAT I

WORKED ON IT.

WE BOUGHT IT IN '84.

IT OPENED IN THE PARK IN 2011.

WHEN THE CAROUSEL BUILDING WAS

DESIGNED, IT'S 10 FEET ABOVE THE

100-YEAR FLOODPLAIN SO, WE

THOUGHT THAT WAS FINE.

AND THEN SANDY WAS COMING.

IT WAS WHOHORRIFYING.

LOWER MANHATTAN LOST POWER AND

THE REST OF BROOKLYN LOST POWER

AND WE HAVE LED LIGHTS THAT

SURROUND THE CAROUSEL AND

SOMEHOW THEY STAYED ON.

AND IT LOOKED LIKE THE CAROUSEL

WAS BEING WASHED OUT TO SEA.

GOT UP EARLY IN THE MORNING AND

BY THEN THE RIVER HAD RECEDED.

I WENT OVER THERE, CAROUSEL

LOOKED FINE, AND IT WAS FINE.

AND WE OPENED TWO WEEKS AFTER

SANDY.

WE BROUGHT IN, YOU KNOW,

ELECTRIC HEATERS.

IT WAS REALLY APRIL BEFORE WE

WERE FULLY OPERATIONAL.

THE CAROUSEL IS A CLASSIC

MACHINE AND IT'S 48 HORSES.

THERE'S KIND OF A HIERARCHY TO

THE HORSES.

THE OUTSIDE ROW ARE STANDERS AND

THAT MEANS THEY DON'T GO UP AND

DOWN.

THEY'RE QUITE HUGE ACTUALLY.

AND THEY'RE THE MOST

DECORATIVELY CARVED.

THE NEXT ROW ARE JUMPERS.

THEY GO UP AND DOWN AND THEY'RE

A LITTLE SMALLER, AND THEY'RE

NOT QUITE AS DECORATIVELY

CARVED.

A LOT OF THEM HAVE SOME HAND

PAINTING ON THE SADDLE BLANKET

TO MAKE UP FOR THE CARVING.

AND THE INNER ROW ARE PONIES.

THEY'RE ACTUALLY QUITE SMALL AND

ADORE ABLE REALLY.

THESE WERE DESIGNED FOR LITTLE

TODDLERS.

THE OUTSIDE OF HORSES -- AND

THIS IS TYPICAL OF ALL

CAROUSELS -- IS CALLED THE LOW

MAN'S SIDE BECAUSE THAT'S THE

MOST HEAVILY CARVED AND THAT'S

WHERE ALL THE JEWELS ARE AND THE

INSIDE NOBODY REALLY SEES.

SO, THEY'RE FLATTER.

THEY'RE NOT ALL BEAUTIFULLY

CARVED.

THE CAROUSELS HAD WELL OVER A

MILLION RIDERS, SO IT'S VERY

LOVED.

THERE'S A ROMANTIC NOTION ABOUT

A CAROUSEL.

THERE'S SOME FANTASY ABOUT THEM.

BECAUSE JUST A VERY NOSTALGIC

THING.

I ENJOY THAT LITTLE KIDS STILL

LOVE IT.

EVEN INFANTS WILL RESPOND TO THE

LIGHTS AND THE MUSIC.

LUCKY ME, PEOPLE STILL LOVE IT.

♪

>>> JUST STEPS AWAY FROM OUR

STUDIO HERE AT LINCOLN CENTER IS

THE AMERICAN FOLK ART MUSEUM

DEDICATED TO THE APPRECIATION OF

TRADITIONAL FOLK ART.

THE MUSEUM IS ALSO DEVOTED TO

RESEARCHING AND PRESERVING THE

CREATIVE EXPRESSIONS OF AMERICAN

AND INTERNATIONAL SELF-TAUGHT

ARTISTS.

NOW, CURATOR STACY HOLLANDER

PRESENTS ONE OF HER FAVORITE

WORKS IN THE COLLECTION.

♪

>> HI.

I'M STACY HOLLANDER.

WELCOME TO THE AMERICAN FOLK ART

MUSEUM.

I'D LIKE TO TALK TO YOU TODAY

FOR A FEW MINUTES ABOUT ONE OF

THE MOST SURPRISING AND UNIQUE

WORKS OF ART IN THE MUSEUM'S

COLLECTION.

IT'S A SCULPTURE FROM THE

MID-19th CENTURY BY A VERY

LITTLE KNOWN ARTIST NAMED ASA

AIMS FROM NEW YORK.

THIS PIECE IS UNIQUE NOT ONLY IN

ASA AIMS' BODY OF WORK BUT

REALLY IN THE HISTORY OF

AMERICAN FOLK ART AND AMERICAN

FOLK SCULPTURE.

THIS BEAUTIFUL YOUNG GIRL, HER

FEATURES ARE EXTREMELY FINE AND

TYPICAL OF AIMS' WORK.

AND THERE'S A QUIETUDE IN HER

FACE AND PRESENTATION THAT IS

TYPICAL OF HIS WORK AS WELL.

THERE'S JUST THIS SENSE OF

INNOCENCE AND BEAUTY IN THE WORK

HE DID, ESPECIALLY IN THE

CARVINGS OF CHILDREN.

THIS PIECE IS SOLID WOOD SO ALL

THE DETAILS ARE CARVED INTO THE

SURFACE.

AND THEN IT'S BEAUTIFULLY

PAINTED.

BUT OF COURSE WHAT DISTINGUISHES

IT ARE THE STRANGEST MARKINGS ON

HER SCALP.

THESE ARE INDICATIVE OF WHAT WAS

TRULY A MAJOR MOVEMENT IN THE

MIDDLE OF THE 19th CENTURY IN

AMERICA OF PSUEDOSCIENCE CALLED

PHRENOLOGY.

IT WAS AN EXAMINATION OF THE

HUMAN BRAIN AND IT WAS AN

ATTEMPT TO DIVIDE THE HUMAN

BEHAVIORAL SPECTRUM INTO 27

FACULTIES.

AND EACH OF THE FACULTIES WAS

FUN HA

NUMBERED AND ASSOCIATED WITH A

PARTICULAR PART OF THE CRANIUM.

THERE WAS A BELIEF AT THE TIME

THAT IF YOU FELT THE BUMPS ON

SOMEONE'S HEAD, YOU COULD TELL

HOW FINELY DEVELOPED THAT

PARTICULAR FACULTY WAS WHETHER

IT CONTROLLED YOUR SEXUAL

APPETITE, YOUR HUNGER, YOUR

AGGRESSIVENESS, YOUR

SECRETIVENESS.

ASA AIMS SADLY WAS SUFFERING

FROM CONSUMPTION WHICH HAD NO

CURE IN THE 19th CENTURY BEFORE

THE INVENTION OF ANTIBIOTICS.

T

THE PROFRIN LOGICAL HEAD WAS CAD

WHEN HE WAS LIVING WITH A DOCTOR

OF ALTERNATIVE THERAPIES WHO WAS

TRYING TO SET UP A WATER CURE

CLINIC AS A WAY TO CURE

CONSUMPTION.

IT'S POSSIBLE THAT ASA AIMS

CARVED THE HEAD FOR THE DOCTOR

WHO WAS ALSO INVOLVED WITH

PHRENOLOGY.

ASA AIMS IS KNOWN TODAY FOR

REALLY A SMALL BODY OF WORK,

AROUND 12 OR SO CARVINGS IN

WOOD, ALL IN WOOD.

AND A REMARKABLE IMAGE SURVIVES

OF ASA AIMS ACTUALLY AT WORK

WHERE HE'S CARVING WHAT APPEARS

TO BE A SELF-PORTRAIT.

IN THE 1850 CENSUS, THE ONLY

ACTUAL DOCUMENT WE HAVE OF ASA

AIMS, HE LISTED HIS OCCUPATION

AS SCULPTURING WHICH SUGGESTED

THAT HE THOUGHT OF HIMSELF AS A

FINE ARTIST AND NOT AS AN ARTIST

IN WOOD WHICH WAS MORE OF AN

APPLIED TRADE.

THE PHRENNOLOGICAL HEAD IS MY

FAVORITE PIECE IN PART BECAUSE

OF HIS EERIE BEAUTY AND THE

SENSE OF QUIETNESS IN THE

FIGURE'S FACE WHICH IS SOMEWHAT

AT ODDS WITH THE STRANGE

MARKINGS ON THE SCALP.

IT'S EXQUISITE AS A WORK OF ART

AND IT HAS A POIGNANCY THAT'S

LENT TO IT BY THE ARTIST'S OWN

STORY.

I HOPE YOU'VE ENJOYED LEARNING A

LITTLE BIT ABOUT AASA AIMS.

THERE ARE SO MANY FASCINATING

AND BEAUTIFUL WORKS OF ART TO

DISCOVER AT THE AMERICAN FOLK

ART MUSEUM.

PLEASE COME VISIT US SOON.

♪

>>> NYC ARTS COMES TO YOU EACH

WEEK FROM OUR STUDIOS AT LINCOLN

CENTER.

HERE'S WHAT'S COMING UP ON THE

NEIGHBORHOOD CALENDAR.

ON SUNDAY MARCH 15th, PIANIST

EMANUEL AX WILL JOIN THE

ROTTERDAM ORCHESTRA UNDER THE

BATON OF RISING STAR SHANNY.

THE PROGRAM WILL INCLUDE THE D

MINOR CONCERTO PIANO.

THEY'LL CONCLUDE WITH A

SYMPHONY, A TRAUMATIC PINNACLE

THAT CUTS CLOSE TO THE ART.

VISIT

LINCOLNCENTER.ORG/GREAT

PERFORMERS.

>>> NEXT WEEK A VISIT TO THE

METROPOLITAN MUSEUM OF ART FOR A

CLOSE LOOK AT POST-WAR AND

CONTEMPORARY ART.

>> THE PAINTING SERVES AS A KIND

OF INVENTORY OR CATALOG OF

PAINTER STROKES, SOME THICK,

SOME THIN, SOME STABLE, SOME

STRONG, OTHERS FLUID, OTHERS

WEAK.

>> AND A PROFILE OF THE DANCE

COMPANY WHICH WAS FOUNDED IN

1926 BY ONE OF THE MOST

INFLUENTIAL ARTISTS OF THE 20th

CENTURY.

>> GRAHAM'S WORK REQUIRES SORT

OF THE PERFECT MARRIAGE OF THE

PHYSICAL AND THE EMOTIONAL.

HER MOVEMENT IS DESIGNED TO

REVEAL THE INNER LANDSCAPE AND

REALLY FINDING THAT BALANCE

BETWEEN THE PHYSICALITY AND THE

EMOTIONAL JOURNEY WITHOUT

BECOMING MEL LOW DRAMATIC IS THE

CONSTANT BATTLE.

>> THANK YOU FOR JOINING US THIS

EVENING.

GOOD NIGHT AND SEE YOU NEXT

TIME.

TO ENJOY MORE OF YOUR FAVORITE

SEGMENTS ON NYC-ARTS, VISIT OUR

WEBSITE AT NYC-ARTS.ORG.

>> WHAT AWE PRIVILEGE TO SIT

DOWN AND TALK WITH YOU.

>> WE'RE IN A MOMENT TO TAKE

NOTHING FOR GRANTED.

>> IT'S A PLEASURE TO BE WITH

THE CURATOR OF THIS EXHIBITION

FULL OF HOPE.

WE ARE IN THE MIDST OF SOME OF

THE GREATEST SCULPTURES BY THE

ICONIC NAMES.

>> CLASSICAL AND MODERN DANCE

ARE EXTREMELY DIFFERENT AND I

HAVE SO MUCH MORE TO LEARN

BEFORE I CAN REALLY ARTICULATE

THE DIFFERENCES.

>> WHEN I LISTEN TO THE LYRICS

IN THAT, I SUDDENLY THOUGHT

THAT'S WHAT I WANT TO DO WITH MY

LIFE.

>> MY PICTURES RESIDE IN VERY

INTIMATE, VERY PRIVATE MOMENTS.

>> MY PRIMARY WAY OF PLAYING

PIANO WAS BY IMPROVISING.

>> YOU ARE IN SOME RESPECTS ON

SACRED GROUND.

>> A WOMAN CAME TO SEE ME

PERFORM AND SAID HOW WOULD YOU

LIKE TO PLAY BILLIE HOLIDAY?

>> I THINK ONE OF THE THING WES

LEARNED WAS MATISSE USED PENS TO

DO HIS WORK.

>> YOU THINK OH, MY GOSH, THIS

COULD BE NOW.

>> THE CARDBOARD GUITAR IS THE

FIRST OF THAT MOMENT OF

REALIZATION.

♪

♪

♪

>>> FUNDING FOR NYC-ARTS

IS ALSO MADE POSSIBLE BY

ROSALIND P. WALTER, THE THEA

PETSCHEK IERVOLINO FOUNDATION,

THE LEWIS "SONNY" TURNER FUND

FOR DANCE, JODY AND JOHN

ARNHOLD, ELISE JAFFE AND JEFFREY

BROWN, CHARLES AND VALERIE

DIKER, THE ELROY AND TERRY

KRUMHOLZ FOUNDATION, THE JEAN

DUBINSKY APPLETON ESTATE, THE

MILTON AND SALLY AVERY ARTS

FOUNDATION, AND ELLEN AND JAMES

S. MARCUS.

THIS PROGRAM IS SUPPORTED, IN

PART, BY PUBLIC FUNDS FROM THE

NEW YORK CITY DEPARTMENT OF

CULTURAL AFFAIRS IN PARTNERSHIP

WITH THE CITY COUNCIL.

ADDITIONAL FUNDING PROVIDED BY

MEMBERS OF THIRTEEN.

NYC-ARTS IS MADE POSSIBLE IN

PART BY FIRST REPUBLIC BANK.

>> AND BY SWANN AUCTION

GALLERIES.