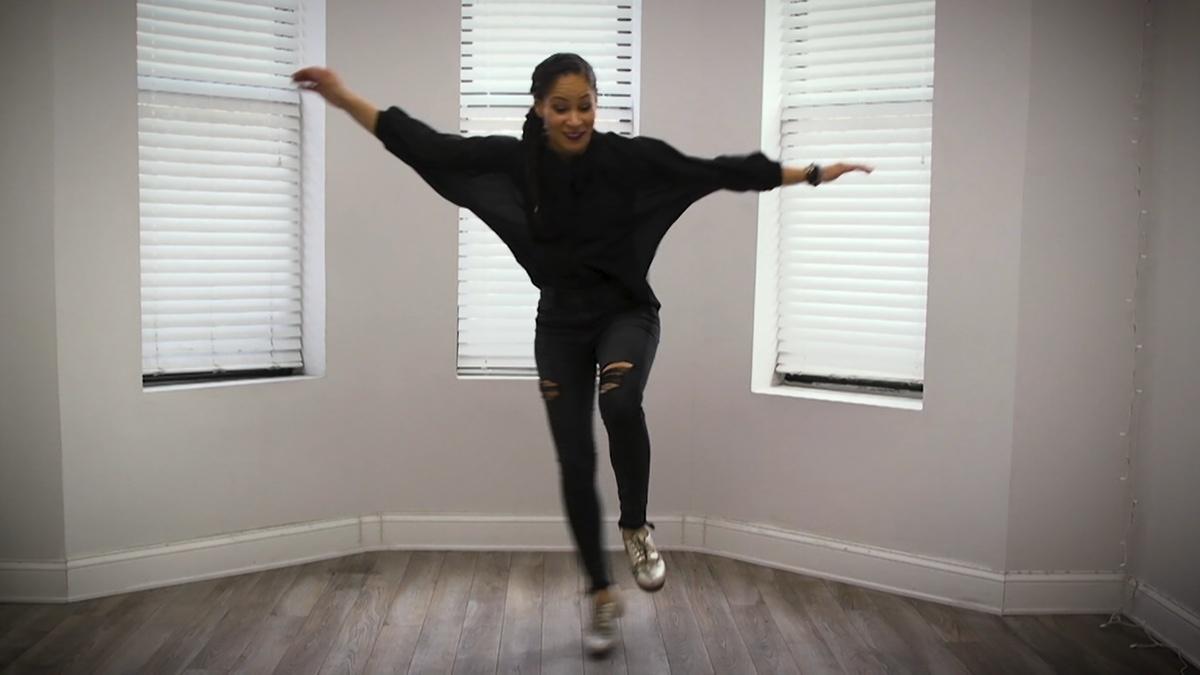 S2018 E399 | FULL EPISODE
NYC-ARTS Full Episode: July 5, 2018
A profile of Ayodele Casel, one of today's most dynamic tap dancers and a passionate advocate for her art form. Followed by a visit to the New York Botanical Garden in the Bronx for a look at the exhibition "Georgia O'Keeffe: Visions of Hawaii" and a behind the scenes look at UrbanGlass in Brooklyn, which has been devoted to advancing the craft of glass making for over 40 years.
TRANSCRIPT

>>> COMING UP ON NYC ARTS, A

PROFILE WHICH IS ONE OF TODAY'S

MOST DYNAMIC TAP DANCERS AND A

PASSIONATE ADVOCATE FOR TAP.

>> TAP DANCING FOR ME IS MAGIC.

IT'S MUSIC IN MOTION.

>> AND A VISIT TO THE NEW YORK

BOTANICAL GARDEN IN THE BRONX

FOR A LOOK AT THE EXHIBITION,

GEORGIA O'KEEFE, VISIONS OF

HAWAII.

>> THIS EXHIBITION COVERS A VERY

LITTLE KNOWN PERIOD.

SHE WENT TO HAWAII IN 1939 AND

WAS THERE FOR ABOUT TWO MONTHS

AND TRAVELED TO ALL OF THE MAJOR

ISLANDS STARTING IN HONOLULU.

>> AND THE BEHIND-THE-SCENES

LOOK AT URBAN GLASS IN BROOKLYN

DEVOTED TO ADVANCING THE CRAFT

OF GLASS MAKING.

>> URBAN GLASS SUPPORTS ARTISTS

OF MAKING THE WORK AND PROVIDES

OPPORTUNITIES TO PRESENT THEIR

WORK.

>> THIS FACILITY SERVES A

POPULATION OF 300 PROFESSIONAL

ARTISTS AND A STUDENT POPULATION

OF CLOSE TO 1,000.

>> FUNDING FOR NYC ARTS IS MEAT

POSSIBLE BY ROZ LAND P WALTER.

JODY AND JOHN AROUND HOLD.

KW CASSIDY FOUNDATION.

ELLEN AND JAMES S MARCUS.

SUNNY TURNER FOUNDATION FOR

DANCE.

MILTON AND SALLY AVERY ARTS

FOUNDATION.

AND ELROY AND TERRY CRUM HOLTZ

FOUNDATION.

THIS PROGRAM IS SUPPORTED BY IN

PART BY PUBLIC FUNDS FROM THE

NEW YORK CITY DEPARTMENT OF

CULTURAL AFFAIRS IN PARTNERSHIP

WITH THE CITY COUNCIL.

ADDITIONAL FUNDING PROVIDED BY

MEMBERS OF 13.

NYC ARTS IS MADE POSSIBLE IN

PART BY FIRST REPUBLIC BANK.

FLEXIBILITY.

COORDINATION.

EXCELLENCE.

FIRST REPUBLIC PRIVATE WEALTH

MANAGEMENT.

IT'S A PRIVILEGE TO SERVE YOU.

>>> GOOD EVENING AND WELCOME TO

NYC ARTS.

I'M PAULA ZAHN.

ON TONIGHT'S PROGRAM WE WILL

MEET ONE OF TODAY'S MOST DYNAMIC

TAP DANCERS.

BORN IN THE BRONX AND RAISED IN

PUERTO RICO, SHE FELL IN LOVE

WITH TAP AFTER WATCHING FILMS

FROM THE 1930s STARRING GINGER

ROGERS.

SHE BEGAN TAKING TAP LESSONS

WHILE STUDY STUDYING ACTING AT

NYU AND IT WASN'T LONG BEFORE

SHE FOUND HERSELF IN THE

SPOTLIGHT.

HER MOMENTOR, GREGORY HINES,

DESCRIBED HER AS ONE OF THE TOP

YOUNG TAP DANCERS IN THE WORLD.

IN THE 1990s, SHE BECAME THE

ONLY FEMALE MEMBER OF GLOVER'S

NOT YOUR ORDINARY TAPPERS, A

SUPER GROUP OF TAP DANCERS.

IN 2017, SHE RECEIVED THE HOOVER

AWARD FOR THE AMERICAN TAP DANCE

FOUNDATION AND CONTINUES TO

PERFORM ALL OVER THE WORLD AND

IS A TIRELESS ADVOCATE FOR TAP.

NYC ARTS SPOKE WITH HER AT THE

ORIGINAL TAP HOUSE IN THE BRONX.

>> TAP DANCING FOR ME IS MAGIC.

TECHNICAL DEFINITION, A

PERCUSSIVE AMERICAN ART FORM.

IT'S MUSIC IN MOTION.

I WOULD SAY THAT I AM MOSTLY

CONCERNED WITH BEING AS MUSICAL

AND EXPRESSIVE AS I CAN BE WHEN

I TAP DANCE.

WHO YOU ARE AND HOW YOU CAME,

HOW YOU ARE HERE IS WHAT INFORMS

AND INFLUENCES THE SOUND THAT

YOU MAKE AND THE MUSICAL

PATTERNS THAT YOU MAKE.

I FEEL LIKE YOU ARE A

CONGLOMERATE OF ALL OF THE

THINGS YOU EXPERIENCED.

I STARTED TAP DANCING AT 19

YEARS OLD AND FOR ME AS A BLACK

PUERTO RICAN GIRL FROM THE BRONX

WHO IDOLIZED GINGER ROGERS, TO

KNOW THIS WAS AN

AFRICAN-AMERICAN ART FORM AND IT

HAD A RICH HISTORY AND A GREAT

LEGACY, IT REALLY COMPLETELY

CHANGED MY LIFE.

I LOVE LATIN MUSIC.

I GREW UP LISTENING TO IT.

I GREW UP IN PUERTO RICO FOR

ABOUT SIX YEARS.

LATIN MUSIC IS SOMETHING THAT I

ENJOY LISTENING TO AND I DANCE

IT SOCIALLY, BUT I TAP DANCE TO

IT ALL THE TIME.

I AM A CHAMPION FOR TAB DANCING

AND I WILL SPEAK ABOUT IT

EVERYWHERE I GO AND TRY TO PUT

MY ENERGY IN ALL DIRECTIONS.

I'M PURR FORMING WITH A

WONDERFUL LATIN JAZZ COMPOSER

DIRECTOR COLLABORATING ON A FEW

PIECES THERE.

IF YOU ARE A MUSICIAN, YOU ARE

STATIONARY.

IF YOU ARE A PIANIST, YOU SIT AT

THE PIANO.

WE HAVE THE AWESOME ABILITY TO

BE MUSICAL AND MELODIC AND MOVE

THROUGHOUT SPACE AND THAT'S ONE

OF THE MOST FUN THINGS IS BEING

ABLE TO COVER SPACE AND CREATE

MUSIC WHILE YOU ARE DOING IT.

PEOPLE WILL SAY OR HAVE SAID

THAT TAP IS A MALE-DOMINATED ART

FORM.

I BELIEVE NOW THAT THAT IS

SHIFTING A BIT.

I CAN TELL YOU THAT MOST OF MY

INFLUENCES WERE MEN.

AT A CERTAIN POINT IN MY CAREER,

I STARTED THINKING WHERE ARE YOU

WOMEN?

WHAT IT PROMPTED WAS THE NEED TO

SEARCH FOR THEM.

THERE ARE SO MANY OF THEM.

I FOUND OUT THAT WAS LOIS

BRIGHT.

LOUISE MADISON AND THE WHITMAN

SISTERS.

JUANITA PITS AND THE LIST GREW.

A WONDERFUL COMPOSER AND FRIEND

OF MINE ASKED ME TO CREATE A

PEACE FOR THE SHOW CALLED THE

JAMBOREE.

WHILE I HAVE THE FLOOR, IT

STARTED OUT AS A SHORT PIECE AND

IS NOW A FULL-LENGTH SHOW THAT

INCLUDES TAP DANCING AND ACTING.

IT IS ABOUT MY JOURNEY TO

RECLAIMING EXPRESSION AND MY

IDENTITY.

MY COMMUNICATION, LANGUAGE, AND

THE ART FORM.

WE WEREN'T ALLOWED TO DO THIS.

HOLLYWOOD THOUGHT BEING A CHORUS

GIRL WAS MORE OUR SPEED AND

THOUGHT WE LACKED THE TENTH TO

PERFORM THE STEPS.

AS I STARTED DRAFTING, I FOUND

MYSELF SPEAKING A LOT ABOUT NOT

JUST MY EXPERIENCE BEING ONE OF

THE FEW WOMEN IN THAT CIRCLE OF

MOSTLY MEN, BUT ALSO, AGAIN, I

THOUGHT WHAT A GREAT OPPORTUNITY

TO TALK ABOUT THESE WOMEN.

AND THE BRILLIANT LOIS BRIGHT

WHO DANCED AND WAS NOT FILLED

WITH HER LAST NAME.

I WANTED TO WRITE SOMETHING THAT

WOULD SERVE AS MY MANIFESTO.

I WAS CONCERNED THAT I WOULD BE

JUST LIKE THE WOMEN THAT NOBODY

KNEW ABOUT.

THIS SPACE IS THE ORIGINAL TAP

HOUSE.

ONE OF THE REASONS I CREATED THE

SPACE IS TAP DANCERS HAVE BEEN

EDGED OUT OF A LOT OF REHEARSAL

SPACES AND FILM OPERATION TAP

OUT OF HERE.

OPERATION TAP IS COMPRISED OF

THREE FOLKS.

MYSELF AND MY FRIEND ANTHONY AND

MIKE.

WE ARE ALL TAP DANCERS AND TEACH

OFTEN INTERNATIONALLY.

WE FOUND THAT IN OUR TRAVELS,

PEOPLE REALLY WANTED TO TAP

DANCE, BUT THEY FELT THEY

DEPARTMENT HAVE THE RESOURCES

AROUND.

DIDN'T HAVE THE TEACHERS AT THE

DANCE STUDIOS OR IN MANY CASES

THE TAP PROGRAMS WERE BEING CUT

OUT.

WE THOUGHT WOW, IF WE CREATE

SOMETHING WHERE ALL YOU NEED IS

THE INTERNET AND YOU CAN GET ON

AND YOU CAN LEARN COMBINATIONS

AND LEARN TECHNIQUE EXERCISES

AND HAVE A LOT OF ENGAGEMENT

WITH YOUNG FOLKS AND HAVE BEEN

SUCCESSFUL.

ONE OF MY MISSIONS IN LIFE IS TO

REAWAKEN THE APPRECIATION THAT

PEOPLE ALREADY HAVE IN THEM FOR

TAP DANCING.

EVERYBODY LOVES IT EVEN IF THEY

DON'T KNOW ABOUT IT.

I FEEL LIKE THEY LOVE IT AND I

WANT TO MAKE SURE THAT PEOPLE

ARE OPEN TO IT, BUT THERE IS A

SPACE FOR IT IN EVERY ARENA

POSSIBLE.

IF I DIE AND TAP DANCING IS

REGARDED AS IMPORTANT AS BALLET

IS AND AS MUSIC IS, THEN I THINK

IT WOULD HAVE BEEN REALLY WORTH

IT.

>> COMING UP NEXT, WE TAKE A

TRIP TO THE NEW YORK BOTANICAL

GARDEN IN THE BRONX AND THE

ISLAND PARADISE OF HAWAII.

IN 1939, ONE OF THE MOST FAMOUS

ARTISTS IN AMERICA TRAVELED TO

THE ISLANDS.

♪♪

GEORGIA O'KEEFE WITH VISIONS OF

HAWAII RECREATES A LUSH TROPICAL

GARDEN IN THE CONSERVATORY

FILLED WITH THE FLOWERS AND

PLANTS SHE ENCOUNTERED ON HER

TRIP.

SHE WAS INSPIRED TO CREATE SOME

20 PAINTINGS FROM DRAMATIC LAND

SCAPES OF THE HANNAH COAST AND

INTERIOR AND CLOSE UPS OF THE

BIRD OF PARADISE, HIBUSCUS AND

OTHER FLOWERS.

WE VISITED TO SEE GEORGIA

O'KEEFE'S VISIONS IN FULL BLOOM.

WE INTRODUCE YOU NOW TO GUEST

CURATOR, TERESA PAPA NICHOLAS.

THIS EXHIBITION COVERS A LITTLE

KNOWN PERIOD IN THE CAREER OF

GEORGIA O'KEEFE WHICH WAS HER

TRIP TO HAWAII.

SHE WENT TO HAWAII IN 1939.

SHE WAS THERE FOR ABOUT TWO

MONTHS.

SHE TRAVELLED TO ALL OF THE

MAJOR ISLANDS, STARTING IN

HONOLULU.

ALONG THE WAY SHE WAS HANDED

FLOWERS EITHER IN THE FORM OF

LEI OR INDIVIDUAL FLOWERS AND

THROUGH THE FLOWER ARCHIVE SHE

PUT TOGETHER, SHE BEGAN TO

PAINT.

MOVING FROM GARDEN VARIETY

FLOWERS TO TROPICALS AND FINALLY

ONCE SHE GOT TO MAUI, SEA SCAPES

AND MOUNTAIN VIEWS.

SHE WENT TO HAWAII AS THE GUEST

OF AN ADVERTISING FIRM WHO WAS

DOING LAY OUTS FOR DOLE

PINEAPPLE JUICE.

SHE WAS COMMISSIONED TO PAINT

TWO PICTURES FOR THE ADS.

SHE GOT THE LATITUDE AND LUXURY

TO GO WHEREVER SHE WANTED.

IT WAS IN FULFILLMENT OF HER

COMMISSION AND A PICTURE THAT

FOUND ITS WAY SAFELY INTO THE

ADVERTISEMENTS AND A PICTURE OF

THE PAPAYA TREE THAT REFERENCED

A RIVAL JUICE.

NOT REALLY AN APPROPRIATE PLANT.

WHEN SHE VISITED THE PINEAPPLE

FIELDS, SHE WAS SURPRISED THEY

GREW CLOSE TO THE GROUND.

SHE LOVED THE VISUAL EFFECT OF

LOOKING INTO THE PLANT AND

SEEING THE PINEAPPLE BUTT

NESTLED IN BETWEEN THE SPIKY

LEAVES.

THAT FOUND THE WAY INTO HER

PARTICIPATING AND FOUND ITS WAY

INTO THE BOWL PINEAPPLE JUICE

ADS.

HER PAINTINGS ARE PAIRED WITH

AND INTEGRATED INTO THE HAWAII

THAT SHE WOULD HAVE DISCOVERED

WHEN SHE TRAVELED THERE.

IN THE CONSERVATORY, YOU WILL

SEE THE PAINTINGS COME TO LIFE.

PINK ORNAMENTAL BANANA,

HIBUSCUS, BELLA DONNA AND ALL OF

THE FLOWERS PRESENT IN THE

PAINTINGS IN THIS GALLERY.

SHE PAINTED A WIDE ARRAY OF

FLOWERS, INCLUDING FLOWERS LIKE

THE HIBUSCUS AND PLUMERIA THAT

GROW PROLIFICALLY IN HAWAII AND

FLOWERS THAT ARE TROPICAL AND

OUTLANDISH, BUT NOT TO THOSE OF

US WHO LIVE IN HAWAII.

SHE TOOK A MODERN APPROACH.

SHE TENDED TO PAINT WHAT WAS

ESSENTIAL ABOUT THEM, FOCUSING

ON THE LINES.

THE SCULPTURAL SHAPES, THEIR

VIVID COLORS AND REALLY, REALLY

ELABORATING ON THAT AS OPPOSED

TO BOTANICAL DETAIL.

SOME HAVE HINTS OF LANDSCAPE,

BUT FOR THE MOST PART SHE IS

FOCUSING ON THE FLOWERS

THEMSELVES AS A PERSONAL

RESPONSE TO WHAT SHE IS

ENCOUNTERING.

THE WHITE BIRD OF PARADISE, FOR

EXAMPLE, IS TO MY MIND ONE OF

HER MOST SUCCESSFUL FLOWER

PICTURES OF HAWAII OR ANYWHERE

ELSE.

THE WHITE BIRD OF PARADISE GROWS

IN MOST PEOPLE'S GARDENS.

IT GROWS IN MY OWN GARDEN, IN

FACT.

SHE PAINTED THE LIFE SIZED

BLOOMS.

TWO OR THREE TWISTING AND

TURNING AROUND THEMSELVES IN

SPACE SO YOU CAN SEE ALL OF THE

ANGLES AND THE CUBIST APPROACH

TO THE BLOOMS, IF YOU WILL.

SHE PAINTED IO VALLEY WHICH IS

ON MAUI.

SHE LOVED IO VALLEY BECAUSE IT'S

MISTY AND MYSTERIOUS AND WHEN IT

RAINS, WATER FALLS FORM.

SHE CAPTURED THOSE IN FOUR

PAINTINGS OF THE VALLEY.

SHE ALSO PAINTED TWO SCENES OF

THE HANA COASTLINE THAT IS

DOTTED WITH NATURAL BRIDGES AND

THERE ARE PHOTOGRAPHS OF THE

SCENES AND IN ONE CASE A SKETCH

THAT SUGGESTS SHE IS PREPAING

HER MIND FOR WHAT SHE WAS ABOUT

TO PAINT.

YOU CAN TRACE THROUGH HER

PAINTINGS AND TRANSITION FROM

TOURIST TO VISITING ARTIST AND

RESIDENCE TO PERSON WHO HAD

BECOME VERY ATTACHED TO HAWAII

AS A PLACE.

>> I'M RAPHAEL AND WELCOME TO

LINCOLN CENTER.

NEW YORKERS AND GUESTS FROM

AROUND THE WORLD COME TO THIS

AMAZING PLACE FOR THEATERS

OVERFLOWING WITH THE BEST IN

MUSIC, DANCE, APP RA, DRAMA AND

FILM.

THROUGH JULY 15th, THE LINCOLN

CENTER THEATER PRESENTS

PASSOVER.

A NEW PLAY BY ANTOINETTE AND

DIRECTED BY DANNIA.

PASSOVER, MOSE ET PLAYED BY JOHN

MICHAEL HILL AND THAT MILE AN

HOUR SMALL WOOD STAND AROUND

TALKING SMACK AND HOPE THAT

TODAY A MIRACLE WILL COME.

A MASH UP OF WAITING AND THE

EXODUS STORY, PASSOVER EXPOSES

THE UNQUENCHABLE HUMAN SPIRIT OF

YOUNG BLACK MEN WHO DREAM ABOUT

A PROMISED LAND THEY GET TO

FIND.

FOR DETAILS, VISIT LCT.ORG.

IF ARE MORE INFORMATION ABOUT

THE EVENTS, YOU CAN VISIT THEIR

WEBSITE AT LINCOLN CENTER.ORG.

>> BEHIND THE FACADE OF A

CONVERTED THEATER IS ONE OF NEW

YORK'S HID ONLY GEMS OF

EXPERIMENTAL ART MAKING.

FOR MORE THAN 40 YEAR, URBAN

GLASS HAS BEEN DEVOTED TO

ADVANCING GLASS MAKING THROUGH

EDUCATIONAL PROGRAMS,

EXHIBITIONS AND PUBLICATIONS.

THEIR STATE-OF-THE-ART STUDIO

WELCOMES ARTISTS FROM DIVERSE

BACKGROUNDS AND ENCOURAGES THEM

TO COLLABORATE AND EXPLORE NEW

APPROACHES.

WORKING WITH GLASS REQUIRES A

UNIQUE BLEND OF CONCENTRATION,

CREATIVITY, SKILL, AND A 1,000

POUND FURNACE FULL OF MOLTEN

.

WHETHER IT'S GLASS BLOWING, THEY

MUST PAY ATTENTION TO THE POOL

OF GRAVITY.

THEY CAN MAKE THE COMPLEX WORK

LOOK EFFORTLESS.

>> URBAN GLASS LOOKS TO SUPPORT

THE GLASS AND SUPPORTED ARTISTS

IN MAKING THAT WORK AND

PROVIDING THE ARTISTS WITH

OPPORTUNITIES TO PRESENT THEIR

WORK AND PROVIDING THE PUBLIC

WITH OPPORTUNITIES TO THINK

ABOUT WHAT ARTISAN DESIGNERS ARE

DOING IN THE MATERIAL.

URBAN GLASS WAS FOUNTED IN 1977

AS THE EXPERIMENTAL GLASS

WORKSHOP AND STARTED BY A SMALL

GROUP OF ARTISTS.

THERE WERE NO PLACES FOR THEM TO

CONTINUE MAKING THIS WORK.

IN 1991 WE MOVED TO THIS

BUILDING AND CHANGED OUR NAME TO

URBAN GLASS.

URBAN GLASS IS THE ONLY

ORGANIZATION OF OUR KIND ON THE

EAST COAST.

THIS IS A PLACE THAT ARTISTS

COME TO FROM ALL OVER THE CITY

AND ALL OVER THE COUNTRY AND

SOMETIMES THE WORLD.

WHEN YOU FIRST COME IN TO URBAN

GLASS, YOU WALK IN THROUGH THE

ARTS CENTER WHERE WE ARE RIGHT

NOW.

THIS IS OUR STORE AND OUR

GALLERY SPACE AND PUBLIC SPACE.

OUR GALLERY SPACE PRESENTS

CHANGING EXHIBITION AND WE ARE

INTERESTED IN PROVIDING A

PLATFORM OF WHAT IS HAPPENING

HERE LOCALLY AND LOOKING AT THE

FIELD MORE BROADLY.

FROM HERE, YOU GO UP TO THE

THIRD FLOOR OF THE BUILDING

WHICH IS HOME TO WHAT WE THINK

OF AS THE HEART OF OUR WORK

WHICH IS OUR STUDIO WHICH IS

HOME TO OUR STUDIO PROGRAM AND

ALSO TO OUR EDUCATION PROGRAM.

AND THAT HAS EVERYTHING FROM

FACILITIES TO BLOW GLASS TO BEND

NEON TO KIND OF DO WHAT WE HOPE

IS ANYTHING AND EVERYTHING WHEN

IT COMES TO GLASS AND GLASS

MAKING.

THAT FACILITY SERVES A

POPULATION OF ABOUT 300

PROFESSIONAL ARTISTS WORKING

WITH GLASS AND A STUDENT

POPULATION OF CLOSE TO 1,000

STUDENTS AND THERE IS A GREAT

DIALOGUE THAT COMES FROM THAT

AND I THINK IT'S UNIQUE TO OUR

STUDIO.

>> I HAPPENED UPON URBAN GLASS

ACCIDENTALLY IN THE EARLY 90s.

I WAS GOING TO THE NEW SCHOOL

FOR WRITING THEN AND JUST SORT

OF WANDERED INTO THIS PLACE ON

ACCIDENT.

BUT THEY OFFER GLASSES TO THE

PUBLIC SO I TOOK A CLASS AND I

WANTED TO LEARN MORE ABOUT IT

BECAUSE I WAS SO COMPELLED BY

THE MATERIALITY OF THE STUFF.

I DISCOVERED IT IS NOT USER

FRIENDLY AT ALL.

PHYSICALLY IT MAKES NO SENSE TO

DO IT BECAUSE YOU CAN'T TOUCH

IT.

IT'S HOT, IT'S HEAVY, IT'S FRJ

IL AND IT BREAKS ALL OVER THE

PLACE.

MY FAVORITE PART IS GATHERING

OUT OF THE FURNACE.

S IT'S THE CONSISTENCY OF HONEY

AND MOVING MORE THAN IT EVER

WILL.

IT'S DEFINITELY A GOOD MATERIAL

FOR EXPERIMENTATION AND IT

REGISTERS QUICKLY.

YOU CAN ALMOST DRAW WITH IT.

IT JUST HARDENS UP AS IT COOLS

SO RAPIDLY.

YOU HAVE TO THINK AHEAD AND

PREPARE.

THERE IS A COMMUNITY OF PEOPLE

BASED HERE THAT HAD THEIR

PRACTICE BASED AROUND THIS PLACE

AND OTHER ARTISTS THAT CYCLE

THROUGH WITH NEW INSIDE AND

SOMETHING STRANGE HAPPENING IN

ONE CORNER OR ANOTHER.

>> THE PROJECT IS A PROGRAM THAT

URBAN GLASS HAS BEEN RUNNING FOR

20 YEARS AND THAT IS A PROGRAM

THAT WAS STARTED TO SERVE LOW

INCOME WOMEN THROUGH A

SEMESTER-LONG COURSE IN BEAD

MAKING, JEWELRY FABRICATION AND

ENTERPRISESHIP.

WE ARE LOOKING FOR CREATIVELY

INKLINED WOMEN.

STUDENTS SPEND SIGNIFICANT

PORTIONS OF EACH CLASS PERIOD IN

OUR STUDIO LEARNING THE SKILLS

AND ALSO SPEND TIME IN THE

CLASSROOM LEARNING FROM BUILDING

A BUDGET TO SOCIAL MEDIA AND

MARKETING, PRICING, AND OVER THE

COURSE OF THE SEMESTER, DESIGN

THEIR OWN LINES OF JEWELRY.

>> I HAVE GONE THROUGH THE BEAT

PROJECT HERE AT URBAN GLASS.

THE SECOND YEAR OF MY RETIREMENT

IN 2016.

IT WAS WOMEN FROM ACROSS NEW

YORK CITY.

NOT JUST BROOKLYN.

DIFFERENT AGES.

DIFFERENT RACES.

IT WAS A VERY CREATIVE OPEN

ATMOSPHERE AND IT JUST MAKES YOU

WANT TO CREATE.

IT'S LIKE YOU CAN'T HELP

YOURSELF.

ONCE I CAME TO THE PROJECT, I

SAW BEATS THAT I THOUGHT WERE

BEAUTIFUL.

IT WAS CURIOUS AS TO HOW THEY

WERE MADE.

I DID THINK ABOUT THE FIRE.

BUT IT QUICKLY LEAVES YOU

WANTING TO SEE AND FEEL THE

GLASS AND THE CONTROL YOU HAVE

OVER IT.

IT'S VERY MEDITATIVE.

IT'S AMAZING.

WHEN THE COLORS MELT AND MIX

WITH ONE ANOTHER, THEY BECOME

MORE OF A BEAUTIFUL EXPERIENCE.

>> I THINK ANOTHER THING THAT WE

ARE REALLY EXCITED ABOUT FOR THE

FUTURE AND SOMETHING THAT WE'RE

HOPEFUL THAT URBAN GLASS CAN

CONTINUE TO BE A LEADER IN

EXPANDING AND DIVERSIFYING THE

FIELD.

WE DO A HUGE AMOUNT OF WORK

THROUGH THINGS LIKE THE OPEN

STUDIOS AND THE VISITS THAT WE

ARE CONNECTING NEW AUDIENCES

WITH WHAT'S POSSIBLE BOTH IN

GLASS AND WHAT'S POSSIBLE IN ART

MAKING.

>> PAR I HOPE YOU ENJOYED OUR

PROGRAM TONIGHT.

I'M PAULA ZAHN AT THE WNET

STUDIOS AT LINCOLN CENTER.

THANKS SO MUCH FOR JOINING US.

GOOD NIGHT.

>> NEXT WEEK ON NYC ARTS.

A PROFILE OF A CUBAN AMERICAN

ARTIST WHOSE CRITICALLY A FLAMED

MURALS CAN BE SEEN AROUND THE

WORLD.

>> I LIKE THE IDEA OF

TRANSLATING A PLACE OR

EXPERIENCE FROM BEING IN A PLACE

INTO A PAINTING.

I IMAGINED MYSELF DISSECTING A

WALL INSTEAD OF PAINTING A

CANVAS AND WHAT I AM DISCOVERING

IS THE ACCUMULATION OF THE MANY

YEARS OF WHAT OTHER PEOPLE HAVE

DONE TO WALK.

>> AND A VISIT TO THE MUSEUM OF

FOOD AND DRINK IN WILLIAMSBURG,

BROOKLYN.

>> WHAT WE WANT TO DO AT THE

MUSEUM OF FOOD AND DRINK IS TAKE

PEOPLE ON THE HISTORY OF CULTURE

AND SCIENCE.

WEER WEAVING DIFFERENT

DISCIPLINES AND TELLING CULTURAL

STORIES AND LOOK AT IT FROM AN

ECONOMIC POINT OF VIEW.

WE ACTUALLY LOOK AT THE SCIENCE

BEHIND FOOD AS WELL AND

IMPORTANTLY THE KINDS OF

INTERACTIVES YOU SEE THAT ARE

UNLIKE THE KINDS YOU SEE IN

OTHER MUSEUMS.

>> FUNDING FOR NYC ARTS IS MADE

POSSIBLE BY JODY AND JOHN AROUND

HOLD.

KATE W CASSIDY FOUNDATION.

ELLEN AND JAMES S MARCUS.

THE LOUIS SUNNY TURNER FUND FOR

DANCE.

ELISE, JACKIE, AND JEFFREY

BROWN.

JEAN DUBINSKI APPLETON ESTATE.

THE MILTON AND SALE AVERY ARTS

FOUNDATION AND ELROY AND TERRY

CRUM HOLTZ FOUNDATION.

THIS PROGRAM IS SUPPORTED BY

PUBLIC FUNDS FROM THE NEW YORK

CITY DEPARTMENT OF CULTURAL

AFFAIRS IN PARTNERSHIP WITH THE

CITY COUNCIL.

PROVIDED BY MEMBERS OF 13.

NYC ARTS IS MADE POSSIBLE IN

PART BY FIRST REPUBLIC BANK.

FLEXIBILITY, COORDINATION,

EXCELLENCE.

FIRST REPUBLIC PRIVATE WEALTH

MANAGEMENT.