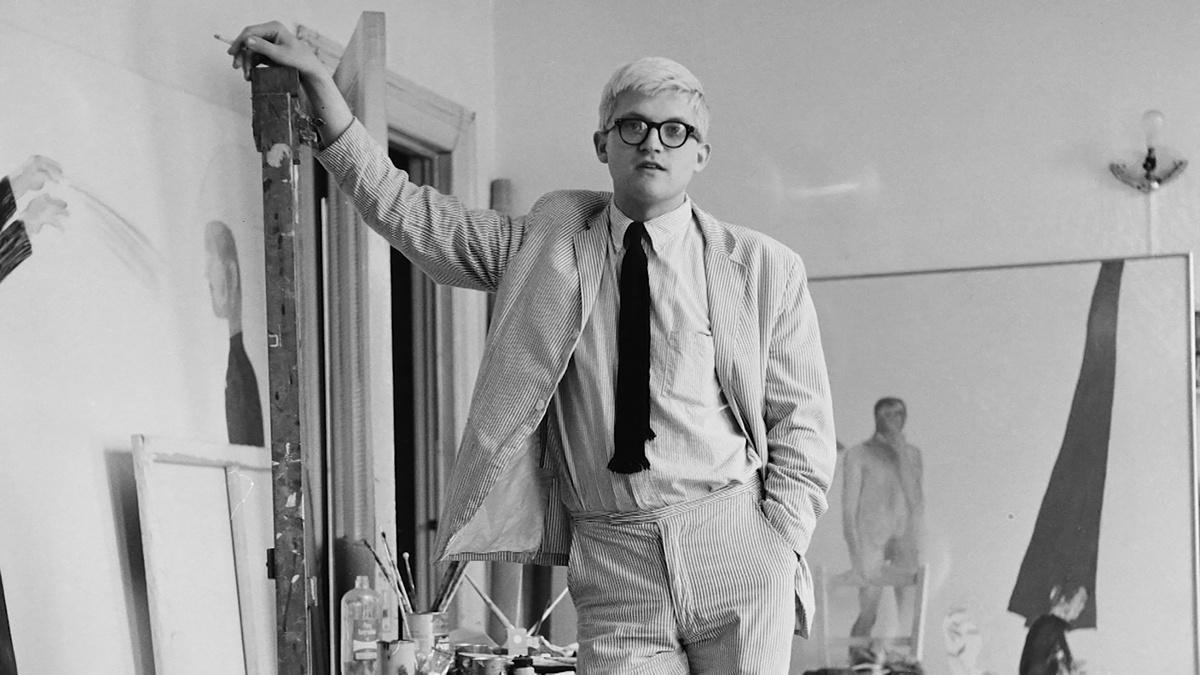 S2018 E379 | FULL EPISODE
NYC-ARTS Full Episode: February 15 2018
Guided by curator Ian Alteveer, NYC-ARTS visits the Met Fifth Avenue to see the work of British artist David Hockney, who has spent his life conveying his love of painting. Followed by a look at some of the unique holdings of the American Folk Art Museum.
TRANSCRIPT

♪♪

>>> COMING UP ON "NYC ARTS," A

VISIT TO THE MET FIFTH AVENUE

FOR THE LOOK OF THE WORK OF

BRITISH ARTIST DAVID HOCKNEY WHO

HAS SPENT HIS LIFE CONVEYING HIS

LOVE OF PAINTING.

>> NEXT BUSINESS IS IN HONOR OF

THIS GREAT ARTIST'S 80th

BIRTHDAY.

THIS IS ALSO THE FIRST

RETROSPECTIVE IN NEW YORK CITY

IN ALMOST 30 YEARS.

WHILE HOCKNEY JUST TURNED 80,

HE'S STILL AN INCREDIBLY

VIVACIOUS PERSONALITY.

>> AND A LOOK AT SOME OF THE

UNIQUE HOLDINGS OF THE AMERICAN

FOLK ART MUSEUM.

>> SOME OF THESE WERE MADE FROM

SKETCHES HE MADE IN THE SUBWAY

ON HIS RIDE BACK FROM WORK.

HE SAID I'D RIDE THE SUBWAY

EVERY DAY BACK AND FORTH TO MY

MACHINE SHOP JOB.

I'D RIDE AND RIDE AND SKETCH AND

SKETCH.

I LOVE THE SUBWAY.

IT PULLS THE CITY TOGETHER,

PULLS PEOPLE TOGETHER IN A MAGIC

WAY.

>>> FUNDING FOR "NYC ARTS" IS

MADE POSSIBLE BY ROSALIND P.

WALTER, KATE W. CASSIDY

FOUNDATION, GENE DUBINSKY

APPLETON ESTATE, JODY AND JOHN

ARNHOLM, THE LEWIS SONNY TURNER

FOUNDATION FOR DANCE AND ELISE

AND JEFFREY BROWN, THE MILTON

AND SALLY AVERY ARTS FOUNDATION,

AND ELROY AND TERRY KRUMHOLTZ

FOUNDATION AND THIS PROGRAM IS

SUPPORTED IN PART BY PUBLIC

FUNDS FROM THE NEW YORK CITY

DEPARTMENT OF CULTURAL AFFAIRS,

IN PARTNERSHIP WITH THE CITY

COUNCIL.

ADDITIONAL FUNDING PROVIDED BY

MEMBERS OF 13.

"NYC ARTS" IS MADE POSSIBLE IN

PART BY FIRST REPUBLIC BANK.

♪♪

>>> FLEXIBILITY, COORDINATION.

EXCELLENCE.

FIRST REPUBLIC PRIVATE WEALTH

MANAGEMENT.

IT'S A PRIVILEGE TO SERVE YOU.

♪♪

>>> GOOD EVENING AND WELCOME TO

"NYC THE ARTS."

I'M PAULA ZAHN AND THE TISH

STUDIOS AT LINCOLN CENTER.

TONIGHT ON OUR PROGRAM WE'LL

VISIT THE METROPOLITAN MUSEUM OF

ART FOR A LOOK AT A MAJOR

RETROSPECTIVE OF THE WORK OF

BRITISH ARTIST DAVID HOCKNEY.

IT HONORS THE ARTIST WHO

RECENTLY TURNED 80 BY PRESENTING

HIS MOST ICONIC WORKS AND KEY

MOMENTS OF HIS CAREER FROM 1960

UNTIL TODAY.

BORN IN WEST YORKSHIRE WHERE HE

ATTENDED THE LOCAL BRADFORD

SCHOOL OF ART, HOCKNEY MOVED TO

LONDON IN 1959 TO STUDY AT THE

ROYAL COLLEGE OF ART.

THIS EXHIBITION SHOWS THE

ARTIST'S ACHIEVEMENTS ACROSS ALL

MEDIUM, FROM HIS EARLY

ENGAGEMENT FROM ABSTRACTION TO

THE MID-EXPERIENCE ILLUSION AND

REALISM TO HIS MOST RECENT

JEWEL-TONED LANDSCAPES AND WITH

EQUAL MEASURES OF WITS AND

INTELLIGENCE WHETHER WORKING IN

LONDON, HIS SECOND HOME IN

SOUTHERN CALIFORNIA OR AROUND

THE WORLD, HOCKNEY HAS JOYFULLY

CONVOID HIS LOVE FOR PAINTING

AND THE SHEER DELIGHT IN THE ACT

OF LOOKING.

THIS EXHIBITION WAS ORGANIZED BY

TAPE BRIT OP, THE CENTER

POMPIDOU PARIS AND THE

METROPOLITAN MUSEUM OF ART.

OUR GUIDE THIS EVENING IS MET

CURATOR IAN ALTIVERE.

♪♪

>> NEXT BUSINESS IS IN HONOR OF

THIS GREAT ARTIST'S 80th

BIRTHDAY.

THIS IS ALSO THE FIRST

RETROSPECTIVE IN NEW YORK CITY

IN ALMOST 30 YEARS, SO WHILE

HOCKNEY JUST TURNED 80, HE'S

STILL AN INCREDIBLY VIVACIOUS

PERSONALITY.

AND STORYTELLER.

ONE HAS THE SENSE THAT HOCKNEY

GREW UP IN A PRETTY LIBERAL

HOUSEHOLD.

HE WAS BORN IN BRADFORD,

YORKSHIRE, IN THE NORTH OF

ENGLAND IN 1937.

HIS FATHER WAS AN ACCOUNTANT, AN

AMATEUR ARTIST AND A

CONSCIENTIOUS OBJECTOR TO THE

WAR.

HOCKNEY'S MOTHER WAS A

PASSIONATE VEG TEAR YAP, AND

THAT'S SOMETHING THAT HOCKNEY IN

HIS YOUTH ALSO SHARED.

AND SO OUT OF THIS WHAT HE HAS

CALLED A RADICAL WORKING CLASS

BACKGROUND, HOCKNEY DERIVED I

THINK A GREAT SENSE OF MORALITY

WITH REGARD TO THE WORLD.

HE MADE HIS WAY TO LONDON.

TO ANSWER THE ROYAL COLLEGE OF

ART AND THERE HE REALLY

DISCOVERED HIMSELF.

THE VERY EARLY WORKS FROM THE

1960s SHOW HIM SORT OF

STRUGGLING WITH A PICTORIAL

LANGUAGE, ONE THAT'S CAUGHT

BETWEEN ABSTRACTION AND

FIGURERATION, LANGUAGE AND TEXTS

BECOMES TO COME OUT IN THE WORK,

BUT HE'S ALSO BEEN DISCOVERING

IS A BURGEONING QUEER

HOMOSEXUALITY AT A TIME WHEN

IT'S BASICALLY ILLEGAL IN THE

UK, VERY BRAVE FOR A YOUNG

ARTIST, VERY OLD.

THE CHA-CHA PICTURE IS A VERY

FUN IMAGE ABOUT A SPECIFIC

NIGHT, THE 24th OF MARCH, 1961,

WHERE HOCKNEY ATTENDS A DANCE,

AND THERE HE ENCOUNTERS ONE OF

HIS CRUSHES, A STRAIGHT

CLASSMATE NAMED PETER COREFRESH

AND YOU SEE PETER'S NAME

INSCRIBED ON THE SIDE.

PETER KNOWS HOW HE ADMIRERS HIM

HAND PETER DANCES THE CHA-CHA

JUST FOR HIM.

THERE'S A WONDERFUL INSCRIPTION

FROM THE SONG FROM THE 1960s

THAT SAYS "I LOVE EVERY

MOVEMENT."

LEAVING CANVAS BARE IS SOMETHING

ARTIST FRANCIS BACON HAS BEEN

DOING, BUT IT'S ALSO SOMETHING

THAT THE COLOR FIELD PAINTERS

HAVE ALSO BEEN DOING IN THESE

YEARS.

HE ASSOCIATES, OF COURSE, WITH

MANY FANTASTIC FIGURES FROM

THOSE SWINGING '60s YEARS IN

LONDON.

ONE THING HE DOES TALK ABOUT

THOUGH IS HOW STRAIGHT THAT

SCENE WAS, AND HE LONGED I THINK

TO FIND A PLACE THAT WAS FREER.

HE'S BEEN DREAMING THIS WHOLE

TIME NOT ONLY OF NEW YORK BUT

ALSO OF LOS ANGELES.

DOMESTIC SCENE LOS ANGELES WHICH

IS PAINTED IN 1963 WAS DONE

BEFORE HOCKNEY EVER EVEN GOT TO

LOS ANGELES FOR THE FIRST TIME.

IT REPRESENTS VERY MUCH

HOCKNEY'S EROTIC FANTASIES ABOUT

L.A.

THE SCENE SHOWS TWO NEWLY NUDE

MEN IN A SHOWER SCENE AND AS

HOCKNEY JOKINGLY SAYS IT WAS A

REMARKABLE TO HIM THAT AMERICANS

TOOK SHOWERS ALL THE TIME.

OF COURSE, ENGLISHMEN WOULD TAKE

BATHS.

HOCKNEY TALKS ABOUT LOS ANGELES

AS BEING IN HIS MIND A LAND FULL

OF MOVIE STARS AND SEMI-NAKED

PEOPLE.

SO HOCKNEY ARRIVES IN LOS

ANGELES IN JANUARY 1964.

HE'S CHOSEN THIS CITY TO BE HIS

NEW HOME WITHOUT EVEN HAVING A

DRIVER'S LICENSE.

HOCKNEY SWITCHES WHEN HE GETS TO

CALIFORNIA FROM BOIL PAINT WHICH

HE'S BEEN USING IN LONDON AND

ACRYLIC AND ACRYLIC SEEMS TO BE

IDEAL FOR REPRESENTING THE

BRIGHT FLAT PLAINS OF

ARCHITECTURE.

IT DRIES FAST AND HE CAN LAYER

IT ON AND IN A PICTURE LIKE THE

BIGGER SPLASH FROM 1967 HE'S

GOTTEN MUCH MORE SOPHISTICATED

ABOUT HIS USE OF ACRYLIC.

IN THIS PICTURE HE HAS ROLLED

THE THING ON WITH PAINT ROLLERS

AND CREATED, IF ONE THINKS ABOUT

IT AND TAKES AWAY THE VARIOUS

FIGURATIVE MOTIFS IN THE

PICTURE, THE LITTLE FOLDING

CHAIR, THE REFLECTIONS ON THE

PLATE GLASS WINDOW, WHAT ONE

WOULD HAVE IS ESSENTIALLY A

HARD-EDGED ABSTRACT PICTURE.

IT'S ALSO THE SPLASH ITSELF

WHICH ONE CAN THINK OF AS AN

ABSTRACT MARK BUT ONE THAT

HOCKNEY DIDN'T MAKE BY JUST

SPLASHING WHITE PAINT ON THE

SURFACE OF THE PICTURE.

INSTEAD, HE'S VERY DELIBERATELY

AND VERY CAREFULLY TEASED OUT

THE LITTLE LAYERS AND SPLASHES

OF WATER AND SO A SPLASH THAT

ONLY EXISTED FOR TWO SECONDS.

HOCKNEY SAID IT TOOK TWO WEEKS

TO PAINT.

>> IN PAINTINGS LIKE PORTRAIT OF

AN ARTIST, THE POOL WATER IS

MADE BY AN ENTIRELY DIFFERENT

TECHNIQUE.

HOCKNEY HAS BEEN READING UP ON

THE STAIN PAINTING TECHNIQUE BY

THE AMERICAN ARTIST HENRIK

FRANKENFAHLER AND HE REALIZES

THIS MIGHT WORK REALLY AND HE

STARTS TO EXPERIMENT WITH

T.PORTRAIT OF AN ARTIST WAS THE

OCCASION OF THE JAX POSITION OF

TWO PHOTOGRAPHS IN HOCKNEY'S

STUDIO THAT FELL ON THE FLOOR,

ONE A PHOTOGRAPH OF PETER

SCHLESINGER STANDING IN A PARK

IN EUROPE LOOKING DOWN AT THE

GROUND AND THE OTHER ONE OF

SOMEONE SWIMMING IN HOCKNEY'S

BACKYARD IN THE 1960s BACK IN

LOS ANGELES, AND HOCKNEY NEVER

WAS ONE TO SHY AWAY FROM THE

JUXTAPOSITION OF TWO DISPARATE

THINGS.

SCHLESINGER'S CLOTHES, AND THE

SWIMMER IS NUDE OR MAYBE HAS A

LITTLE TINY BATHING SUIT ON.

THE WATERY DEPTHS OF THE POOL

VERSUS THE WONDERFUL LANDSCAPE

BEHIND.

BESIDES, THIS WOULD MAKE A

PERFECT SUBJECT FOR A PAINTING.

IN 1968 HOCKNEY LANDS ON AN

IDEA.

HE DECIDE HE'S GOING TO PAINT A

SERIES OF MAJESTIC ALMOST

LIFE-SIZED PORTRAITS OF COUPLES.

HE'S REALLY INTERESTED IN

PEOPLE'S RELATIONSHIPS WITH EACH

OTHER.

HE'S FASCINATED BY THE

RELATIONSHIPS OF HIS FRIENDS AND

ACQUAINTANCES, AND HE DECIDES

THAT THIS WOULD BE A WONDERFUL

WAY IN WHICH TO KIND OF STAGE

HIS NEW FOUND NATURALISTIC

SKILL, AND THE PEOPLE HE DECIDES

HE'S GOING TO START WITH ARE HIS

NEAR NEIGHBORS, A NOVELIST, ONE

OF THE FIRST DEER FRIENDS THAT

HE MAKES IN L.A. AND HIS YOUNGER

PARTNER THE PAINTER DON BAKARTY.

HE GOES FREQUENTLY OVER TO THEIR

HOUSE, AND AS HE'S SITTING THERE

ACROSS FROM THEM AND MAKING

SKETCHES IN PREPARATION FOR THIS

HEY MAIDSING PAINTERS HE NOTICED

THAT ISHER WOULD ALWAYS SIT WITH

HIS LEGS CROSSED JUST SO AND

TURNS TO LOCK AT HIS PARTNER

BAKARTY WHEREAS BAKARTY LOOKS

AND SITS STRAIGHT OUT AT NOW US

THE VIEWERS SO THE TRIANGULATION

OF THE GAY BRINGS US INTO THE

RELATIONSHIP.

I INCLUDE IN THE EXHIBITION 21

AMAZING PORTRAIT DRAWINGS THAT

HOCKNEY MADE FROM THE MID-'60s

TO THE LATE 1990s AND AS ONE

SCANS THEM, ONE SEES ALL SORTS

OF PEOPLE COME TO LIFE, MAINLY

FRIENDS AND FAMILY AND INTIMATES

OF THIS ARTIST, BUT I THINK

THESE DRAWINGS REVEAL HIS

EXTRAORDINARY SENSITIVITY TO

PEOPLE'S CHARACTERS AND ALSO HIS

EXTRAORDINARY SKILL AS A

DRAFTSPERSON.

THERE'S ALSO ANDY WARHOL, A

GREAT FRIEND DRAWN BY HOCKNEY IN

COLORED PENCIL.

ONE COMES ACROSS WONDERFULLLY

DEPICTION OF DEAR FRIENDS FROM

BACK IN LONDON, FOR EXAMPLE,

HOCKNEY'S DEAR FRIEND PHIL, A

TEXTILE DESIGNER BIRTWELL.

BITTERLIY 2000s HE DECIDES TO

MOVE BACK TO YORKSHIRE.

HE HAS BEEN SPENDING MORE AND

MORE TIME THERE, AND HE REALIZES

THAT HE'S FALLEN IN LOVE AGAIN

WITH THE YORKSHIRE WOLVES, WITH

THE WONDERFUL ROLLING HILLS.

THE MID-2000s BRING US TO AN

INCREDIBLE SUITE OF PAINTINGS

THAT HE DOES IN PLENAIRE IN THE

YORKSHIRE COUNTRYSIDE.

IT'S A REALLY WONDERFUL MOMENT

IN THE CAREER, I THINK, AND ONE

THAT ACTUALLY BRINGS HIM SUCCESS

AGAIN HERE IN NEW YORK.

ALL OF A SUDDEN PEOPLE REALIZED,

WAIT, HOCKNEY IS A PRETTY

AMAZING PAINTER.

HOCKNEY IS NEVER ONE TO SHY AWAY

FROM TECHNOLOGICAL ADVANCEMENTS,

WHETHER IT'S IN NEW KIND OF

BRANDS OF PAINT OR WHETHER IT IS

WITH APPLES, iPADS AND iPHONES.

WHEN THE iPAD COMES OUT IN 2010,

HE IS ONE OF THE FIRST ARTISTS

TO ADOPT IT AS A TOOL FOR MAKING

ART, AND HE LOVED IT SO MUCH HE

KEEPS THE iPAD NEXT TO HIS BED

IN RIDDLINGTON AND ON THE

SEASIDE IN YORKSHIRE WHERE HE'S

LIVING.

♪♪

2013 HE DECIDES TO MOVE BACK TO

LOS ANGELES, BACK TO THAT

HOLLYWOOD HILLS HOUSE HE LOVES

SO MUCH THAT HE'S KEPT IT ALL

THESE YEARS, AND THE LUSH

LANDSCAPE OF THE BACKYARD AND

THE BEAUTIFUL COBALT BLUE OF THE

TERRACE THERE INSPIRE HIM TO

CREATE A WHOLE NEW BODY OF

BACKYARD LANDSCAPE PAINTINGS.

IN THE MOST RECENT PAINTING, A

BIGGER INTERIOR WITH BLUE

TERRACE, HOCKNEY DECIDED TO SEE

WHAT WOULD HAPPEN IF HE LOPPED

OFF THE BOTTOM TWO CORNERS OF

THE CANVAS IN ORDER TO ALLOW

THAT TERRACE TO WRAP ALL THE WAY

AROUND, TO REVERSE THE

PERSPECTIVE, NOT INWARDS TO THE

PAINTING BUT BACK OUT TOWARDS

US, THE VIEWER.

NOW WE HAVE AN ENTIRE 180-DEGREE

VIEW OF THAT FANTASTIC TERRACE

AND THE WAY IN WHICH IT MAKES US

THINK ABOUT A NEW DIFFERENT

SPACE IN PAINTING.

THEY ARE IMMENSELY JOYFUL

PICTURES.

I THINK THEY REPRESENT A MOMENT

IN HOCK ANY'S CAREER WHERE HE'S,

AGAIN, EXCITED ABOUT PAINTING.

IN FACT, AS HE SAID WHILE HE WAS

HERE DURING THE OPENING EVENTS

FOR THE SHOW, AFTER SOMEONE HAD

ASKED HIM HOW HE'S FEELING, HOW

ARE YOU DOING?

HE'S TURNED 80.

HE SAID, WELL, YOU KNOW, WHEN I

TRAVEL, SOMETIMES I REALLY FEEL

LIKE I'M 80, BUT WHEN I'M

PAINTING, I FEEL LIKE I'M 30

YEARS OLD, AND WHY OH, WHY, IF

THAT'S HOW IT MAKES ME FEEL.

WHY WOULDN'T I PAINT ALL THE

TIME.

>> FOR MORE ON THE LATEST IN

ARTS AND CULTURE, HERE'S

CHRISTINA HA WITH THE "NYC ARTS"

NEWS.

>>> GOOD EVENING.

I'M HERE WITH THE "NYC ARTS."

NEWS.

I'M AT THE UKRAINIAN MUSEUM IN

THE EAST VILLAGE THAT WAS

FOUNDED IN 1976 BY THE UKRAINIAN

NATIONAL WOMEN'S LEAGUE OF

AMERICA, AND TODAY IT'S THE

LARGEST MUSEUM IN THE COUNTRY

DEDICATED TO THE CULTURAL

HERITAGE OF PEOPLE FROM UKRAINE.

WITH LENT BEGINNING THIS WEEK,

WE LOOK FORWARD TO SPRING AND

THE MUSEUM'S ANNUAL EXHIBITION

OF POSANKI, A BEAUTIFULLY

DECORATED EASTER EGGS DRAWN FROM

THE MUSEUM'S EXTENSIVE FOLK ARTS

COLLECTION.

THE EGGS REPRESENT A VARIETY OF

REGIONAL STYLE, RICH COLORS AND

ASSORTED MOTIFS.

THE MUSEUM OFTEN EXHIBITS WORKS

OF UKRAINIAN FOLK ART.

ON VIEW NOW IS AN EXQUISITE

COLLECTION OF RECENTLY ACQUIRED

FOLK COSTUMES FROM VARIOUS

REGIONS OF YOU 'CRANE.

THE FINE ARTS ARE ALSO EXHIBITED

HERE.

PRINTS IN PAINTING BY BODAN

BOJANSKI RETROSPECTIVE SHOWCASES

THE VARIOUS TILES REPRESENTED BY

THE ARTIST DURING HIS LONG,

IMPRESSIVE AND PROLIFIC CAREER.

NOW IN HIS 90s, HE WAS TRAINED

IN PAINTING AND DRAWING IN

UKRAINE, AND IS A GRADUATE OF

THE COOPER UNION ARTS SCHOOL

HERE IN NEW YORK.

HE'S ALSO A MASTER OF WOOD CUTS

AND COLOR PRINTS PRODUCED USING

HIS OWN UNIQUE PAPER CUT

TECHNIQUE.

WORKS ON VIEW INCLUDE PAINTINGS

AND PRINTS OF WILDLIFE,

MOSAIC-LIKE STILL LIVES,

PORTRAITS OF THE PEOPLE FROM HIS

NATIVE CARPATHIAN MOUNTAINS AND

LOVELY LANDSCAPES OF THE HUDSON

VALLEY.

ALSO ON VIEW IS A LOOK AT

CONTEMPORARY UKRAINE AND THE

ONGOING WAR WITH RUSSIA IN THE

EAST, RAW, UKRAINE ON THE FRONT

LINES PRESENTS THE WORKS OF 33

LEADING PHOTOJOURNALISTS.

THE PHOTOGRAPHERS ARE

DOCUMENTING THE TRANSFORMATION

OF THE ARMY AS WELL AS CIVIL

SOCIETY SINCE WHAT UKRAINIANS

CALLED THE REVOLUTION OF DIGNITY

AND THE WAR IN EASTERN UKRAINE

BEGAN IN 2014.

TONY AND OSCAR WINNER MARK

WRYLANTZ RETURNS TO BROADWAY IN

ARE CLAIRE VAN KAMPEN'S NEW PLAY

WHICH IS BASED ON THE TRUE STORY

OF THE FAMOUS 18th CENTURY

SINGER FARANELLI WHO WAS PROUT

TO THE SPANISH COURT BY THE

KING'S WIFE TO CURE HER

HUSBAND'S MADNESS.

♪♪

"THE KING OF SPAIN" THOUGHT TO

HAVE WHAT TODAY IS KNOWN AS

BIPOLAR DISORDER IS INITIALLY

WARY OF THE COSTRADO.

>> WHEN WERE YOU MADE A KING?

>> I'M NOT A KING.

>> I'M AFRAID YOU ARE.

>> WE WERE BOTH MADE KINGS

AGAINST OUR WILL, I SUPPOSE.

♪♪

>> BUT HE IS SOON TRANSFIXED BY

HIS BEAUTIFUL AND OTHER WORLDLY

VOICE.

THE ROLE OF FARANELLI IS PLAYED

BY TWO MEN, SAM CRANE WHO ACTS

THE SPEAKING PARTS AND BRITISH

TENOR WHO SINGS.

FARANELLI SPENT NEAR ITLY A

DECADES WITH THE KING AND QUEEN

OF SPAIN ABANDONING HIS OPERA

CAREER IN THE HOPES THAT HIS

HEALING VOICE WOULD SAVE THE

KING N.JUNE OF 1993, A SHIP

CARRYING 286 PASSENGERS FROM

CHINA RAN AGROUND OFF THE COAST

OF ROCKAWAY BEACH.

THE PASSENGERS WERE SOON CAUGHT

UP IN NATIONAL IMMIGRATION

DEBATES OF THE TIME.

THE MAJORITY WERE DETAINED AT

YORK COUNTY PRISON IN

PENNSYLVANIA, SOME FOR AS LONG

AS FOUR YEARS AS THEIR REQUESTS

FOR ASYLUM WERE EVALUATED.

WHILE IN PRISON, SOME

ASYLUM-SEEKERS PASSED THE TIME

BY CREATING FOLK ART SCULPTURES.

FOLD, GOLDEN VENTURE PAPER

SCULPTURES AT THE MUSEUM OF

CHINESE IN AMERICA REVIS ITS A

NUMBER OF THESE SCULPTURES WHICH

WERE CREATED USING A HYBRID FORM

OF THE CHINESE PAPER FOLDING

TRADITION.

THE SCULPTURES DEPICT EVERYDAY

OBJECTS AND SCENES THAT REMINDED

THE DETAINED CHINESE IMMIGRANTS

OF HOME.

THE IDEALS OF AMERICA IN HOPES

THAT HAD PROMPTED THEM TO

UNDERTAKE THE DIFFICULT JOURNEY

AND THEIR FEELINGS OF

HOPELESSNESS AT THEIR

IMPRISONMENT.

THE SCULPTURES WERE FIRST

EXHIBITED HERE IN 1996.

THE CURRENT EXHIBITION INCLUDES

NEW VIDEO AND ARCHIVAL MATERIALS

TO HELP RE-EXAMINE THIS

HISTORICAL MOMENT THE FIRST TIME

THE POLICY OF INDEFINITE

DETENTION FOR ASYLUM-SEEKERS WAS

ENACTED.

TAKE A TRIP TO HARLEM TO THE

UPTOWN GALLERY OF GAVIN BROWN'S

ENTERPRISE THIS.

FORMER BREWERY IS CURRENTLY THE

HOME TO THREE STORIES OF WORKS

BY THE PHOTOGRAPHER LATOYA RUBY

FRASER.

FRAISER'S WORKS PRESERVES THE

STORIES OF PEOPLE A WHO ARE

USUALLY FORGOTTEN AND GIVING

THEM VISIBILITY THROUGH THEIR

IMAGES.

IN ADDITION TO VIEWING HER

PRAFS, VISITORS TO THE GALLERY

CAN ATTEND TO CONVERSATIONS WITH

OTHER ARTISTS AND ACTIVISTS AND

PARTICIPATE IN AN ART-MAKING

PROJECT OF THEIR OWN.

ACCORDING TO FRAZER SHE USES HIS

ARTWORK AS A PLATFORM TO

ADVOCATE FOR OTHERS, THE

OPPRESSED, THE DISENFRANCHISED,

THE EXBIBT FEATURES PHOTOS FROM

THREE BODIES OF WORK, THE NOTION

OF FAMILY, BEST KNOWN SERIES,

EXPLORES HER FAMILY AND LIFE IN

HER HOME TOWN OF BRADDOCK,

PENNSYLVANIA.

FLINT IS FAMILY IS ABOUT THE

WATER CRISIS IN FLINT, MICHIGAN,

AND THE EVERYDAY LIVES OF THE

PEOPLE THERE, AND A PILGRIMAGE

TO NOAH PERAFOY'S DESERT ART

MUSEUM WAS INSPIRED BY A TRIP

THAT FRAZER TOOK IN THE MOJAVE

DESERT NEAR JOSHUA TREE AND

FINALLY CELEBRATED BRITISH

CHOREOGRAPHER WAYNE McGREGOR

BRINGS HIS CONTEMPORARY DANCE

COMPANY TO THE JOYCE THEATER AND

HE'LL PRESENT A NEW WORK CALLED

"AUTOBIOGRAPHY" WHICH EXPLORES

NOTIONS OF PERSONAL IDENTITY.

AS A CHOREOGRAPHER McGREGOR

CREATES A VERY PARTICULAR

MOVEMENT VOCABULARY.

FOR THIS VERY PERSONAL WORK, THE

MOVEMENT IS INFORMED BY THE

SEQUENCE OF HIS OWN GENOME.

THE NEW PIECE INCLUDES SET

DESIGN AND PROJECTIONS BY ARTIST

BEN CULLEN WILLIAMS AND AN

ELECTRONICS SCORE BY ACCLAIMED

PRODUCER JAY LIN.

COMPANY WAYNE McGREGOR IS AT THE

JOYCE FEBRUARY 27th THROUGH

MARCH 3rd.

THAT'S THE IN "IN THE YC ARTS"

NEWS FROM THE UKRAINIAN ARTS

MUSEUM.

I'M CHRISTINA HA.

♪♪

>> WELCOME TO THE EMERGING FOLK

ART MUSEUM.

I'M THE CURATOR FOR THE 20th AND

21st CENTURY ART AT THE MUSEUM.

BORN IN THE BRONX IN 1914 AND

HIS PARENTS WERE ITALIAN

IMMIGRANTS.

HIS WORKS ARE REFLECTING SOCIAL

REALITY AND ARE CARRYING

MESSAGES OF HOPE, OF LIBERTY AND

THE RISE OF WORKERS.

THE UNION ORGANIZER STARTED TO

PAINT MID-'40s.

EARLY ON HE HELPED HIS FATHER TO

DELIVER ICE AND THE ORGANIZATION

OF HIS LARGE-SCALE CANVASSES

WITH A LOT OF HORIZONTAL LINES

AND STACKING OF OBJECTS AND

ARCHITECTURE REFERRED TO HIS

EXPERIENCE WORKING WITH HIS

FATHER WHERE HE WAS PLACING AND

REPLACING ICE CUBES IN THE

REFRIGERATORS.

THIS WAS MADE FROM SKETCHES MADE

IN THE SUBWAY ON HIS RIDE BACK

FROM WORK.

HE SAID I'D RIDE THE SUBWAY

EVERY DAY BACK AND FORTH TO MY

MACHINE SHOP JOB.

I'D RIDE AND RIDE AND SKETCH AND

SKETCH.

I LOVE THE SUBWAY.

IT PULLS THE CITY TOGETHER.

PULLS PEOPLE TOGETHER IN A MAGIC

WAY.

HERE I SHOW THE SUBWAY RIDERS AT

NIGHT AFTER A HARD DAY'S WORK.

EVERYONE IS SEPARATE, ALONE BUT

VERY MUCH TOGETHER.

IT'S NOISY WITH THE CREEKS AND

SQUEALS BUT PEACEFUL, TOO,

BECAUSE WE MOVE TO A RHYTHM THAT

GETS INSIDE US.

THAT'S COMFORTING.

THAT'S THE NOISE OF THE CITY

ITSELF.

THE SUBWAY MAKES THE CITY WORK,

MAKES THE CITY GREAT.

THE THIS PAINTING IS A

LARGE-SCALE PAINTING AS MANY OF

THE CANVASSES ARE.

SOME OF THEM ARE AS WIDE AS TEN

FEET.

HE SAID SPECIFICALLY THAT THOSE

PAINTINGS WERE MEANT TO BE SEEN

BY A LOT OF PEOPLE AT THE SAME

TIME, SO IT'S ONE OF REASONS WHY

HE WANTED TO HAVE THEM LARGE

HAND ALSO FULL OF DETAILS.

YOU CAN LEARN SOMETHING ABOUT

THE PERSONAL LIFE OF EACH OF

THOSE OBJECTS.

CARRYING TWO MESSAGES, I THINK

THE MAIN MESSAGE WAS THAT HE WAS

THERE TO FIGHT FOR THE LABOR

RIGHTS, AS ALSO I THINK IT'S A

CELEBRATION OF NEW YORKERS.

>> HELLO.

I'M RAFAEL PIROMON AND WELCOME

TO THIS WEEK AT LINCOLN CENTER.

WITH ITS THEATERS OVERFLOWING

WITH THE BEST IN MUSIC, DANCE,

OPERA, DRAMA AND FILM FROM

AROUND THE WORLD IT'S TRULY THE

INTERNATIONAL CROSSROADS OF ARTS

AND CULTURE.

ON FEBRUARY 19th AT ALICE TULLY

HALL, JEFFREY MALARSKI WILL

CONJUDICIARY COMMITTEE THE JEWEL

YARD'S ORCHESTRA OF THE VIOLENT

CONCERTO "THE RED VIOLIN" IN

CELEBRATION OF THE COMPOSER'S

80th BIRTHDAY.

EILEEN PEMBERTON WILL BE THE

SOLOIST AND THE PROGRAM WILL

FEATURE COMPOSITIONS BY RAFFEL.

FOR MORE DETAILS VISIT

JUILLIARD.ARTERIO.EDU.

FOR MORE INFORMATION ABOUT

EVENTS AT LINCOLN CENTER VISIT

THEIR WEBSITE AT

LINCOLNCENTER.ORG.

>> I HOPE YOU'VE ENJOYED OUR

PROGRAM TONIGHT.

I'M PAULA ZAHN AT THE TISH

STUDIOS AT LINCOLN CENTER.

THANKS SO MUCH FOR JOINING US.

GOOD NIGHT.

>>> NEXT WEEK ON "NYC ARTS," A

VISIT TO THE MUSEUM OF THE CITY

OF NEW YORK FOR A LOOK AT THE

EXHIBITION MOD NEW YORK, FASHION

TAKES A TRIP, A CHRONICLE OF

AMERICAN STYLE BETWEEN 1960 AND

1973.

>> HIPPIE MOVEMENT,

HALLUCINOGENICS AND COLORS OR

INTENSIFIED AND PATTERNS ARE

INTENSIFIED WHICH IS WHY I'VE

INCORPORATED FASHION TAKES A

TRIP BECAUSE LITERALLY FASHION

JUST DROPPED A TAB OF ACID.

>> AND A BEHIND-THE-SCENES LOOK

AT METRO GRAPH, A HOT SPOT FOR

CINEMA ON THE LOWER EAST SIDE.

>> IT'S A PLACE THAT REALLY

CAPTURES AN IMAGINARY IDEA OF AN

OLD MOVIE STUDIO.

♪♪

>>> FUNDING FOR "NYC ARTS" IS

MADE POSSIBLE BY ROSALIND P.

WALTER, KATE W. CASSIDY

FOUNDATION, TEA PETRICK

FOUNDATION, GENE DUBINSKY

APPLETON ESTATE, JODY AND JOHN

ARNHOLD, ELLEN AND JAMES S.

MARKUS, THE LEWIS SONNY TURNER

FUND FOR DANCE, ELISE JAFFE AND

JEFFREY BROWN, THE MILTON AND

SALLY AVERY ARTS FOUNDATION, AND

ELROY AND TERRY KRUMHOLTZ

FOUNDATION THIS.

PROGRAM IS SUPPORTED IN PART BY

PUBLIC FUNDS FROM THE NEW YORK

CITY DEPARTMENT OF CULTURAL

AFFAIRS IN PARTNERSHIP WITH THE

CITY COUNCIL.

ADDITIONAL FUNDING PROVIDED BY

MEMBERS OF 13.

"NYC ARTS" IS MADE POSSIBLE IN

PART BY FIRST REPUBLIC BANK.

♪♪

FLEXIBILITY.

COORDINATION, EXCELLENT.

FIRST REPUBLIC'S PUBLIC PRIVATE

WEALTH MANAGE PRESIDENT.