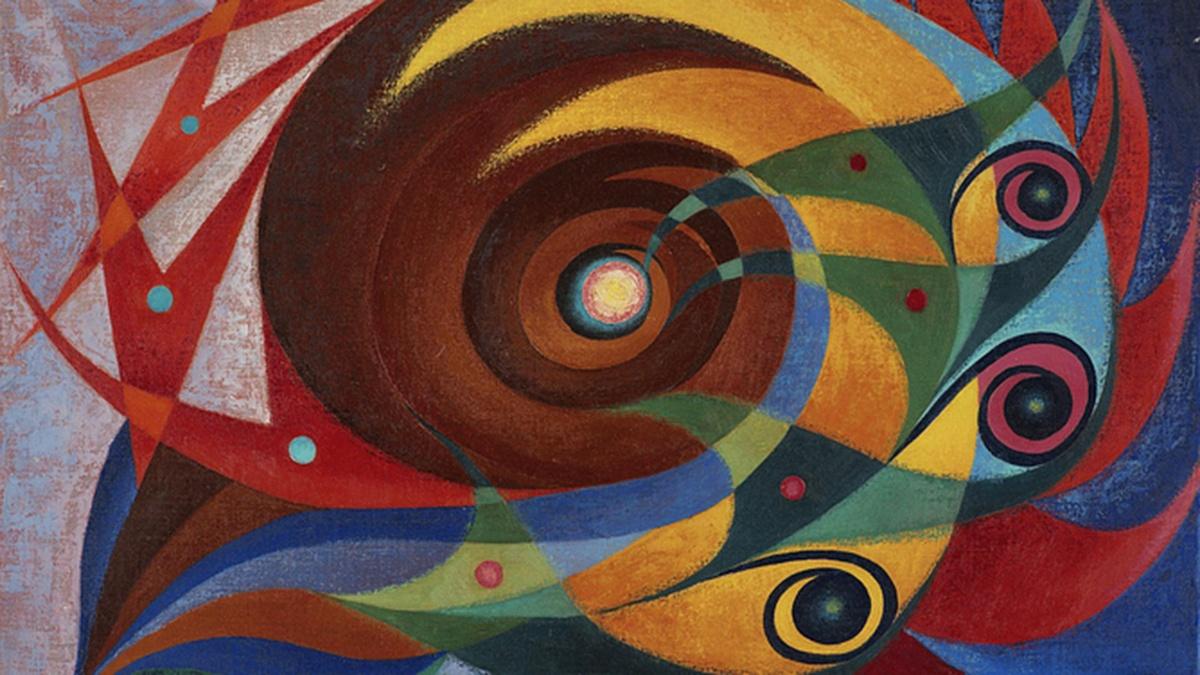 S2020 E480 | CLIP
NYC-ARTS Choice: "Stretching the Canvas"
A tour of the exhibition "Stretching the Canvas: Eight Decades of Native Painting," on view at the National Museum of the American Indian.
TRANSCRIPT

>>> GOOD EVENING AND WELCOME TO

"NYC ARTS."

I'M PHILIPPE DI MONTEBELLO.

AT THE TISCH WNET STUDIOS AT

LINCOLN CENTER.

ON OUR PROGRAM TONIGHT,

WE'LL VISIT THE SMITHSONIAN

NATIONAL MUSEUM OF THE AMERICAN

INDIAN.

IT IS LOCATED DOWNTOWN IN NEW

YORK CITY AT BOWLING GREEN.

THE MUSEUM'S MISSION IS TO

FOSTER A MORE INFORMED

UNDERSTANDING OF NATIVE PEOPLES

OF THE AMERICAS.

CURRENTLY ON VIEW IS "STRETCHING

THE CANVAS: 80 YEARS OF NATIVE

PAINTING."

IT IS A GROUP SHOW OF WORK BY

OVER 30 ARTISTS, AND THEY'RE ALL

DRAWN FROM THE MUSEUM'S

PERMANENT COLLECTION AND CREATED

BETWEEN 1940 TO THE PRESENT DAY.

THE PREMISE OF THE EXHIBITION IS

TO CHALLENGE EXPECTATIONS OF

WHAT CONSTITUTES INDIAN ART.

THE WORKS REFLECT A GREAT

VARIETY OF COLOR, STYLE, AND

SUBJECT.

FROM FLAT ILLUSTRATIVE PIECES

THAT DEPICT IDEALIZED SCENES TO

LARGE-SCALE ABSTRACT WORK THAT

USES IRONY TO CONFRONT NATIVE

ISSUES, THE SHOW HINGES ON THE

MOMENT WHEN THESE ARTISTS BROKE

THROUGH TO MODERNISM.

>> I THINK THAT FIRST TEMPURA

PAINT ON NEWSPRINT IN

KINDERGARTEN THAT SAID TO ME,

THIS IS WHAT I'M GOING TO BE

DOING THE REST OF MY LIFE.

IT WAS THE ACTION OF THE FANS.

I REMEMBER BEING 6 YEARS OLD OR

SOMETHING LIKE THAT, 6 1/2, AND

THINKING, I DON'T KNOW THIS

FEELS -- I'M IN MY ZONE NOW.

LIGHTNING HIT ME, THIS IS WHAT

I'M GOING TO BE DOING THE REST

OF MY LIFE, AND I'M STILL DOING

IT.

AND SO I THINK YOU CAN BE BORN A

PAINTER SOMETIMES.

>> WE BEGIN THE EXHIBITION

"STRETCHING THE CANVAS" IN THIS

LARGE SALON-SCALED GALLERY WITH

SOME OF OUR OVERSIZED LARGE

PAINTINGS.

AND THE REASON THIS IS THAT WE

FELT THAT THIS WORK WAS

COMPARABLE TO ANYTHING YOU WOULD

SEE AT THE WHITNEY, ANYTHING YOU

WOULD SEE AT THE MUSEUM OF

MODERN ART.

SO WE REALLY WANTED TO PUT SORT

OF A BEST FOOT FORWARD AND

INVITE OTHER MUSEUMS TO IMAGINE

THIS KIND OF WORK IN THEIR

GALLERIES.

MAKING PAINTINGS IS ACTUALLY NOT

SO MUCH A TRADITIONAL ART FORM.

THERE ARE TRADITIONS OF PAINTING

ON HIDE, KIVA PAINTINGS, THAT

KIND OF THING.

MOST OF THE MODERN PAINEDING

THAT COMES OUT OF THE 1920s WHEN

YOUNG NATIVE STUDENTS,

PARTICULARLY IN THE SOUTHWEST,

EVEN OKLAHOMA, WERE LEARNING THE

BASICS OF ART INSTRUCTION IN

THEIR SCHOOLS.

THE SCHOOLS ENCOURAGED THIS

AMERICAN ART STYLE THAT WAS THAT

FLAT ILLUSTRATIVE STYLE FOCUSING

ON NATIVE AMERICAN SUBJECTS.

JUST TO GIVE OUR VISITORS SOME

SENSE OF WHERE THIS IS ALL

COMING FROM, THE KIND OF

FOUNDATION FROM WHICH THIS MORE

ADVENTURESOME WORK GREW.

FROM THERE WE INVESTIGATE SOME

OF THE THINGS THAT INVITED

ARTISTS THINK ABOUT THEIR ART IN

A MORE BROADWAY.

WE HAVE A SMALL GALLERY THAT

LOOKS AT ARTISTS WHO TRAVELED TO

NEW YORK CITY IN THE 1940s AND

1950s AND BEGAN TO THINK ABOUT

THEMSELVES MORE AS ARTISTS ON A

WORLD STAGE.

SOME ARTISTS WERE INSPIRED BY

POP ART, DEVELOPMENTS OF THE

1960s, THE 1970s, OVERSIZED

CANVASS AND A MORE PLAYFUL

APPROACH TO NATIVE AMERICAN

SUBJECTS.

ONE OF THE THINGS I THINK

AMERICAN INDIANS STRUGGLE WITH

THROUGHOUT THE 20th, 21st

CENTURY ARE EXPECTATIONS THAT

THEY'RE NOT PART OF THE MODERN

WORLD.

SO PEOPLE EXPRESS SURPRISE,

WELL, AMERICAN INDIANS USE CELL

PHONES, THEY DRIVE CARS,

RIDICULOUS THINGS LIKE THAT.

IT'S NOT AS UNCOMMON AS YOU

MIGHT THINK.

THOSE ARTISTS ARE PART OF THE

CONTEMPORARY WORLD.

THEY'RE ALSO PART OF THEIR

TRADITIONAL WORLD AND

COMMUNITIES AS WELL.

AMERICA MEREDITH, A CHEROKEE

ARTIST, IS REALLY A POLYMATH.

SHE'S EDITOR OF A VERY

INFLUENTIAL ART JOURNAL.

SHE'S ALSO AN ARTIST, A PAINTER.

>> I WENT TO GRADUATE SCHOOL AT

SERVICES GROWN INSTITUTE AND I

HAD FELLOW CLASSMATES SAY, WHY

WOULD ANYONE GO TO GRAD SCHOOL

FOR PAINTING?

I HAD A LOT OF TIME TO THINK OF,

WHY IS PAINTING RELEVANT?

IS IT PASSE?

OKAY, HUMAN BEINGS HAVE BEEN

PAINTING FOR THE LAST 100,000

YEARS.

SO IS DANCING PASSE?

IS POETRY PASSE?

IS SINGING PASSE?

NO, THESE ARE ALL INTRINSICALLY

HUMAN EXPRESSIONS.

PAINTING, IF YOU'RE PASSIONATE

ABOUT COLOR, TEXTURE, PAINTING

IS SO PRIMEVAL, I THINK.

THIS PIECE IN THE SHOW, IT'S

FROM 2005.

A MAIN CHARACTER IS THIS VERY

CONTROVERSIAL LAKOTA MEDICINE

MAN, JOHN PARALINGER.

HE'S SAYING, GO OUT INTO THE

WORLD, YOU'LL SERVE PEOPLE

BETTER IF YOU FULLY LIVE YOUR

LIFE, DON'T TRY TO LIVE THIS

CLOISTERED LIFE, GO OUT AND

SCREW UP.

THE LEDGER DESIGN REFERENCES

LEDGER ART.

THIS KIND OF TRANSITIONAL ART.

THAT'S AN INTERSECTION TO WHEN

WESTERN MATERIALS CAME OUT TO

THE PLAINS.

THESE OLD LEDGERS WERE USED BY

ARTISTS WHO PREVIOUSLY HAD BEEN

PAINTING ON ANIMAL HIDES.

AND I THINK IT'S ONE OF THE

GREATEST IRONIES.

IF YOU PAINT ON THIS ANIMAL

HIDE, MANY PEOPLE DON'T CONSIDER

THAT ART WITH A CAPITAL "A."

IF YOU PAINT ON A RECTANGLE AND

IT'S PAPER, THEN IT'S OKAY.

NORVELLE MORSO CREATED THIS VERY

ABSTRACT, HEAVILY BLACK OUTLINED

SNAKE AND EAGLE.

THE FLAT STONE ON THE CORNER

WHAT IS I GREW UP WITH IN

OKLAHOMA, THE PAINTING STYLE IS

VERY FLAT, HEAVILY OUTLINED,

KIND OF THE SOUTHWEST LANDSCAPE.

I USE KIND OF POP IMAGERY.

KIND OF CHILDREN'S IMAGERY.

IT'S TOUCHSTONES THAT I THINK

MOST PEOPLE COMING HERE ARE

FAMILIAR WITH, RICHARD SCARY,

AMAZING ARTIST, THE MUPPETS.

THAT'S MY CHILDHOOD.

WE SEE A LOT OF CONTROL IN

NATIVE ART AND WE DON'T SEE

LIVING LOOSE.

MARIAN MARTINEZ IS A WONDERFUL

EXAMPLE OF SOMEONE LIVING LOOSE

AND BEING VERY FREE, VERY

SPONTANEOUS WITH THIS IMAGERY.

>> I HAVE ALWAYS LOVED

ABSTRACTION.

I HAVE PROCLIVITY TO IT.

I WAS DRAWN TO IT BECAUSE THERE

WAS A -- I UNDERSTOOD AS A YOUNG

KID THAT YOU DIDN'T DO

CEREMONIAL IMAGERY, YOU DIDN'T

DO CULTURAL IMAGERY, TO BENEFIT

FROM YOUR CULTURE, TO BENEFIT

MONETARILY.

SO AS A KID I KNEW THAT I

COULDN'T USE THAT IMAGERY.

SO I GUESS A GREAT AVENUE OUT

WOULD BE WHAT I FELL IN LOVE

WITH, MODERNISM.

A PURE SENSE, ENERGY SENSE,

ABSTRACTIONS I THINK FOR ME ARE

STILL THE MOST POWERFUL

ENVIRONMENT IN THAT WAY IT'S

UNDERSTOOD.

>> I THINK ANOTHER THEME OF THE

SHOW IS THAT PEOPLE BEING

UNCONSTRAINED.

SO YOU HAVE A LOT OF PEOPLE

LOOKING OUTSIDE THEIR TRIBAL

HERITAGE AND LOOKING AT THE

BROADER WORLD.

KAY WALKINGSTICK WAS BORN IN NEW

YORK.

SHE'S STILL IN THE NORTHEAST.

SHE IS CHEROKEE, BUT SHE VERY

SELDOM USED OVERT CHEROKEE

IMAGERY, SHE'S DEVELOPED HER

OWN.

IN THIS SHOW SHE USES

SOUTHWESTERN LANDSCAPE.

NATIVE PEOPLE TRAVEL.

THEY SEE AND RESPOND TO

DIFFERENT COMMUNITIES.

SO SHE HAS HER OWN STYLE WHERE

SHE'S USING ICONOGRAPHY AND THEN

LANDSCAPE.

SO THIS INNER AND OUTER WORLD,

SYMBOLIC WORLD, AND

REPRESENTATIONAL WORLD.

MANY OF HER WORKS ARE DYPTICH,

DIVIDED IN TWO.

THAT'S SOMETHING SHE SET FOR

HERSELF.

WHEN I WAS A CHILD, THE CAMPUS

HAD AN ART PROGRAM.

IT'S UNIQUE BECAUSE IT'S ALWAYS

BEEN RUN BY NATIVE ART

DIRECTORS.

IT STARTED IN 1935, AND THEY

HAVE A PIECE BY THE FIRST

DIRECTOR, ACEY BLUEEAGLE.

DICK WEST, HE WAS A DIRECTOR,

AND HE SUMMONED SIGHIAN.

CHEYENNE.

IN THE SHOW THERE'S TWO PIECES.

ONE IN THE SECTION CALLED

TRAINING GROUND THAT IS

CONSIDERED THE 20th CENTURY

NATIVE WAY TO PAINT, WHERE IT'S

HEAVILY OUTLINED, HEAVILY

CONTOURED.

BUT AS YOU SEE, HE IN THIS

PAINTING, IT'S VERY ABSTRACT,

HE'S PLAYING WITH COLOR, HE'S

PLAYING WITH TEXTURE.

THE FACT THAT HE REALLY JUST

GAVE HIMSELF PERMISSION TO

EXPERIMENT IN MANY DIFFERENT

WAYS.

AND I THINK SOMETIMES THE ART

CANON DOESN'T REALLY REFLECT HOW

FREE SOME OF THESE ARTISTS WERE.

>> WE THINK ONE OF THE GREAT

STANDOUTS OF THIS EXHIBITION IS

JAMES LAVADOR.

HIS PAINTING "BLANKET" IS A

SERIES OF PANELS THAT SUGGEST

LANDSCAPE WITHOUT REALLY

REPRESENTING IT.

WHAT I PARTICULARLY ENJOY ABOUT

HIS WORK, I WOULDN'T SAY HE'S

ENTIRELY SELF-TAUGHT, BUT HE IS

NOT FOLLOWED, HE DOESN'T COME

OUT OF A UNIVERSITY STUDIO

SCHOOL SYSTEM.

BUT HE HAS THIS WONDERFUL

INSIGHT ABOUT THE QUALITY OF

PAINT AND ITS RELATIONSHIP TO

GEOLOGY.

THAT PAINT, WHAT IS PAINT BUT

BASICALLY MINERALS THAT ARE

SUSPENDED IN LIQUID.

SO HIS INSIGHT IS THAT A

PAINTING IN A SENSE IS KIND OF

AN ACT OF GEOLOGY, BY CREATING A

PAINTING YOU'RE ALMOST MIMICKING

GEOLOGICAL FORCES BY HYDROLOGY,

OF LAYERING.

HE WORKS WITH PIGMENTS ON

SURFACE AND MANIPULATES THEM

UNTIL SUGGESTIONS OF LANDSCAPE

BEGIN TO EMERGE.

AS IF HE'S NOT PAINTING AN IMAGE

OF A LANDSCAPE, BUT ACTUALLY

CONSTRUCTING LAND HIMSELF OUT OF

THE PAINT.

TURNS OUT THAT MUSEUMS ACROSS

THE COUNTRY ARE BEGINNING TO

UNDERSTAND THAT THEIR

REPRESENTATION OF AMERICAN ART

HISTORY IS LIMITED AND

CONSTRAINED TO A CERTAIN EXTENT,

THAT IT DOESN'T INCLUDE THE WORK

OF SOME OF THESE ACCOMPLISHED

ARTISTS WHO HAVE BEEN WORKING

FOR MANY DECADE.

>> I'M VERY IMPRESSED WITH THE

SHOW BECAUSE IT REALLY SAYS

THAT, COME ATTENTION OR NOT,

COME ACCEPTANCE OR NOT, WE ARE

GOING TO DO WHAT WE ARE GOING TO

DO.

AND WE ARE AS GOOD AS ANYBODY

ELSE.

IT IS PROOF THAT WE ARE PART OF

THAT AMERICAN CULTURAL

EXPERIENCE.