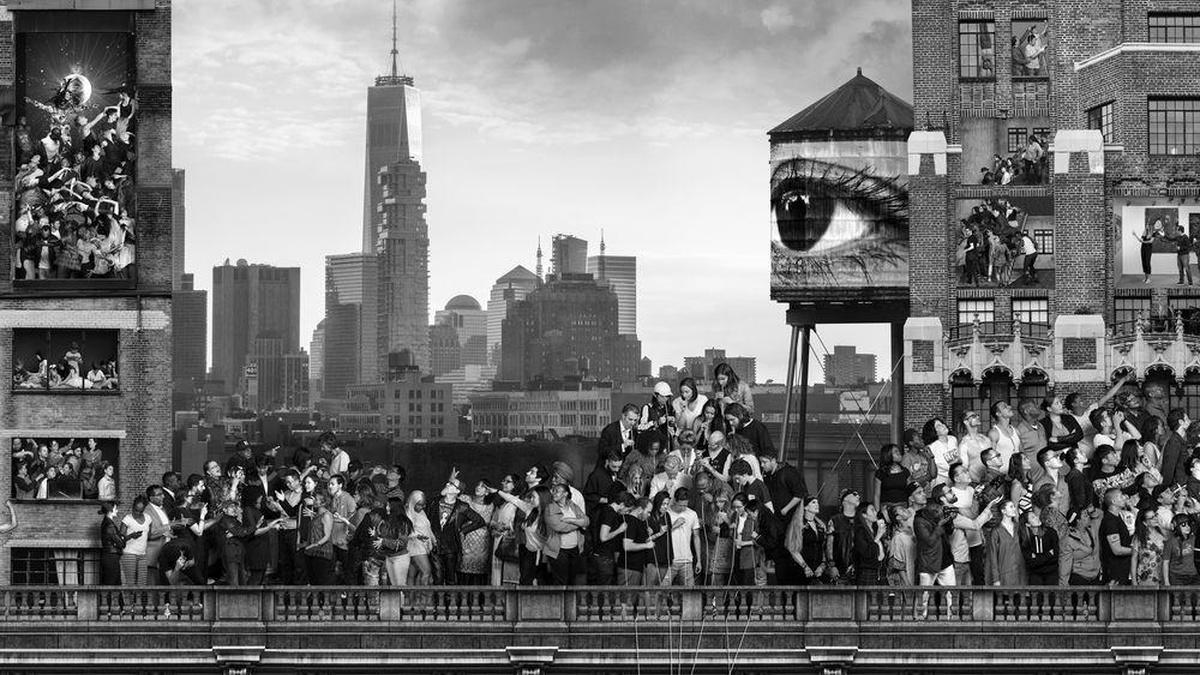 S2020 E479 | CLIP
NYC-ARTS Choice: "JR: Chronicles"
NYC-ARTS visits the exhibition "JR: Chronicles" guided by Sharon Matt Atkins, Director of Exhibitions and Strategic Initiatives at the Brooklyn Museum. Born in Paris to Eastern European and Tunisian immigrant parents, JR has received acclaim for his global art projects that bring together diverse groups of participants and act as catalysts for public conversations about important social issues.
TRANSCRIPT

♪♪

>>> NEXT, WE'LL VISIT THE

BROOKLYN.

[ MUSIC ]

FOR A LOOK AT "J.J. CHRONICLES."

IT IS THE LARGE OF THE SOLO

MUSEUM EXHIBITION OF THE ARTIST

KNOWN UPPED THE PSEUDONYM J.R.

BORN IN PARIS TO EASTERN EUROPA

AND TUNISIAN IMMIGRANT PARENTS,

HE IS A T.E.D. PRIZE WINNER AND

AN OSCAR-NOMINATED FILMMAKER.

HE HAS RECEIVED ACCLAIM FOR HIS

GLOBAL ARTS PROJECTS THAT BRING

TOGETHER DIVERSE GROUPS OF

PARTICIPANTS.

THEY ACT AS CATALYSTS FOR

CONVERSATIONS ABOUT IMPORTANT

SOCIAL ISSUES, FROM WOMEN'S

RIGHTS TO IMMIGRATION AND TO GUN

CONTROL.

"J.R. CHRONICLES" FILLS THE

MUSEUM'S SOARING GREAT HALL.

THE WORK ON VIEW FEATURES SOME

OF THE MOST ICON INNING PROJECTS

FROM THE PAST 15 YEARS.

INCLUDED HERE, PHOTOGRAPHS, DIE

RAM ARKSZ, FILMS AND

DOCUMENTATION OF THE ARTIST'S

INSTALLATIONS FROM AROUND THE

WORLD.

♪♪

>> "J.R. CHRONICLES" IS J.R.'S

LARGEST SOLO MUSEUM EXHIBITION

TO DATE, AND IT REALLY FOCUSES

ON HIS WORK OVER THE PAST IS A

YEARS.

HE'S AN ARTIST WHO GREW UP IN

PARIS, STILL LIVES IN PARIS AND

NEW YORK.

>> J.R.'S WORK DOESN'T EASILY

SORT OF FIT INTO A BOX.

IT'S AT THE INTERSECTION OF

PHOTOGRAPHY, SOCIAL PRACTICE,

PUBLIC ART.

WE WANTED IN THIS EXHIBITION TO

REALLY FOCUS ON J.R.'S

COLLABORATIONS WITH COMMUNITIES

AND REALLY THINKING ABOUT HOW HE

GIVES VOICE TO THOSE COMMUNITIES

VERY OFTEN REPRESENTING THE

UNDERREPRESENTED OR

MISREPRESENTED.

>> WE'RE STANDING IN THE CENTER

OF "THE CHRONICLES OF NEW YORK

CITY."

IT'S HIS LATEST LARGE-SCALE

MURAL.

IT WAS ONE THAT HE CREATED IN

THE SUMMER OF 2018 WHERE HE

TRAVELED TO ALL FIVE BOROUGHS OF

NEW YORK CITY AND PHOTOGRAPHED

1,128 NEW YORKERS.

HE REALLY WANTED TO CAPTURE A

SORT OF PORTRAIT OF NEW YORK

CITY.

THIS IS PART OF A NUMBER OF

LARGE-SCALE MURALS THAT HE'S

DONE THAT HAVE BEEN INSPIRED BY

DIEGO RIVERA.

HE CAPTURED SUCH A WIDE RANGE OF

PEOPLE THROUGHOUT NEW YORK CITY,

FROM BATHERS IN CONEY ISLAND TO

NYPD OFFICER, FESTERS AND, YOU

KNOW, FAMILY MEMBERS, AND IT

REALLY IS JUST A WONDERFUL SORT

OF COLLECTIVE PORTRAIT OF NEW

YORK CITY.

IN CREATING "THE CHRONICLES OF

NEW YORK CITY" J.R. WAS REAL

RETHINKING ABOUT HOW THIS

CAPTURES A MOMENT BUT ALSO HOW

ABOUT HOW ALL OF THOSE PEOPLE

WHO ARE INVOLVED IN THIS MURAL

WILL BE REMEMBERED 10, 20, 50

YEARS LATER WHEN PEOPLE LOOK

BACK AT THIS WORK.

HE NOT ONLY TOOK THE PHOTOGRAPHS

OF THOSE WHO PARTICIPATED BUT

ALSO CAPTURED THEIR AUDIO

STORIES, AND THOSE AUDIO STORIES

ARE ALL AVAILABLE VIA AN APP AND

VIA iPADS THAT WE HAVE ON

DISPLAY IN THE GALLERY.

WE WERE REALLY EXCITED TO BE

ABLE TO INCLUDE AS PART OF THE

EXHIBITION SOME OF THE EARLIEST

WORK THAT J.R. CREATED WHEN HE

WAS REALLY JUST A TEENAGER,

PHOTOGRAPHING HIS FELLOW

GRAFFITI WRITERS AROUND PARIS

AFTER HE HAD FOUND A CAMERA ON

THE PARIS METRO IN 2000 AND SO

WE INCLUDE A LOT OF THOSE

PHOTOGRAPHS, MANY SO OF THE

PHOTOCOPIES THAT HE THEN TOOK

AND WHEAT PASTED AROUND CREATING

HIS OWN SIDEWALK GALLONRIES OR

THE EXPO 2 RUE.

WE ALSO WANTED TO SHOW A BIT OF

J.R.'S PROCESS, HOW YOU GET FROM

THE STEP OF THE PHOTOGRAPH TO

THEN SEEING THESE LARGE-SCALE

IMAGES ON THE SIDES OF

BUILDINGS, YOU KNOW, AROUND THE

WORLD.

WE INCLUDED A NUMBER OF THE

CONTACT SHEETS THAT HE'S CREATED

FOR A NUMBER OF THE SERIES THAT

IS ARE INCLUDED IN THE

EXHIBITION, AND MANY OF THOSE

HAVE NOT BEEN SEEN BEFORE.

WE HAVE A SECTION IN THE

EXHIBITION DEDICATED TO "INSIDE

OUT" WHICH IS A PROJECT THAT

J.R. LAUNCHED IN 2011 AFTER HE

WON THE T.E.D. PRIZE, AND THIS

IS A RELATIVELY SIMPLE CONCEPT

THAT ALLOWS PEOPLE TO TAKE

PHOTOGRAPHS OF PEOPLE WITHIN

THEIR COMMUNITIES.

THEY SEND THE FILES TO J.R.'S

STUDIO.

THEY PRESENT HIM OUT AND SEND

POSTERS BACK THAT ARE THEN WHOLE

PASTE PEDESTRIAN ON PLAZAS, ON

BUILDINGS IN THOSE COMMUNITIES,

AND IT'S REALLY A WAY FOR PEOPLE

TO THINK ABOUT HOW ART CAN

CHANGE THEIR COMMUNITIES AND

SINCE THAT PROJECT WAS LAUNCHED

IN 2011 THERE'S BEEN INSIDE-OUT

ACTIONS IN 141 COUNTRIES, AND

NEARLY 400,000 PEOPLE HAVE TAKEN

PART IN THAT PROJECT.

>> ONE OF THE REASONS THAT WE

FELT IT WAS REALLY THE RIGHT

MOMENT TO WORK WITH J.R. AND TO

DO THIS MAJOR EXHIBITION, IT'S

ALSO THE LARGEST SOLO EXHIBITION

THAT WE'VE HAD IN THIS GREAT

HALL, IS THAT HE FOCUSES ON A

LOT OF ISSUES THAT ARE VERY

PRESSING, FROM IMMIGRATION TO

GUN CONTROL, AND IT'S VERY MUCH

AT THE CENTER OF WHAT WE DO AT

THE BROOKLYN MUSEUM AND THINKING

ABOUT HOW TO CONNECT ART TO THE

ISSUES THAT ARE MOST CONCERNING

TO PEOPLE TODAY.

IN 2008 J.R. STARTED THE "WOMEN

ARE HEROES" SERIES WHEN HE

TRAVELED TO RIO de JANIERO.

HE WENT THERE BECAUSE HE HAD

READ AN ARTICLE ABOUT THESE

YOUNG MEN WHO WERE MURDERED.

HE WAS THERE FOR NEARLY A MONTH

MEETING WITH THE PEOPLE OF ONE

OF THE OLDEST FAVELAS IN RIO AND

WORKED WITH THOSE WOMEN, MANY OF

THEM WHO WERE RELATED TO THE

YOUNG MEN WHO HAD BEEN MURDERED,

AND CAME UP THIS IDEA OF REAL EL

CELEBRATING THEIR IMAGE.

VERY OFTEN THE WOMEN ARE NOT

SEEN OR NOT HEARD IN THESE

COMMUNITIES AND SO THEY CAME UP

WITH THIS IDEA OF PUTTING PARTS

OF THEIR FACES ON THE SIDES OF

THE BUILDINGS.

SO IN THE FAVELA, THEY ARE

LITERALLY SORT OF LOOKING DOWN

AND BEING SEEN THROUGH THE REST

OF RIO, BUT I THINK ONE OF THE

OTHER THINGS THAT IS UNIQUE

ABOUT THESE PROJECTS THAT J.R.

DOES IS THAT AS SOON AS THE

PROJECT'S COMPLETE, J.R. LEAVES,

AND SO WHEN THE NEWS MEDIA SHOWS

UP, IT'S THE PEOPLE WHO

PARTICIPATED, HIS COLLABORATORS,

WHO ARE THE ONES WHO END UP

SPEAKING FOR THE PROJECT.

OVER THE PAST SEVERAL YEARS AS

J.R. HAS BEEN WORKING WITH

VARIOUS COMMUNITIES, IT'S BEEN

REALLY IMPORTANT TO HIM TO

CONTINUE TO GIVE BACK TO THOSE

COMMUNITIES.

AND SO, FOR EXAMPLE, WITH THE

"WOMEN ARE HEROES" PROJECT IN

RIO, HE ENDED UP ESTABLISHING A

SCHOOL FOR STUDENTS TO TAKE ART

CLASSES, CASA AMARELA, THAT JUST

CELEBRATED ITS TENTH

ANNIVERSARY, AND IT'S REALLY A

WAY FOR HIM TO CONTINUE TO GIVE

BACK TO THOSE COMMUNITIES.

WE'VE ONLY TALKED ABOUT A FEW OF

THE WORKS THAT ARE ON DISPLAY IN

THE EXHIBITION, SO I WELCOME

EVERYONE TO COME TO THE BROOKLYN

MUSEUM TO SEE "J.R. CHRONICLES."