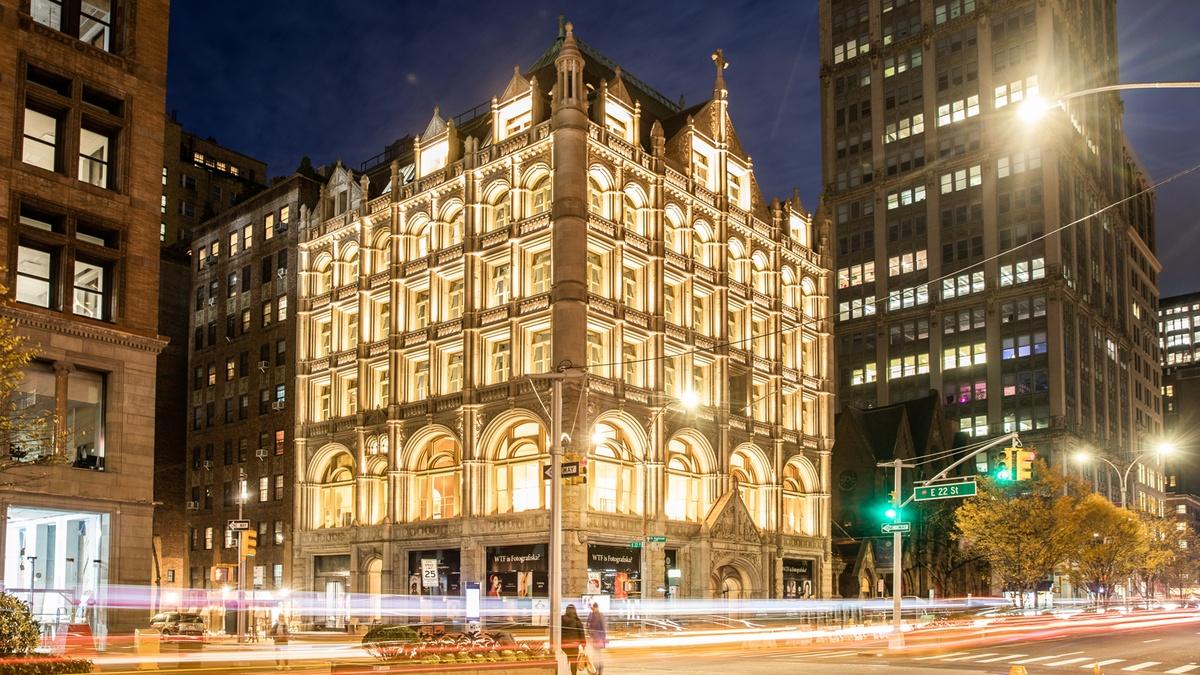 S2021 E506 | CLIP
NYC-ARTS Choice: Fotografiska New York
A visit to Fotografiska New York, a photography museum located in the landmarked Church Missions House in the Flatiron District. NYC-ARTS discussed the building's architectural past with Nancy Ruddy of design firm CetraRuddy, and the museum's unique approach to photography with Amanda Hajjar, director of exhibitions.
TRANSCRIPT

NOW A VISIT TO FOTOGRAFISKA NEW

YORK, A NEW PHOTOGRAPHY MUSEUM

IN THE FLATIRON DISTRICT.

LOCATED IN THE LANDMARKED CHURCH

MISSION BUILDING, THE MUSEUM IS

THE NEWEST GLOBAL OUTPOST FROM

THE STOCKHOLM-BASED DESTINATION

FOR PHOTOGRAPHY.

THE BUILDING WAS RENOVATED BY

ARCHITECTURE AND INTERIOR DESIGN

FIRM CETRARUDDY TO PROVIDE A MIX

OF COMMERCIAL, GALLERY AND EVENT

SPACE.

THE FIRM RECENTLY WON A LUCY G.

MOSES PRESERVATION AWARD FROM

THE NEW YORK LANDMARKS

CONSERVANCY FOR ITS WORK ON THIS

HISTORIC BUILDING.

AFTER THE MANY CLOSURES LAST

SPRING DUE TO THE PANDEMIC, THE

MUSEUM RE-OPENED IN AUGUST-

EAGER TO BRING ITS WORLD-CLASS

PHOTOGRAPHY EXHIBITIONS BACK TO

THE PUBLIC.

THE MUSEUM HAS PRESENTED A WIDE

RANGE OF PHOTOGRAPHERS AND

SUBJECTS: FROM TAWNY CHATMON'S

GILDED PORTRAITS OF

AFRICAN-AMERICAN WOMEN, TO THE

PROVOCATIVE RECREATIONS OF

BIBLICAL SCENES BY ADI NES; FROM

THE FASHION PHOTOGRAPHY OF ELLEN

VON UNWERTH, TO THE

PHOTOJOURNALISM OF ANASTASIA

TAYLOR-LIND, AMONG MANY OTHERS.

NYC-ARTS VISITED THE MUSEUM TO

DISCUSS THE BUILDING'S UNIQUE

ARCHITECTURAL PAST, AS WELL AS

ITS FUTURE.

AMANDA HAJJAR, DIRECTOR OF

EXHIBITIONS FOTOGRAFISKA WAS

FOUNDED IN 2010 IN STOCKHOLM BY

TWO BROTHERS..

THEY'VE HAD OVER 250 EXHIBITIONS

AT THIS POINT. IN JUNE OF 2010,

THEY OPENED THE SECOND LOCATION,

WHICH IS ACTUALLY IN TALLINN,

ESTONIA, ND IN DECEMBER OF 2019

NEW YORK OPENED.

NANCY RUDDY, FOUNDING PARTNER

CETRARUDDY: FOTOGRAFISKA

OCCUPIES A NYC LANDMARK THAT WAS

BUILT IN 1894 AS THE MISSION

HOUSE FOR THE EPISCOPALIAN

CHURCH THAT IS DOWN THE STREET.

IT WAS AN UNDERUTILIZED NEW YORK

CITY LANDMARK. AND ONE OF THE

REALLY EXCITING CHALLENGES OF

THE PROJECT WAS TO TAKE THIS

BEAUTIFUL BUILDING THAT WAS 126

YEARS OLD AND GIVE IT NEW LIFE

AND GIVE IT LONGEVITY FOR THE

NEXT TWO OR 300 YEARS THE

ARCHITECTURE IS KNOWN AS NEO

FLEMISH, AND IT REFERS BACK TO

THE BEAUTIFUL GUILD HALLS AND

TOWN HALLS OF NORTHERN EUROPE

THAT WERE BUILT IN THE 15TH AND

16TH CENTURIES. THE BUILDING HAS

AN AMAZING LIMESTONE AND GRANITE

FACADE THAT IS PUNCTUATED BY

LARGE ARCHED WINDOWS. IN THE

RESTORATION, WHEN WE UNEARTHED

ALL OF THIS BEAUTIFUL SCULPTURE,

WE ALSO PUT VERY DISCRETE

LIGHTING ON THE OUTSIDE OF THE

BUILDING SO THAT YOU COULD SEE

SIX FLOORS UP THE AMAZING

ORIGINAL DETAILING THAT NO ONE

KNEW WAS THERE FOR OVER 100

YEARS.

AMANDA HAJJAR: AS PEOPLE MOVE

THROUGH THE SPACE, WHAT WE

REALLY WANTED TO EMPHASIZE IS

DIFFERENT TYPES OF PHOTOGRAPHY:

STREET PHOTOGRAPHY MIXED WITH

FASHION PHOTOGRAPHY MIXED WITH

LANDSCAPE, FINE ART, CONCEPTUAL

WORK, REALLY HAVE SOMETHING FOR

EVERYONE.

ONE OF THE THINGS THAT

FOTOGRAFISKA IN STOCKHOLM HAS

BEEN SO SUCCESSFUL WITH IS

EXHIBITION DESIGN. WE'VE DECIDED

TO ALSO TAKE ADVANTAGE OF HAVING

THIS BUILDING AND BLOCKING OUT

NATURAL LIGHT TO ACTUALLY USE

THAT, TO ELEVATE THE WORK. SO WE

USE A LOT OF WALLPAPERS, COLORS,

FONTS, TO FURTHER EXPLAIN WHAT

THESE PHOTOGRAPHS OR WHAT THIS

EXHIBITION IS ABOUT.

ELLEN VON UNWERTH IS MOST WIDELY

KNOWN FOR HER FASHION

PHOTOGRAPHY. SHE AND NADINE

BARTH, THE CURATOR THAT WORKED

ON THAT EXHIBITION, CREATED

THESE SEVEN DIFFERENT SORT OF

THEMES WITHIN THE EXHIBITION.

THEY EACH HAD THEIR DIFFERENT

COLORS. WE USED THE COVERS THAT

SHE HAD SHOT OVER HER CAREER OF

30 PLUS YEARS, AND MADE THOSE

INTO WALLPAPERS. IT WAS A REALLY

FUN AND DYNAMIC WAY, I THINK, OF

SHOWING PHOTOGRAPHY AND IT SORT

OF STEERS US AWAY FROM THAT

WHITE CUBE MODEL THAT'S SO

TRADITIONAL.

THE ARTISTS COOPER AND GORFER

ACTUALLY DID THESE EXTENSIVE

INTERVIEWS AND PORTRAITS OF

MIGRANT WOMEN WHO HAD TO LEAVE

THEIR HOME COUNTRIES FOR VARIOUS

REASONS, USUALLY DUE TO SOME

SORT OF CONFLICT OR VIOLENCE

HAPPENING, AND ENDED UP LIVING

IN SWEDEN. COOPER AND GORFER

ACTUALLY DESIGNED THE WALLPAPERS

AND WE HANG THE PHOTOGRAPHS ON

TOP OF THEM. AND SARAH AND NINA

REALLY WANTED PEOPLE TO WALK

INTO THAT SPACE AND FEEL

ENCOMPASSED BY THESE INTRICATE

SETS THAT THEY HAD CREATED AND

THESE PORTRAITS THAT THEY

PHOTOGRAPHED.

MARTIN SCHOELLER IS WORKING WITH

A NONPROFIT CALLED WITNESS TO

INNOCENCE. AND WHAT HE DECIDED

TO DO WAS, IN HIS SORT OF

QUINTESSENTIAL STYLE, TAKE THESE

UP-CLOSE PORTRAITS OF DEATH ROW

EXONEREES. BUT ACTUALLY HE

FILMED THE SITTERS, THEY'RE

SLIGHTLY MOVING AND IT'S A VIDEO

INSTALLATION. HE DECIDED TO ALSO

RECORD THEIR STORIES. SO YOU'RE

HEARING FROM THEIR OWN WORDS,

WHAT IT WAS LIKE TO BE ARRESTED,

GO ON TRIAL, BE CONVICTED AND,

AND LIVE ON DEATH ROW FOR CRIMES

THAT THEY DID NOT COMMIT. AND I

SAY REAL LOUD, I DON'T WANT TO

DIE . . .

AS YOU MOVE THROUGH THE

EXHIBITION, WHAT WE ACTUALLY

DECIDED TO DO WAS CREATE THIS

SENSE OF TIGHT SORT OF INTIMACY

GETTING, EVEN CLOSER AND CLOSER,

YOU KNOW, TO ALMOST WHAT A DEATH

ROW CELL LOOKS LIKE SO THAT

PEOPLE REALLY GET A SENSE OF

WHAT THEIR LIVES WERE LIKE WHILE

THEY WERE INCARCERATED.

WE HAVE SOME LOCAL EXHIBITIONS

THAT DON'T TOUR TO THE OTHER

LOCATIONS, SPECIFIC ARTISTS THAT

ARE DEALING WITH VERY RELEVANT

ISSUES TO NEW YORK OR TO

AMERICA. LARRY FINK IS ONE OF

THE MOST FAMOUS PHOTOGRAPHERS OF

HIS GENERATION, MAINLY IN STREET

PHOTOGRAPHY. LARRY FINK

ACTUALLY CONTACTED US AND SAID,

I REALLY LOVE YOUR, THE PROGRAM

THAT YOU'RE DOING CALLED

PHOTOGRAPHERS ON THE FRONT

LINES. AND THIS WAS WHEN WE

REALLY HANDED OVER OUR PLATFORMS

TO PHOTOGRAPHERS THAT WERE

PHOTOGRAPHING THE BLACK LIVES

MATTER MOVEMENT. AND HE SAID,

YOU KNOW, THIS IS REALLY WHAT I

WAS DOING THROUGHOUT MY CAREER.

I WOULD LOVE TO GET INVOLVED.

LET'S DO SOMETHING ON THE

PROTEST PHOTOGRAPHY THAT I TOOK

IN THE SIXTIES. SO WHAT YOU'RE

SEEING HERE IS A LOT OF WORK

FROM HARLEM AND WASHINGTON DC

WITH VARIOUS STUDENT PROTESTS.

SO YOUTH PROTESTS, THE MARCH ON

WASHINGTON. THAT'S ONE OF THE

STRENGTHS OF FOTOGRAFISKA IS

THAT WE CAN RESPOND PRETTY

QUICKLY TO RELEVANT ISSUES AND

STAY VERY CURRENT.

NAIMA GREEN IS ANOTHER GOOD

EXAMPLE. SHE'S A BROOKLYN BASED

ARTIST AND ALL OF HER EX ALL OF

HER PHOTOGRAPHS ARE OF THE LGBTQ

COMMUNITY, MOSTLY PEOPLE OF

COLOR. MORE OF A CELEBRATION,

THESE VERY SORT OF INTIMATE AND

CAREFULLY CRAFTED PHOTOGRAPHS.

OUR WHOLE CONCEPT IS REALLY

CATERING TO THE NEW WAY THAT WE

FEEL THAT PEOPLE WANT TO VISIT

MUSEUMS, WHERE IT'S A LITTLE BIT

MORE EXPERIENTIAL, A LITTLE BIT

MORE INTERACTIVE. ON THE SIXTH

FLOOR, WE DO A LOT OF EVENTS AND

PROGRAMMING ; ARTISTS TALKS,

COSTUME PARTIES, WE'VE DONE

PERFORMANCE PIECES, CONCERTS,

KIND OF PULLING FROM ALL THESE

DIFFERENT AREAS, MAKE IT A

LAYERED EXPERIENCE.

DURING THE PANDEMIC, WE DID

TRANSITION A LOT OF OUR

PROGRAMMING ONLINE, A LOT OF

LIVE STREAMING EVENTS. OUR

FAMILY PROGRAMMING THAT USED TO

TAKE PLACE INSIDE THE BUILDING,

WE'VE MOVED IT OUTSIDE WHEN WE

CAN. THIS IS REALLY GOING TO

CHANGE THE WAY PEOPLE EXPERIENCE

A MUSEUM OR EXPERIENCE

FOTOGRAFISKA SPECIFICALLY.

AMANDA HAJJAR: I THINK WHAT'S

REALLY IMPORTANT TO FOTOGRAFISKA

IS BEING RELEVANT AND RESPONDING

QUICKLY TO WHAT'S GOING ON IN

THE WORLD. WE REALLY WANT PEOPLE

TO COME TO FOTOGRAFISKA AND, SEE

THAT SOCIAL RELEVANCE IN THE

ARTWORK THAT'S ON DISPLAY.