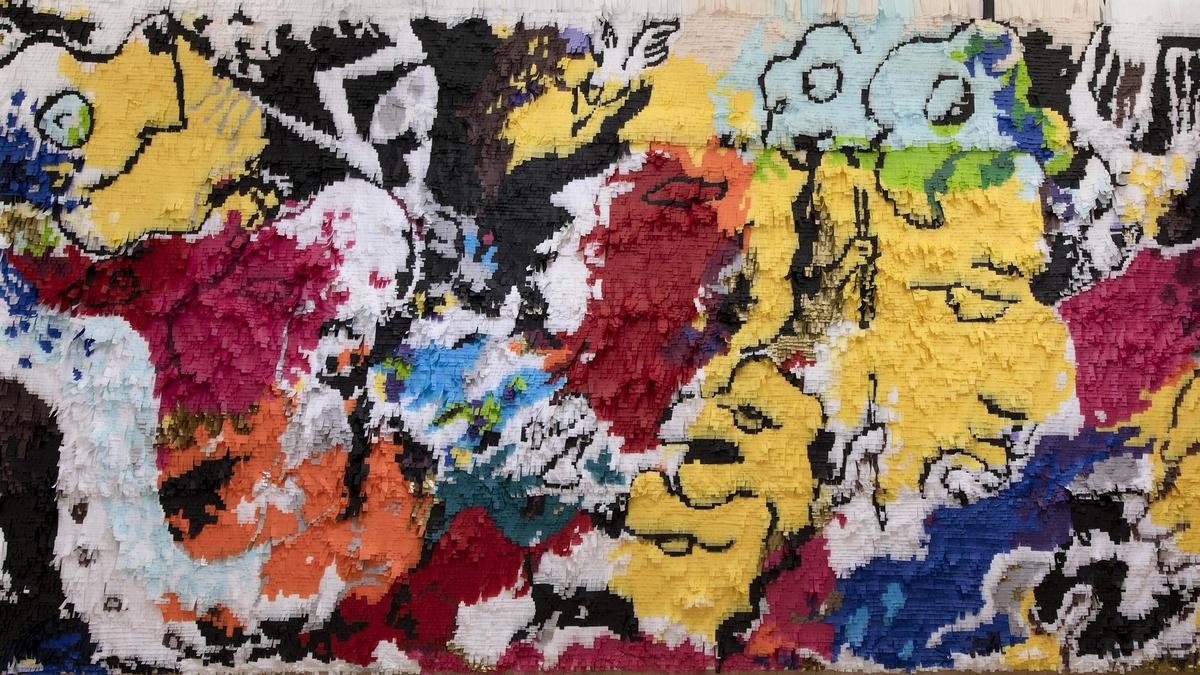 S2021 E521 | FULL EPISODE
NYC-ARTS Full Episode: May 20, 2021
A visit to the Sugar Hill Children's Museum of Art and Storytelling in Harlem, which reopens on June 5th; a look at "Estamos Bien - La Trienal" 20/21 at El Museo del Barrio, the museum's first large-scale, national survey and triennial of contemporary Latinx art; and a profile of Stiletta, an all-female a cappella sextet that has performed as part of MTA's Music Under New York program.
TRANSCRIPT

♪

COMING UP ON NYC-ARTS, A VISIT

TO THE SUGAR HILL CHILDREN'S

MUSEUM OF ART AND STORYTELLING.

>> WE KNOW THAT CHILDREN ARE

NATURAL ARTISTS, AND THEY'RE

ALSO NATURAL STORYTELLERS.

AND WE WANTED TO CREATE AN

INSTITUTION DEDICATED TO THEIR

CREATIVE POTENTIAL.

>> A LOOK AT EL MUSEO

DELAWARIO'S TRIENNIAL

EXHIBITION.

>> THE EXHIBITION IS TITLED

ESTAMOS BIEN-LA TRIENAL 2020.

IT FEATURES 42 ARTISTS FROM ALL

ACROSS THE UNITED STATES AS WELL

AS PUERTO RICO.

WE REALLY WANTED TO EXPAND THE

SCOPE OF THIS SHOW TO HAVE A

FULL BREADTH OF LATP "X" ARTISTS

WORKING ALL ACROSS THE NATION.

>> AND WE'LL MEET SOME OF THE

STARS OF THE MBTA'S MUSIC UNDER

NEW YORK PROGRAM.

>> I WANTED THIS FIERCE, STRONG,

FEMININE GIRL GROUP, SO THAT'S

HOW I CAME UP WITH THE IDEA FOR

"STILETTA."

♪

FUNDING IS MADE POSSIBLE BY THE

THEA PETSCHEK EI RE-ERVOLINO

FOUNDATION, THE LUTHE SONNY

TURNER FUND FOR DANCE, JODY AND

JOHN ARNHOLD, ROSALIND P.

WALTER, ELISE JAFFE AND JEFFREY

BROWN, CHARLES AND VALERIE

DIKER, THE NANCY SIDEWATER

FOUNDATION, ELROY AND TERRY

KRUMHOLZ FOUNDATION, THE MILTON

AND SALLY AVERY ARTS FOUNDATION

AND ELLEN AND JAMES S. MARCUS

THIS.

PROGRAM IS SUPPORTED IN PART BY

PUBLIC FUNDS FROM THE NEW YORK

CITY DEPARTMENT OF CULTURAL

AFFAIRS IN PARTNERSHIP WITH THE

CITY COUNCIL.

ADDITIONAL FUNDING PROVIDED BY

MEMBERS OF THIRTEEN.

"NYC-ARTS IS MADE POSSIBLE IN

PART BY FIRST REPUBLIC BANK.

>> FIRST REPUBLIC BANK PRESENTS

FIRST THINGS FIRST.

AT FIRST REPUBLIC BANK FIRST

REFERS TO OUR FIRST PRIORITY,

THE CLIENTS WHO WALK THROUGH OUR

DOORS, THE FIRST STEP, RECOGNIZE

THAT EVERY CLIENT IS AN

INDIVIDUAL WITH UNIQUE NEEDS.

FIRST DECREE, BE A BANK WHOSE

CURRENCY SERVICE IN THE FORM OF

PERSONAL BANKING.

THIS WAS FIRST REPUBLIC'S

MISSION FROM OUR VERY FIRST DAY.

IT'S STILL THE FIRST THING ON

OUR MINDS.

>> AND BY SWANN AUCTION

GALLERIES.

>> SWANN AUCTION GALRIES.

WE HAVE A DIFFERENT WAY OF

LOOKING AT AUCTIONS OFFERING

VINTAGE BOOKS AND FINE ARTS

SINCE 1941 WORKING TO COMBINE

KNOWLEDGE WITH ACCESSIBILITY

WHETHER YOU'RE A LIFELONG

COLLECTOR, FIRST-TIME BUYER OR

LOOKING TO SELL INFORMATION AT

SWANNGALLERIES.COM.

♪

>> GOOD EVENING AND WELCOME TO

"NYC-ARTS."

I'M PAULA ZAHN.

ON TONIGHT'S PROGRAM, WE'LL TAKE

A TRIP UPTOWN TO THE SUGAR HILL

CHILDREN'S MUSEUM OF ART AND

STORYTELLING IN HARLEM.

THE SUGAR HILL NEIGHBORHOOD OF

THE EARLY 20th CENTURY WAS HOME

TO SUCH NOTABLE FIGURES AS DUKE

ELLINGTON, RACKSTON HUGHES,

LEONA HORNE AND THURGOOD

MARSHALL.

THE BUILDING WHICH INCLUDES 124

UNITS OF AFFORDABLE HOUSING AND

AN EARLY EDUCATION CENTER, WAS

DESIGNED BY ACCLAIMED ARCHITECT

DAVID ADJAYE.

HE IS PERHAPS BEST KNOWN FOR HIS

WORK ON THE NATIONAL MUSEUM OF

AFRICAN-AMERICAN HISTORY AND

CULTURE IN WASHINGTON, D.C.

ALTHOUGH THE SUGAR HILL MUSEUM

PRE-SCHOOL HAS BEEN ABLE TO

OFFER HYBRID LEARNING REMOTELY

AND ON SITE, THE MUSEUM ITSELF

HAS BEEN CLOSED FOR ABOUT A YEAR

DUE TO THE PANDEMIC.

THE MUSEUM OPENS ON JUNE 5th

WITH A NEW GROUP SHOW CALLED

"ASSEMBLY."

IT FEATURES THE WORK OF ALL FIVE

OF THE MUSEUM'S FORMER

ARTISTS-IN-RESIDENCE.

THE EXHIBITION HIGHLIGHTS THEIR

SHARED EXPERIENCES DEVELOPING

ART IN THE MUSEUM AND WORKING

WITH SUGAR HILL'S YOUNGEST

COMMUNITY MEMBERS.

"NYC-ARTS" VISITED THE MUSEUM IN

2018.

♪

>> BROADWAY HOUSING COMMUNITIES

IS A NONPROFIT ORGANIZATION IN

NEW YORK CITY, AND OUR FOCUS IS

PRIMARILY HOUSING, ART AND

EDUCATION.

>> WE'VE BEEN WORKING IN THE

NEIGHBORHOODS OF WEST HARLEM AND

WASHINGTON HEIGHTS SINCE THE

EARLY 1980s CREATING HOUSING FOR

PEOPLE ON THE LOWEST ECONOMIC

BANDS, INCLUDING FORMERLY

HOMELESS FAMILIES AND

INDIVIDUALS AND CREATING

EDUCATIONAL OPPORTUNITY AND

INTEGRATING THE HOUSING AND

EDUCATIONAL PROGRAMS WITH THE

CULTURAL ARTS.

>> THE SUGAR HILL PROJECT IS A

PLACE WHERE ALL OF THE THINGS

THAT BROADWAY HOUSING HAS

LEARNED OVER 35 YEARS HAS COME

ALIVE.

SO WE NOW HAVE AFFORDABLE

HOUSING WHERE IT'S A VERY

DIVERSE POPULATION THAT RESIDE

WITHIN THE UNITS.

>> WELCOME, MY FRIENDS.

>> WE HAVE AN EARLY CHILDHOOD

CENTER WHICH IS ONE OF THE FIRST

MUSEUM PRE-SCHOOLS HERE IN NEW

YORK CITY, AND WE ALSO HAVE A

CHILDREN'S MUSEUM OF ART AND

STORYTELLING.

>> JUANA AND MAUI ARE LEARNING

HOW TO RULED.

>> THIS NEIGHBORHOOD HAS A VERY

HIGH PROPORTION OF CHILDREN THAT

ARE BORN INTO POVERTY.

IT'S LARGELY A NEW IMMIGRANT

COMMUNITY, AND IT'S ONE OF THE

HIGHEST BIRTH RATES IN

MANHATTAN.

>> I'VE BEEN LIVING IN THE

NEIGHBORHOOD FOR ABOUT TEN YEARS

NOW.

MY WORK IS ABOUT RESPONDING TO

THE PLACES THAT I LIVE IN AND

THE SPACES THAT I WALK AROUND,

THE PEOPLE THAT I SEE.

I'M FROM THE DOMINICAN REPUBLIC.

WHEN I FIRST CAME HERE, I DID

NOT SPEAK ENGLISH AND SO I FELT

RIGHT AT HOME, HAVING THIS

SPANISH-SPEAKING COMMUNITY,

PEOPLE FROM SANTO DOMINGO,

PUERTO RICO, COLOMBIA.

>> THE NAME SUGAR HILL

CHILDREN'S MUSEUM OF ART AND

STORYTELLING WAS CONCEIVED

BECAUSE WE KNOW THAT CHILDREN

ARE NATURAL ARTISTS AND THEY'RE

ALSO NATURAL STORYTELLERS, AND

WE WANTED TO CREATE AN

INSTITUTION DEDICATED TO THEIR

CREATIVE POTENTIAL.

>> THE MISSION OF THE SUGAR HILL

CHILDREN'S MUSEUM IS TO NURTURE

THE CREATIVE AND COGNITIVE

GENIUS OF CHILDREN BETWEEN THE

AGES OF 3 TO 8.

WE ARE HERE AS AN

INTERGENERATIONAL SPACE TO PLACE

ARTISTS AND STORYTELLERS AND

ACTORS AND WRITERS IN DIALOGUE

WITH CHILDREN.

SO THE CHILDREN ARE INSPIRED TO

CREATE THEIR OPEN ART AND

STORIES.

>> UNLIKE MOST CHILDREN'S

MUSEUMS THAT ARE INDOOR PLAY

SPACES, THIS IS A CONTEMPORARY

ART MUSEUM FOR CHILDREN.

THE FOCUS ON THE ARTS AND THE

SERIOUSNESS WITH WHICH WE TAKE

THE ARTS AND THE CAPACITY OF

CHILDREN TO UNDERSTAND AND THINK

ABOUT THE DIMENSIONS OF A

CREATIVE EXPERIENCE AND ART IS

QUITE EXPANSIVE.

>> STORYTELLING AND ART

EXPERIENCES, NOT JUST VIEWING

ENCOUNTERS, HAPPEN IN LOTS OF

DIFFERENT WAYS.

WE HAVE OUR STORY HOUR, AND THEN

THERE IS STORY TIME WHICH IS A

MORE MUSICAL OR DANCE-ORIENTED

PRODUCTION WITH ART-MAKING

AFTERWARDS.

THERE'S OUR STUDIO LAB WHICH IS

A SPACE FOR INDEPENDENT, TACTILE

EXPLORATION AND THINKING ABOUT

THE MATERIALS THAT ARE OR THE

COLORS OR THE CONCEPTS THAT ARE

ON VIEW IN MANY SO OF THE

EXHIBITIONS.

CHILDREN HAVE THE OPPORTUNITY TO

JUST ENGAGE WITH THAT, AND THEN,

YOU KNOW, WE HAVE THESE READING

NOOKS WHERE WE HAVE A SELECTION

OF BOOKS THAT ARE CURATED,

SOMETIMES INSPIRED BY THE THEMES

IN THE EXHIBITIONS, SOMETIMES

INSPIRED BY THE THEMES OF THE

MONTH, BUT PARENTS HAVE THE

OPPORTUNITY TO INTIMATELY SHARE

A STORY WITH THEIR CHILD OR

CHILDREN HAVE THE OPPORTUNITY TO

FIGURE IT OUT THEMSELVES.

>> MUSEUMS SHOULD HAVE MOMENTS

AND SPACES WHERE CHILDREN DO NOT

ONLY ENGAGE BY LOOKING BUT ALSO

THEY ARE ACTIVE.

THEY HAVE ALREADY A LOT OF

STIMULATION, UH, CATER TO THEM

THROUGH MEDIA, THROUGH, YOU

KNOW, THE CLOTHES INDUSTRY, THE

TOY INDUSTRY.

SO A MUSEUM'S ROLE IS TO PROVIDE

THOSE OTHER ELEMENTS THAT

THEY'RE NOT GETTING AND THIS

HAVE ENVIRONMENT AS PART OF

SOMETHING THAT THEY BELONG TO

AND THAT THEY DESERVE TO HAVE

ACCESS TO.

>> THE ARTIST IN RESIDENCE HAS

ABOUT 450 SQUARE FEET OF PRIVATE

SPACE FOR 11 MONTHS, AND THEY

RECEIVE A STIPEND.

WE ASK THAT THE ARTIST IS

ENGAGED WITH CREATING A NEW BODY

OF WORK SO THAT VISITORS CAN

ENCOUNTER THE FRESHNESS WHAT

HAVE IT MEANS TO HAVE IDEAS AND

WHAT IT MEANS TO BE COMMITTED TO

YOUR PRACTICE.

ONCE A MONTH WE ASK THAT THEY

OPEN UP THEIR DOORS, OFFICE

HOURS FOR PARENTS AND CHILDREN,

TO JUST OBSERVE.

WE DO NOT LOOK SPECIFICALLY FOR

ARTISTS WHO WORK WITH CHILDREN.

IF THAT WERE THE CASE, WE'D ONLY

BE LOOKING FOR TEACHING ARTISTS.

WE'RE LOOKING FOR ARTISTS WHO

ARE VERY COMMITTED TO THEIR

PRACTICE AND ALSO HAVE A SENSE

OF COMFORT AND SHARING THEIR

PRACTICE WITH THE CHILDREN.

>> THE KINDS OF MATERIALS THAT I

USE MOST OF THE TIME HAVE THIS

QUALITY OF TRANSLIEU SENSINI.

I USE POLYESTER THREAD TO CREATE

LINES.

I ALSO VERY VERY TRANSPARENT

KIND OF VELLUM OR MYLAR TO

CREATE WORKS WHERE THE LINES ARE

LIKE THE MAIN ELEMENT, AND I

ALSO LIKE TO COMBINE GLASS,

THREAD, AND COTTON AND CANVAS

AND LINEN.

THIS IS WHAT I'VE BEEN BRINGING

TO THE CHILDREN OR SHARING WITH

THE CHILDREN.

ONE OF THE PROJECTS THAT WE'VE

BEEN WORKING ON IS CREATING

IMAGES THAT HAVE TO DO WITH

ARCHITECTURE.

>> THIS BUILDING.

>> TWO PEOPLE AND A TRIANGLE AND

TWO WINDOWS.

>> TWO WINDOWS.

>> BUT ALSO THINKING ABOUT HOW

THE PLACES THAT WE ARE, HOW THEY

ALSO SHAPE THE WAY THAT WE

BEHAVE AND THE WAY THAT WE FEEL.

>> OH, I LIKE THAT, LAURIE.

>> THEY HAVE SO MUCH TO OFFER

AND SO MUCH TO BRING, ESPECIALLY

HOW PURE THEY ARE AND HOW HONEST

AND OPEN THEY ARE AND FLEXIBLE

TO LEARNING.

>> THANK YOU.

>> THEY'RE NOT FIXATED IN ONE

OUTCOME.

THEY ARE NOT OBSESSING OVER THE

RESULT OF THAT THING THAT THEY

ARE MAKING, AND THEY'RE PRETTY

MUCH LEARNING AS THEY MAKE.

THEY HAVE THIS SENSE OF

CURIOSITY, AND THIS EXCITEMENT.

>> LET'S UNVEIL THIS

MASTERPIECE.

>> ONE OF THE IDEAS THAT WE'RE

ALWAYS THINKING ABOUT IS THIS

INTERGENERATIONAL IDEA, WHERE

YOU HAVE YOUNG CHILDREN WORKING

ALONGSIDE ADULTS.

WHETHER IT'S THEIR PARENTS OR

GRANDPARENT OR SOMEONE ELSE WHO

IS LIKE REALLY CLOSE TO THEM,

AND WHAT'S THE EXCHANGE THAT CAN

HAPPEN THERE.

>> LOOK AT THAT.

THAT'S INTERESTING.

>> ALL THE PEOPLE REPRESENTED IN

MY WORK, THEY ARE ALL LOCAL

PEOPLE.

THEY ARE ALL PEOPLE WHO WORK IN

THE NEIGHBORHOOD OR WALK AROUND

THE NEIGHBORHOOD OR LIVE IN THE

NEIGHBORHOOD.

I'M ALSO VERY INTERESTED IN

CREATING AN IMAGERY THAT

REFLECTS THOSE CHILDREN AND SORT

TO CHANGE A LITTLE BIT WHAT MY

DAUGHTER SEES IN BOAR, AND I

WANT HER TO BE ABLE TO SEE

HERSELF IN BOOKS, CHILDREN THAT

LOOK LIKE HER, AND THIS IS A

REALLY EXCITING PART WHERE ALL

OF THESE CHILDREN SORT OF COMING

IN HERE AND THEY RECOGNIZE

THEMSELVES IN THE DRAWINGS, AND

IT'S MAGICAL TO SEE THAT.

TO MAKE ART WHERE THE PEOPLE SEE

THEMSELVES REPRESENTED, I THINK

IT HAS A STRONG IMPACT, AND IT

BRINGS THIS SENSE OF OWNERSHIP

OF THE CREATIVE PRACTICE OF A

LOCAL ARTIST.

ALL OF THIS WORK HAS TO DO WITH

REPRESENTATION AND DRAWING

PEOPLE AND CHILDREN, SORT OF TO

CREATE THIS VISUAL ARCHIVE THAT

WILL ALLOW FOR PEOPLE TO SEE

THEMSELVES IN THE WORK THAT I AM

PRODUCING.

I FEEL PRETTY STRONGLY ABOUT

THAT.

>> MANY TIMES I THINK CHILDREN'S

MUSEUMS UNDERESTIMATE THE TYPES

OF QUESTIONS THAT CHILDREN ARE

CAPABLE OF ASKING OR

UNDERESTIMATE THE TYPES OF

QUESTIONS THAT CHILDREN ARE

ACTUALLY BEING POSED SO WE'RE

LOOKING TO CONTEMPORARY ARTISTS

AND SEE IF THEY CAN HELP US DO

THAT IN VERY THOUGHTFUL WAYS,

POSE QUESTIONS, GIVE THEM

OPPORTUNITIES TO THINK.

>> WE TRIED TO CONCEIVE WHAT

HAVE WOULD BE THE MOST

LONG-STANDING CONTRIBUTION THAT

WE COULD MAKE TO THIS

NEIGHBORHOOD, AND THAT WAS THE

MUSEUM BECAUSE A MUSEUM IS A

SYMBOL OF A COMMUNITY THAT'S

PROSPEROUS, THAT'S HEALTHY, THAT

CHERISHES ITS HISTORY AND ALL

ITS PEOPLE.

A MUSEUM IS A COMMITMENT TO THE

FUTURE AND TO THE FUTURE OF THE

CHILDREN OF THIS NEIGHBORHOOD.

>>> NEXT, WE VISIT EL MUSEO DEL

BARRIO LOCATED AT THE NORTHERN

END OF MUSEUM MILE IN EAST

HARLEM.

CURRENTLY ON VIEW IS "ESTAMOS

BIEN, LA TRIENAL 20/21," THE

MUSEUM'S FIRST LARGE-SCALE

NATIONAL SURVEY AND TRIENNIAL OF

CONTEMPORARY LATIN "X" ART.

ITS TITLE, "ESTAMOS BIEN", WE'RE

FINE" WAS INSPIRED BY A 2017

WORK IN THE EXHIBITION BY

CHICAGO-BASED ARTIST CANDIDA

ALVAREZ.

THE PAINTING WAS COMPLETED AFTER

HURRICANE MARIA DEVASTATED

PUERTO RICO.

THE TITLE SUGGESTS BOTH

RESILIENCE AND A DECLARATION OF

RESISTANCE.

THE TRIENNIAL FEATURES RECENT

WORKS FROM 42 ARTISTS FROM ALL

ACROSS THE UNITED STATES AND

PUERTO RICO.

THE SHOW INCLUDES PAINTING,

SCULPTURE AND PHOTOGRAPHY, BUT

ASO A WIDE RANGE OF WORKS WHOSE

USE OF MATERIALS AND SCOPE DEFY

EASY CATEGORIZATION AS DO THE

ARTISTS THEMSELVES.

.

CURATO SUSANNA TEMKIN TAKES US

ON A TOUR OF THE EXHIBITION.

>> WITH "LA TRIENAL" WE REALLY

WANTED TO BROADEN THE SCOPE, NOT

ONLY BRING IN ARTISTS FROM

ACROSS THE NATION BUT WORKING

WITH ARTISTS FROM A VARIETY OF

COURSE OF BACKGROUNDS,

GENERATIONS AND CAREER STAGES.

BEHIND ME IS A WORK BY JUSTIN

FAVELA, WHO'S REAL INTERESTED IN

ENGAGING STEREOTYPES ABOUT LATIN

"X" PEOPLE AND LATIN "X" ART AND

LATIN "X" CULTURE.

WHAT YOU SEE IS A BLOWNUP

MONUMENTAL APPROACH TO CARLOS

MERIDA'S PRINTS OF THE POPOL VUH

WHICH ARE TEN QUASI-SURREAL

WORKS THAT THE GUATEMALAN ARTIST

CREATED IN THE 1940s.

JUSTIN CREATES THESE PINATA

ARTWORKS MADE OUT OF

MULTI-COLORED TISSUE PAPER THAT

HE VERY CAREFULLY PLANNED AND

EXECUTED TO CREATE THESE

BEAUTIFUL FORMS.

WE ALSO WORKED WITH JUSTIN TO

RECREATE AT A ONE-TO-ONE SCALE

THE PAINTING BY FRANCISCO OLLE

CALLED "YELL OPLAN PAINS,"

"PLATANOS AMARILLOS" WHICH IS

REALLY ONE OF THE MOST, I WOULD

SAY, BELOVED PAINTINGS IN EL

MUSEO'S COLLECTION.

>> THERE NO SINGLE OVERARCHING

THEME, BUT THERE ARE A LOT OF

DIFFERENT CONCEPTS OR MOTIFS.

IN ONE OF THE FIRST GALLERIES IS

AN APPROACH TO FOOD AND

COMMODITIES, INCLUDING THE STILL

LIVES BY JOEY TERRILL, WHICH ARE

REALLY COMMENTARIES NOT ONLY ON

CONSUMER CULTURE BUT ALSO ON THE

PHARMACEUTICAL CULTURE.

JOEY IS AN ARTIST WHO'S BEEN

LIVING WITH AIDS FOR ALMOST 40

YEARS AND THEN WE ALSO HAVE

ARTISTS THAT TAKE A MUCH MORE

PLAYFUL, ALTHOUGH VERY SERIOUS

APPROACH, LIKE YVETTE MAYORGA

WHO CREATES PAINTINGS THAT EVOKE

A SORT OF FROSTING OR

PASTELLERIA STYLE OF

APPLICATION.

THESE WORKS, THEY ALMOST LOOK

LIKE CAKES THAT YOU WANT TO LICK

THE SURFACES OF BECAUSE THEY'RE

SO RICHLY TEXTURED, AS WELL AS

LUCIA HIERRO, HER WORKS ARE

CALLED "THE RACKS" AND THEY

FEATURE BODEGA VISUAL CULTURE,

CONTEMPORARY SNACKS THAT WE'RE

ALL FAMILIAR WITH, LIKE THE

PLATANITO CHIPS, TAKIS, FRITOS,

SO DON'T COME HUNGRY.

THE EXHIBITION WAS ORIGINALLY

SCHEDULED TO OPEN IN OCTOBER

2020.

WE DECIDED TO COMMISSION FIVE

PROJECTS THAT WERE RELEASED

ONLINE.

FOR EXAMPLE, THERE WAS A WORK BY

LIZANIA CRUZ CALLED "THE

OBITUARIES OF THE AMERICAN DREAM

"GHT WHICH SHE ASKED

PARTICIPANTS TO SUBMIT

TESTIMONIALS OF WHEN THE IDEAL

OF THE AMERICAN DREAM DIED FOR

THEM.

WE CREATED A SPECIAL DIGITAL

SITE FOR THE WORK BY MICHAEL

MENCHACA, THE WALL, WHICH IS A

REAL CRITIQUE OF NUMBER 45'S

PLEDGE TO CREATE A BORDER WALL.

AND WE WOUND UP INCLUDING A

NUMBER OF WORKS THAT THE ARTIST

SPECIFICALLY DURING THAT TIME

THAT WE WERE ALL IN OUR HOMES

EXPERIENCING SOCIAL DISTANCE.

FOR EXAMPLE, THE DUO PONCILI

CREACION WHO CREATED A VERY

BEAUTIFUL PIECE THROUGH THE

STREETS OF SAN JUAN IN THE

HEIGHT OF THE PANDEMIC.

ANOTHER WORK THAT WAS CREATED

JUST IN THE LAST YEAR IS PATRICK

MARTINEZ'S URBAN LANDSCAPE, THIS

IS VERY LARGE-SCALE PAINTING

THAT ALMOST LOOKS LIKE AN

EXTRACT OF A LOS ANGELES CITY

WALL BROUGHT INTO THE GALLERY

THAT HAS ALL KIND OF GRAFFITI

AND LAYERS INCLUDED AMONG THAT

ARE A GLOVE, SOME LYSOL SPRAY,

REFERENCES TO WHAT WE'RE STILL

USING TODAY.

WE'RE FEATURING 42 ARTISTS AND

ART COLLECTIVES WHICH IS A LARGE

NUMBER, BUT ACTUALLY THERE'S SO

MANY MORE VOICES OUT THERE SO

MUCH AMAZE, TOUCHING, POLITICAL

PERSONAL WORK WHAT I HOPE THAT

OUR AUDIENCES GET IS REAL

EXCITED ABOUT EXPLORING WHAT

OTHER ART IS OUT THERE.

♪

>>> "MUSIC UNDER NEW YORK" HAS

BEEN AN INTEGRAL PART OF THE

MTA'S ARTS FOR TRANSIT PROGRAM.

IT BEGAN OVER 30 YEARS AGO AS A

WAY TO BRING ART INTO EVERYDAY

LIFE, AND EVERY YEAR THE MTA

HOLDS AUDITIONS IN GRAND CENTRAL

STATION TO CHOOSE THE NEXT BATCH

OF NEW MUSICIANS.

THOSE SELECTED, WHICH NUMBER

OVER 350 GROUPS AND SOLOISTS

COMBINED ARE GIVEN ACCESS TO THE

BEST PERFORMANCE LOCATIONS

THROUGHOUT THE SUBWAY SYSTEM.

ISRAEL PERFORMANCES ARE

CURRENTLY SUSPENDED DUE TO THE

COVID CRISIS, WE THOUGHT WE'D

INTRODUCE YOU TO STILETTA, AN

AWARD-WINNING A CAPELLA SEXTET

WHICH HAS BEEN PART OF THE MUSIC

UNDER NEW YORK PROGRAM SINCE

2015.

♪

WITH THEIR UNIQUE MUSICAL

ARRANGEMENTS AND THE

UNMISTAKABLE SOUND OF ONE OF THE

WORLD'S BEST BEATBOXERS, THESE

SINGERS WILL STEP YOU IN YOUR

TRACKS.

♪

>> WHEN I MOVED TO NEW YORK

CITY, I HAD THIS VISION THAT I

WANTED THIS FIERCE, STRONG,

FEMININE GIRL GROUP THAT

INCORPORATED BOTH A CAPELLA

MUSIC AND CORING A IF I AND

DANCE, AND SO THAT'S HOW I CAME

UP WITH THE IDEA FOR STILETTA.

♪

♪

>> I CAME UP WITH THE IDEA OF

THE STILETTO HEEL WHICH IS

EXTREMELY FEMININE OBVIOUSLY AND

ALSO A STILETTO IS A SNIFF SO

IT'S BOTH FEMININE AND FIERCE.

♪ DO YOU WANT TO TELL YOUR

FRIENDS ♪

♪

♪ YOU'LL NEVER FIND NOBODY

BETTER THAN ME ♪

>> THERE'S JUST SOME INCREDIBLE

ART AND MUSIC AND CULTURE IN THE

SUBWAY, AND SOMETHING JUST MADE

ME THINK, YOU KNOW, I'VE GOT

THIS FANTASTIC A CAPELLA GROUP.

I WONDER IF WE COULD DO

SOMETHING LIKE THIS.

I WENT TO THE WEDNESDAY I'M I

FOUND THE APPLICATION AND I

SUBMITTED IT.

WE GOT ACCEPTED TO AUDITION.

THERE WAS A PANEL OF LIKE 30

JUDGES.

IT WAS WILD, BUT I DON'T REGRET

IT FOR A SEC.

I THINK IT'S BEEN THE MOST

AMAZING, REWARDING EXPERIENCE

FOR US.

>> WE PERFORM AT THE TIMES

SQUARE 42nd STREET STATION A

LOT, AND YOU GET TOURISTS.

YOU GET COMMUTERS.

YOU GET CRAZY PEOPLE.

YOU GET EVERYBODY, AND IT'S

REALLY, REAL FUN AND IT'S ALWAYS

A TRIP.

♪

PEOPLE WILL STOP, AND THEY'LL

STAND AND WATCH OUR ENTIRE SET

WHICH IS LIKE AN HOUR LONG.

>> WE'RE AT STILTA NYC.

>> OUR MAIN GOAL AND NOT JUST IN

THE MUSIC THAT WE PICK BUT IN

JUST WHO WE ARE AS PEOPLE IS TO

INSPIRE OUR AUDIENCES AND UPLIFT

WOMEN AND EMPOWER WOMEN, AND SO

THE SONGS THAT REALLY JUDY

CHOOSES ALL HAVE THAT KIND OF

MESSAGE.

♪

♪ I TRIED TO IMITATE, THAT WAS

MY CHOICE ♪

♪ AND NOW THIS MELODY IS TAKING

OVER ME ♪

>> WE HAVE AN ORIGINAL CALLED

"GET PUMPED."

IT'S JUST ABOUT BASICALLY

GETTING UP AND DANCING AND JUST

FEELING GOOD ABOUT YOURSELF AND

WEARING HIGH HEELS.

♪

>> WHAT MAKES US DIFFERENT MAYBE

FROM OTHER A CAPELLA GROUPS OUT

THERETO IS, OF COURSE, THE

CHOREO THAT WE DO, BUT ALSO OUR

ARRANGEMENTS ARE VERY SPECIFIC

TO OUR OWN SOUND.

♪

GET HIGH, GET HIGH, GET LOW, GET

LOW ♪

♪ GET INTO THE BEAT NOW IT'S

ABOUT TO EXPLODE ♪

>> MC BEATS IS A HUGE PART OF

WHY WE SOUND THE WAY THAT WE DO.

>> I AM THE VOCAL PER KIFGTS AND

BEAT BOXER OF THE GROUP.

♪

>> 2012 WAS THE FIRST TIME I

WENT TO THE WORLD CHAMPIONSHIPS,

SO AT THAT POINT I WAS

BEATPOCKETING A COUPLE OF YEARS,

AND I ENDED UP PLACING THIRD IN

THE WORLD.

SHORTLY AFTER, JUDY FOUND ME AND

I STARTED DOING A CAPELLA AND

THAT'S BEEN MY MAIN FOCUS SINCE

THEN.

[ APPLAUSE ]

>> THANK YOU SO MUCH.

MY MAIN JOB IS TO KEEP TEMPO.

>> WITH MOST A CAPELLA GROUPS,

THE BASS AND THE BP OR THE BEAT

BOXER, THEY WORK TOGETHER TO

CREATE THE BEATS BECAUSE YOU

NEED TO ADD A SORT OF BASSIE

FEEL TO A LOT OF THE BEATS TO

SOUND LIKE AN ELECTRONIC SYSTEM.

♪

>> MY MAIN JOB IS TO SOUND

COMPLETELY NON-HUMAN.

>> THERE'S A TIME WHERE PEOPLE

WHEN WE WERE DOING OUR MUSIC

UNDER NEW YORK GIGS AND PEOPLE

ARE LIKE, YOU KNOW, UNPLUG THE

RADIO, OR STUFF LIKE THAT

BECAUSE THEY REALLY THOUGHT WE

HAD TRACKS UNDERNEATH US.

WE NEVER DO.

IT'S ALWAYS LIVE, AND IT'S

ALWAYS ALL SIX OF US DOING IT.

♪

>> IN THIS PAST TWO YEARS SINCE

WE STARTED PERFORMING IN MUNY,

WE'VE GOTTEN SO MUCH TIGHTER.

SO MANY HOURS AFTER HOURS AFTER

HOURS OF SINGING TOGETHER IN

THAT SUBWAY.

IT'S MADE OUR GROUP REALLY,

REALLY GROW.

♪

♪ LET ME TAKE YOU THERE

>> IT SEEMS LIKE IN THAT MOMENT

WHEN THE SIX OF US ARE FINALLY

TOGETHER IT'S LIKE, EVEN THOUGH

THERE'S ALL THIS CHAOS AROUND

AND YOU NEVER KNOW WHAT'S GOING

TO HAPPEN AND YOU NEVER KNOW

WHAT YOU'RE GOING TO GET, IT'S

LIKE OUR SENSE OF CALM.

♪

>> BEING IN THE SUBWAY KIND OF

FORCES YOU TO ACKNOWLEDGE WHAT'S

IMMEDIATELY IN FRONT OF YOU.

♪

[ CHEERS AND APPLAUSE ]

>>> NEXT WEEK ON "NYC-ARTS," A

LOOK BACK AT SOME OF OUR

FAVORITE SEGMENTS, FEATURING THE

BEST IN ARTS AND CULTURAL EVENTS

IN OUR AREA.

>> ELMGREEN AND DRAGSET HAVE

CREATED A WORK THAT THEY HAVE

CALLED THE HIVE, A SCULPTURE

THAT HANGS DOWN FROM THE

CEILING, COMPRISED OF DOZENS OF

HIGH RISE BUILDINGS OF ALL

SHAPES AND SIZES.

>> TAP DANCING FOR ME IS MAGIC.

IT'S MUSIC IN MOTION.

♪

>> I'LL PLAY A BASS PART,

PERCUSSION PART, A HARM HO NY

PART ON THE CELLO AND THEN I CAN

LOOP THAT SEGMENT OVER AND OVER

AGAIN AND PLAYING NINE OR TEN

DIFFERENT CELLO PARTS AT THE

SAME TIME.

>>> THANK YOU SO MUCH FOR

JOINING US THIS EVENING.

I'M PAULA ZAHN.

HAVE A GREAT NIGHT, AND I HOPE

YOU'LL JOIN US NEXT TIME.

♪

FUNDING FOR "NYC-ARTS" IS MADE

POSSIBLE BY THEA PETSCHEK

IERVOLINO FOUNDATION, THE LEWIS

SONNY TURNER FUND FOR DANCE.

JODY AND JOHN ARNHOLD, ROSALIND

P. WALTER, ELISE JAFFE AND

JEFFREY BROWN, CHARLES AND

VALERIE DIKE RRKS THE NANCY

SIDEWATER FOUNDATION.

ELROY AND TERRY KRUMHOLZ

FOUNDATION, THE MILTON AND SALLY

AVERY ARTS FOUNDATION AND ELLEN

AND JAMES S. MARCUS.

THIS PROGRAM IS SUPPORTED IN

PART BY PUBLIC FUNDS FROM THE

NEW YORK CITY DEPARTMENT OF

CULTURAL AFFAIRS IN PARTNERSHIP

WITH THE CITY COUNCIL.

ADDITIONAL FUNDING PROVIDED BY

MEMBERS OF THIRTEEN.

"NYC-ARTS" IS MADE POSSIBLE IN

PART BY FIRST REPUBLIC BANK.

>> FIRST REPUBLIC BANK PRESENTS

FIRST THINGS FIRST.

AT FIRST REPUBLIC BANK FIRST

REFERS TO OUR FIRST PRIORITY,

THE CLIENTS WOULD WALK THROUGH

OUR DOORS.

THE FIRST STEP, RECOGNIZE THAT

EVERY CLIENT IS AN INDIVIDUAL

WITH UNIQUE NEEDS.

FIRST DECREE, BE A BANK WHOSE

CURRENCY IS SERVICE IN THE FORM

OF PERSONAL BANKING.

THIS WAS FIRST REPUBLIC'S

MISSION FROM OUR VERY FIRST DAY.

IT'S STILL THE FIRST THING ON

OUR MINDS.

>> AND BY SWANN AUCTION

GALLERIES.

>> SWANN AUCTION GALLERIES.

WE HAVE A DIFFERENT WAY OF

LOOKING AT AUCTIONS OFFERING

VINTAGE BOOKS AND FINE ARTS

SINCE 1941 WORKING TO COMBINE

KNOWLEDGE WITH ACCESSIBILITY.

WHETHER YOU'RE A LIFELONG

COLLECTOR OR FIRST-TIME BUYER OR

LOOKING TO SELL, INFORMATION AT

SWANNGALLERIES.COM.