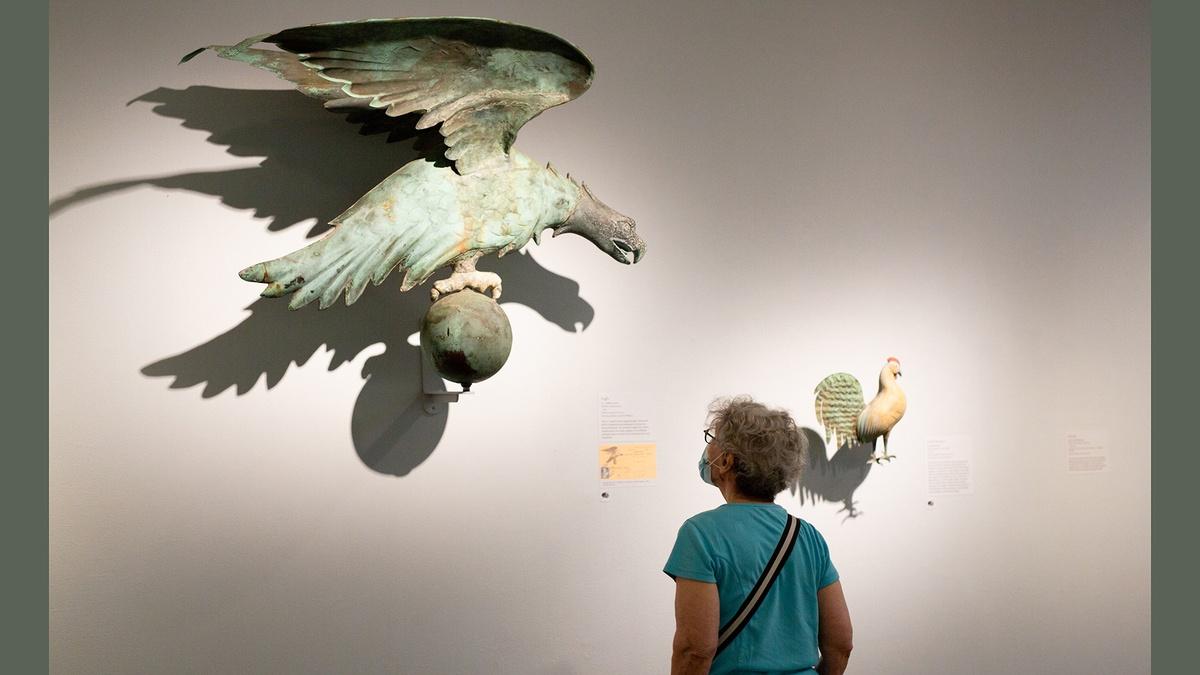 S2021 E532 | CLIP
American Weathervanes: The Art of the Winds
A visit to the American Folk Art Museum for a look at "American Weathervanes: The Art of the Winds," which explores the artistry of the weathervane – a practical tool used to measure the direction of the wind that evolved into its own art form.
TRANSCRIPT

>>> GOOD EVENING AND WELCOME TO

"NYC ARTS," I'M PAULA ZAHN.

FOR MORE THAN 60 YEARS, THE

AMERICAN FOLK ART MUSEUM HAS

GIVEN CENTER STAGE TO THE WORK

OF SELF-TAUGHT AMERICAN ARTISTS.

EVERYDAY PEOPLE WHOSE CREATIONS

PROVIDE A WINDOW INTO THEIR

UNIQUE TIME AND PLACE.

CURRENTLY ON VIEW IS "AMERICAN

WEATHER VANES: THE ART OF THE

WIND."

IT EXPLORES THE ARTISTRY OF THE

WEATHER VANE, A PRACTICAL TOOL

USED TO MEASURE THE DIRECTION OF

THE WIND THAT EVOLVED INTO ITS

OWN ART FORM FROM A WOODEN

ROOSTER TO A GREEK GODDESS POSED

AS GRATEFUL DANCER, EACH WEATHER

VANE REVEALS INTERPLAY BETWEEN

TECHNOLOGY, ART AND CULTURAL

HISTORY.

"NYC ARTS" VISITED THE MUSEUM'S

LINCOLN SQUARE LOCATION TO SPEAK

WITH CURATOR EMELIE GEVALT.

♪

>> "AMERICAN WEATHER VANES: THE

ART OF THE WIND" IS AN

EXHIBITION AT AMERICAN FOLK ART

MUSEUM AND BRINGS TOGETHER A

NEVER BEFORE ASSEMBLED GROUP OF

AMERICAN WEATHER VANES THAT TELL

THE STORY OF THIS SEMINAL

AMERICAN FOLK ART FORM FROM THE

MID-18th CENTURY TO EARLY 20th

CENTURY.

"AMERICAN WEATHER VANES: THE ART

OF THE WIND" OPENED ON THE

AMERICAN FOLK ART MUSEUM'S 60th

ANNIVERSARY.

WE'RE SO EXCITED TO BE ABLE TO

SHARE WITH OUR AUDIENCES AN

EXHIBITION ON THIS THEME WHICH

HAS BEEN SO IMPORTANT TO HISTORY

OF AMERICAN FOLK ART AS ONE OF

THE FIRST AND REALLY IMPORTANT

FORMS TO EMERGE AS AN OBJECT OF

SPECIAL INTEREST FOR AMERICAN

FOLK ART COLLECTORS AND ALSO AS

A REAL OPPORTUNITY TO SHINE A

SPOTLIGHT ON THIS FORM WHICH

HASN'T HAD A COMPREHENSIVE

TREATMENT IN MANY DECADES.

IDEA BEHIND WEATHER VANES IS

THEY'RE FUNCTIONAL BUT THEY'VE

ALWAYS HAD STRONG AESTHETICS TO

THEM.

ON A PUBLIC OR PRIVATE BUILDING

THEY SIGNAL A SENSE OF PRIDE IN

PERSONAL OR SOCIAL IDENTITY, THE

RANGES THEY ADOPT SPEAK TO THOSE

THEMES.

HORSES AND COWS ON BARNS AND

R

ROOSTER ON THE CHURCH.

STARTED TO BE APPRECIATED AS ART

OBJECTS, SOMETHING WE'RE TRYING

TO DO WITH THE EXHIBITION AND

WHAT WE TRY TO DO AT AMERICAN

FOLK ART MUSEUM IN GENERAL,

CHAMPIONING ARTISTS AND WORKS OF

ART NOT ALWAYS AFFORDED CENTER

STAGE.

THERE ARE A COUPLE OF DIFFERENT

FORMS THAT EVOLVED AND BROUGHT

TO BRITISH AND DUTCH AMERICAN

COLONIES BROUGHT THROUGH

IMMIGRANT CRAFTSMEN WHO BROUGHT

SKILLS AND TRADITIONS WITH THEM.

ONE IS BANNER WEATHER VANE,

STARTED OUT IN FABRIC FORM AS A

FLAG, A SEINE, TO DISPLAY A COAT

OF ARMS.

FROM FABRIC TO METAL.

MANY EXAMPLES IN THE SHOW,

INCLUDING ONE MADE IN ORONO,

MAINE.

ANOTHER EUROPEAN WEATHER VANE

FORM THAT HAS A LONG HISTORY IS

THE ROOSTER, THE WEATHER COCK.

DEVELOPED AS A PARTICULAR VEIN

TO TOP CHURCHES IN MEDIEVAL

EUROPE IN THE EIGHTH CENTURY

BECAUSE OF THE BIBLICAL STORY OF

PETER'S DENIAL.

DURING THE LAST SUPPER JESUS

PREDICTS THAT PETER WILL BETRAY

HIM THREE TIMES BEFORE THE COCK

CROWS.

CULMINATION IS GALLERY OF 19th

CENTURY WEATHER VANES THAT

EXPAND INTO DIFFERENT FORMS.

IMAGINATION TOOK FLIGHT IN THE

VICTORIAN ERA AND VANE MAKERS

MADE FAN AFTERTASTICAL FIGURES E

TECHNOLOGICAL.

EARLIEST TEND TO BE UNIQUE

EXAMPLES, WEREN'T REPLICATED

MULTIPLE TIMES BUT ONE-OFF WORKS

OF ART.

WOOD WAS A MATERIAL WIDELY USED

IN BRITISH-AMERICAN COLONIES, SO

ARTISANS WERE FAMILIAR WITH IT.

MID-19th CENTURY YOU START TO

SEE COPPER BECOMING A MATERIAL

OF CHOICE.

COPPER IS HIGHLY MALLEABLE, CAN

BE EASILY WORKED INTO DETAILED

WORKS OF ART THAT YOU SEE.

DURING TIME OF GROWING

INDUSTRIAL EFFICIENCY, MAKERS

BEGAN TO DEVELOP PROCESSES THAT

ALLOWED THEM TO STEP UP THEIR

PRODUCTION.

COLLECTORS HAVE ALWAYS

APPRECIATED IN PARTICULAR THE

HISTORICAL SURFACES OF WEATHER

VANES BECAUSE THEY ARE INTENDED

TO BE OUTDOOR OBJECTS THAT

CHANGE WITH EXPOSURE TO WIND AND

RAIN.

COPPER WEATHER VANES OFTEN

DEVELOP A VELVETY OXIDIZED

GREEN.

WHEN THE WEATHERIZING TAKES

PLACE, YOU CAN SEE THE WONDERFUL

LAYERS OF HISTORY ENSCRIBED ON

THEIR SURFACES.

WEATHER VANES HAVE A LONG

ASSOCIATION WITH HISTORICAL

MEMORY, WHICH IS INTERESTING.

SENSE OF WEATHER VANE AS A

MEMORY KEEPER ALIGNS WITH

INSTANCES IN WHICH THEY BECOME

TIME CAPSULES, MAKERS OR BE

COLLECTORS HAVE TUCKED NOTES

INSIDE.

ONE EXAMPLE IN THE SHOW IS

BEAUTIFUL WOODEN HEART AND HAND

WEATHER VANE MADE FOR A TAVERN

IN ROXBURY, MASSACHUSETTS, AND

ARTISANS DID THAT, TUCKED A NOTE

INSIDE TO DOCUMENT MAKING THIS

OBJECT.

SOMETHING WE THOUGHT A LOT ABOUT

PLANNING THE EXHIBITION WAS THE

WAY WEATHER VANES PROMPT US TO

PAUSE.

IF YOU LOOK UP MIGHT SEE AN

OBJECT THAT TAKES YOU BY

SURPRISE AND ALLOWS THE VIEWER

TO EXPERIENCE A MOMENT OF BEAUTY

AND UPLIFT.

IT'S A MOMENT OF THE

EXTRAORDINARY WITHIN THE

ORDINARY.